Our favorite brownie frosting recipe. They're soft, chewy, topped with a delicious frosting and are great for holidays and get togethers.
We may have a slight obsession with brownies (especially these frosted ones!) – buckeye brownies, Oreo brownies, pumpkin brownies. We have them all and love to make them for company, holidays and any other function for those that love chocolate!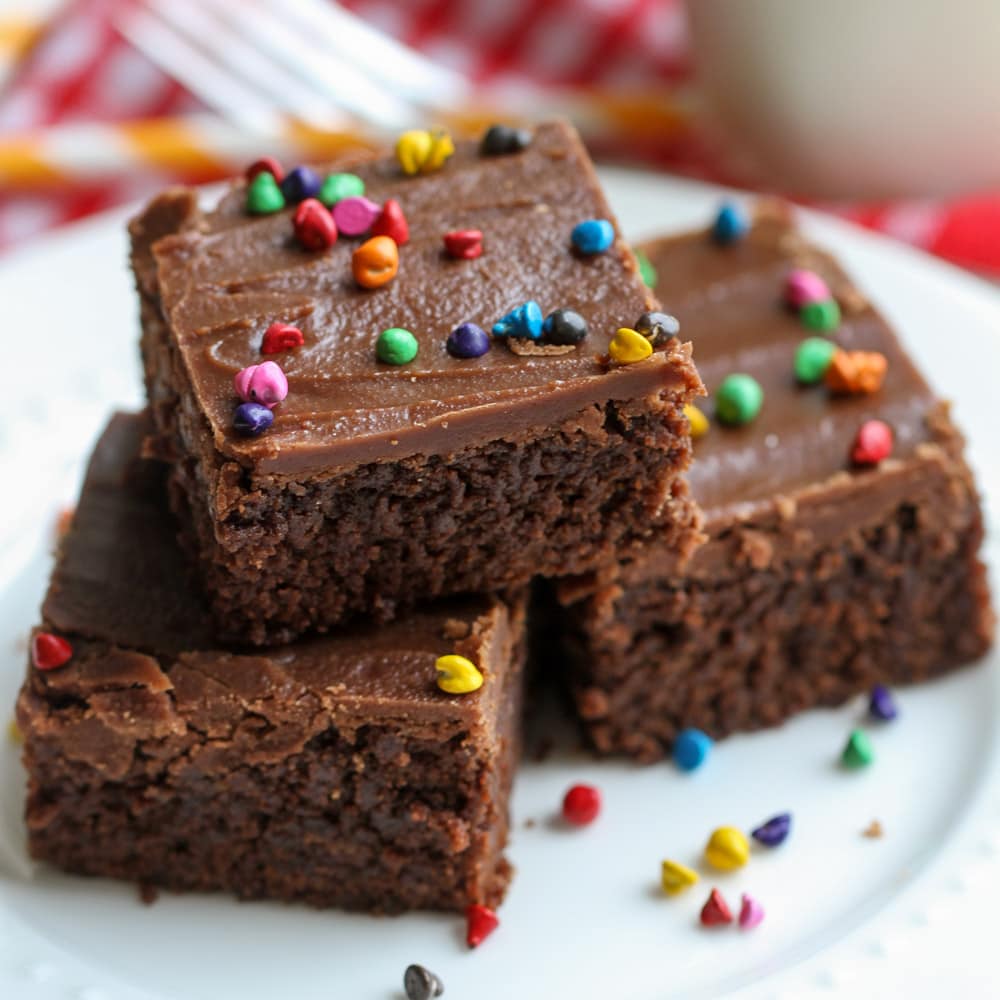 frosting on brownies? YESSSS!
My family is particularly obsessed with this next recipe. They make it weekly and it's devoured within minutes (no joke)! Even my hubby who doesn't like brownies likes these brownies.
These frosted brownies are ones we've been making for as long as I can remember. They're great served warm with ice cream or even plain. We also like to change them up based on holidays and occasions with different toppings and sprinkles.
Oh yeah – and they're simple!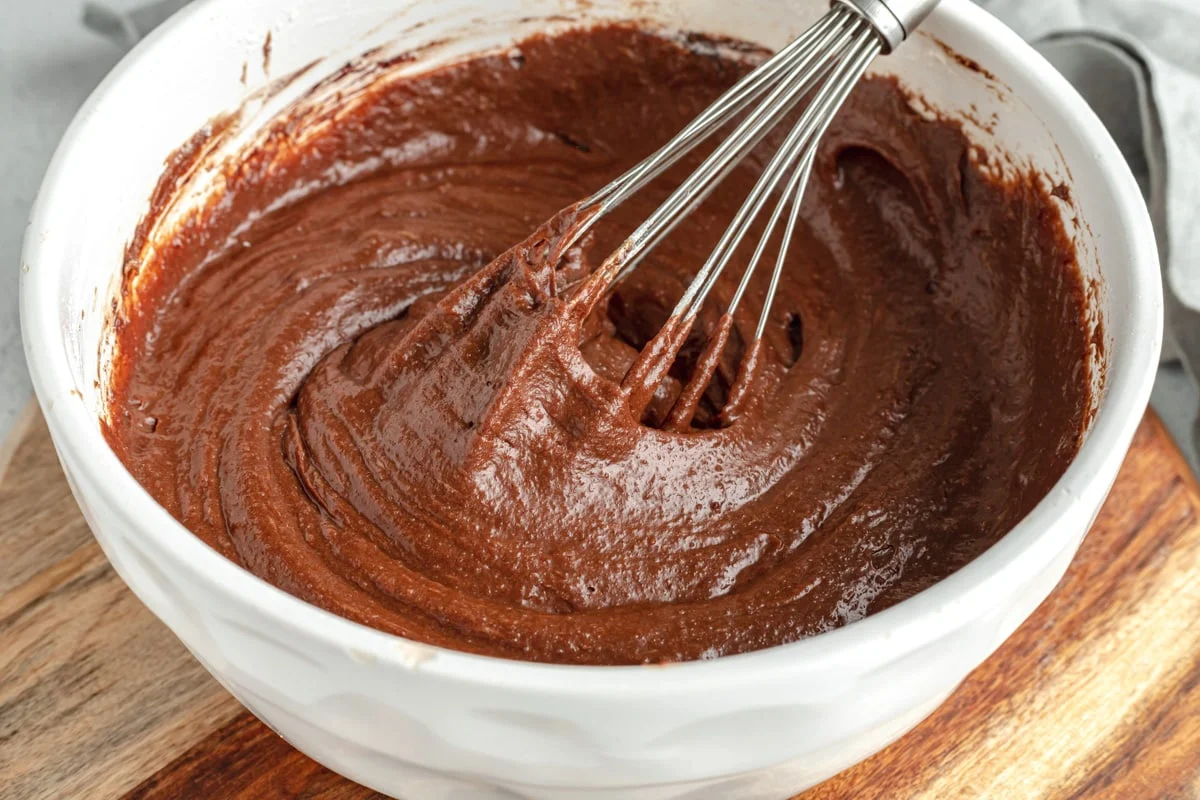 Tips for making brownies
Here are a few tips and tricks for making brownies…
Prep the Pan: Line a baking pan with parchment paper. If you don't have parchment paper spray the pan with cooking spray then add ¼ c flour. Tilt the pan around until each surface is lightly coated with flour then, discard the extra flour.

Use good quality chocolate chips and powder. Also, be sure to use butter, not margarine.

Grainy batter? If your batter begins to looks grainy and oily, this means the fat has begun to separate. You can revive the batter by adding just unter 1 tsp of milk.

Don't over mix: Sifting the flour and other dry ingredients first will aerate them and help the dry ingredients combine with the liquids much faster.

High altitude: use extra large eggs or add an extra egg. The added moisture will help give the brownies better texture.

Don't overbake: check the brownies 5 minutes before the suggested bake time ends.

Crisp or stale brownie? Use the brownie in a truffle or with ice cream.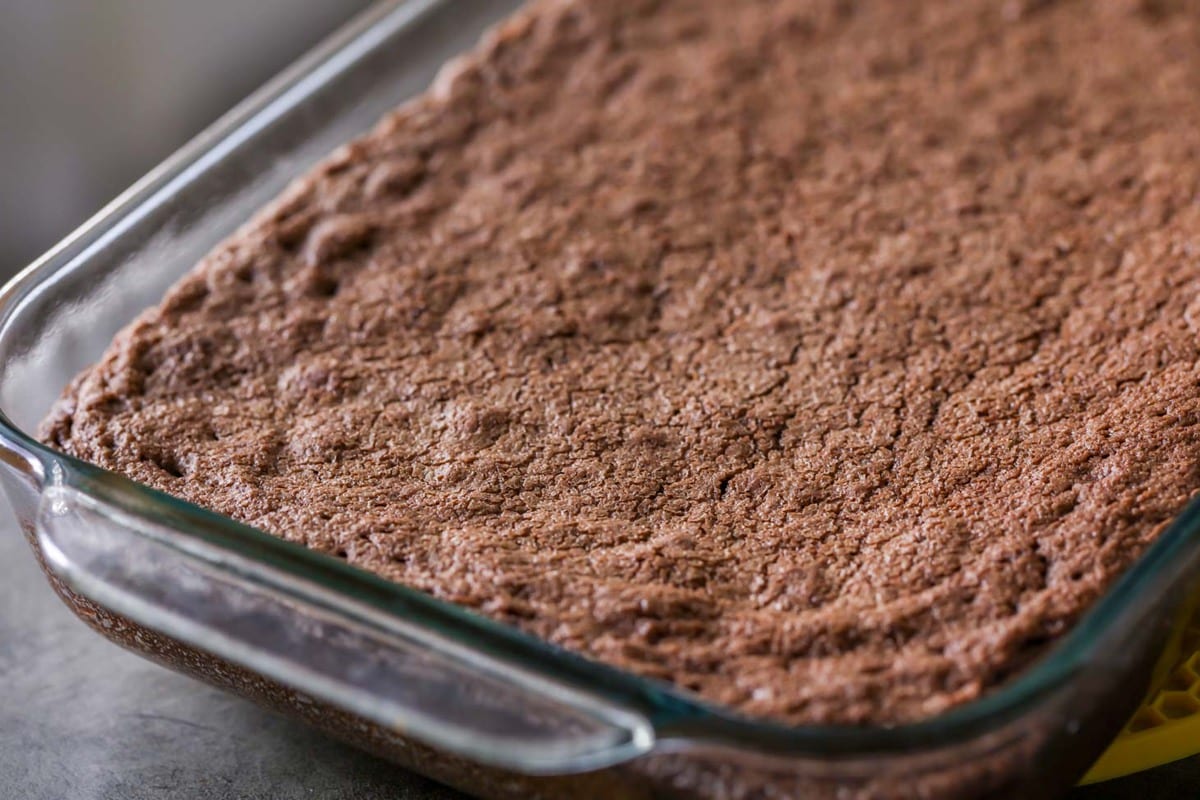 How to Make brownie frosting + brownies
To begin making these brownies, blend the melted butter, sugar and vanilla in a bowl. Add the eggs and mix well with a wooden spoon.
In another bowl, mix together the flour, cocoa, baking powder and salt. Combine the wet and dry ingredients and mix until well blended. Spread into a greased 9×9 pan.
Bake the brownies at 350 for 27-29 minutes and let cool.
Now, to the best part – the frosting!!
BROWNIE FROSTING. While brownies are cooling make the brownie frosting by mixing 1/3 cup sugar, milk and butter in a small sauce pan on medium/high heat. Bring to a boil and let boil for 30 seconds. Remove from heat and stir in chocolate chips until melted.
Pour over brownies and spread. Top with sprinkles right away before frosting sets.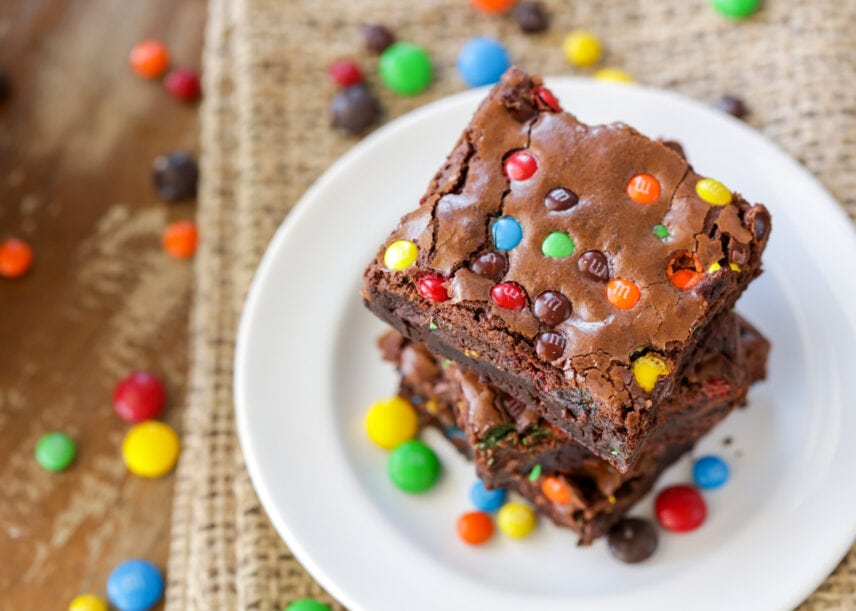 Variations
This brownie recipe makes a perfect base for for so many brownie variations.
Make them minty with a green mint layer then top with chocolate frosting. You can also use mint M&Ms of Chopped andes mints to sprinkle on top

Peanut butter Flavor: spread some peanut butter between the brownie and frosting layer. You can also add peanut butter chocolate chips or Reeses pieces.

Cream Cheese Layer: Add a cream cheese layer under the frosting then top with fresh berries.
Brownie Bake Times
This recipe is for a 9×9 pan of brownies. If you want to make other sizes use the following information as a guide:
9×13 If you want to make a 9×13 I would double the recipe. Still set the timer for 30 minutes and check until it's done.

Cupcake: Set the timer for 20 minutes and keep an eye on them. Using silicone liners makes it easy to remove the brownies from the pan. Keep in mind silicone liners also tend to cook them faster.

Notes: Glass or dark pans cook at a faster rate so check on the brownies sooner than you otherwise would. If the edges are burning, but the middle isn't done loosely cover the brownies with tin foil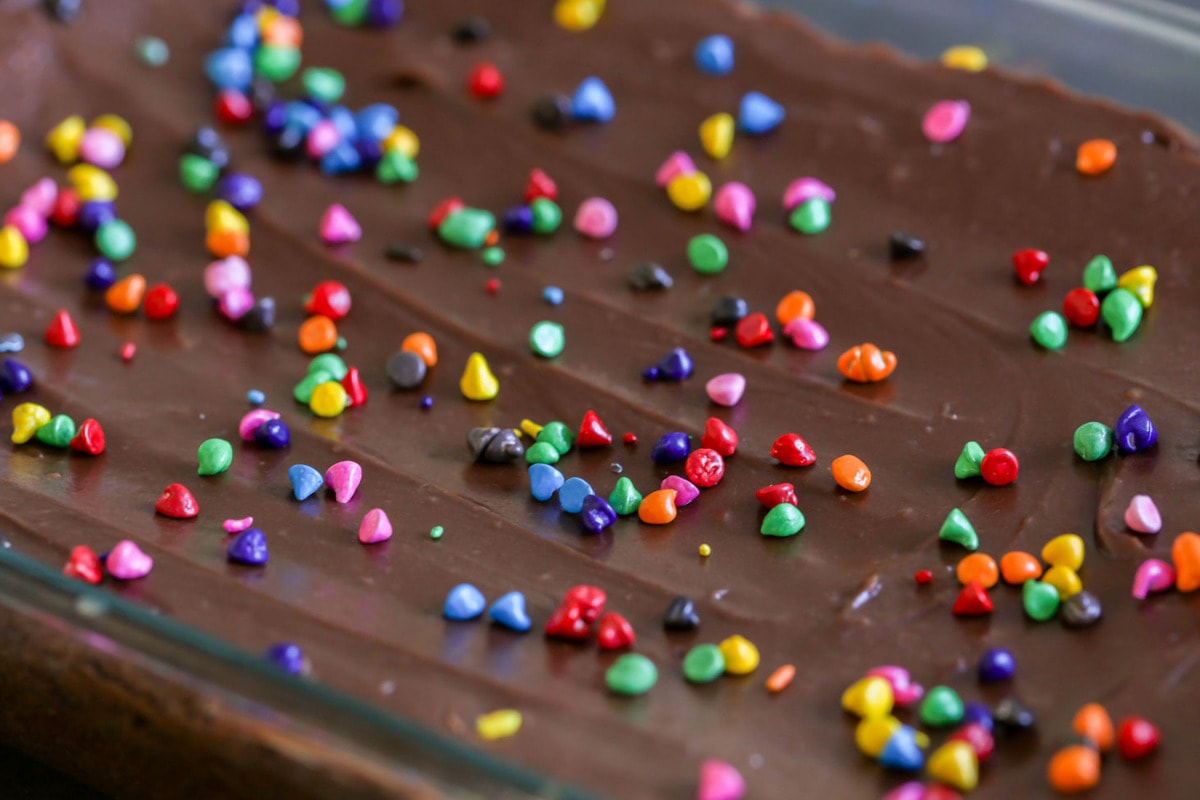 How to Cut and Store Brownies
Unfrosted: use a plastic knife when the brownies are still warm. It will slice like butter.
Frosted: allow to cool completely and for the frosting to set. If you used parchment paper, then lift the brownie block out of the pan. Use a sharp kitchen knife and slice. Clean the blade after each cut.
Storage: These brownies can be stored with or without the frosting. Keep them in an airtight container, on the counter, for 3-4 days. Separate any layers with wax paper.
These brownies can also be frozen. If they are frosted you will want to flash freeze them first. Do this by placing the brownies on a baking sheet in the freezer. Once frozen wrap each brownie in plastic wrap. Store all the brownies in a freezer safe container for up to 3 months. Unwrap before thawing.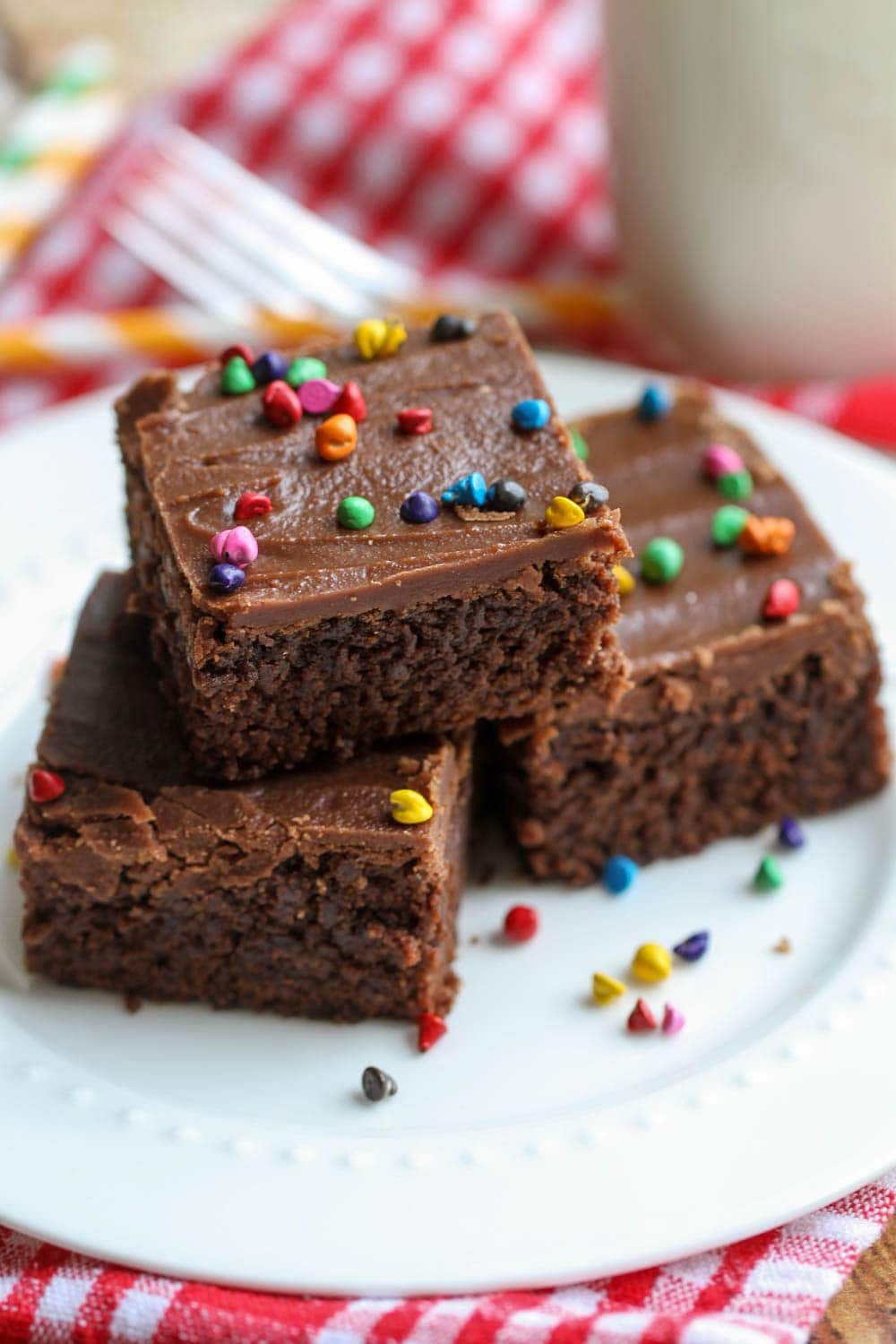 You will definitely want to keep this recipe. It's a brownie with frosting but not a cake. Hard to explain. Just know that it is loved by many and will definitely be a family favorite. 🙂
For more brownie recipes, check out: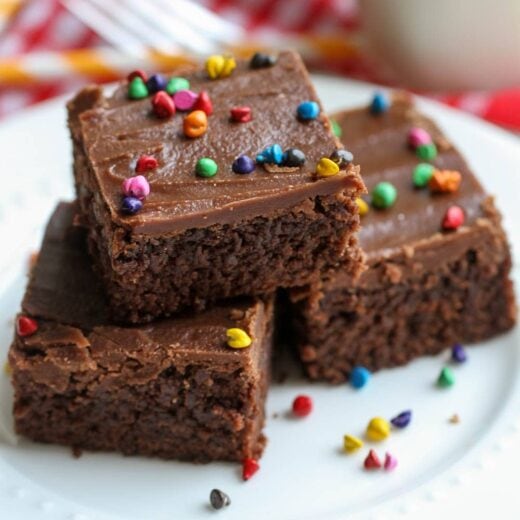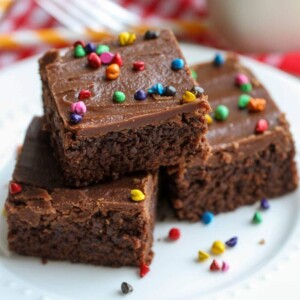 Frosted Brownies Recipe
Our favorite brownie recipe – so soft and delicious and always a hit at every function!
Instructions
Blend melted butter, sugar, and vanilla in bowl. Add eggs and mix well with wooden spoon.

In separate bowl, combine flour, cocoa, baking powder and salt.

Add dry ingredients to egg mixture until well blended.

Spread into a 9×9 pan. Bake at 350 for 27-29 minutes.

For FROSTING: Mix ⅓ cup sugar, milk and butter in a small sauce pan on Med/High Heat. Bring to a boil.

Boil for 30 seconds. Remove from heat and stir in chocolate chips until they are all melted.

Pour over brownies immediately. Add sprinkles immediately as well. Let cool.
Nutrition
Calories:
409
kcal
,
Carbohydrates:
55
g
,
Protein:
4
g
,
Fat:
21
g
,
Saturated Fat:
13
g
,
Cholesterol:
101
mg
,
Sodium:
308
mg
,
Potassium:
131
mg
,
Fiber:
2
g
,
Sugar:
44
g
,
Vitamin A:
621
IU
,
Calcium:
39
mg
,
Iron:
1
mg
Nutrition information is automatically calculated, so should only be used as an approximation.
Making this recipe? Tag us!
Share it with us on Instagram using the hashtag #lilluna, so we can see what you're creating in the kitchen!