This Lemon Chicken Pasta is covered in a delicious sauce made from lemons, whipping cream, cheeses, and fresh basil. You can't go wrong with this recipe!!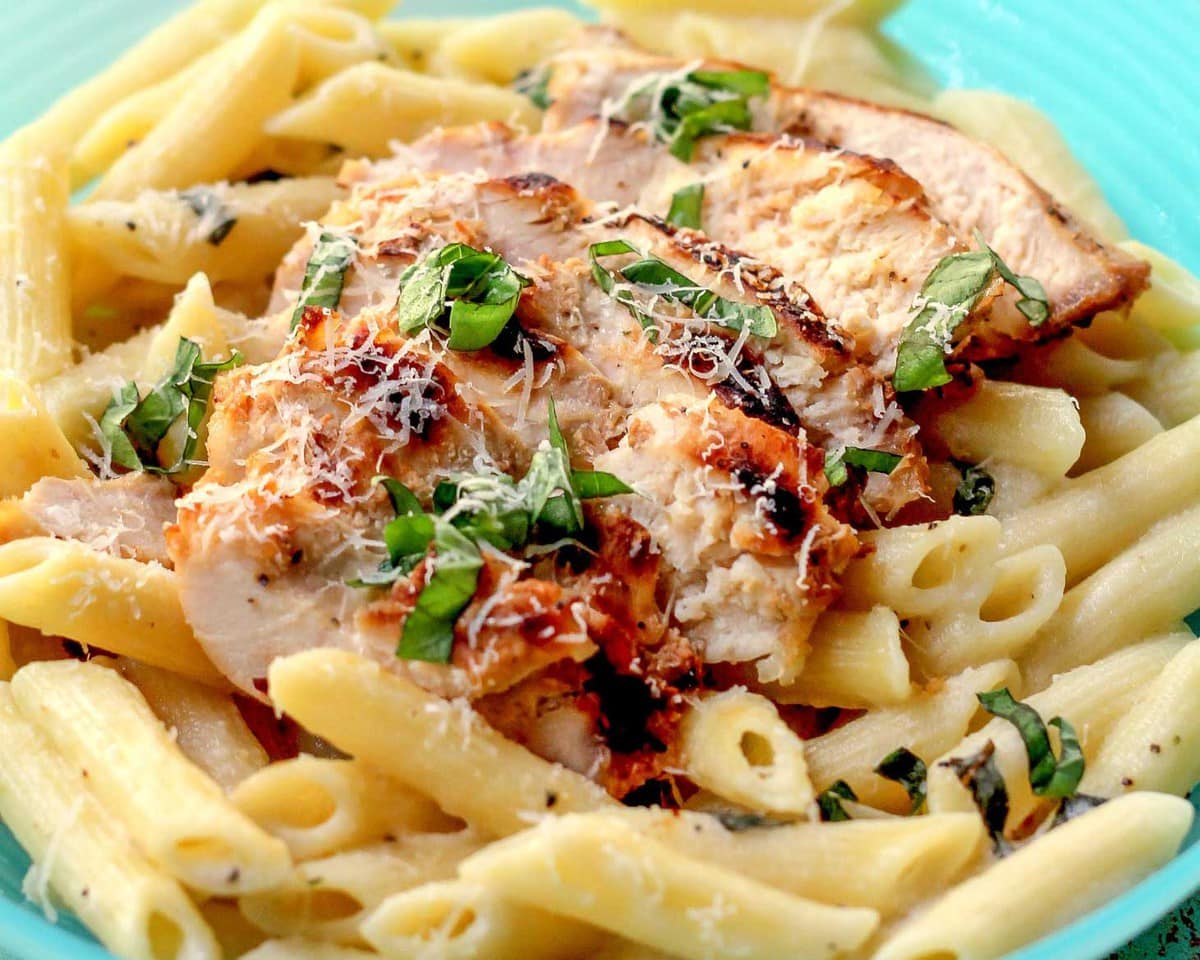 Best Lemon Chicken and Pasta
I often find myself scouring the pantry in the afternoon trying to figure out what to make for dinner. Please tell me I'm not the only one, lol. I do admit there have been times we've had cereal, and that's okay in my books. BUT, If I have time and have been organized that week I really like to make a nice meal for my family. I usually find something with chicken (and/or pasta) and run with it, because you really can't go wrong with those, right??
Today's recipe for Lemon Chicken Pasta is one my mom found and tried several months ago. She couldn't remember if she had found it online or in a magazine, but she tried it, and it was a hit! The whole family loved it (my fam pretty much loves any chicken and pasta recipe – thank heavens!). The chicken was super tender and the sauce made it even better (sauces that call for whipping cream are ALWAYS good!)
What makes this dish so flavorful?
There are several ingredients in this recipe that make it amazing. Of course, it has pasta. We used penne but it can be made with any kind of pasta. Chicken is always great with any pasta dish, but the butter, lemons, whipping cream and half & half take it to a whole new level. To add even more flavor we will use either Garlic Pepper or Garlic Salt to season. To top it all off grated Parmesan cheese and fresh chopped basil  on top make this dish even more mouth-watering.
To add even more flavor, you could add the following to this dish:
Shaved Parmesan instead of grated Parmesan
Veggies – like cherry tomatoes, broccoli or even asparagus
Fresh squeeze lemon on top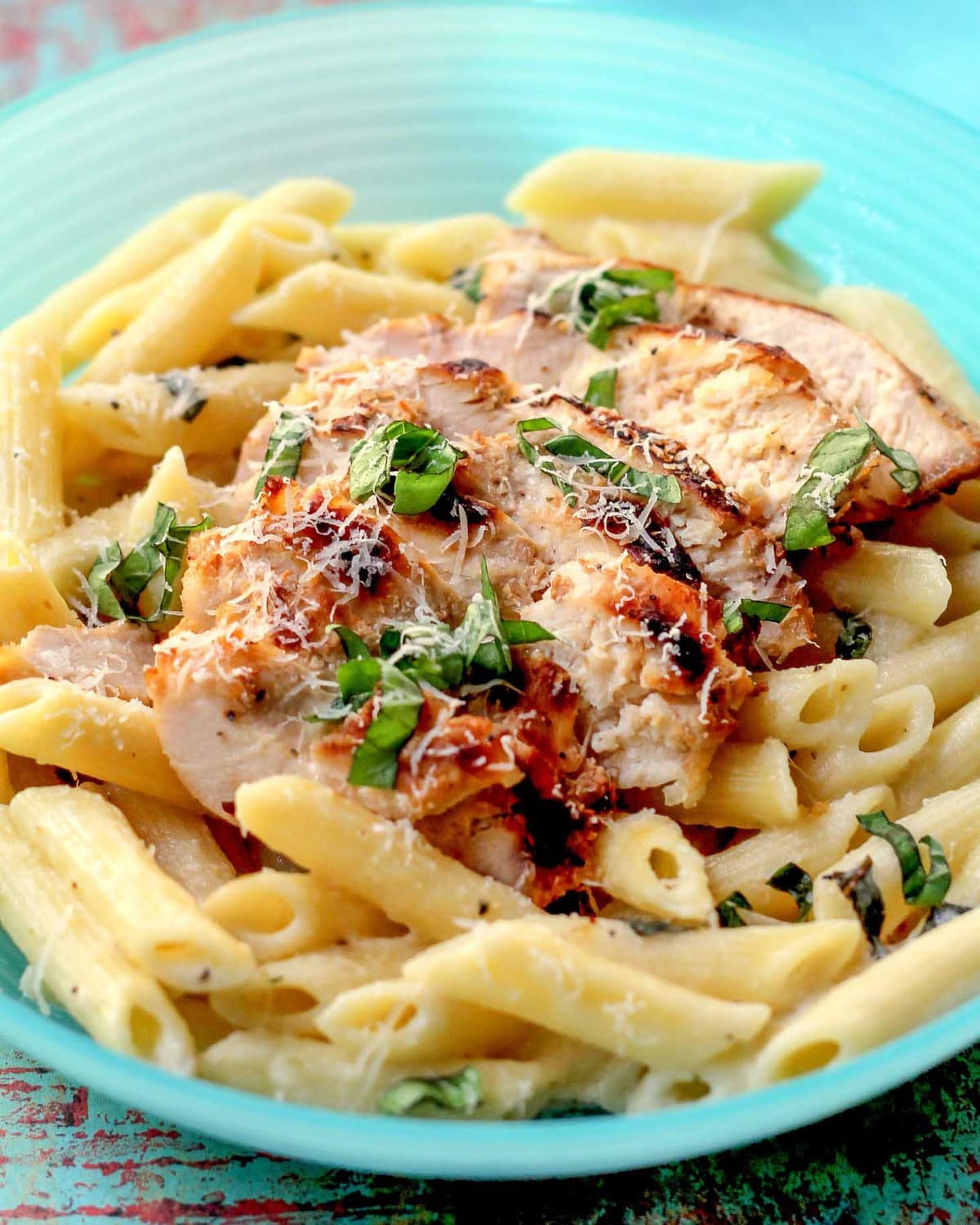 My mom always finds the best recipes!! I think it's because she has become a pro at looking at the ingredients and knowing from there if it's one to try or not to try. We love it so much that I will be adding it to the meal rotation since it's one the whole family enjoys.
Complete the meal by also making:
For more Chicken & Pasta dishes, be sure to try: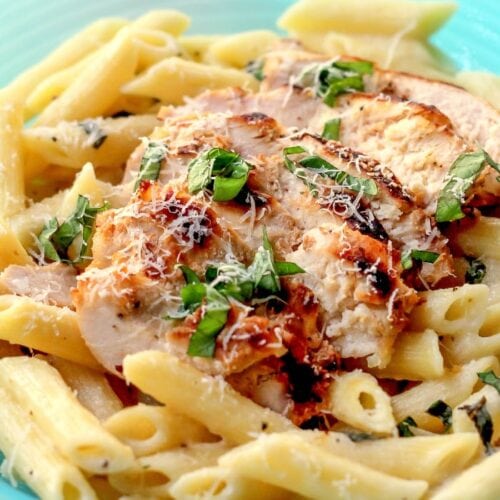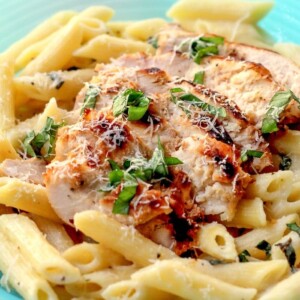 Lemon Chicken Pasta Recipe
This Lemon Chicken Pasta Is Covered In A Delicious Sauce Made From Lemons, Whipping Cream, Cheeses, And Fresh Basil. You Can't Go Wrong With This Recipe!!
Ingredients
4

chicken breasts

grilled and sliced

1

lb

penne

cooked

1/4

cup

butter

1-2

whole

lemons

(depending on how much lemon you want in it - I use only 1)

3/4

cup

whipping cream

1/4

cup

Half & Half

1/2

cup

Parmesan Cheese

grated

salt and pepper to taste

1/2

cup

fresh basil leaves

chopped
Instructions
Cook pasta as directed on box. Reserve one cup water, set pasta aside.

In same pot, melt butter over medium heat. Squeeze in juice of lemon(s) and whisk together.

Pour half & half and cream together and whisk until hot. Dump in cheese and whisk until melted. Add salt pepper to taste.

Check consistency and add hot pasta water until you reach your desired thickness. Stir in half of your basil.

Pour pasta and sauce into a large bowl. Add chicken, sprinkle remaining basil on top. ENJOY with some garlic bread. Yum!