This cheesy Chicken and Asparagus Pasta is one the whole family will love. It's flavorful and filled with everyone's favorite ingredients including chicken, pasta and asparagus – what's not to love?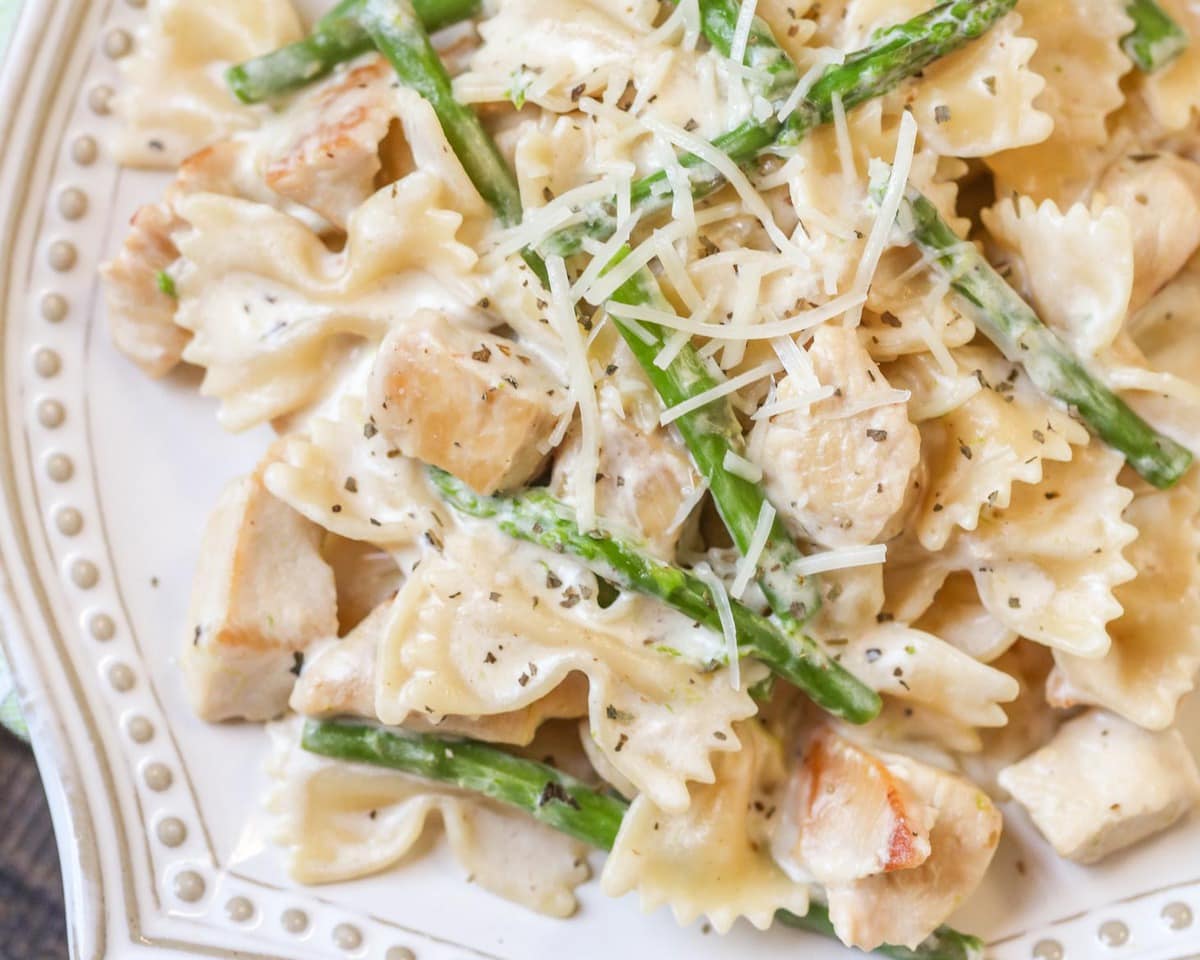 Chicken + Pasta + Asparagus = DELISH
I love Chicken, and I love Asparagus so when I saw a recipe for Chicken and Asparagus Pasta on Scattered Thoughts of a Crafty Mom, I knew it had to be made. I mean, in my book, you just can't go wrong with Chicken and Asparagus. Throw some pasta into the equation and you've got a definite winning recipe right there.
I think I can honestly say that Asparagus is my favorite veggie. It's one of those vegetables that I didn't learn to appreciate until I was older, and now I can't get enough of it! We have it a lot for side dishes but feel like it was the perfect addition for this pasta recipe.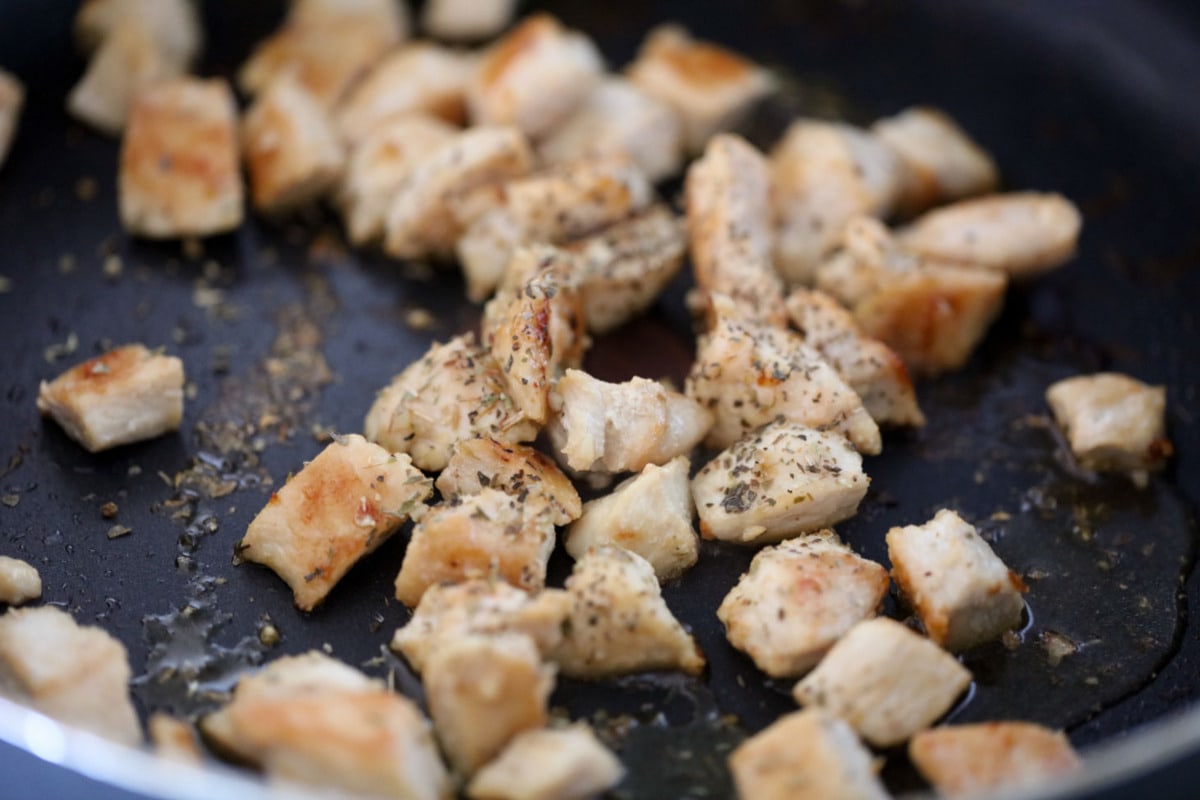 Don't be fooled by the amount of ingredients in this recipe. Most of them are spices that add so much flavor to this dish. Having said that, it really is a simple recipe that always gets awesome reviews!
How to make Chicken and Asparagus Pasta
Begin by sautéing your chicken until cooked through. While you are cooking your chicken, you also want to cook your pasta. For the last 5 minutes of cooking the pasta, throw in the asparagus too to help it become more tender.
Drain pasta and set aside while adding all your spices to the chicken skillet. Saute this for a bit and then add your broth, half and half, cream cheese and part of the Parmesan. Add the pasta and asparagus and stir until combined. If needed, add a little more water or broth if it's too dry. So simple!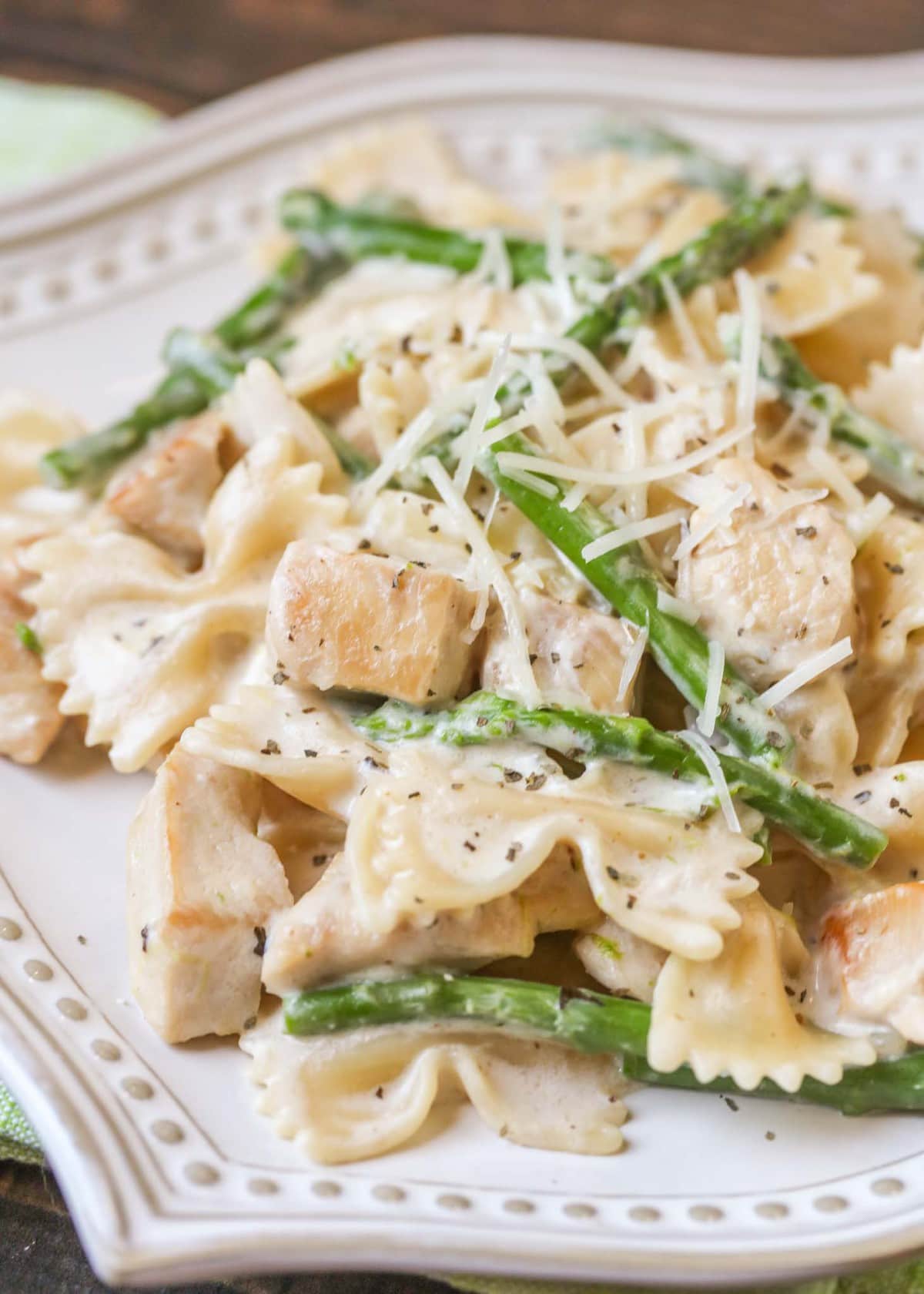 Check out the YUMMY Goodness!
I think I could eat this right about now! We have pasta almost once a week in our home, so you better believe this on the menu plan. Still working on the few kids who don't like asparagus, but it's definitely still a favorite. 😉
Complete this meal by also making:
For more chicken pasta recipes, check out:
Chicken and Asparagus Pasta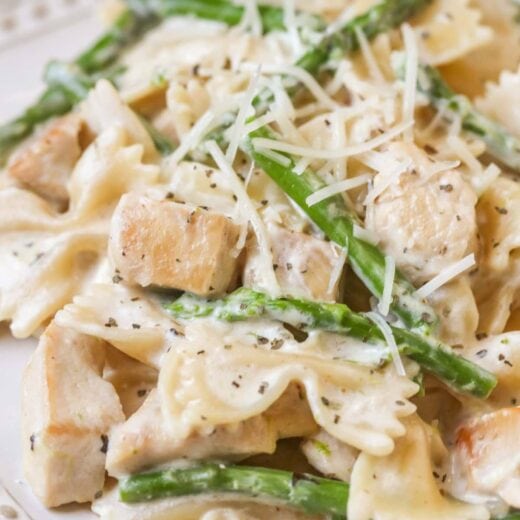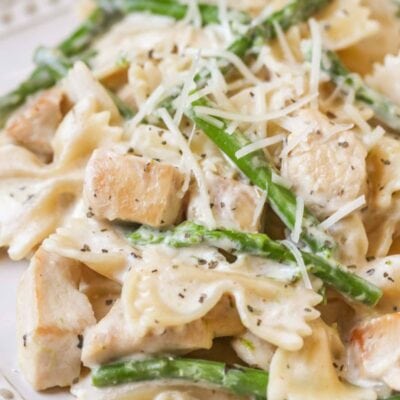 This Cheesy Chicken And Asparagus Pasta Is One The Whole Family Will Love. It's Flavorful And Filled With Everyone's Favorite Ingredients Including Chicken, Pasta And Asparagus – What's Not To Love?
Ingredients
1

16 oz. box

Bowtie Pasta

2

cups

chicken

cubed

1

bunch

asparagus

trimmed and cut into 4

1/2

cup

chicken broth

1/2

cup

reserved pasta water

1

tbsp

olive oil

2

tbsp

minced garlic

1/4

tsp

onion powder

1/4

tsp

garlic powder

1

tsp

dried basil

1

tsp

dried oregano

pinch of

red pepper flakes

4

oz

cream cheese

1/3

cup

half n half

1/2

cup

parmesan cheese

shredded

garlic salt & pepper

to taste
Instructions
Heat olive oil in a skillet over medium heat and saute your chicken for approximately 15 minutes.

Cook pasta according to directions on the package. In the last 5 minutes of cooking, add the asparagus to the water. Drain and set aside while reserving a cup of the pasta water.

Once chicken is cooked add minced garlic, onion powder, garlic powder, basil, oregano and red pepper flakes to the skillet. Saute for 5 minutes.

To your skillet combine the broth, half & half, cream cheese and half of your parmesan.

Add pasta and asparagus to your skillet and stir until well combined. If pasta seems too dry, add reserved cooking water a little bit at a time. Stir over med heat until desired consistency. Add salt, pepper and extra Parmesan to taste