Everything you love about a lasagna, but EASIER! These spinach lasagna rolls make for an easy weeknight dinner that will be a hit with the whole family. With a delicious spinach and three-cheese mixture rolled up in lasagna noodles and smothered in marinara sauce, whats not to love?!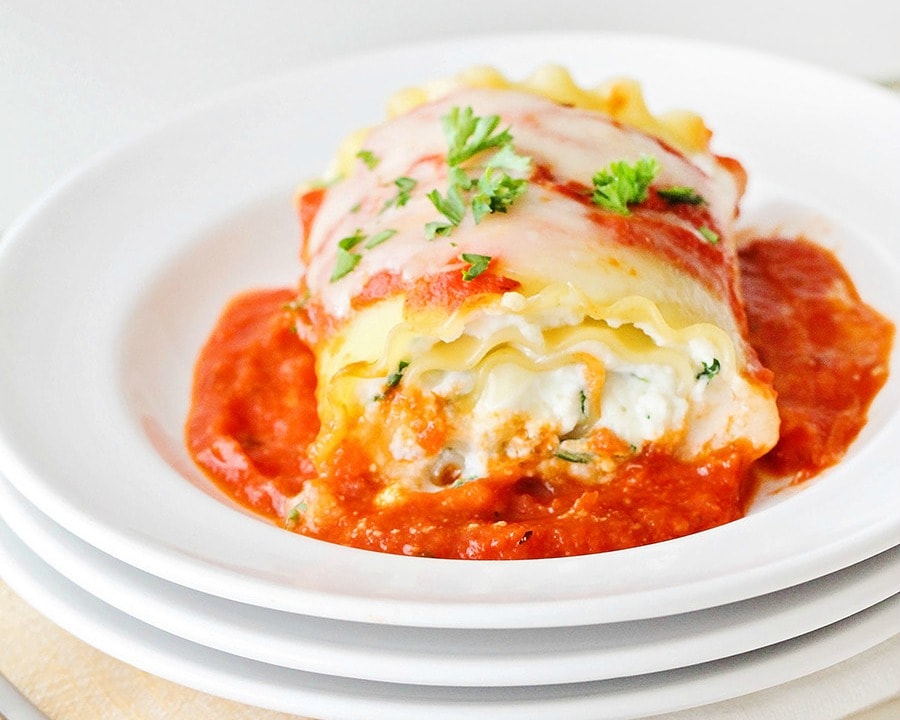 Easy Lasagna Roll Ups
When it comes to dinner recipes, I'm all about quick and easy. If it takes too long, or it's too complicated, I just can't make myself put the time into it. I love recipes that are easy, simple, and family-friendly. These cheesy spinach lasagna rolls fulfill all of those requirements, and they're delicious to boot! They have all the tastiness of lasagna, but they're even easier to make, and perfectly portioned in individual serving sizes.
These cheesy spinach lasagna rolls are a vegetarian meal that's still hearty and filling. You won't even miss the meat! The savory ricotta filling, packed with mozzarella, parmesan, and chopped spinach is seriously out of this world. Surely it will be a hit with the whole family, even the kiddos!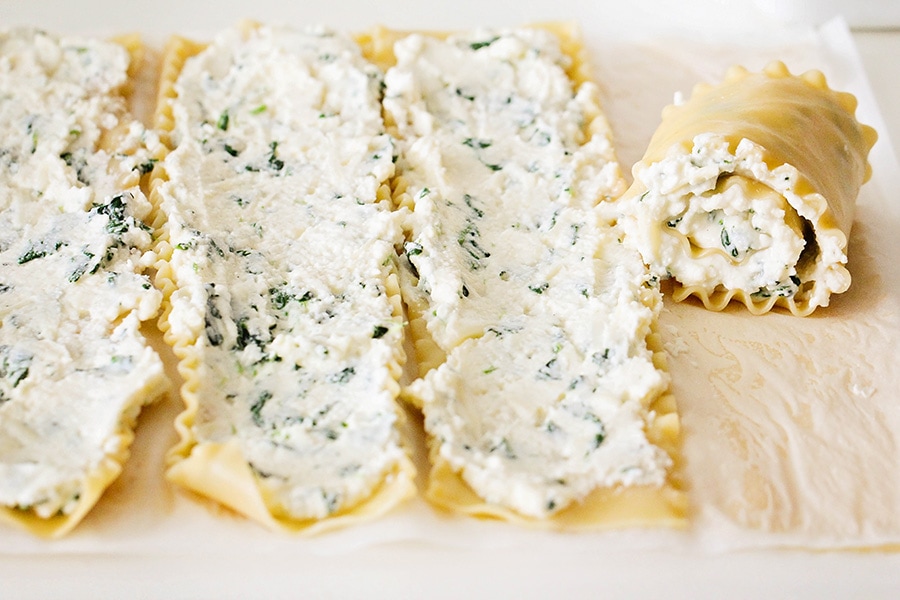 How to make Spinach Lasagna Rolls:
Cook lasagna noodles and lay flat on wax paper to cool.
Combine remaining ingredients (aside from the marinara sauce) to create the cheesy filling.
Spread the ricotta mixture on the cooled noodles, and then roll them up into cute little bundles. Be gentle as you're rolling, so the filling doesn't squish out the sides.
Add your lasagna rolls to a baking dish with 1 cup of marinara sauce in the bottom of the dish, and top them with remaining marinara sauce and mozzarella cheese. More cheese is always a good thing!
Bake in the oven until they're melty and gooey, about 35 minutes, and then dig in!
These really are so easy and can be changed up based on the fillings you want to use. Instead of cheese and spinach you could also do cheese and chicken or even cheese and sausage. So many possibilities!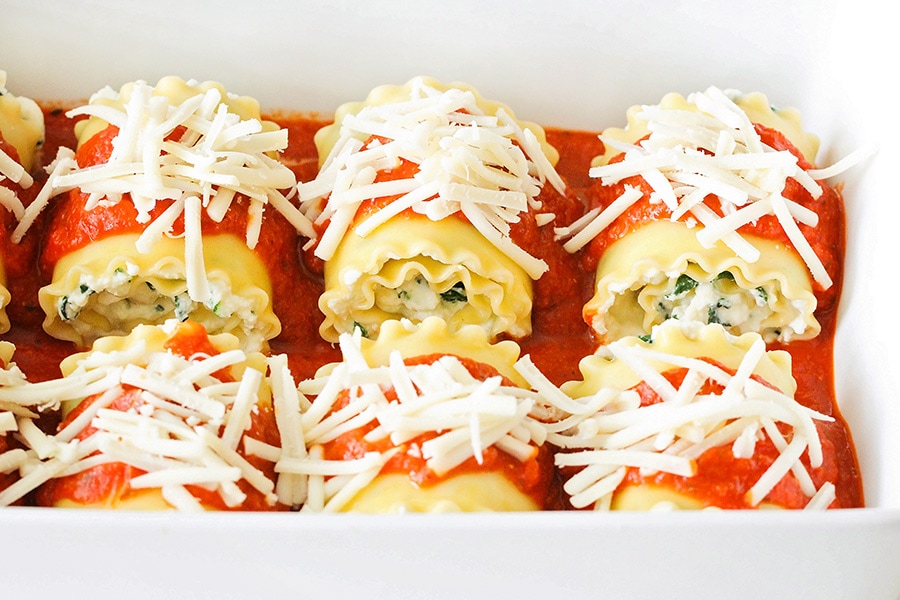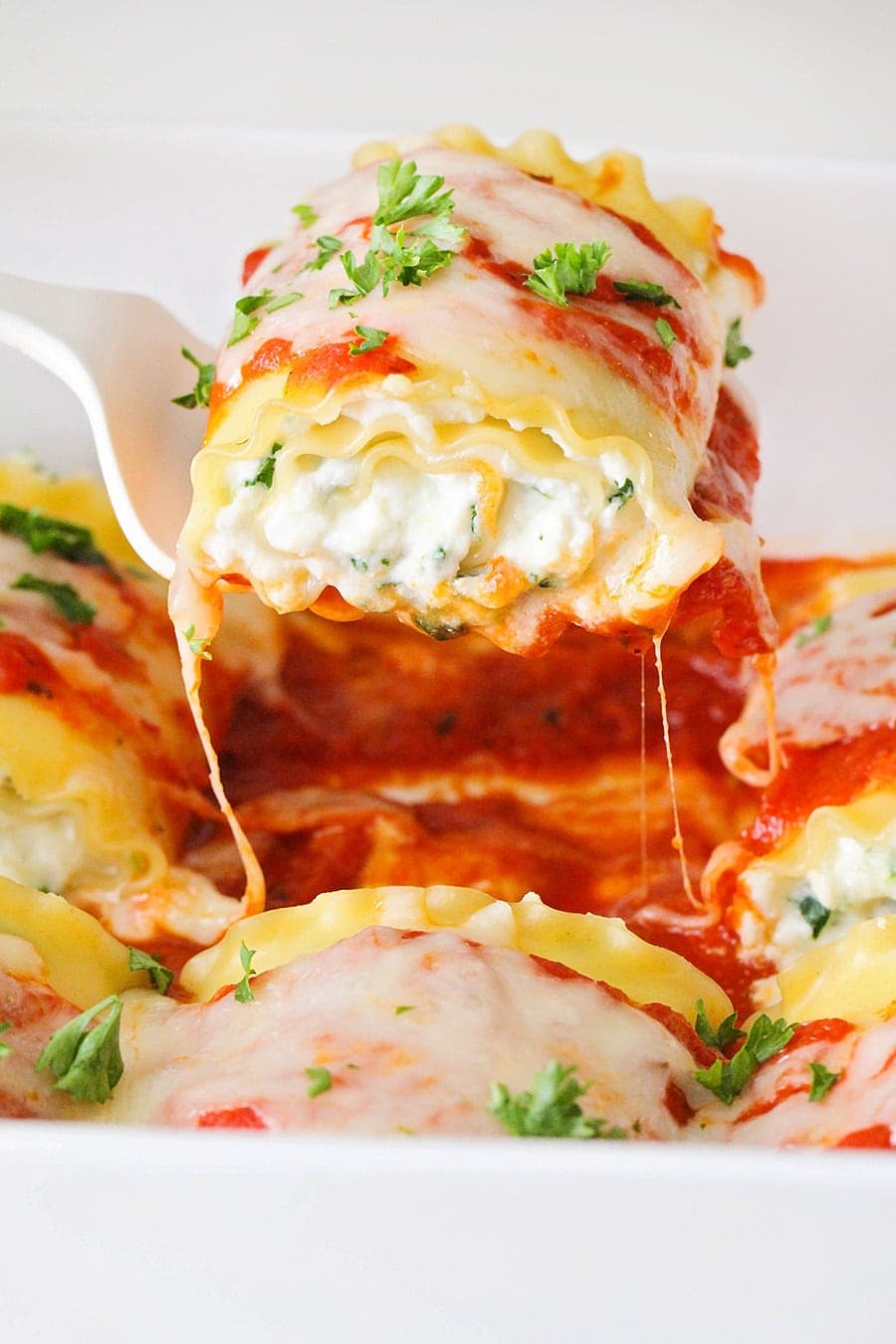 I love that these lasagna rolls have three different kinds of cheese – it adds so much great flavor. They were a huge hit with both of my kids and my husband, and will definitely be added to our regular dinner rotation. They're perfect for a busy night, and the leftovers are fantastic too. If you love easy recipes as much as I do, this is definitely a must-make recipe!
This recipe is perfectly paired with these other Lil' Luna recipes:
For more cheesy recipes, check out: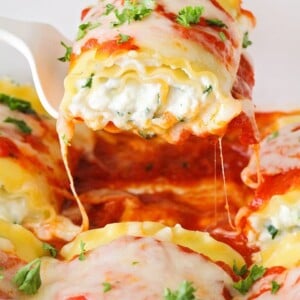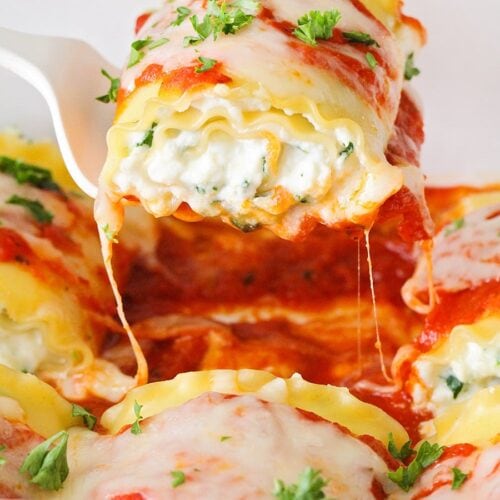 Lasagna Rolls Recipe
Everything You Love About A Lasagna, But EASIER! These Spinach Lasagna Rolls Make For An Easy Weeknight Dinner That Will Be A Hit With The Whole Family. With A Delicious Spinach And Three-Cheese Mixture Rolled Up In Lasagna Noodles And Smothered In Marinara Sauce, Whats Not To Love?!
Ingredients
1

package

lasagna noodles

32

oz

ricotta

4

cups

spinach

fresh, steamed and chopped

2

eggs

1/4

cup

parmesan cheese

1

tsp

garlic powder

1

tsp

salt

1/4

tsp

pepper

1 1/2

cups

shredded mozzarella cheese

divided

24

oz

marinara sauce
Instructions
Cook the lasagna noodles according to the package directions. Drain and lay flat on wax paper to cool.

In a medium bowl, combine the ricotta, spinach, eggs, parmesan, garlic powder, salt, pepper, and 1 cup mozzarella cheese. Spread 1 cup of marinara sauce in the bottom of a 9 x 13 baking dish.

Spoon the ricotta mixture over the surface of each noodle, spreading about ¼ inch thick. Gently roll up each noodle and place in the prepared baking dish.

Spoon marinara sauce over the top of each lasagna roll and sprinkle with remaining mozzarella cheese.

Bake 35-40 minutes, or until the cheese is melted and bubbly.
_______________________
I completely agree with you! I'm all about quick and easy dinner recipes for sure! Can't wait to try this one!! Thanks for sharing Alicia! Head over to The Baker Upstairs to see more of her amazing recipes!