Bring the taste of Italy home with this creamy and delicious Copycat Olive Garden Zuppa Toscana soup. The whole family loves this soup!
Olive Garden Breadsticks, Caesar Salad with Homemade Croutons, or Mozzarella Bites are the perfect compliments for this tasty soup!! It's one flavor-packed bowl full!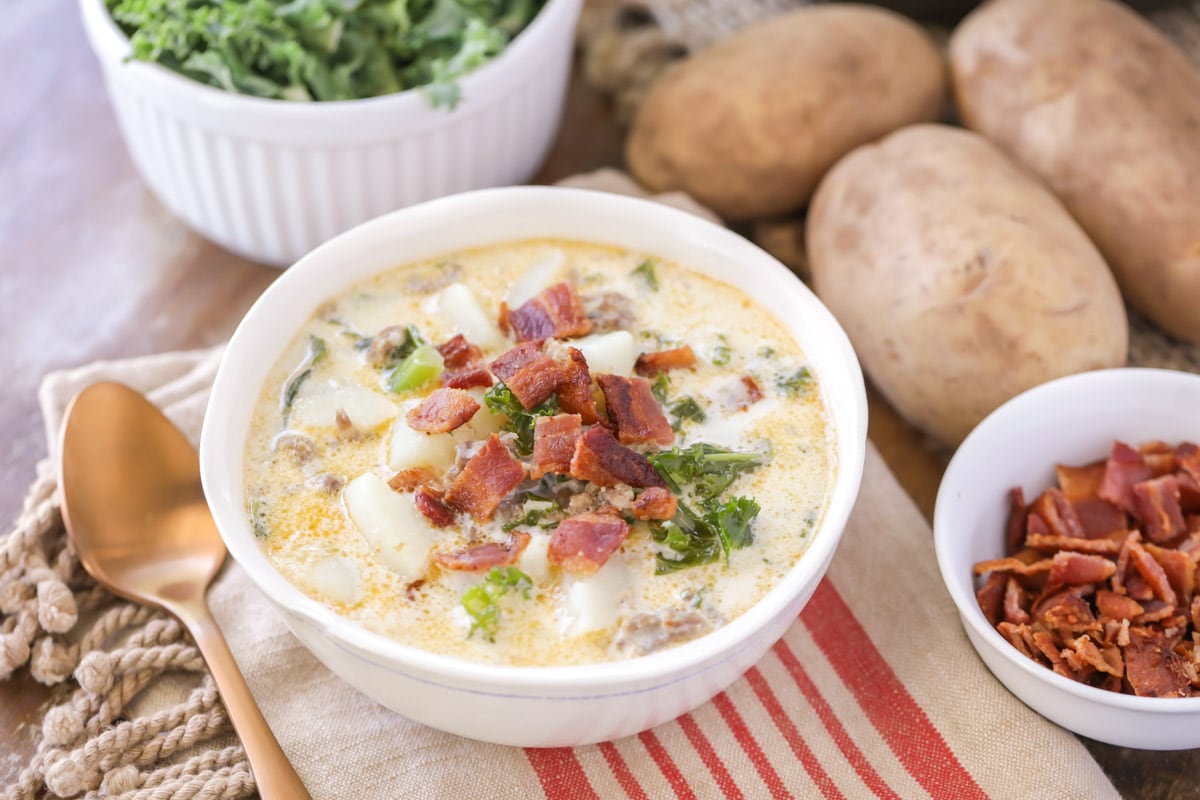 Copycat Olive Garden SOUP
Zuppa Toscana broadly translates to "Tuscan Soup". It is most famous for being served at Olive Garden, but over the years has become more popular all over. It's most commonly made from kale, zucchini, cannellini beans, potatoes, celery, carrots, onion, tomato pulp, extra virgin olive oil, salt, powdered chili, toasted Tuscan bread, and rigatino (Italian bacon).
Today's soup recipe does include sausage, kale, potatoes and bacon, which are some of my favorite ingredients. You can easily add some of the other items like celery and carrots, based on what you like but we thought this was perfect as is. We ended up making a few changes by adding less water and adding Parmesan cheese on top and loved how all the flavors came together so perfectly!
Although I'm sure everyone has their version of this recipe, this recipe is definitely one to try. You can always head down to Olive Garden and try their version or you can use this recipe to make it at home. Either way, it's a soup that should be tried and enjoyed!!

How to Make Zuppa Toscana Soup
Believe it or not, this soup actually comes together really quickly! After you've prepared all the ingredients (chopped the kale, cooked and crumbled the bacon, and cut the potatoes), it only takes about 25 minutes to cook the soup!
BROWN. Brown the sausage with the minced garlic and set aside.
SIMMER + SERVE. Add the water, chicken broth, chicken base, and potatoes into a large pot and simmer for 15 minutes. Add crumbled bacon, sausage, kale and whipping cream, and cook an additional 5-7 minutes. Serve warm and ENJOY.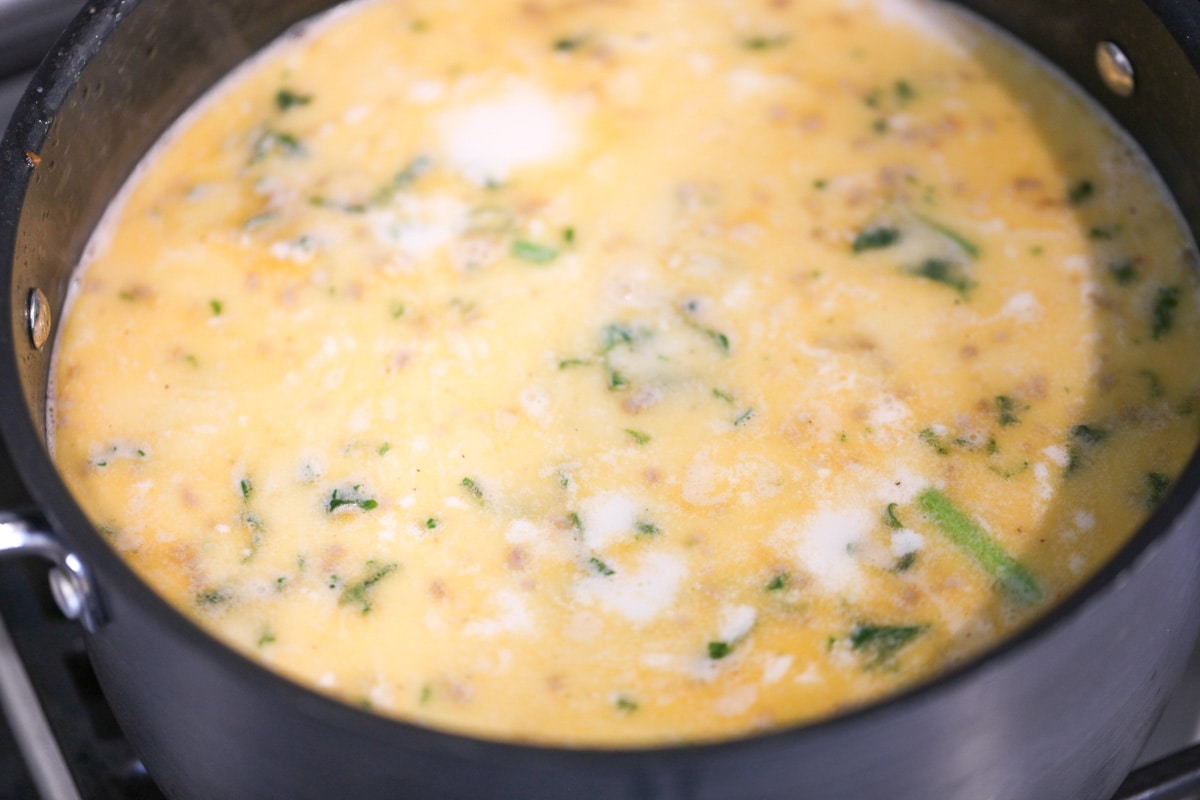 Tips + Storing Info
Potatoes:  You should slice all of the potatoes to be the same size so that it cooks evenly. You might even try using a mandolin to get even slices without having to make much of an effort.
Kale: When you're chopping the kale you don't want to include the stem or spine of the leafy greens. It is not desirable because it is tough and doesn't cook as well. People also recommend cutting the kale and then washing it. This method removes more of that bitter taste.
If kale is not your style you can use spinach instead, it won't have as strong a flavor.
Bacon: You can either buy fully cooked bacon and crumble it that way or cook the bacon in the oven with our recipe here.
Sausage: You can adjust the heat in the soup either using mild sausage or a spicy sausage.
More Spice: You can sprinkle in some crushed red pepper flakes for more heat. 
Crock Pot: You can adjust the steps to make this soup in the crock pot. Brown the sausage in a pan. Drain any excess grease and add the sausage to the crock pot. Then, add the stock, water and potatoes to the crockpot. Cook on high for 3-4 hours or low heat for 6-8 hours. Stir in the cream and kale and cook for 5 more minutes. Add seasoning and serve with parmesan cheese. 
STORE leftovers in an airtight container in the fridge for 3-4 days. Reheat on the stove top or in the microwave.
To make this soup ahead of time and FREEZE complete steps 1-3 as written. Add ingredients suggested in step 4 except for the kale and cream. Allow the soup to cool before storing in a freezer safe container. Reheat on the stovetop then add the kale and cream. Simmer for another 5-6 minutes before serving with garnish.
FREEZE leftovers, but the texture will be a bit off due to the cream. The best way to incorporate the cream into the soup is to reheat it slowly on low heat.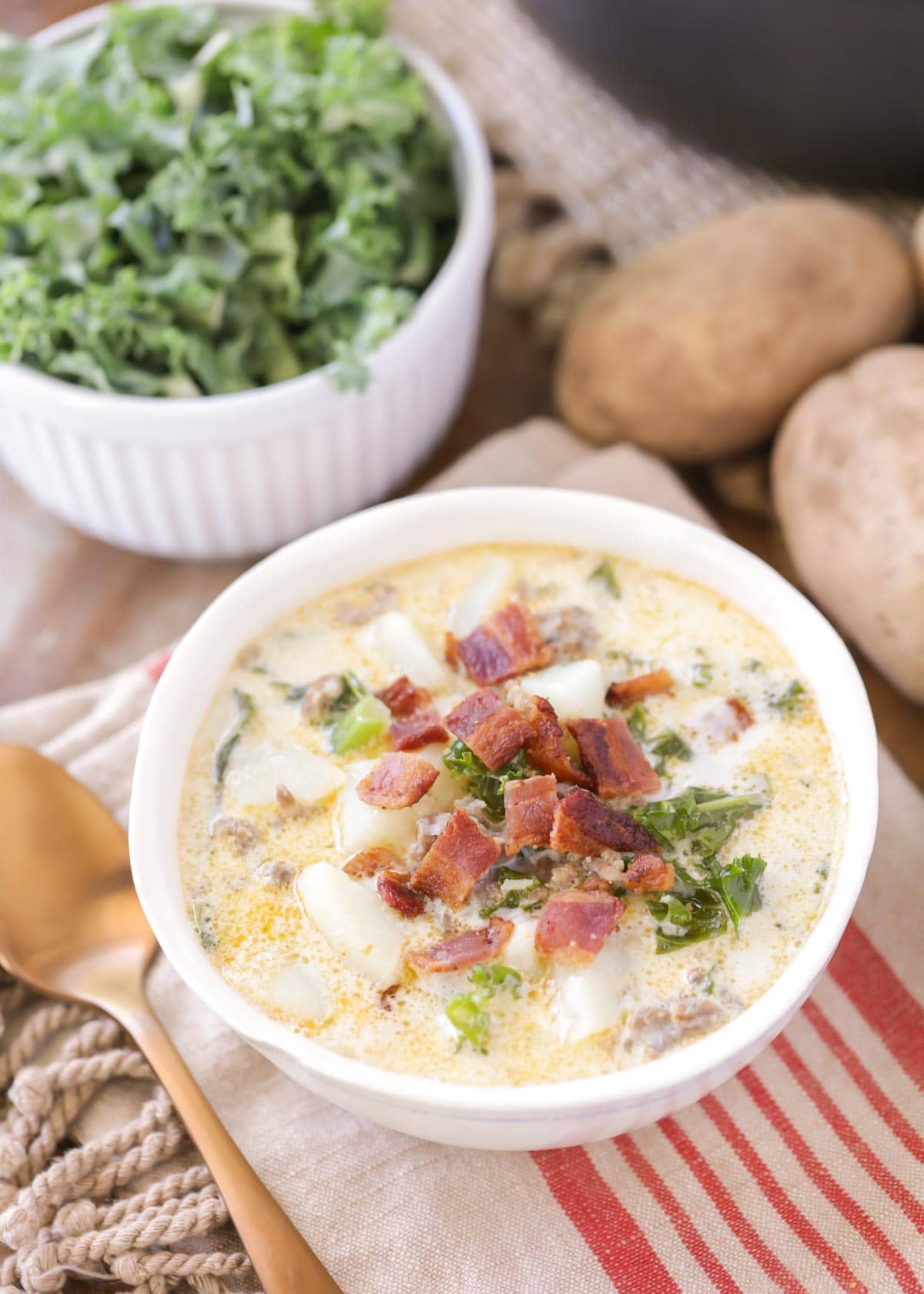 for more favorite soups, check out:
Zuppa Toscana Recipe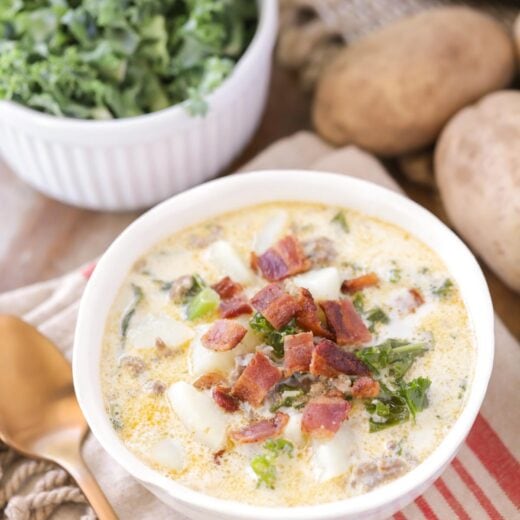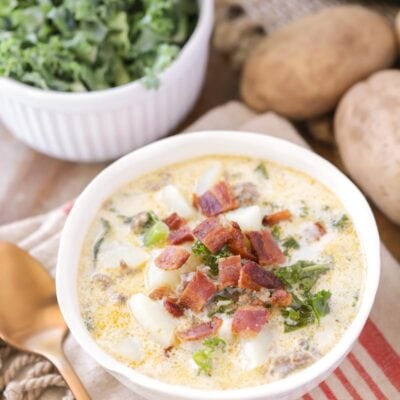 Bring the taste of Italy home with this creamy and delicious Copycat Olive Garden Zuppa Toscana soup. The whole family loves this soup!
Ingredients
6-7

slices

bacon

cooked and crumbled

16

oz

Jimmy Dean Italian Sausage

1

tbsp

minced garlic

32

oz

chicken stock

(or broth)

6-7

cups

water

4

medium

potatoes

russet, peeled and cut into ¼ inch pieces

2

cups

kale leaves

chopped

1

cup

heavy whipping cream

garlic salt with parsley flakes

pepper

to taste

shaved Parmesan cheese

optional topping
Instructions
In a large pot, cook bacon until crisp, then remove bacon out onto a paper-towel lined plate and reserve a few tablespoons of the grease.

Add sauce and garlic to the pot and cook until browned. Remove from heat and set aside.

Add water and stock to the pot and bring to a boil. Once boiling, add potatoes and simmer for 15 minutes.

Add kale, sausage, most of the bacon, whipping cream and salt and pepper and cook an additional 6-8 minutes.

Top with reserved bacon and shaved Parmesan if desired.