Our favorite Chicken Pot Pie recipe filled with chicken, hard-boiled eggs, carrots and corn. The ultra-easy crust is made from biscuit mix. It's a recipe the whole family loves!
It's a go-to dinner recipe that is simple and loved by the entire family. Filled with veggies, and chicken and topped with Bisquick (just like our Pizza Bake and Taco Pie) – it's easy and delicious.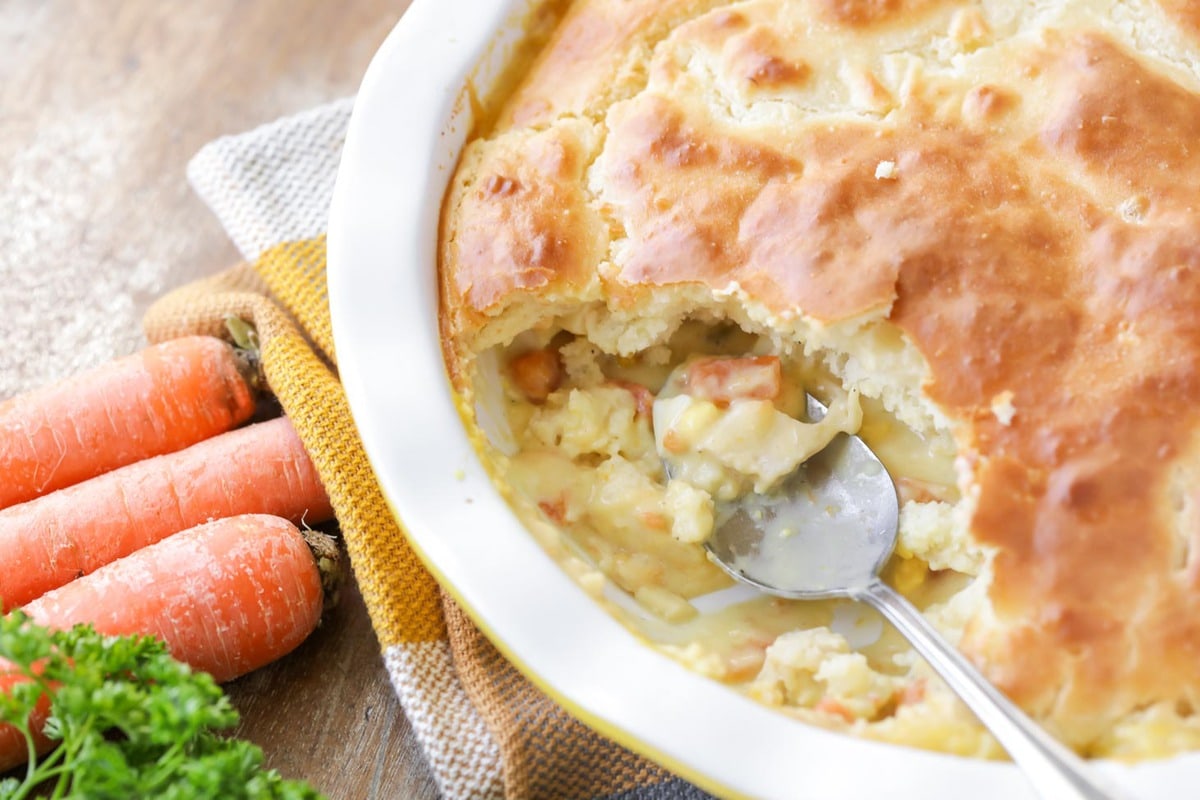 Bisquick makes it easy
I didn't realize how much I loved chicken pot pie until my mom brought me some for dinner just after we had our second child. I was so grateful to have a warm meal that I didn't have to cook myself. I was even more thankful after I took a bite of the meal and it tasted like HEAVEN!!
I've made my own version that's a little more kid-friendly, and better yet, busy-mom-friendly. 😉 I say that because this version is very simplified—it has all the flavors of a classic pot pie, but without the time commitment and undesirable ingredients (AKA peas)!
The crust is actually made with a bisquick biscuit mix rather than a pie type of crust. It's just as tasty and so much quicker!! Usually I cook up some shredded chicken for this recipe, but you can also used canned chicken to make it go even quicker.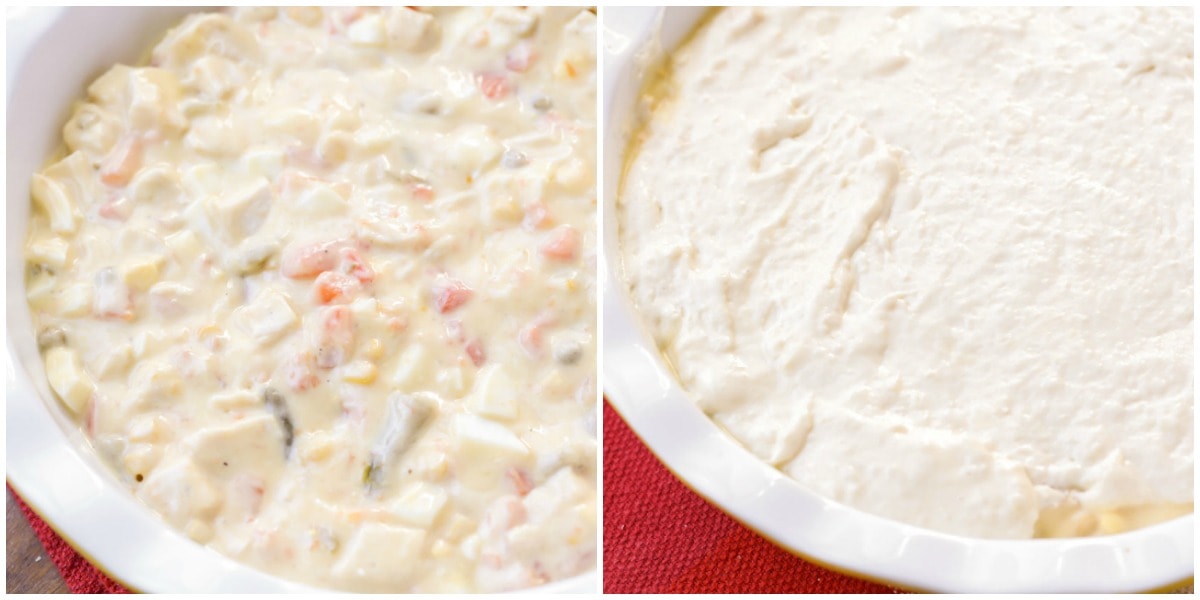 Customize your Pot Pie
You can add or omit any ingredients depending on what your family likes. Most Chicken Pot Pies have peas, and unfortunately, my family isn't too fond of the small veggie. In fact, I really don't like peas myself, so I make sure to omit them when I make this dish.
I also like to add hard-boiled eggs and corn because my kids love them and it makes the dish so tasty. Some other ingredients you could include are:
peas
onions
green beans
potatoes
celery
mushrooms
Regardless of what veggies you use, I suggest making sure the total amount adds up to 1 ½ cups. You could also sub the chicken for turkey (especially after Thanksgiving!), or make it meatless and omit the chicken entirely.
Fresh, canned, or frozen vegetables? Again, totally up to you! I typically use canned corn, but fresh carrots. Whatever your preference is, or whatever you have on hand will work just fine.
You can find bags of mixed veggies in the freezer section that work great for this recipe. If you do decide to use frozen vegetables, thaw them before mixing into the filling.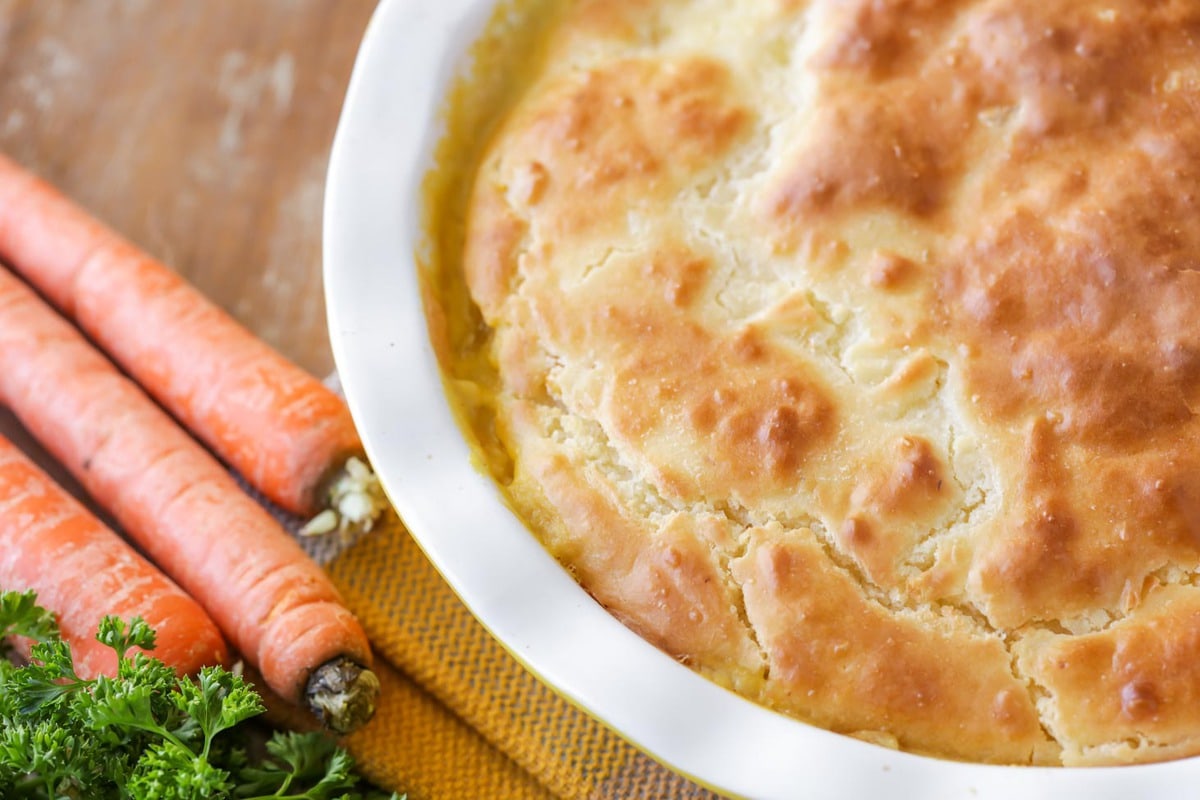 A Great "Go-To" Recipe
Having simple, quick and delicious dinner ideas on hand are always my favorite. Fortunately, I almost ALWAYS have these ingredients handy, so this is a great "go-to" recipe on one of the many busy days we tend to have.
Making ahead/freezing: This pot pie also makes for a great make-ahead-and-freeze meal. If you're planning on making as a freezer meal, I recommend using disposable pie dishes. You can make a couple at a time and freeze them so you have them on hand for a busy week night.
Make and bake as usual, let it cool completely, and cover with plastic wrap and a layer of tinfoil, or store in a freezer storage bag. It should keep well for a few months. When you're ready to bake, there's no need to thaw. Just add an extra 15-20 minutes or so until it's totally cooked through.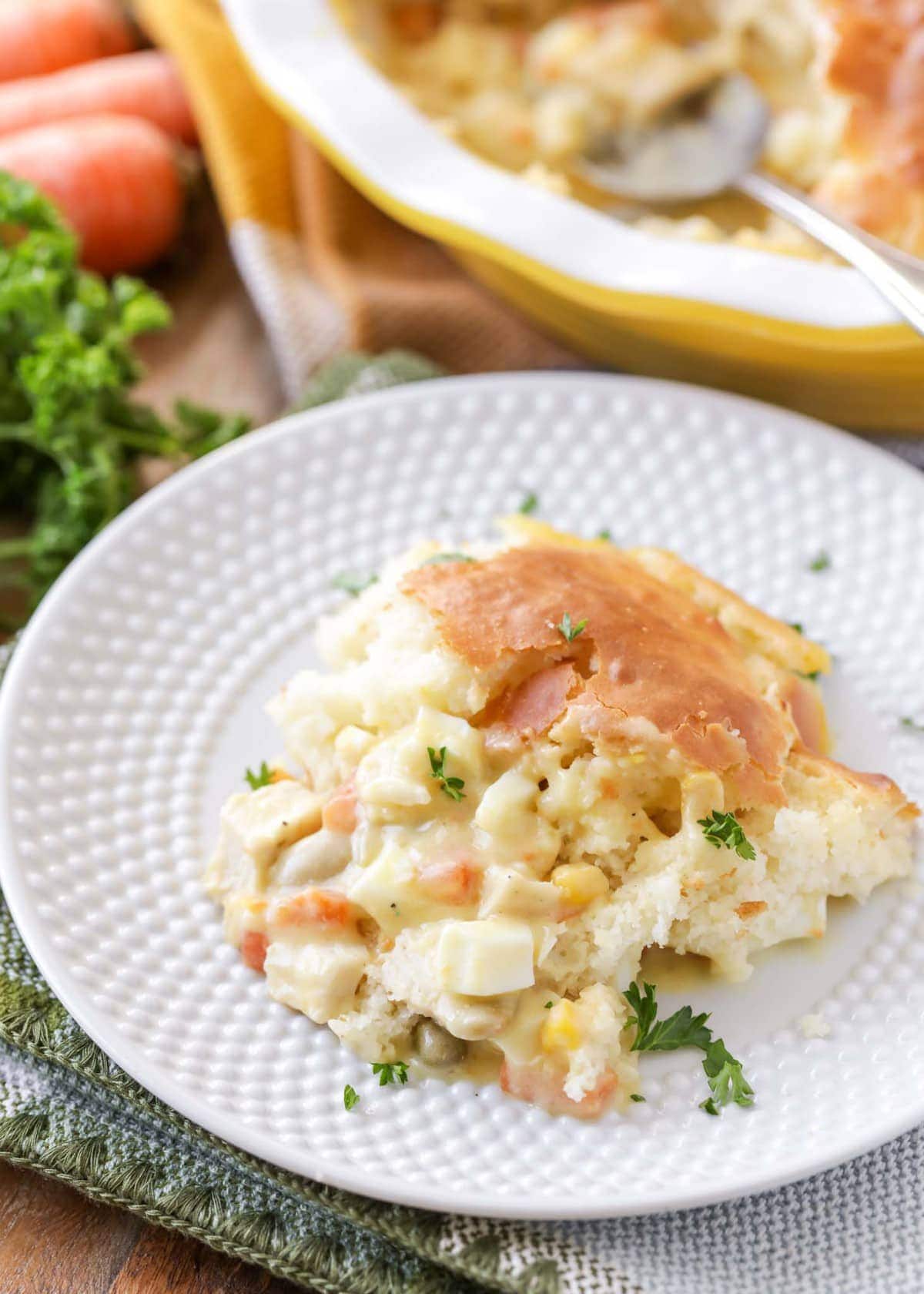 For more easy chicken dinners, check out:
Easy Chicken Pot Pie Recipe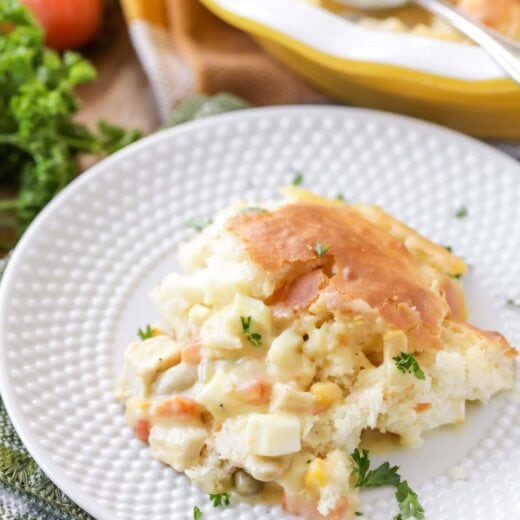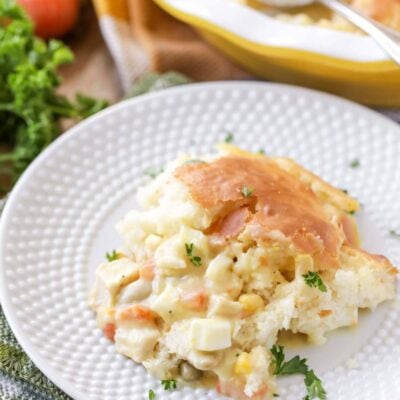 Our favorite Chicken Pot Pie recipe filled with chicken, hard-boiled eggs, carrots and corn. The ultra-easy crust is made from biscuit mix. It's a recipe the whole family loves!
Ingredients
2

cup

cooked chicken

(I shredded mine and also kept some cubes, you can also use 2 cans cooked chicken)

3

hard boiled eggs

sliced

1

cup

carrots

thinly sliced or carrot crinkles

1/2

cup

corn

1

can

cream of chicken soup

1

cup

chicken broth

salt and pepper to taste

optional

1 1/2

cups

biscuit mix

instant

1

cup

milk

6

tbsp

butter

melted
Instructions
Layer chicken, eggs, carrots and corn in a 2-quart casserole dish.

In a medium bowl, mix together chicken soup, chicken broth, salt and pepper. Mix well. Pour over your layers.

In a separate bowl, whisk together biscuit mix and milk. Pour over the casserole.

Drizzle melted butter over the top and bake for 35 minutes. Serve warm. ENJOY!