With so many chicken dinner ideas, varying flavors, and differing cuisines – you're sure to never get bored. Time to stock up on chicken and get cooking!!
More Collections: Quick Dinner Ideas, Ground Beef Dinner Ideas, Breakfast For Dinner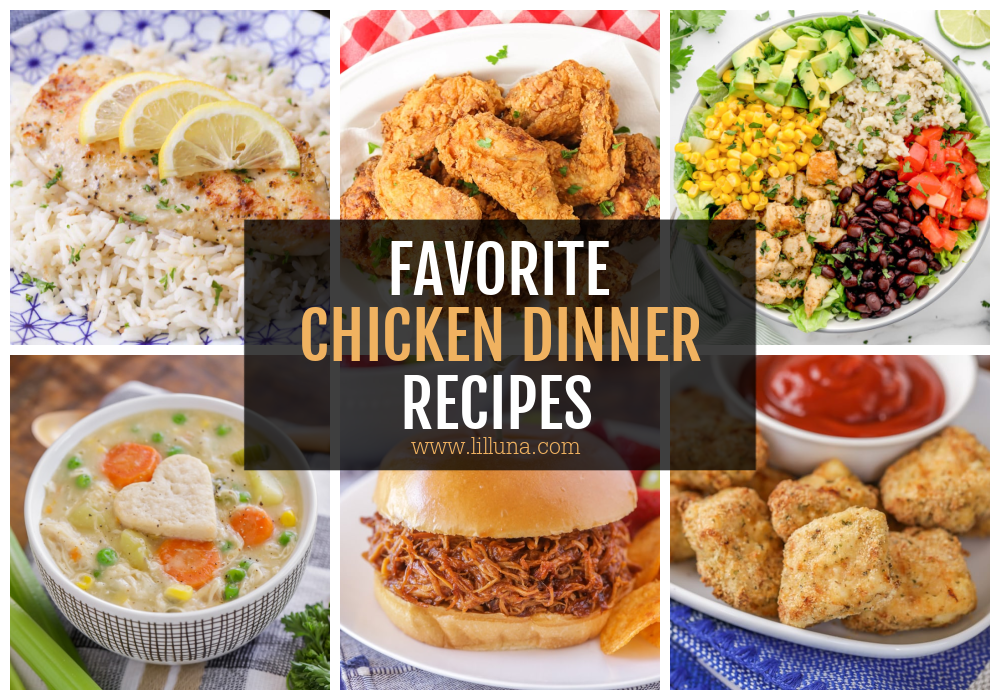 Winner Winner, Chicken Dinner!
Chicken is so versatile and can take on a variety of flavor profiles. It's delicious in soups, salads and sandwiches, and makes a perfect star of any dish.
Not only do we love the flavor of chicken, but I love that it's an inexpensive protein. Depending on what cut of chicken you get, it's typically more affordable than beef or pork.
Pair it with pasta or stuff it into a casserole, the possibilities are endless!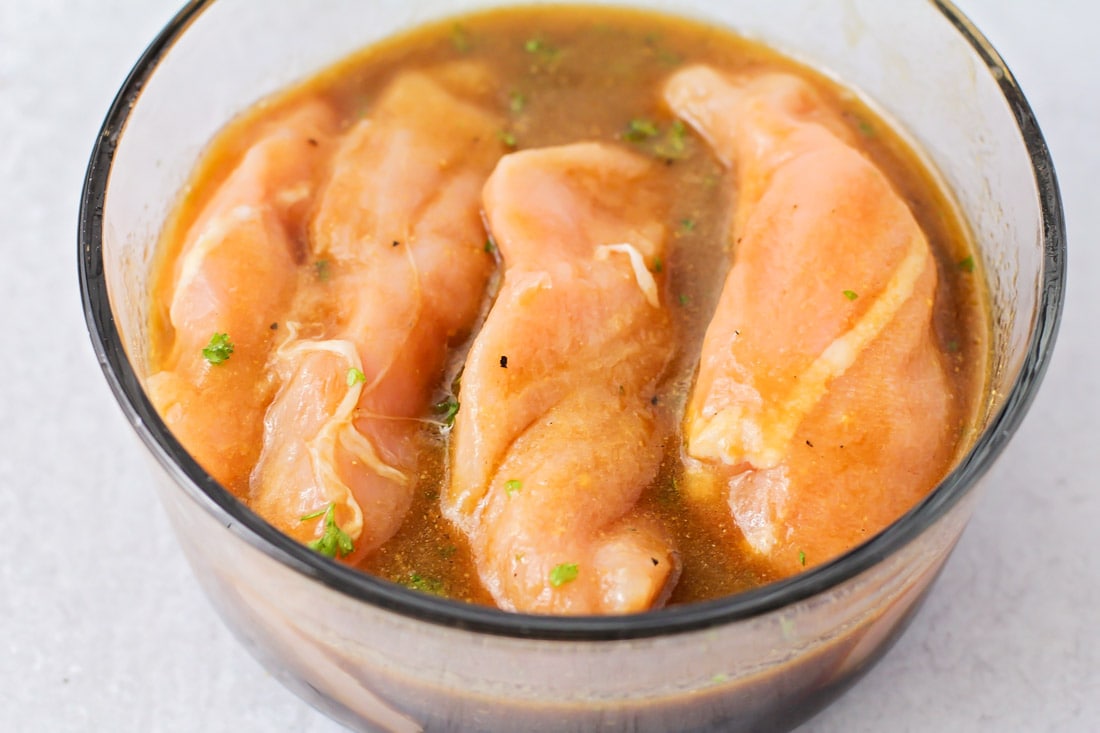 Cuts of Chicken
Chicken breasts are a delicious lean protein that can easily be paired with many flavors and cuisines. They do tend to dry out more quickly so pay attention to the cook time.
Chicken thighs have a higher fat content and are typically sold at a lower cost than breasts. They are very flavorful and are more forgiving to cook.
Buffalo wings. These delicious bites consist of both parts of a chicken wing. You can buy them precut or use a sharp knife to split the wing into pieces.
Drumsticks were my favorite as a kid as they were easier to eat than other bone-in pieces. My mom loved them because they are one of the least expensive cuts of chicken.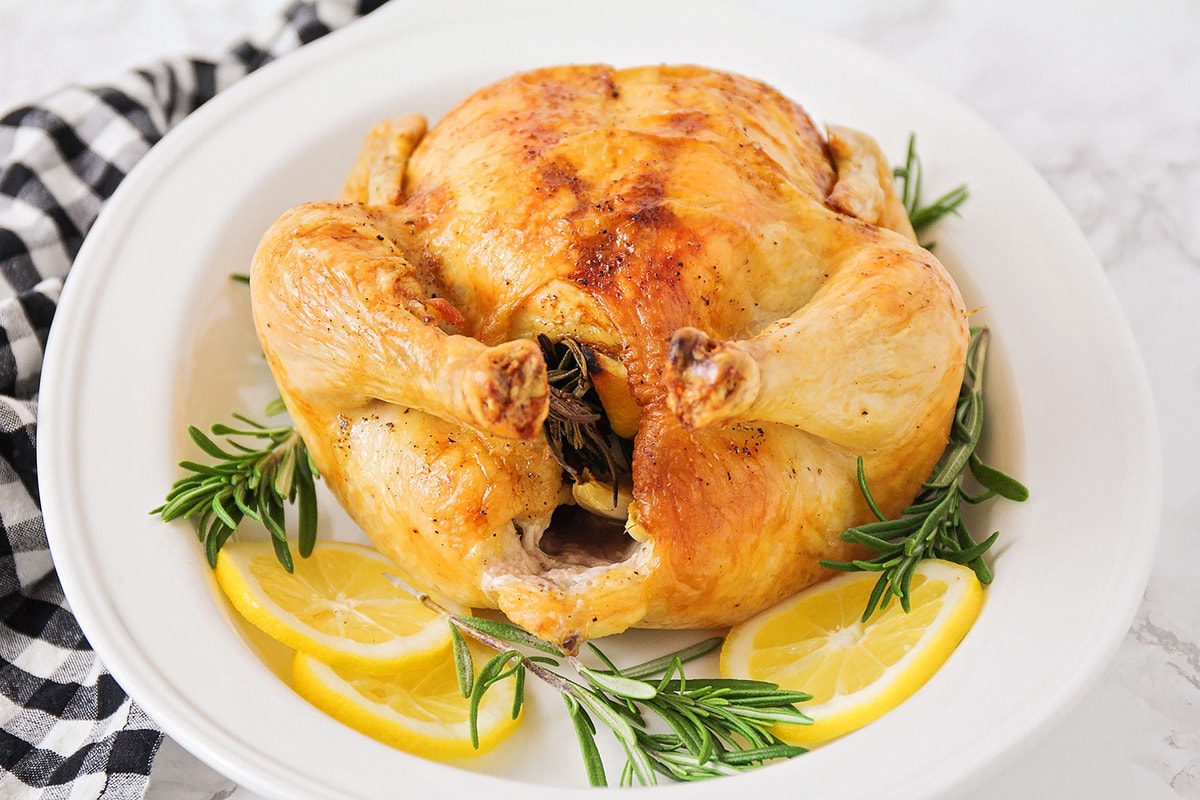 Keeping Chicken Moist
Dry chicken can easily turn a delicious dish into a forgettable one.
Parchment Paper: One trick is to place a piece of parchment paper over the chicken when you cook it in the oven. It helps keep in moisture.
Pound It: Another thing you can try is to pound your chicken so that it has an even thickness throughout.
Butterfly the Breast: splitting the chicken breast horizontally though the thickest part and opening it like a book
Add Moisture: Marinate, brine, or braise your chicken to help keep it moist.
Don't Overcook: It's also imperative that you do not overcook your chicken.
Internal Temp: Chicken is done when the internal temp is 165°F. A good indicator is that the juices run clear and the center is no longer pink.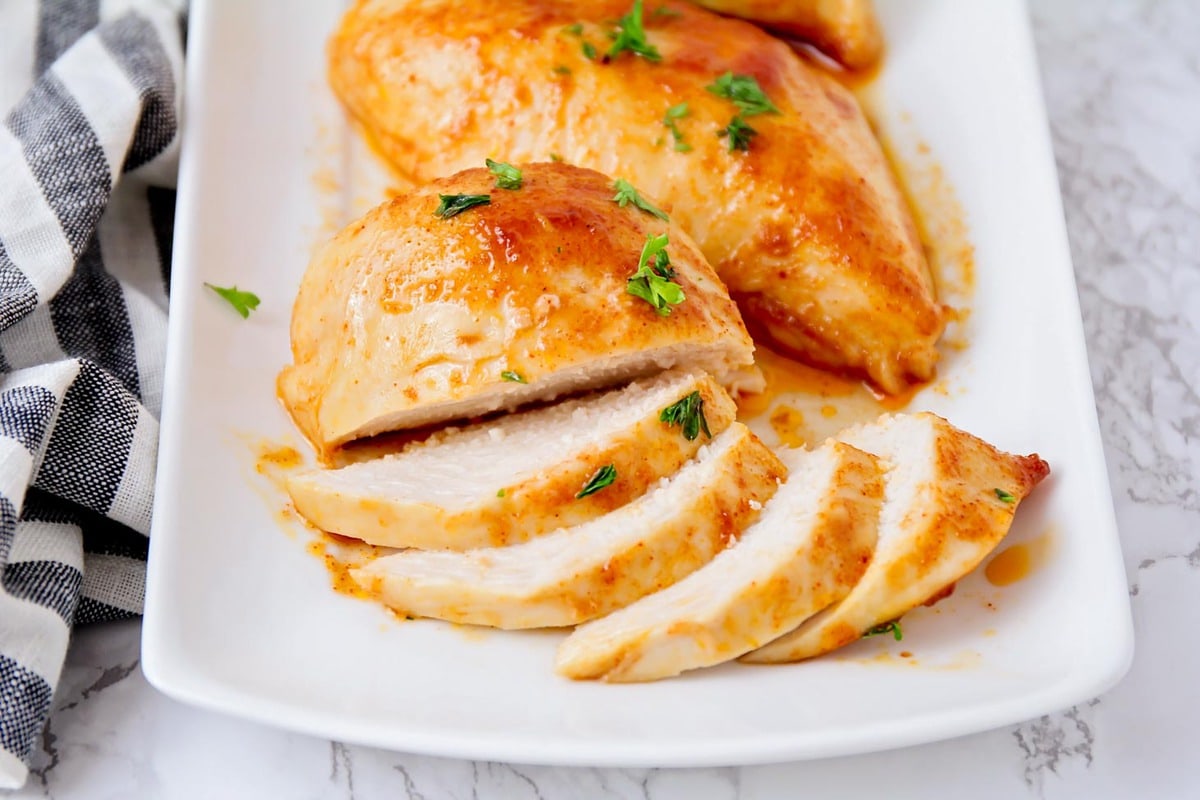 Prepare + store shredded chicken
How much to make. When making a chicken dish as the main meal plan to serve 8-10 oz per person. If you are using bone-in chicken, the amount increases to about 12-16 oz per person.
Make ahead of time and FREEZE. So many recipes call for cooked shredded chicken that I'll cook a bulk amount in my crock pot and store it in the freezer. This makes meal prep for these recipes go more quickly.
STORE leftovers. Leftover over chicken can be stored in an airtight container in the fridge for 2-3 days or in the freezer for 3-4 months.
Leftover chicken is great to turn into other meals. You can easily slice it up and add it to salads, wraps and sandwiches. You can turn it into soups, stir frys, pastas and casseroles.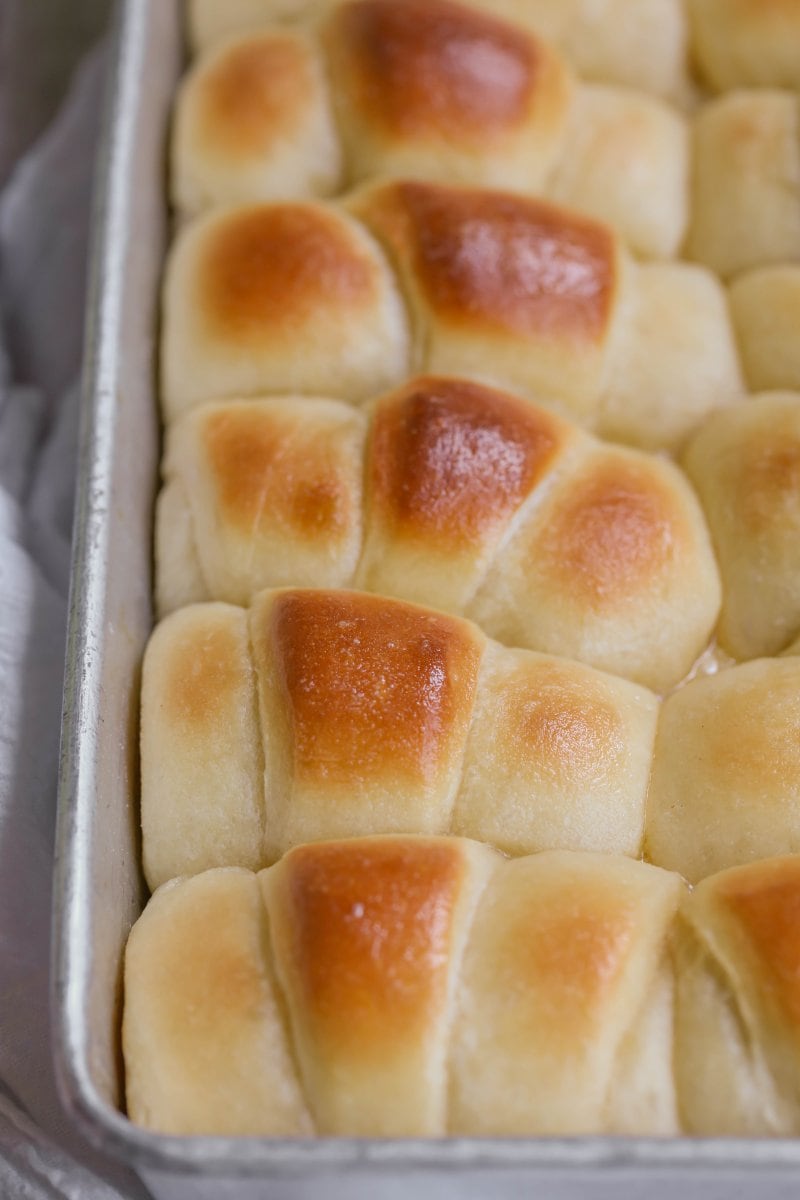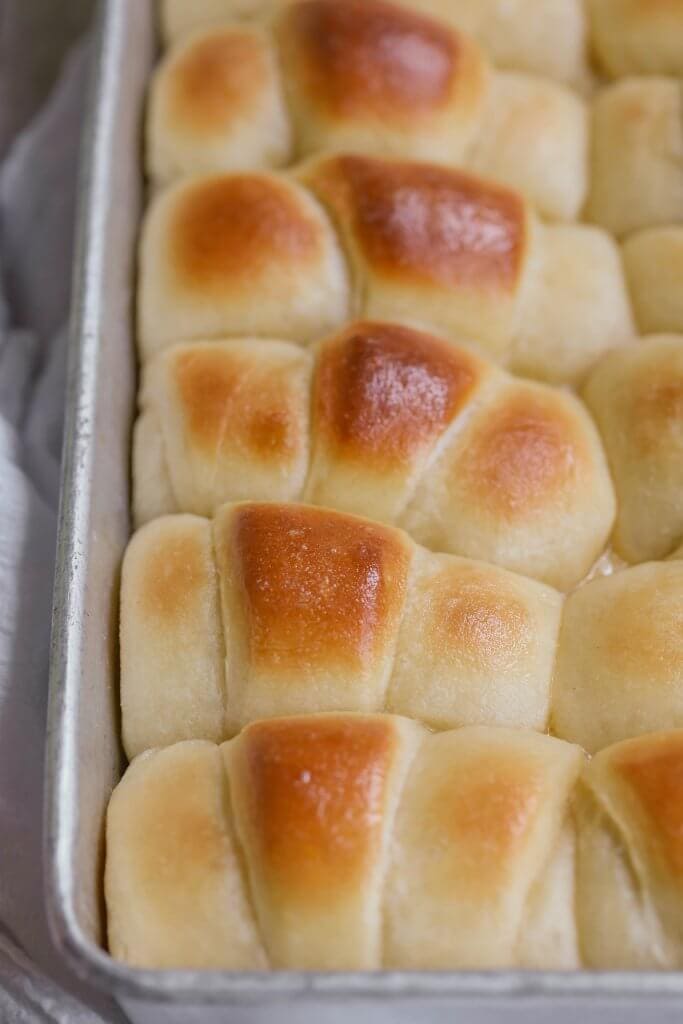 What goes well with chicken dinner
The following sides will pair well with most all chicken dishes:
---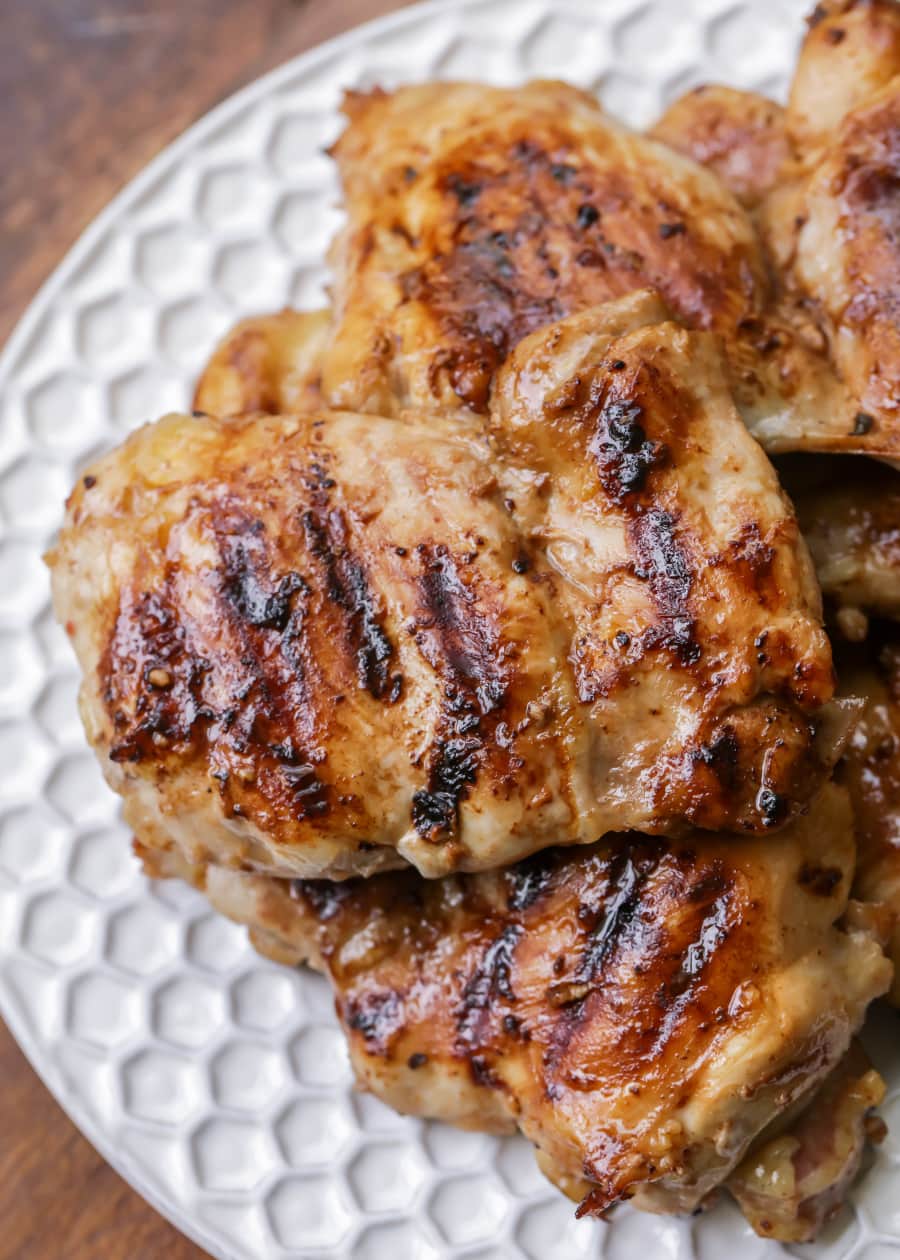 Easy Chicken Dinner IDeas
Simple dinner ideas, many of which are on the table in under 30 minutes!! These easy chicken recipes are all tasty, and there's sure to be something to please even your picky eaters.
Huli Huli Chicken – This Grilled Huli Huli Chicken is the juiciest and most delicious Hawaiian chicken you'll ever try! Great alone or served on rice or noodles!!
Lemon Garlic Chicken – This Lemon Garlic Chicken is ready in 15 minutes or less! It's a great weeknight chicken dinner that is full of flavor and tastes great over rice!
Buttermilk Fried Chicken – You can't go wrong with delicious fried chicken!! It's great for picnics, barbecues, holidays and more. Plus – it's easier to make than you think!!
Popcorn Chicken – Crispy, delicious Popcorn Chicken is a family favorite!! Not only is it easy to make but it's a hit with the entire family making dinner a cinch!
Best Roast Chicken – Simple and delicious roast chicken tastes like you spent all day cooking it! It is the the perfect go-to dinner recipe.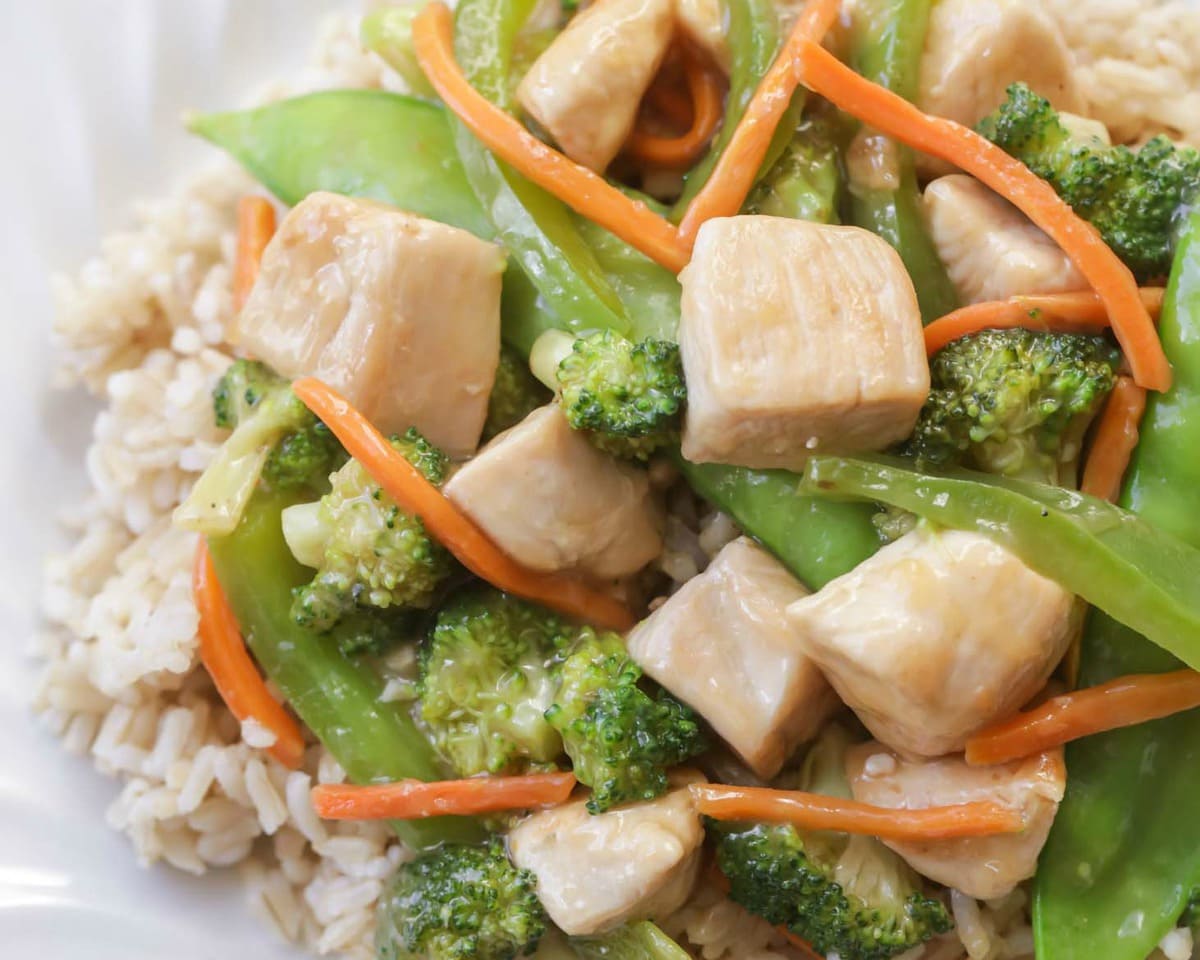 Chicken Stir Fry – The tender chicken and flavorful sauce with yummy veggies made this stir fry dish a keeper, and I'm already anxious to try it again.
Crescent Roll Chicken Bundles – Shredded chicken mixed with cream cheese, Italian dressing mix, and cream of chicken rolled into buttery crescent dough! These flavorful Chicken Crescent Roll Bundles have become a family fave.
Crock Pot Chicken Stew – A simple, convenient, and TASTY stew recipe made in the crock pot! Made with chicken, potatoes, and carrots, this creamy Slow Cooker Chicken Stew recipe is BURSTING with flavor!!
Coconut Curry Chicken – Delicious Coconut Curry Chicken is packed with flavor! Serve with rice or bread for a perfect chicken curry meal.
Crockpot Ranch Chicken – You'll love how simple, yet flavorful, this delicious chicken is. Made entirely in the crockpot, creamy ranch chicken is perfect on its own or served over rice.
Chicken Salad – Chicken salad is the perfect food for baby/wedding showers, light lunches, or picnics at the park! Eat your creamy chicken salad on a croissant, in a salad, or by itself!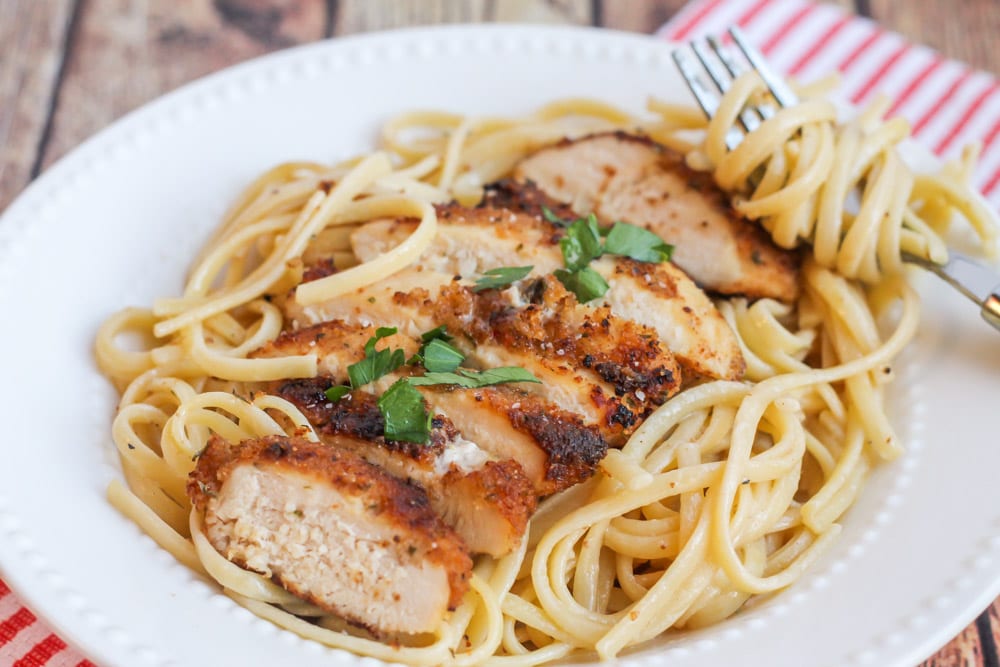 Chicken Scallopini – This Chicken Scallopini is a delicious dish of crusted chicken over lemon butter pasta. The flavorful, butter chicken and pasta combo is irresistible and perfect for dinner any night of the week.
Chicken Bacon Ranch Casserole – Creamy and hearty Chicken Bacon Ranch Casserole is the best way to beat the weeknight rush! It's easy to make, and filled with pasta, chicken, bacon, and creamy alfredo sauce.
Chicken Parmigiana – Tasty chicken parmigiana is hearty and filling crispy chicken a top a bed of pasta covered in a rich homemade tomato sauce.
Chicken Penne Pasta – A delicious and simple Chicken Penne Pasta that is the perfect family dinner. The entire family loves it!
Mexican Chicken – Mexican chicken is topped with salsa and cheese for a tasty quick meal. It takes chicken to the next spice level!
White Chicken Chili – White Chicken Chili is hearty, creamy, and has become a new favorite!! Best of all, it's ready in 30 minutes or less!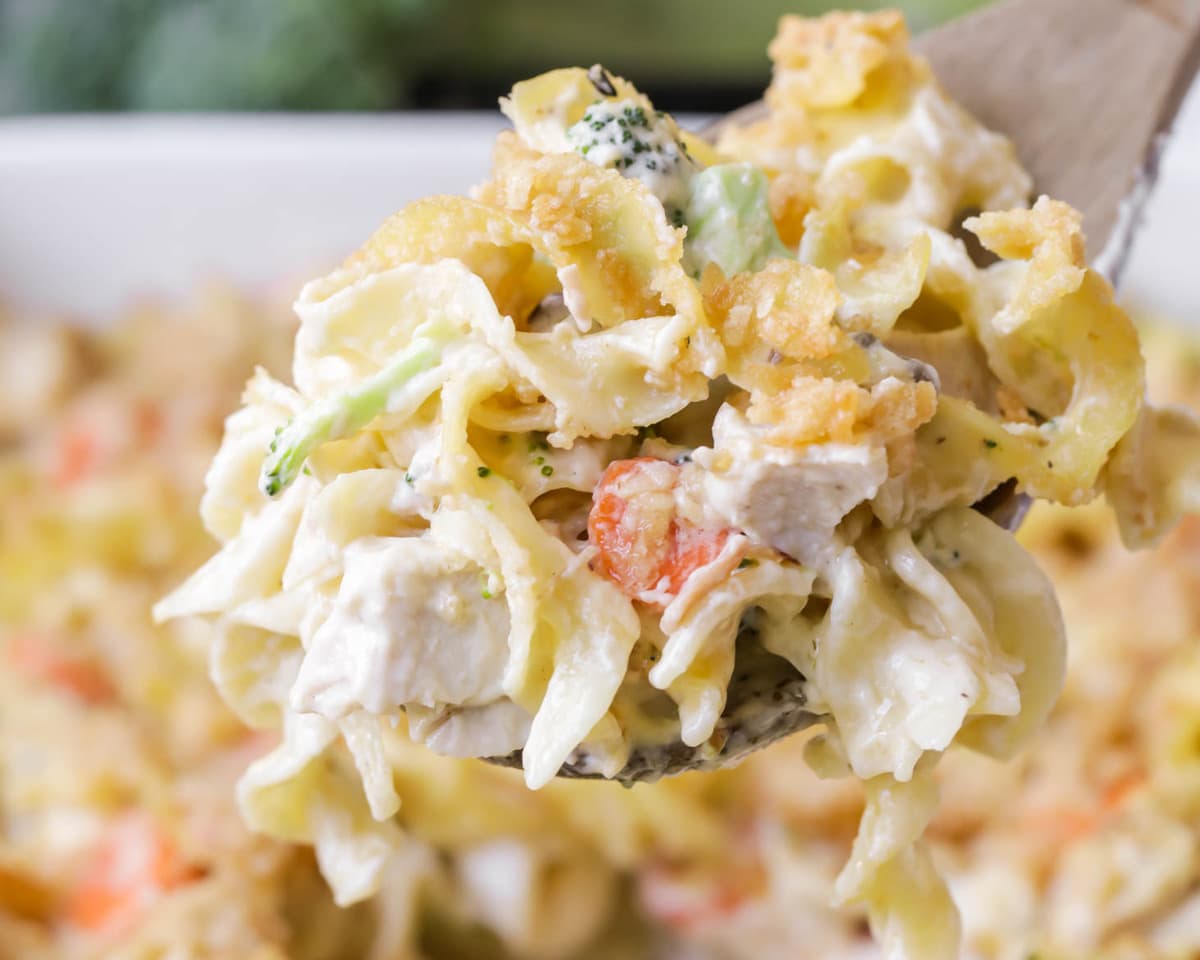 baked chicken dinner ideas
I have a lot of recipes that are flavor variations of baked chicken breasts, however I've also included baked chicken entrees like casseroles!
Chicken Noodle Casserole – Chicken noodle casserole for the dinner win! It's filled with chicken, noodles, broccoli, carrots, and more, and topped with a butter-y cracker crust making it a flavorful family favorite.
Buttery Baked Chicken – Creamy Buttery Baked Chicken is simple and full of flavor. It is another great dinner idea for any occasion!!
Baked Chicken Drumsticks – Oven baked chicken drumsticks are a healthy alternative for fried chicken lovers! They are seasoned to perfection and baked, not fried!
Oven Baked Chicken – Baking a perfectly tender and flavorful chicken breast is easier than you think! You can easily bake chicken in the oven, and use it in casseroles, soups, and salads!
Chicken Pot Pie – This chicken pot pie is the definition of comfort food! It's warm, rich with flavor, full of veggies, and has the best flaky crust.
Salsa Verde Chicken – Juicy salsa verde chicken is moist and delicious. It is simple with the perfect level of spice, for a quick and tasty dinner option!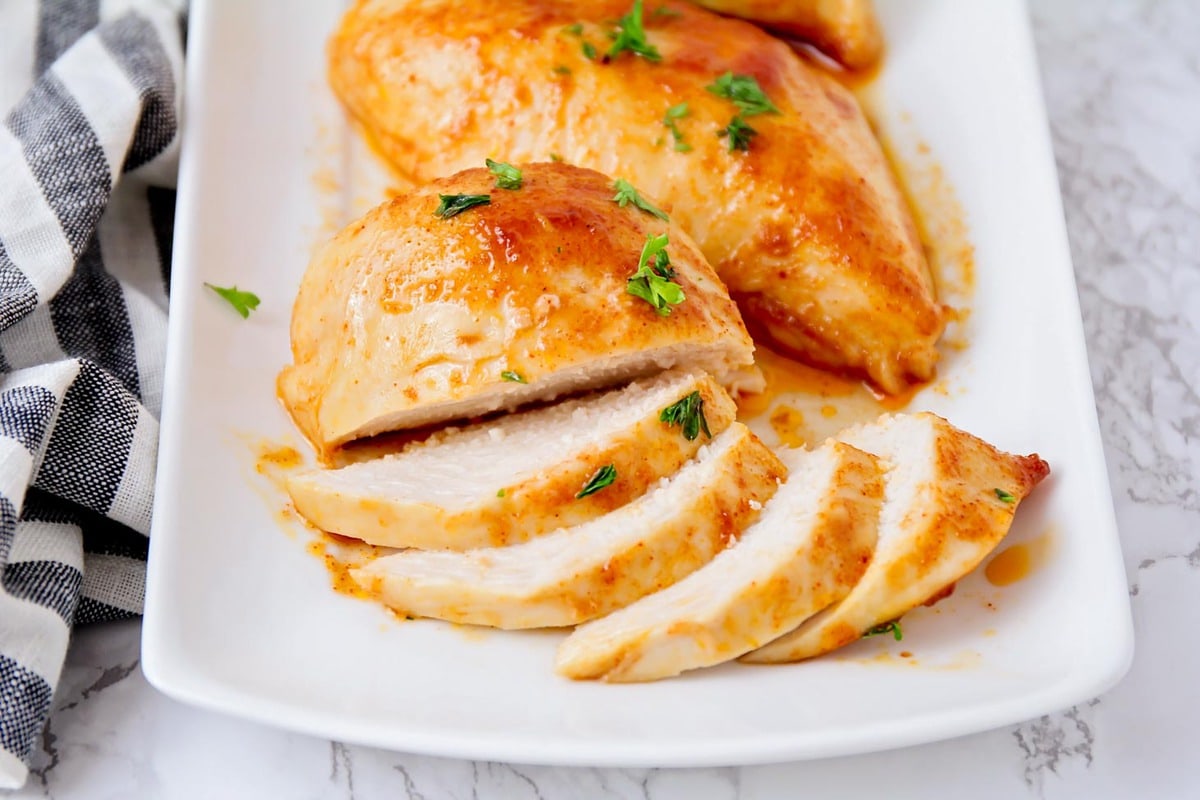 Baked BBQ Chicken – Easy and healthy Baked BBQ Chicken – You can whip up the sauce, pour it over some chicken breasts, pop it in the oven and you're done!
Baked Honey Mustard Chicken – Quick and Easy Healthy Chicken Dinner. This takes less than 30 minutes to bake, is full of flavor, and will please the whole family!
Ritz Cracker Chicken – Crispy Cheddar Chicken is coated in sour cream, cheddar cheese, and ritz cracker crumbs and baked to crispy perfection. Top it with a creamy sauce, and it's to die for!
Baked Buffalo Wings – Hot wings are a staple at any get together or party. This easy recipe will show you how to make this appetizer in the oven resulting in crispy, Baked hot wings.
Chicken And Dumpling Casserole – This Chicken and Dumpling Casserole is comfort food made easy. Canned biscuits and cream of chicken soup help speed up this hearty casserole.
Baked Teriyaki Chicken – Chicken breasts, or thighs, smothered in a sweet and tangy homemade teriyaki sauce and baked in the oven. Serve Baked Teriyaki Chicken over rice for a complete meal!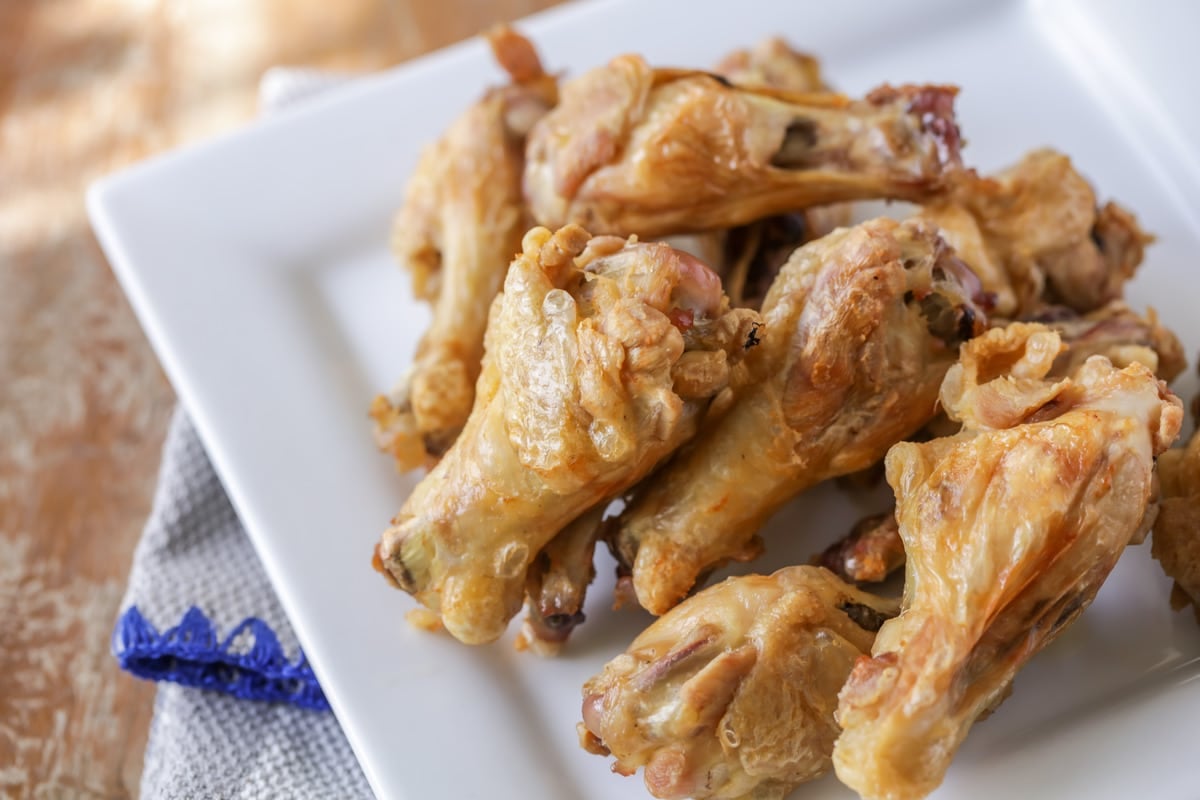 Baked Chicken Wings – Deliciously crispy baked chicken wings have endless possibilities. Bake in the oven, and dip in your favorite sauces!
Chicken Lasagna – Everyone loves lasagna! this chicken version is just as delicious and is filled with spinach, cheese and delicious homemade white sauce.
Baked Pesto Chicken – Chicken breast halves covered in basil pesto, baked with mozzarella cheese and tomatoes. So easy, but SO delicious!
Cheesy Chicken Broccoli Casserole – One of the BEST broccoli casserole recipes! This Cheesy Chicken Broccoli Casserole is a simple, quick and delicious dinner filled with chicken, broccoli and cheese and topped with buttered bread crumbs! The whole family loves this easy chicken broccoli and cheese casserole.
Baked Chicken Nuggets – Homemade chicken nuggets are easy to make and packed with flavor! Much tastier than the frozen or fast-food options, these nuggets are healthy and delicious.
Mayo Parmesan Chicken Bake – A delicious Parmesan Chicken Bake that is simple, yet full of flavor, and takes little prep time.
shredded chicken dinner ideas
Shredded chicken dinners can be made even easier by using a pre-cooked rotisserie chicken and simply shredding. Having canned chicken on hand also helps get these shredded chicken dinners on the table in no time!
Slow Cooker Pulled Chicken – This Slow Cooker Shredded Chicken is juicy and flavorful. It is Beyond simple and is great for holidays, parties and potlucks!
Chicken Quesadillas – These easy, cheesy Chicken Quesadillas are a crowd favorite. They are not only filled with cheese and chicken, but a delicious homemade sauce that makes these hand-held goodies irresistible!
Chicken Tacos – Restaurant-style Chicken Tacos are filled with ingredients like shredded chicken, cheese, lettuce, and tomatoes, all inside a fried corn tortilla.
Chicken Flautas – Delicious, crunchy chicken flautas filled with shredded chicken, salsa, cheese, and more! They can be fried, air fried or even baked into a delicious and easy dinner or appetizer.
Crack Chicken – Crack chicken in a crock pot is simple and tasty. Everyone is sure to love this creamy, cheesy chicken dish.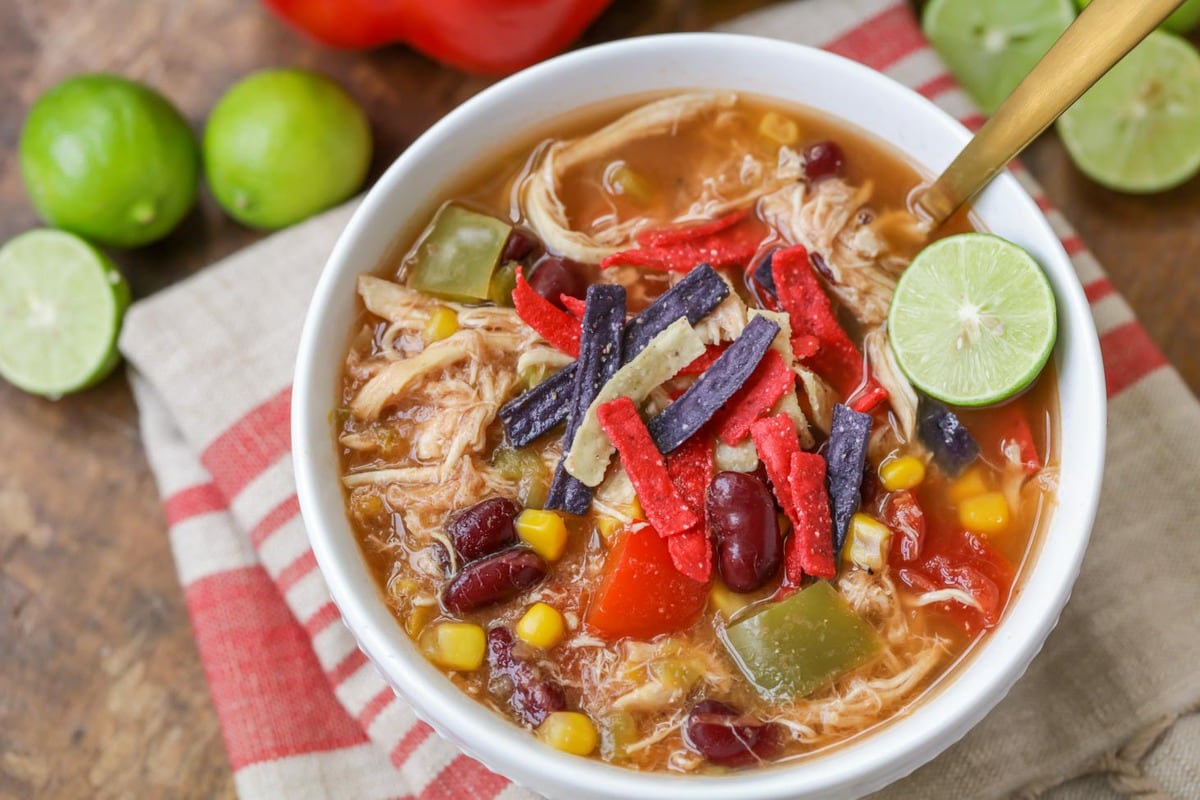 Mexican Soup – Filling and Flavorful Mexican soup is packed with chicken, beans, and veggies with just a little bit of heat!!
Baked Chicken Chimichangas – Everyone loves chimichangas! This Baked Chicken Chimichanga recipe is stuffed with rice, chicken, cheese and more. Such a simple dinner recipe that is so delicious and perfect to add to the monthly menu.
Chicken Dumpling Soup – Our all-time favorite version of one of the most classic soup recipes – Chicken and Dumplings! This simple, delicious soup is filled with chunks of chicken and pieces of biscuit, along with your favorite veggies!
Creamy Chicken Enchiladas – Creamy Chicken Enchiladas with sour cream are simple and tasty! With 10 minutes prep, these are a weeknight staple.
Green Chili Chicken Soup – Perfectly spiced Green Chili Chicken Soup is like an enchilada in soup form! It's hearty, delicious, and is always a crowd pleaser.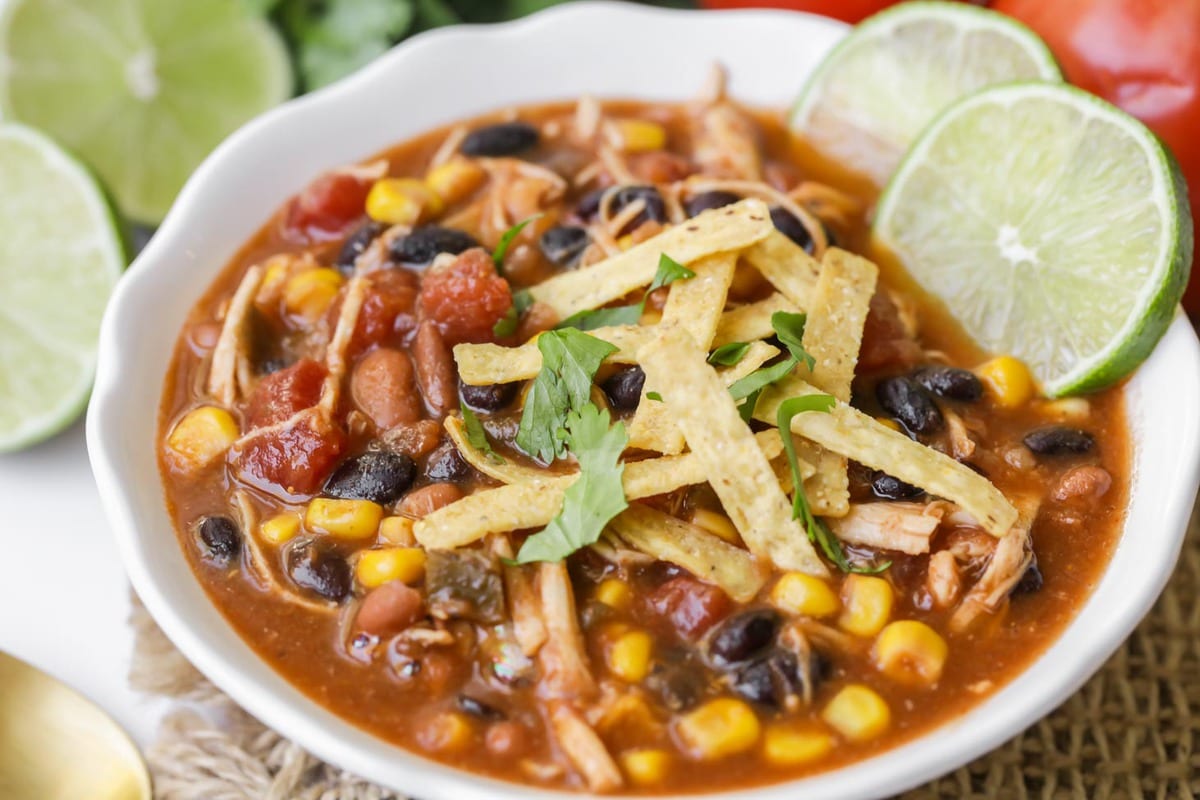 Chicken Taco Soup – A warm tasty soup full of chicken, beans, corn, spices, and of course – tortilla strips on top! You're going to love this hearty, delicious soup that can be enjoyed all year long – especially in the fall!
Buffalo Chicken Pizza – You'll want to make pizza night every night with this flavorful buffalo chicken pizza! Shredded chicken, spicy buffalo sauce, blue cheese crumbles, and cilantro all cooked together on top of the most delicious crust.
Cafe Rio Shredded Chicken – Copycat Cafe Rio Shredded Chicken – a simple and delicious chicken recipe that is perfect for salads, burritos, quesadillas and tacos!
Chicken Pot Pie Soup – This creamy, delicious Chicken Pot Pie Soup can be made on the stovetop or in a crock pot! It has all your favorite vegetables, big chunks of chicken, and even seasoned pie crust crumbled on top. This is the ultimate comfort food right here!!
Chicken Tortilla Soup – The BEST slow cooker chicken tortilla soup is filled with chunks of chicken, beans & corn. It is easy to make and full of flavor!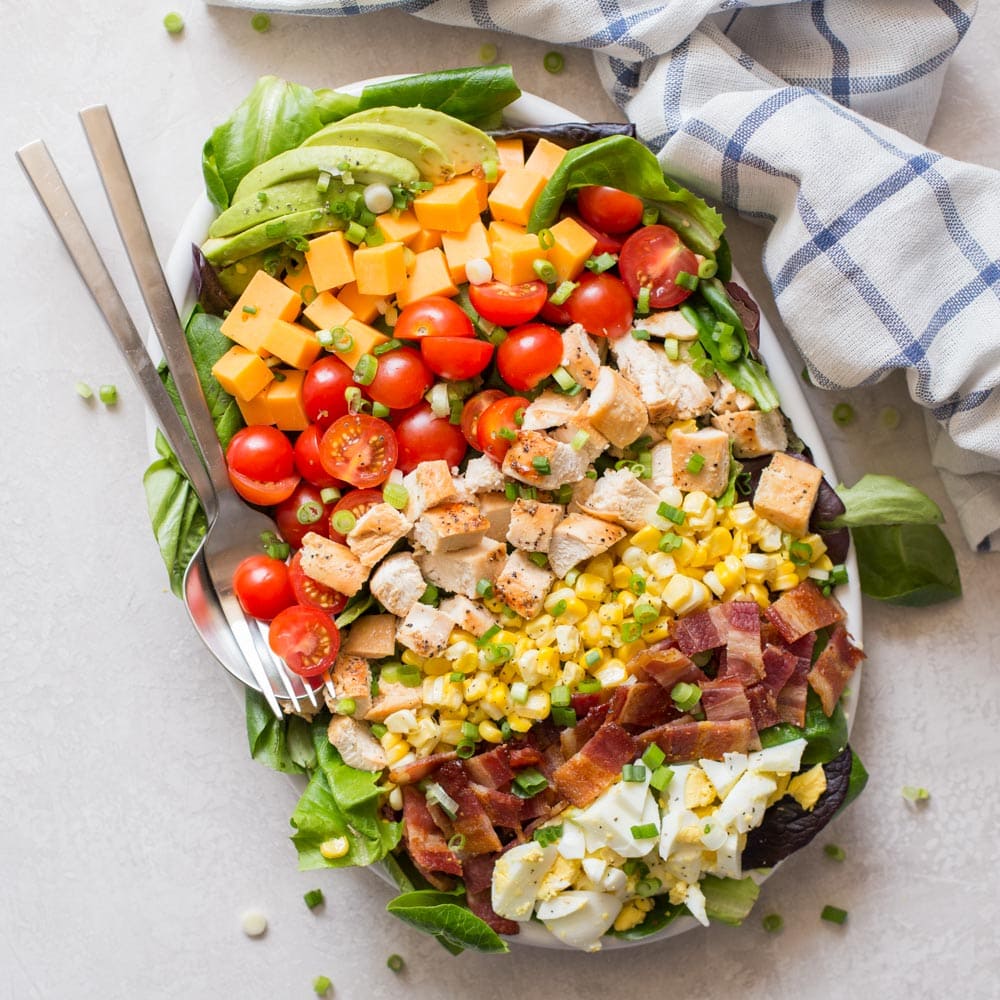 healthy chicken dinner ideas
Using fresh and healthy ingredients, these tasty healthy chicken dinner ideas are perfect weeknight dinners. From salads to soups and everything in between, there is something for everyone to enjoy!
Cobb Salad – This simple Cobb salad is so full of tasty ingredients it's a meal all on it's own. It is quick to make and utterly delicious.
Homemade Chicken Noodle Soup – This recipe for Homemade Chicken Noodle soup is one of the easiest, tastiest recipes full of chicken breast chunks, celery, carrots, and home-style egg noodles.
Chicken Caesar Salad – Ultimate Caesar Salad with grilled chicken, croutons, tomatoes, bacon, hard-boiled eggs, Parmesan cheese and tomatoes.
Lemon Pepper Chicken – Flavorful and tender Lemon Pepper Chicken is simple and requires just a few ingredients. Served on its own or over rice, this buttery chicken dish is perfect any night of the week for a simple, quick dinner idea.
Waldorf Salad – Waldorf Salad is filled with texture and flavor. Tossed in a homemade poppyseed dressing, it's perfect for any lunch, dinner or appetizer.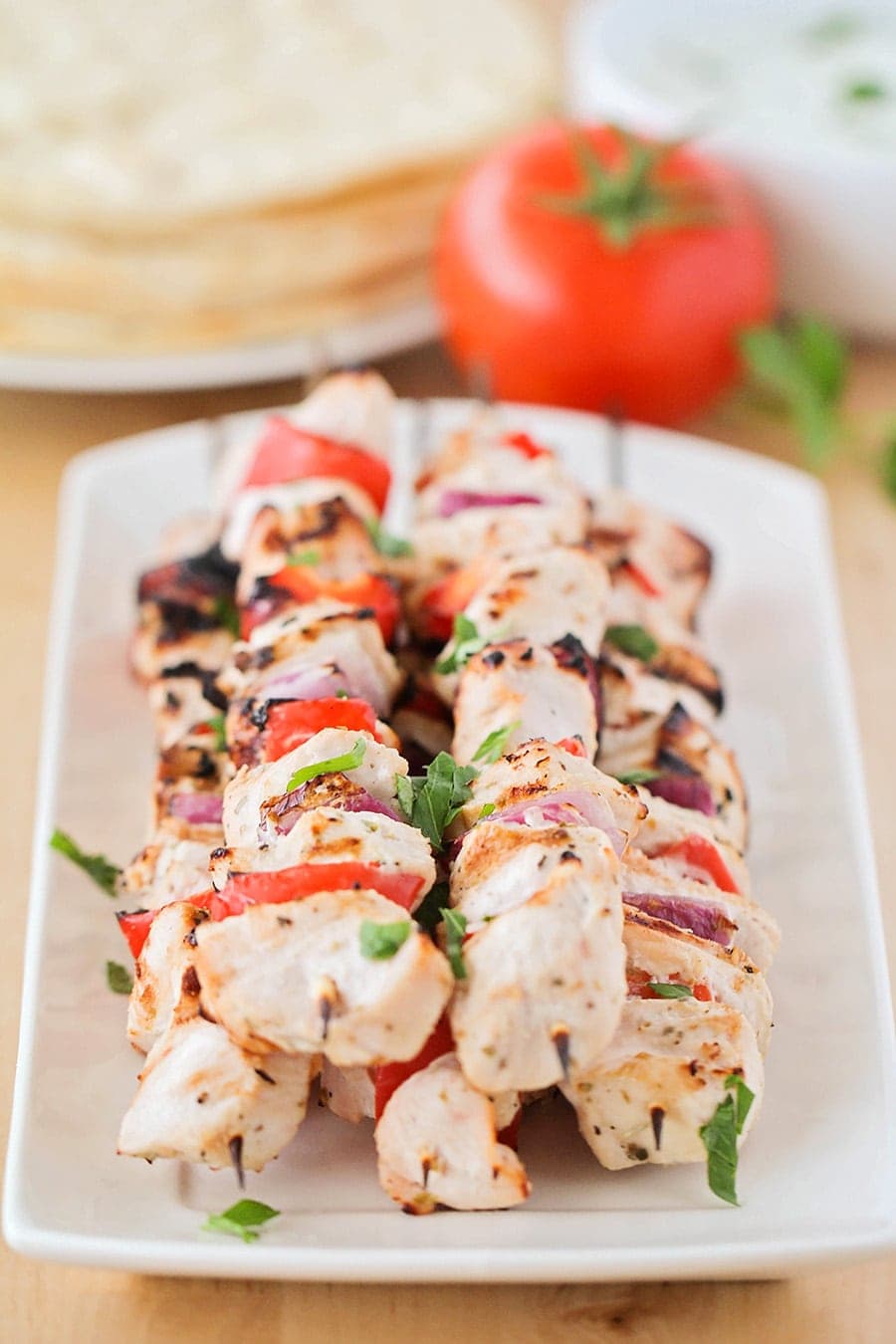 Chicken Souvlaki – Chicken Souvlaki is a savory kabob infused with Greek flavors. With marinated chicken, onions, and peppers, it's hearty and delicious.
Chicken Lettuce Wraps – This PF Chang's Lettuce Wraps recipe is a copycat of a restaurant favorite. A mixture of ground chicken, minced mushrooms, and onions, seasoned and cooked in oriental sauces and wrapped in fresh lettuce. Best of all, they take just 20 minutes to make!!
Lemon Poppy Seed Dressing – A delicious salad with tomatoes, chicken, craisins, sunflower seeds and a delicious homemade lemon poppy seed dressing. The dressing only requires 4 ingredients and takes minutes to make!
Honey Mustard Chicken Salad – Honey Mustard Chicken Salad is one of the heartiest, most delicious salad recipes you'll try! With greens, fruits, nuts, and a tangy dressing, it's a real winner.
Chicken Burrito Bowl – This Chicken burrito bowl is so easy and adaptable to your taste. It is a light, healthy, and filling meal!
---
the complete list
Here are the picture cards for all of the amazing Chicken Dinner Ideas listed above.
With so many delicious and easy recipes to choose from you're sure to find some new favorite dishes you'll want to serve again and again!
---
More Collections: Healthy Dinner Ideas, Chicken Pasta Recipes, Easy Dinner Ideas