This Chicken burrito bowl is so easy and adaptable to your taste. It is a light, healthy, and filling meal!
The combination of grilled chicken, fresh vegetables, rice, and a taco ranch dressing makes for one tasty bowl-full. To change it up you could top it off with delish Cilantro Lime Dressing or Cafe Rio Cilantro Dressing. Yum!!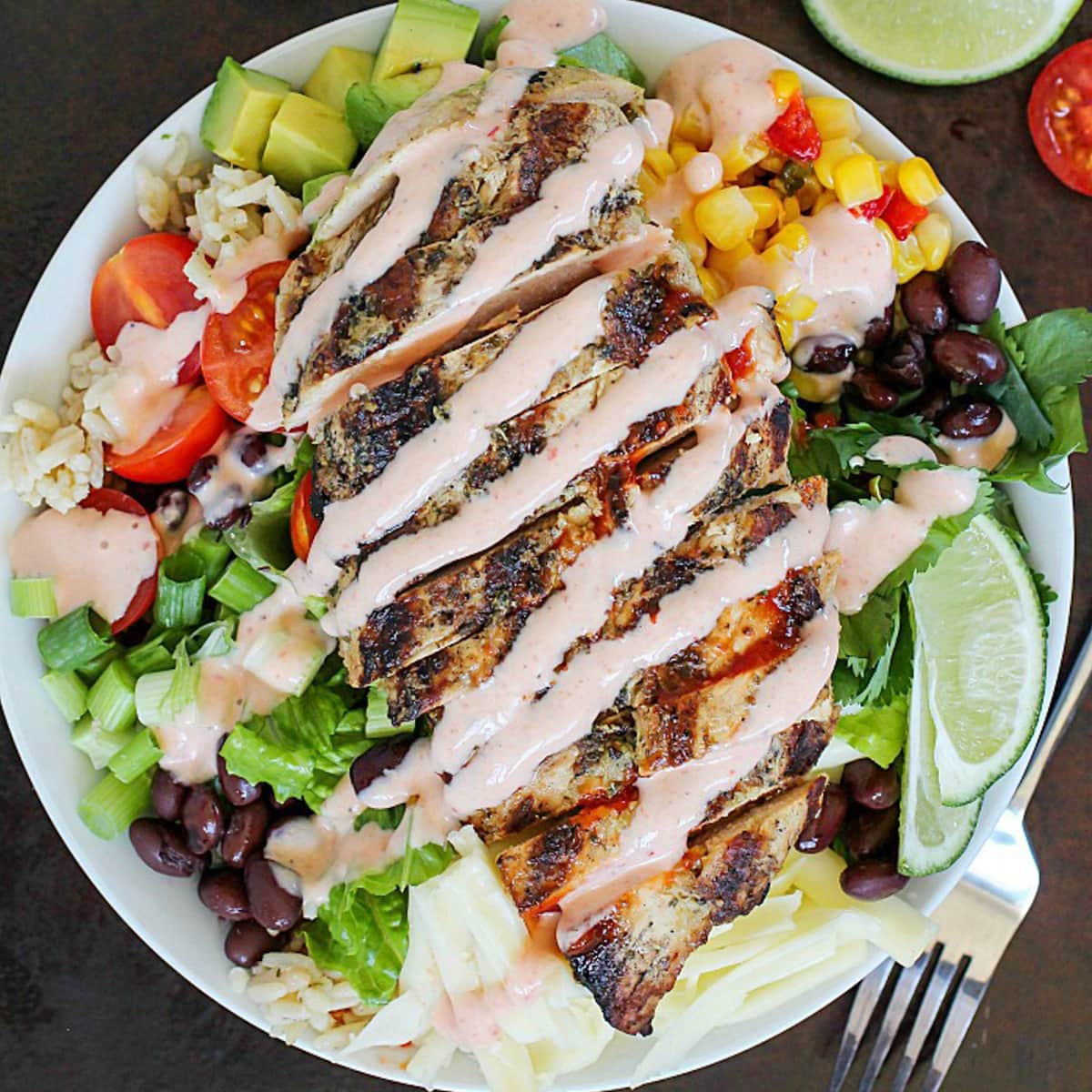 A burrito without the tortilla
Hi Lil Luna readers! It's Jen here from Yummy Healthy Easy and I'm sharing a crazy delicious recipe today! Raise your hand if you like burritos! I love them, but sometimes I like to switch things up and try something new.
Today we're ditching the tortilla and putting everything we love about burritos into a yummy chicken burrito bowl! This recipe is so easy and adaptable to what you like.
I layered brown rice, black beans and lettuce, with spoonfuls of some of my favorites, like corn, avocado, shredded cheese, green onions, cilantro and tomatoes. You can choose what toppings you like, and then finish it off with tasty grilled chicken and some taco ranch dressing! SO good!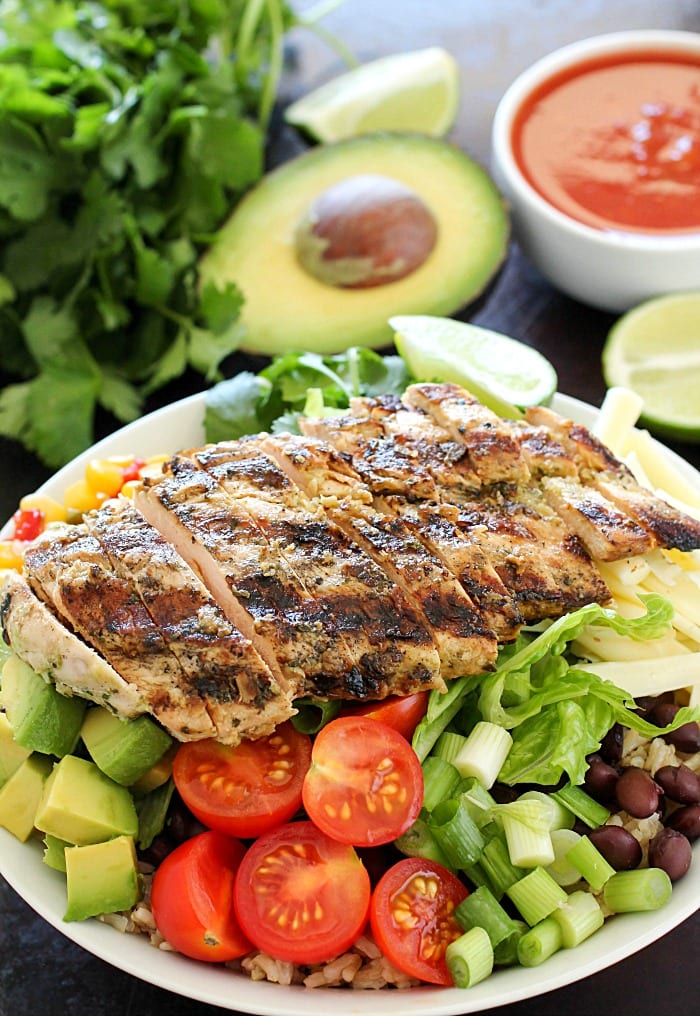 Garlicky Lemon Marinated Chicken
I think I'm one of the few people in the world that don't really love chicken. I can't just pull a chicken breast from the fridge and cook it up and eat it. It needs to have a lot of flavor. So I marinated the chicken overnight (but even just a few hours would work!) in a garlicky lemon marinade, then I grilled it. You can also pan fry it too but I love the flavor the grill gives the chicken.
Some tips for grilling chicken:
One of the best techniques for grilling chicken is to make sure that the breast is the same thickness all the way through. You can pound it before grilling it so it cooks evenly.

Cook chicken over medium indirect heat.

Always put the cover down on the grill when cooking, or else it's going to take longer with the loss of heat.

When using a thermometer, put it in the thickest part of the thickest breast and make sure it reads 165 or higher.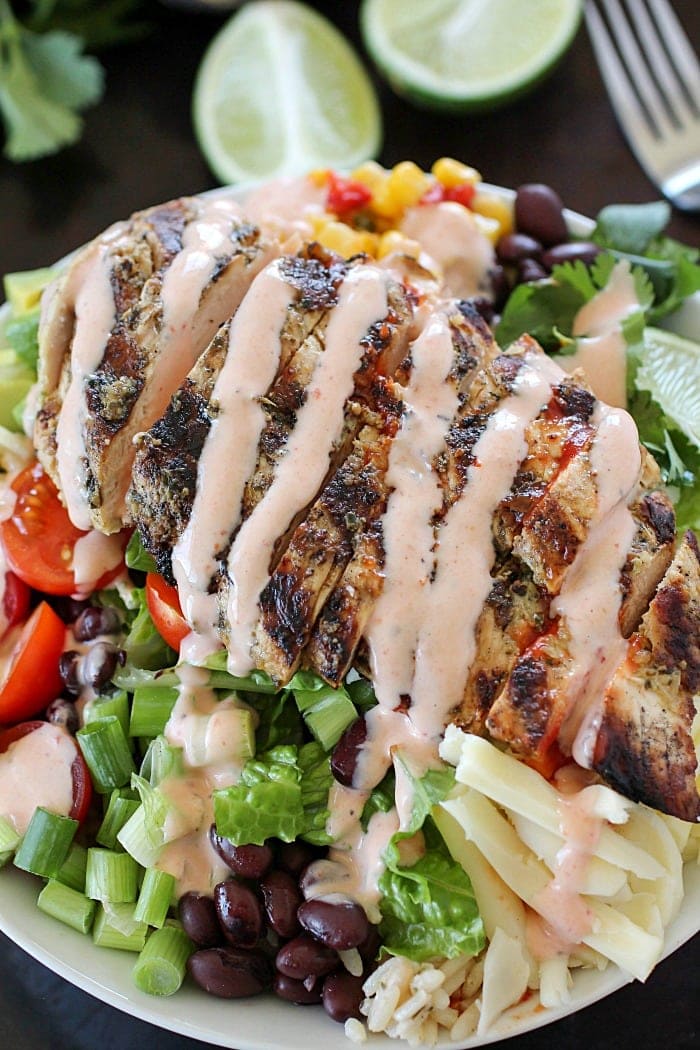 Make and Take
This is seriously such an easy recipe and you can change it up by adding in whatever you or your family likes. Another plus side is that you can pack this ahead of time to take to school or work and eat it later.
Make sure to portion out the rice, black beans, greens, and veggies in a tupperware container. Separate the dressing and chicken from the rest of the bowl to keep everything crispy.
To STORE leftovers, separate the chicken from the salad so the chicken doesn't get mushy from the excess water in the salad.
For more Chicken Recipes, Check out:
Burrito Bowl Recipe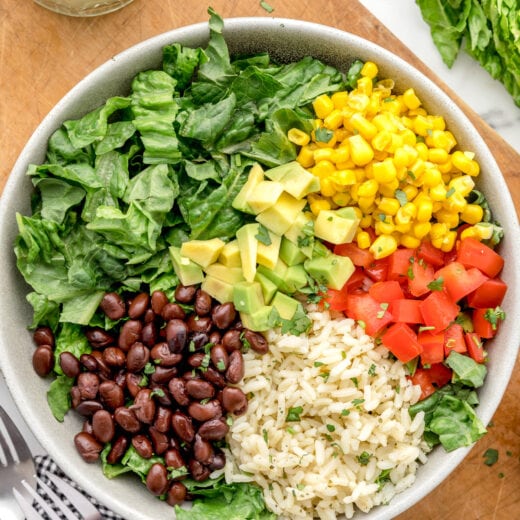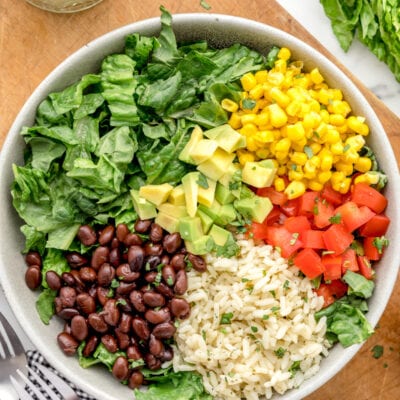 This Chicken burrito bowl is so easy and adaptable to your taste. It is a light, healthy, and filling meal!
Ingredients
Chicken Marinade
3

boneless skinless chicken breasts

2

cloves

minced garlic

minced

1/2

cup

red onion

diced

2

tbsp

fresh lemon juice

1/4

tsp

ground cumin

1/4

tsp

salt

1/3

tsp

pepper

1/4

tsp

dried oregano

1/2

cup

cilantro leaves

1/2

cup

olive oil
Burrito Bowl Topping Suggestions
Cooked brown rice

Black beans

drained and rinsed

chopped lettuce

corn

avocado

diced

shredded cheese

green onions

cilantro

tomatoes

salsa
Rancho Taco Sauce
1

tbsp

ranch dressing

1

tsp

taco sauce
Instructions
Combine marinade ingredients (except chicken) into food processor or blender and blend together until thoroughly mixed.

Place chicken breasts into a large resealable baggie. Pour marinade over the chicken, seal the bag and let marinate for several hours in the refrigerator.

Grill chicken until internal temperature reaches 165ºF. Take off grill and let rest.

Meanwhile, prepare your burrito bowls by layering cooked rice, black beans and lettuce. Add spoonfuls of any toppings desired.

Slice cooked chicken and top burrito bowl with it.

In a small bowl, mix together the ranch and taco sauce. Taste and add more of either ranch or taco sauce. (I double this recipe and drizzle it on as I'm eating each layer of the bowl.)

Drizzle chicken with ranch taco sauce and/or salsa and enjoy!
This looks SO delicious and SO refreshing… I could definitely use a burrito bowl right about now. Thanks so much for sharing this recipe with us Jen!! For more amazing recipes from her, head over to Yummy Healthy Easy.