If you've never had Tres Leches Cake before you are in for a sweet treat! It's the perfect dessert to share with family and friends this summer at all your barbecues and pool parties.
I think the first time I had Tres Leches was at my sister's wedding. Yep. My sister had a Tres Leches Cake for her wedding! I was skeptical when she told me her cake of choice but after my first bite, I totally understood. Oh my, this cake is divine!
The recipe beings with a very simple sponge cake. Then, after it bakes and cools all you have to do is poke a bunch of holes in it with a fork. You can even have your kids help with this but just don't let them take a bite of it.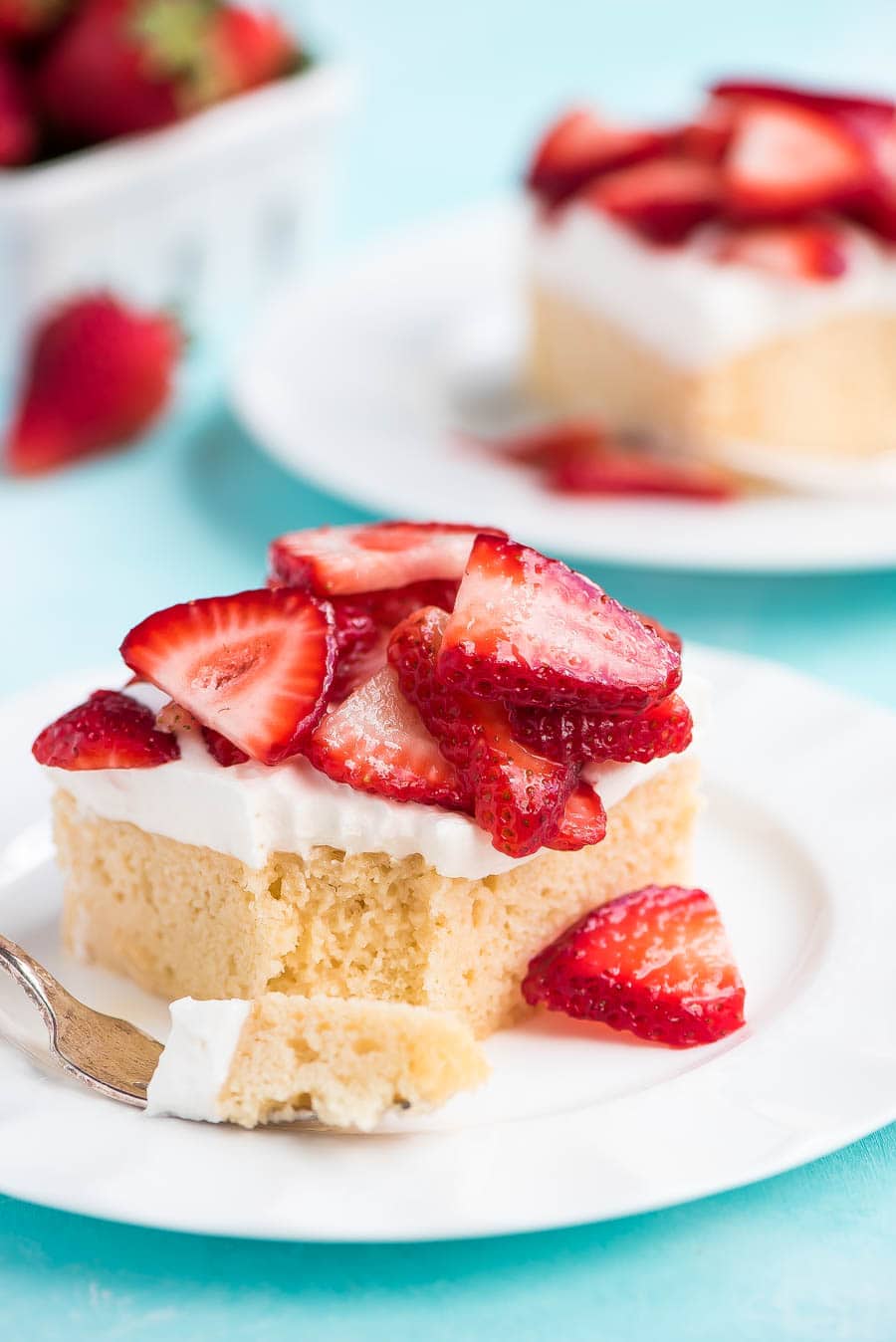 Next step is to mix the three milks together and pour it over the cake a little at a time, letting it soak in before adding more. Then just cover and pop it in the fridge for at least 4 hours or overnight.
To finish the cake just whip the heavy whipping cream with sugar and vanilla and then spread over the milk soaked cake. Serve immediately or refrigerate until ready to serve. Slice and serve. I like to top mine with fresh berries mixed with a little bit of sugar.
MY OTHER RECIPES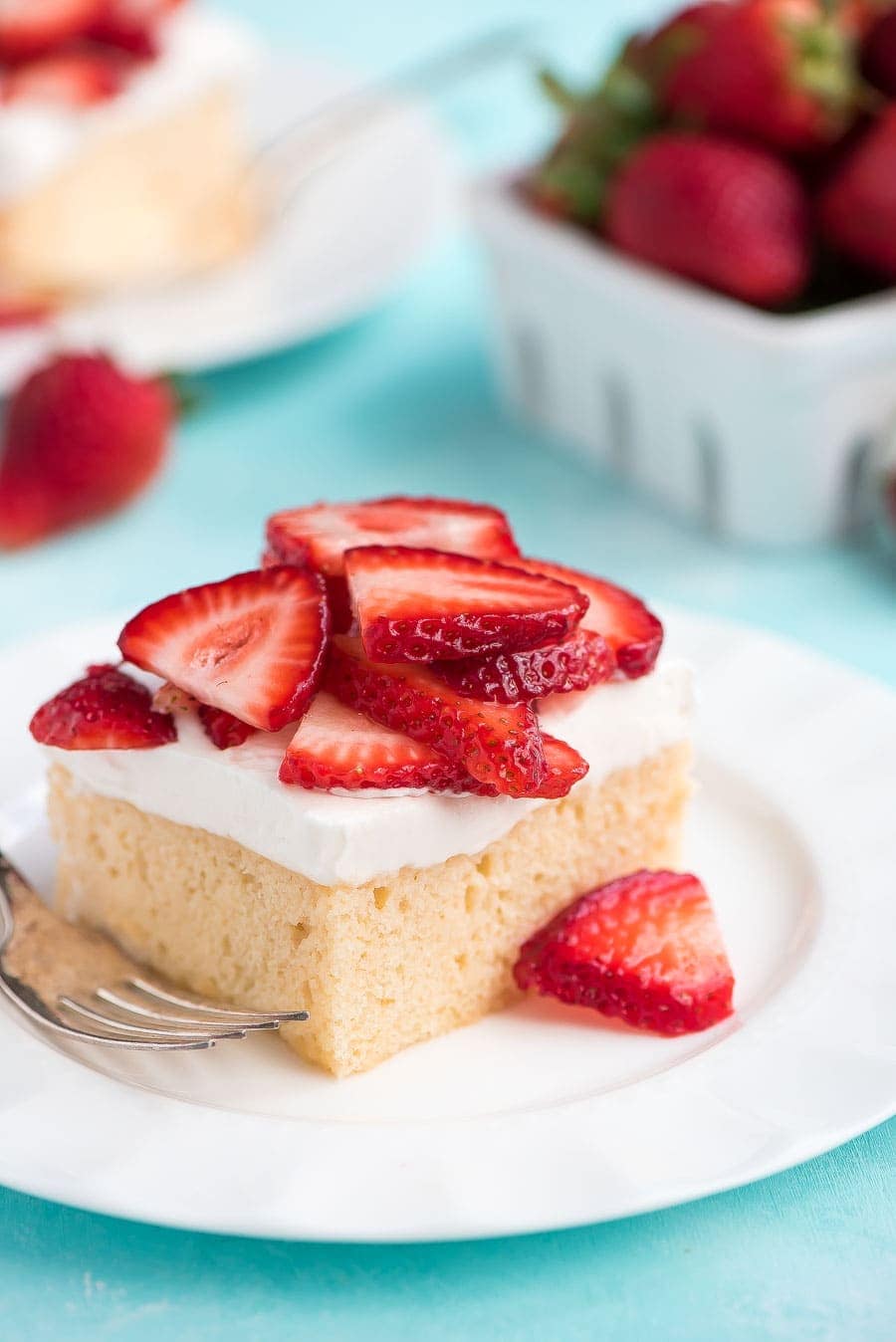 I love this cake in the summer time because it is cold and pairs perfectly with fresh summer berries. Everyone will be coming back for seconds!
Tres Leches Cake:
Tres Leches Cake
This Tres Leches Cake is the perfect summer treat - a sweet and refreshing cake full of flavor and topped with fresh berries.
Ingredients
For the Cake:
½ cup salted butter, room temperature
1 cup sugar
1 teaspoon vanilla
5 eggs, room temperature
1½ cups flour
1 teaspoon baking powder
¼ teaspoon salt
For the Milk Glaze:
½ cup heavy whipping cream
1 can condensed milk
1 can evaporated milk
For the Whipped Topping:
2 cups heavy whipping cream
1 cup granulated sugar
1 teaspoon vanilla
For the Garnish:
Fresh strawberries, sliced
Granulated sugar
Instructions
Preheat oven to 350 degrees F. Grease a 9x13 inch baking pan.
In a small mixing bowl, combine flour, baking powder, and salt. Set aside.
In the bowl of an electric mixer fitted with the paddle attachment, beat butter until creamy and then gradually add in the sugar and beat until fluffy. Mix in the vanilla and then one egg at a time, mixing each one completely in before adding the next.
Add the flour mixture to the eggs about ½ cup at a time, mixing each addition until almost combined (scrape down sides of bowl as needed).
Pour batter into pan and spread evenly. Bake for 20-22 minutes until toothpick comes out clean.
Let cake cool completely and then poke all over with a fork.
Mix all Milk Glaze ingredients together discard ½ cup and then gently pour over the cake in 3 batches, waiting in between for the milk to soak in. You can tilt the pan back and forth it if pools at the edges.
Refrigerate for at least 4 hours or overnight.
For the Whipped Topping:
Whip the heavy cream, granulated sugar, and vanilla together until stiff peaks. Spread over the cake. Serve or refrigerate until ready to serve.
Sprinkle strawberries lightly with sugar and mix. Let sit for 10 minutes.
Slice cake and top with strawberries.
More summer desserts to try:
______________________
This does look delicious with fresh berries!! I'll definitely have to give it a try! Thanks for sharing with us, Melanie! For more great recipes by her, head on over to Garnish and Glaze!
For another summer time favorite, check out:
Strawberries and Cream Angel Food Cake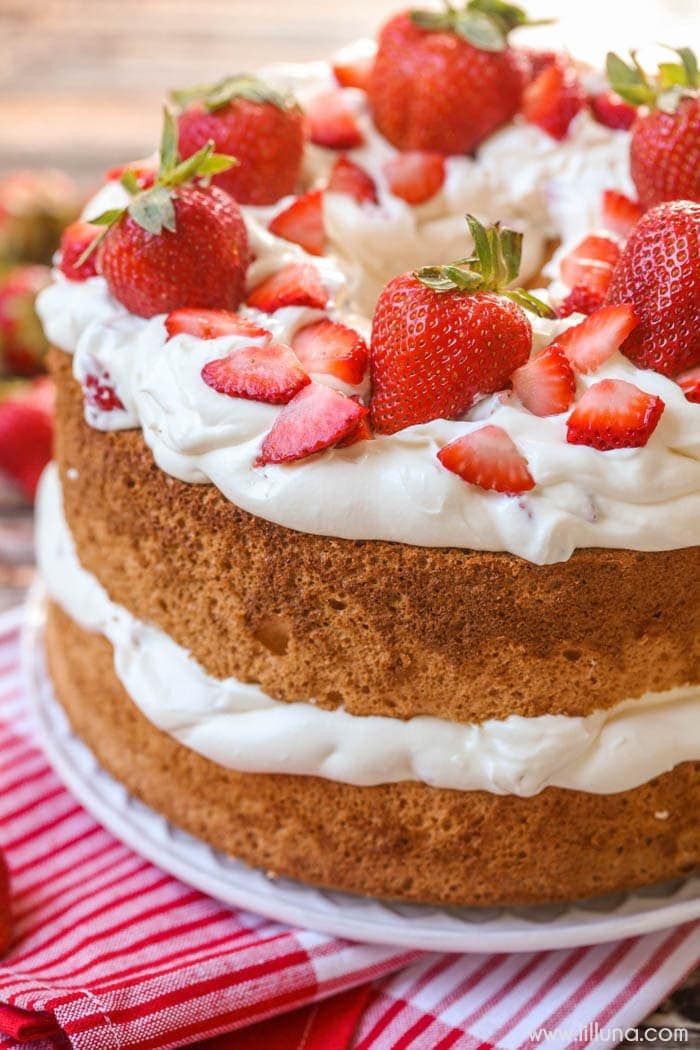 And here are some more summer treats you may enjoy:
ENJOY!