There's nothing better than a cold and refreshing treat in the summertime! This easy Tres Leches Cake recipe is just that – a cool, sweet treat made from a tasty sponge cake, a creamy mixture of three different milks, and homemade whipped topping.
This cool, delicious dessert is perfect served all year long, but especially when any Mexican meal. Drenched in 3 milks, this sweet cake is flavorful and delicious! For more hispanic desserts, check out our Arroz con Leche and Churro Bites.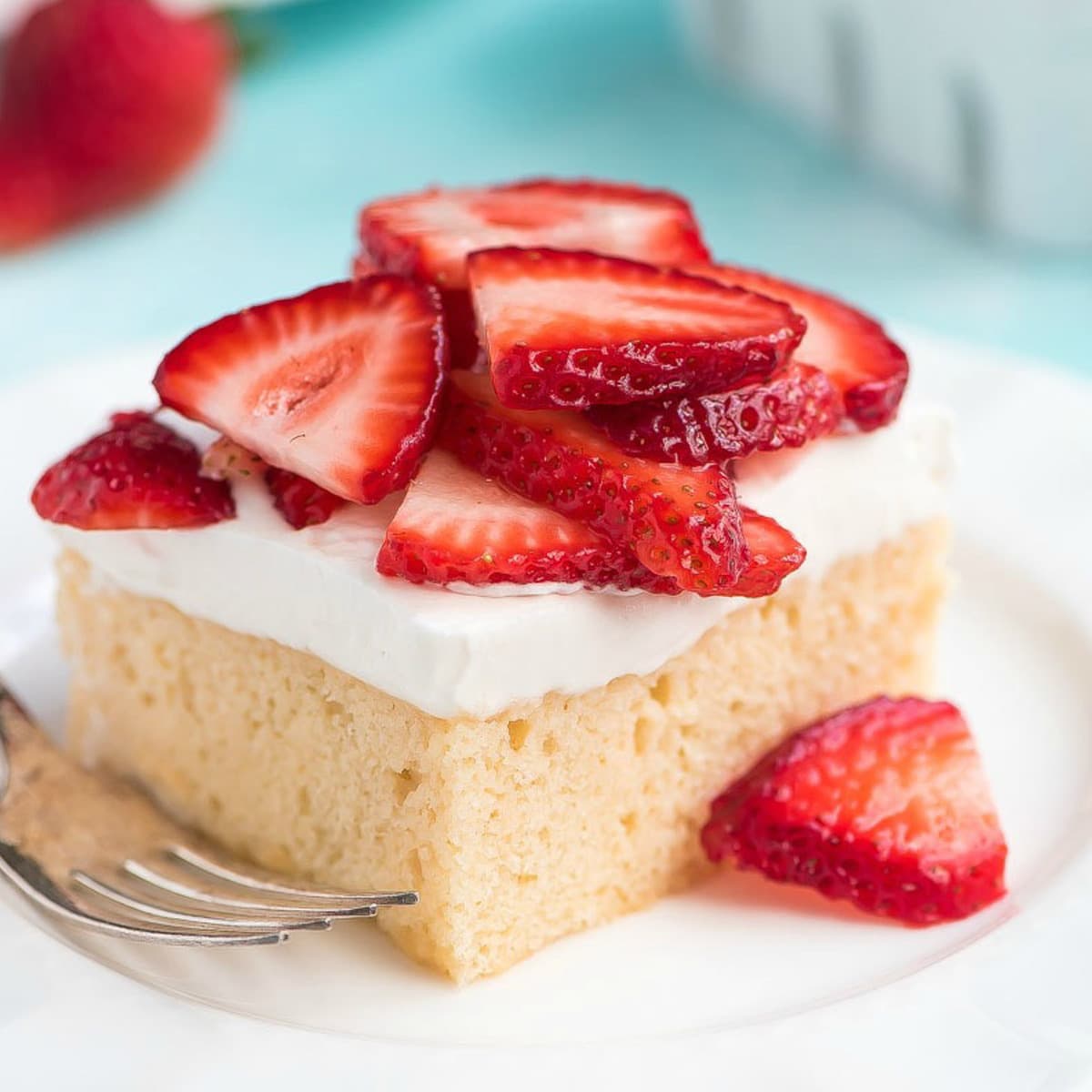 a classic mexican dessert
Everyone loves cake, and one of our favorite variations is Tres Leches Cake (it's right up there with Sheet Cake and Cream Puff Cake)!
If you've never had Tres Leches Cake before you are in for a sweet treat! It's the perfect dessert to share with family and friends this summer at all your barbecues and pool parties.
I think the first time I had Tres Leches was at my sister's wedding. I was skeptical when she told me her cake of choice but after my first bite, I totally understood. Oh my, this cake is divine!
Why is it called Tres Leches Cake?
In case you didn't already know, Tres Leches is Spanish for "three milks". No one is really sure where the recipe for Tres Leches came from, but it is popular in Latin American countries (hence the Spanish name).
If you've ever made a poke cake before, this is super similar! The base of the recipe is a really yummy sponge cake, which you poke holes in with a fork, and cover with a creamy glaze made from 3 different types of milk; condensed milk, evaporated milk, and heavy cream.
Sounds amazing, right? And trust me, it's as simple to make as it is tasty!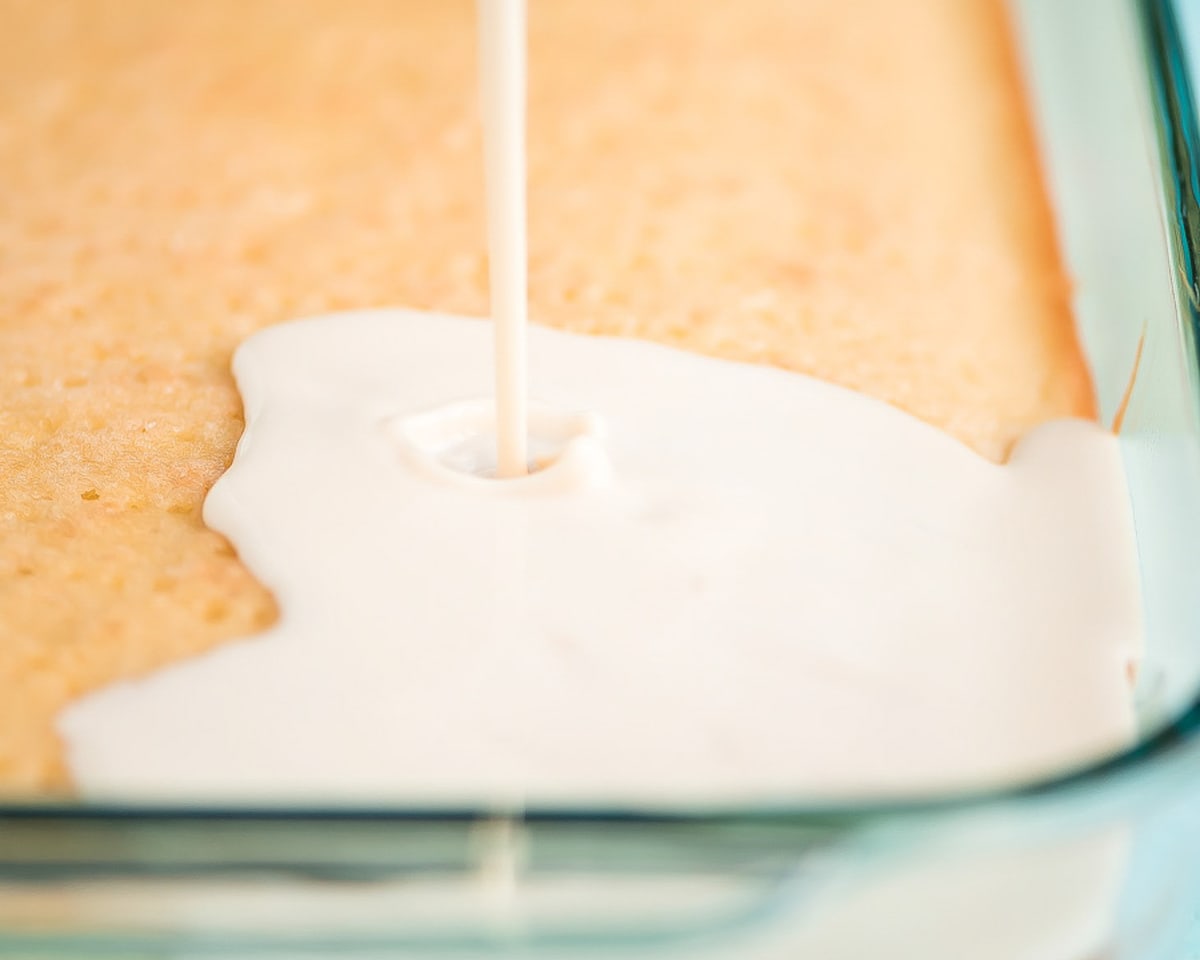 How to Make Tres Leches Cake
This tres leches cake is easier to make than you think.
MAKE CAKE. Start by making the cake batter. Pour batter into a 9×13 pan and bake for 20 minutes at 350°.
POKE, DRIZZLE + CHILL. Once the cake has cooled, poke several holes in it with a fork. Next, mix the three milks together and pour it over the cake a little at a time, letting it soak in before adding more. Then just cover and pop it in the fridge for at least 4 hours or overnight.
TOPPING. To finish, make the homemade whipped topping and spreading over the milk soaked cake.
You can either serve the cake immediately, or refrigerate it until you're ready to serve. I like to top mine with fresh berries mixed with a little bit of sugar. SO yummy!
What other toppings can be used? Strawberries are a classic topping for this cake. Some other delicious fruits to try are: blueberries, sliced kiwi, raspberries, blackberries, sliced bananas, maraschino cherries. You can even sprinkle a little cinnamon or grate dark chocolate on top.
making a cupcake version:
Follow the recipe as written except pour the batter into a cupcake pan. Be sure to either use foil liners (be cautious using paper liners as the milk may soak through them) or pour the batter directly into a well greased cupcake pan.
Bake for 15-20 minutes watching carefully. Let cool and follow the recipe to finish them off (poke, drizzle with milk mixture, chill and then add whipped cream).
Add fruit right before serving. 😉
Shortcut Version:
If you are really looking to speed things up, you can use a cake mix as shortcut version. You'll just need the following:
1 package yellow cake mix (regular size)
3 large eggs, room temperature
2/3 cup milk
½ cup butter, softened
1 teaspoon vanilla extract
To make the cake, beat the cake mix, eggs, milk, butter and vanilla with a hand mixer for about 30 seconds on LOW. Bake at 350 for about 30-35 minutes – and then follow our directions for the rest of the recipe. 😉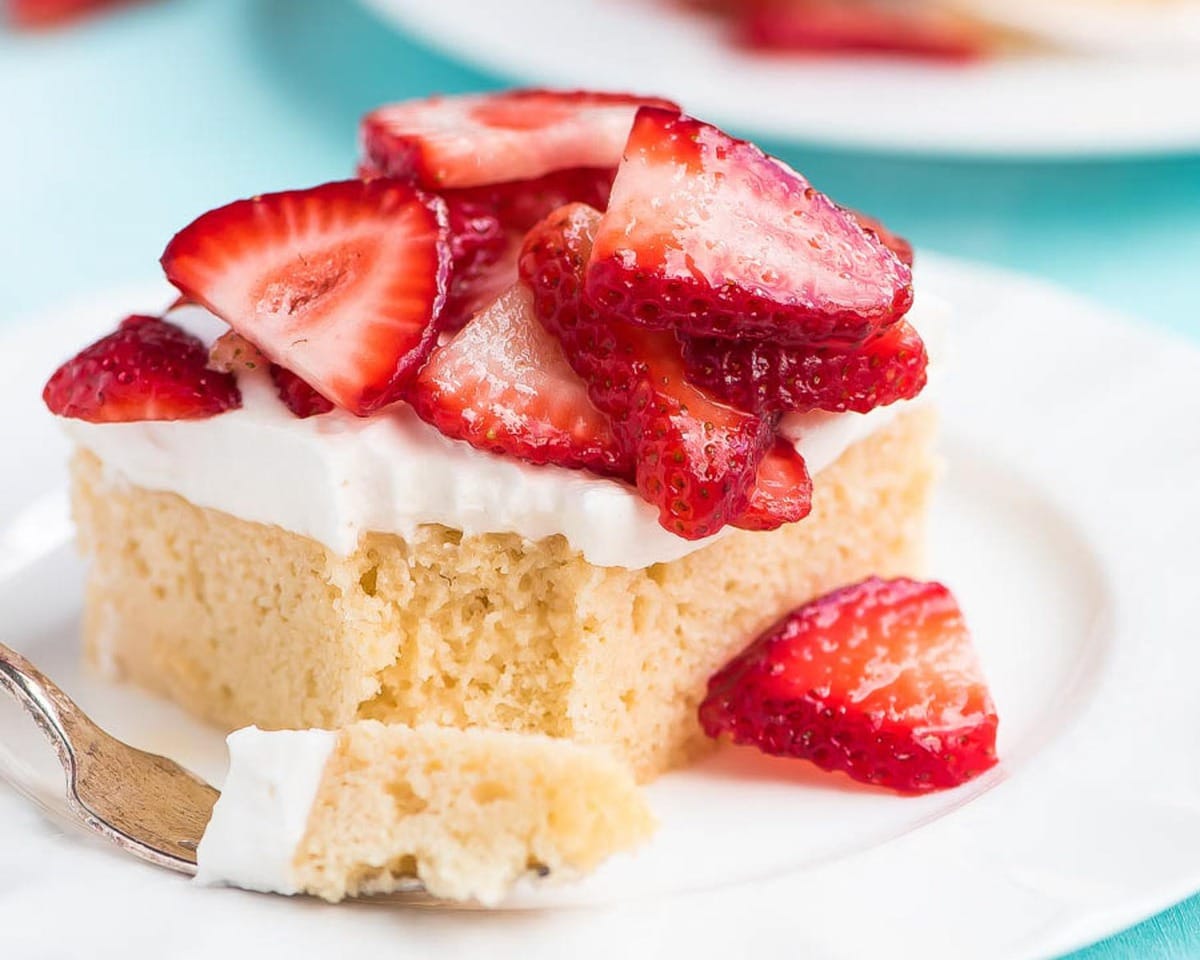 Storing + freezing
How long does Tres Leches Cake last? Tres Leches Cake is best when eaten within 48 hours of being made.
Having said that, if covered with Saran Wrap and placed in the fridge, it can last in the fridge for up to 4-5 days. The fruit topping may not last quite as long simply scoop the fruit off top and replace it with fresh fruit.
Can you freeze Tres Leches Cake? You can definitely freeze tres leches cake. We recommend making it and then freezing it without frosting it. Be sure to cover tightly and place in the freezer for 2-3 months. Let thaw in fridge overnight and then top with whipped cream.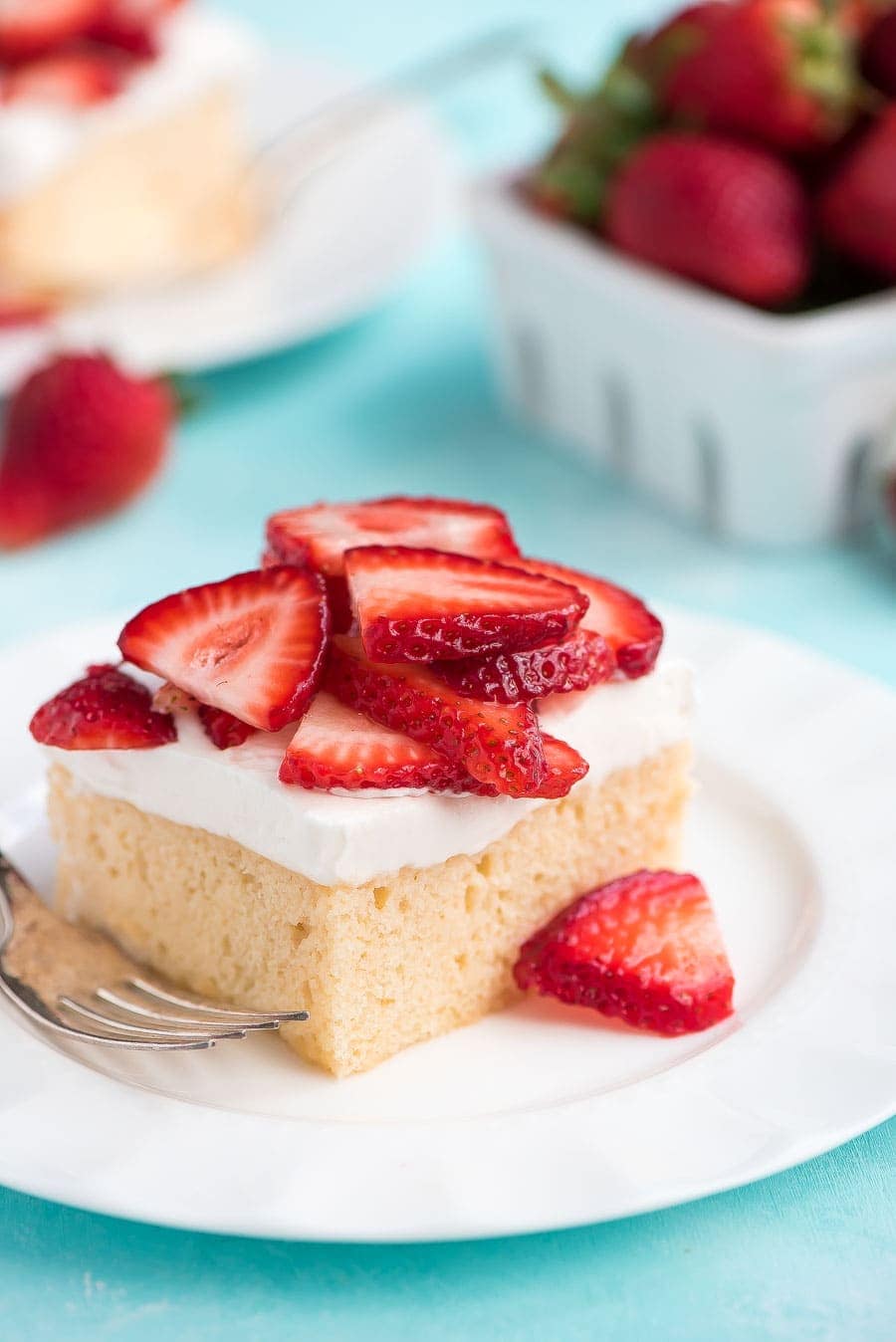 I love this cake in the summer time because it is cold and pairs perfectly with fresh summer berries. Believe me when I say everyone will be coming back for seconds!
for more cool treats, check out:
Tres Leches Cake Recipe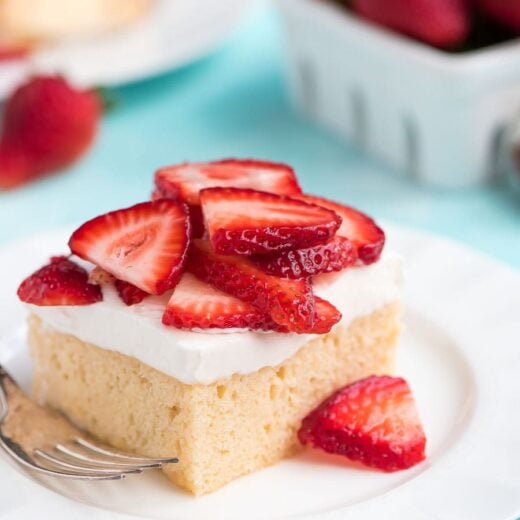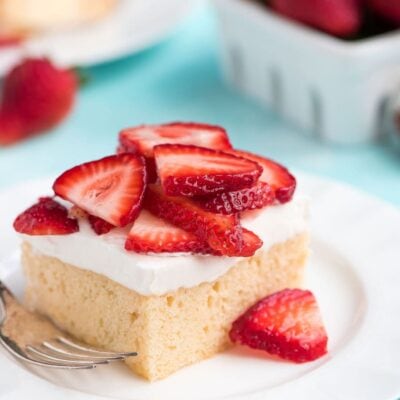 This easy Tres Leches Cake recipe is a cool, sweet treat made from a tasty sponge cake, a creamy mixture of three different milks, and homemade whipped topping. Serve Tres Leches Cake with fresh fruit for an extra refreshing dessert!

Ingredients
For the Cake
For the Milk Glaze
1/2

c

heavy whipping cream

1

can

condensed milk

1

can

evaporated milk
For the Whipped Topping
2

c

heavy whipping cream

1

c

granulated sugar

1

tsp

vanilla
For the Garnish
fresh strawberries

sliced

granulated sugar
Instructions
Preheat oven to 350 degrees F. Grease a 9x13 inch baking pan.

In a small mixing bowl, combine flour, baking powder, and salt. Set aside


In the bowl of an electric mixer fitted with the paddle attachment, beat butter until creamy and then gradually add in the sugar and beat until fluffy. Mix in the vanilla and then one egg at a time, mixing each one completely in before adding the next.

Add the flour mixture to the eggs about ½ cup at a time, mixing each addition until almost combined (scrape down sides of bowl as needed).

Pour batter into pan and spread evenly. Bake for 20-22 minutes until toothpick comes out clean.


Let cake cool completely and then poke all over with a fork.


Mix all Milk Glaze ingredients together discard ½ cup and then gently pour over the cake in 3 batches, waiting in between for the milk to soak in. You can tilt the pan back and forth it if pools at the edges.


Refrigerate for at least 4 hours or overnight.

For the Whipped Topping
Whip the heavy cream, granulated sugar, and vanilla together until stiff peaks. Spread over the cake. Serve or refrigerate until ready to serve.


Sprinkle strawberries lightly with sugar and mix. Let sit for 10 minutes


Slice cake and top with strawberries.

For more great recipes by Melanie, head on over to Garnish and Glaze! ENJOY!