A FREE Pantry Staples Checklist to help you know what to try and keep on hand in the pantry for cooking and baking. Also, information about how long this food lasts in the pantry!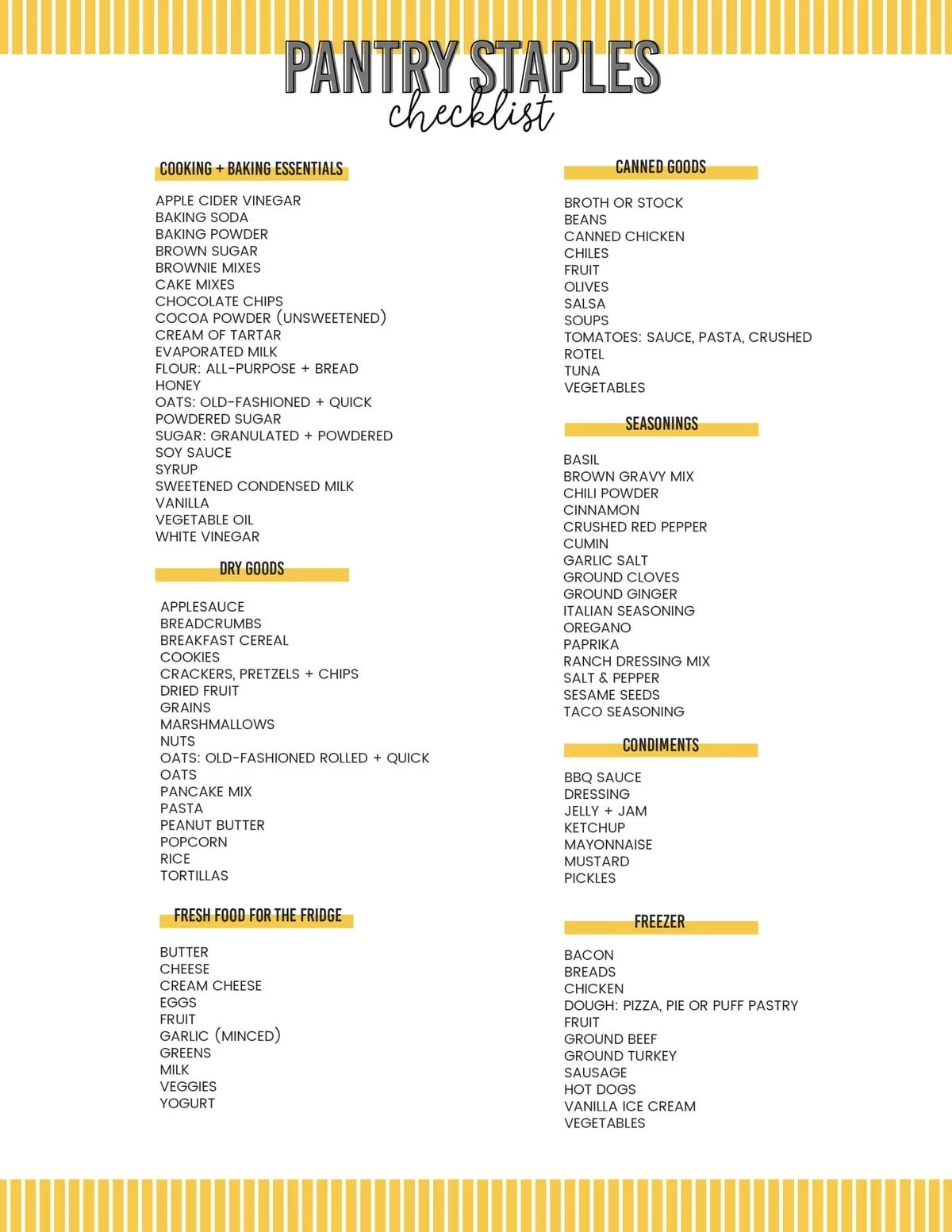 Why to have Pantry Staples on hand?
Pantry meals really come in handy during tight budget weeks or in cases of emergency where you can't get to a grocery store or there isn't much at a store. You know what else they're good for?
Every day cooking and baking!
It's good to have those staples on hand so that you have the most basic ingredients needed for most recipes.
We also like to keep track of these items, because it's what we meal plan with. Each week, we go into the pantry and make our shopping list and weekly menu plan based on the ingredients we have. It helps so much and keeps us prepped with food to last for weeks (and or months).
Keep scrolling to the bottom to download your free pantry staples list. 😉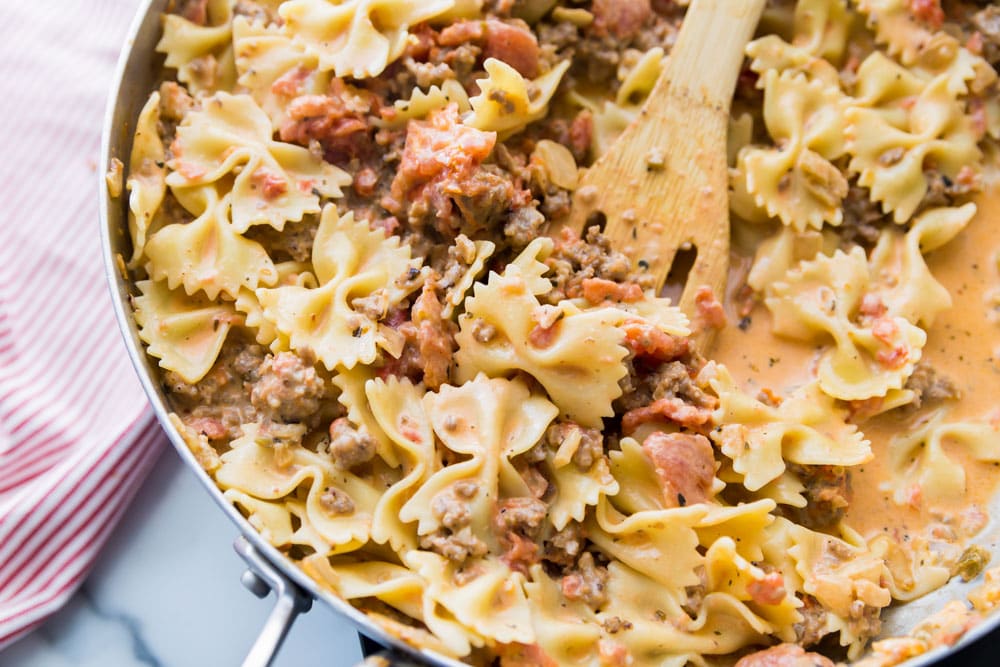 Are Pantry Meals Unhealthy?
Lots of people think that pantry meals have to be unhealthy and just be made out of pasta and cheese. But that doesn't have to be the case!
You can start storing whole grain pasta, brown rice, quinoa or whole wheat flour to increase the vitamins and minerals you can get from those ingredients. Meal substitutions can be a great way to increase the health content for most recipes.

You can use lots of frozen veggies or canned veggies if you don't have money or access to fresh veggies. Frozen veggies have the same nutritional content as fresh veggies since most are frozen at the peak of freshness.

Use low fat options or healthy substitutes like greek yogurt instead of sour cream.

Incorporate fresh veggies or fruit wherever possible.
Where to buy food pantry essentials? You can buy pantry essentials at any grocery store or even bulk stores like Costco or Sam's Club. Make sure that you buy appropriately for your size family. This means that it might be helpful to buy bulk pasta, beans, or rice. Now if you are interested in food storage pantry items that would be considered long term food I would look to brands like: Thrive Life, Augason Farms, Wise Company, and Legacy Food Storage.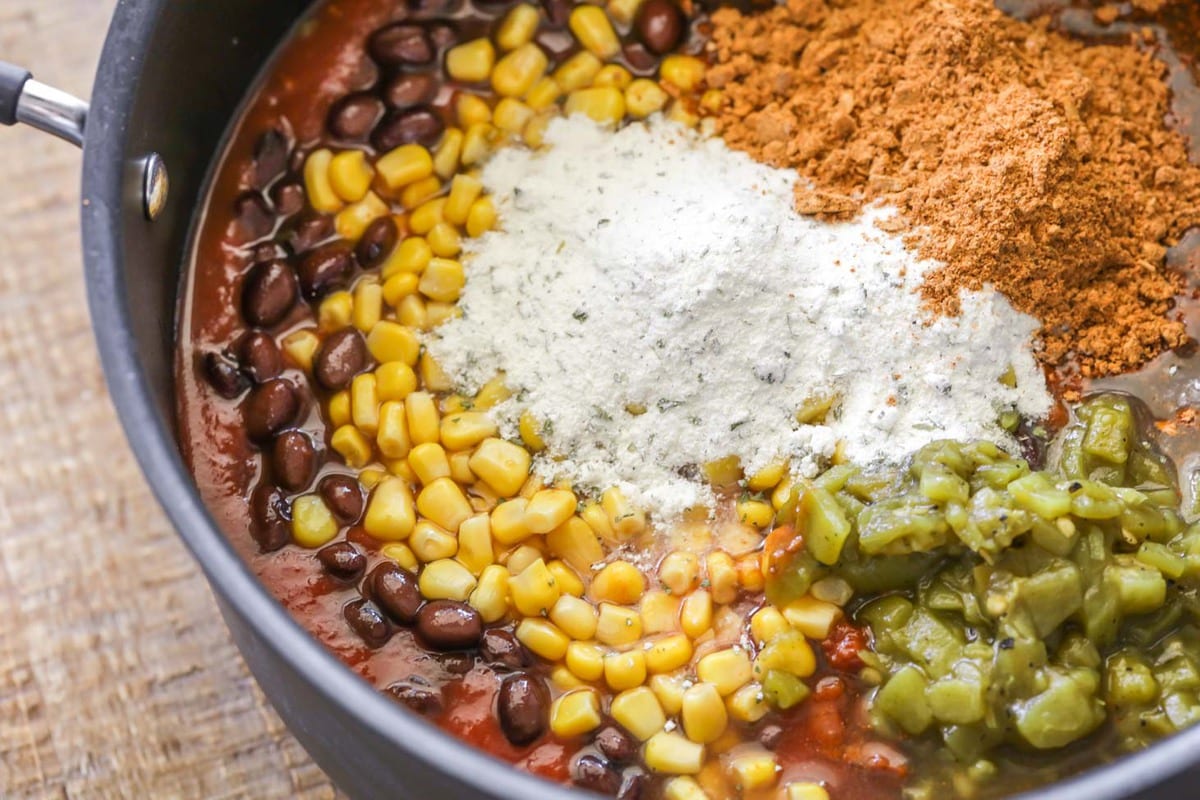 How to make pantry staple meals
It's easier to do than you think.
Always use stuff on hand

Even including leftovers (cut up veggies etc)

Always use stuff on hand

Use things that will expire or go bad first (raw meat, eggs)

Look at the fridge first…

Meat, cheese, fresh fruit and veggies

Then the pantry…

Pasta, rice, bread, other grains

Then the freezer…
Make it simple, but use your spices to make it fun and flavorful!

Something like jalapenos or chili powder for spice

Use chopped garlic or dried onion for classic flavors

Also don't underestimate the power of delicious sauces!!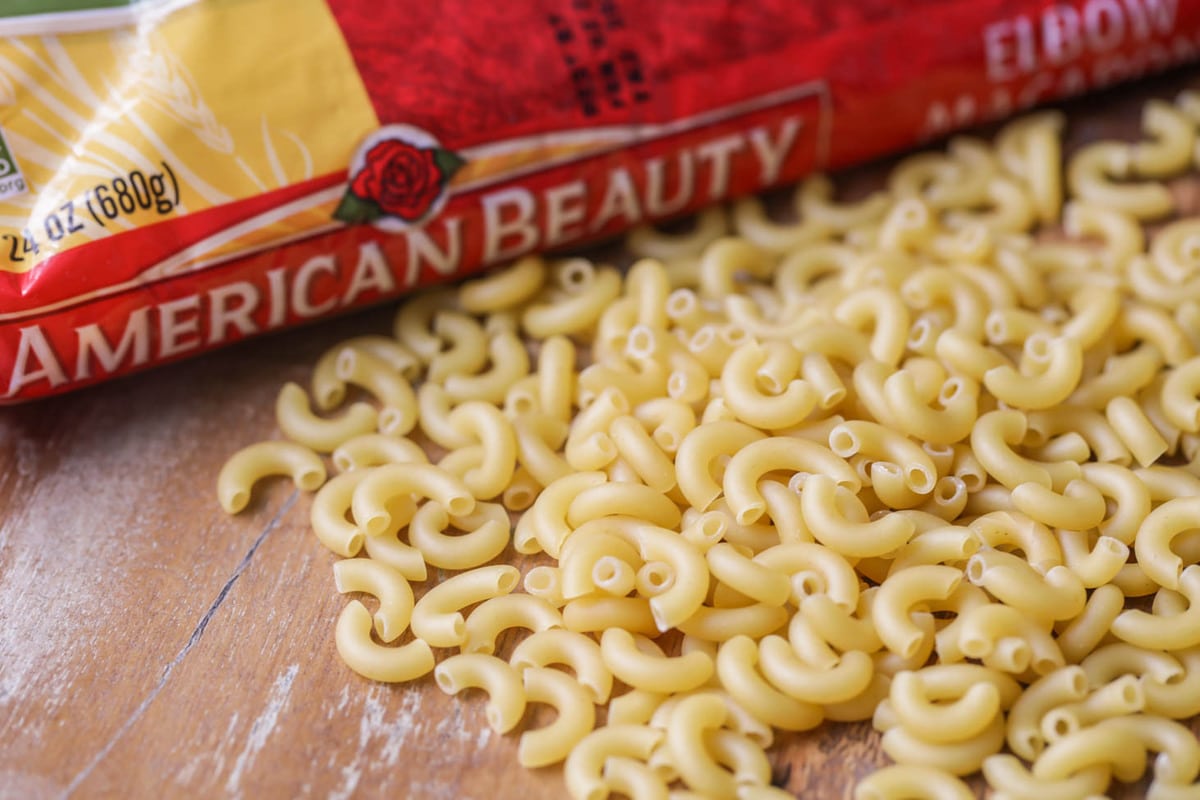 How Long do Pantry + Fridge Staples Last?
As you can imagine, they're all different – and it all depends on how they're boxed/canned/refrigerated/frozen.
We wanted to break it down for you so you knew the average expiration for each item. And we put them into different categories to help you out!
CANNED GOODS

Canned fruit (1-2 years)

Canned veggies (1-2 years)

Canned chicken (3-5 years)

Beans (3-5 years)

Olives (1 year)

Tomatoes: diced, stewed etc (18-24 months)

Tomato paste and puree (18-24 months)

Pasta sauce (1 year unopened)

Shelf stable milk (2-4 weeks after expiration date)

Chicken broth (1 year beyond printed date)

DAIRY PRODUCTS

Cheese

Block: 1-2 months

Sliced: 1 month

Shredded: 1 week after best by date

Milk (5-7 days after expiration date)

Butter (6-9 months)

Yogurts (opened 1-2 weeks, unopened 1-2 weeks after expiration date)

Sour cream (3 weeks)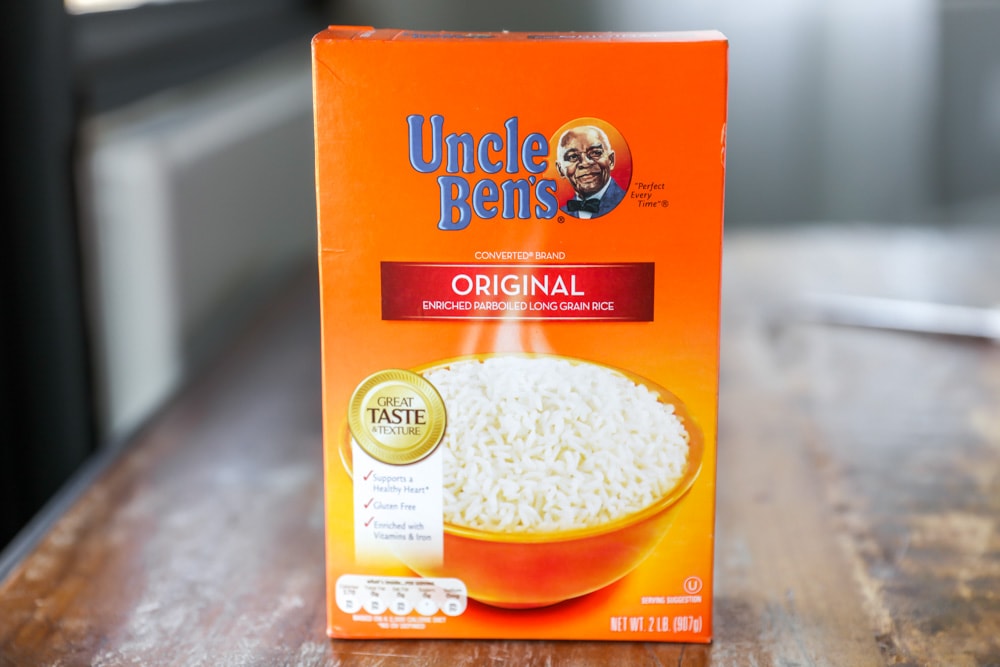 GRAINS

Pasta (dried pasta will last 1-2 years after best by date)

Rice (indefinite shelf life)

Breadcrumbs (8-10 months)

Cornmeal (1 year)

Oats (1-2 years)

Potato flakes (10-15 years)

VEGGIES + FRUITS

Frozen veggies and fruits (8-10 months)

Onions (2-3 months in fridge)

Garlic (3-5 months)

Carrots (3-4 weeks in fridge)

Potatoes (2-3 months in cold dark place)

Citrus fruit (1-2 weeks in fridge)
Apples (3 weeks in fridge)
Peaches, pears, plums (3-4 days in fridge)

FREEZER GOODS

Chicken (9 months raw, cooked chicken 2-6 months)

Ground hamburger (best within 4 months)

Cheese (6 months)

Bread (3-6 months in freezer)

Milk (3 months)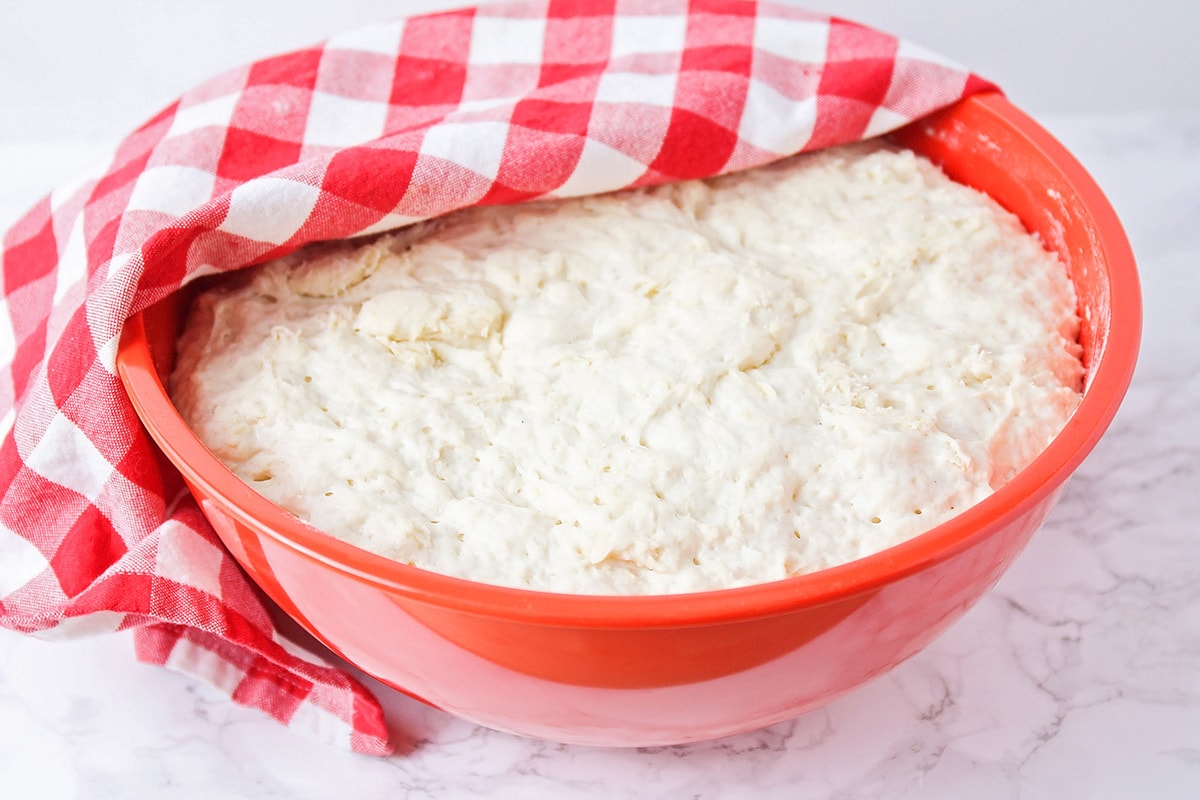 BAKING ESSENTIALS

Flour (1 year at room temp)

Yeast (2-4 months past expiration date if unopened, 4-6 months in fridge once opened)

Baking soda (2 years unopened, 6 months opened)

Baking powder (9-12 months)

Vanilla extract (5 years)

Cream of tartar (6 months)

Sugar (2 years but technically forever)

Powdered sugar (2 years but technically forever)

Brown sugar (2 years)

Cocoa powder (2-3 years)

Chocolate chips (2 years)

Pancake mix (opened for 1 year)

Honey (2 years)

Maple or agave syrup (2 years)

Olive oil (2 years)

Vegetable oil (6 months)

SPICES

Soy sauce (2 years in fridge)

BBQ sauce (refrigerate opened for 6 months, unopened in the pantry for 1 year)

Salt (forever!)

Pepper (3-4 years)

Chili powder (3-4 years)

Bay leaves (1-3 years)

Garlic and onion powder (3-4 years)

Paprika (3-4 years)

Italian seasonings (2-3 years)

Cajun seasonings (2-3 years)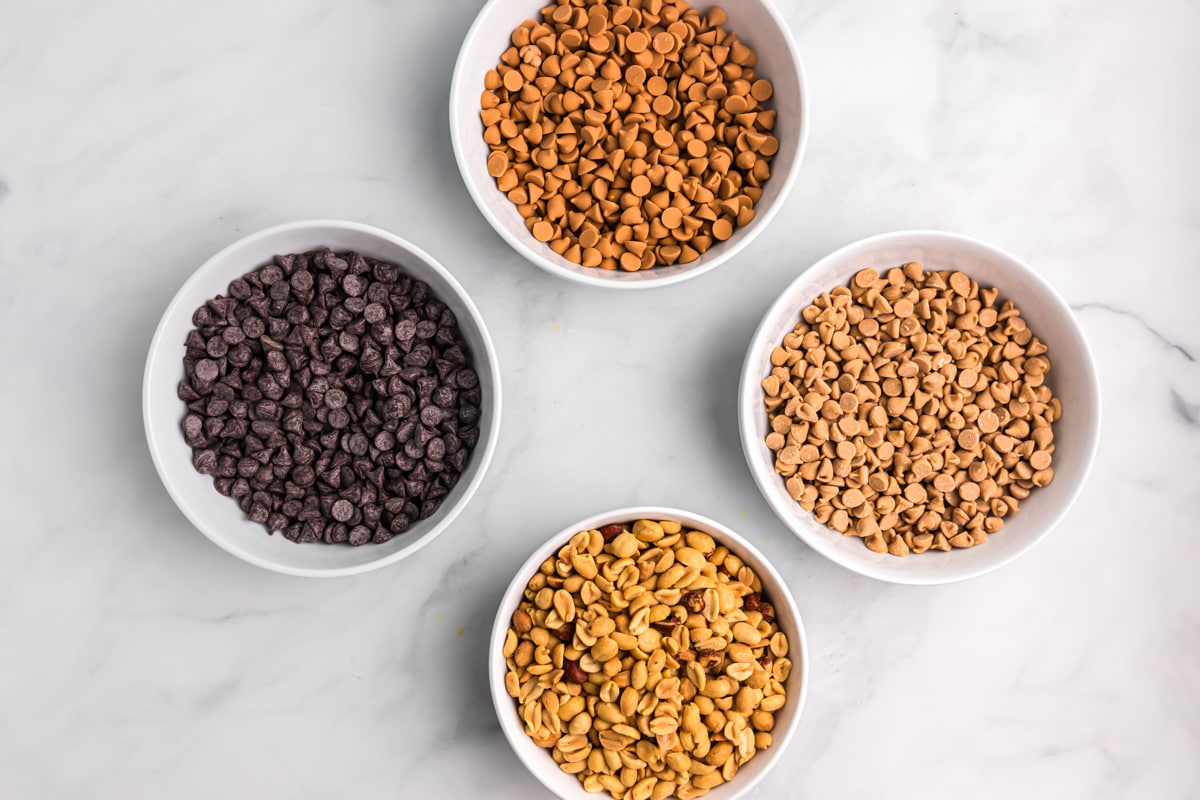 PANTRY SNACKS + MEAL ESSENTIALS

Nuts and seeds (6 months in fridge or 1 year in freezer)

Nut butters (1 year)

Granola bars (6-8 months)

Crackers (6-9 months)

Cereal (6-8 months after expiration date if unopened)

Dried fruit (1 year)

Chickpeas (dried lasts for 2-3 years)
TO DOWNLOAD YOUR FREE PANTRY STAPLES LIST – CLICK ON THE LINKS BELOW: