Now you can get he crispy, delicious chicken nuggets you love from Chick-Fil-A without leaving the house. These copycat nuggets taste just like the real thing and are done in under 30 minutes!
This recipe is simple and one the kids will love!! Don't be surprised when you see there is powdered sugar in the batter because I feel like it's the secret ingredient. Here is what you'll need to do to make these delicious nuggets. For more delicious finger foods the kids will love try Corn Dogs, Popcorn Chicken, and Mozzarella Bites.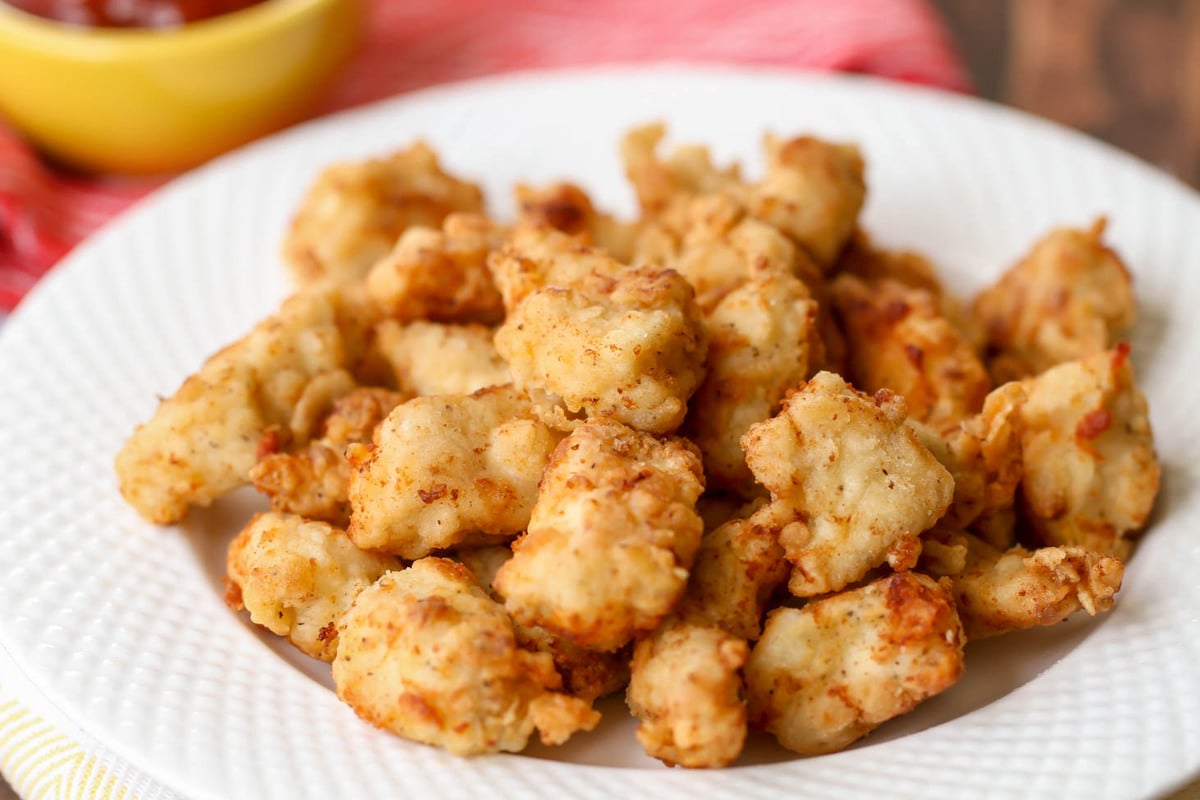 Everyone's Favorite Nuggets!
Who here loves Chik-fil-A? My entire family is obsessed, and I'd be lying if I said we didn't go at least a few times each month. 😉 The hubby and I love their customer service and feel like they are the best fast-food chain around. The employees are always so nice, and the kiddos love playing in their clean playground areas. But most importantly, their food is top notch!!
My kids' favorite menu item is their Chicken Nuggets, so when I saw a copycat recipe from My name is Snickerdoodle, I knew I had to give it a try. I only made a few changes, but I agree that they taste just like those from the restaurant!
They require just a handful of common ingredients that you most likely already have on hand, and they only take about 30 minutes from start to finish! That's even less time than it would take to load up the family and drive to the nearest Chick-fil-A, so it's definitely a win-win situation. Now, I just need to learn how to make their Chik-fil-A sauce because that stuff is so addicting. 😉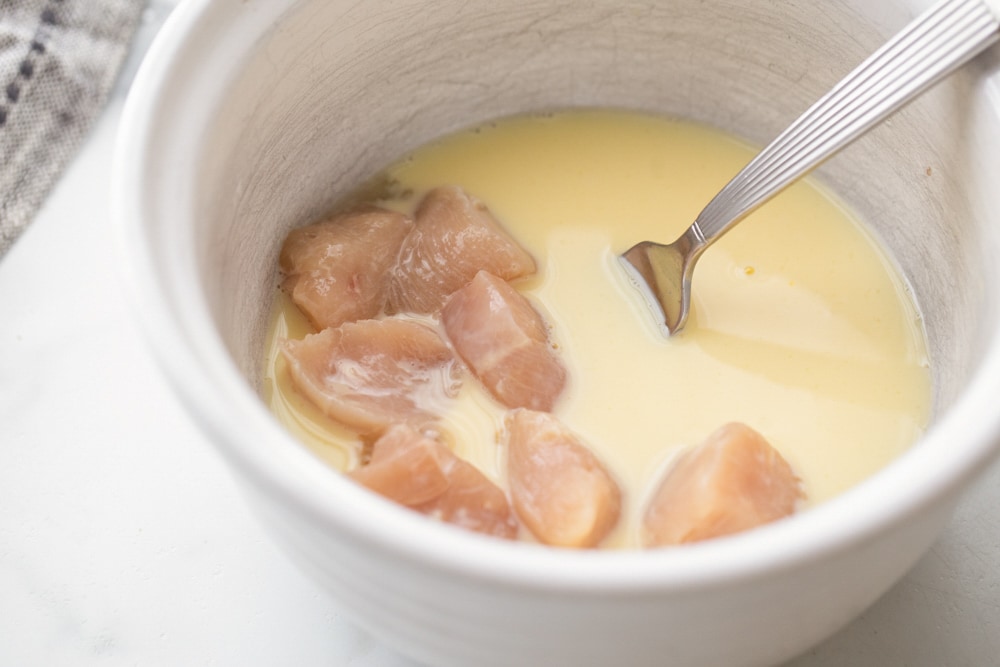 Ingredient Tips
To pickle, or not to pickle, that is the question! We like it both ways! However, there are some who swear by this step. Should you wish to try it for yourself simply cut your chicken into 1 inch cubes, place in a bag, add dill pickle juice, let it marinate for at least 20 minutes, then proceed with the rest of the recipe. 
Oil: Another recipe choice is to decide what oil to fry these in. We used vegetable oil. You could use peanut oil like the restaurant does. You can also use coconut oil, though it may not be quite as browned and crispy. Each of them will add a different flavor so use the one you like best.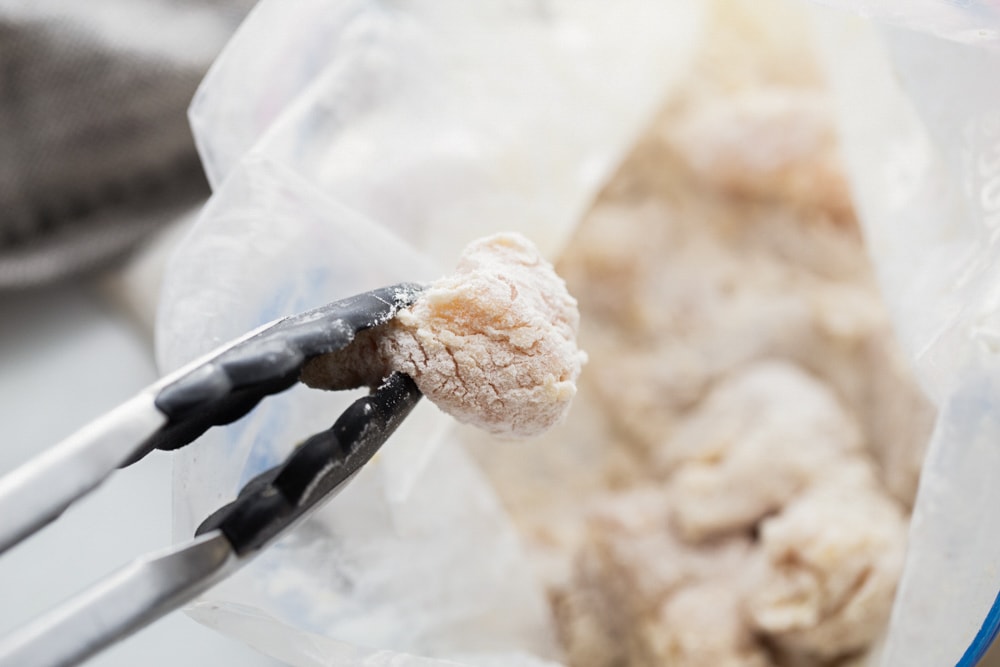 How to Make Copycat Chick Fil A Nuggets
CUT. Cut up chicken breasts into bite-sized pieces.
WHISK. Add milk and egg to a bowl and whisk together, then set aside.
COMBINE. Pour flour, powdered sugar, salt, and pepper in a gallon-sized ziploc bag.
COAT. Put chicken pieces in the egg mixture. Once they are well coated, transfer the chicken pieces to the ziploc bag and shake to evenly cover with seasonings.
COOK. Place chicken in pan with oil and cook on medium heat for 5-7 minutes on each side until golden brown.
DRAIN. Drain the pieces on a paper towel
SERVE. Serve warm with ketchup, homemade ranch, fry sauce or honey mustard. ENJOY!
Air fryer: If you don't want to fry them in oil you can definitely use an airfryer. The taste and texture may vary because of the lack of oil. If you want to crisp them up more, you can stick them under the broiler in the oven .
Preheat the air fryer to 400°F and lightly spray the fryer basket. Place nuggets in a single layer, be sure they are not touching. Fry for 6-9 minutes, turning halfway.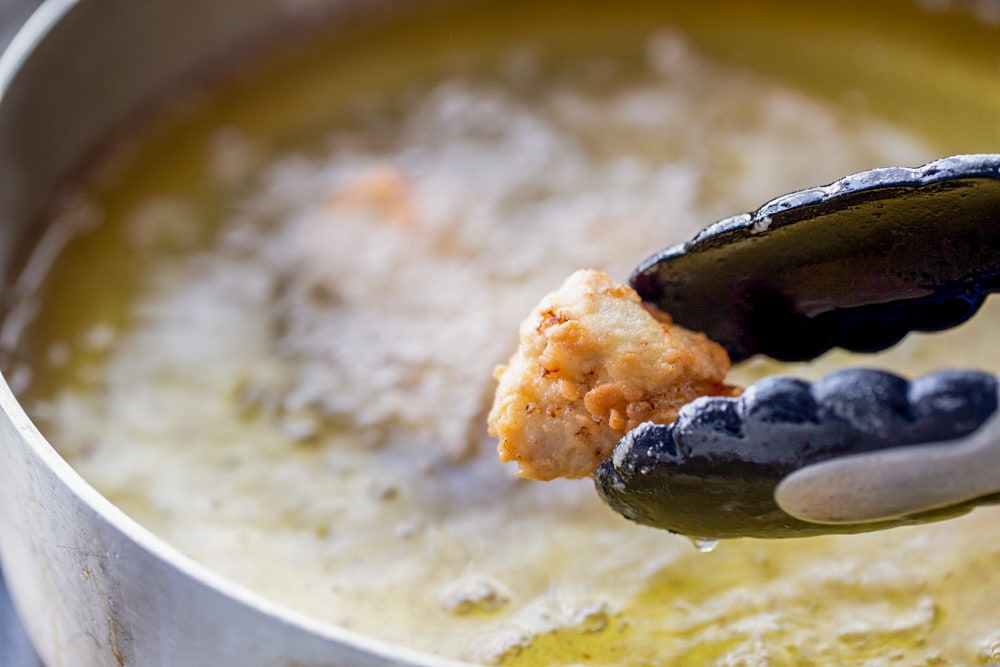 Tips, Dips, & Making Ahead
How many nuggets should I plan for a crowd? This one is a little tricky to answer. If there are going to be other appetizers I would plan 4-5 nuggets per person. If it is going to be the main dish plan 6-8 per child and 10-12 per adult. 
Dipping Sauces: 
Ahead of time: You can make them the day before, allow them to cool and store them in an airtight container in the fridge. Reheat them in the oven at 300°F  for 5-6 minutes or until hot. You can also make them ahead of time, allow them to cool and freeze them. You can either store them in individual portion containers of 8-10 nuggets or throw them all into a large bag. Just be sure the container(s) are air tight and freezer safe. Freeze for up to 3 months. Reheat in the microwave, toaster oven, air fryer, or oven. (store leftovers in the same manner)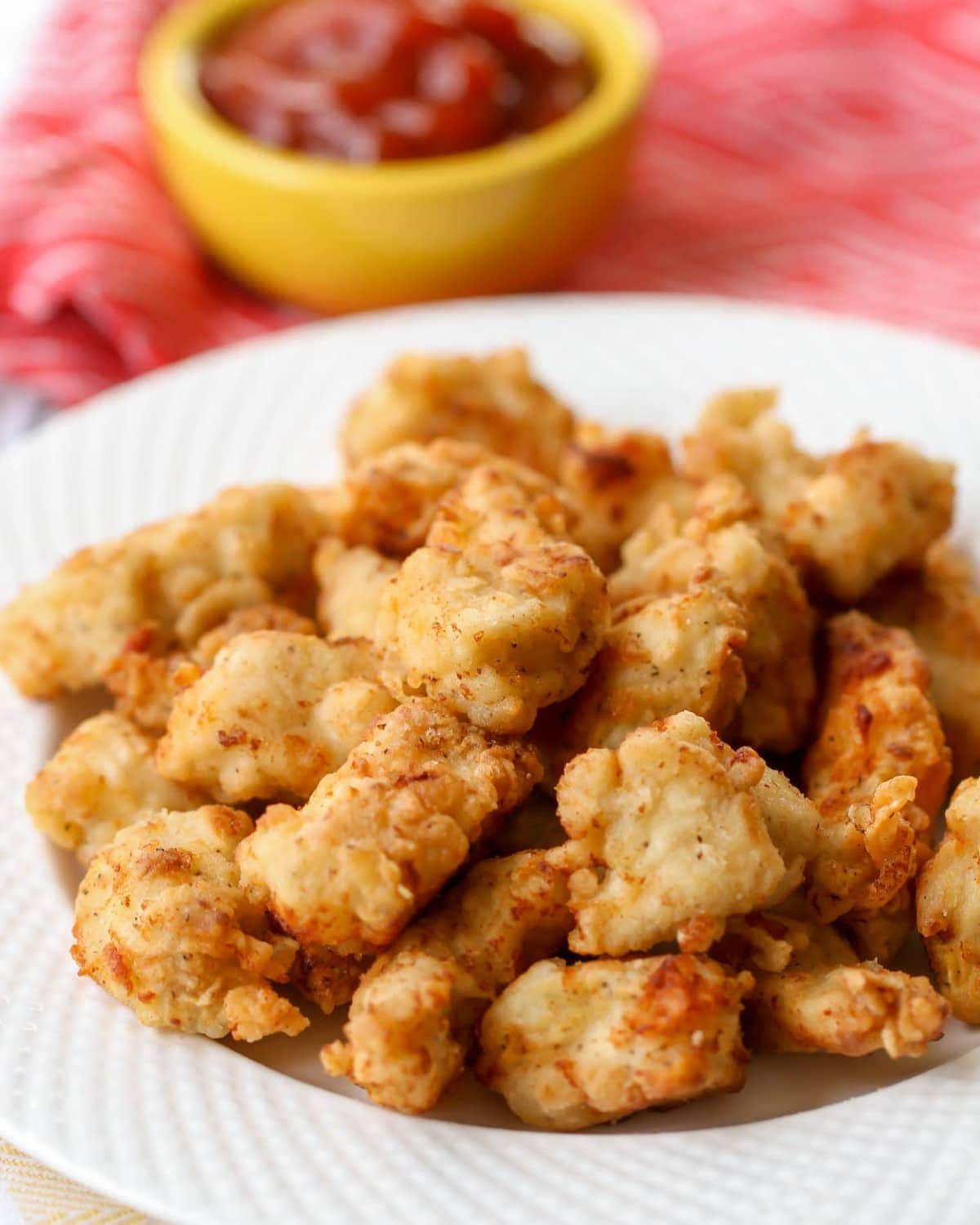 This recipe pairs perfectly with:
For more quick and easy chicken recipes, check out:
Copycat Chick Fil A Nuggets Recipe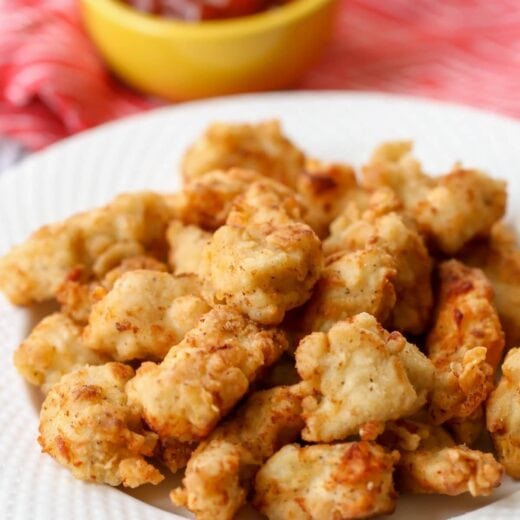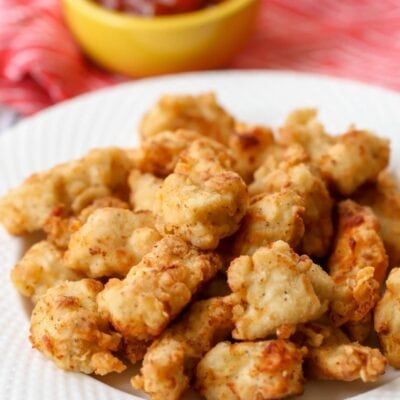 This recipe allows you to have the crispy, delicious chicken nuggets you love from Chick-fil-A without even leaving your house! These Copycat Chick Fil A Nuggets taste just like the real thing. Best of all, they're ready in less than 30 minutes!
Instructions
Begin by cutting up your chicken breasts into bite-sized pieces. M

Place oil in a medium pan and turn to medium heat.

From there add your milk and egg to a bowl and whisk together until combined. Set aside.

Pour your flour, powdered sugar, salt and pepper into a gallon bag.

Add several chicken pieces to your milk/egg mixture until well coated and then throw the pieces into your gallon bag and shake until each piece is evenly coated.

Place chicken pieces in oil and cook for 5-7 minutes on each side or until golden brown.

Drain pieces onto paper towel and serve warm.