This hearty, flavorful black bean soup is simple and perfect to make during soup season. It's on the table in under an hour!
Black bean soup is filled with spicy flavors and delicious garnishes. Sourdough bread and Homemade flour tortillas are perfect for sopping up these tasty sauces. This would also taste perfect over a bed of Cilantro lime rice.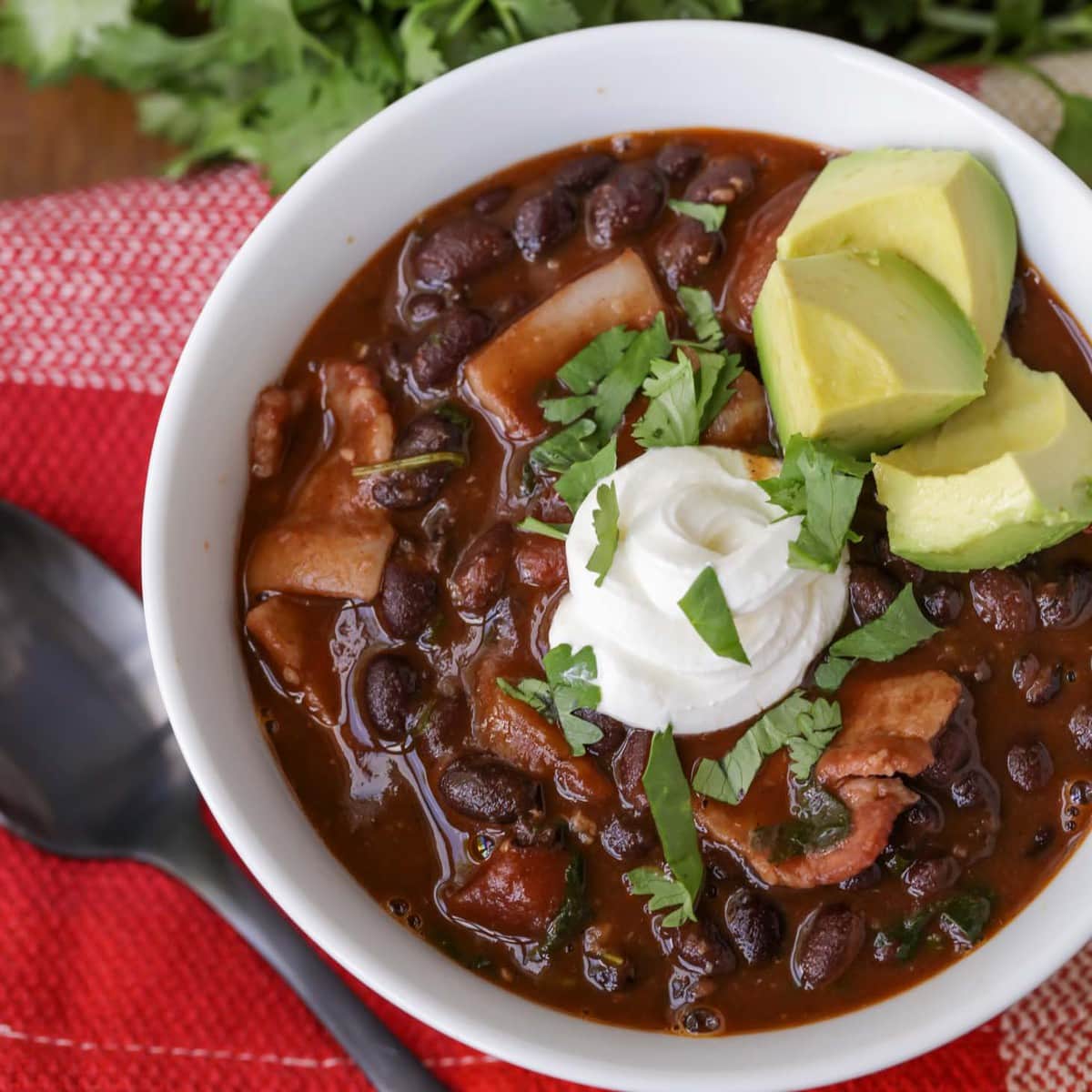 Easy Black Bean Soup
Give me all the soup recipes! When cooler weather hits, all I want to do is make a different soup for dinner every night. I love that you can incorporate so many healthy ingredients in soups. You can get all your veggie and protein servings in one bowl.
I also really appreciate that soups can feed a lot of people. You never know when you're going to have extra people in the house for dinner or maybe you need to bring dinner to a friend or neighbor that night. Soup is always the answer, and today's black bean soup will be a new crowd pleaser!
We love that this bean soup is SO easy and SO flavorful. Heads up all you bacon lovers out there – this soup has bacon in it! Is there anything that bacon doesn't go well with? Along with bacon, there are a ton of other tasty ingredients in this soup too!! Even I admit that I was hesitant trying this recipe, but all of these ingredients combine to make a very flavorful and delicious soup!
How to Make Best Black Bean Soup
Making this recipe is very simple and takes just a few steps.
BACON. Chop your bacon into fine pieces and cook in a large pot over medium heat for about 5 minutes. Stir in garlic until it's nice and fragrant.
SIMMER. Next add the broth, ketchup, Worcestershire sauce, and chili powder to the pot. Mix in the black beans and bring the soup to a boil over high heat. Once it starts to boil, lower the heat and let it simmer for about 10 minutes.
GARNISH + SERVE. While soup is simmering, wash and remove stems from the cilantro. Then coarsely chop the cilantro. Stir it into the soup after it's done simmering. Cook the soup for another 5 minutes until it's thickened a bit. Stir in the lime juice and season with salt and pepper.
Garnish with all your favorite toppings including:
cilantro
avocado
cheese
sour cream
lime
green onions
They take the soup to an even higher level of delicious-ness!
Tips, Variations + Storing Info
Using Dry Beans:  To make Black bean Soup with dried beans you will need to do so on the stovetop, and it takes a little bit more time. 
Start by quickly soaking the beans in hot water for a couple of minutes before bringing it to a boil. 

Once it has boiled, reduce the heat and just let the beans sit in hot water for about an hour. 

Drain and rinse them in cold water. Add them in a pot with the chicken broth. Bring it to a boil and then reduce to a simmer. 

You should let that sit for about an hour and a half, once the beans have softened add in the rest of the ingredients. If you add salt too early the beans will harden instead of becoming softer. Watch it and let it stew on the stove for about another hour or so, it depends on how thick/thin you want your soup
Instant Pot:  Great news, this soup can also be made in an Instant Pot. Take the dried beans and then add in enough water to have it sit 1 inch above the beans. Then, mix in seasonings and set it to high pressure and let it cook for 30 minutes. Release the pressure and stir in the rest of the ingredients(bacon, cilantro, ketchup etc). Allow it to warm throughout before serving.
Slow Cooker: Cook up the bacon and minced garlic first. From there, you will add everything to the Crock Pot and cook on HIGH for 2 hours or on LOW on 4 hours.
When you first try this soup it will hug you with all of it's delicious flavors. We hope you love it as much as we do!
Thicken or thin the soup: Black bean soup is actually really easy to thicken. You just need to smash some of the beans and the starch of the beans themselves will thicken the soup. If this doesn't seem to be working you can let the soup sit uncovered on the stove and it will naturally thicken as more of the water evaporates. To thin out the soup you need to mix in more chicken broth or water.
How to make it spicier: If the chili powder isn't enough for you, you can add in cumin or red pepper flakes. If you like the texture and slight spice you can add in diced green chiles.
Bean based soups actually FREEZE very well. Make sure to package the soup after it has cooled completely. Store in a freezer safe container for up to 6 months. Thaw and reheat.
STORE leftover soup in one container, or divided into individual portions. Store in the fridge for up to a week. This soup reheats well in both the microwave and stove top.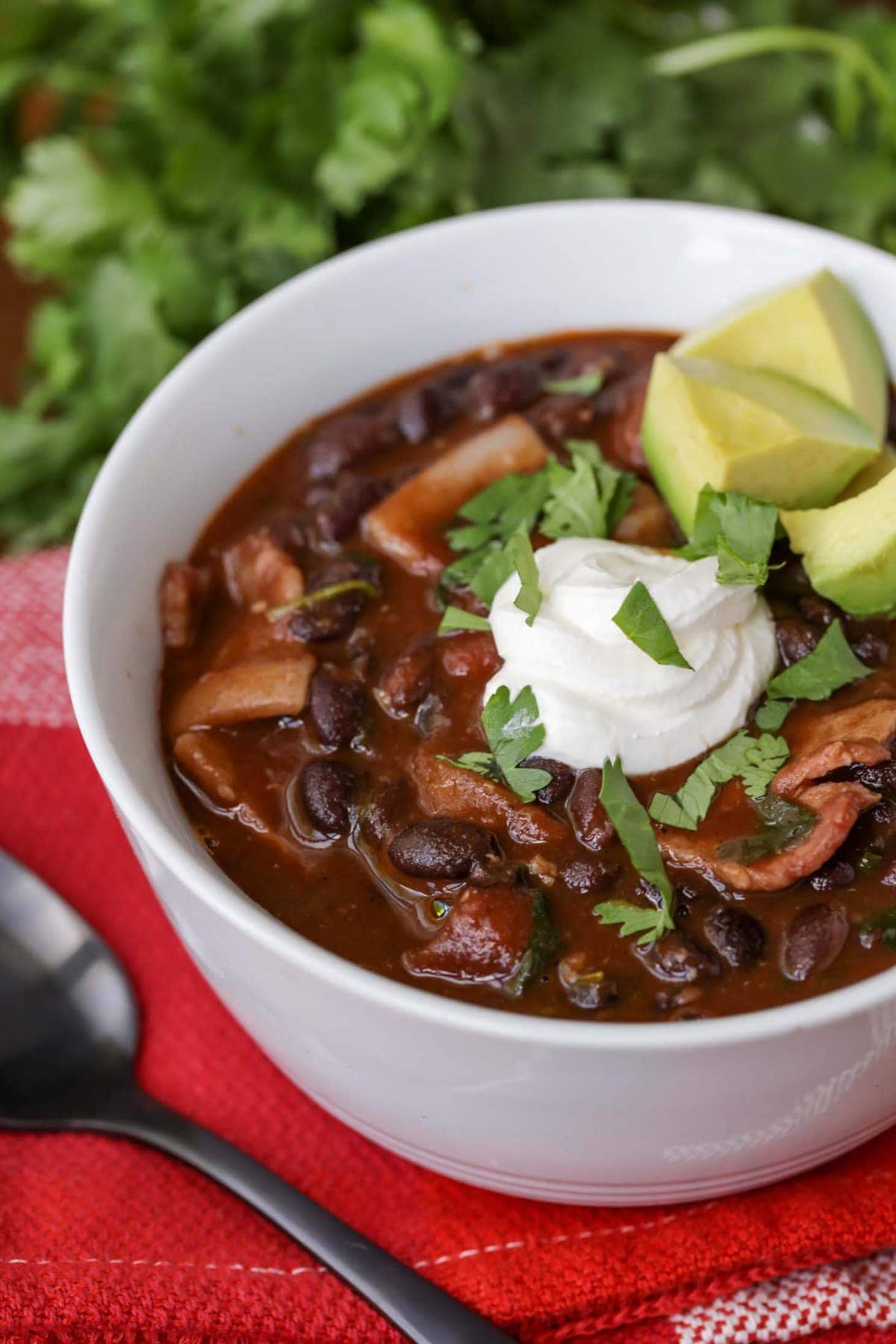 For more soups with beans, be sure to check out:
Black Bean Soup Recipe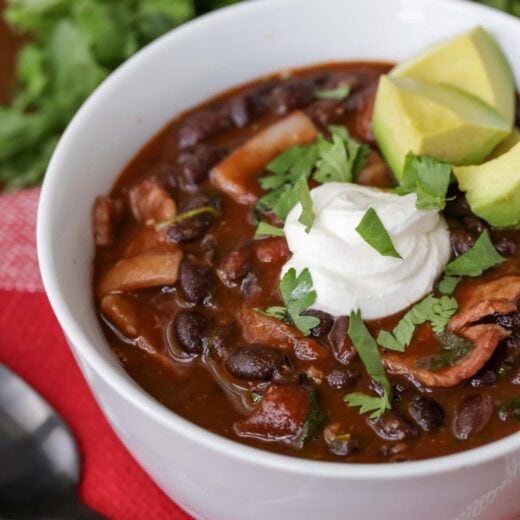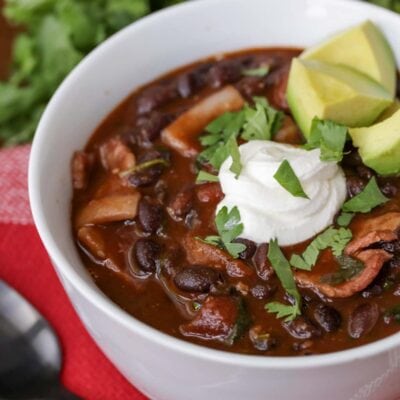 This hearty, flavorful black bean soup is simple and perfect to make during soup season. It's on the table in under an hour!
Ingredients
10

slices

bacon

finely chopped

4

tsp

minced garlic

1

(14.5 oz) can

reduced-sodium chicken broth

1 1/2

cups

canned chopped tomatoes

2

TB

ketchup

2

tsp

Worcestershire sauce

1

TB

chili powder

4

(15.5 oz) can

black beans

drained but not rinsed

kosher salt

freshly ground black pepper

1

bunch

cilantro

juice of ½ lime

Sour cream, scallions, and cheese, for garnish
Instructions
Cook bacon in a large pot over medium heat for about 5 minutes. Stir in the garlic and cook until fragrant.

Add broth, tomatoes, ketchup, Worcestershire, and chili powder. Mix in the beans, and bring to a boil. Once boiling, lower heat to a simmer for about 10 minutes.


While soup is simmering, cut off cilantro stems and coarsely chop. Add cilantro to soup and simmer an additional 5 minutes, until thickened. Stir in the lime juice and season with salt and pepper.

Serve warm and garnish with toppings like fresh cilantro, limes, sour cream, cheese and avocados.
Notes
TRIED & TRUE FINDINGS:
DIFFICULTY: simple
HOW MANY DOES IT FEED: 8
ANY CHANGES MADE:  no onions, used minced garlic
ANY SUGGESTIONS FOR NEXT TIME: none
Adapted from Food Network.