These cheesy Au Gratin Potatoes are the perfect side dish for any meal! With a homemade cream sauce and layers of parmesan and cheddar cheese, this Potatoes Au Gratin recipe is SO rich and creamy!
Potatoes are a staple when it comes to side dishes, and this recipe proves it! For more potato sides, make sure you check out roasted red potatoes, scalloped potatoes, and funeral potatoes.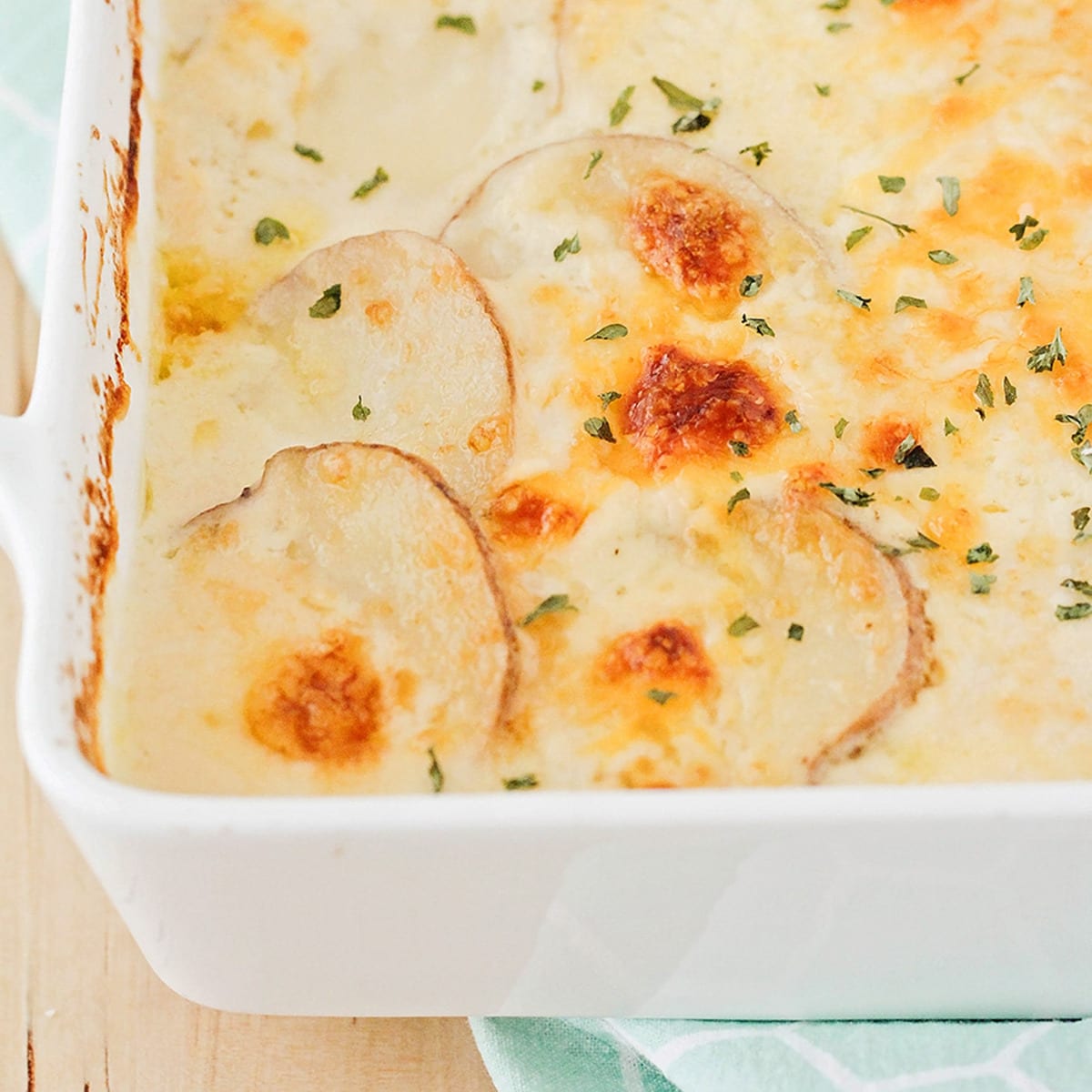 homemade Au Gratin Potatoes
Hey guys, Alicia here! I have to confess, I'm not usually one for side dishes. I like to eat them, of course, but it's not normally worth it to me to take the extra time and effort to make a side dish with dinner.
We generally just eat some sautéed vegetables and fresh fruit with dinner, and save the real side dishes for special occasions. When the holidays roll around, though, I am all about the side dishes! I love loading my plate with all the goods, from mashed potatoes to stuffing to sweet potato casserole.
This delicious Potatoes Au Gratin recipe is perfect for your holiday table (or for any other time you need a delicious side!) It's easy to make, and incredibly cheesy and delicious!
The phrase "Au Gratin" makes these potatoes sound like they're super fancy gourmet potatoes doesn't it? Although it sounds fancy (and tastes like a million bucks in my opinion), this recipe is actually really simple!
"Au Gratin" is French, and it literally means "by grating". So you'll see Au Gratin recipes topped with either bread crumbs, shredded cheese, or both, and then browned.
Believe me, this recipe is every cheese lovers dream! The potatoes are smothered in a rich homemade cheese sauce, and topped with even more shredded cheese. Sooo much creamy cheesy goodness in each bite!!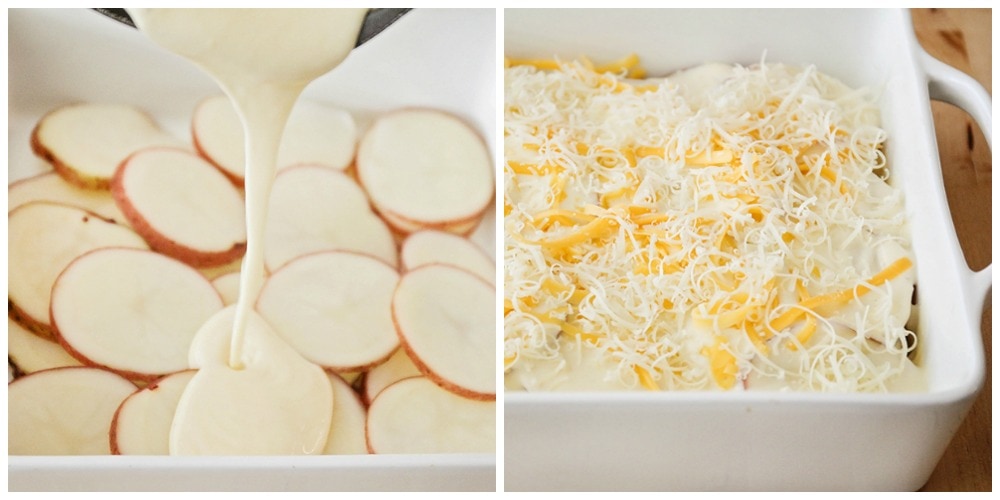 How to make Au Gratin Potatoes:
Potatoes Au Gratin only take a little while to prep, between the potato slicing, sauce making, and layering. But they do have to bake in the oven for an hour and a half (which feels like an eternity when you can smell the cheesy deliciousness)!
POTATOES. You'll start by slicing your potatoes thinly (use a mandoline or a chef's knife), then spreading them in a baking dish. I like to do the whole process in layers so I can maximize the amount of cheesy goodness.
LAYER. You'll then pour a creamy and rich homemade cheese sauce over each layer of potatoes, and sprinkle with parmesan and cheddar cheese.
(Note: If cheddar isn't your cup of tea you can use gruyere cheese, jack cheese, or even asiago cheese. This recipe is totally customizable to your unique tastes!)
Repeat the layers twice more, starting with potatoes, and finishing with shredded cheese.
BAKE. The potatoes bake for an hour covered, and an additional 20-30 minutes uncovered, until golden brown on top.
It's a good idea to let them sit before serving so the sauce can thicken up a little bit, so also account for 10-15 minutes of cool time after they come out of the oven.
Crockpot version
You can layer the potatoes, sauce, and cheese in the crockpot how you would in a pan and either cook it on high for 3-4 hours or on the low setting for 6-8 hours.
This may yield a slightly different texture because it won't have a crunch on the top like it would get from being in the oven but the taste will be the same.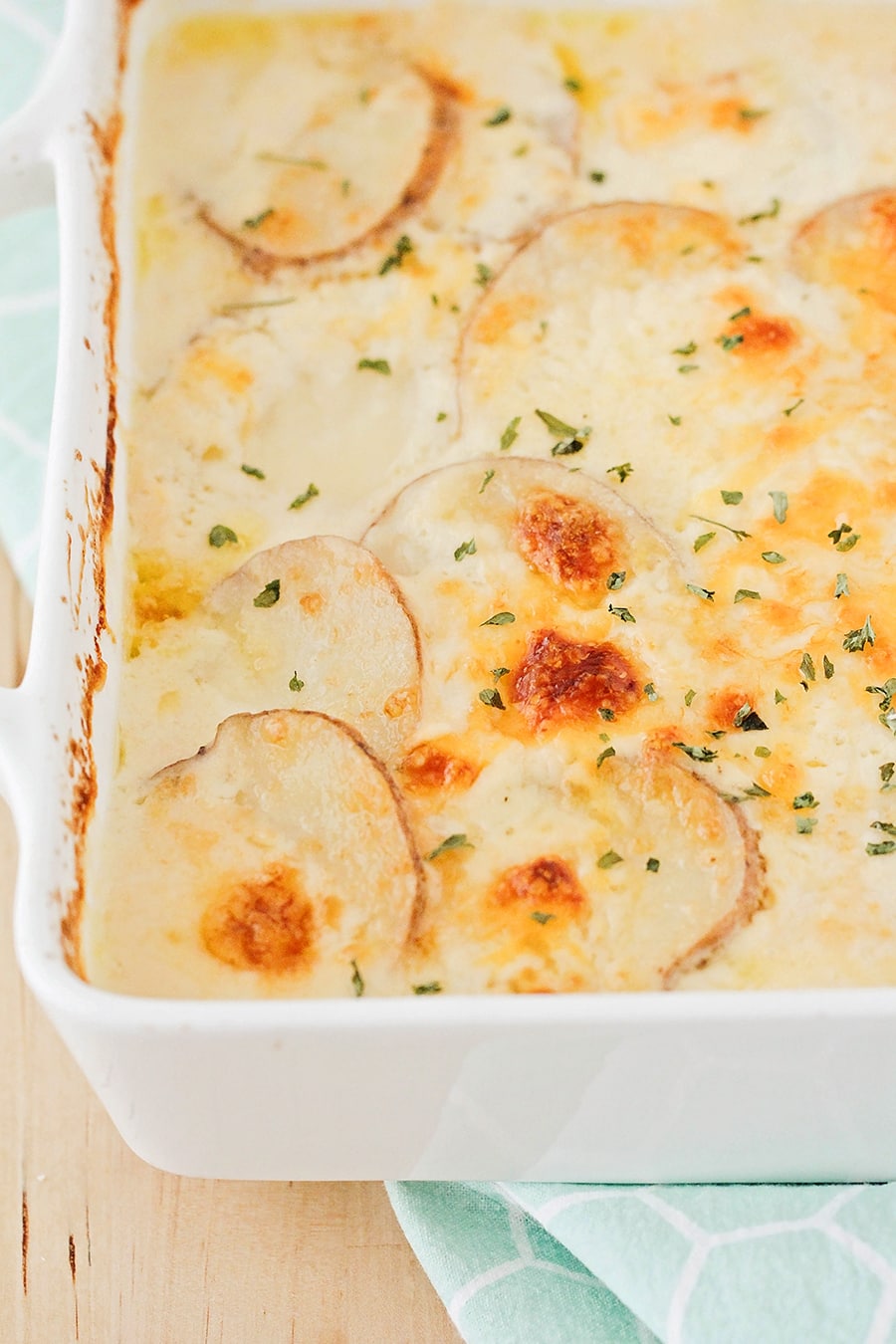 Recipe Notes + Tips
Just a few notes we wanted to make sure you knew of for this recipe…
We used red potatoes, but you can easily use russet potatoes. 

You can easily add cooked protein such as cubes of ham, shredded chicken or bacon bits to make this delicious side dish into a main meal. 

Top with scallion for more flavor
Leftovers: Store leftovers in an airtight container in the fridge for 2-3 days. You can also freeze them for up to 1 month. Keep in mind the texture of potatoes do change when frozen. Reheat smaller portions in the microwave. Larger portions can be reheated in the oven. 
Make ahead: You can assemble this dish the day before. Be sure to place plastic wrap pressing the otp of the casserole. Store in the fridge and bake according to directions.
Note: some of the potatoes close to the top may discolor a bit, but isn't noticeable after being baked.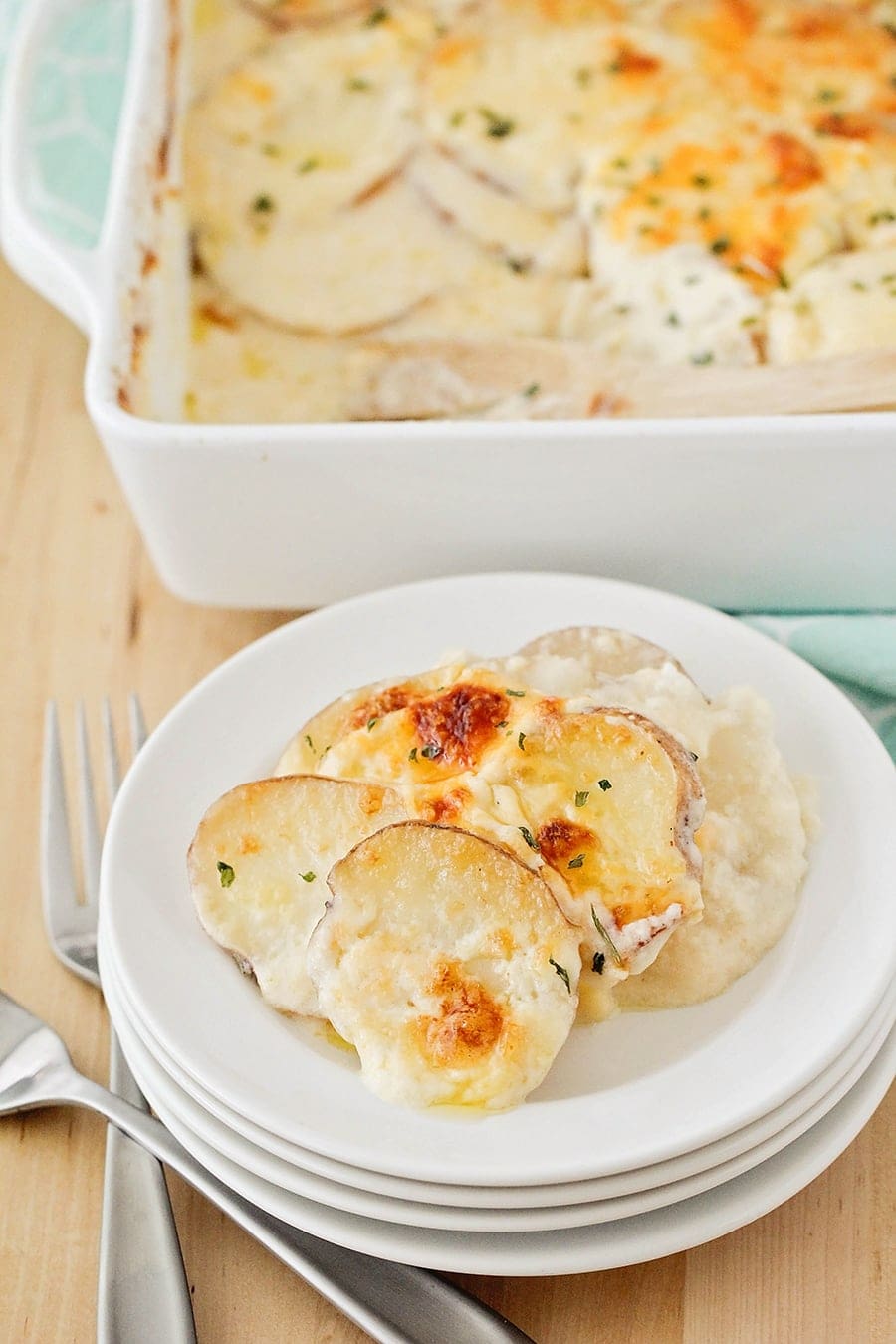 These au gratin potatoes are unbelievably delicious! They're a little too rich to eat on a daily basis, but they're perfect for a holiday or special dinner. And they're so tasty that you'll be craving them constantly. 🙂
For even more potato side dishes, check out:
Au Gratin Potatoes Recipe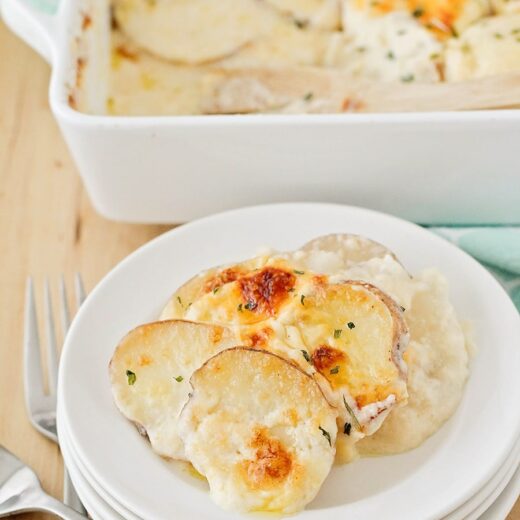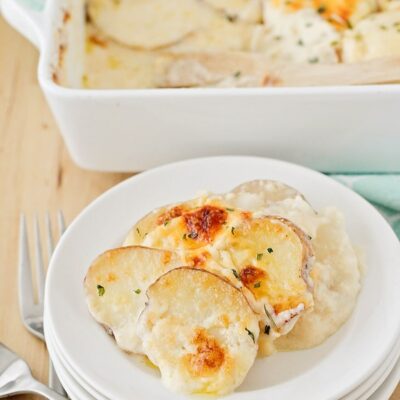 These cheesy Au Gratin Potatoes are the perfect side dish for any meal! With a homemade cream sauce and layers of parmesan and cheddar cheese, this Potatoes Au Gratin recipe is SO rich and creamy!
Ingredients
6

medium

red potatoes

sliced thinly

4

tbsp

butter

4

tbsp

all-purpose flour

2

cups

milk

1/2

cup

heavy whipping cream

2

tsp

salt

1/4

tsp

pepper

2

cups

shredded cheddar cheese

divided

1/2

cup

freshly grated parmesan cheese
Instructions
Preheat the oven to 350. Spray a 9 x 9 baking dish with cooking spray and set aside.

In a medium saucepan, melt the butter. Whisk in the flour, and cook 3-4 minutes, until golden brown. Slowly add the milk and cream, whisking constantly to prevent lumps. Cook an additional 5-6 minutes, or until thickened. Remove from heat and stir in the salt and pepper and one cup of the cheddar cheese.

Layer one third of the potato slices as evenly as possible in the prepared baking dish. Pour one third of the sauce over the potatoes and spread to cover. Sprinkle ⅓ of the parmesan cheese and ⅓ of the remaining cheddar cheese over the top. Repeat the layers twice more.

Cover with foil and bake for one hour. Remove foil and bake for an additional 20-30 minutes, or until golden brown and bubbling on top. Let cool 15-20 minutes before serving.
I love potato dishes & these look amazing! Thank you Alicia for sharing! For more delicious recipes from Alicia, check out, The Baker Upstairs.
ENJOY!!