I have to confess, I'm not usually one for side dishes. I like to eat them, of course, but it's not normally worth it to me to take the extra time and effort to make a side dish with dinner. We generally just eat some sautéed vegetables and fresh fruit as sides with dinner, and save the side dishes for special occasions. When the holidays roll around, though, I am all about the side dishes! I love loading my plate with all of the delicious sides, from mashed potatoes to stuffing to sweet potato casserole. This delicious potatoes au gratin recipe is perfect for your holiday table (or for any other time you need a delicious side!) It's easy to make, and incredibly cheesy and delicious!
You'll start by slicing your potatoes thinly, then spreading them in a baking dish. I like to do the whole process in layers so I can maximize the amount of cheesy goodness.
MY OTHER RECIPES
You'll then pour a creamy and rich homemade cheese sauce over each layer of potatoes, and sprinkle with parmesan and cheddar cheese.
Repeat the layers twice more, starting with potatoes…
…and finishing with shredded cheese. Yum!
The potatoes bake for an hour covered, and an additional 20-30 minutes uncovered, until golden brown on top. It's a good idea to let them sit before serving so the sauce can thicken up a little bit.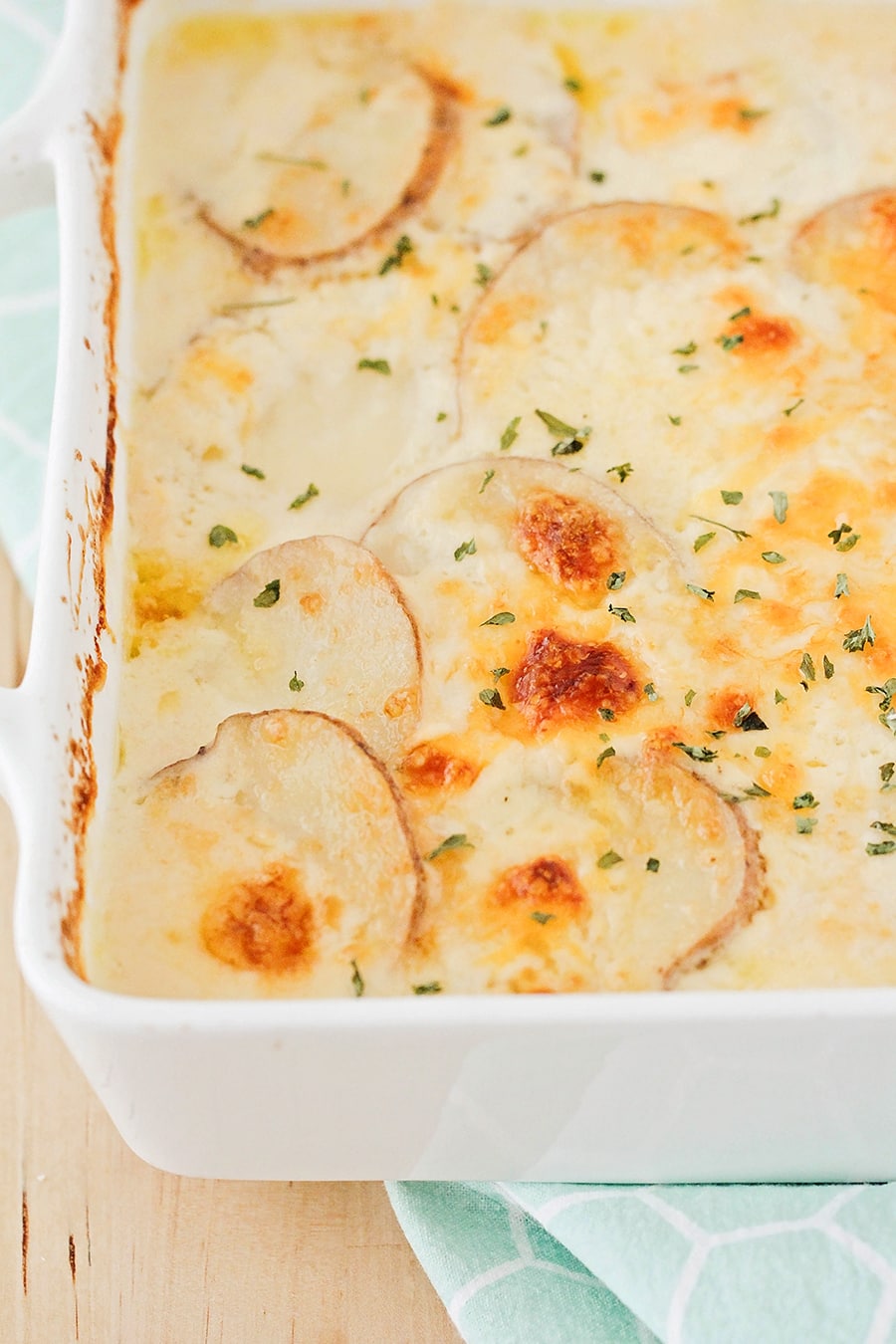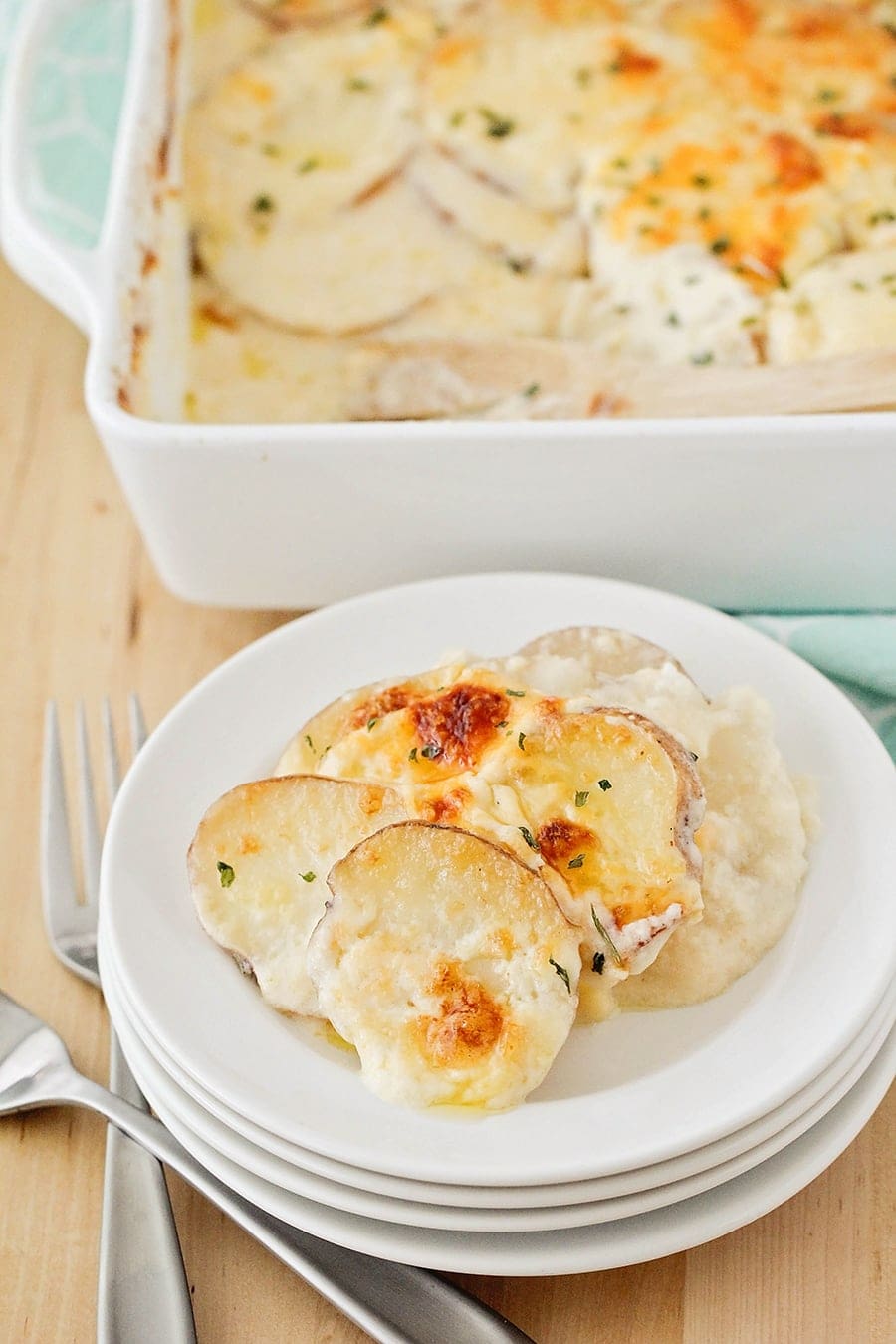 These au gratin potatoes are unbelievably delicious! They're a little too rich to eat on a daily basis, but they're perfect for a holiday or special dinner. And they're so tasty that you'll be craving them constantly. 🙂
And, for even more side dishes, check out:
How to make Potatoes Au Gratin:
Au Gratin Potatoes
Cheddar & Parmesan Potatoes Au Gratin - the perfect side dish with any meal! They are super easy to make & so cheesy!
Author:
The Baker Upstairs on lilluna.com
Ingredients
6 medium red potatoes, sliced thinly
4 tablespoons butter
4 tablespoons flour
2 cups milk
½ cup cream
2 teaspoons salt
¼ teaspoon pepper
2 cups shredded cheddar cheese, divided
½ cup freshly grated parmesan cheese
Instructions
Preheat the oven to 350. Spray a 9 x 9 baking dish with cooking spray and set aside.
In a medium saucepan, melt the butter. Whisk in the flour, and cook 3-4 minutes, until golden brown. Slowly add the milk and cream, whisking constantly to prevent lumps. Cook an additional 5-6 minutes, or until thickened. Remove from heat and stir in the salt and pepper and one cup of the cheddar cheese.
Layer one third of the potato slices as evenly as possible in the prepared baking dish. Pour one third of the sauce over the potatoes and spread to cover. Sprinkle ⅓ of the parmesan cheese and ⅓ of the remaining cheddar cheese over the top. Repeat the layers twice more.
Cover with foil and bake for one hour. Remove foil and bake for an additional 20-30 minutes, or until golden brown and bubbling on top. Let cool 15-20 minutes before serving.
I love potato dishes & these look amazing! Thank you Alicia for sharing! For more delicious recipes from Alicia, check out,
The Baker Upstairs.
ENJOY!!