Stretch those stomachs and start the day of family and food with a tasty breakfast using any of these delicious Thanksgiving Breakfast Ideas! From sweet to savory, we have you covered.
More Collections: Easy Breakfast Ideas, Breakfast Pastry Recipes, Thanksgiving Appetizers, Thanksgiving Dinner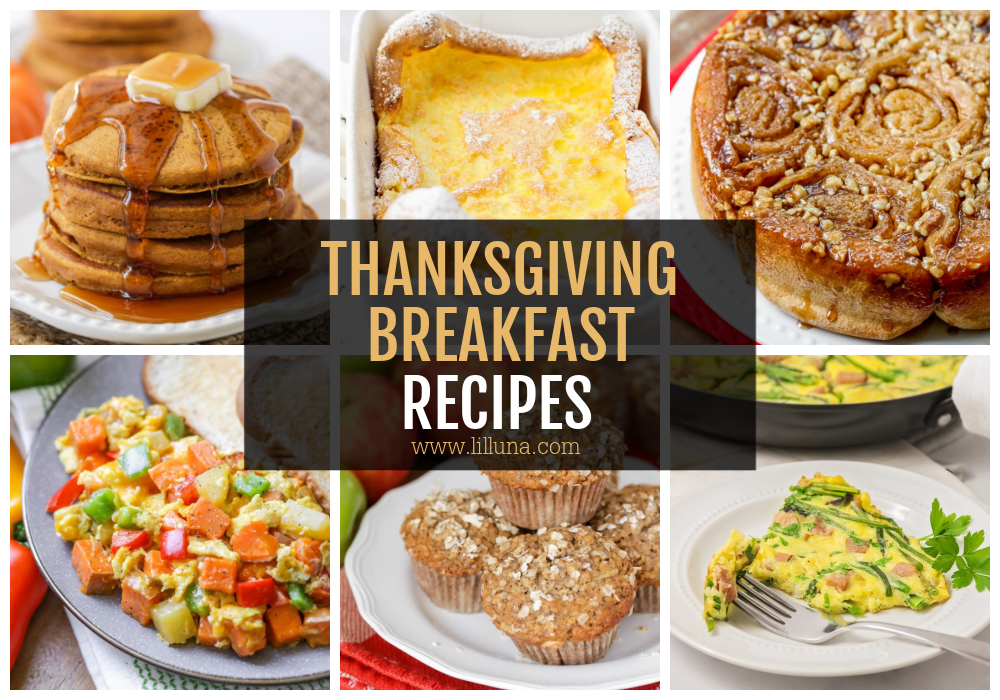 Turkey Day Breakfast Ideas
Thanksgiving Day, more than any other holiday, is known for a big dinner with a lot of delicious foods.
This means people all across the US are in the kitchen early getting the turkey in the oven and then they often don't leave the kitchen as they prepare sides and desserts. The last thing they want to hear is "What's for breakfast?"
Can I just skip Thanksgiving breakfast? While a valid thought, there are several reasons why you should still break your fast with a good morning meal. Try any of our tasty Breakfast Ideas for Thanksgiving!
Depending on what time Thanksgiving dinner is, you may want to have a light lunch with any of these Brunch Recipes.
Skipping breakfast can cause you to become extra hungry resulting in overeating at dinner.
Children will still want breakfast even if adults will "skip" it. I say "skip" because adults often end up sneaking in snacks throughout the day and are better off eating a nutritious breakfast.
Many people participate in a turkey trot or football game so giving your body good fuel in the morning will help give you the energy to participate, and you'll still work up an appetite and be ready for dinner.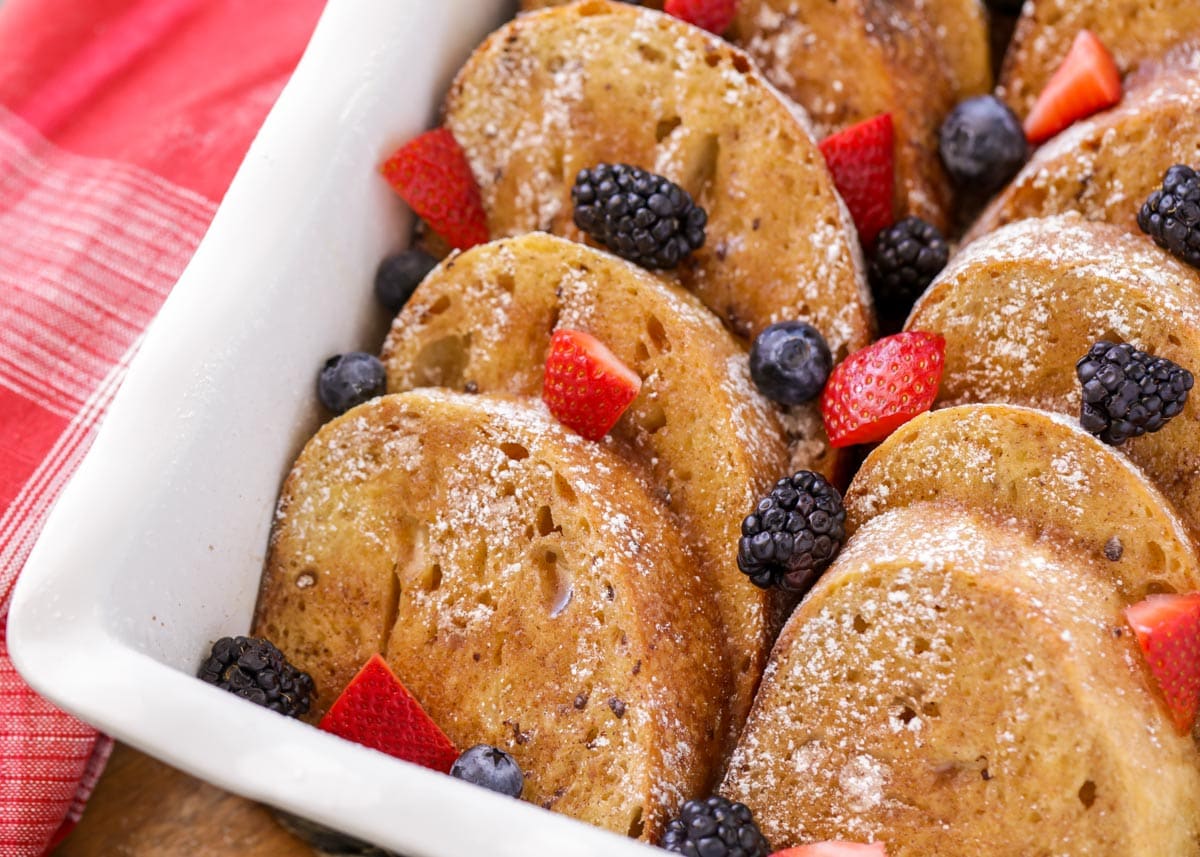 Easy Thanksgiving Breakfast Recipes and Tips
Plan ahead. When making your Thanksgiving dinner menu, include your breakfast plans and add the ingredients to your shopping list.
Make it simple. Choose recipes that you can prep ahead of time or that are easy to whip up on Thanksgiving morning.
Serving. Choose to set a more formal table or set food out buffet style and use paper products for easy cleanup.
Make ahead of time. Breakfast Casseroles and Sweet Breakfast Bakes can often be made ahead of time. Pop it in the oven or microwave to warm it up that morning.
Muffins and Quick Bread can be made ahead of time and served with a side of protein like bacon, eggs, and a bowl of fruit.
Breakfast Smoothies are easy and nutritious to whip up and don't require dirty-ing pots or pans.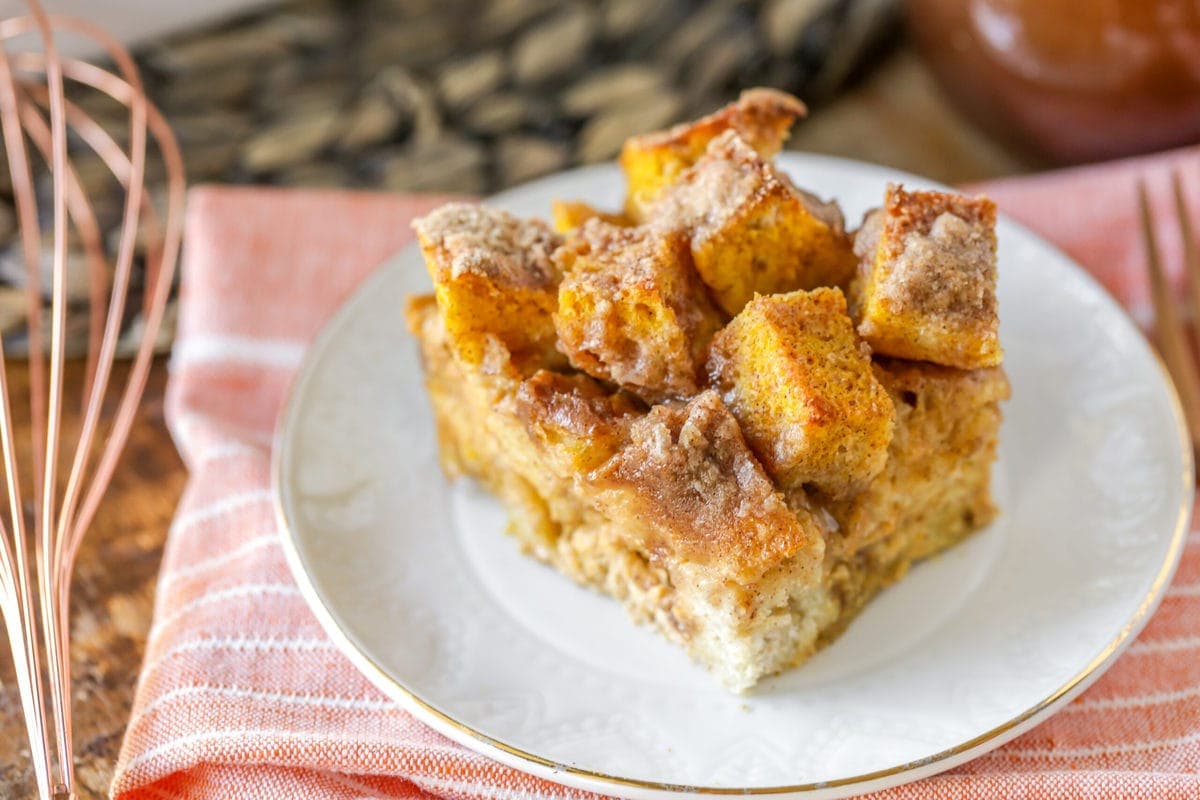 Tips for feeding a crowd
The following may help you figure out how much to provide:
---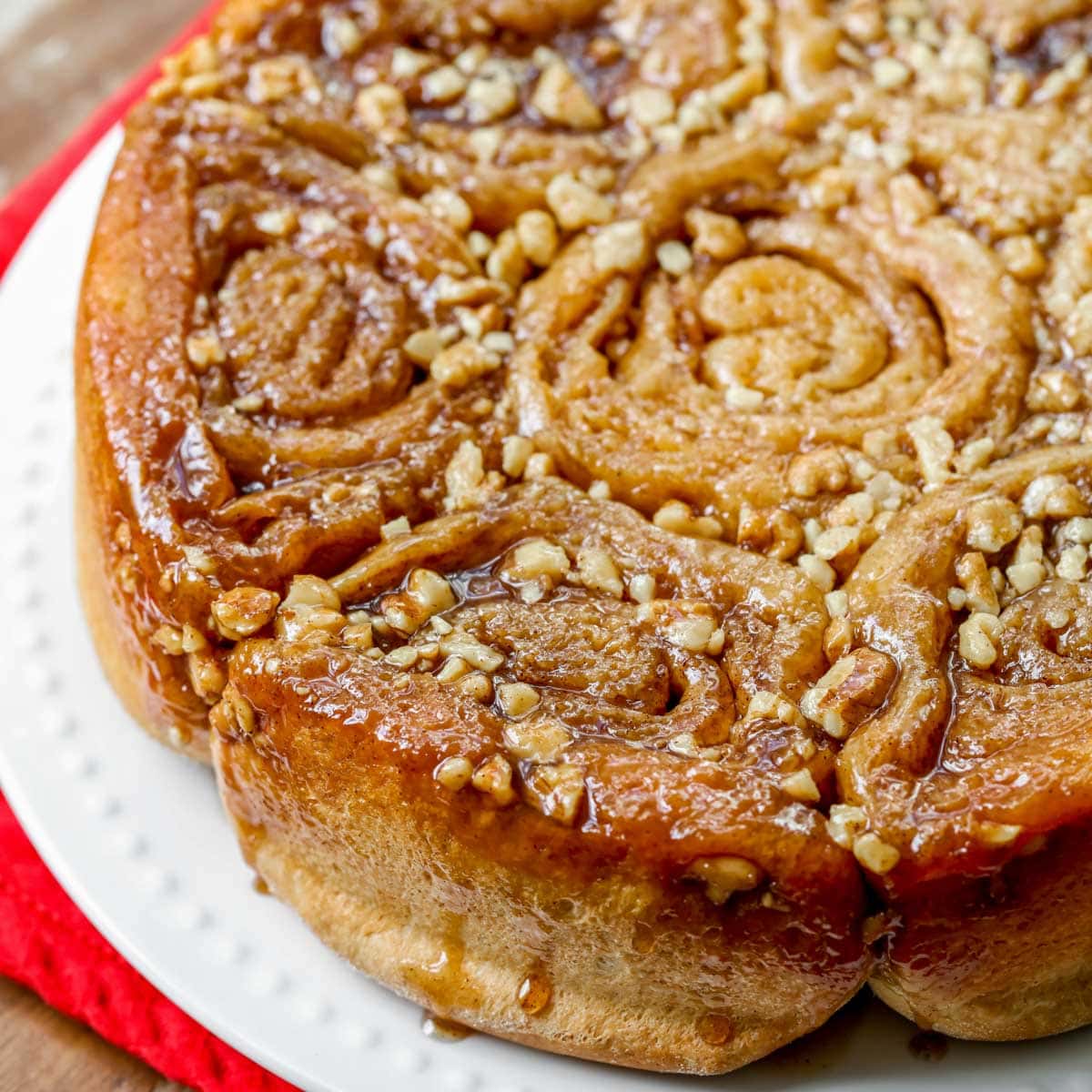 Favorite Thanksgiving Breakfast ideas
Pour a cup of warm Apple Cider and enjoy any of these fan-favorite breakfast recipes! Any of these recipes would be perfect for starting your Thanksgiving celebrations.
Sticky Buns – Sticky Walnut Buns are a tasty take on traditional cinnamon rolls. They are oozing in a delicious brown sugar, honey-walnut glaze or can be made with pecans!
Breakfast Crescent Ring – Cheesy Breakfast Ring – delicious cheesy, bacon and pepper-filled eggs inside a ring of delicious crescent roll dough. Its our new favorite breakfast recipe!
Buttermilk Waffles – There's nothing better than big, fluffy Buttermilk Waffles topped with maple syrup first thing in the morning! This will be your new favorite breakfast recipe!!
Baked Eggs – Baked Eggs are your new breakfast best friend! It takes only minutes to whip up, and it comes out perfectly cheesy and delicious every time.
German Pancakes – These light, fluffy, eggy German Pancakes have become a family favorite breakfast recipe! They're EASY to make, requiring only 5 simple ingredients that are kitchen staples.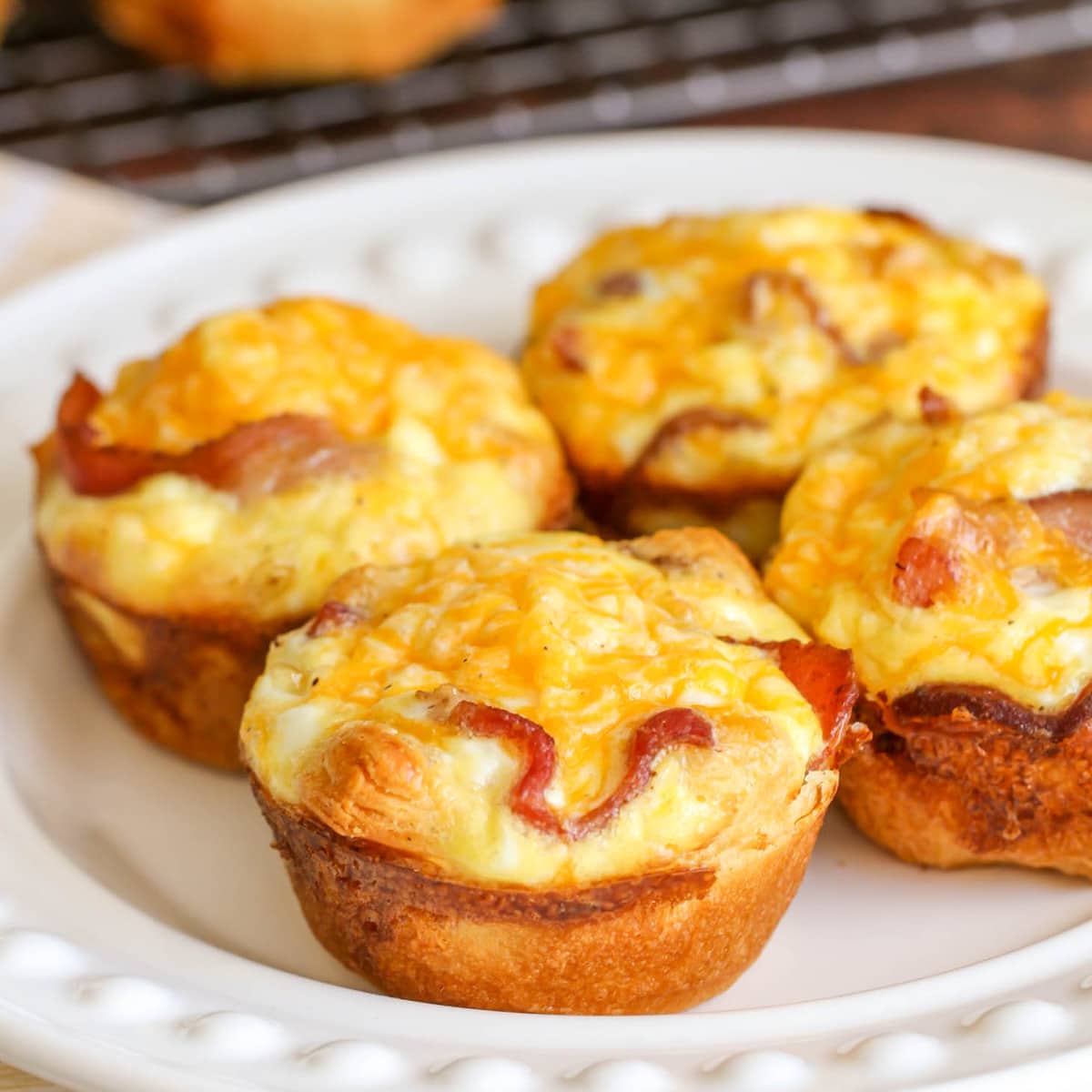 Breakfast Egg Cups – Deliciously cheesy Breakfast Egg Cups have a crispy crescent roll bottom layered with eggs, bacon and cheese on top!
French Toast Sticks – These French Toast Sticks are bite-sized and bursting with cinnamon and sugar. They are perfectly dippable and absolutely delicious.
Easy Pancake Recipe – The easiest and yummiest basic pancake recipe. Use this recipe if you're out of mix for delicious pancakes that everyone will love. Plus, check out all our tips on how to change them up for even more flavor!
Breakfast Pizza – This Bacon Breakfast Pizza is a cheesy breakfast recipe topped with eggs, bacon and your favorite breakfast ingredients! It's simple, quick and is easily customized based off of your favorite morning ingredients.
Healthy Apple Muffins – Delicious and Healthy Apple Muffins filled with oats, bran, and cinnamon. These muffins are not only simple but are great for breakfast and after-school snacks.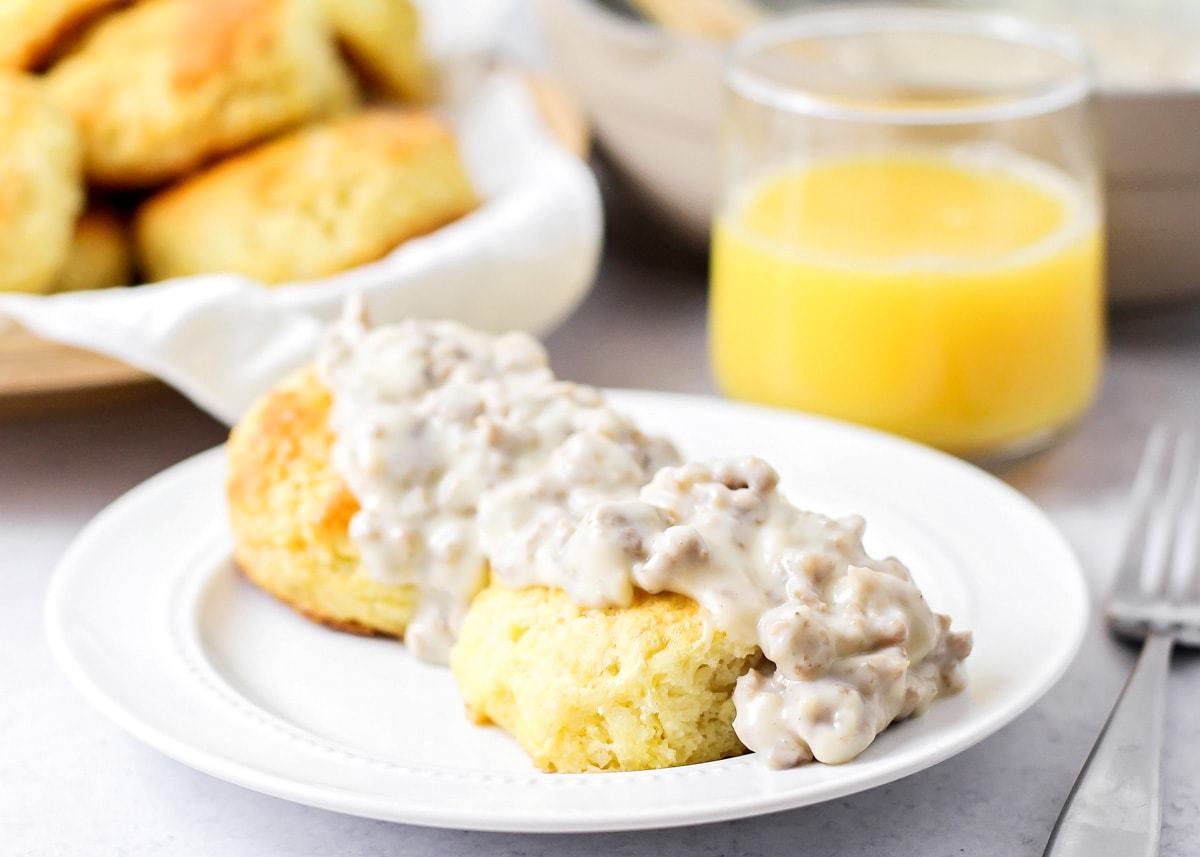 Biscuits And Gravy – Classic Biscuits and Gravy is perfect for breakfast or dinner. Buttery biscuits smothered in a homemade sausage gravy is a family favorite!
Breakfast Hand Pies – Simple and delicious crescent dough Breakfast Hand Pies are topped with a fried egg and are perfect for breakfast! They are easy to make and completely customizable.
Fluffy Pancakes – Waking up to a big stack of fluffy pancakes is THE BEST! This recipe is foolproof for the best pancakes in the world!
Breakfast Burrito – Delicious breakfast burritos are the perfect on-the-go breakfast! Load them with all your favorite fixings.
Sausage Rolls – Sausage mixed with delicious seasonings, all wrapped up in puffy pastry make these Sausage Rolls delicious and addicting!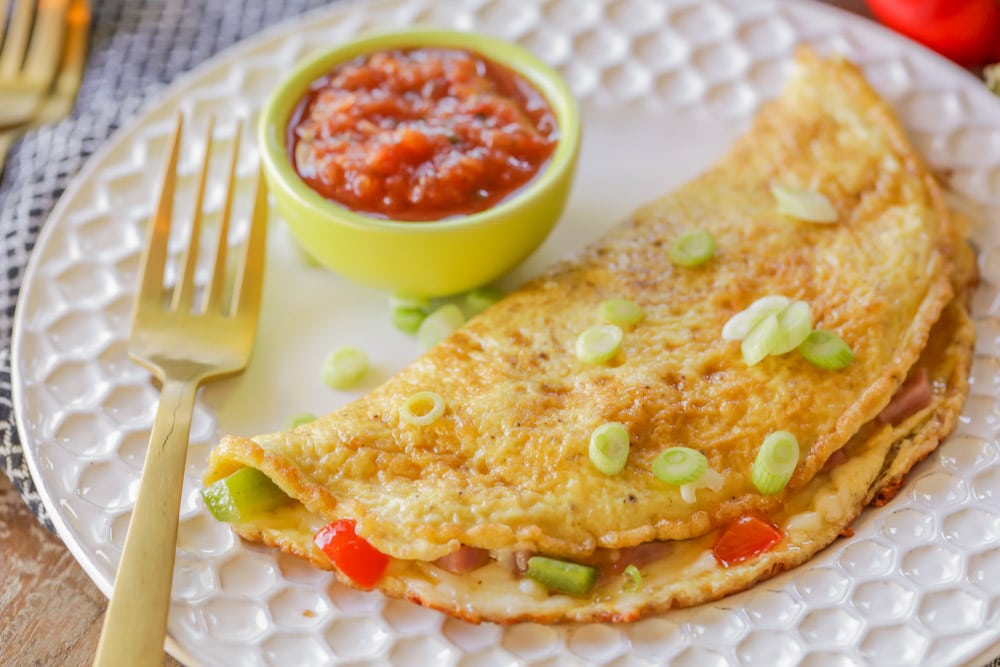 Western Omelette – This Western Omelette is packed with cheese, bell peppers, and ham! This is the most delicious and fluffy omelette you'll ever make!
Frittata – Fluffy frittata stuffed with asparagus, ham, and parmesan cheese. It's a breakfast dream—so simple and delicious!
French Toast Muffins – These French Toast Muffins are easy to make, using things you already have in your pantry! Your choice of bread, cubed and covered in egg and vanilla mixture, topped with a delicious sugary topping, and baked until golden and crispy.
Yogurt Parfait – Fresh & creamy yogurt parfaits are filled with fresh fruit and topped with crunchy granola. They are perfect for breakfast or dessert!
Breakfast Tacos – These Breakfast Tacos will become your morning mealtime hero! Eggs, bacon, cheese, and hash browns all stuffed in a soft mini tortilla!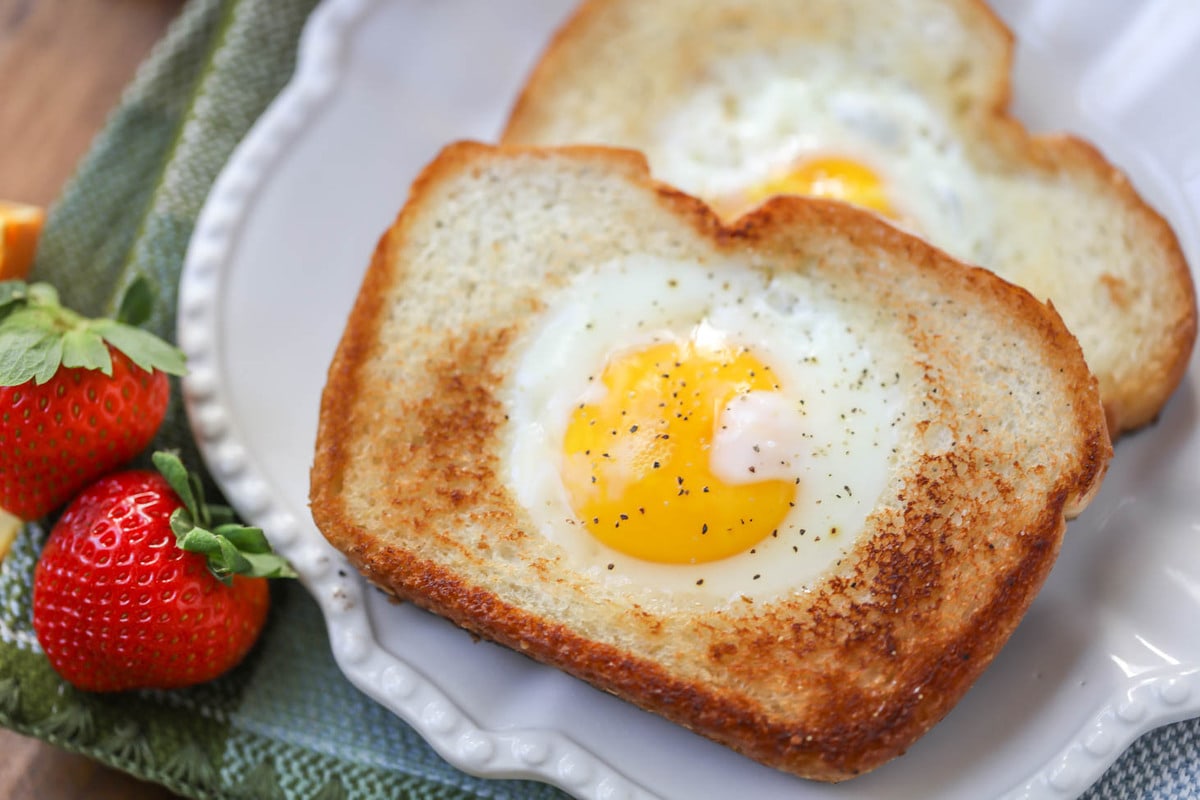 Toad In The Hole – Toad in a hole is toasted bread with an egg cooked into the middle. It's a simple breakfast classic, perfect for any morning.
Coffee Cake – With 5 minutes of prep, this crowd favorite homemade Coffee Cake is a delicious go-to for any breakfast, brunch, or celebration!
Favorite Eggs And Potatoes – Delicious Eggs & Potatoes are made in the skillet and finished in the oven. This flavorful recipe is perfect any morning or special day.
Sweet Potato Breakfast – Whip up this easy sweet potato breakfast for a filling and healthy meal! You're going to enjoy every flavorful bite of this colorful breakfast.
Pumpkin Pancakes – Pumpkin Pancakes are the ultimate autumn breakfast. Filled with pumpkin puree, they're completely irresistible when topped with homemade cinnamon buttermilk syrup!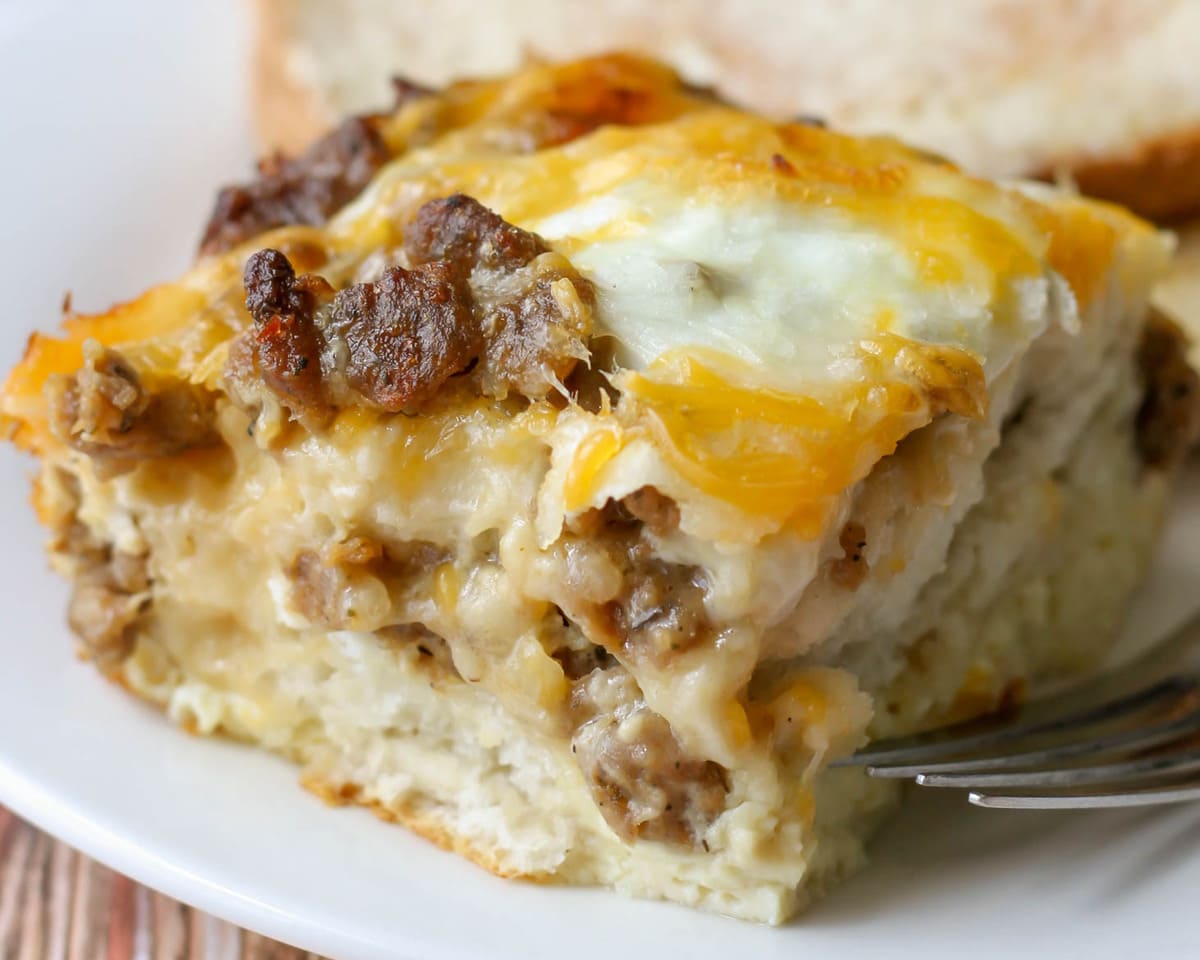 thanksgiving breakfast casseroles
Many of these delicious Breakfast Casseroles can be made ahead of time for a no-fuss, worry-free breakfast on a day known for baking!
Biscuit Egg Casserole – A delicious Biscuit Egg Casserole recipe filled with biscuits, cheese, eggs and sausage, and takes only minutes to throw together! This breakfast casserole is a family favorite for weekends and holidays!
Cheesy Hashbrown Breakfast Casserole – Bacon, egg, and hashbrown casserole is one of our all time favorite savory breakfast dishes! It feeds a crowd, and takes minutes to whip up.
Blueberry French Toast Casserole – Easy and delicious Blueberry French Toast Casserole is an indulgently sweet breakfast. It will be a showstopper at brunch or perfect to serve for holiday mornings.
Crock Pot Breakfast Casserole – Hearty Crockpot breakfast casserole is a tasty make-ahead meal filled with hash browns and sausage that you NEED in your life!
Cinnamon Roll French Toast Bake – Cinnamon Roll French Toast Bake has all of the ooey gooey goodness of warm cinnamon rolls, with the ease of an overnight breakfast casserole.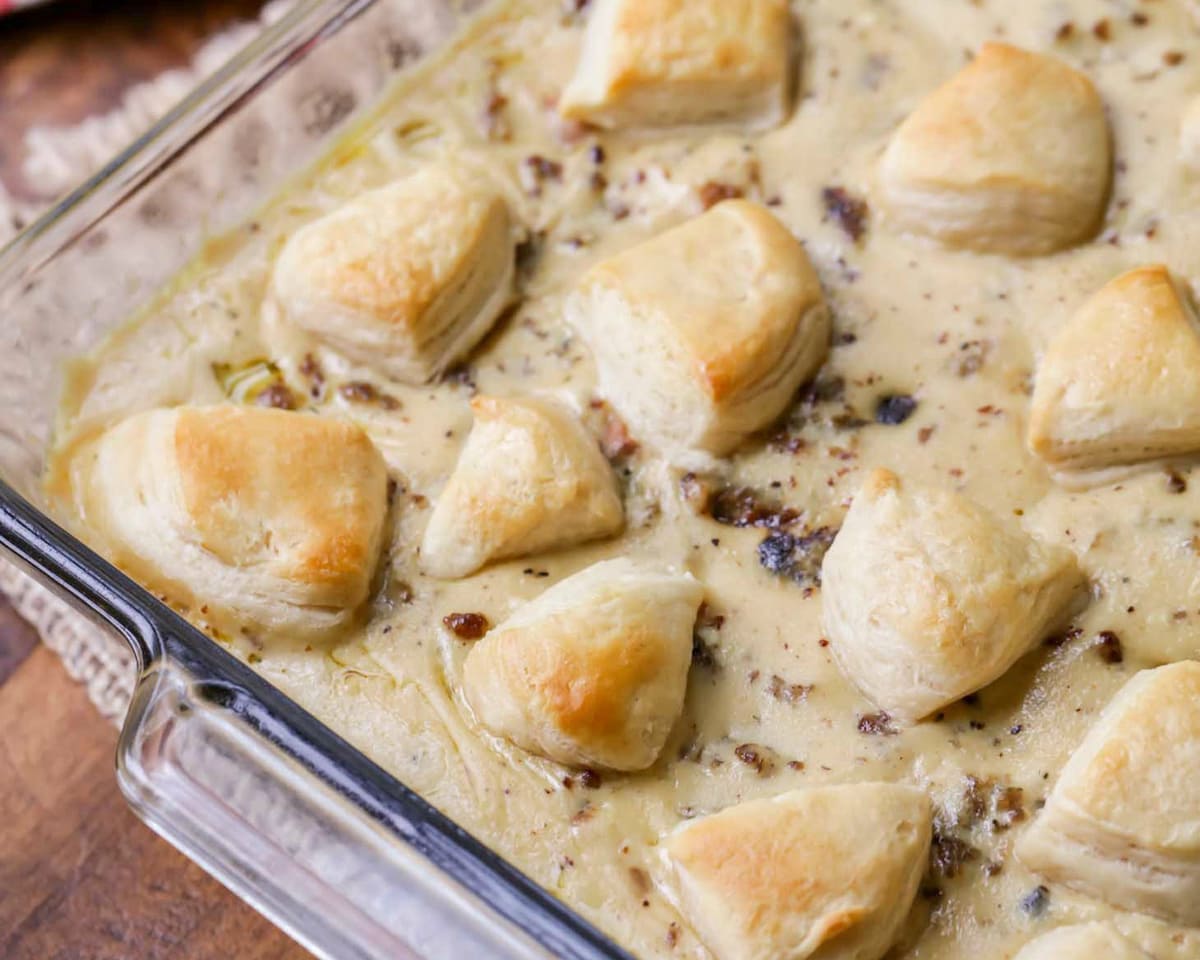 Biscuits And Gravy Casserole – A casserole version of a classic breakfast dish!! This Biscuits and Gravy Casserole is simple and perfect for weekend mornings and holidays – especially if you're feeding a crowd!
Cream Cheese French Toast Bake – Cream Cheese French Toast Bake is slightly toasted on top, soft in the middle, and each bite is bursting with rich cream cheese. Just add your favorite fruit!
Tater Tot Breakfast Casserole – Filled with bacon, sausage, cheese and more – this Tater Tot Breakfast Casserole is sure to be your next go-to breakfast dish. It's easy, delicious and sure to be a crowd pleaser.
Eggs Benedict Casserole – Eggs Benedict Casserole – the perfect breakfast dish made with English muffins, Canadian bacon, eggs and It's delicious!!
Pumpkin French Toast Bake – Gooey Pumpkin French Toast Bake is oozing with butter, cinnamon and brown sugar making it a family favorite fall breakfast!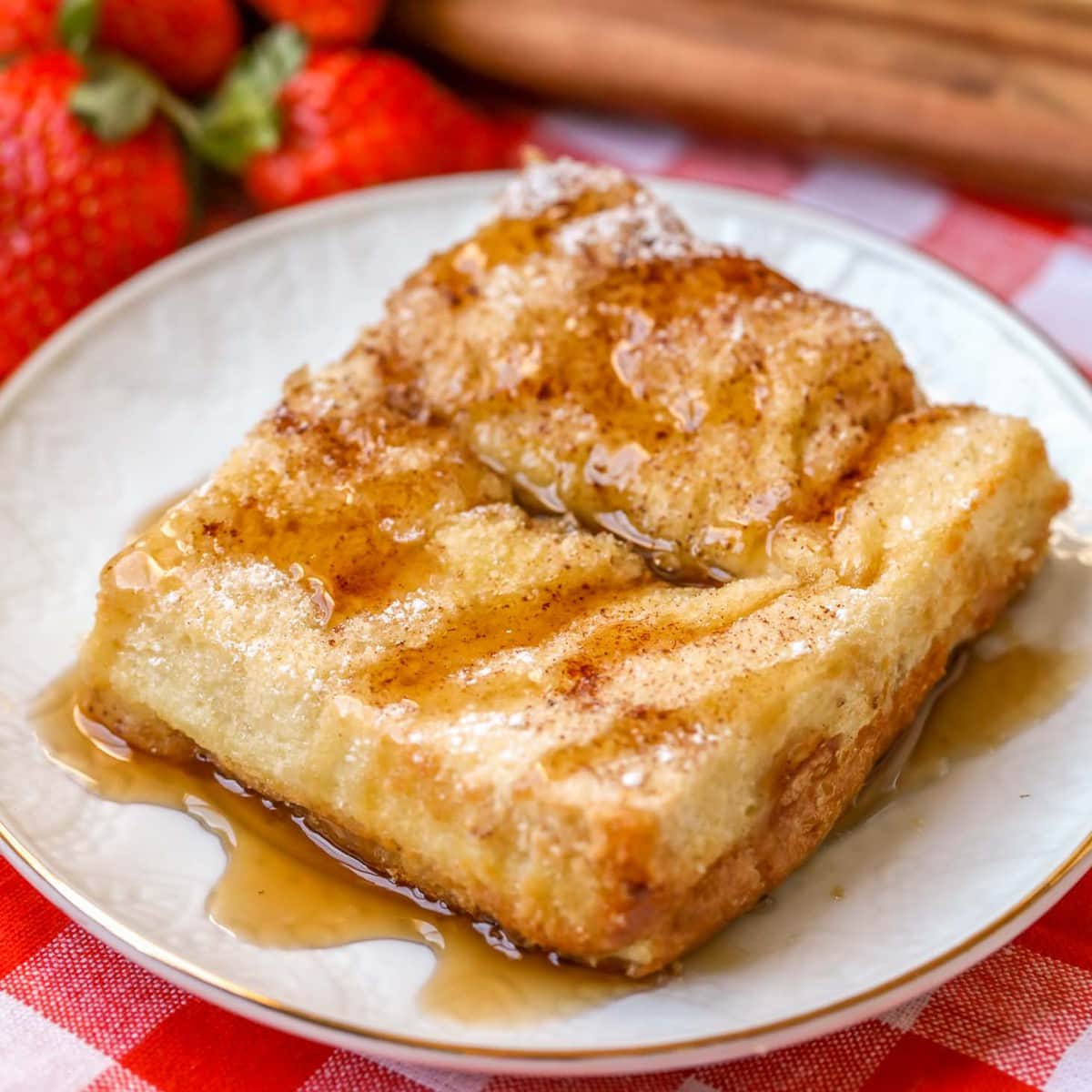 Overnight French Toast – Overnight French Toast Bake is a layered breakfast recipe has layers of Texas toast, cinnamon, sugar, brown sugar and eggs!
Breakfast Strata Recipe – This breakfast strata is great for brunches, holidays, or a yummy family breakfast!! With buttery layers of bread, ham, cheese, and egg, this Strata recipe is guaranteed to please any crowd!
Sausage Breakfast Casserole – This sausage breakfast casserole recipe is the ultimate breakfast food. It's filled with sausage, eggs, cheese, and mouth-watering seasonings, and baked on a crescent sheet.
Cheesy Breakfast Potato Casserole – This Cheesy Breakfast Potato Casserole takes minutes to make and is delicious!! This recipe will become a breakfast favorite.
Oven French Toast – Sweet & filling oven French toast is perfectly spiced and can feed a crowd! This "eggy bread" is a family favorite.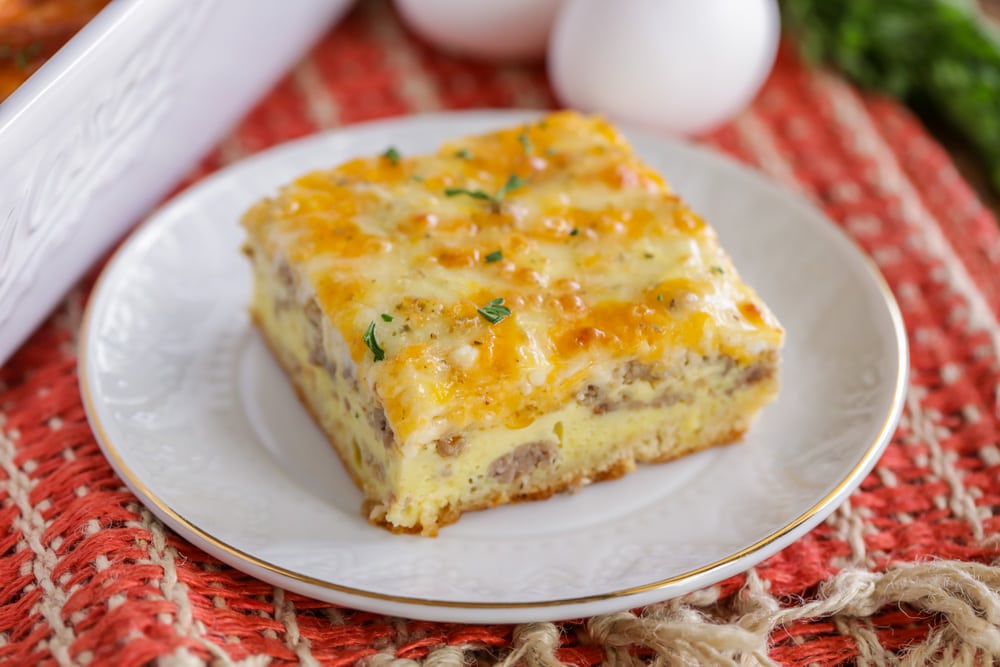 Crescent Roll Breakfast Casserole – Crescent roll breakfast casserole is savory and cheesy. It is easy to assemble and bakes in under 30 minutes!
Cheesy Breakfast Casserole – This easy savory cheesy breakfast casserole is perfect for any morning or special holiday occasion. It is perfect for making ahead!
Sausage Cream Cheese Casserole – Sausage Cream Cheese Casserole is filled with a savory sausage and cream cheese center. It's the perfect breakfast recipe!
French Toast Bake – This super delicious overnight French Toast Bake recipe takes French toast to a whole new level! Pieces of sourdough bread covered in an egg mixture, topped with cinnamon sugar, and baked to perfection! This easy French toast casserole is the ultimate holiday or weekend breakfast!!
Christmas Breakfast Casserole – Quick + easy Christmas Breakfast Casserole is packed full of savory flavor. The best part is it requires few ingredients – and little time!!
---
The complete list
Here are the picture cards for all of the fantastic Thanksgiving Breakfast Ideas listed above. Not only are these delicious recipes all crowd-pleasers, but they're quick and easy too! Nothing will start your holiday better than a wonderful breakfast that comes together with such little effort.
---
More Collections: Healthy Breakfast Ideas, Easy Breakfast Ideas, 25+ Egg Recipes