Spicy and rich chorizo and eggs makes the yummiest breakfast to start your day! Serve them with tortillas or use it in breakfast burritos and tacos.
Every now and then, I love a good Mexican style breakfast with eggs and chorizo, whether I eat it inside breakfast tacos, or pair it with some breakfast potatoes or hash browns.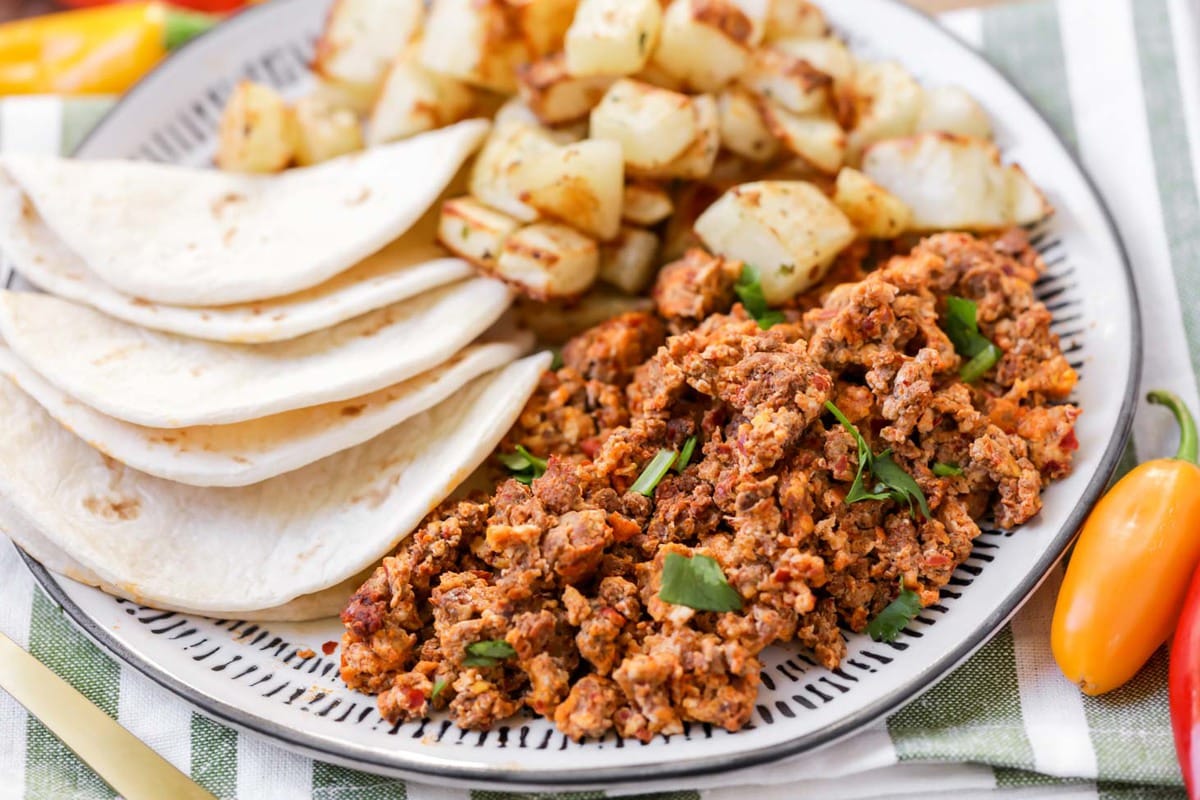 classic Chorizo Breakfast
If you've never heard of Chorizo, it's a spicy Mexican sausage that is used in many hispanic breakfast recipes.
It's easy to cook, flavorful, filling, and goes great with so many different morning dishes. My family loves to mix chorizo with eggs and make breakfast tacos and burritos.
If chorizo is new to you, you're definitely going to thank me once you make this recipe. It's a breakfast staple at our house. The smell of the sausage cooking fills the house and brings everyone to the kitchen ready to devour it!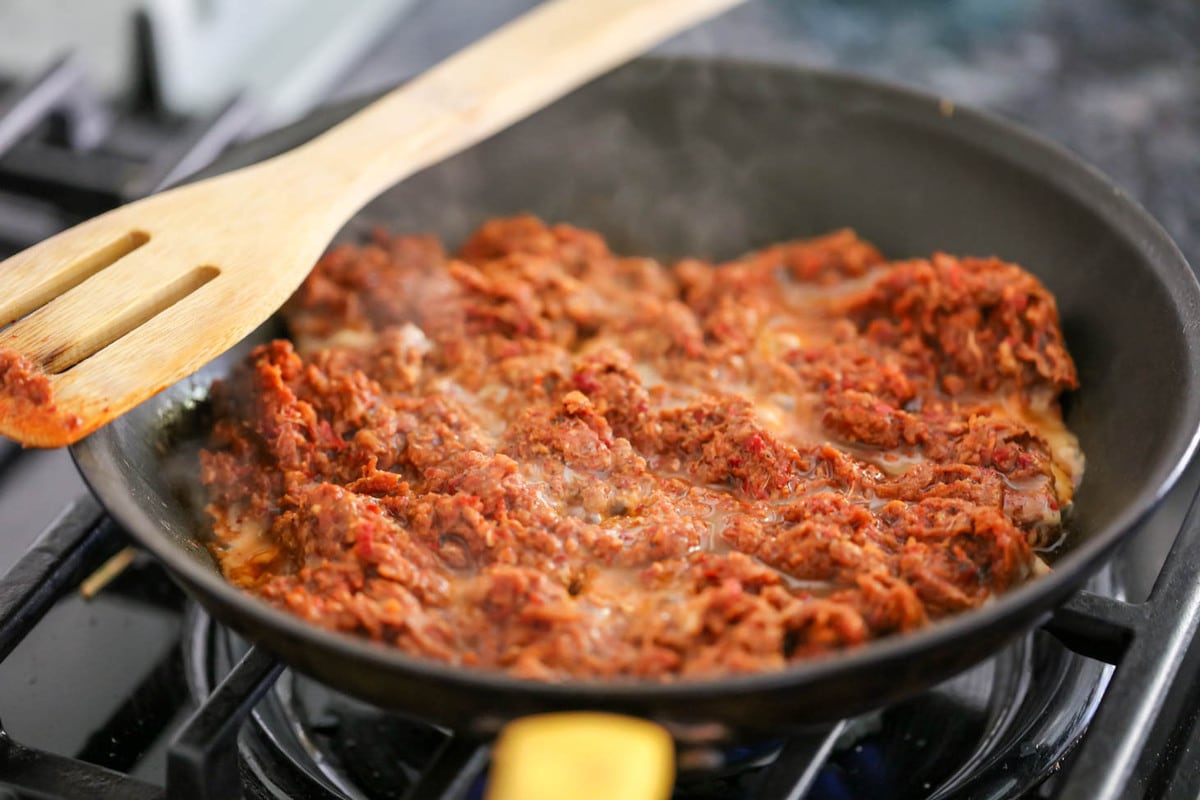 How to Make Chorizo and Eggs
Cooking chorizo eggs is a cinch!
Just heat a pan over medium-high heat and add one pound of chorizo. Cook for about 4-5 minutes until the color has browned. Once the meat is browned, add in six eggs and scramble with a spatula. Make sure not to scramble too much—you still want to have big chunks of eggs visible in the chorizo.
At this point, add in some shredded cheddar cheese if you want to! Adding the cheese also brings down the spice of the chorizo, so it's a great way to make it more mild.
Sprinkle a little chopped cilantro on top before serving. Serve with mini flour or corn tortillas warmed up.
NOTE: Most stores carry a few different kinds of chorizo, but we typically pick up the Mexican chorizo which is found near the sausage of the meat section at the store. We don't have a favorite brand and usually pick up the store-brand version of the meat.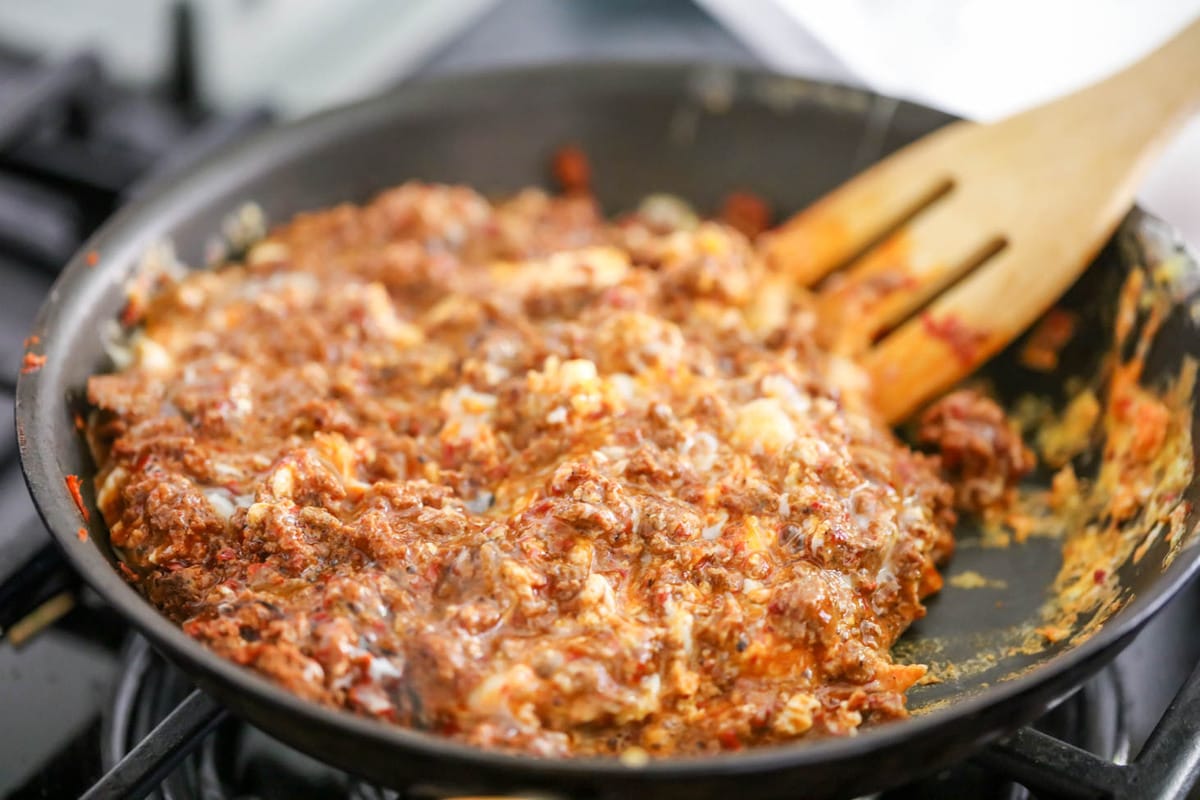 Storing + Serving
How to store leftover chorizo and eggs? Keep any leftover chorizo and eggs in an airtight container. It will stay good in the fridge for up to a week. Heat it up and reuse it for other breakfast foods! You can also freeze it by storing in a freezer-safe Ziploc bag and keeping it in the freezer for up to 2 months.
What to use Chorizo and eggs in? what to serve with? Chorizo is great with so many recipes, but here are the favorites we like to serve it with:
You can even add some breakfast potatoes on the side to round off the meal.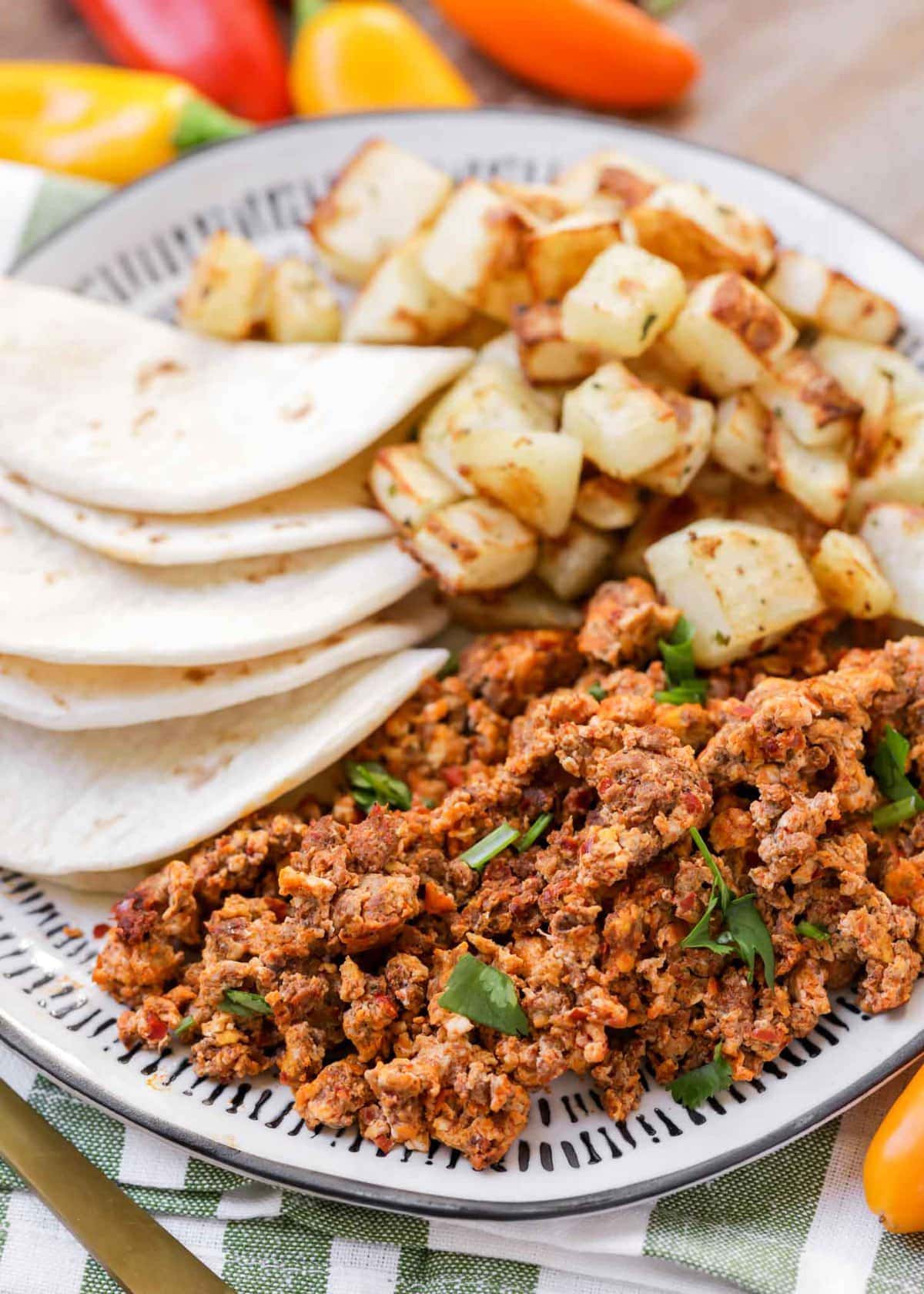 We hope you like this classic Mexican dish as much as we do! We've loved it for years and think it's a great addition to any breakfast – especially during the holidays.
For more Mexican recipes, check out:
Chorizo and Eggs Recipe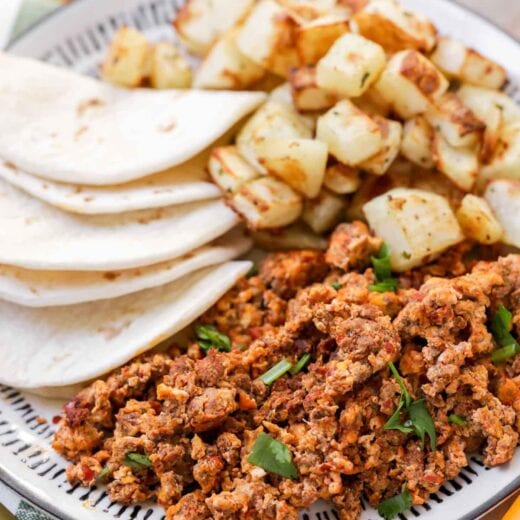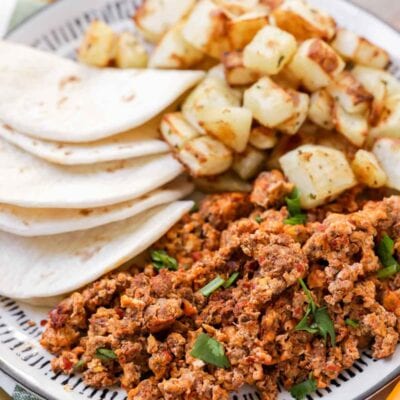 Spicy and rich chorizo and eggs makes the yummiest breakfast to start your day! Serve them with tortillas or use it in breakfast burritos and tacos.
Ingredients
1

tablespoon

butter

½

cup

Mexican-style chorizo

or more to taste

1

teaspoon

minced garlic

6

eggs

salt and pepper to taste

Monterey jack cheese

shredded (optional)
Instructions
Add butter to a large nonstick skillet and melt on medium heat.

Add chorizo and cook for about 5 minutes, or until browned. Add minced garlic.

While chorizo is cooking, add eggs to a medium bowl and whisk together. Add and salt and pepper and pour into skillet.

Cook and stir for about 4-5 minutes or until eggs are cooked.

Turn off skillet and top with shredded cheese, if desired. Remove from pan once cheese is melted. Serve warm.