Delicious bacon and pepper-filled eggs inside a ring of delicious crescent roll dough. It's our new favorite breakfast recipe!
We go through a lot of effort to find the best recipes and ideas to share on this site. Some are totally made up from my head and others are inspired by other recipes we have had over the years or have seen in magazines and such. My mom and sisters come over once every other week and we test out these recipes. I'm happy to say that most turn out and are usually really good. If they don't work out or don't taste that great, we don't share them here on the site. We really only like to share the ones we all likes. It's as easy as that. Fortunately, over the years I've gotten so much better at looking at a recipe and its ingredients and it usually gives me a pretty good idea of it will be one we like. 😉
Simple and Delicious
Having said that, today happens to be one I knew would be a hit and it turned out even better than we thought. In fact, It's probably my new favorite breakfast dish because it was just so good and flavorful. This Breakfast Rings takes a little more work than your standard eggs and bacon, but trust me – it's worth it. Although it takes a little more time, it's really simple to do and turned out perfect!! I'm thinking this is what I'll make on Christmas morning because it was just that delicious!!
Make a circle in the middle and press dough together around the top edges. 
Add bacon.
Add 1/3 cup cheese on top of bacon.
Add eggs on top.
Top with 1/3 cup more cheese.
Wrap dough around. Top with melted butter and remaining cheese.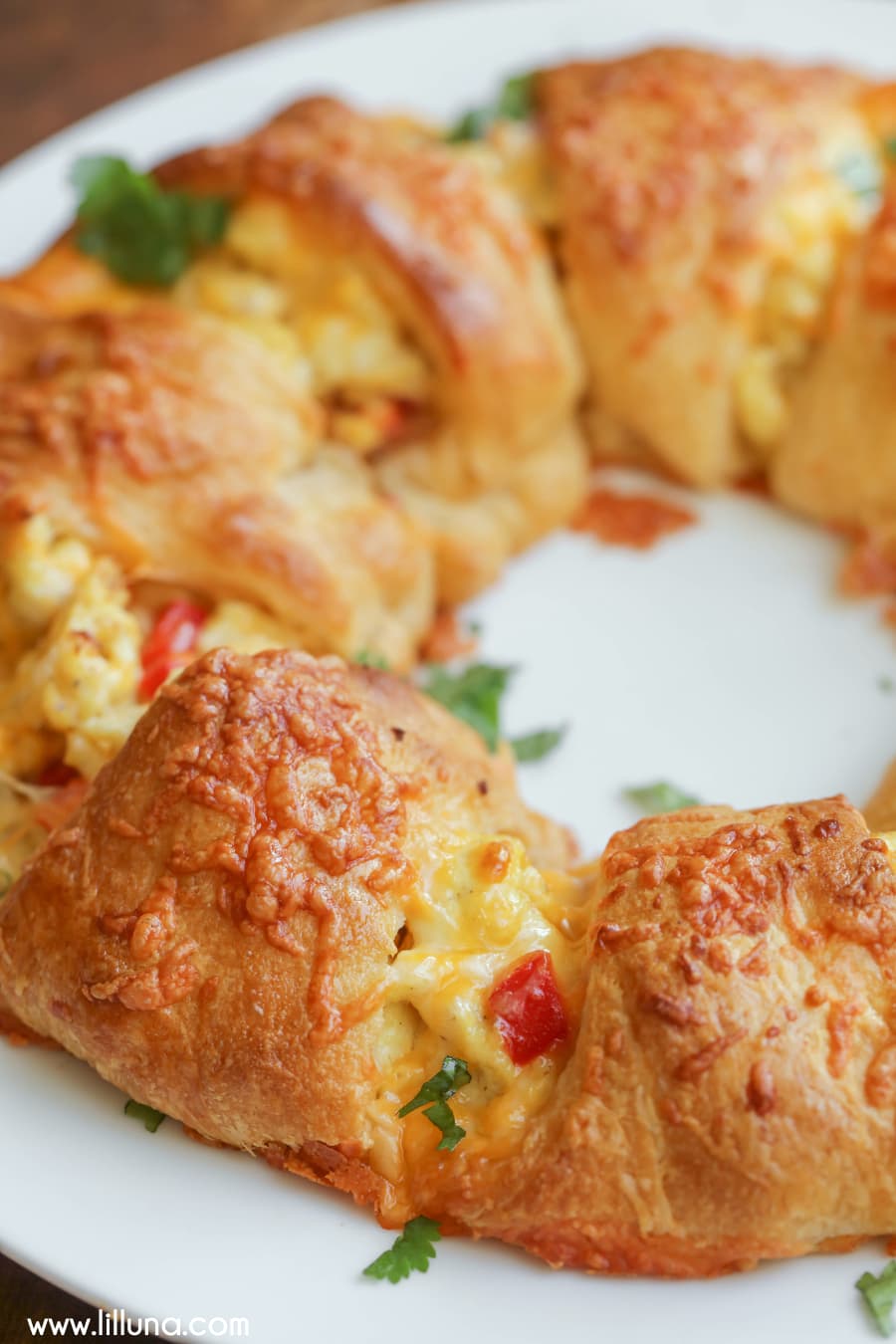 If you love the tastes of bacon, eggs, peppers, cheese and crescent rolls then I think you will enjoy this dish just as much as we did. It would also be easy to change up based on the breakfast foods you prefer. You can add sausage, different cheese, different veggies – you name it!! Here is what you'll need to make this yummy recipe…
For more great breakfast dishes to enjoy this holiday season, be sure to check out:
Breakfast Ring Recipe
Cheesy Breakfast Ring - delicious cheesy, bacon and pepper-filled eggs inside a ring of delicious crescent roll dough. Its our new favorite breakfast recipe!
Ingredients
4

slices

bacon

cut in half

1/3

cup

milk

4

eggs

slightly beaten

salt and pepper

1/4

cup

red bell pepper

chopped

8

oz

refrigerated crescent dinner rolls

1

cup

shredded Mexican cheese

divided

2

tbsp

butter

melted

fresh cilantro

chopped
Instructions
Cook bacon and set aside (leave bacon drippings in pan).

In a bowl, beat ⅓ milk, egg salt and pepper until well mixed. Add peppers and pour into bacon pan and cook until thickened through out but still moist. Set aside.

Add parchment paper to a large cookie sheet. Unroll crescent roll dough and separate into triangles. Layer dough around making a 4 inch circle in the middle with the points towards the outside of the cookie sheet (see pic below). Press the overlapping dough together.

Add bacon around the center of the circle at the tops of the triangles and top with ⅓ cup shredded cheese. Spoon eggs on top of cheese and add another ⅓ cup of cheese on top of the eggs.

Add pointed ends of dough and wrap around eggs, tucking under the dough to form a ring (filling will be visible).

Brush top of dough with melted butter and the remaining cheese.

Bake for 20-25 minutes. Top with cilantro and serve warm. ENJOY!
Recipe from Pillsbury.