Our family has been making Biscuits & Gravy for as long as I can remember. It's one of our classic go-to breakfast recipes and it's a dish we make every year for our annual White Elephant Exchange. We recently saw a recipe for a Biscuits and gravy casserole recipe that we were anxious to try (from Jamie Cooks it Up). So glad we did, because it was Awesome!
This recipe is bursting with flavor and was a cinch to put together. Our White Elephant is in a few days and I think I'm going change it up and try this recipe out for the family. We love that it's so simple. You layer half of the biscuits on the bottom and bake them for a bit. Then you pour over the sausage gravy mixture and top it off with more of the biscuits. The result is a simple but delicious breakfast casserole that is perfect to enjoy during the holidays.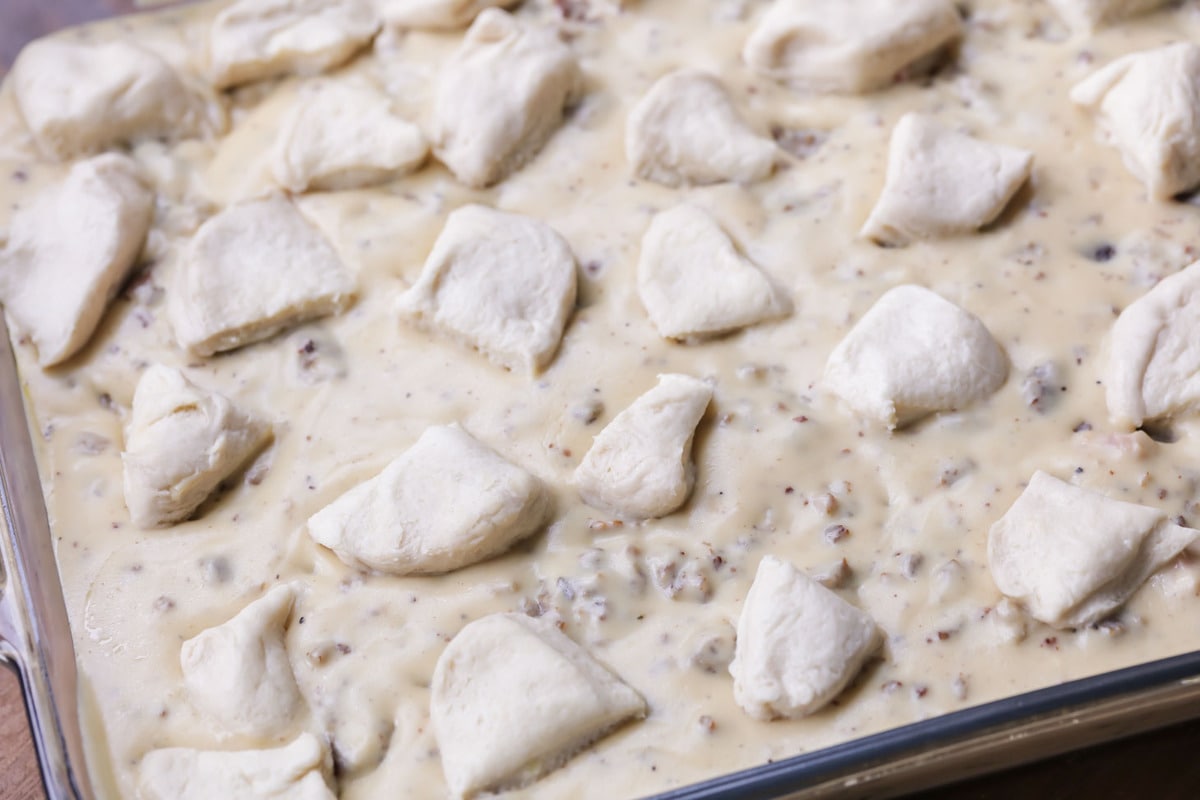 MY OTHER RECIPES
Try out both of our Biscuits and Gravy recipes and let us know which one you preferred. We love both and we think you will too! 😀
For more breakfast casseroles, check out:
How to make Biscuits and Gravy Casserole:
Biscuits and Gravy Casserole
Ingredients
2 - 16 ounce Pillsbury Grand Flaky Layer Biscuits
1 lb sausage
4 TB flour
½ tsp salt
½ tsp pepper
½ tsp garlic powder
2½ C milk
2 - 10.5 ounce cans cream of mushroom soup
½ tsp Worcestershire sauce
softened butter
Instructions
Remove biscuits from cans and cut each into four chunks.
Lay half of your biscuit chunks out evenly over the bottom of a sprayed 9x13 pan. (Be sure to use a deep pan or one that is larger than 9x13).
Bake at 400 degrees for 10 minutes.
While the biscuits are baking, brown 1 lb sausage in a skillet over medium high heat.
In a small bowl combine flour, salt, pepper, and garlic powder. Add to browned sausage and stir well to combine. Pour milk into the pan and stir, allowing mixture to become thicken and bubble, about 5 minutes. Add 2 cans of cream of mushroom soup (undiluted) and Worcestershire sauce. Stir it in to combine and allow it to heat through.
Carefully pour sausage gravy over the top of the partially baked biscuits.
Layer the remaining biscuit chunks over the top of the gravy.
Bake for 15-20 minutes at 450 until biscuits are golden brown.
Brush softened butter over the top of the biscuits.
Yum! Serve and enjoy!
Adapted from Jamie Cooks it Up.