Toad in a hole is toasted bread with an egg cooked into the middle. It's a simple breakfast classic, perfect for any morning.
Egg and toast is a classic combination, and Toad in the Hole is a quick and easy breakfast. For more quick egg dishes, try Healthy Egg Muffins, Avocado Eggs, or Scrambled Eggs.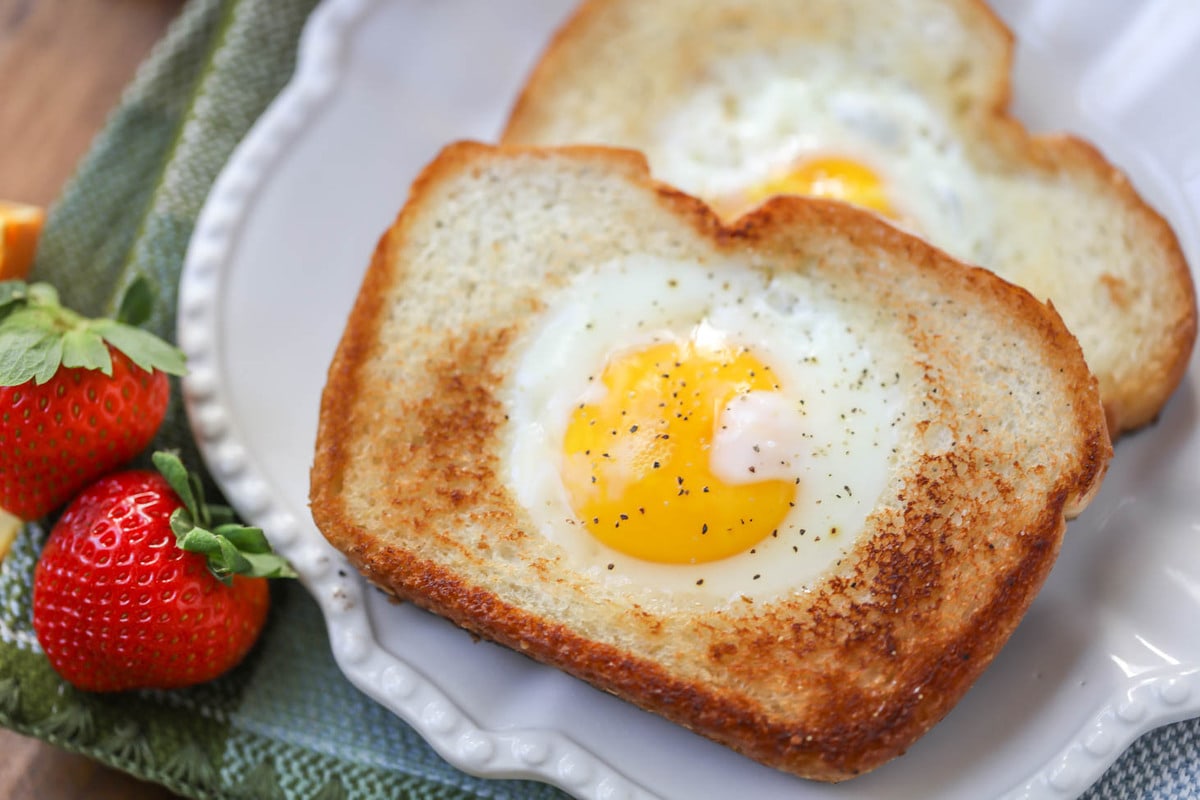 Toad in the Hole
There are two breakfast dishes that share the same name. Toad in Hole, that bakes sausages in a Yorkshire pudding batter, is a British favorite. Toad in a Hole, using toast and eggs, is an American dish.
Other popular names for this recipe are Egg in a Basket, Egg in a Hole, Egg in a Hat—you get the idea. The dish has been around for a long time, but the first official recipe was published in the 1890's.
Toad in the Hole is a super fun and different breakfast recipe that my kids LOVE. Not only is it super delicious but it's really fun to make! The ingredients are simple – eggs, slices of bread, butter, and a little salt and pepper.
It's also a great "breakfast in bed" dish. Just add some fruit or oatmeal on the side and a big glass of orange juice smoothie!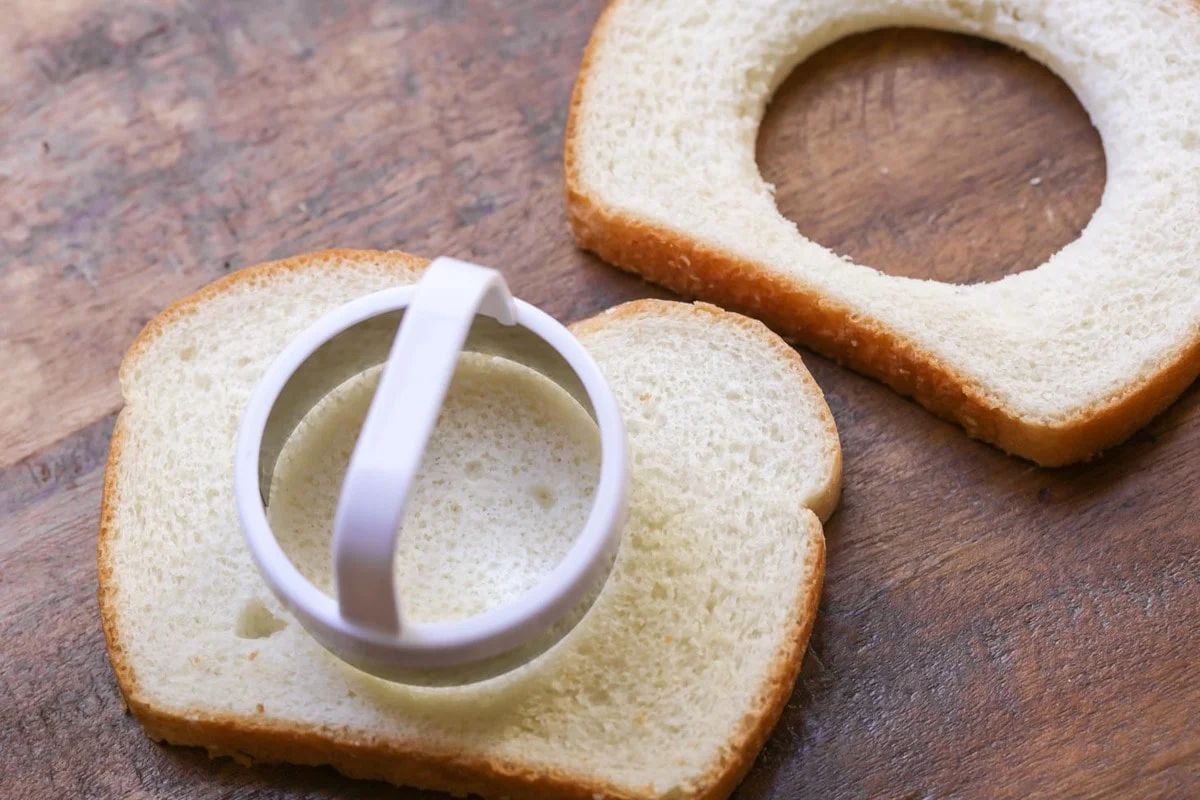 How to Make Toad in the Hole
The best part about Toad in the Hole? It's the easiest breakfast you'll ever make – after cold cereal.
BREAD. Grab a circle cookie cutter or biscuit cutter that's about 3 inches around. Cut out the holes in your slices of bread – I like to use white bread. (Save those holes to toast in the pan!)
EGG. Melt one teaspoon of butter in a skillet over medium heat. After the butter has melted, place your bread in the pan. Crack an egg and pour it into the hole.
COOK. Cook the egg/bread in the pan for about 2 minutes until the bread is lightly toasted. Flip the toast over and cook on the other side until the egg yolk is almost set and the bread is toasted.
ENJOY! Season with a little salt and pepper and eat the toast warm. You can vary the cooking times based on how you like your eggs – longer if you like your eggs more cooked or less if you like them runny.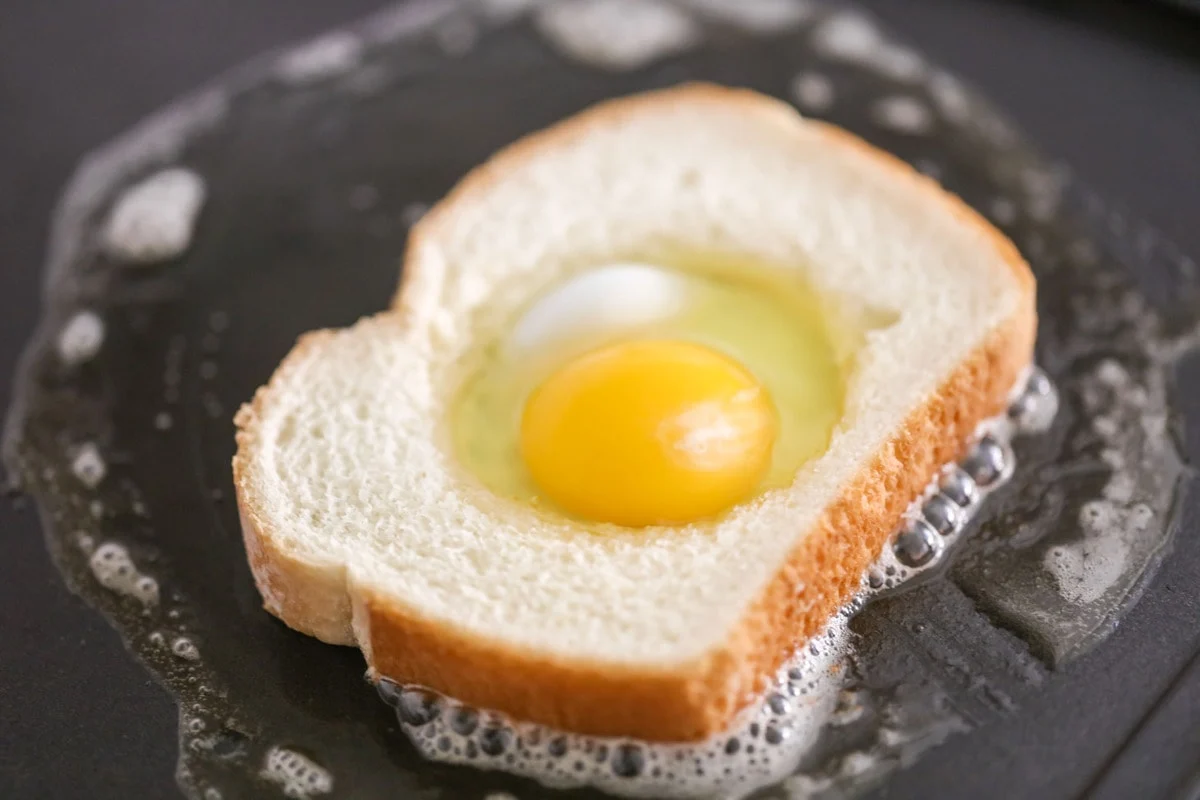 Tips for this Recipe
Hole cutter. Instead of a cookie cutter, use a glass cup to cut the round part of the bread. This works the same although it isn't as easy to pop the hole out of.
Add cheese. Toast the bread, add the egg and start cooking it. Add a slice of cheese on top of the egg followed by the round cut out of the bread. Toast until the cheese is melted to add even more flavor and cheesy-ness to this dish.
Bread options. Any slice of bread will work in this recipe, but some great options include Texas Toast, whole grain, or sourdough.
Hole size. Try to aim for a hole with a diameter of 2-2 ½ inches. This gives ample room for large eggs to fry right in the center. If you wish, a larger hole also allows for you to add shredded cheese, bacon bits, green onions, spinach or crumbled pork sausages to the egg.
Skillet. Cook in a non-stick skillet, a well oiled cast iron skillet, or a large electric griddle if you're making several. To help keep it from sticking to the pan, set the heat to a medium-low so that the toast browns gently and the egg fries evenly.
Spice it up. Easily season the dish with salt, black pepper, paprika, or even add some heat with sriracha sauce or red pepper flakes. You could even top with sausage or onion gravy!
storing + Healthy Pairings
STORE leftovers in a container in the fridge for 1-2 days. The best way to reheat them is in a toaster oven, broil in the oven, or heat in a frying pan. If you're in a hurry you can also use the microwave. 
I love a good healthy breakfast that will keep me full and energized until lunch time.
Serve this Toad in the Hole with healthy sides – fresh fruit, a bowl of hot oatmeal, a parfait, a green smoothie, or a couple slices of turkey bacon.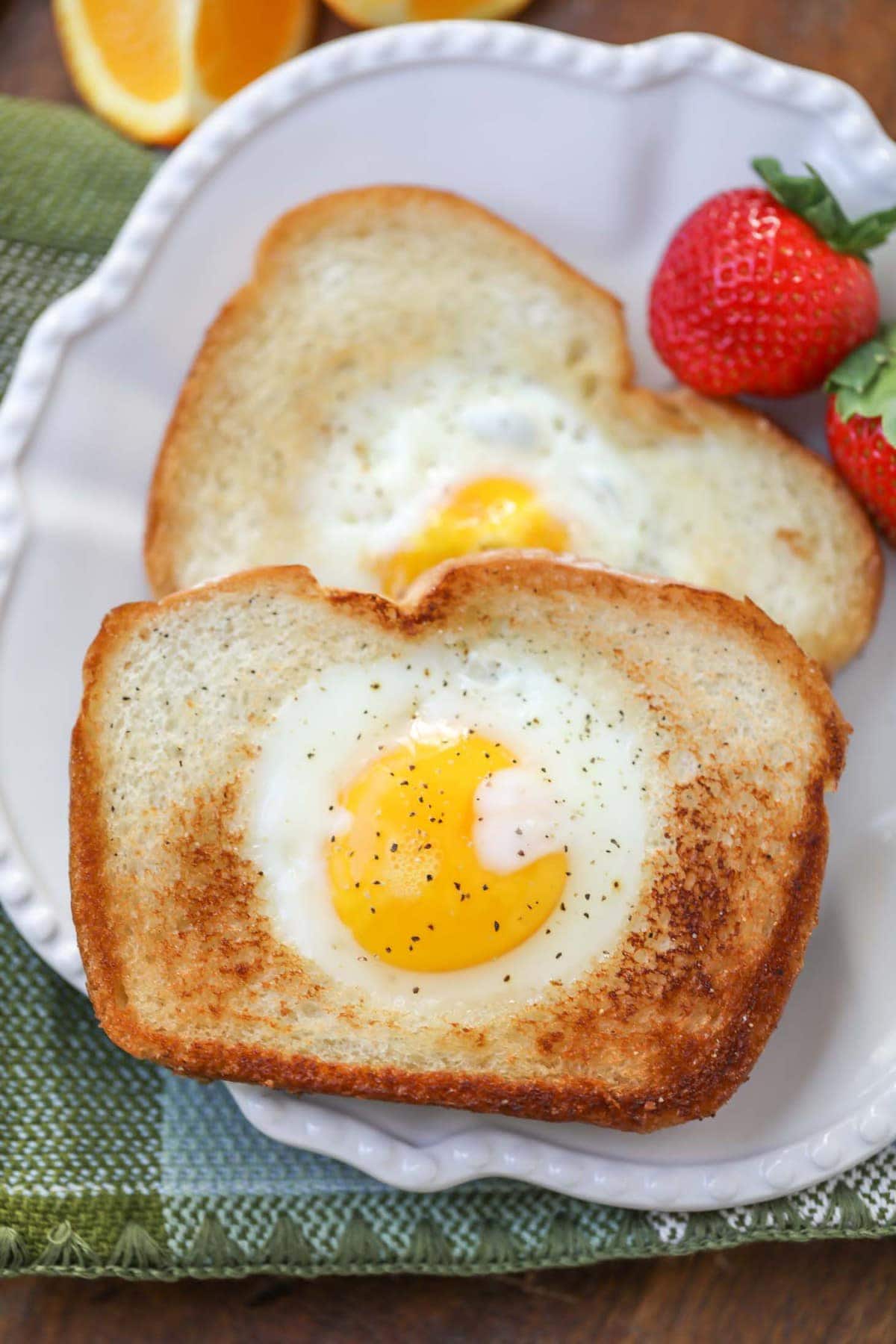 Try these other healthy breakfast options:
Toad in the Hole Recipe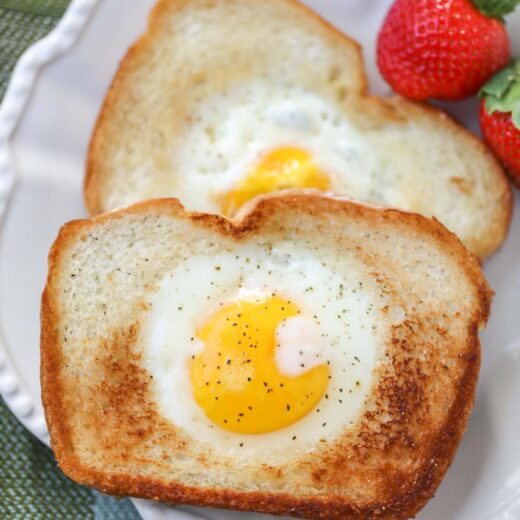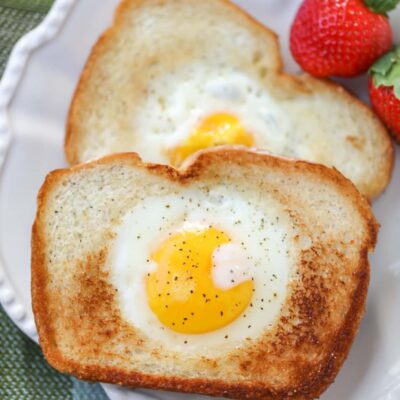 Toad in a hole is toasted bread with an egg cooked into the middle. It's a simple breakfast classic, perfect for any morning.
Ingredients
1

slice

bread

1

tsp

butter

1

lg

egg

salt and pepper to taste
Instructions
In a small skillet, melt 1 tsp butter. In the middle of your bread, cut a 3-in hole and place in the skillet.

Crack egg and pour in the hole. Cook over medium heat for about 2 minutes or until the bread is lightly browned. Turn and cook the other side until egg yolk is almost set. Season as desired with salt and pepper. Enjoy warm.