This is a sponsored post written on behalf of Flatout® Flatbread. As always, all opinions are 100% my own.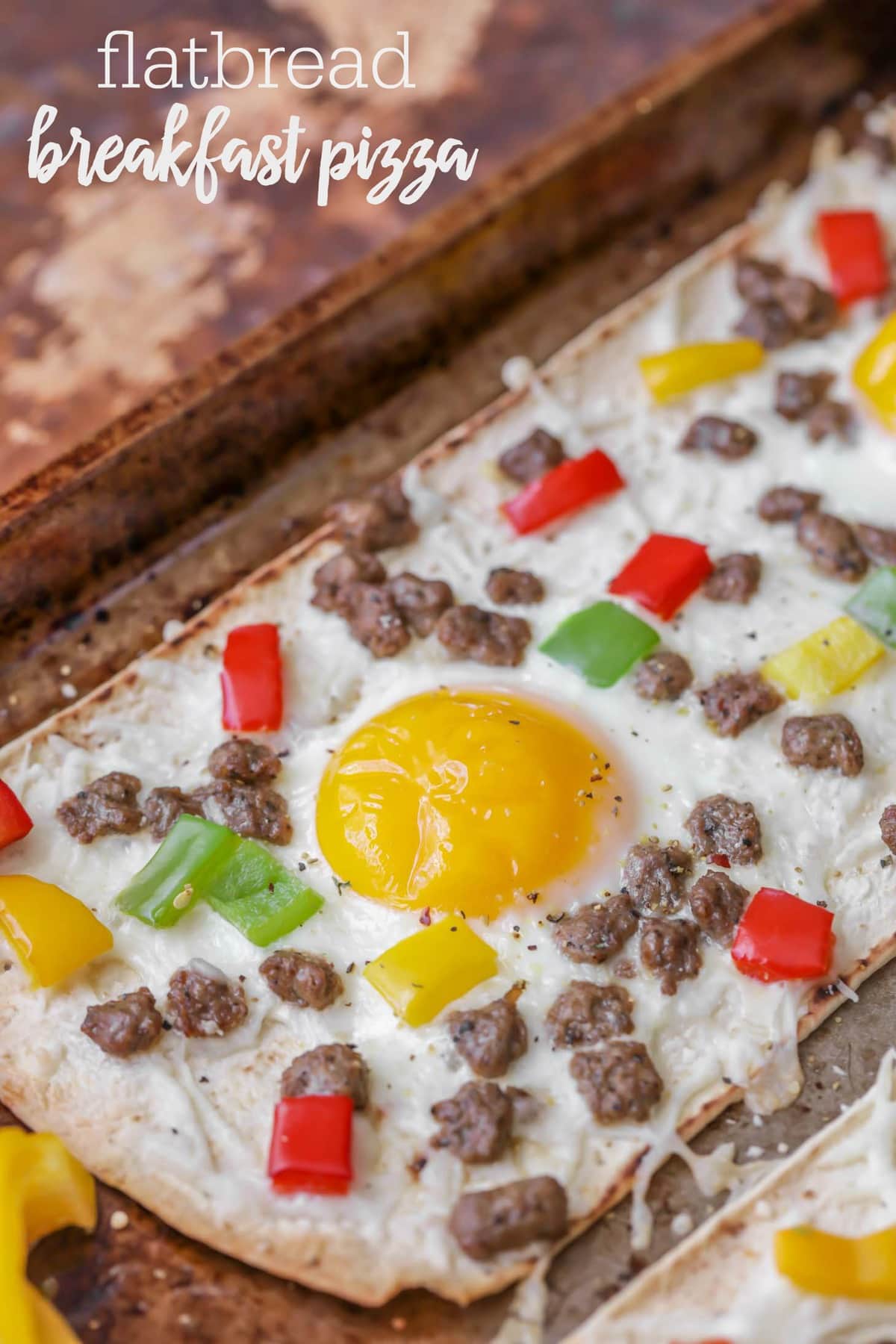 Summer is here and we've been loving the lazy days and family time spent together! With the kids out of school, we've been trying to keep a little bit of a schedule by doing daily chores and summer activities each day. One of the things we do all year long, including the summer time, is having pizza each week. It's a dish the whole family loves and something the kids love helping with. We typically make pizza every Friday night, but we recently changed things up and decided to make a breakfast pizza. This time though, we had mom and dad in mind, and wanted to keep things on the healthier side.
Don't let anyone tell you you can't have pizza when you're trying to eat healthier either. When it starts with a smart crust like Flatout, the choices are endlessly delicious. Flatout Artisan Thin Pizza Crusts are only 120 calories each, but high in protein and fiber. In fact, Flatout® Flatbread is the official flatbread of Weight Watchers®! Since Flatout has always been BIG on flavor but LOW in carbs and sugar, they've always been the perfect partner. Whether you are trying to eat healthy or simply come up with new and delicious recipes for your family, all Flatout Flatbreads are a simple solution to creating quick, easy and tasty meals. Today's recipe for a healthy Flatbread Breakfast Pizza falls under that!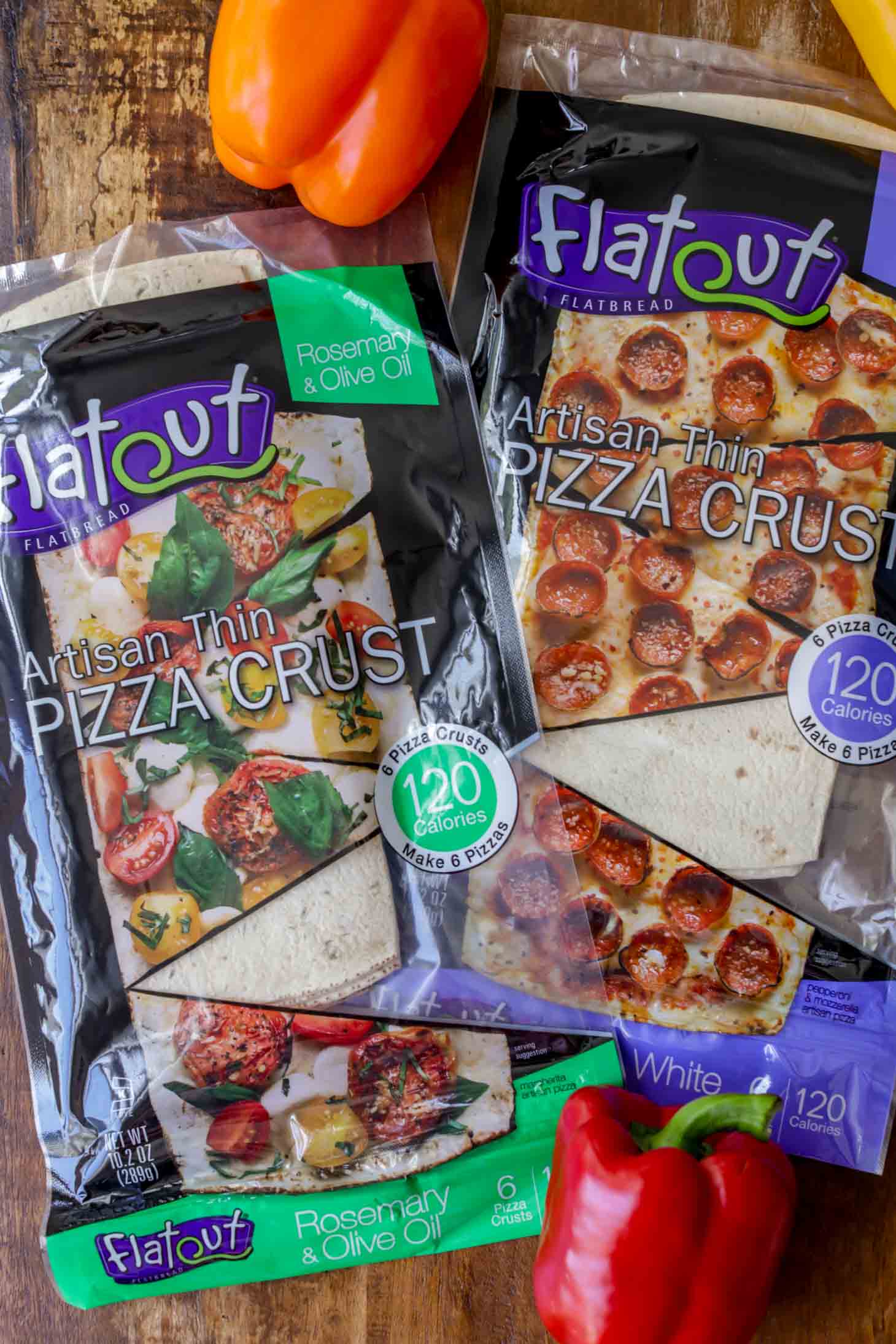 This breakfast pizza is filled with some of our favorite ingredients including turkey sausage, cheese and peppers. Not only was it flavorful but it took minutes to prep and was low on calories. In fact, one serving size (half a pizza) is just 210 calories and 8 grams of fat. Can't get better than that!!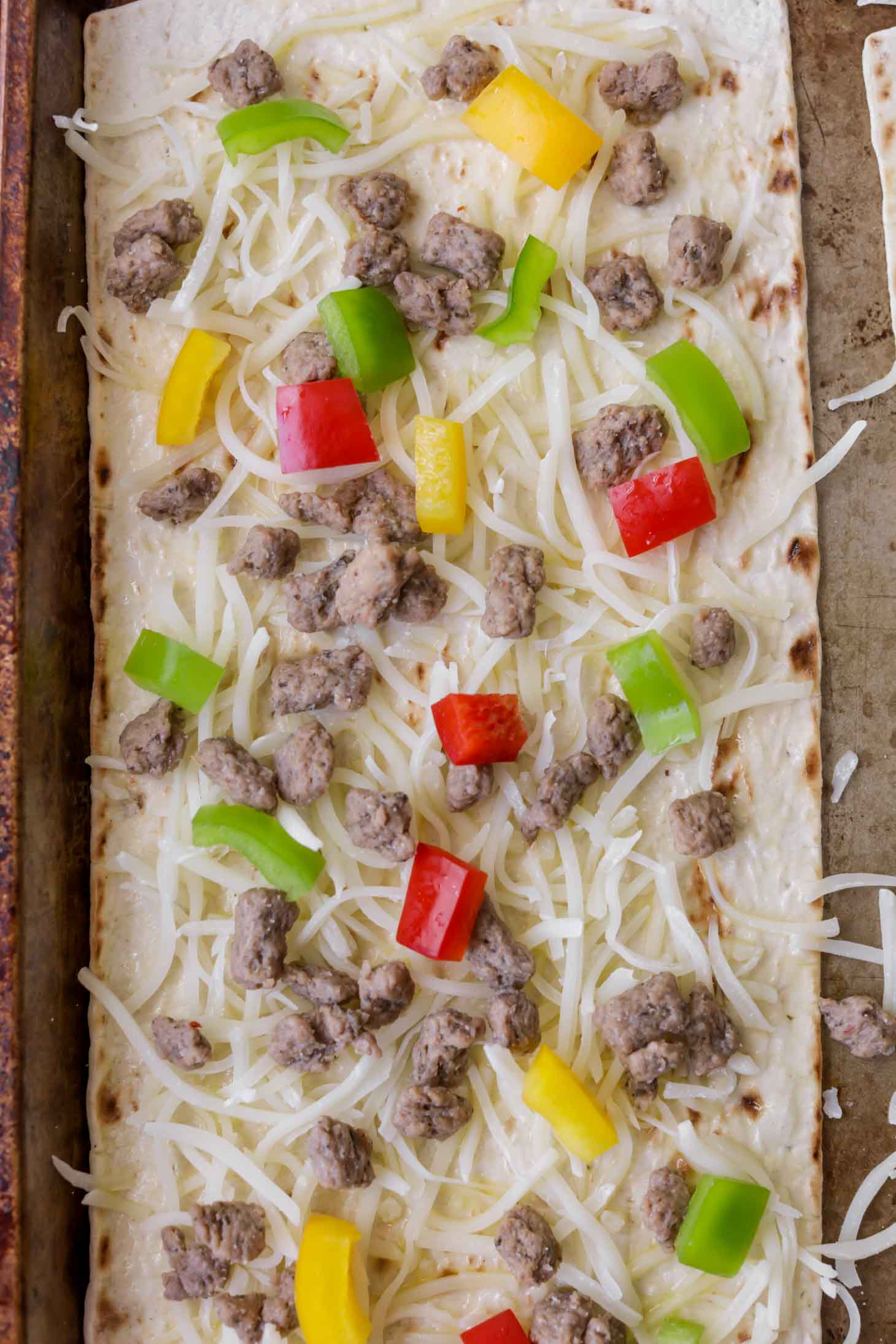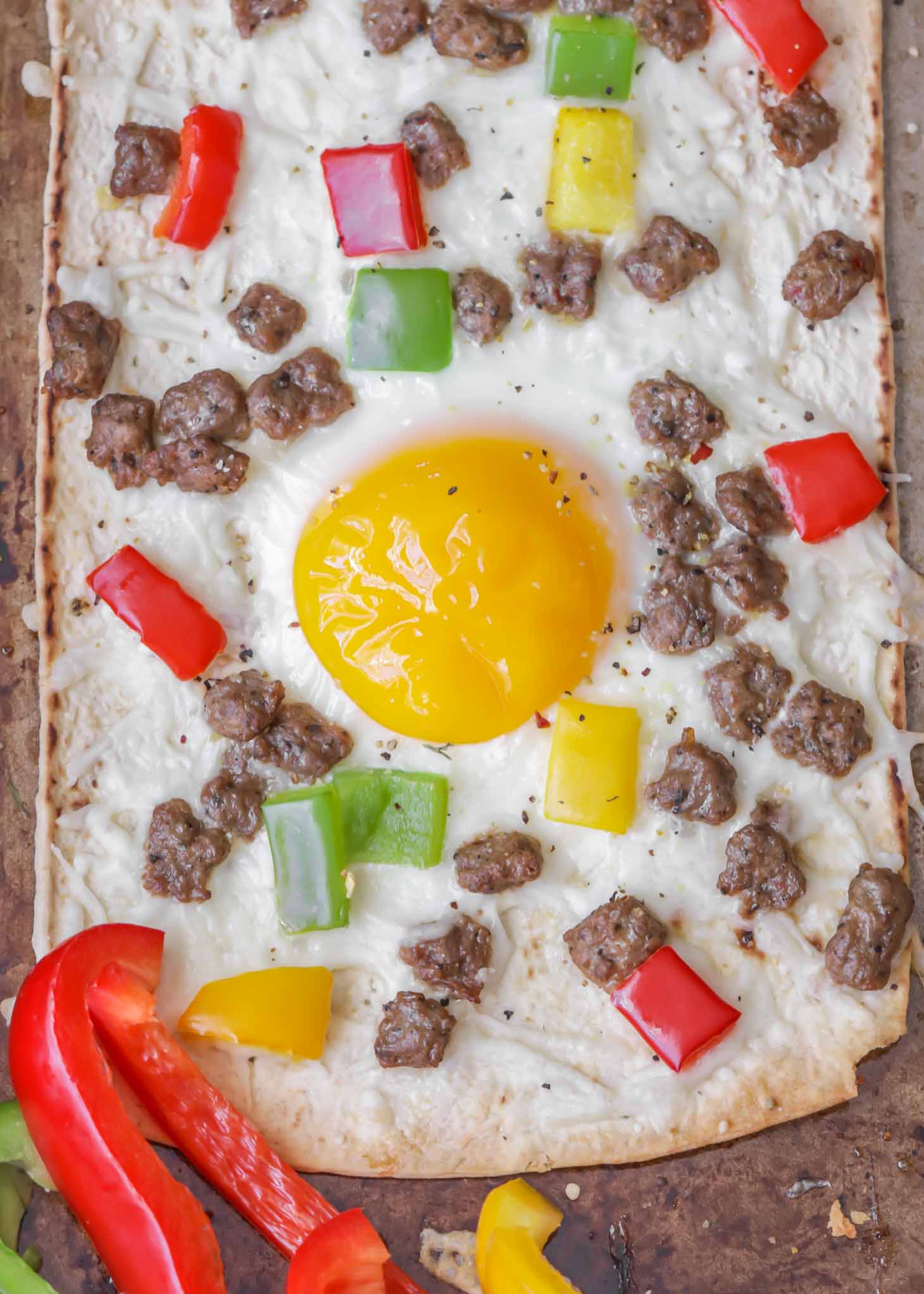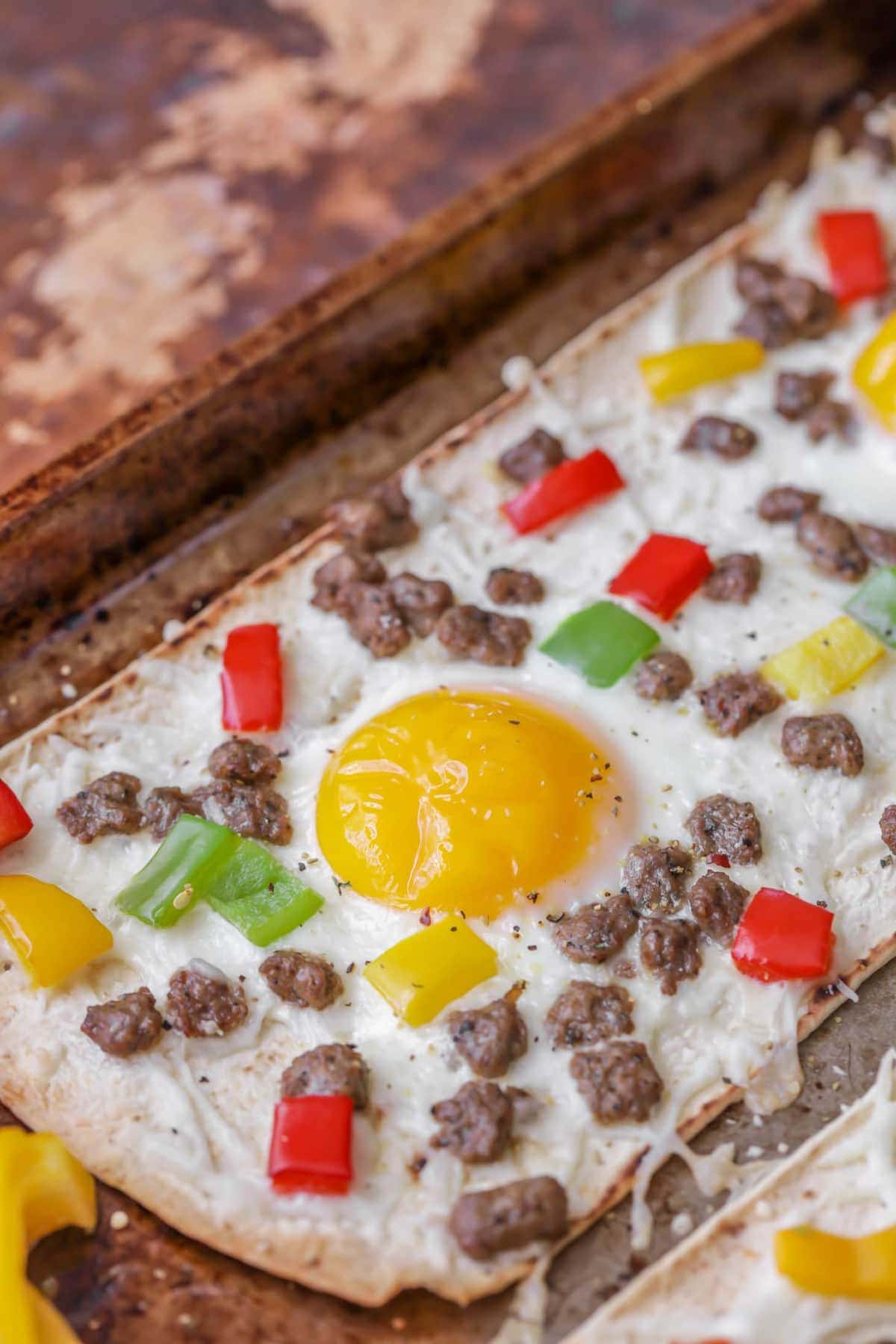 This recipe can be easily changed up based on your favorite breakfast meat (turkey bacon, ham, etc) and your favorite fresh veggies. The combination of the sausage and peppers made this pizza very flavorful yet light and filling. Here is what you'll need to make our version of a fresh and healthy breakfast pizza.
Flatbread Breakfast Pizza:
Flatbread Breakfast Pizza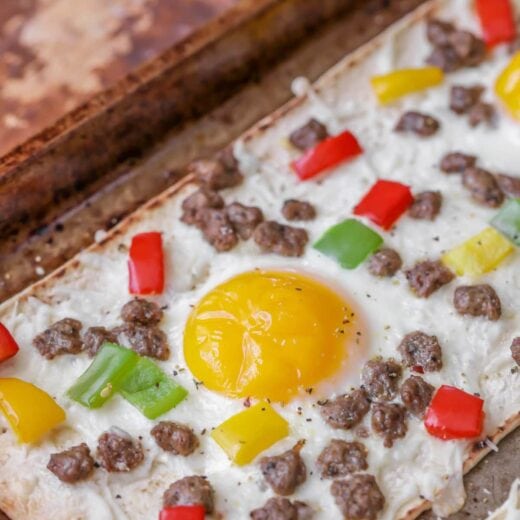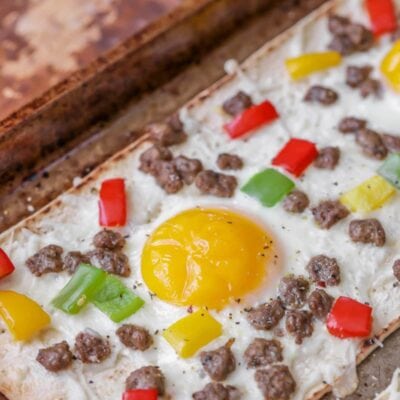 Delicious Healthy Flatbread Breakfast Pizzas - topped with cheese, sausage, peppers and eggs and only 210 calories per serving!

Ingredients
Flatout Artisan Thin Pizza Crust

1/2

cup

fat free mozzarella cheese

red, yellow and green peppers

chopped

1/2

cup

turkey sausage

2

eggs

salt and pepper
Instructions
Place the Flatout on a baking sheet or pizza pan. Sprinkle on cheese, peppers and turkey sausage.

Crack two eggs and place on top, without breaking yoke. Bake for 8-12 minutes or until egg whites are set.

Sprinkle with salt and pepper and serve warm. ENJOY!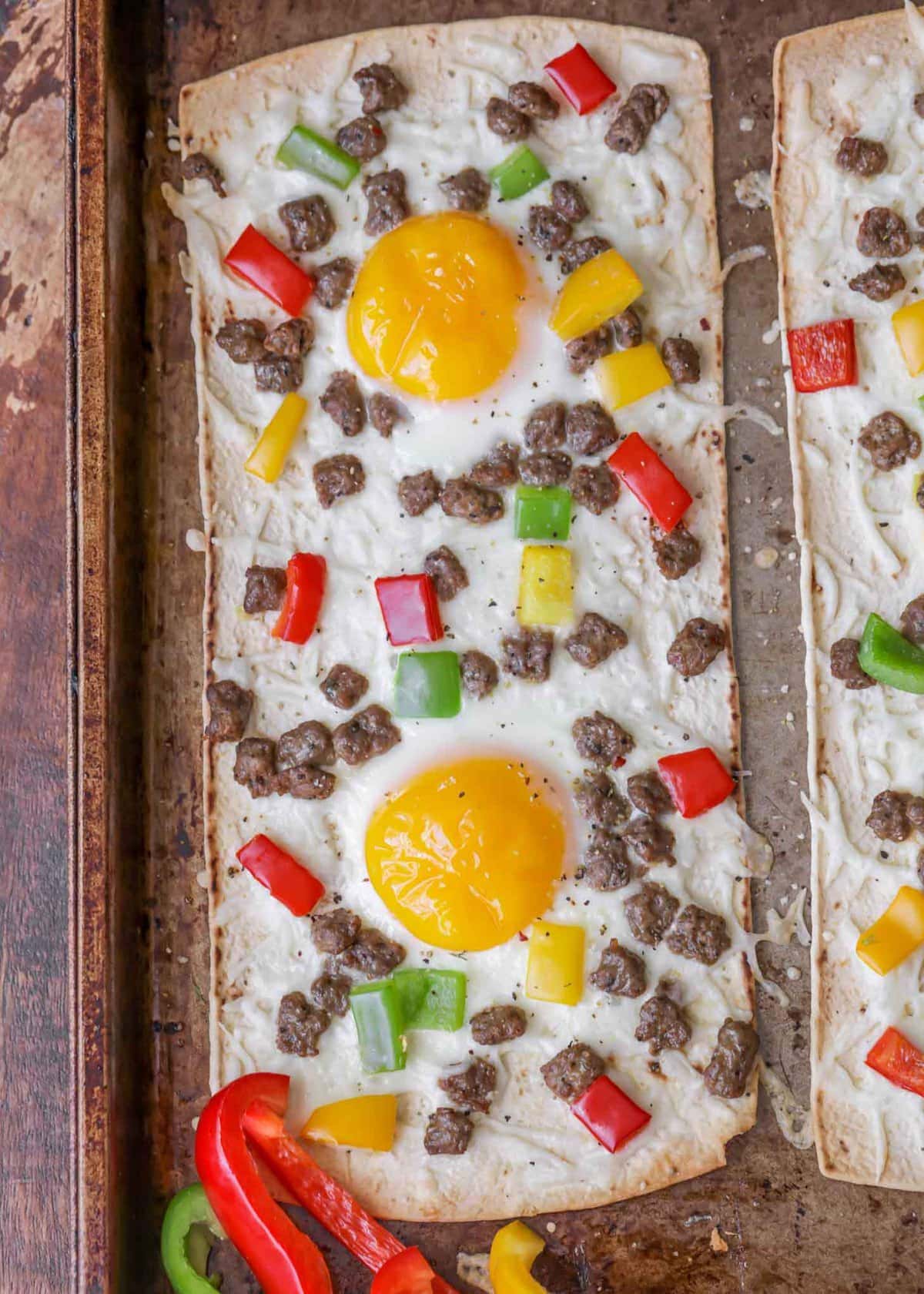 To be honest, I'm so excited to have found a light and delicious breakfast dish. Since our mornings are crazy we tend to have breakfast for dinner more than during breakfast time, and savory breakfast recipes are my favorite!! In case you'd like to try some other flatbread pizzas, we have several on the site.
Be sure to check them out:
So glad you can still enjoy pizza without feeling guilty about it using Flatout Flatbreads and Pizza Crusts!! And just in case you are counting points using Weight Watchers…

All Flatout Light Wraps are 2 to 3 SmartPoints.
All Flatout  ProteinUp CarbDown wraps are 3 SmartPoints.
All Flatout Artisan Thin Pizza Crusts are 4 SmartPoints.

Flatout Flatbreads are in the deli/bakery section of most major grocery stores, if you can't find us, just ask or visit flatoutfinder.com to find a store near you!

For more great recipes from Flatout go HERE.

For more information about Flatbread be sure to follow them on Facebook – Pinterest – Instagram –Twitter.

ENJOY!