Don't hate me!
Today's recipe is one of those recipes that will become an ALL-TIME favorite!!! Let's just say the whole pan was gone in a matter of minutes and everyone was asking for more. 😉
You may think it's too early to be thinking about PUMPKIN, but I'm sorry to tell you that fall is right around the corner and pumpkin season has officially begun in my book. I may also be posting pumpkin recipes because I need to make sure everyone on the web can find this Pumpkin Cinnamon Roll Cake before it's actually October. LOL!
MY OTHER RECIPES
This recipe is a take on the classic Cinnamon Roll Cake that we have been making for years. Everyone knows that the pumpkin and cinnamon combo is the best so I thought I'd try a pumpkin version of this favorite dish. I'm happy to report that it did not disappoint and that it was a HIT! To enjoy it warm out of the oven with glaze dripping down the sides is pretty heavenly. If you look at the picture above, I think it speaks for itself. This cake is so delicious and is perfect for anyone who loves pumpkin. 😀
I will note that you are welcome to add as much pumpkin spice if you are looking for it be more pumpkin-y. We loved it just as it was, and I think you will too. Here's the recipe:

Pumpkin Cinnamon Roll Cake
Ingredients
3 cups flour
2 teaspoons pumpkin pie spice
½ tsp. salt
1 cup sugar
4 teaspoons baking powder
1½ cup milk
2 eggs
2 teaspoons vanilla
½ cup butter melted
¾ cup butter softened
1 cup brown sugar
2 TB flour
1 TB cinnamon
¼ cup pumpkin puree
Glaze:
2 cups powdered sugar
1 teaspoon pumpkin pie spice
5 TB milk
1 teaspoon vanilla
Instructions
Mix flour, pumpkin pie spice, salt, sugar, baking powder, milk, eggs and vanilla together.
Stir in melted butter, slowly. Pour into greased 9x13 pan.
Mix topping ingredients (3/4 cup butter softened, brown sugar, flour, cinnamon and pumpkin puree). Drop over cake mixture evenly.
Swirl your topping and cake mixture with a knife going up and down the length of the pan (but only inserting it in the cake mix a little - not all the way).
Bake at 350 for 32-35 minutes.
Top with the glaze which is made by mixing powdered sugar, pumpkin pie spice, milk, vanilla. Drizzle over the cake while it's still warm. ENJOY!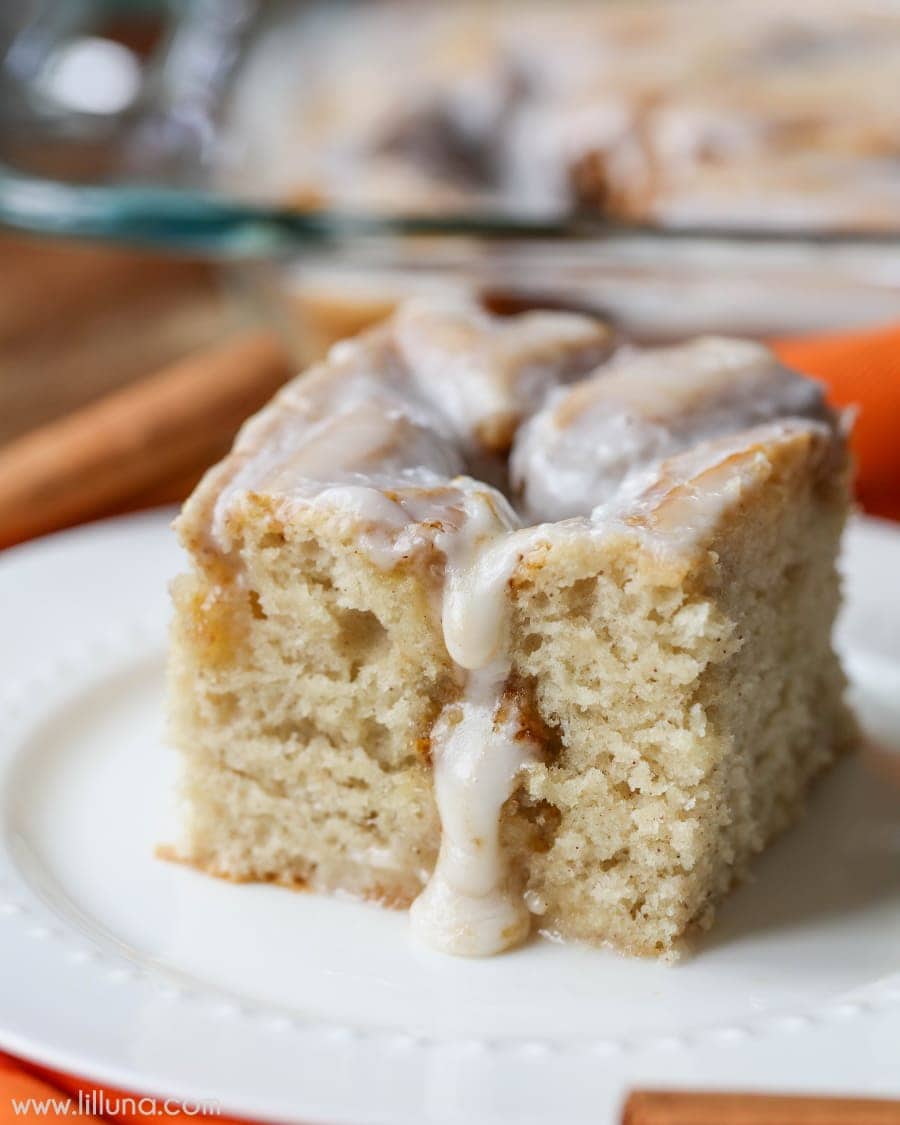 I cannot wait to have this more often in the fall!!
Here are some other pumpkin recipes we love: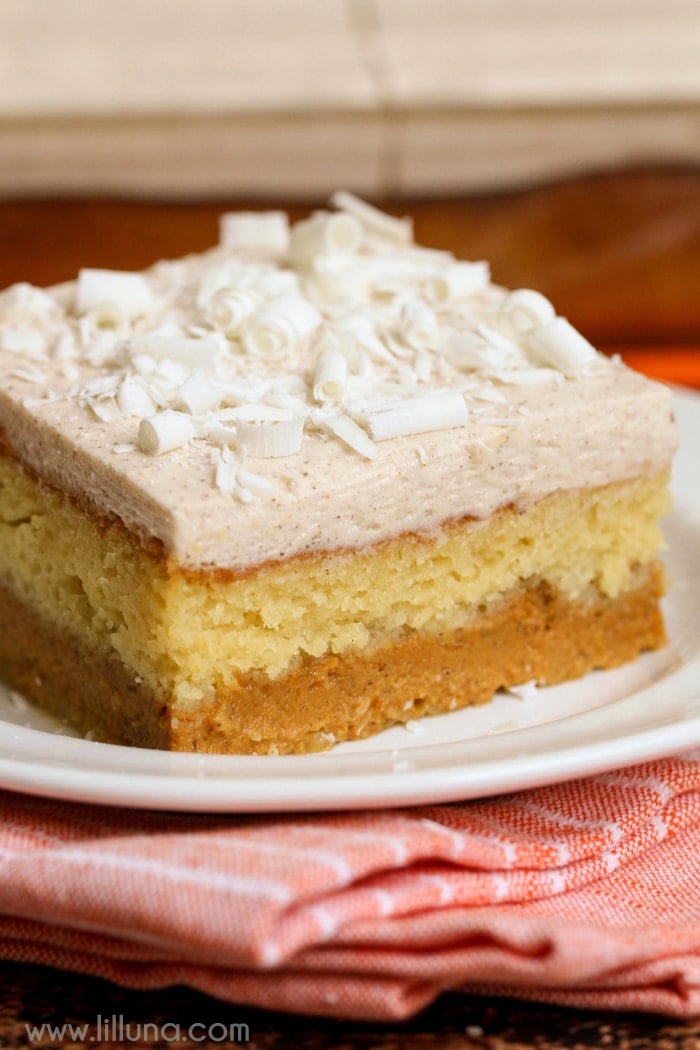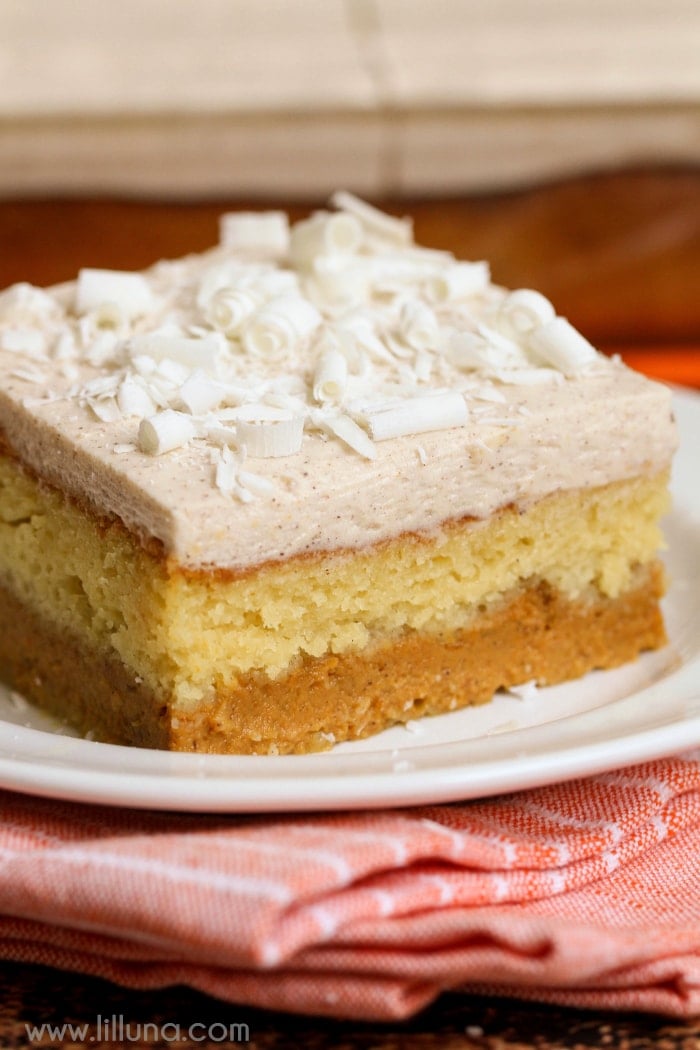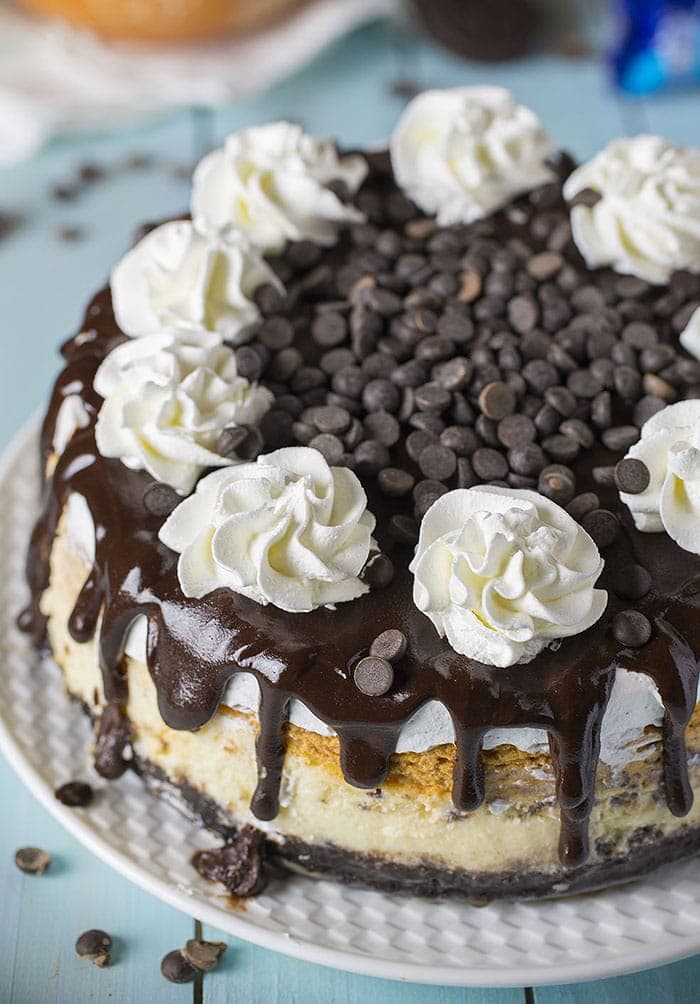 Double Layer Pumpkin Cheesecake with Oreo Crust
For all pumpkin recipes on the site head HERE.
For all desserts go HERE.
For even more great ideas follow me on Facebook – Pinterest – Instagram – Twitter – Periscope – Snapchat & YouTube.
ENJOY!
BEHIND THE SCENES AT LILLUNA.COM:
All smiles for this Pumpkin Cake!!