Hola!! It's me, Lily!! This recipe was suppose to go up on Saturday but my mom and I totally forgot!! We switched days and that's why I'm posting on Tuesday. 😉 Do you know that yesterday was my brother's birthday?! On Friday, we went to Chuck E Cheese. And yesterday, we made cake and watched a movie together. We watched Toy Story. It was really fun!
Today's recipe is Magic Pumpkin Cake. YUMMMMMY!! Even though I don't love pumpkin, I reallllly liked this recipe (that we got from I Wash, You Dry). It's magic because the pumpkin layer sinks to the bottom. It's really cool. We decided to add White Chocolate Curls on top, and it was great! If you like Pumpkin, you'll love this recipe!


MY OTHER RECIPES
The pumpkin will sink to the bottom – it's MAGIC!!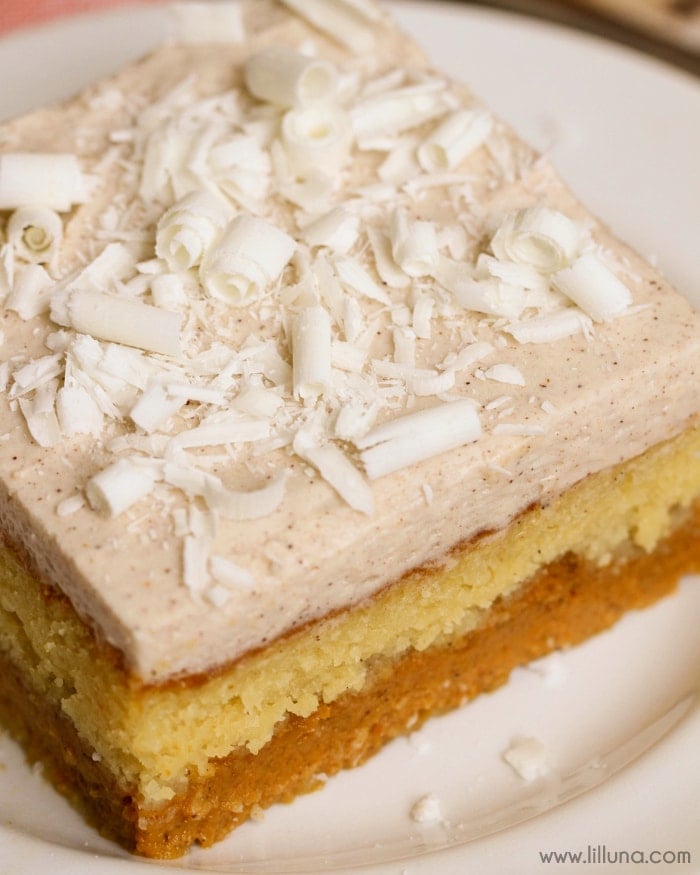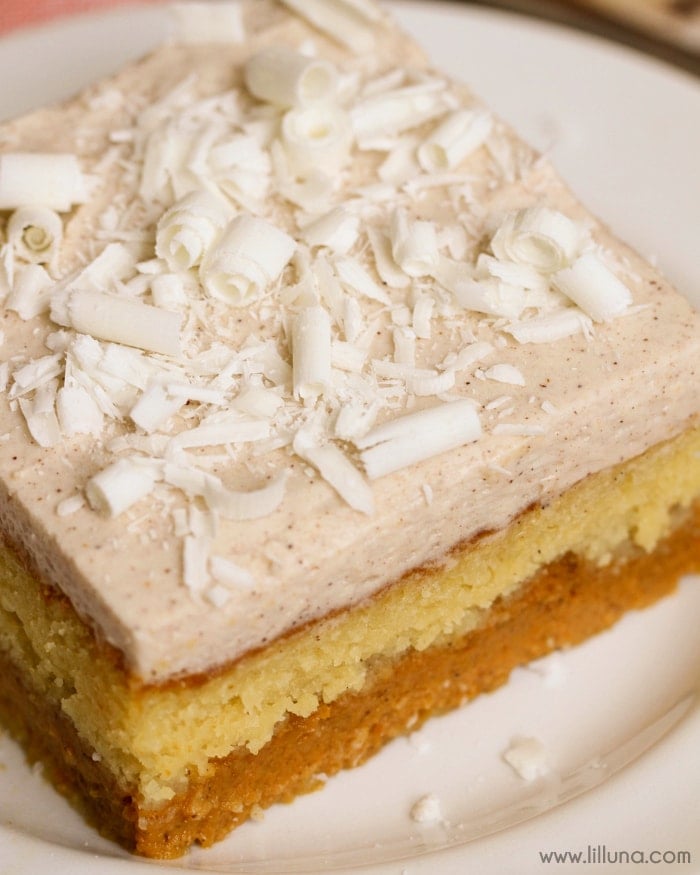 The white chocolate curls are my favorite part!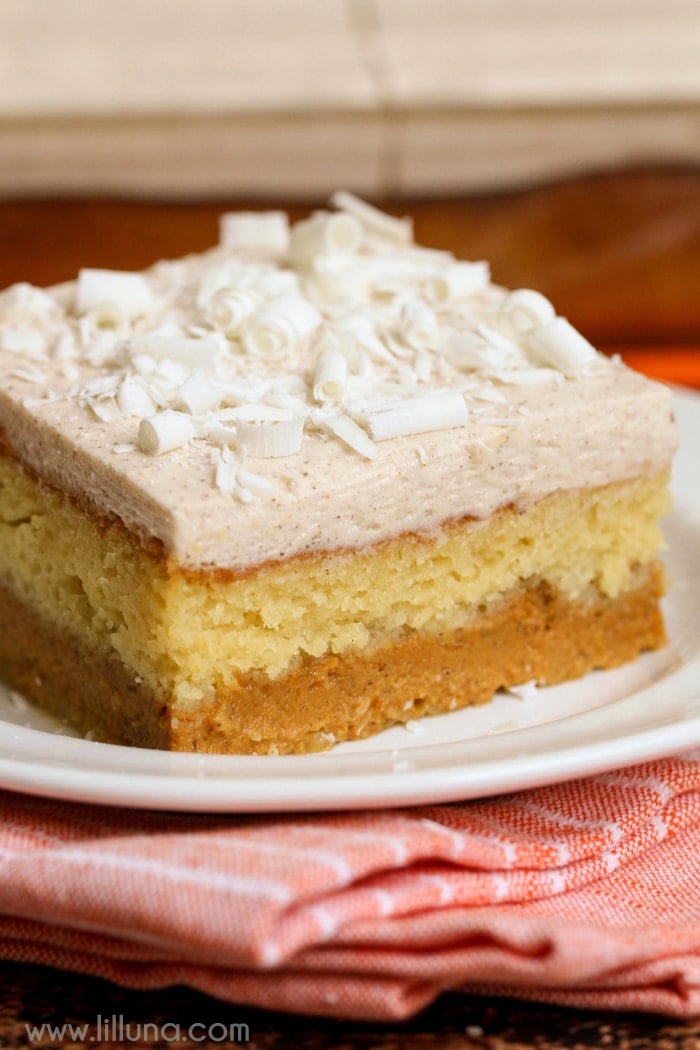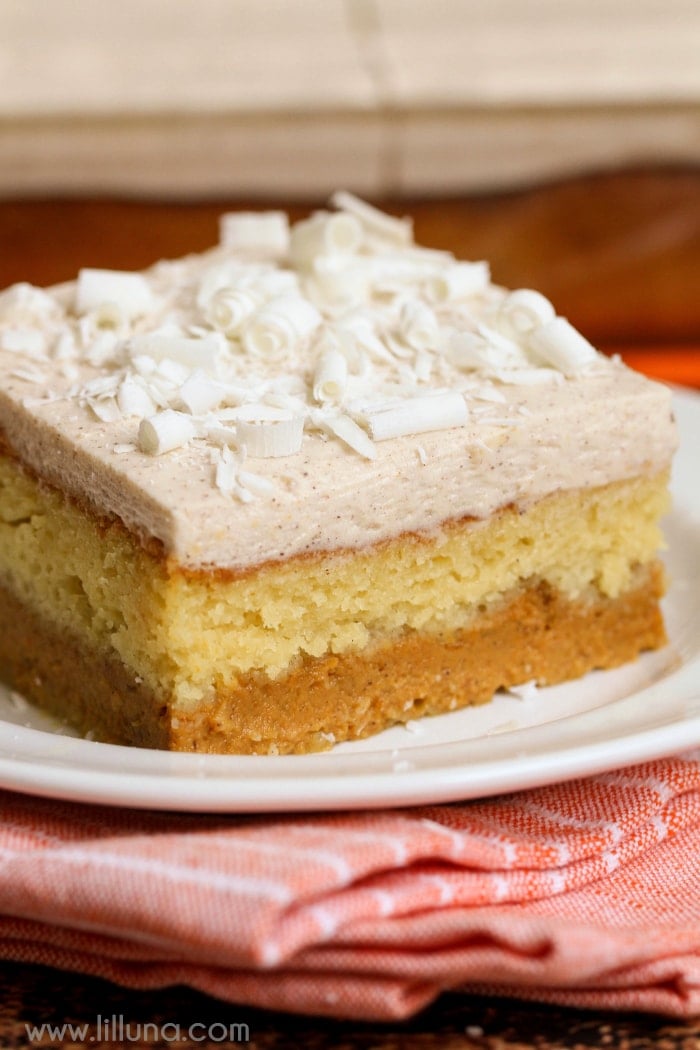 Magic Pumpkin Cake:
Magic Pumpkin Cake
Ingredients
1 box of yellow cake mix PLUS ingredients needed to make (eggs, water, oil)
1 (15oz) can Pumpkin Puree
½ cup evaporated milk
½ cup heavy cream
3 eggs
1 cup brown sugar
Frosting
1 box white chocolate instant pudding mix
1 tsp pumpkin pie spice
1 cup cold milk
1 cup cool whip
white chocolate curls
Instructions
Preheat oven to 350 degrees.
Prepare cake as instructed on package and pour into a greased 9x13 pan. Set aside.
In a medium bowl add pumpkin, evaporated milk, cream, eggs, and brown sugar and whisk until smooth. Pour all over the cake mix in the 9x13 pan.
Bake for an hour (or until it not longer jiggles in the middle).
Let cool and make frosting by whisking together the white chocolate pudding mix, pumpkin pie spice and milk until smooth.
Fold in Cool Whip and mix well.
Spread over cooled cake and top with white chocolate curls.
Refrigerate until ready to serve. ENJOY!
Recipe adapted from I Wash You Dry. 
Be prepared for lots of Pumpkin and Halloween treats because we're going to be making lots of them!! I hope you can come back again soon for more yummy treats from me.
Love, Lily
—————————————–
For another Pumpkin treat, check out:
Double Layer Pumpkin Cheesecake with Oreo Crust
And for more pumpkin desserts, check out:
ENJOY!!
BEHIND THE SCENES AT LILLUNA.COM:
I really think you'll LOVE this cake!!