Serve our favorite Sweet Potato Hash as a healthy side dish, or add your favorite protein to make a filling dinner!
I love having healthy side dishes to add to a meal. This Sweet Potato Hash is great during the fall and winter seasons, along with Baked Zucchini Fries and Oven Roasted Brussel Sprouts.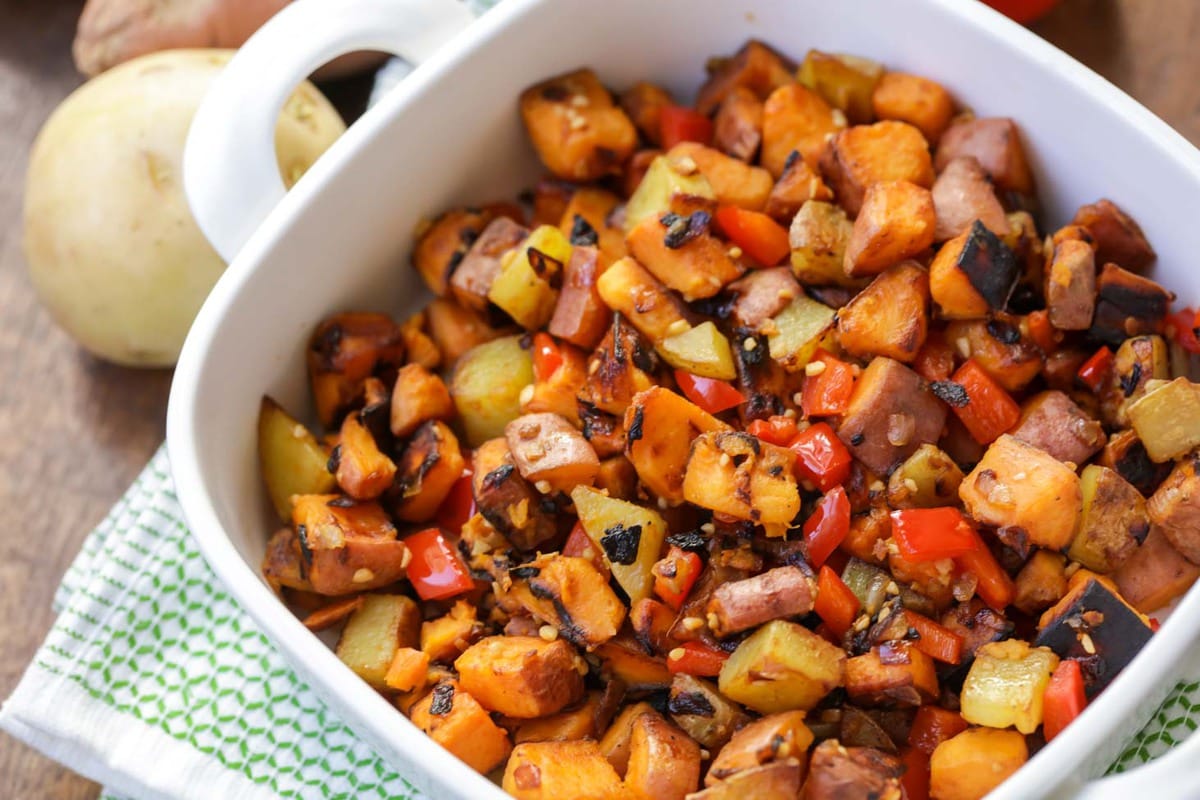 Easy + DElicious Sweet potato hash
Sweet Potato Hash is one of my all-time favorite side dishes. It's healthy, but tastes AMAZING. So many wonderful flavors coming together—the sweet potatoes, onions, garlic, and bell pepper.
Ever since going to Animal Kingdom at Disney World, and trying the Sweet Potato Hash at Satu'-li Canteen (a fast casual restaurant in the park), I knew I HAD to make a copycat version. And I think we nailed it!
We are so excited we have this yummy recipe to make at home. It's great for breakfast, or as a side to any lunch or dinner.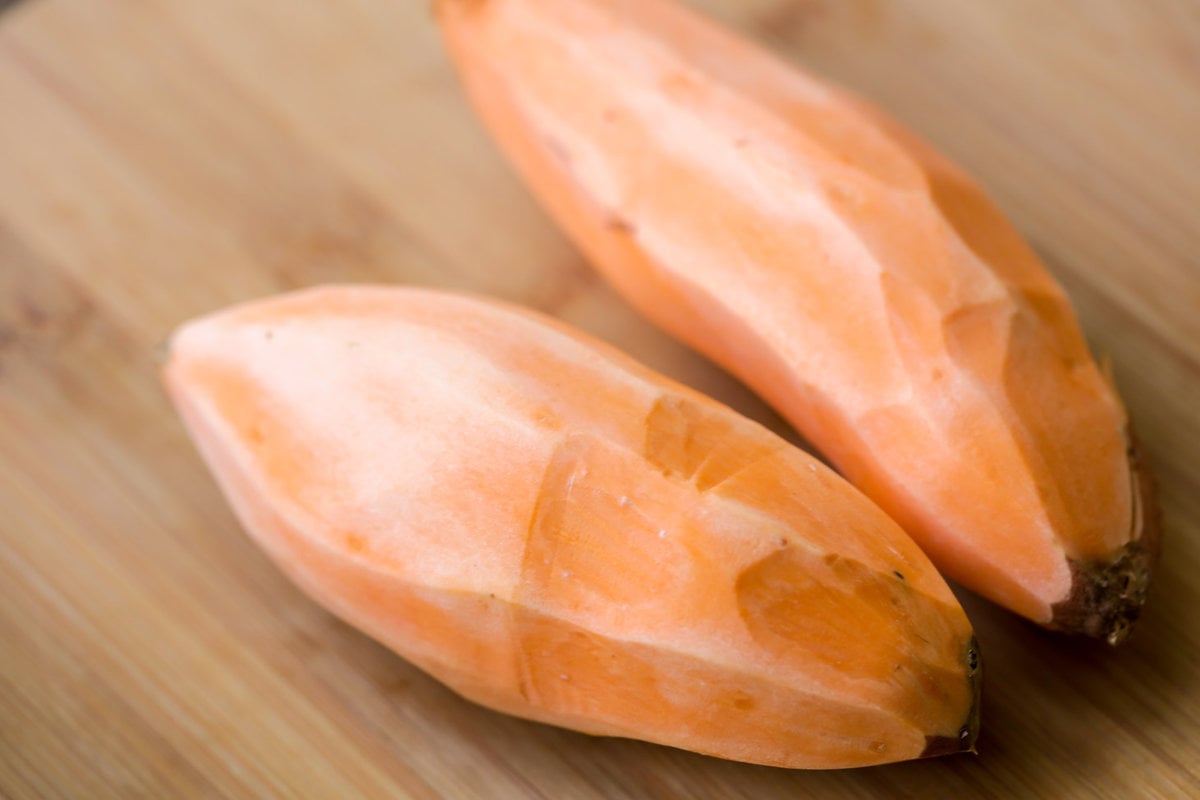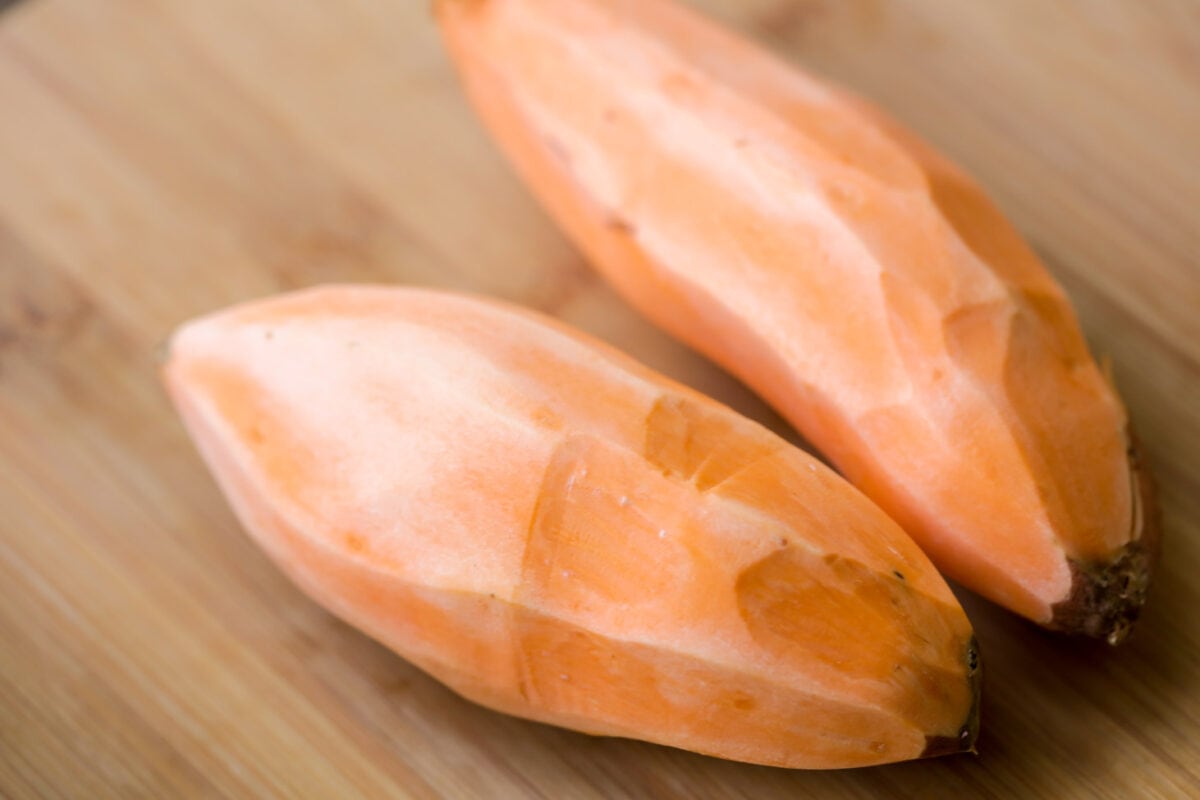 Prepping potatoes for sweet potato hash
This hash is super simple, but does require a bit of prep to make sure each bite is perfect!
Use a sharp chef's knife and cut off the pointy ends. Then, removing as little as possible, cut off the sides to create a rectangle.
BATONNETS (sticks): Cut the rectangle into ½ inch slices. Then cut the slices into ½ inch batonnets (sticks). Cut each stick into ½ inch cubes.
ROUNDS: Slice peeled sweet potato into discs. Cut each discs into ½ inch pieces.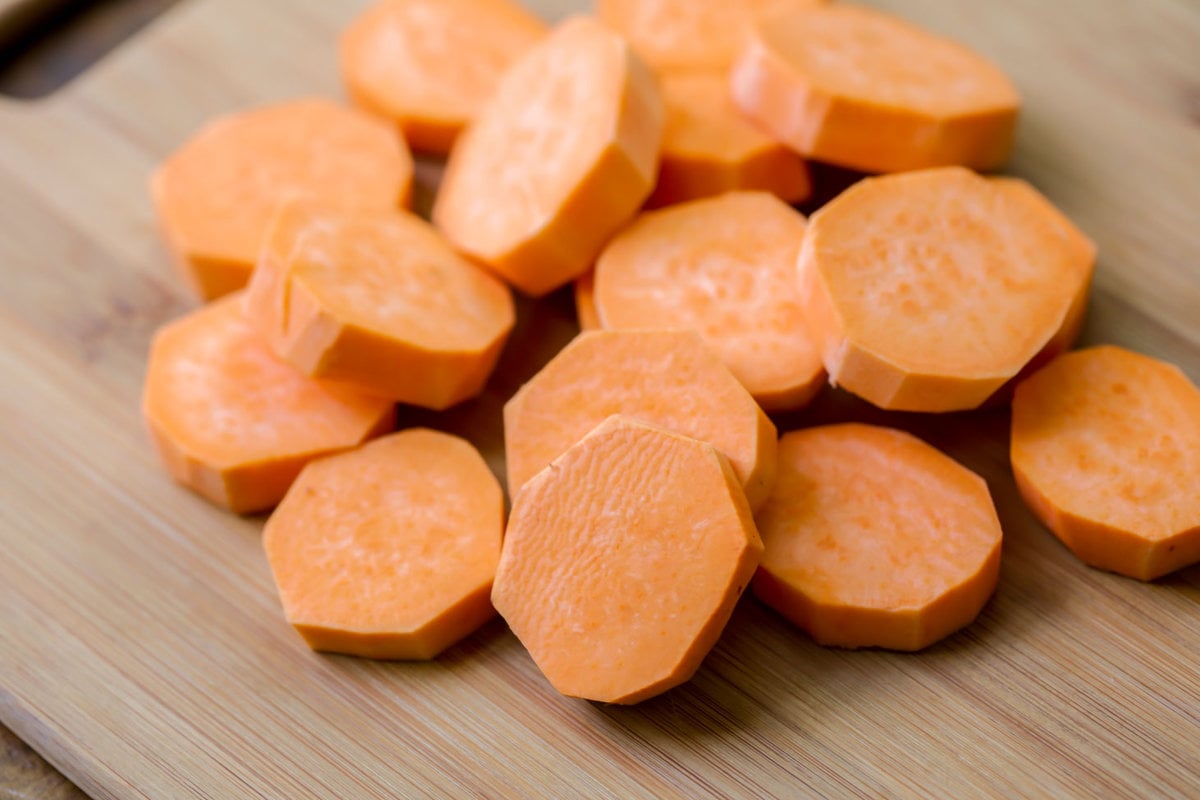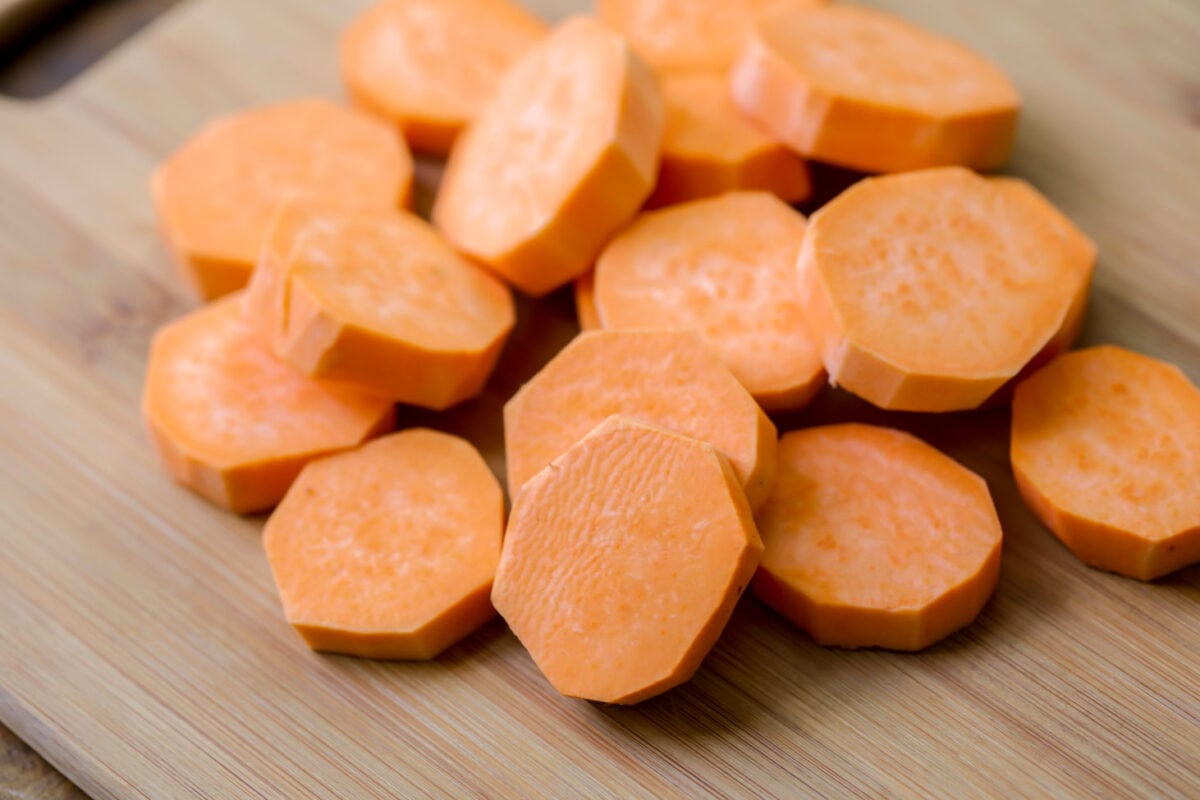 How to Make Sweet Potato Hash
DICE. Start by dicing 2 medium sweet potatoes, one white sweet potato, and the onion into bite-sized chunks (keep the skin on the potatoes).
POTATOES. Heat the olive oil in a large skillet over medium-high heat. After the olive oil has heated up, add the potatoes and onions. Sprinkle them with salt and pepper, and stir to combine. Lower the heat just a bit, cover the skillet, and cook for 15-20 minutes.
VEGGIES. Occasionally, stir the mixture and cook until the potatoes are almost tender. Turn the heat up to high, mix in the bell peppers and garlic. Cook everything on high for 2-5 minutes. The potatoes should be nicely browned when it's ready to serve!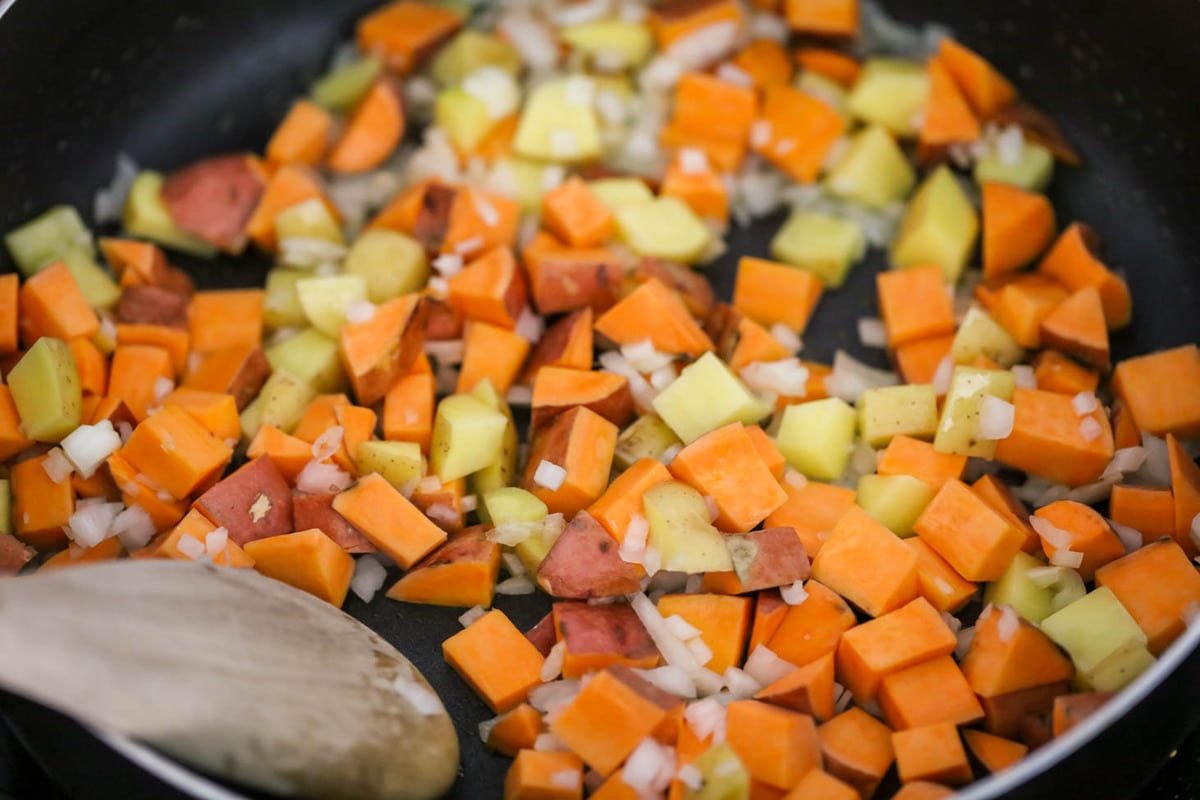 RECIPE TIPS
Store sweet potato in a cool dark area in your pantry. Do not refrigerate them.
Since you'll be leaving the skin on, give them a good scrub to remove any dirt.
A medium cube is about ½ inch. You can cut the slices larger, or smaller depending on your preference.
Cut the potatoes 1-2 days in advance, store them in cold water in the fridge. Darin and pat dry before cooking.
Variations
This dish is easy to adjust. Sweet Potato Hash can easily be adjusted to fit different diets. It's completely vegetarian, and can be eaten as is.
Paleo. Serve it with lean meats for a Paleo diet.
Keto. Mix in cooked sausage or bacon for a Keto diet.
It's gluten free, dairy free and nut free as well.
Some other flavor variations include:
Spice it up with some smoked paprika, chili powder, cayenne powder, or top with hot sauce.
Toss in some chopped celery, spinach or kale.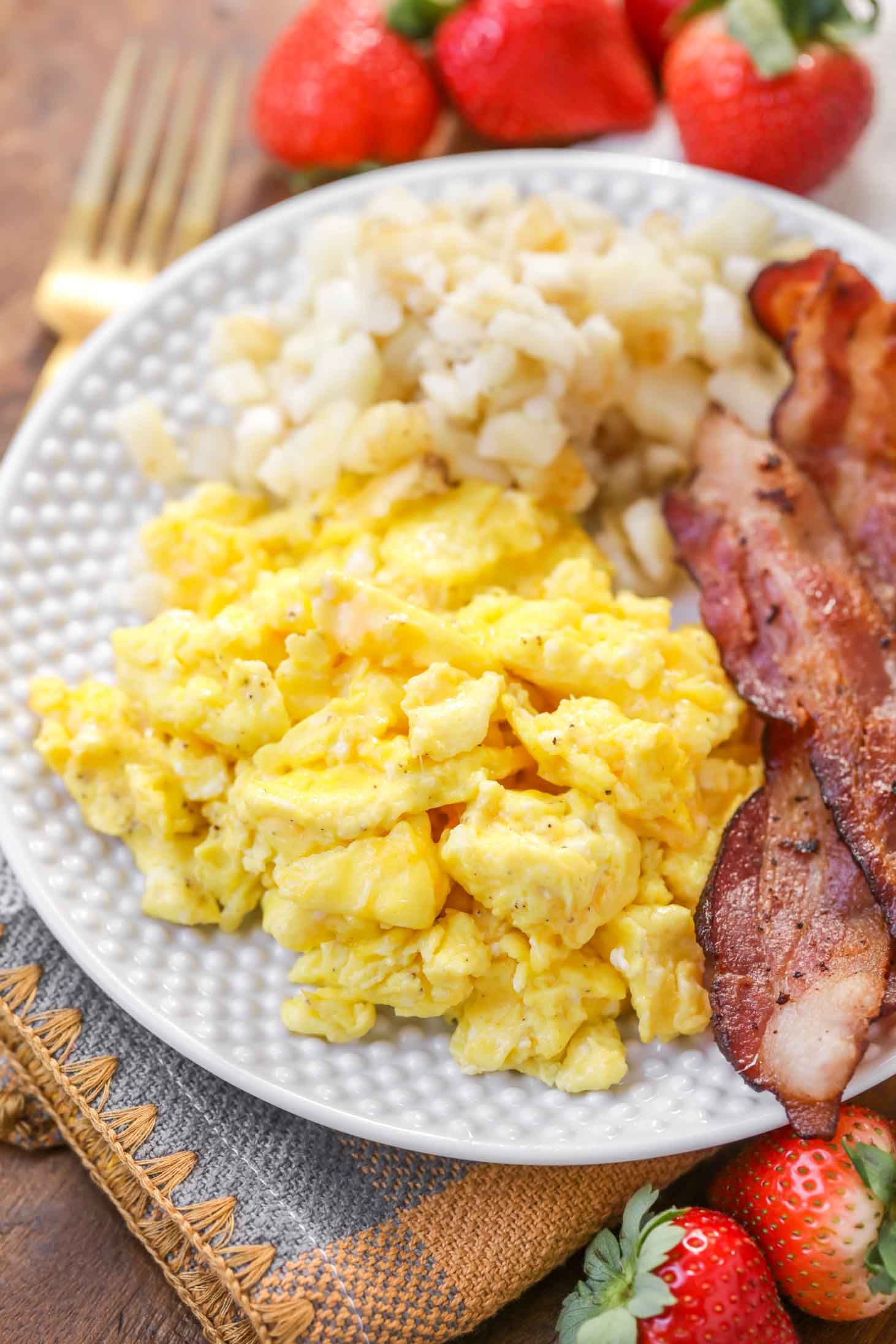 What to serve with IT + STORING
There are a lot of things you can pair with potato hash! You can eat sweet potato hash for breakfast, lunch, or dinner!
If you're wanting to eat this for breakfast, serve it on the side of:
For dinner, make it alongside these tasty Parmesan Crusted Pork Chops or classic Lemon Pepper Chicken.
STORE. Keep any leftovers in an airtight container in your fridge for 3 – 4 days. It makes a great quick breakfast, or lunch heated up the next day, as well as in a bowl with your favorite protein choice.
FREEZE. Whether you are making this ahead of time, or freezing leftovers, be sure to let the hash cool completely. Store it together in a large Ziploc, or divide it into individual portions. Freeze for up to 3 months.
To reheat. Thaw in the fridge and reheat in a skillet, or in the microwave.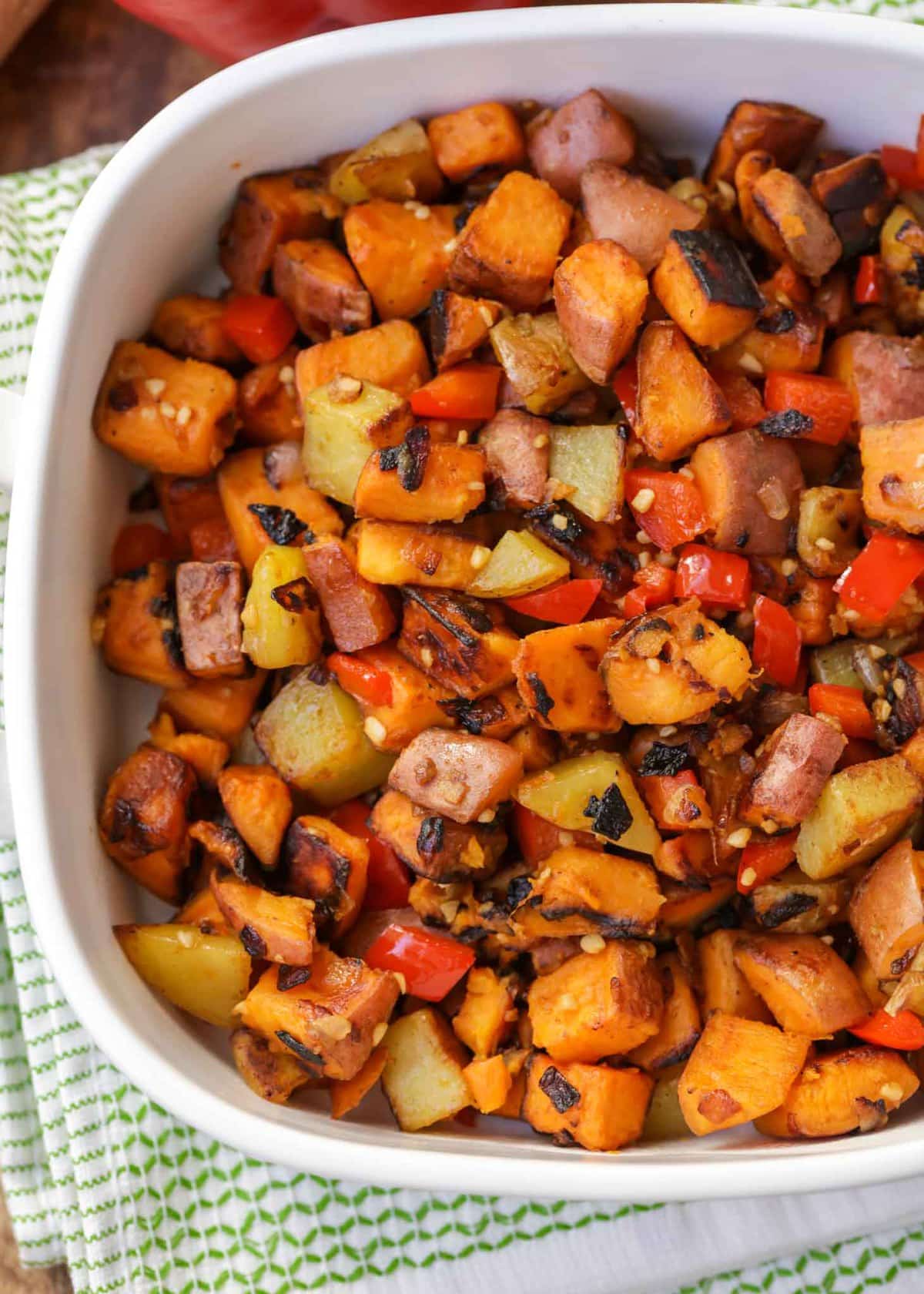 Here are more sweet potato recipes to try:
Sweet Potato Hash Recipe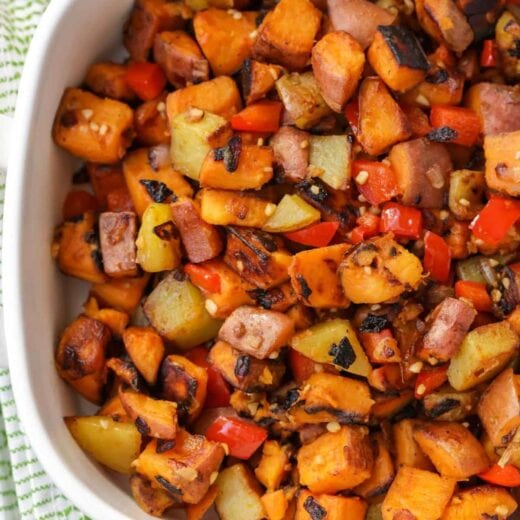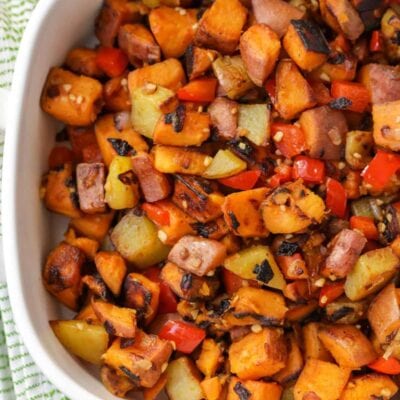 Serve our favorite Sweet Potato Hash as a healthy side dish, or add your favorite protein to make a filling dinner!
Ingredients
2

tablespoon

olive oil

2

medium

sweet potatoes

skin-on and diced into bite-size chunks

1

white sweet potato

skin-on and diced into bite-size chunks

1/2

medium

white onion

diced

1 ½

teaspoon

sea salt

1/2

teaspoon

ground black pepper

2

teaspoon

minced garlic

1/2

red bell pepper

chopped

garlic salt (with parsley flakes)

to taste
Instructions
Heat oil in a large skillet over medium-high heat.

Add potatoes and onion sprinkled with salt and pepper. Stir to combine.

Lower heat, cover and cook for 15-20 minutes, stirring occasionally, until potatoes are almost tender.

Turn heat to high and stir in the garlic and bell peppers. Cook on high for 2-5 minutes until sweet potatoes are nicely browned. Serve.