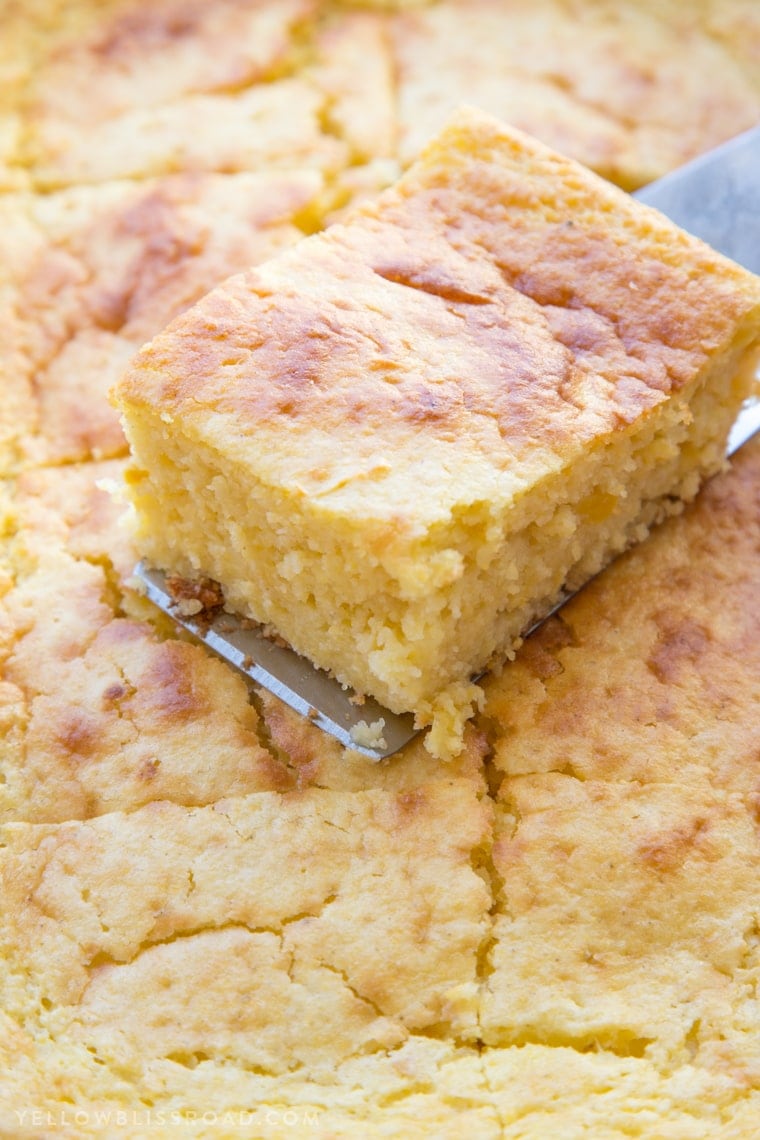 This Sour Cream Cornbread Recipe is the perfect accompaniment to your Thanksgiving turkey or your favorite bowl of chili. It's creamy, tender and oh so delicious.
The holiday season is upon us friends! I am so excited I can hardly stand it. This year my family is actually taking a cruise over Thanksgiving week to Mexico, so we won't be enjoying a Thanksgiving feast at home like we usually do. To make up for that, I've been working on updating some favorite Thanksgiving dishes, and this cornbread recipe was first on my list!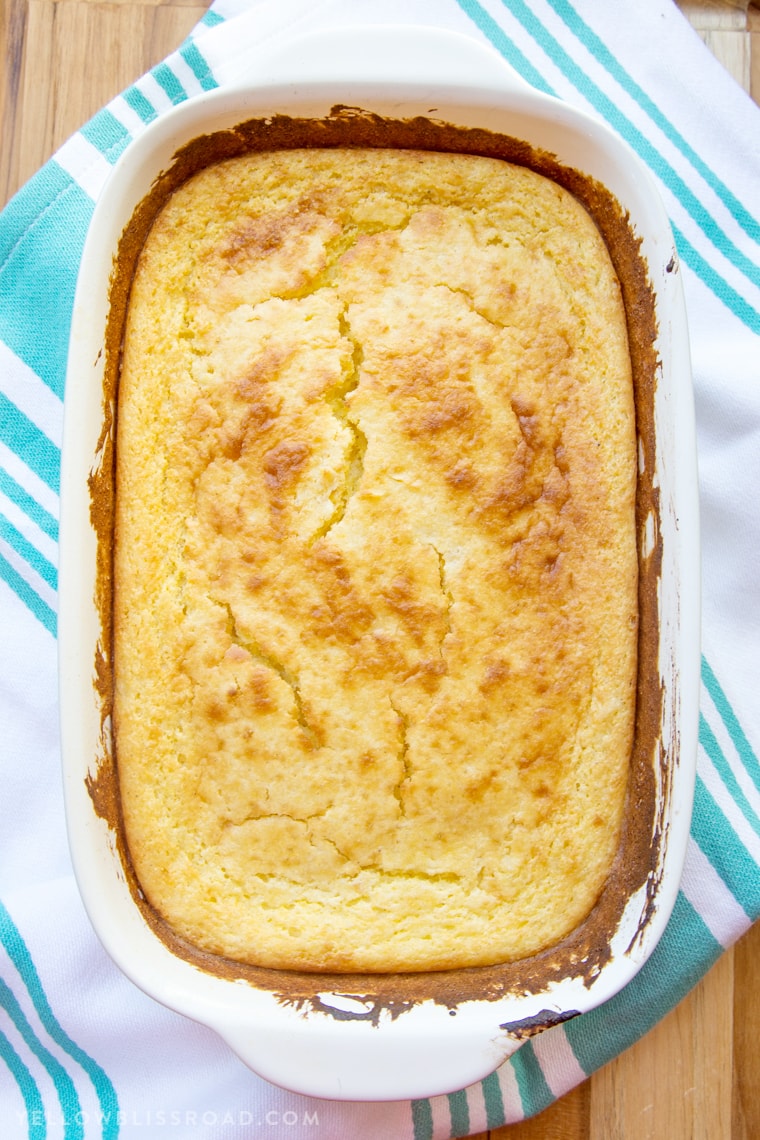 I have always loved cornbread; it's the perfect side to support a hearty bowl of my favorite 3-Ingredient Chili. But to be honest, I never make it from scratch! Maybe I thought it would be too difficult, or it was always just easier to buy the box of mix, but it's just something I've never really done. My kids and I religiously watch Trisha Yearwood's cooking show on Food Network and last month she made her grandma's Skillet Sour Cream Cornbread recipe. It looked and sounded to amazing that I had to try it out for myself. I took her recipe, and updated it to fit what I had in my kitchen, and this beautiful pan of awesomeness was the result.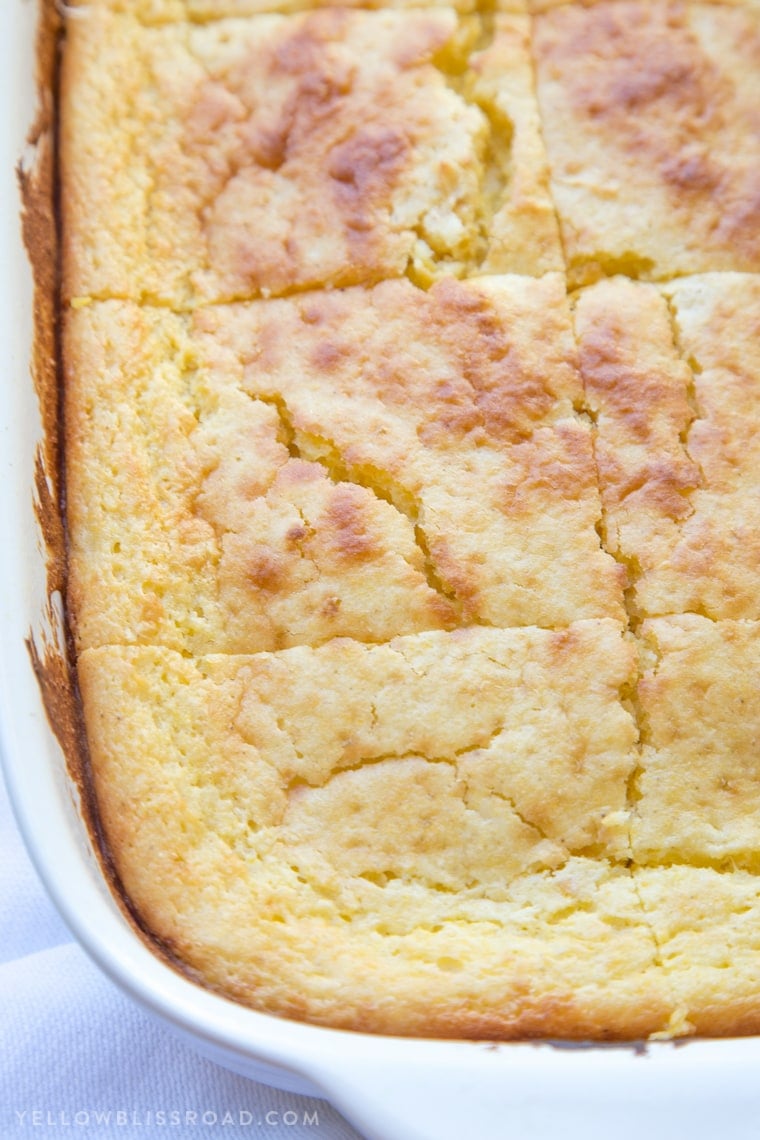 The sour cream and the creamed corn give this cornbread a dense, creamy texture. It's hearty enough to stand up to soups and chilis, and pretty enough to accompany your Thanksgiving turkey. It will have your family begging for seconds and thirds, so you might want to make a second batch!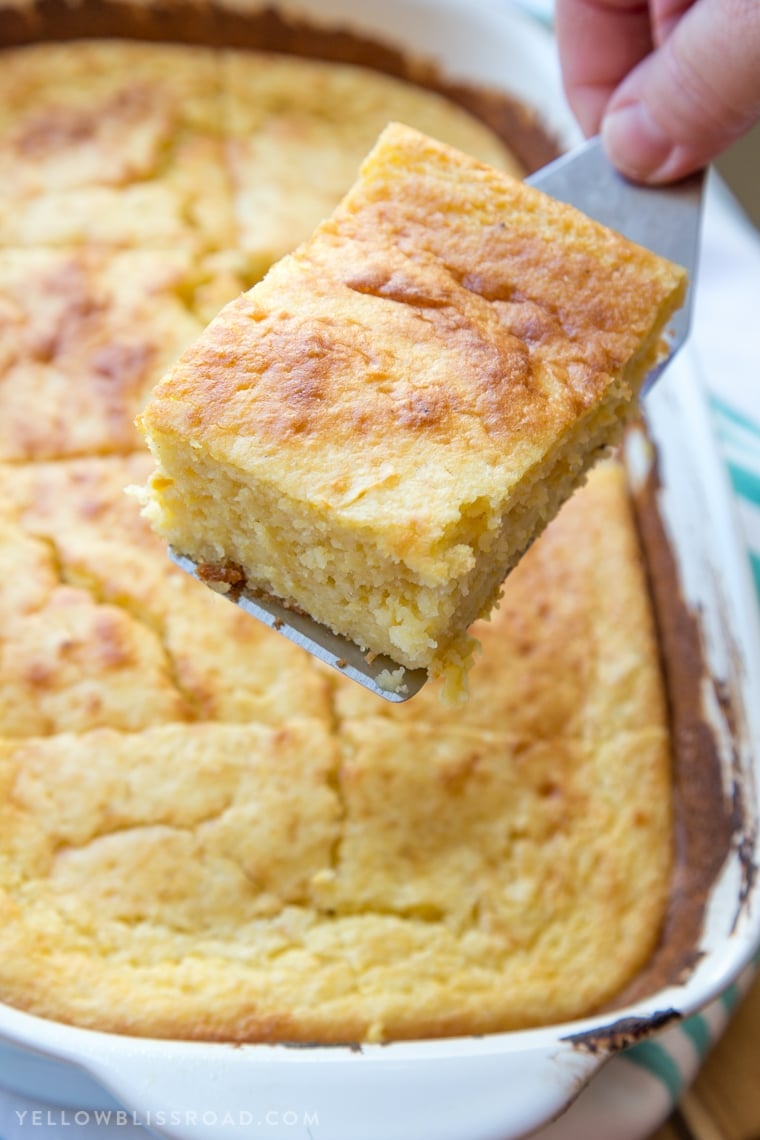 Sour Cream Cornbread
Ingredients
¼ cup canola or vegetable oil
1 cup sour cream
1 can creamed corn
3 large eggs
⅔ cup yellow cornmeal
1 cup all-purpose flour
½ cup granulated sugar
1 tablespoon baking powder
½ teaspoon salt
Instructions
In a medium sized bowl, whisk together flour, cornmeal, salt, sugar and baking powder.
In a large bowl, stir together the oil, sour cream, creamed corn and eggs until well combined. Stir the dry ingredients into the wet, just until combined.
Pour the mixture into a 10" cast iron skillet (or 9" square pan that you've sprayed with cooking spray). Bake at 425 degrees for about 25-30 minutes.
*For muffins, grease a 12-count muffin pan with cooking spray. Divide batter into cups and bake at 425 degrees for about 20 minutes.
I've got lots more recipes to accompany your turkey over on Yellow Bliss Road –
MY OTHER RECIPES
——————————————
Oh, this look so good, Kristin!
Corn bread is one of my favorite things to make with my soups when the weather cools down.
Can't wait to try this!
For more great recipes from Kristin, be sure to head to Yellow Bliss Road.
For some yummy soups that are even better with corn bread, check out: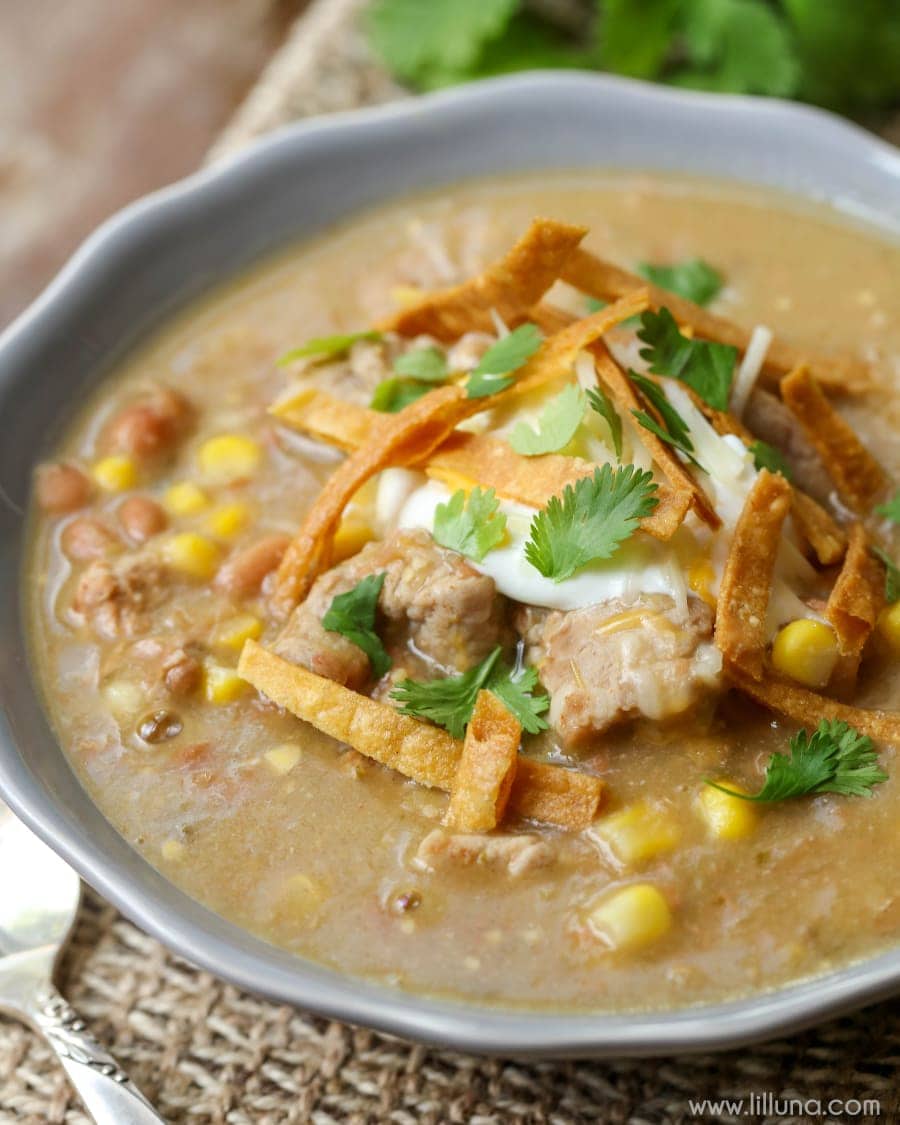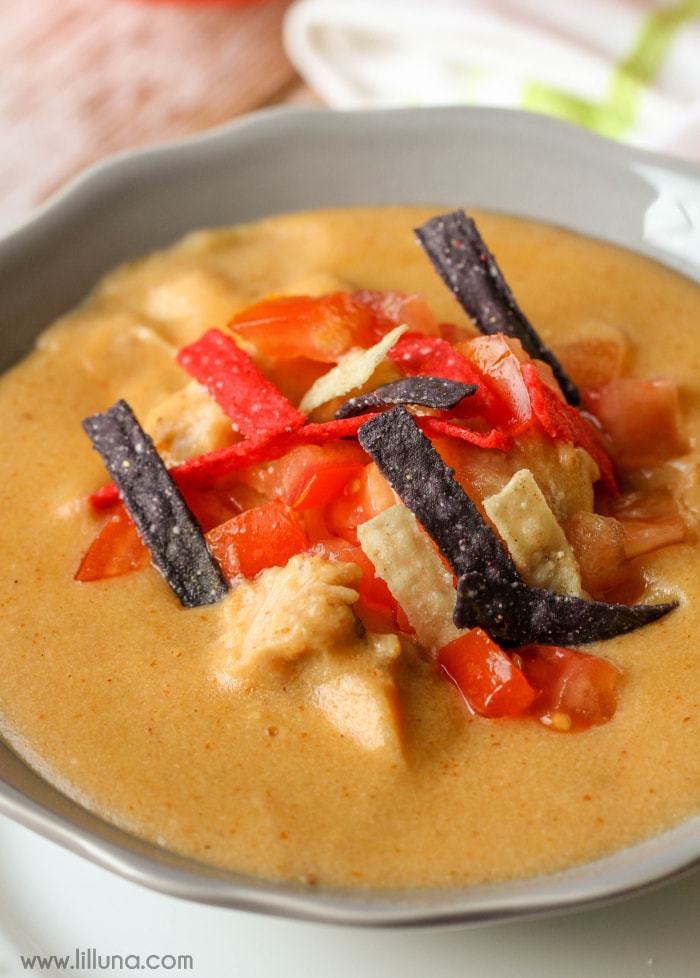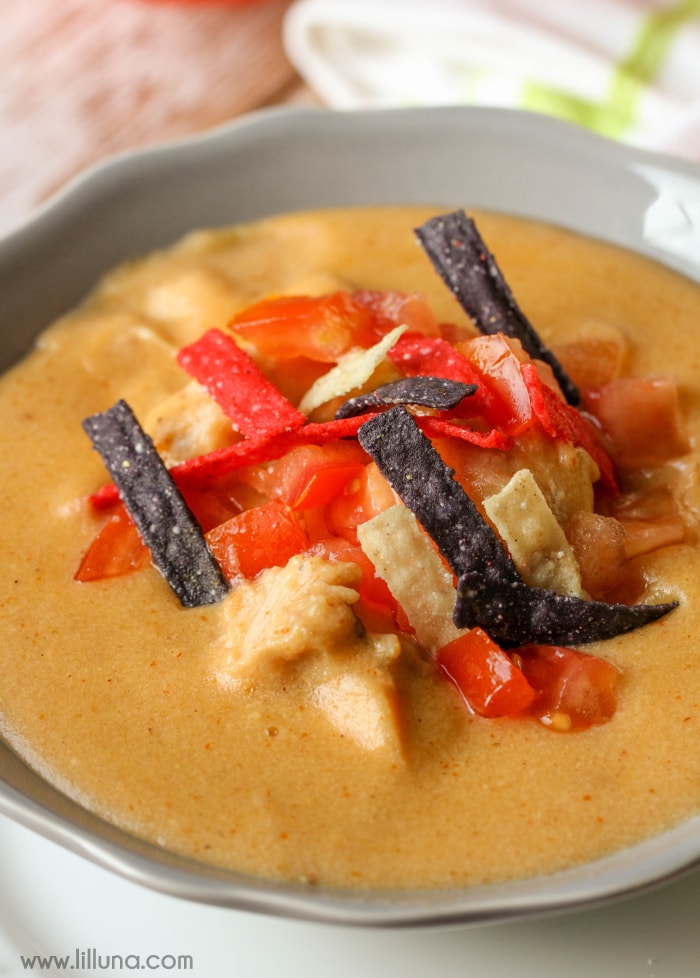 Chili's Copycat Enchilada Soup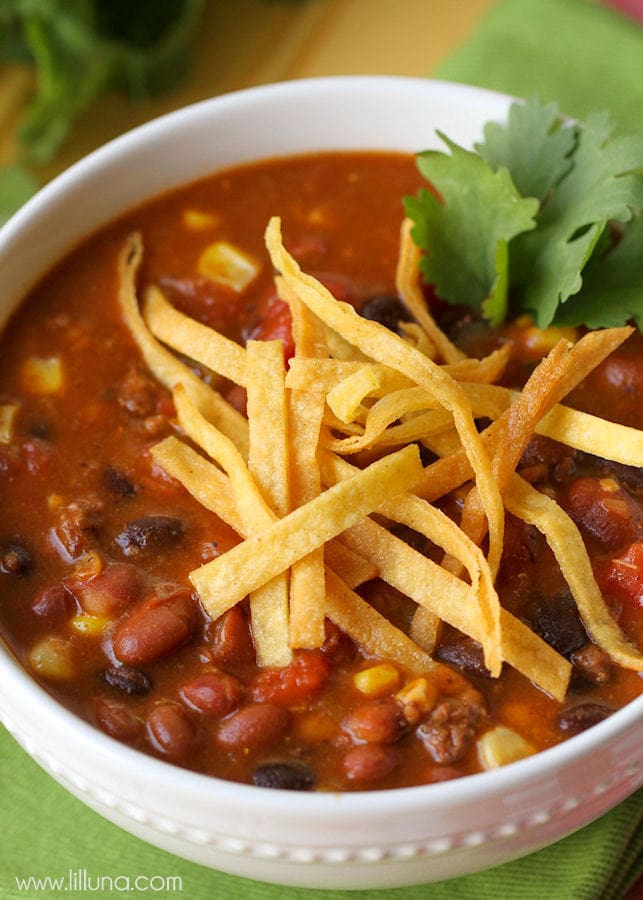 For all Soup Recipes go HERE.
For all Lil' Luna Recipes go HERE.
For even more great ideas follow me on Facebook – Pinterest – Instagram – Twitter – Periscope.
ENJOY!