Jump to Recipe
Learn how to perfectly cook spaghetti squash with these tips! This is a healthy and delicious meal that goes with tons of different recipes! It's the perfect low-carb option!
Spaghetti squash has become one of our favorite dinner meals. Whether you are using it as a pasta substitute for classic spaghetti or on it's own in our Greek version, you can't go wrong with it!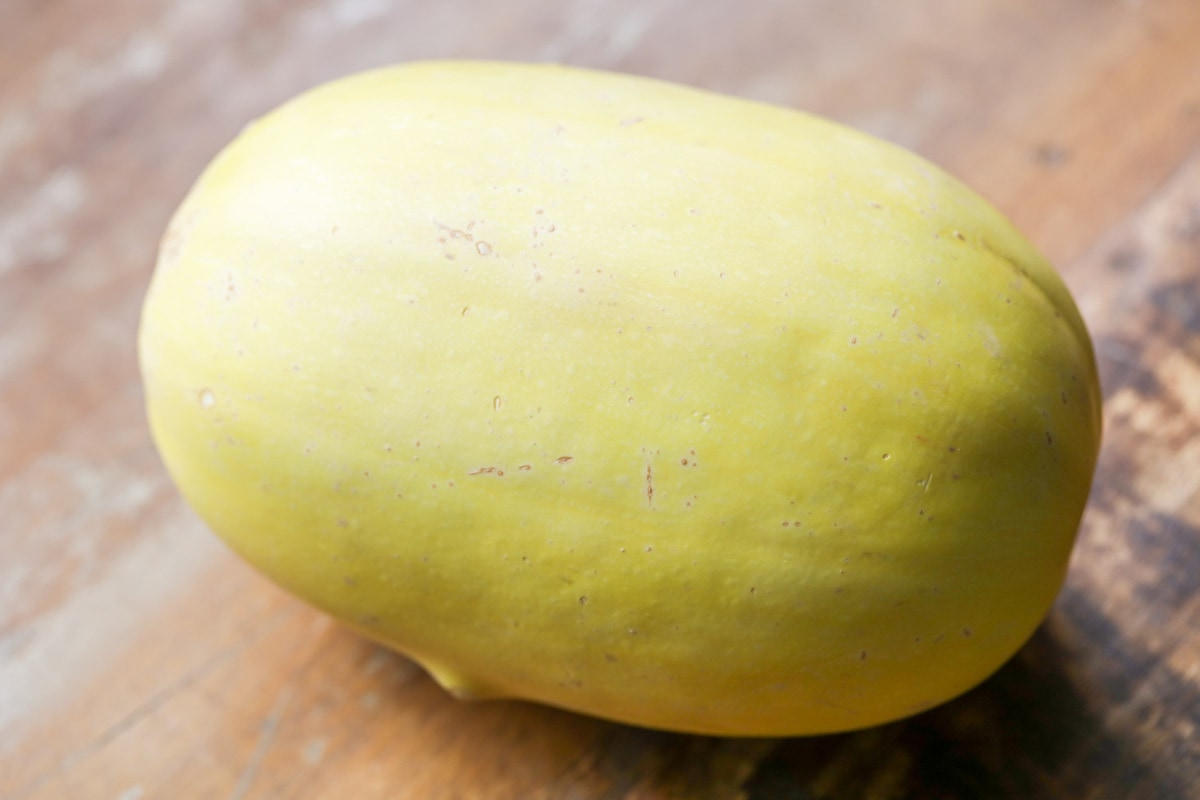 Spaghetti Squash 101
Spaghetti squash is an edible squash with slightly stringy flesh. When it's cooked it has a texture and appearance of spaghetti noodles!
I think it tastes incredible and I love the tender strands it produces. It's great for swapping out with actual spaghetti noodles (or any pasta dish for that matter) for a low-carb option.
If you've never tried baking and eating a spaghetti squash, now is your chance! I promise you will love it and all it's health benefits! There are so many different ways you can cook a spaghetti squash. I will talk more about those below. Cut into it, bake it, scoop out the strands and dig in!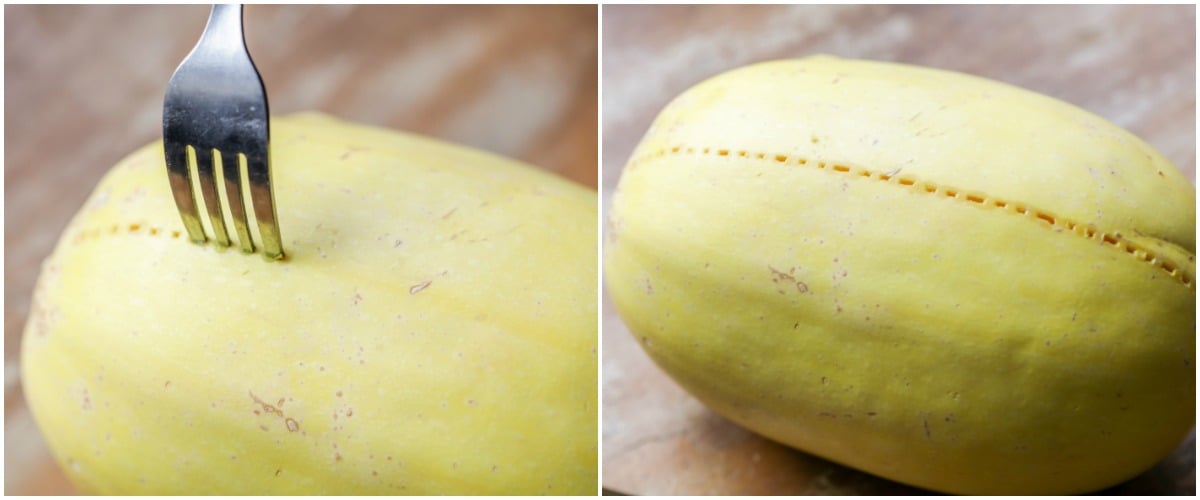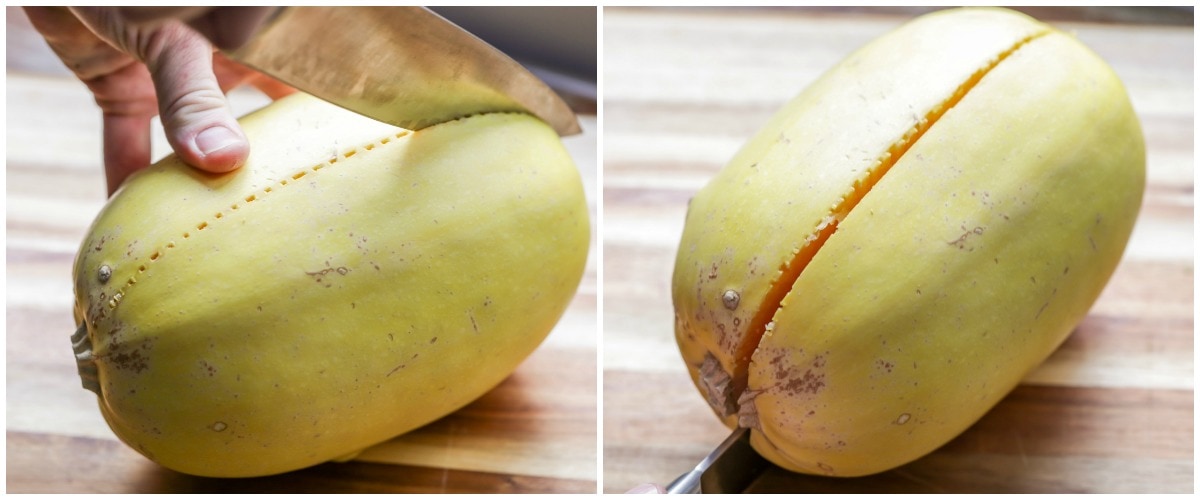 How to Cut it
There are different ways for cutting spaghetti squash, but this next method makes it quick and simple, and is our favorite way to cut the squash.
Use a fork to perforate it down one of the lines on the outside of the squash.
Cut your spaghetti squash lengthwise using a large cutting knife on a cutting board.
Scoop out the string and seeds on the inside.
This will help your two halves be even in size and also cook evenly.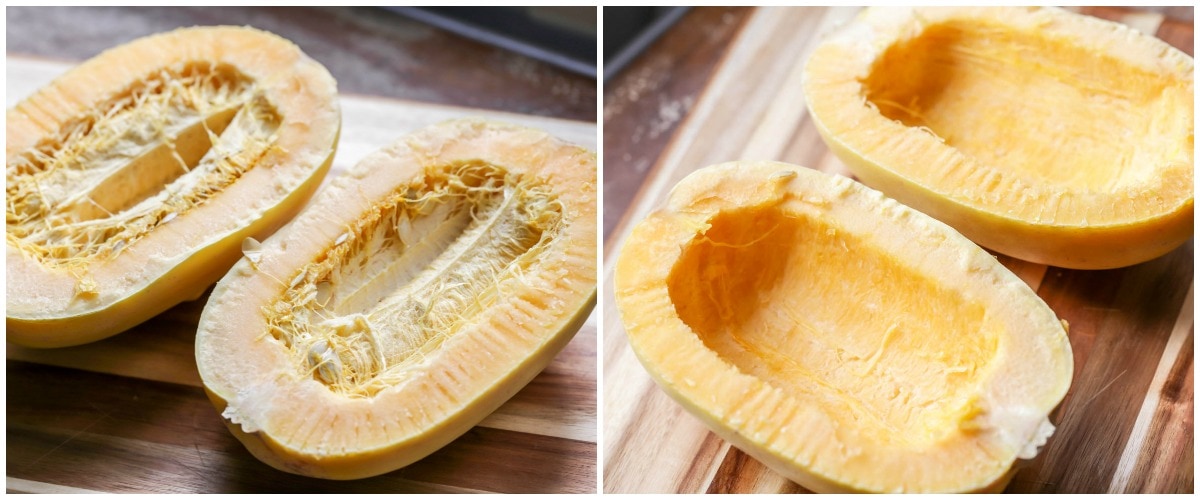 bake, MICROWAVE or IP
Did you you know you could have perfectly cooked spaghetti squash in under 40 minutes?! Don't be intimated by cooking a spaghetti squash. Cutting it is the hardest part.
CUT. Start by preheating your oven to 425 degrees. Cut your spaghetti squash in half lengthwise and take all of the seeds out.
COOK. Place the halves of spaghetti squash with the cut sides down on a lightly greased baking sheet. Bake the squash for about 30-35 minutes, or until a knife can easily be inserted.
STRING. After it bakes, remove it from the oven and let it cool for a few minutes before stringing.
MICROWAVE INSTRUCTIONS: You can also cook your spaghetti squash in the microwave! Even easier!!
Cut the squash in half lengthwise and scoop out the seeds. Place it face down in a baking dish filled with an inch of water. Microwave for about 5-10 minutes until the squash is soft.
INSTANT POT INSTRUCTIONS: Try cooking it in your instant pot! Start by piercing the spaghetti squash with a knife (this will help the steam to vent), and then place it on the trivet with a cup of water in the pot.
Cook on high pressure for 15 minutes for a 3-pound squash. Adjust the time as necessary with the size of your squash.
You can't go wrong with any of these cooking methods!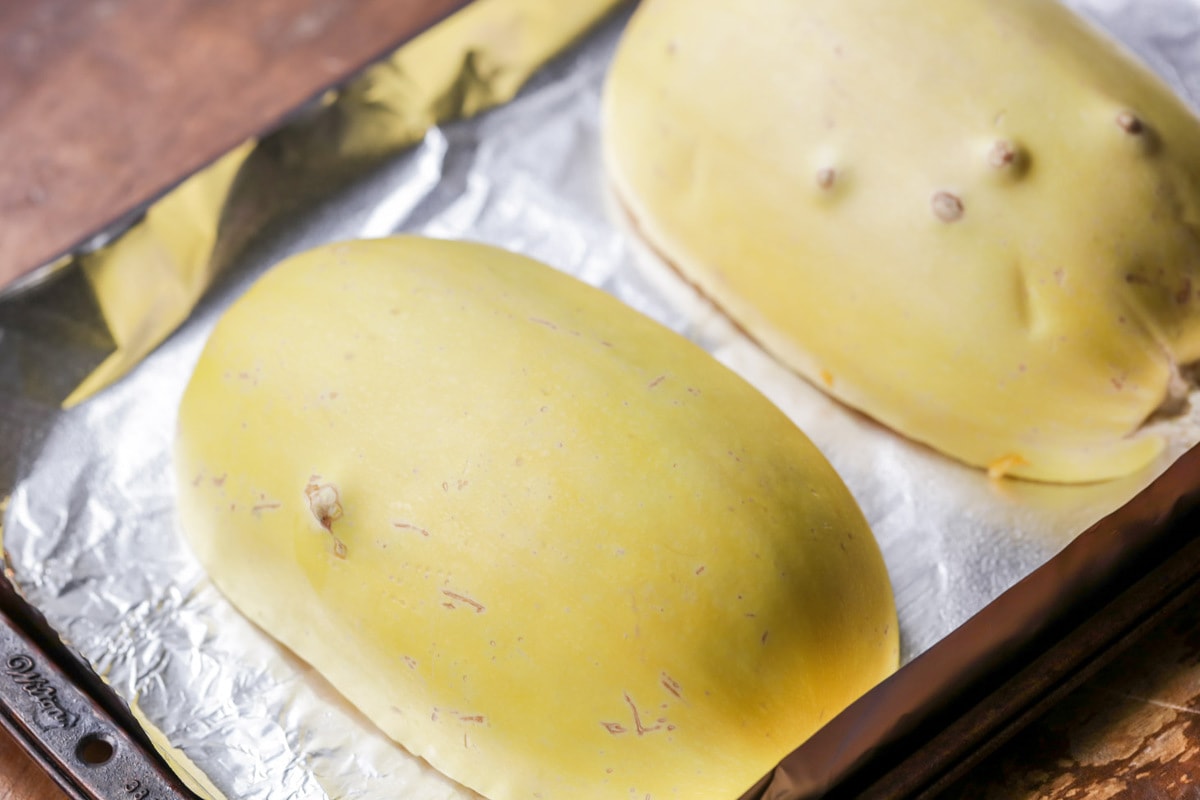 squash Tips & INFO
How long does spaghetti squash last? Keep your spaghetti squash stored on your counter or in your fridge and it should last 1-3 months! Cooked spaghetti squash will last 3-5 days in your fridge in an airtight container.
Can you freeze spaghetti squash? You can freeze the cooked spaghetti squash in a freezer-safe container for 2-3 weeks.
What can you make with spaghetti squash? It seems like you can make almost anything with spaghetti squash. Try this greek flavored version with cheese, tomatoes, and a little bit of basil.
Of course, you can swap half or all of the regular pasta noodles in any pasta recipe like:
Try using it with pesto sauce or Alfredo sauce! It's also great with just some olive oil, grape tomatoes, and basil. Get creative and let your taste buds do the deciding. It's also a great option for serving with porcupine meatballs!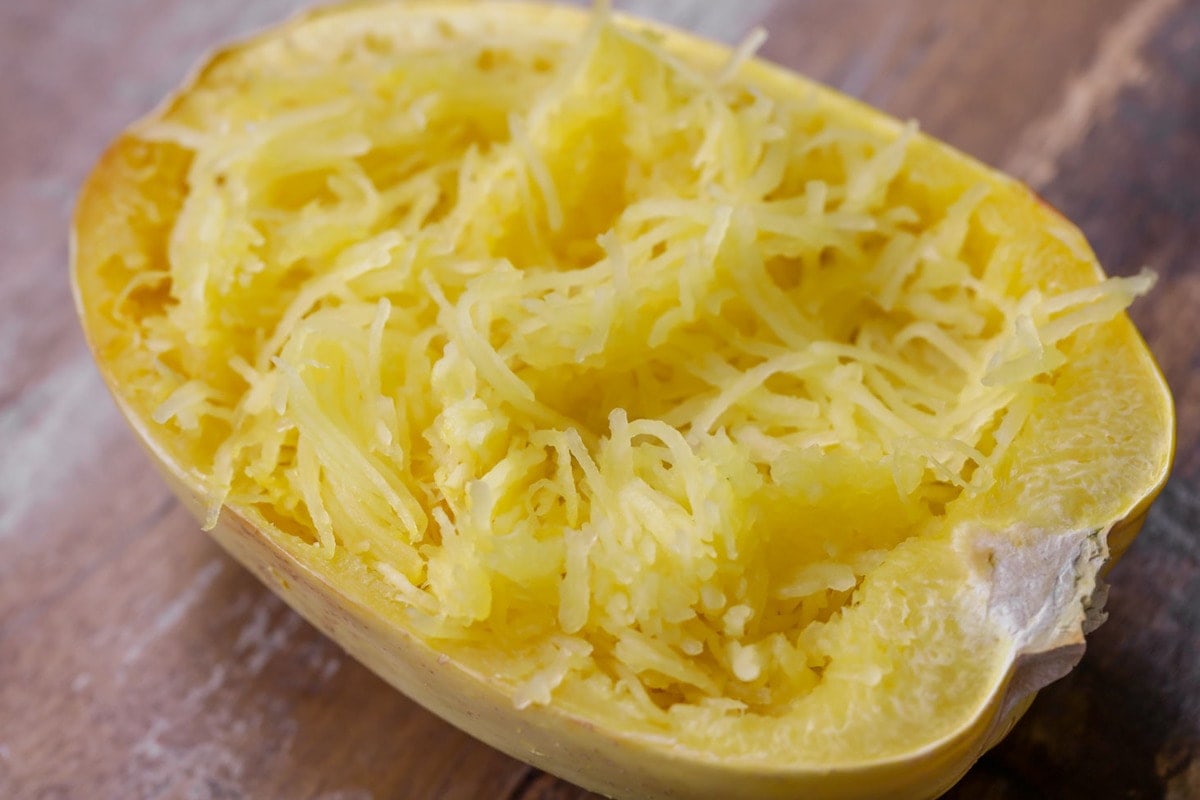 We love spaghetti squash and that it is a great low-carb option. And although it isn't pasta, we love that it can be used in most of our pasta dishes for a healthier option.
For more healthy recipes, check out: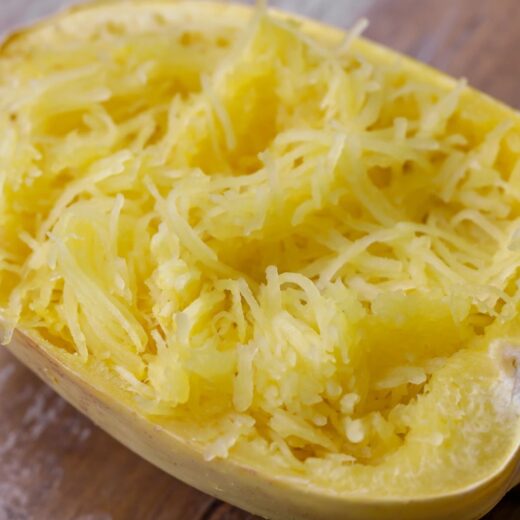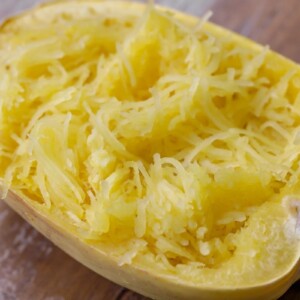 How to Make Spaghetti Squash
Learn how to perfectly cook spaghetti squash with these tips! This is a healthy and delicious meal that goes with tons of different recipes! It's the perfect low-carb option!

Instructions
You will need to cut your spaghetti squash length-wise. We like to to do this on one of the lines you can see down the squash.

To best cut, perforate the squash along the line with a knife or fork. You can try to cut along that line, but if it's too hard microwave for 5-6 minutes first.

If you microwave, it will be hot, but use a towel to hold it on a cutting board and cut down the line.

Scoop out seeds as well as the stringy bits of flesh using a spoon. You can discard or roast those.

Place spaghetti squash, cut sides down, on a lightly greased baking sheet. Bake for about 35 - 40 minutes or until a sharp knife can be inserted with little resistance. 

Once slightly cooled, used a fork or spoon to pull the flesh from the sides and watch it start to string and look like spaghetti. Serve with sauce.
Nutrition
Calories:
299
kcal
,
Carbohydrates:
66
g
,
Protein:
6
g
,
Fat:
5
g
,
Saturated Fat:
1
g
,
Sodium:
164
mg
,
Potassium:
1042
mg
,
Fiber:
14
g
,
Sugar:
26
g
,
Vitamin A:
1160
IU
,
Vitamin C:
20.3
mg
,
Calcium:
222
mg
,
Iron:
3
mg
Nutrition information is automatically calculated, so should only be used as an approximation.
Making this recipe? Tag us!
Share it with us on Instagram using the hashtag #lilluna, so we can see what you're creating in the kitchen!