Resurrection rolls are a special Easter tradition. They are a simple and help teach a sweet lesson about the holiday.
These tasty rolls are a sweet way to share the message of Easter. The kids will love making a visual reminder of the resurrection as you celebrate together this Easter season. For more Easter traditions try Rice Krispies Easter Nests, Easter Cookie Jar Gift, and Easter Dirt Cake.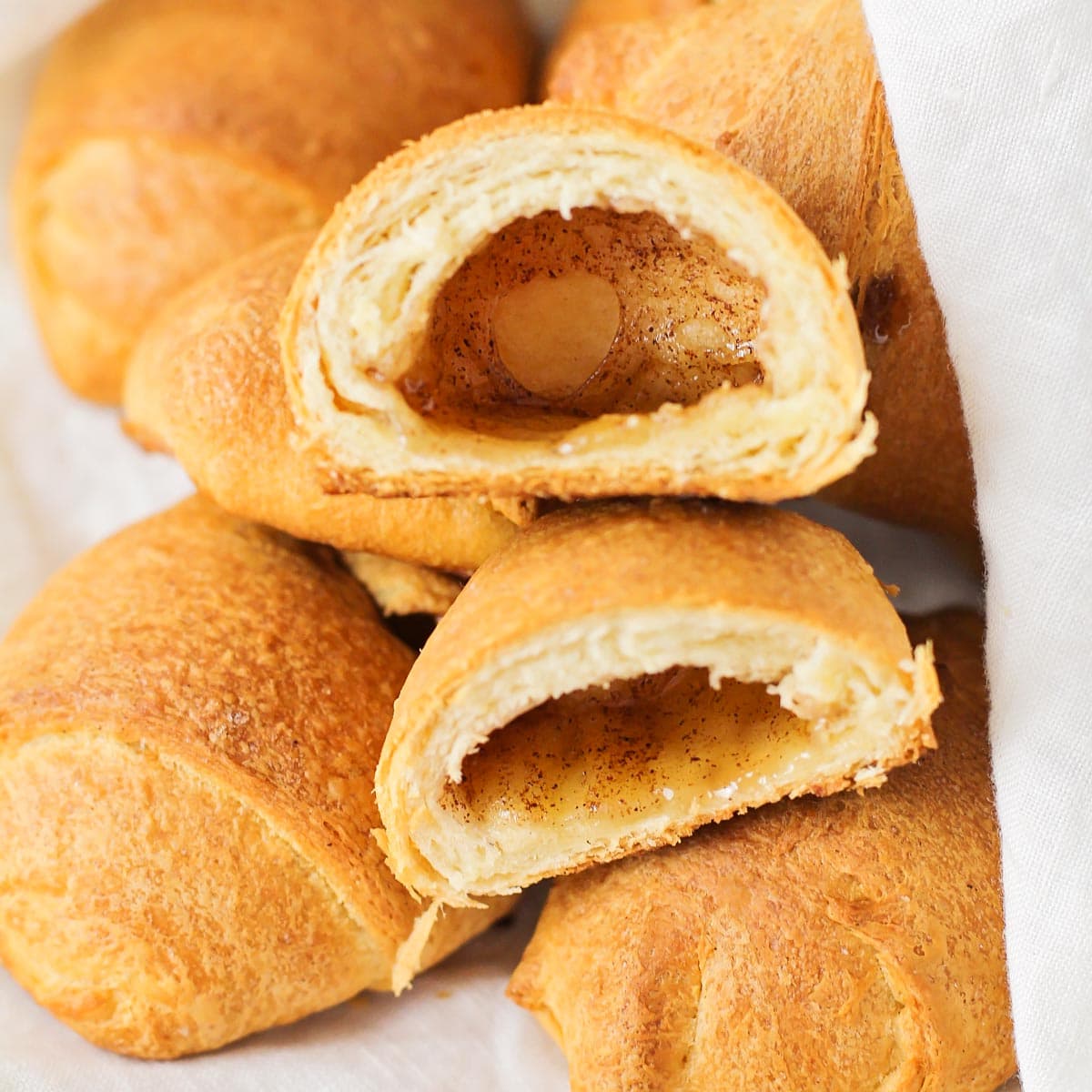 He is Not Here: For He is Risen
For me, and any Christian, those words send pleasant chills down my spine. It's important to me that my children know the true REASON we celebrate Christmas and Easter.
While it's fun to dye Easter eggs and make festive treats, I make sure we take time as a family to talk about Jesus's sacrifice, and the fact that He was resurrected.
These resurrection rolls are a great way to to teach the kids the story of why we celebrate Easter, and enjoy something tasty all the while. The recipe is simple enough that little hands can help in the kitchen, and have a meaningful learning experience.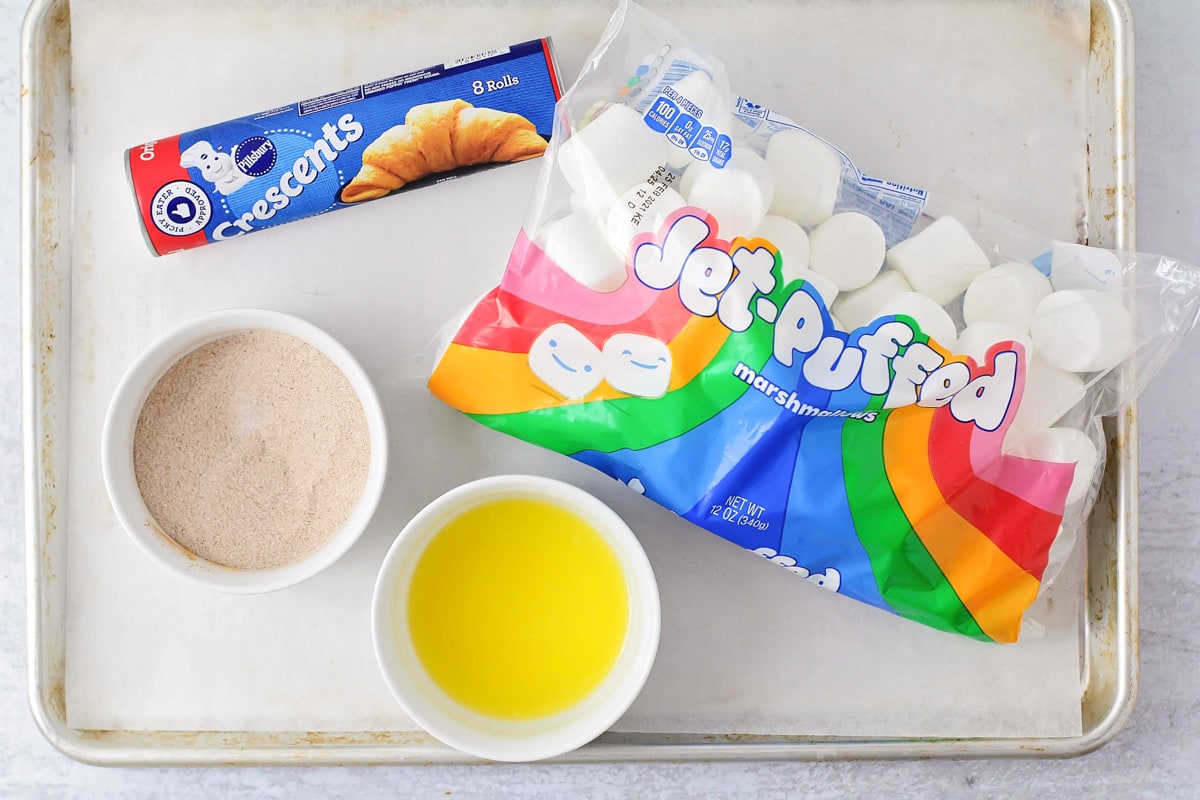 The Resurrection Rolls Story
Using visual aids is a wonderful way to teach children, especially aids that can be eaten after. Consider making these Resurrection Rolls WITH your family and explaining how the different steps represent the story of Jesus' death and resurrection. For example:
Rolling the marshmallow in the cinnamon and sugar is like when Jesus' friends prepared his body with fragrant spices.

Wrapping the dough around the marshmallow is like wrapping Jesus in linens.

Since Jesus was in the tomb for 3 days let the children sit in front of the oven and watch them bake. You can talk about how His friends and family must have felt and share your own feelings as well.

As the rolls are cooling, read the account given in Matthew 28:1-6. You can also find the account written in John chapter 20.

Allow the children to eat the resurrection rolls and see that the center is empty just like the tomb.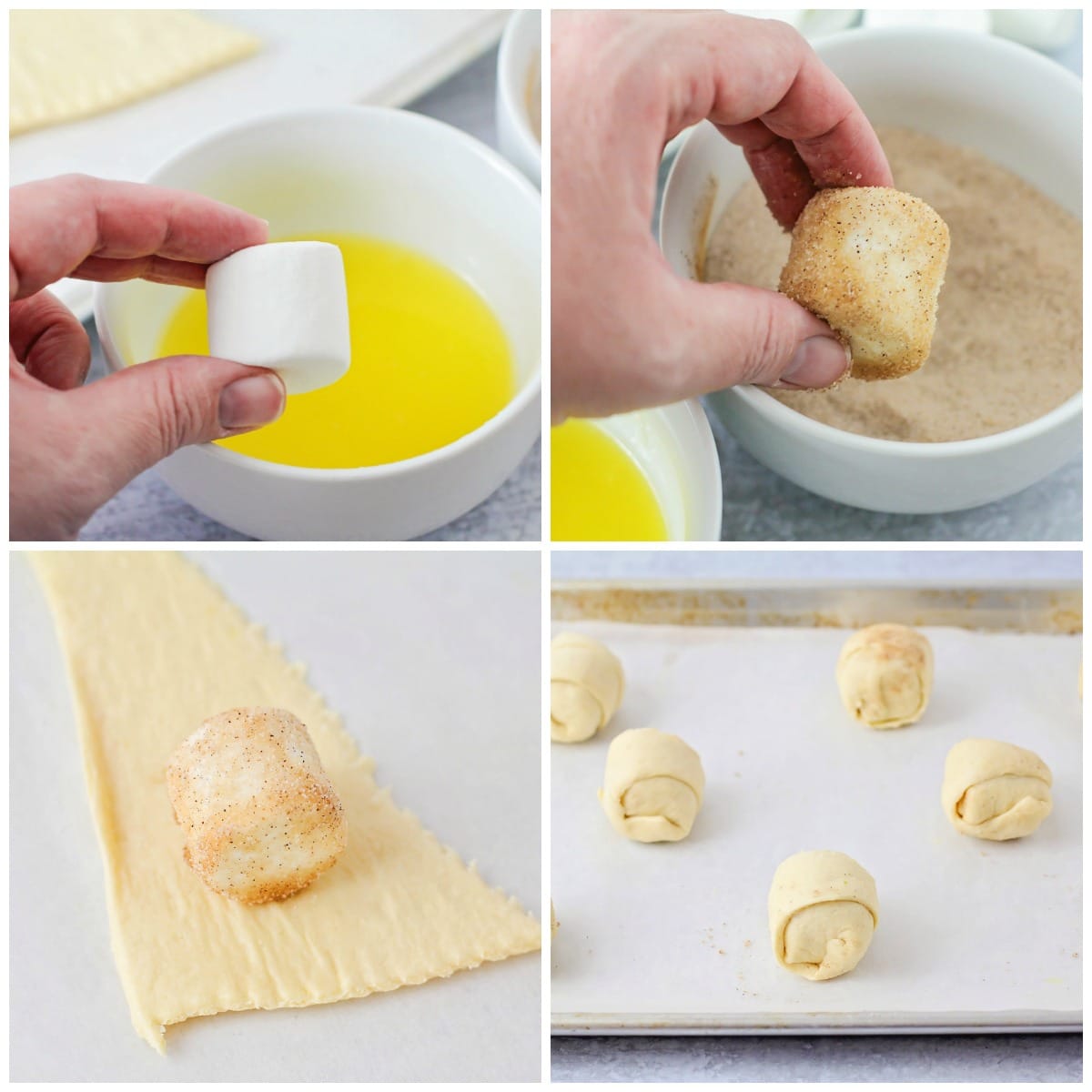 Recipe Tips
Keep these tips in mind while making these Empty Tomb Rolls…
The concept of the melting marshmallow will work no matter what dough you use. I like the ease of using the canned crescent roll dough. You can also use thawed Rhodes freezer rolls or your favorite recipe for homemade rolls. You will however, have to adjust the bake time according to the different dough recipe.
You do have to be very careful to seal the edges of the rolls, because the marshmallows just want to ooze out while they bake.
It's important to pull them off the baking sheet quickly after baking and use a non-stick liner, because the melted marshmallows caramelize and harden when they cool and then it gets harder to remove the rolls from the pan.
Once baked, the resurrection rolls will last for 1-2 days when placed in an airtight container.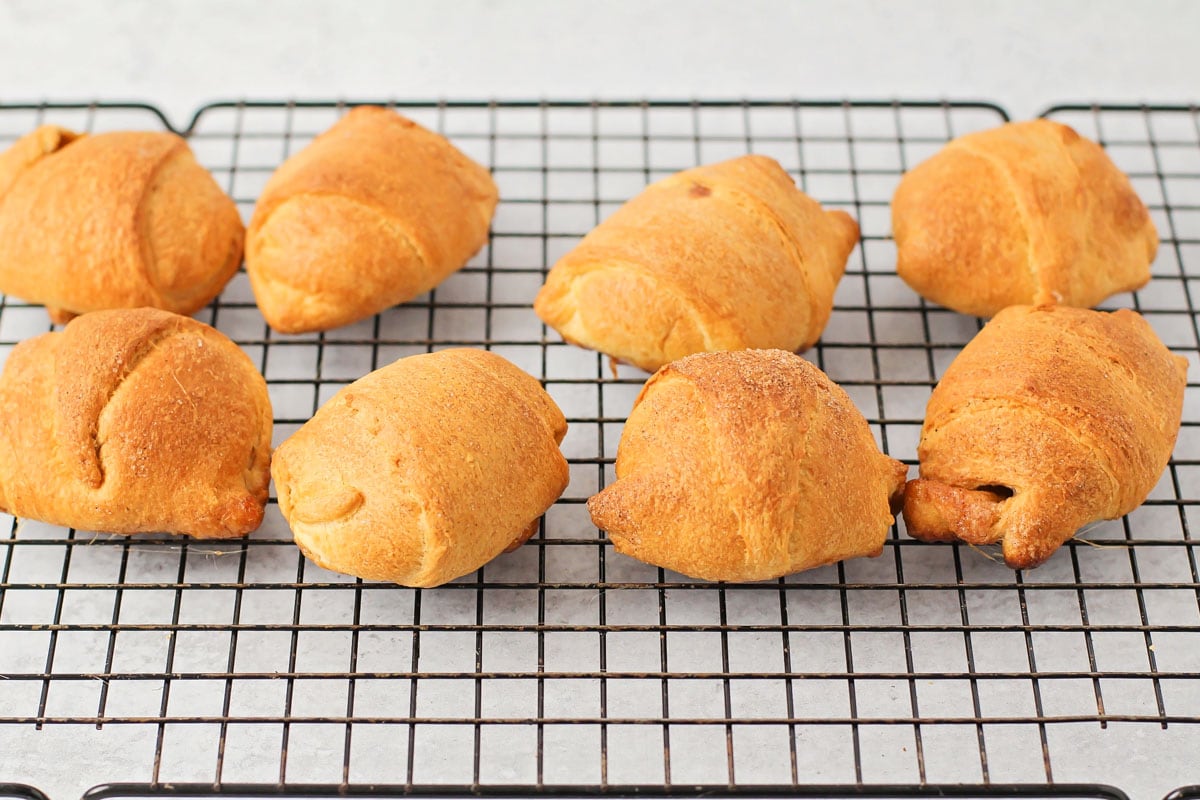 Make them in a muffin liner:
Dip dough into the melted butter and place seam side down into the muffin tin. Bake at 350 for 8-10 minutes, until puffed and golden. The original recipe called for 12 minutes in the oven, but ours were ready at 8.
If you want to add a glaze:
1 cup powdered sugar
a few tbsp milk or heavy cream
almond extract (optional)
While they're baking, mix together your powdered sugar with drops of milk or whipping cream. Add liquid until you've reached your desired consistency. We like it a little thicker, so thats why we chose to use whipping cream and we only added a little bit. Almond Extract is optional, but if you have it, I would highly recommend using it. We added a few drops and mixed until smooth and creamy. Top the warm meltaways with glaze and serve. So yummy!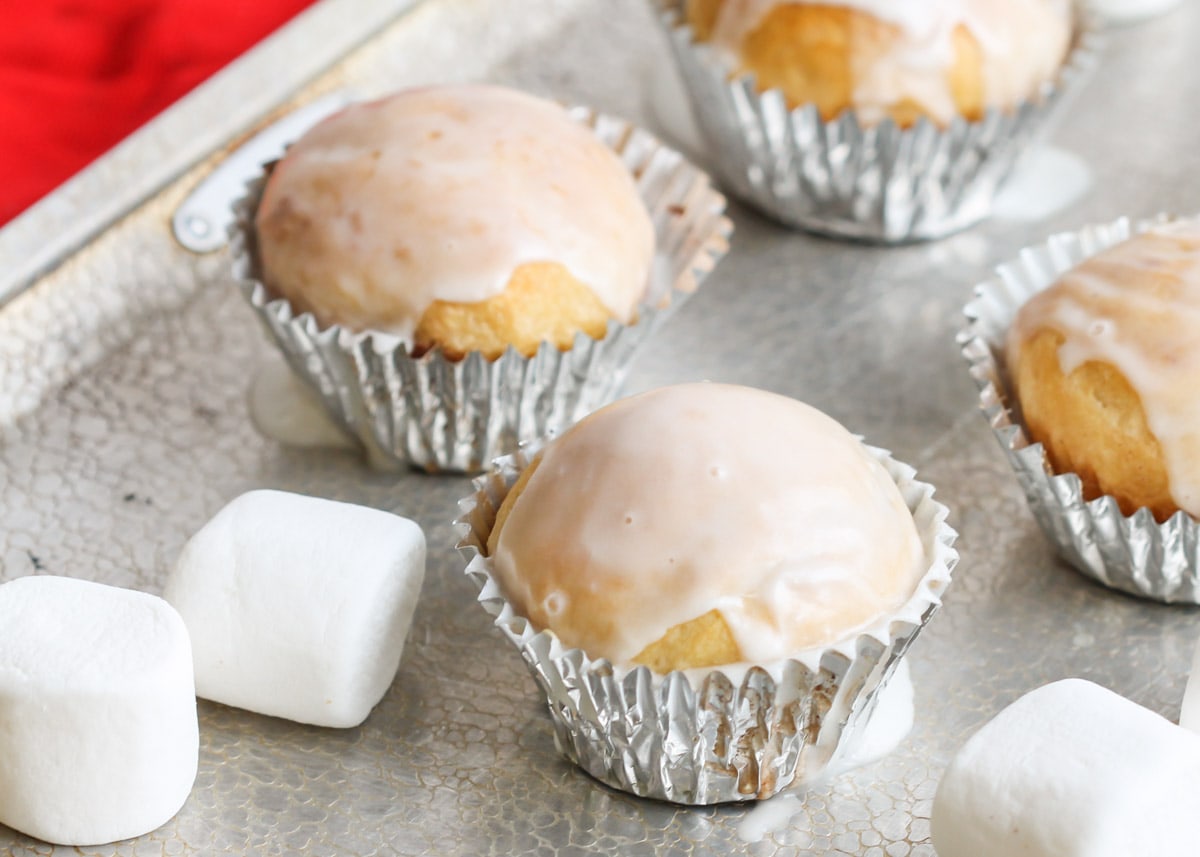 A Gift of Love
You can also easily put together a little basket of ingredients along with instructions to give to friends with children so they can make these symbolic resurrection rolls at their own homes.
The ingredients you can include are: a tube of dough, baggie of marshmallows, and packet of the cinnamon sugar mix.
Include recipe instructions and the verses of scripture to read with their family.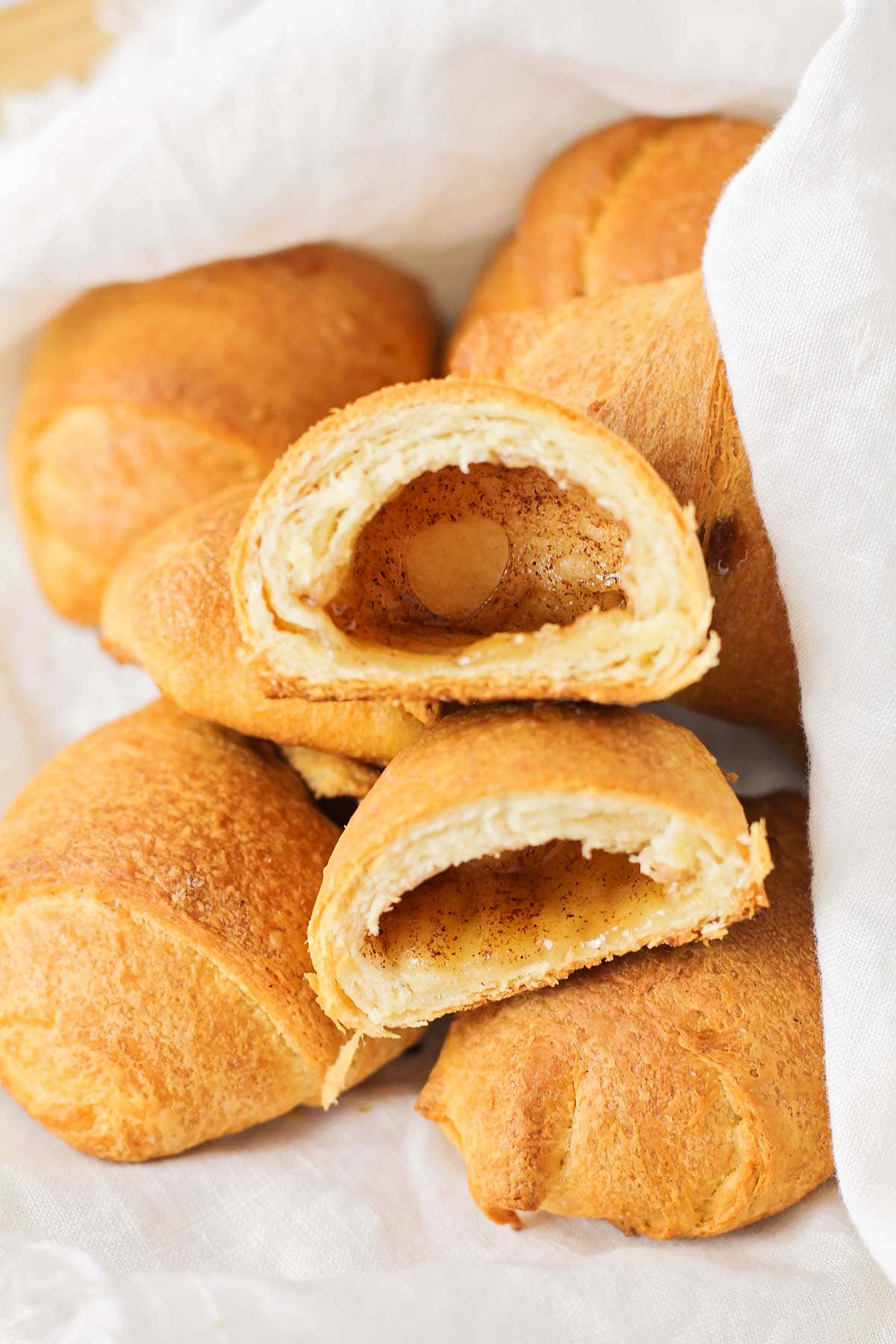 For more traditional Easter treats, try:
Resurrection Rolls Recipe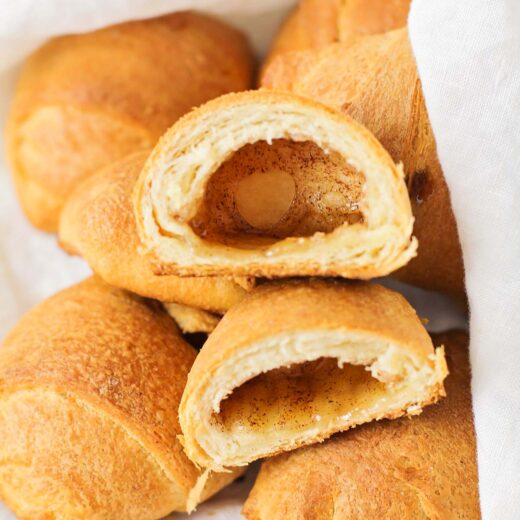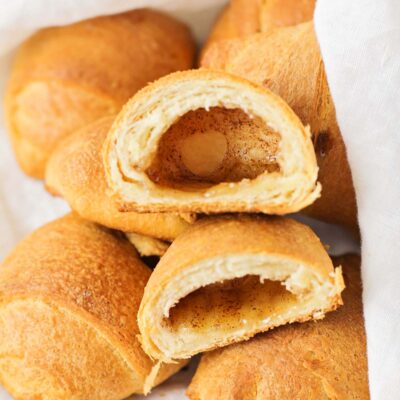 Resurrection rolls are a special Easter tradition. They are simple and help teach a sweet lesson about the holiday!
Ingredients
1

10 ounce can

refrigerated crescent dinner rolls

8

large marshmallows

1/4

cup

butter, melted

2

teaspoons

cinnamon

1/4

cup

sugar
Instructions
Preheat the oven to 350°F. Line a baking sheet with a parchment or silicone liner. Open the crescent roll package and separate the rolls into eight triangles.

In a small bowl, whisk together the cinnamon and sugar. Dip each of the marshmallows in the melted butter, then roll in the cinnamon sugar mixture.

Place a marshmallow in the middle of each dough triangle, then roll the dough tightly around the marshmallow, pinching to close all of the seams.

Place the rolls on the prepared baking sheet. Bake for 10-14 minutes, or until golden brown.