This collection of Spring Desserts includes all types of recipes—cakes, cookies, pies, cheesecakes, and more—featuring all the light and bright flavors of springtime!
More Collections: Spring Salad Recipes, Spring Dinner Ideas, Easter Desserts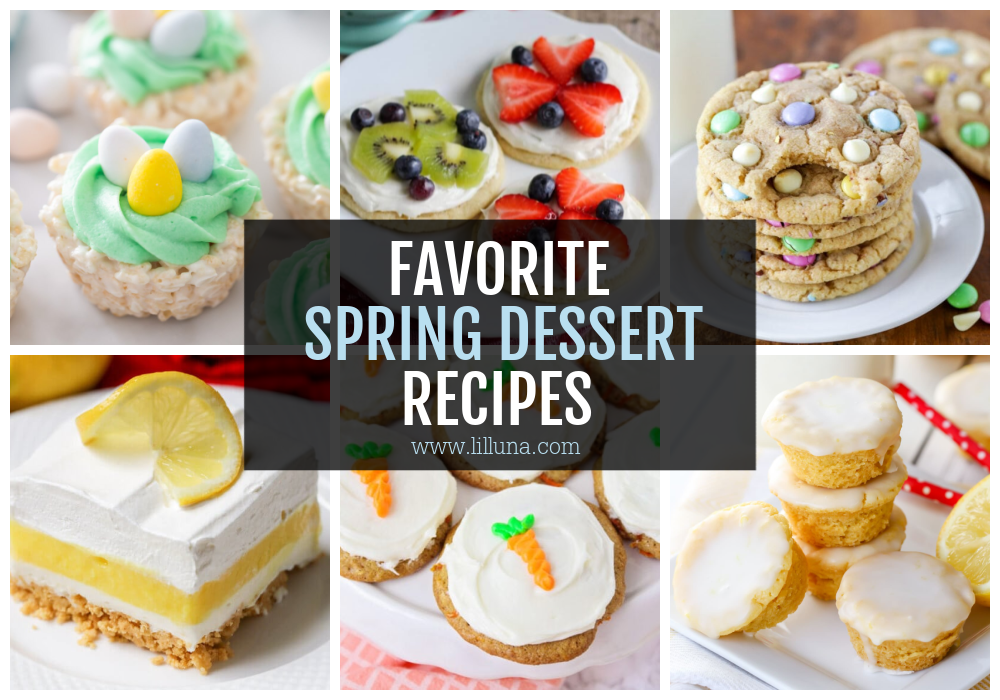 Lighter and brighter desserts
When I think "spring desserts" my mind almost immediately goes to fresh fruit!
Berry and citrus flavors are especially appealing when the days start to warm up. Don't you agree?
I've gathered plenty of tasty sweets for you to choose from. Many are even customizable, so feel free to change it up and incorporate your favorite flavors of the spring season!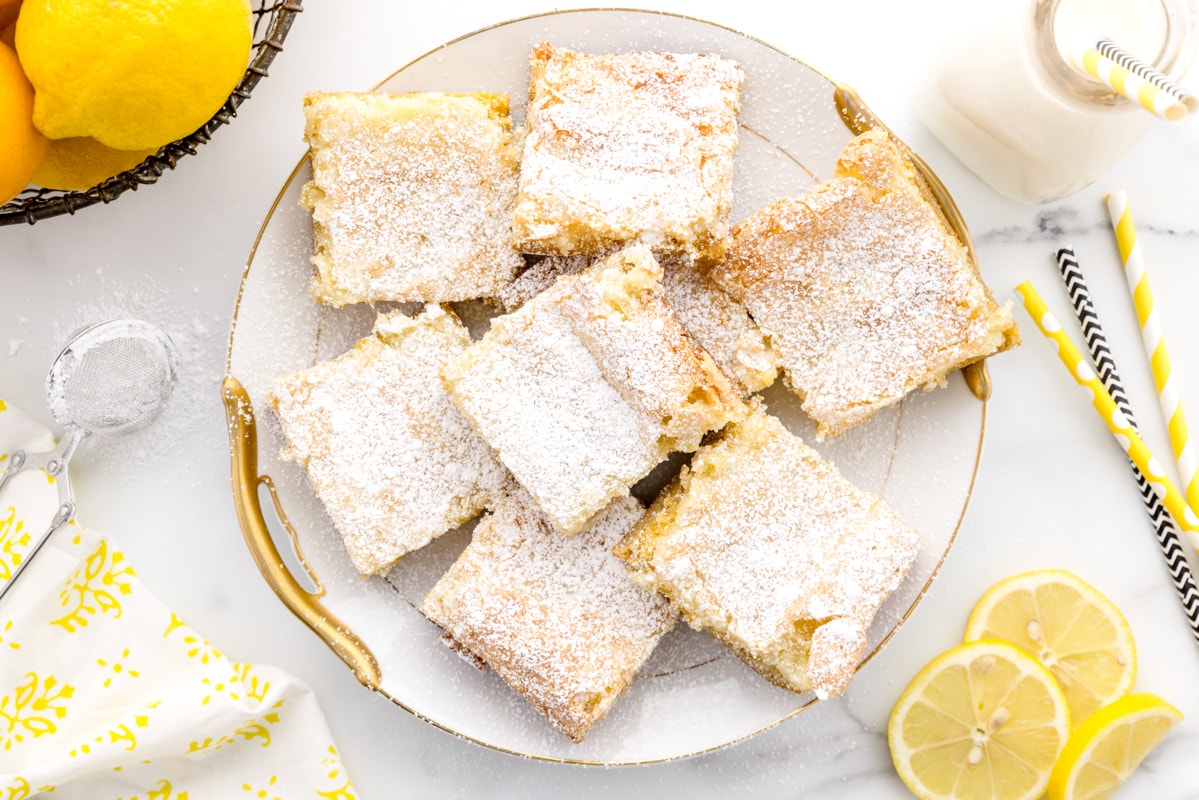 Flavors of Spring
To me, nothing is more Spring-y than a lemon! Some of my favorite desserts for spring are bright and lemony like Lemon Blossoms, lemon meringue pie, or Lemon Cheesecake.
Fresh strawberries are another signature flavor of spring. The pretty red and sweet taste of the berry pairs well with all types of desserts from tarts to cakes. A favorite of mine is Strawberry Shortcake with Vanilla Ice Cream.
Springtime produce, specifically fruits, can be made into all sorts of desserts.
Pies and Tarts are perfect for fruits.
Cakes can be flavored and decorated with the colors and produce of spring.
Shortbread crust is used as a base for many fruity desserts.
Cheesecake is another classic base and can be topped with fresh berries and sweet syrups.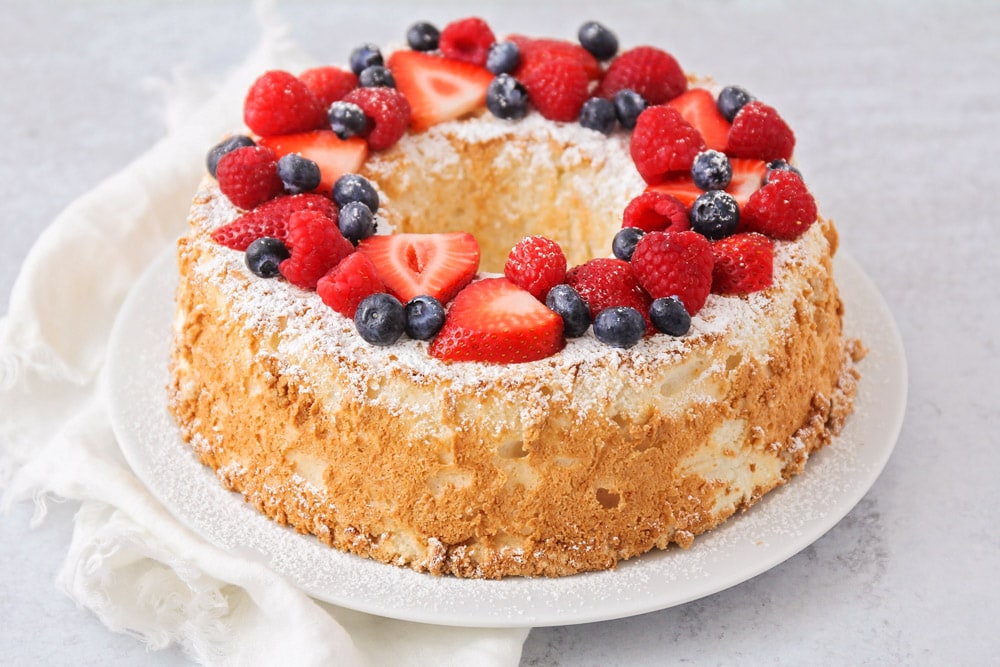 Making festive springtime desserts
You'll find beautiful and delicious Spring Dessert Recipes perfect for a special occasion as well as fun sweet treats just for the kids.
Flowers make a pretty decoration for spring desserts. Use frosting flowers, edible flowers, or even regular flowers that can be removed before serving.
Baby animals are often used to decorate springtime desserts; particularly bunnies, chicks, and lambs.
Incorporate favorite holidays like Easter and Mother's Day into your Spring Desserts, or bring the rainbow of color for St. Patrick's Day or any day!
Spring Colors:
Pretty much any dessert can be transformed into spring by the colors you use.
For example: Mix up Vanilla Buttercream Frosting in any pastel color, or use this pretty pink Berry Buttercream Frosting, and add it to the top of your favorite chocolate brownie or cupcake. Instantly, it's perfect to serve as a spring dessert.
Pastel colored sprinkles and pastel M&M's also add a spring look.
---
Best Spring Desserts
Whether they use bright flavors or colors, these desserts are perfect for spring!
Lemon IceBox Pie
Deliciously creamy & tangy Lemon Icebox Pie is a classic chilled Southern dessert that's perfect for summer! It uses freshly squeezed lemon juice and zest for the brightest lemon flavor.
Coconut Cream Pie
A classic pie recipe, filled with coconut pudding and topped with cool whip and toasted coconut shreds.
Lemon Lasagna
This luscious lemon lasagna consists of 4 tasty layers, including a Lemon Oreo crust, cream cheese layer, lemon pudding layer and topped with whipped cream!
Easter Dirt Cake
Easter Oreo Dirt Cake is a creamy and delicious Easter dessert filled with Oreos, pudding, and cool whip. Everyone will love to decorate and eat it!
Coconut Cake
This Coconut Cake is made from scratch, and topped with a scrumptious cream cheese frosting that is so addicting. The toasted coconut topping gives it an incredible flavor, making it a dessert to enjoy all year long!
Easter Sugar Cookies
Super cute and delicious Bird's Nest Easter Sugar Cookies include a yummy sugar cookie, creamy frosting, sprinkles, shredded coconut, and Cadbury Eggs.
No Bake Cheesecake
This NO BAKE cheesecake is the perfect recipe for summer. With a delicious graham cracker crust, and a creamy vanilla cream cheese mixture, you can top it with anything – like these sugared strawberries! Everyone goes crazy over this easy no bake cheesecake recipe!
Carrot Cake Cookies
With the use of a boxed cake mix, these Carrot Cake Cookies are so easy to make. Topped with homemade cream cheese frosting, they're hard to resist!
Lemon Bundt Cake
This is the most delicious and moist Lemon Bundt Cake recipe! It is covered in a sweet lemon glaze and topped off with an amazing cream cheese frosting with lemon zest, making it irresistible.
Fruit Tart
Prettiest and yummiest fruit tart you will ever make! Sweet, buttery, and perfect for spring and summer parties, holidays or get togethers.
Lemon Sugar Cookies
These Lemon Sugar Cookies are buttery and soft, with the perfect hint of lemon. The lemon frosting makes them over the top delicious. A perfect cookie recipe for lemon lovers!
Easter Chick Cupcakes
Easter Chick Cupcakes are the cutest and most simple Easter treat made with Reese's Peanut Butter Eggs (a favorite Easter candy).
Lemon Sheet Cake
This super moist and delicious Lemon Sheet Cake recipe topped off with a tasty lemon buttercream frosting is our new favorite dessert, and it's perfect for feeding a crowd!
Strawberry Shortcake
Light and refreshing, this classic old fashioned dessert is perfect for spring and summer! Strawberry Shortcake is simple, beautiful, and incredibly delicious.
Easter Basket Cookie Cups
Peanut butter Easter Basket Cookie Cups are filled with homemade buttercream frosting and topped with festive Easter egg candies.
Lime Sheet Cake
Perfectly moist lime cake, topped with a homemade lime buttercream frosting, and sprinkled with lime zest! Just the right balance of citrus and sweet in this yummy sheet cake. It's easy, refreshing, and great for feeding a crowd!
Chiffon Cake
Chiffon cake is moist and airy-like sponge cake with delicate flavor. our version is light and is topped with a citrusy frosting with berries.
Strawberry Lemonade Cupcakes
Sweet & tangy Strawberry Lemonade Cupcakes start with fluffy, moist lemon cupcakes and are topped with a fresh strawberry frosting!
Pineapple Upside DOwn Cake
Pineapple upside down cake is a classic dessert that is so soft and moist, filled with the perfect amount of pineapple flavor!
Lemon Bars With Cake Mix
Lemon Bars with Cake Mix take a classic and make it even simpler!! It's still a little tart and a little sweet, and perfectly delish.
Angel Food Cake
This tender, light as air angel food cake is a must-try! With the perfect amount of sweetness, it's perfect to enjoy all year long.
---
EASY SPRING DESSERTs
Easy and delicious, these are sure to be go-to sweets and treats during spring!
Lemon Blossoms
Bright and tasty Lemon Blossoms are a delicious bite-size lemon treat topped with homemade lemon glaze. They are utterly addicting!
Easter Oreo Bark
Easter Oreo Bark is a festive, simple and delicious treat that only takes 5 minutes to put together! It includes vanilla candy coating, Easter M&M's, Oreos, and sprinkles!
Lemon Cupcakes
Moist & bright Lemon Cupcakes with a delicious homemade lemon cream frosting are the perfect summer dessert!!
Easy Carrot Cake
This Carrot Cake is super moist, packed with big carrot cake flavor & slathered with tangy cream cheese frosting. Made as a sheet cake, it's super easy and perfect for Easter!
Cheesecake Strawberries
These creamy cheesecake stuffed strawberries are filled with a sweet cream cheese filling and topped with crushed graham crackers!
Neiman Marcus Cake
Neiman Marcus Cake – if you've ever had this before, you know how INCREDIBLE the pecan and coconut crust is, with a gooey cream cheese batter layer on top! AMAZING!!
Easter Cookies
Chewy and chocolatey Easter cookies are perfect for spring. They are packed with M&M and white chocolate goodness.
Strawberry Shortcake Kabobs
Strawberry Shortcake Kabobs are a simple version of a classic. Fluffy cake and strawberries are drizzled in melted vanilla candy coating!
Carrot Cake Cupcakes
Topped with a heavenly brown sugar cream cheese frosting, these moist Carrot Cake cupcakes have just the right amount of spice, and will be perfect for any Spring or Easter celebrations!
Easy Lemon Bars
These classic Lemon Bars are simple, delicious, and sweet, with just the right amount of tart! Add a bit of powdered sugar, and these easy lemon bars are irresistible!
Resurrection Rolls
Resurrection rolls are a special Easter tradition. They are a simple and sweet lesson of love.
Rice Krispie Easter Nests
Cute and simple Easter rice krispies, topped with creamy frosting and Easter egg candies, made to look like a nest. Everyone loves these adorably festive Rice Krispie Easter Nests!
Fruit pizza cookies
With a sugar cookie base, these Fruit Pizza Cookies are individual-sized versions of a classic favorite. They're fresh and customizable!!
Sugar Cookie Blossoms
Sugar Cookie Blossoms are a chewy, soft sugar cookie rolled in sugar and topped with a Mint Meltaway candy. They're simple and delicious!
Funfetti Cake Mix Cookies
Quick and easy Funfetti Cake Mix Cookies are festive and fun, perfect for a birthday party or celebration!
Easter Chocolate Covered Strawberries
These Chocolate Covered Strawberries are dipped and drizzled in orange candy melts to look like adorable little carrots for Easter! Pair them with crushed Oreos and chocolate pudding for a cute dirt cup Easter dessert.
Blueberry Dump Cake
This easy blueberry dump cake is made with only 3 ingredients! With a layer of juicy blueberry pie filling and a buttery topping, it's perfect with a scoop of vanilla ice cream.
---
Hard to Pick a Favorite!
We sure love ALL of the scrumptious Spring Desserts listed above – it's so hard to pick a favorite! You're sure to find the perfect treat to make your Easter celebration or any other Springtime get-together even sweeter!
More Collections: Dessert Bar Recipes, Easter Desserts, Easy Cake Recipes