This delicious Lemon Zucchini Bread is topped with a homemade glaze making it irresistible! We love a simple no-yeast quick bread recipe!
If you love bread (especially quick bread recipes), you'll love this sweet bread! It's perfect for leftover zucchini in the garden and is as classic and delicious as our go-to Zucchini Bread and Chocolate Zucchini Cake.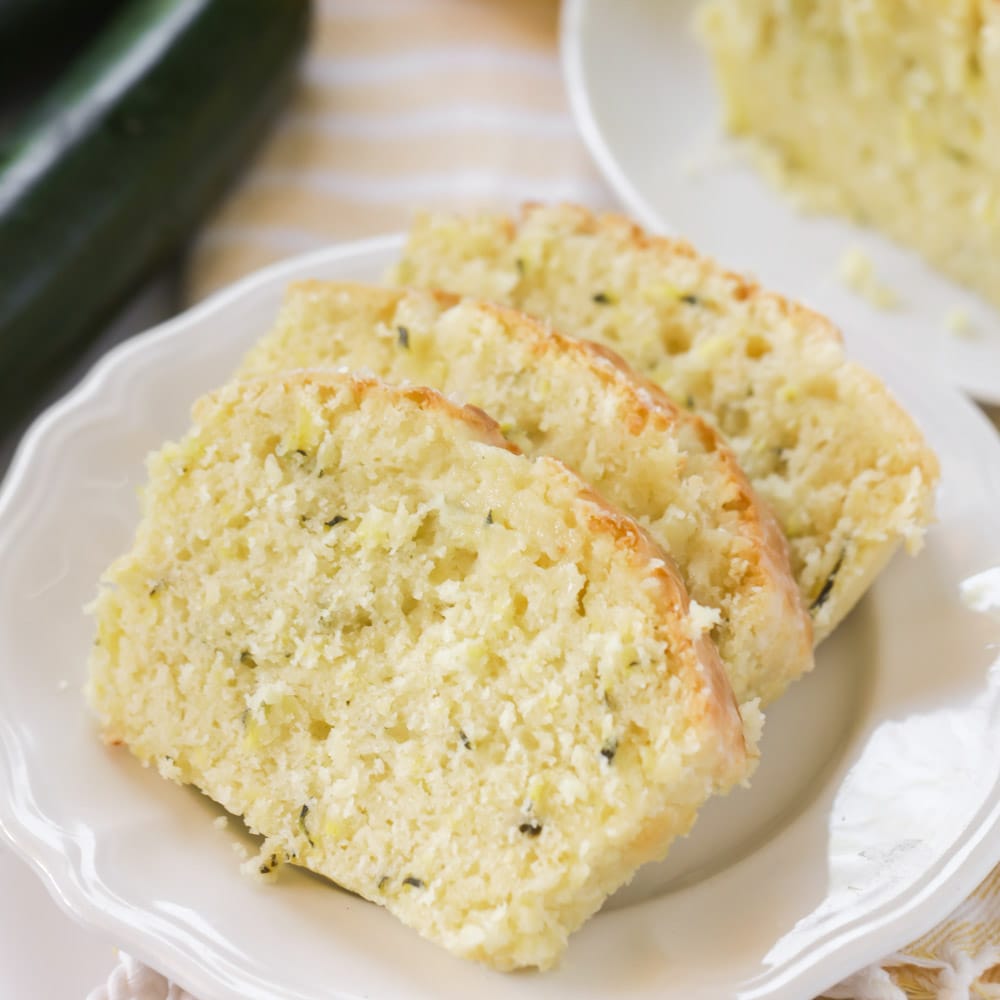 The Perfect Sweet BREAD!
When it's cold, I find myself wanting to bake ALL the time. It's almost like I just love having something sweet and warm to eat on a cold day. This zucchini lemon bread makes the perfect dessert or even an afternoon snack.
This next recipe was one that my mom and I tried out years ago that we fell in love with. It was so delicious and one that we will be making again and adding to our favorite breads rotation.
The recipe turned out perfect with zucchini and lemon flavor combined into a fluffy bread. The glaze is my favorite part (how could it not be?) and was the perfect addition for this lemon zucchini bread recipe!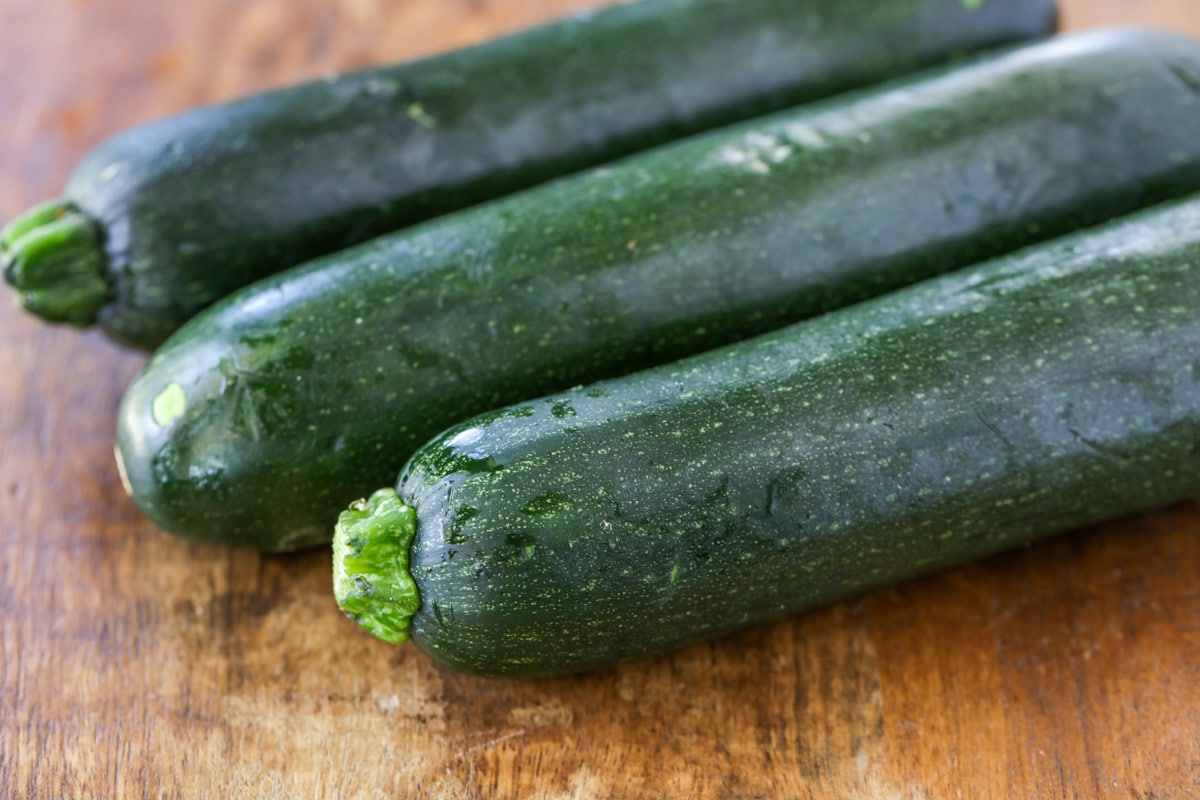 Using Zucchini in Bread
There is no need to peel the skin of a zucchini before using it in baking. Zucchini peels are already thin and soft enough that they won't affect the texture of your bread.
You can use any cheese grater that you have on hand to grate your zucchini – a food processor with a grating attachment would also work well.
Dry the Zucchini: I mention below how important it is to DRY your zucchini. Since some zucchinis, like home grown garden zucchinis, have more moisture than others, I would suggest placing the grated zucchini in the center of a tea towel, fold up the towel, and wring out by twisting over the sink. This is a great way to prepare grated zucchini for most baked goods.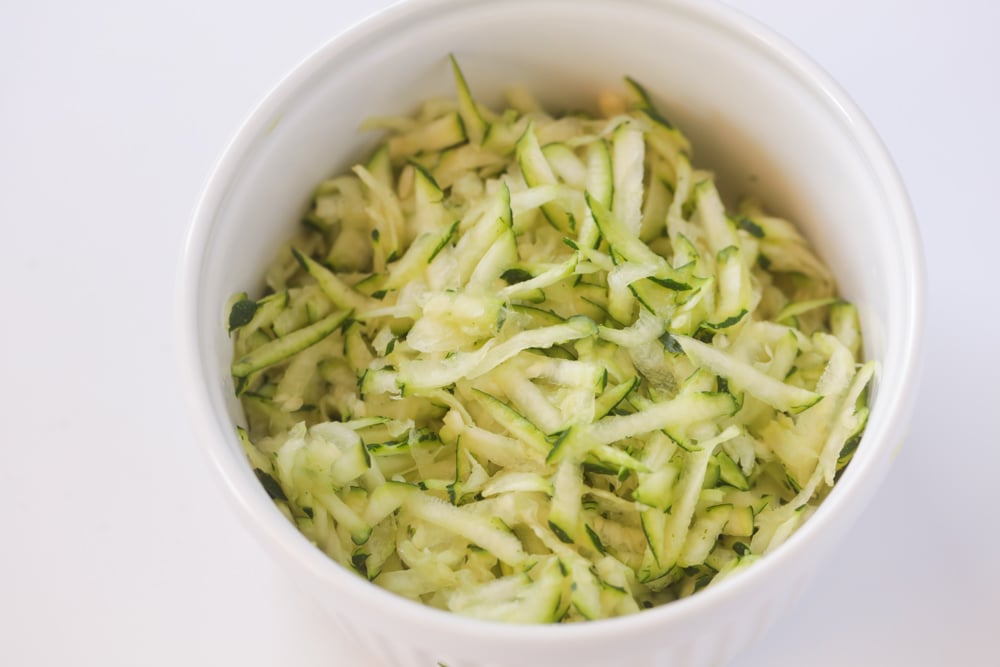 How to Make Lemon Zucchini Bread
BATTER. Begin by mixing the flour, salt, and baking powder in a medium bowl and set aside. In a large bowl, beat eggs. Then add oil and sugar until well blended. Add lemon juice, buttermilk, and lemon zest to this mixture and blend all together.
ZUCCHINI. Fold in shredded zucchini (that is drained and dry) until it is mixed well. Add the dry mixture to the wet mixture and blend all together until well combined.
(*Note*: It is really really important to be sure you remove excess water from the zucchini. Zucchinis are over 90% water which is why they make a great addition to moisten up baked goods. However, too much water from the zucchini can alter the bread a great deal. Read more on this below in the tips.)
BAKE. Pour batter evenly into two greased 9×5 loaf pans. Bake at 350 for 50-60 minutes. Let the bread cool a bit in the pan before removing to finish cooling on a wire rack.
GLAZE. Place bread on a cooling rack and while still warm, make lemon glaze and drizzle or spoon over the bread. Let the glaze set up before cutting and serving.
Dress it Up
I love this recipe as is, but sometimes it's fun to add little something extra to dress up a dish. Here are a few ideas you can try:
1-2 tablespoons of poppy seeds

add dried berries such as cranberries or blueberries

add dark or white chocolate chips

sprinkle lemon zest on top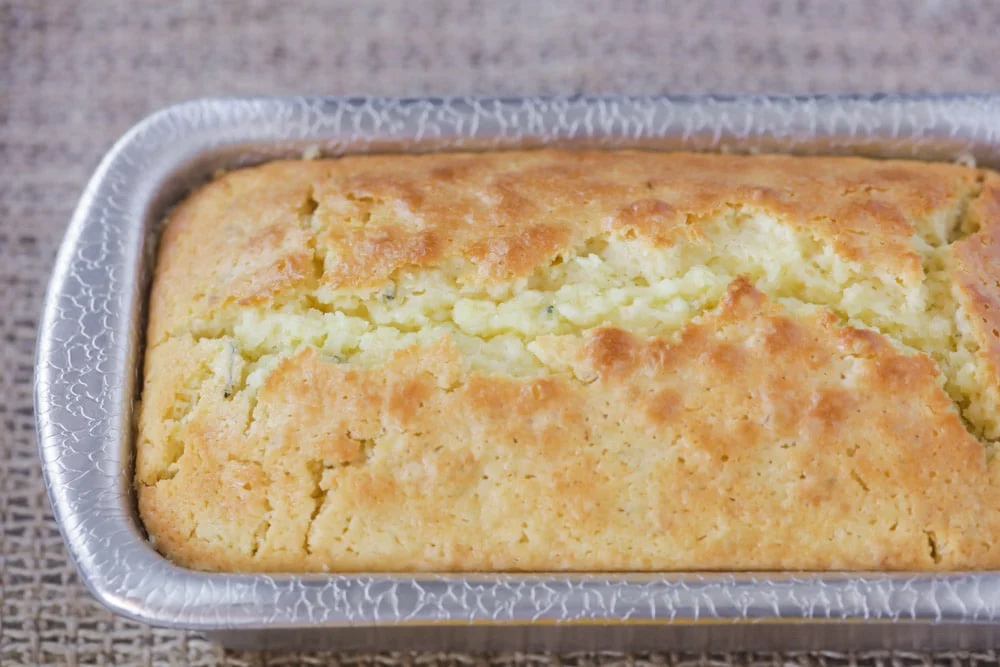 TipS, TRICKS, + STORAGE
This recipe isn't hard AT ALL, but we wanted to share our TOP tips for making sure it turns out perfect. 😉
To prevent your zucchini lemon bread from falling, pay attention to these 3 things:
Make sure your oven is at the correct temperature. If it's too hot it might get crispy on the outside but sink in the middle. If it isn't hot enough it won't rise as desired.
Make sure you aren't over mixing your ingredients. Use the lowest speed on your mixer or even mix by hand for this recipe.
Make sure you are using the right size pan. If your pan is too small the bread will rise and then sink in the middle without enough support on the sides.
If your bread comes out of the oven with a crack in the middle, this isn't a sign that something has gone wrong. It usually means your bread is well baked, has risen properly and steam has escaped from the center.
When STORING, this bread keeps at room temperature for 3-4 days, for about a week in the fridge, or up to 4 months in the freezer.
The best way to FREEZE this bread would be to wrap it in plastic wrap followed by aluminum foil. I recommend freezing it without the glaze, thawing, and then adding glaze just before eating.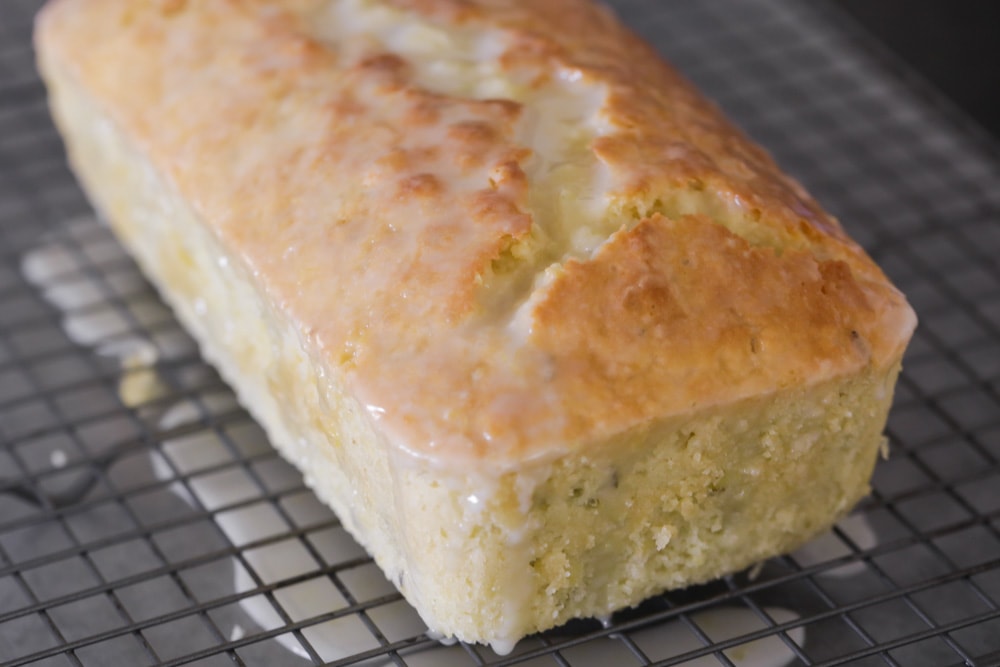 Substitutions
Though I will occasionally add little extras to dress up a dish, I really try not to alter the main recipe. However, sometimes I get started on a recipe to find I don't have a certain ingredient. In this case I use a substitution if I can. Here are a few for this recipe that might come in handy:
Several readers commented that they have successfully used coconut oil, olive oil and even applesauce in lieu of canola oil. Substitute it at a 1:1 ratio.

Make your own cake flour: To make your own cake flour all you need is cornstarch and all purpose flour. For every cup of all purpose flour remove 2 tablespoons, then add in 2 tablespoons of cornstarch. Sift together.

Lemon juice: You can use fresh lemon juice or store bought.
Buttermilk: See our post on buttermilk substitutes.
Doesn't it looks fabulous?? It's an easy recipe to make, and I can't wait to try it out again… it's been too long!! And for me, breads that require no yeast are always the easiest!! 😉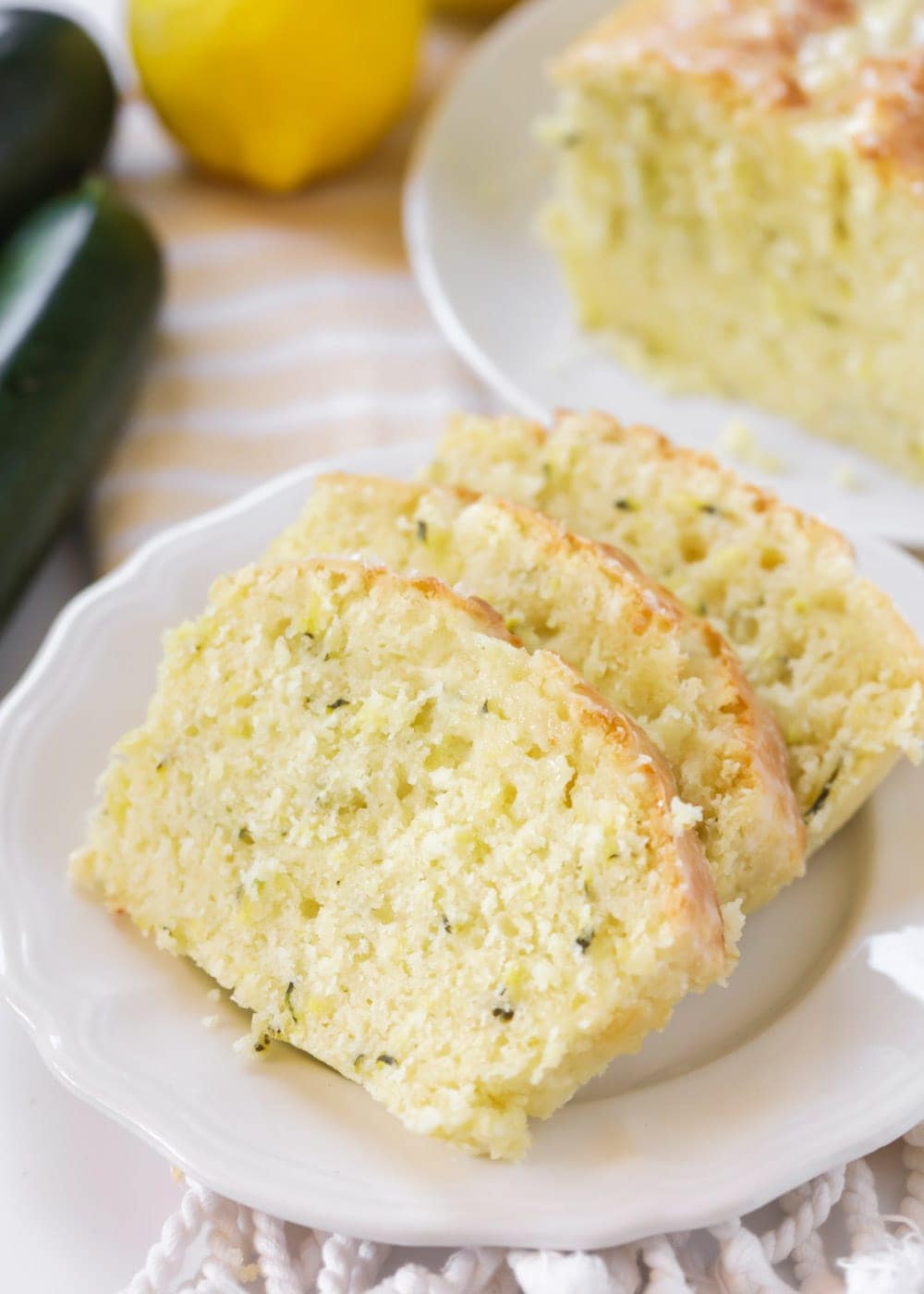 For more great quick bread recipes, check out:
Or, check out our full collection of Quick Bread Recipes!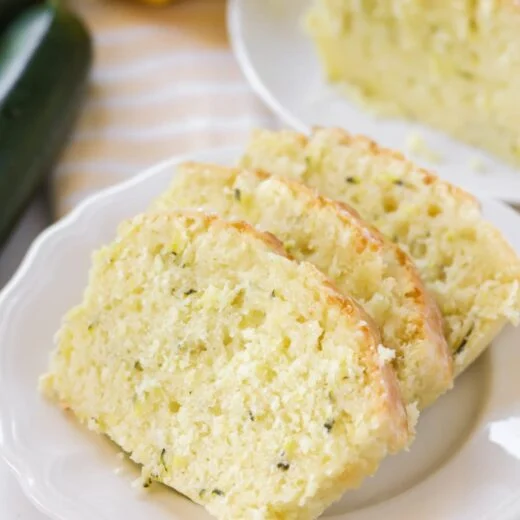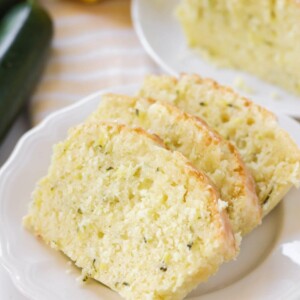 Lemon Zucchini Bread Recipe
Delicious Glazed Lemon Zucchini Bread Recipe that is soft, moist, filled with grated zucchini and lemon juice and topped with a lemony glaze.
Ingredients
Bread
2

cups

cake flour

or all-purpose flour

2

teaspoons

baking powder

½

teaspoon

salt

2

large eggs

½

cup

canola oil

or vegetable oil

1⅓

cups

sugar

½

cup

buttermilk

2

tablespoons

lemon juice

zest of 1 lemon

1

cup

grated zucchini
Glaze
1

cup

powdered sugar

sifted

3

tablespoons

milk

2

tablespoons

lemon juice
Instructions
Preheat the oven to 350 degrees F. Grease two 5-x-9-inch loaf pans with cooking spray and set aside.

In a medium bowl, whisk flour, baking powder and salt together and set aside.

In a large mixing bowl, beat eggs with a an hand mixer. Then add oil and sugar and mix until well. Add lemon juice, buttermilk, lemon zest to this mixture and blend all together.

Wring out zucchini to remove moisture. Fold the zucchini into wet ingredients.

Add dry ingredients to the wet ingredients and mix until well combined.

Pour batter evenly into the prepared loaf pans and bake for 50–60 minutes.

To make the glaze, stir all ingredients together in a small bowl. Spoon over the bread while still warm. Let the glaze set for at least 30 minutes before cutting and serving.
Notes
Make Ahead: Place in a large resealable plastic bag and store at room temperature for 3–4 days or in the refrigerator for 7 days. This bread also freezes well. Wrap each unglazed loaf in plastic wrap, then place in a resealable plastic freezer bag and freeze for up to 4 months. Thaw at room temperature before warming to your liking.
Wringing Out Zucchini: For this recipe, it is important to remove excess water from the zucchini so the batter is not too runny. To do that, place grated zucchini on the center of a tea towel, fold up the towel, and wring out by twisting over the sink. This is a great way to prepare grated zucchini for most baked goods.
GLAZED LEMON ZUCCHINI MUFFINS
To make Lemon Zucchini Muffins, use the recipe above but divide the batter among the wells of a lined 12-cup muffin tin. Fill each well two-thirds full and bake at 350 degrees F for 17–19 minutes. Makes 12–14 large muffins.
Nutrition
Serving:
1
loaf
,
Calories:
1837
kcal
,
Carbohydrates:
295
g
,
Protein:
25
g
,
Fat:
66
g
,
Saturated Fat:
7
g
,
Polyunsaturated Fat:
18
g
,
Monounsaturated Fat:
38
g
,
Trans Fat:
0.2
g
,
Cholesterol:
173
mg
,
Sodium:
734
mg
,
Potassium:
1048
mg
,
Fiber:
4
g
,
Sugar:
200
g
,
Vitamin A:
614
IU
,
Vitamin C:
33
mg
,
Calcium:
336
mg
,
Iron:
3
mg
Nutrition information is automatically calculated, so should only be used as an approximation.
Making this recipe? Tag us!
Share it with us on Instagram using the hashtag #lilluna, so we can see what you're creating in the kitchen!