Say "I love you!" this Valentine's Day with these delectable rich Chocolate Covered Strawberry Cupcakes! A chocolate cupcake base with homemade strawberry frosting, topped with a fresh strawberry dipped in chocolate ganache!
If you're looking for a Valentine's Day treat, look no further! Strawberry cupcakes are the perfect solution—whether you make fresh strawberry cupcakes, strawberry lemonade cupcakes, or these chocolate strawberry cupcakes!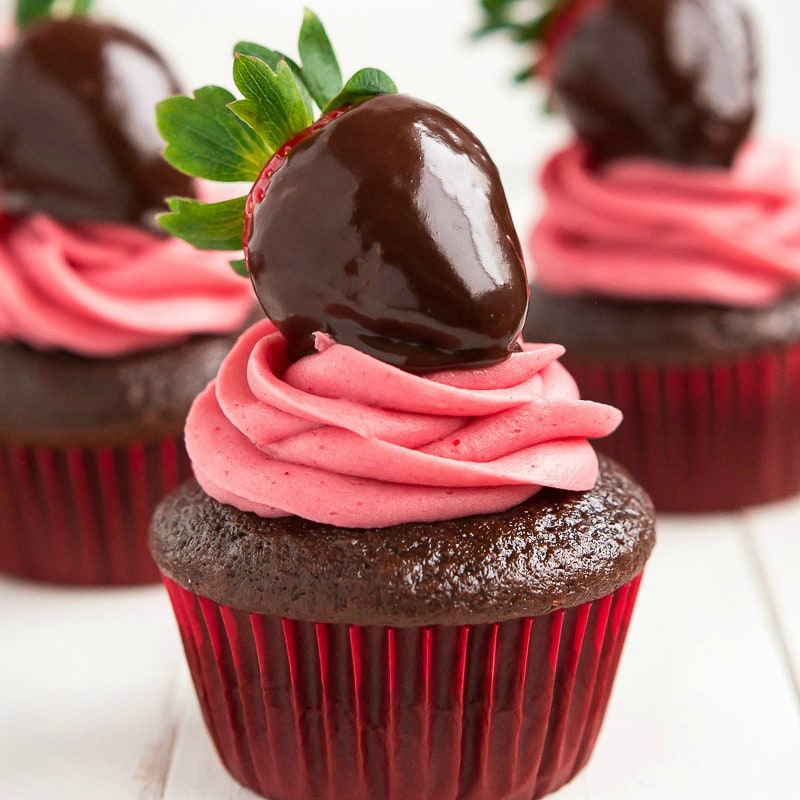 Hello. Melanie here from Garnish & Glaze. I'm so excited to be part of the Lil' Luna team and share my delicious kitchen creations with you. First up, Chocolate Covered Strawberry Cupcakes!
Nothing better than Strawberries and Chocolate
Is there any better way to eat strawberries than covered in chocolate? I think not! It's embarrassing to admit but 90% of the strawberries I eat are with chocolate, whipped cream, or both! These Chocolate Covered Strawberry Cupcakes are yet another way for me to eat more strawberries… and chocolate.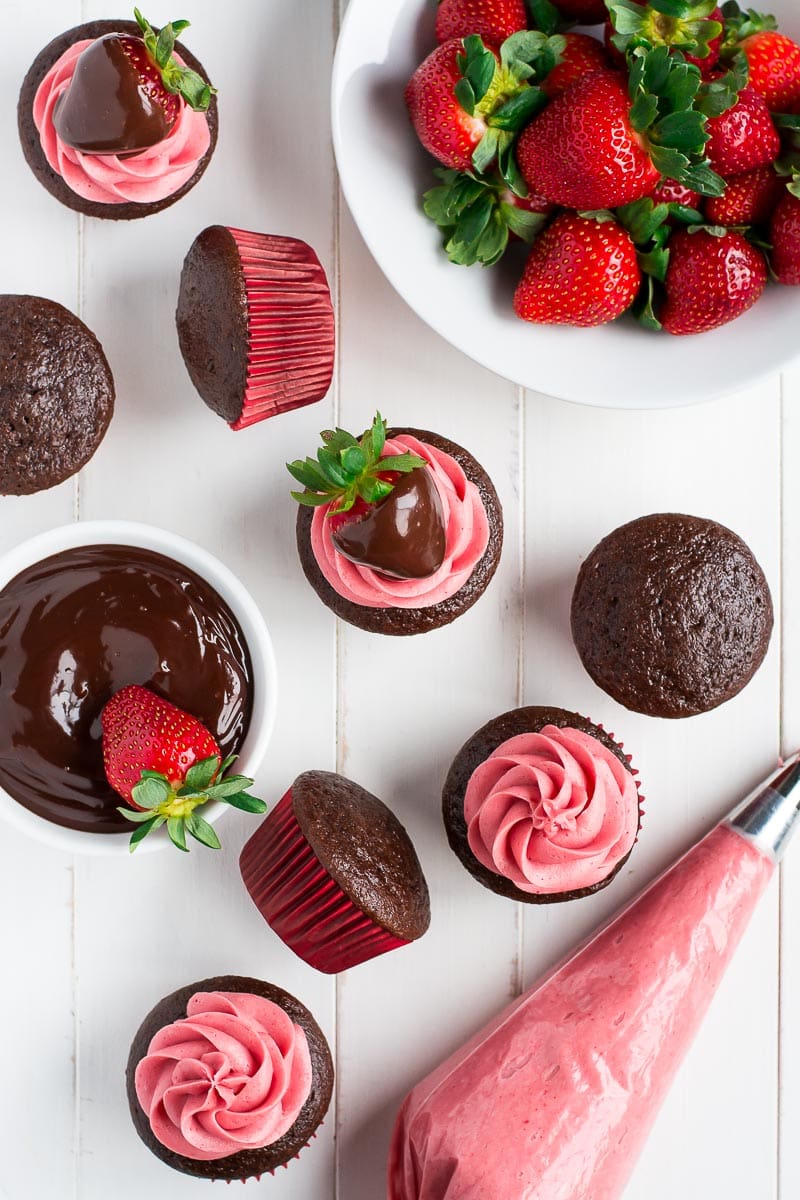 These cupcakes are divine! I used my go-to chocolate cupcake recipe for the base. It's moist, chocolaty, and super easy. No mixer required!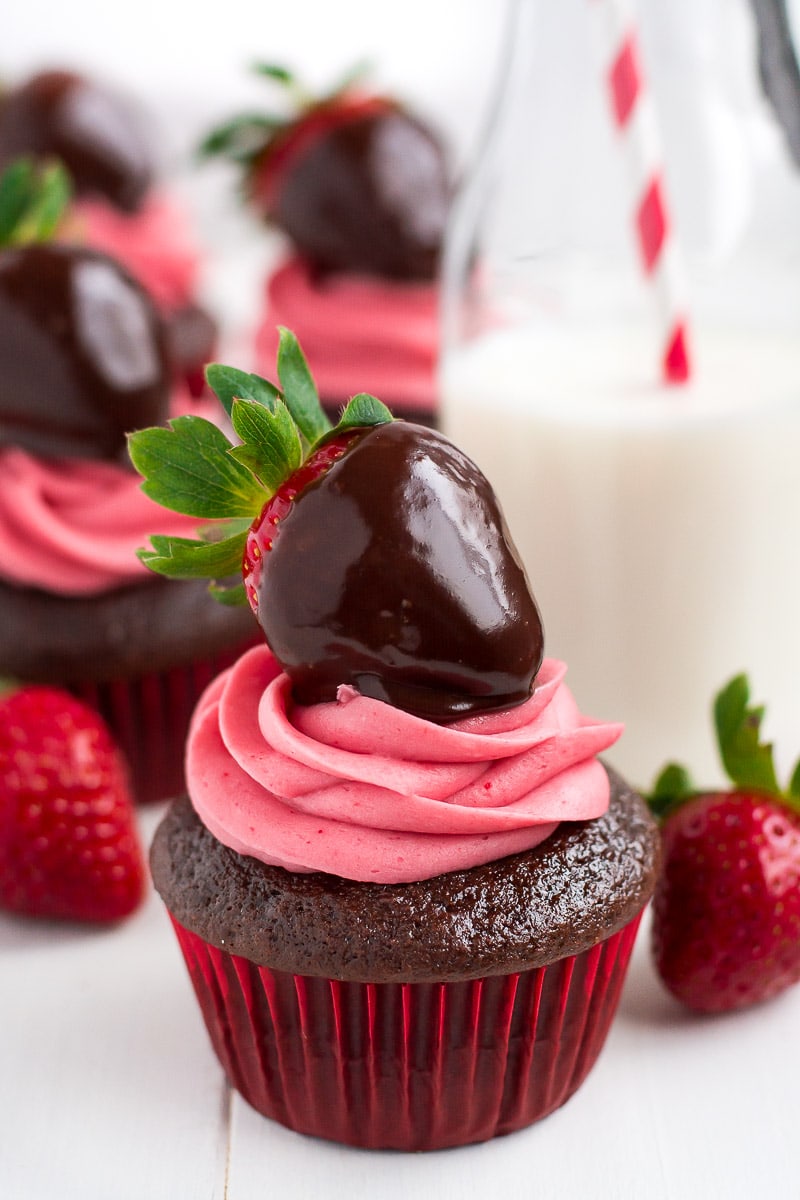 The Strawberry Frosting Secret
On top of those yummy cupcakes is the most delicious strawberry frosting. The key ingredient is freeze dried strawberries. You can find them at Trader Joe's or Amazon, typically stored in pouches located in the produce section. You can sometimes find them near the raisins or the dried fruit.
I've used mashed berries in some frostings, like in my Raspberry Chocolate Cupcakes, but due to the amount of liquid, you can't add much or it will get too thin. The freeze dried strawberries allow you to add lots of flavor without thinning it, as well as naturally creating a deeper color.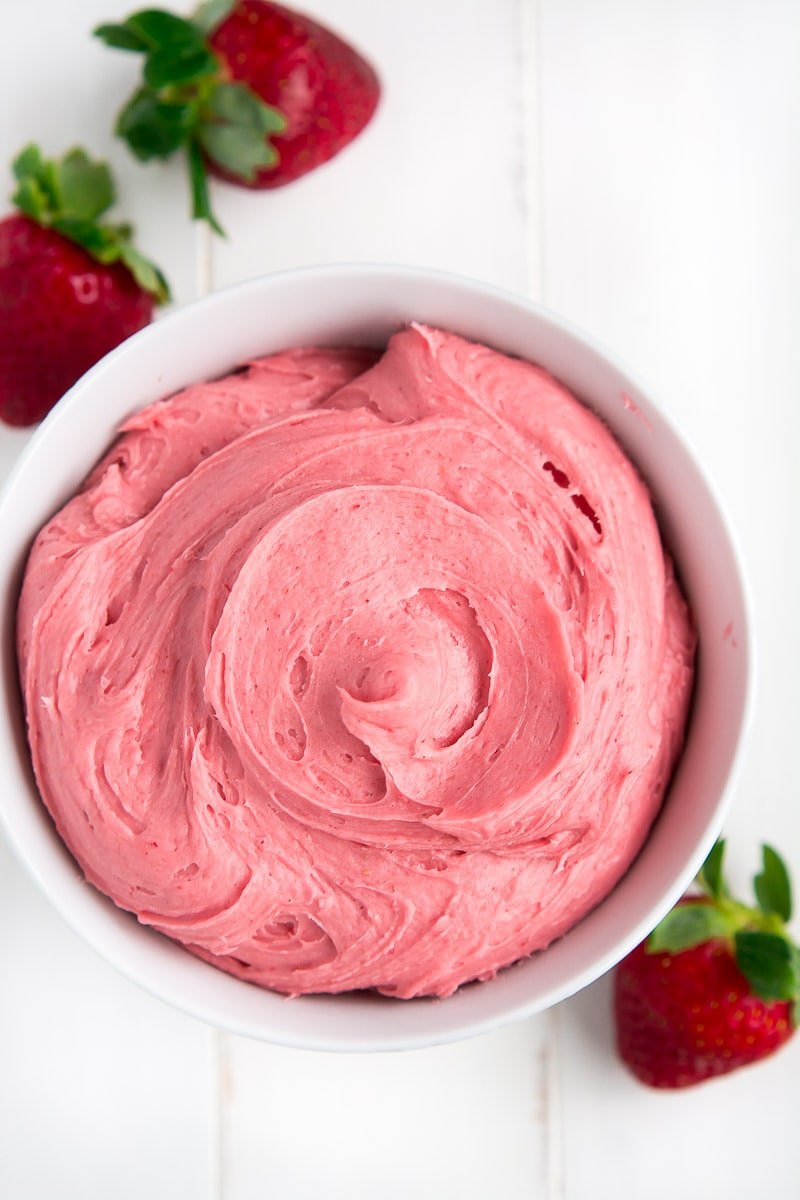 The Perfect Chocolate Covered Strawberry
And then for that beautiful chocolate dipped strawberry—ganache. I really like using ganache on cupcakes, cake, cheesecake… It adds beauty and who doesn't love more chocolate?! The great thing about ganache is that it holds its shape but doesn't get hard. This is perfect for covering strawberries.
Don't you hate when you bite into a chocolate covered strawberry, the chocolate cracks, and half of it falls on the floor? I hate that! No more of that here! You also don't have to wait for chocolate to harden and it still has that shiny melted chocolate look.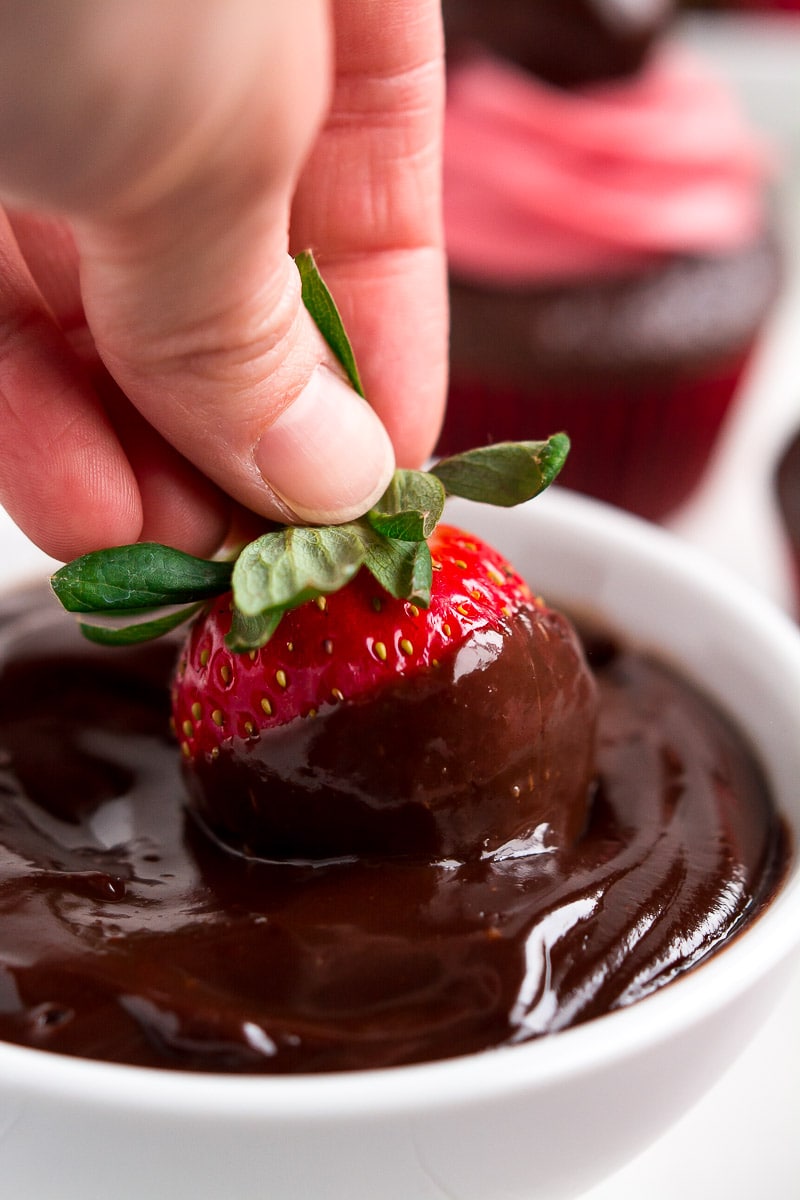 Making ahead and storing
Make ahead. The cupcakes and frosting can both be made up to 2 days ahead of time. The strawberries can be made up to a day ahead of time. All ingredients should be stored separately in airtight containers in the fridge.
When you're ready to assemble them let the frosting come to room temperature, pipe it onto the cupcake, and top it with the chocolate covered strawberry.
How to store: I would suggest removing the strawberry from the leftover cupcakes and storing them in a separate container in the fridge. The strawberries will last 2-3 days.
Store the frosted cupcakes in a separate airtight container. They will last on the counter for 2-3 days or in the fridge for 4-5 days. When you're ready to eat one, just replace the strawberry on top of the cupcake and enjoy!
I do not recommend freezing the chocolate covered strawberries because when they thaw the strawberries will be mushy. However, you can store  the cupcakes and frosting in separate containers in the freezer for up to 3 months.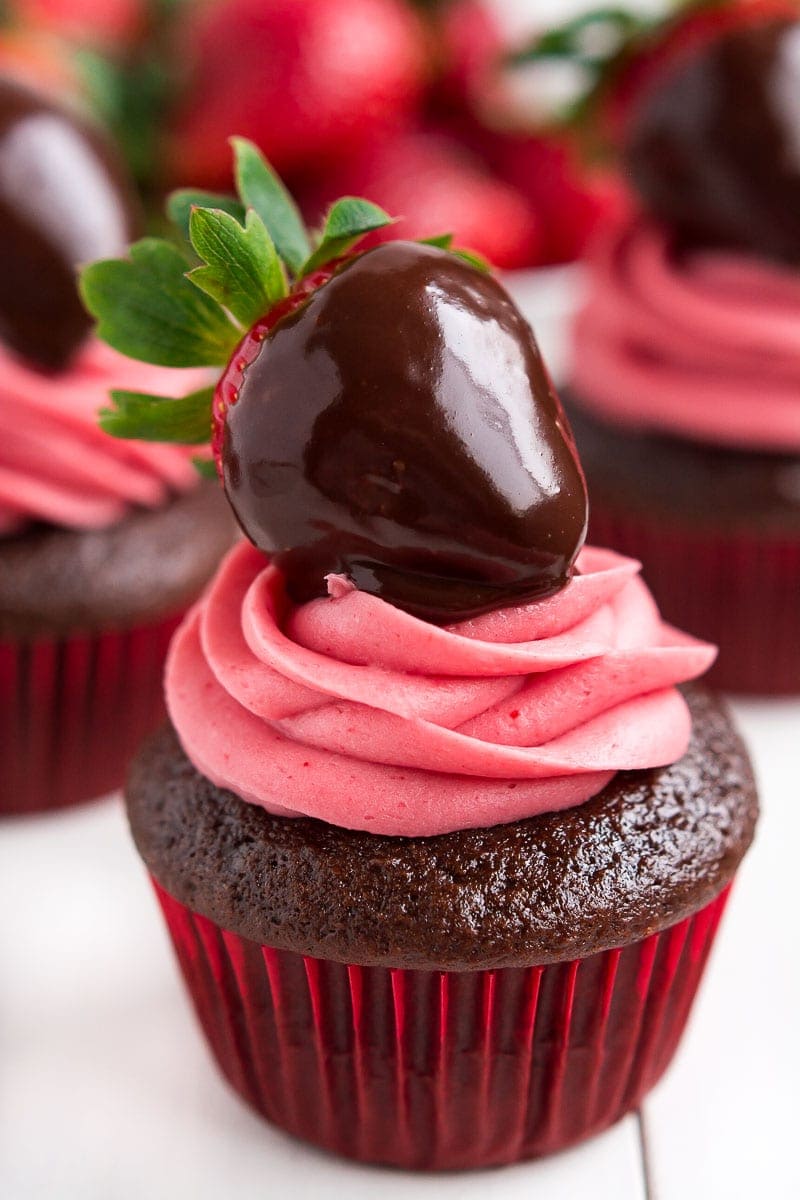 If you wanted to show someone a little love this Valentine's Day, these Chocolate Covered Strawberry Cupcakes are the way to go!
For more valentines day treats, check out:
And for more cupcake recipes, try: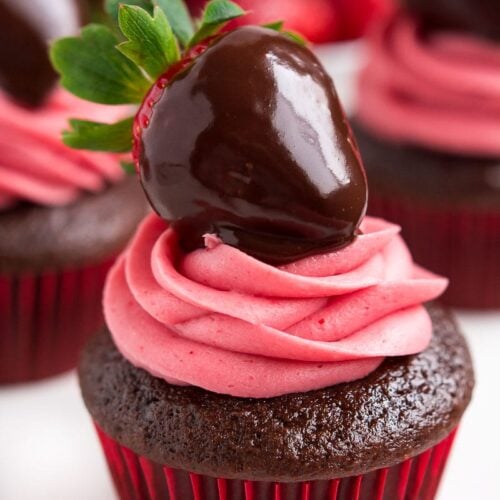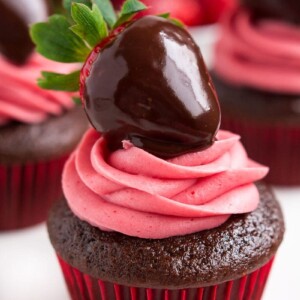 Chocolate Covered Strawberry Cupcakes Recipe
A perfectly moist chocolate cupcake made from scratch, topped with a homemade strawberry frosting and a strawberry covered with chocolate ganache! A perfect Valentine's day treat!
Ingredients
Cupcakes
1 1/2

cups

flour

1/2

cup

granulated sugar

1/2

cup

brown sugar

3/4

tsp

baking soda

1/4

tsp

salt

4

tbsp

butter

2

oz

semisweet baking chocolate

chopped

1/4

cup

cocoa powder

1/2

cup

boiling water

1/2

cup

buttermilk

1/3

cup

sour cream

2

eggs

1

tsp

vanilla
Frosting
1/2

cup

butter

softened

4

oz

cream cheese

softened

1.2

oz

freeze dried strawberries

2 1/2-3

cups

powdered sugar

1

tsp

vanilla

1-3

tsp

heavy whipping cream

or milk
Ganache
4

oz

semisweet chocolate

1/2

cup

whipping cream
Instructions
Cupcakes
Preheat oven to 350 degrees F. Line a muffin tin with 15 cupcake liners.

Mix flour, sugars, baking soda, and salt together and set aside.

Place butter, chocolate, and cocoa together in a bowl and pour boiling water on top. Cover with plastic wrap and let sit two minutes. Mix until smooth and then add in the buttermilk, sour cream, eggs, and vanilla.

Whisk the liquid ingredients into the dry until smooth.

Pour ¼ cup batter into each paper liner. Bake for 15-18 minutes or until toothpick comes out clean.

Leave cupcakes in tin for 5 minutes before removing onto a cooling rack.
Frosting
Place freeze dried berries in the blender and puree until a fine powder. Sift into a bowl to remove large pieces that didn't get blended.

Cream butter, cream cheese, and strawberry powder in an electric mixer until smooth. Mix in the powdered sugar a little at a time. Add vanilla and then the milk 1 teaspoon at a time until desired thickness.
Ganache
Place chocolate in a bowl and pour hot whipping cream on top. Cover and let it sit for two minutes and then stir until smooth. Let the ganache cool for about 5 minutes before dipping strawberries.
Assembly
Once the cupcakes have cooled, pipe on the frosting. Dip strawberries in the ganache and immediately press into the frosted cupcake.

Serve within 2 hours or store in the fridge. Allow to come to room temperate for serving.
________________________
These look SO yummy! I'm dying to try the chocolate ganache on the strawberries! Thanks for sharing this recipe with us Melanie!! For more amazing creations by her, visit her over at Garnish & Glaze.