These Fresh strawberry cupcakes are the real deal. Fresh strawberries and toasted coconut make these peak-of-the-season cupcakes SO divine!!
Delicious, sweet cupcakes filled with fresh fruit are perfect for summer! Top Fresh Strawberry Cupcakes off with homemade cream cheese frosting and they're sure to knock socks off, just like our Banana and Cherry Cupcakes.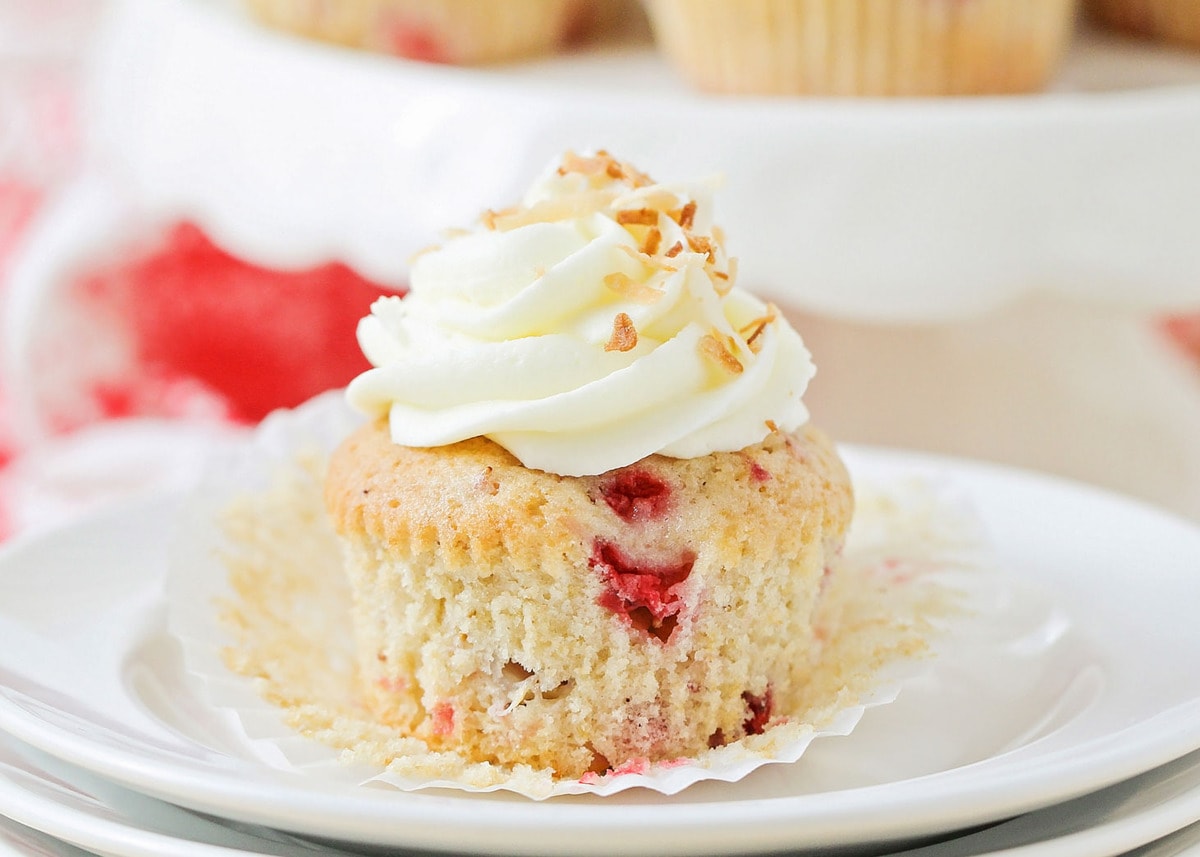 fruit-filled Cupcakes
To me, nothing says summer like fresh strawberries. It wasn't until recently that I baked with fresh strawberries for the first time, and let me tell you, it's so much easier than it sounds!
Every time I make these strawberry cupcakes, they turn out great. The fresh fruit make these cupcakes irresistible, making them one of our favorite desserts.
Pair the moist strawberry cake crumb with rich cream cheese frosting, and top with toasted coconut flakes, and you have a cupcake recipe that is to die for! Not only are these cupcakes unique and impressive, but filled with a fresh flavor that will make it impossible to eat just one. 😉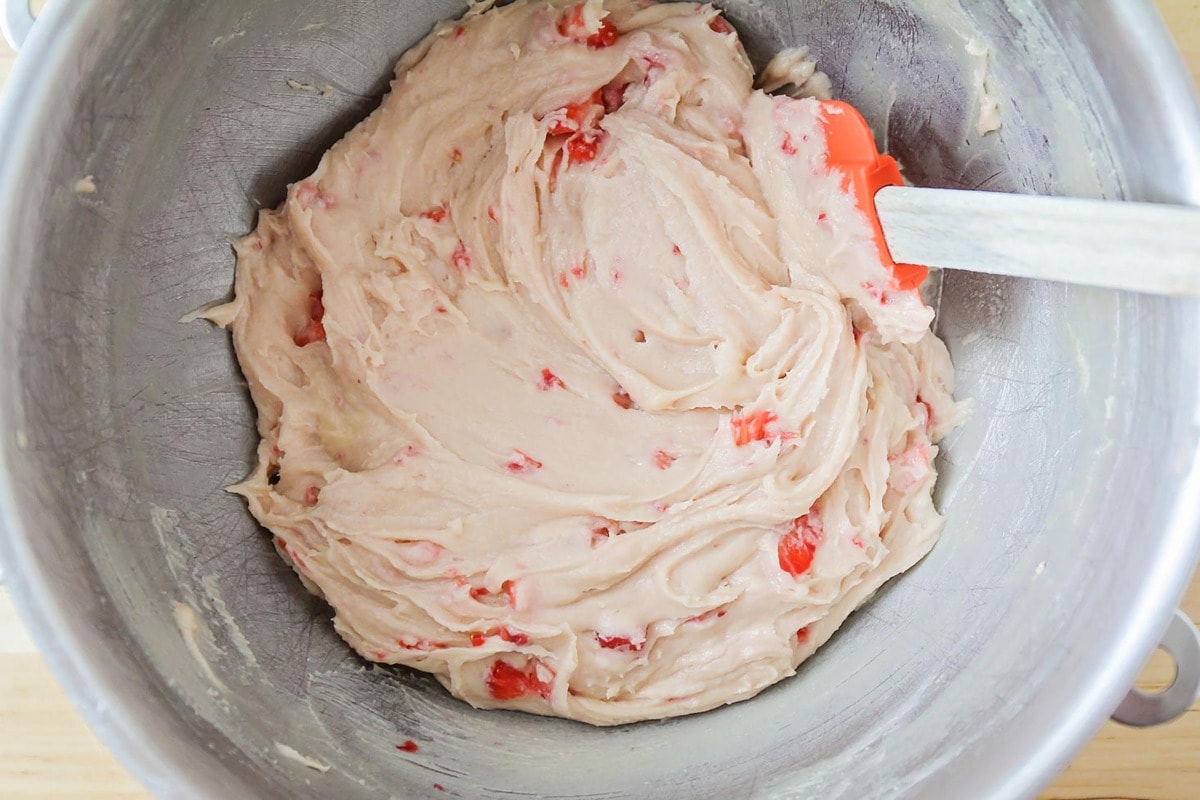 strawberry PICKING TIPS
Just a few tips and tricks for getting the best strawberries for these cupcakes.
Buy local

Buy in-season (best time is April – June)

Buy Organic

Color: Look for bright red over the whole berry. (A small white spot near the stem is ok)

Shape: Since we're cutting these up don't' worry about the shape of the berry

Aroma: No smell means they are under ripe and if they're overripe you may detect fermentation and mold. Perfectly ripe berries will have a sweet smell.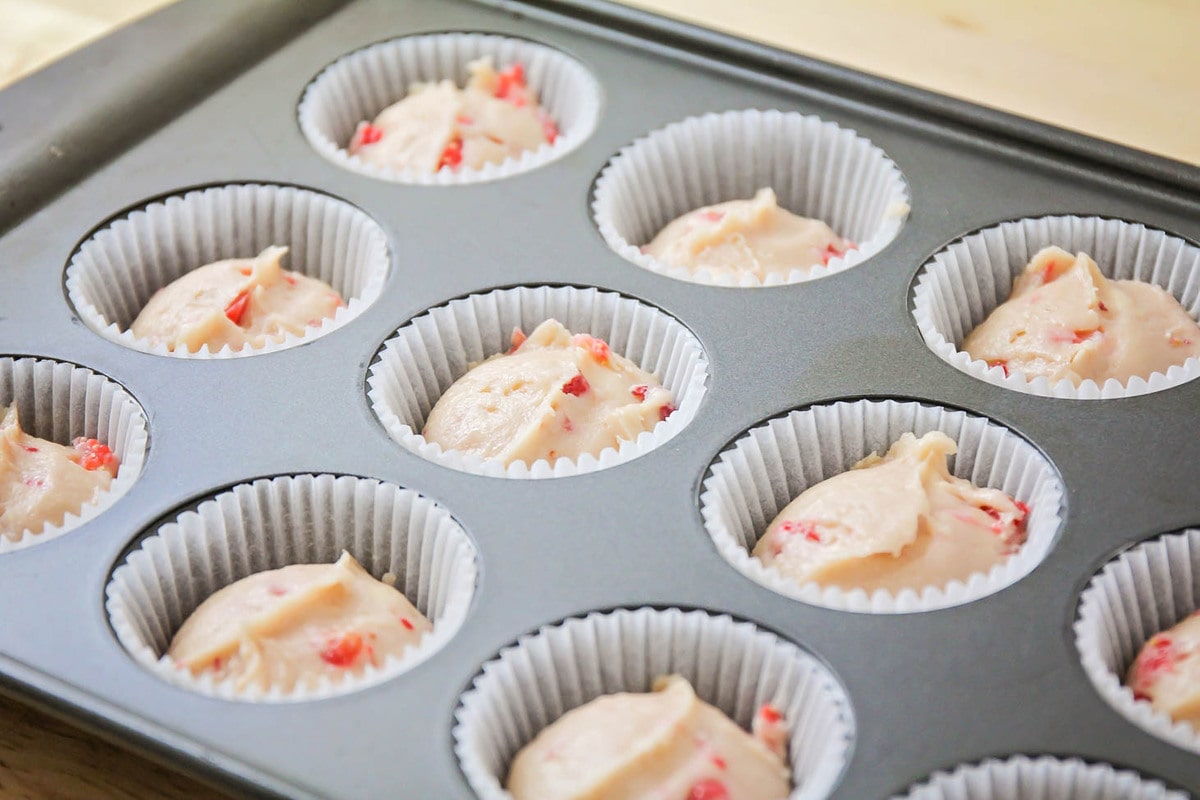 Making from scratch
Making cupcakes from scratch sounds intimidating at first, but once you do it, you'll never go back to box mixes! It's so much easier than you think.
PREP. Start by prepping your muffin tin and preheating the oven to 350°.
BATTER. Cream together butter and sugar, then add egg and vanilla. Add the dry ingredients and mix until just combined. Lastly, add the chopped strawberries and mix for about 1-2 minutes until strawberries begin to break down.
BAKE & FROST. Pour batter into the muffin liners, filling about 2/3 full. Bake for 15-20 minutes, and let cool. Once the cupcakes are completely cool, top with cream cheese frosting. Add any other toppings you like (toasted coconut, sprinkles, a whole strawberry, etc.).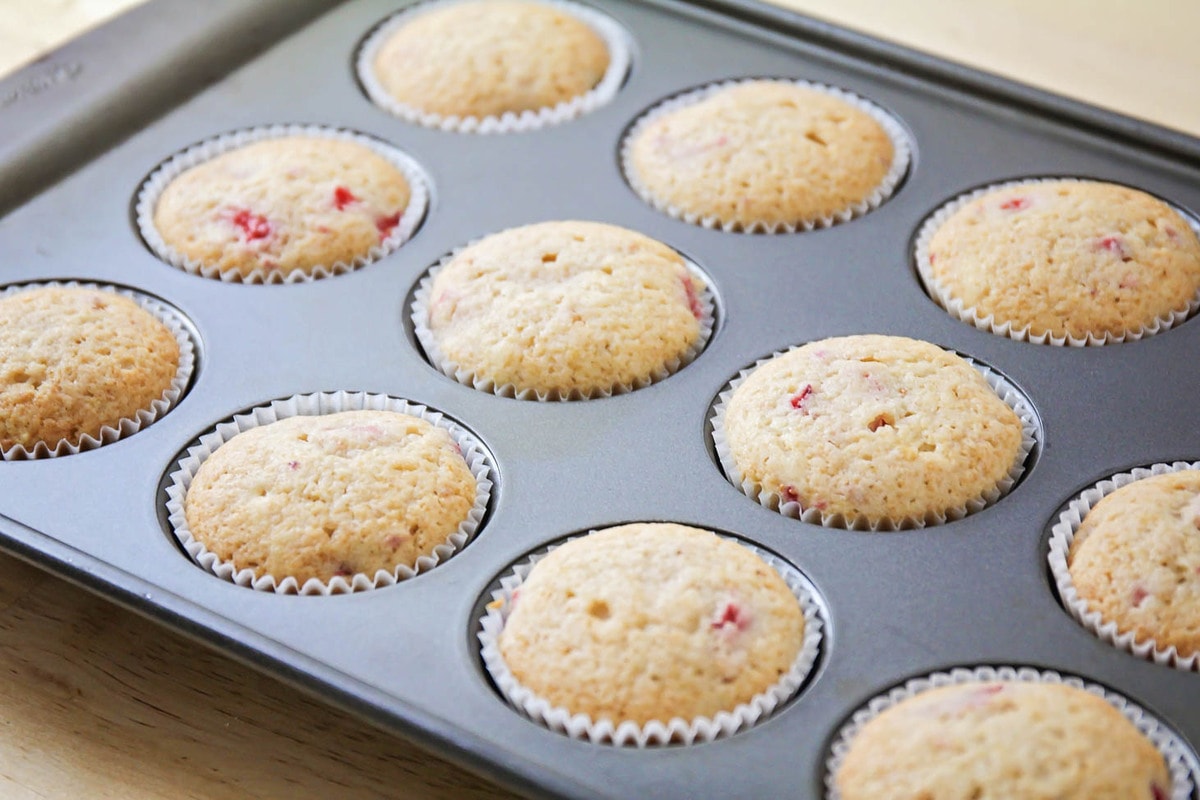 baking Notes + Tips
For 9 inch round cake: bake at 350 degrees F for 25-30 minutes.
To make the cake a bit more pink add a couple of drops of red food coloring.
The recipe calls for unsalted butter, but if all you have is salted butter just reduce the amount of added salt to ⅛ tsp.
Be sure to cool the cupcakes before frosting them.
Other toppings: sprinkles, sliced or whole strawberry, chocolate shavings
Helpful tips for toasting the coconut topping for your cupcakes:
Toast coconut in the microwave if you'd like. Just place the coconut flakes in a microwave safe glass dish and heat them on high temperature for about 4-5 min. Make sure to stir them after each minute of cooking. The coconut will be nicely browned, but will have a more chewy and less crispy texture if prepared this way.

Our favorite method of toasting the coconut is to spread it out evenly on a large baking sheet and bake it in a 350 degree oven for about 8-10 min. You will also need to stop and stir the coconut frequently with this method – about every 2 minutes.

A third way you can toast coconut is to put it in a pan and heat it on medium/low temperature on your stovetop for about 3-6 min stirring it constantly to make sure it browns evenly. 

Keep in mind that unsweetened coconut will take less time to toast than the sweetened variety. Make sure to remove your coconut from the heat when it turns golden brown.
More Frostings to try:
To STORE, loosely cover the cupcakes and store at room temperature for 1-2 days. To keep them even longer, store in an airtight container in the fridge for 5-7 days.
FREEZE the cupcakes before adding the frosting. Allow the cupcakes to cool, and store in an airtight freezer safe container for 2-3 months. Freeze frosting in a separate container. Thaw both before adding the frosting to the cupcakes.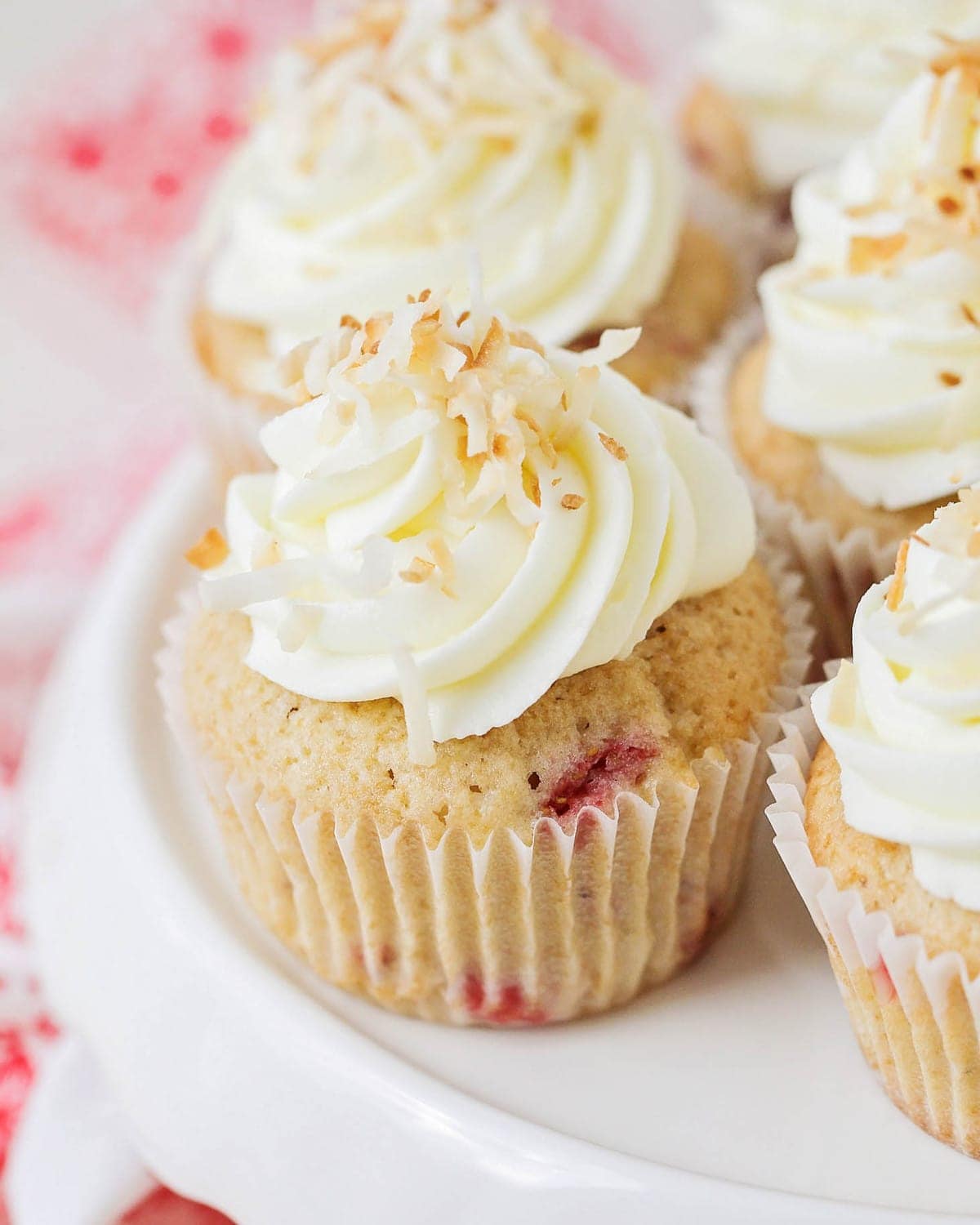 These cupcakes are AMAZING!!! With chunks of strawberry through out, the cream cheese frosting on top with the coconut flakes – we think you'll find them delicious too. 😉
For more cupcake recipes, try:
Strawberry Cupcake Recipe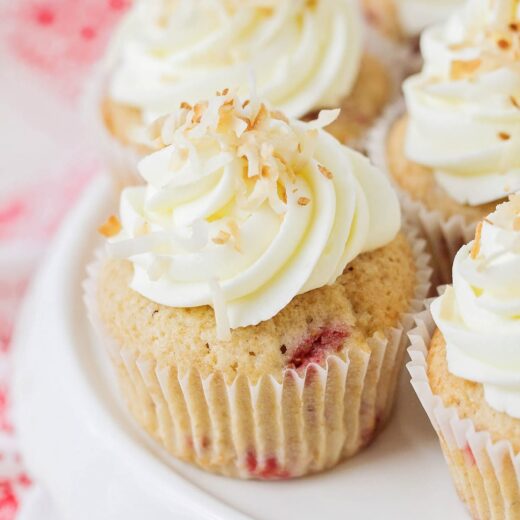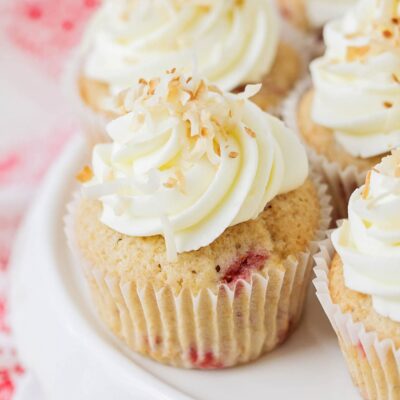 These fresh strawberry cupcakes are the real deal. Fresh strawberries and toasted coconut make these peak-of-the-season cupcakes SO divine!!
Instructions
Preheat oven to 350°F. Fill 18 muffin cups with paper liners.

In a large bowl or the bowl of a stand mixer, cream together butter and sugar until light and fluffy.

Add eggs and vanilla, and mix until combined.

Add flour, baking powder, and salt, and mix until just combined.

Add in chopped strawberries and mix until strawberries start to break down; 1-2 minutes.

Fill paper liners ⅔ full, and bake for 15-20 minutes, or until set. Let cool before frosting.

While the cupcakes are cooling, beat butter and cream cheese together until smooth. Beat in vanilla and milk, then add powdered sugar to desired consistency. Frost the cooled cupcakes and enjoy!