This collection of Memorial Day desserts features all of our favorite patriotic, make ahead, and cold desserts to take to holiday BBQ's and potlucks!
More Collections: Memorial Day Recipes, Summer Desserts, 4th Of July Desserts
Desserts for Your Memorial Day Cookout
I've mentioned before that we always have some kind of Memorial Day BBQ since everyone has the holiday off and the weather is warm. It's the perfect time for a celebration and to get outside and grill! It's the perfect kick-off to summer.
We usually assign everyone to bring a type of dish, and I personally love being in charge of desserts! There are SO many options for Memorial Day desserts, and I've included all different kinds in this post.
You can always whip up something patriotic and decorate it in red white and blue, make some kind of traditional dessert like pie or cake, or since the weather is warm it's also a great opportunity to do a cold or frozen dessert!
This collection includes all of these types of recipes. But before we get into the recipes, here are some tips for preparing and serving your Memorial Day desserts.
Tips for Memorial Day Desserts
How many desserts do I need? Plan to have at least 2 dessert choices for the first 10-12 guests. Once you start adding dessert choices you will only need to make sure there's enough for people to have two dessert servings and not a piece of each dessert.
Keeping desserts cold. Many desserts can be left out for a couple of hours or longer and still be ok to eat. Cold desserts need to be kept cold or you'll end up with a gooey mess.
If you can, keep the desserts in the refrigerator or a cooler with ice until you're ready to serve them.

One way to keep a dessert cool while it's out on the serving table is to fill a sheet pan or bowl with ice. Place the dessert on a platter or in a bowl and set it right on top of the ice.
Festive colors. Red, white, and blue are often used for Memorial day and can be found in many of these Memorial Day Desserts. Using red white and blue platters, bowls and trays really helps tie the desserts together.
The colors can also be used for frosting, sprinkles, and fruits to easily transform a regular everyday dessert into a patriotic one.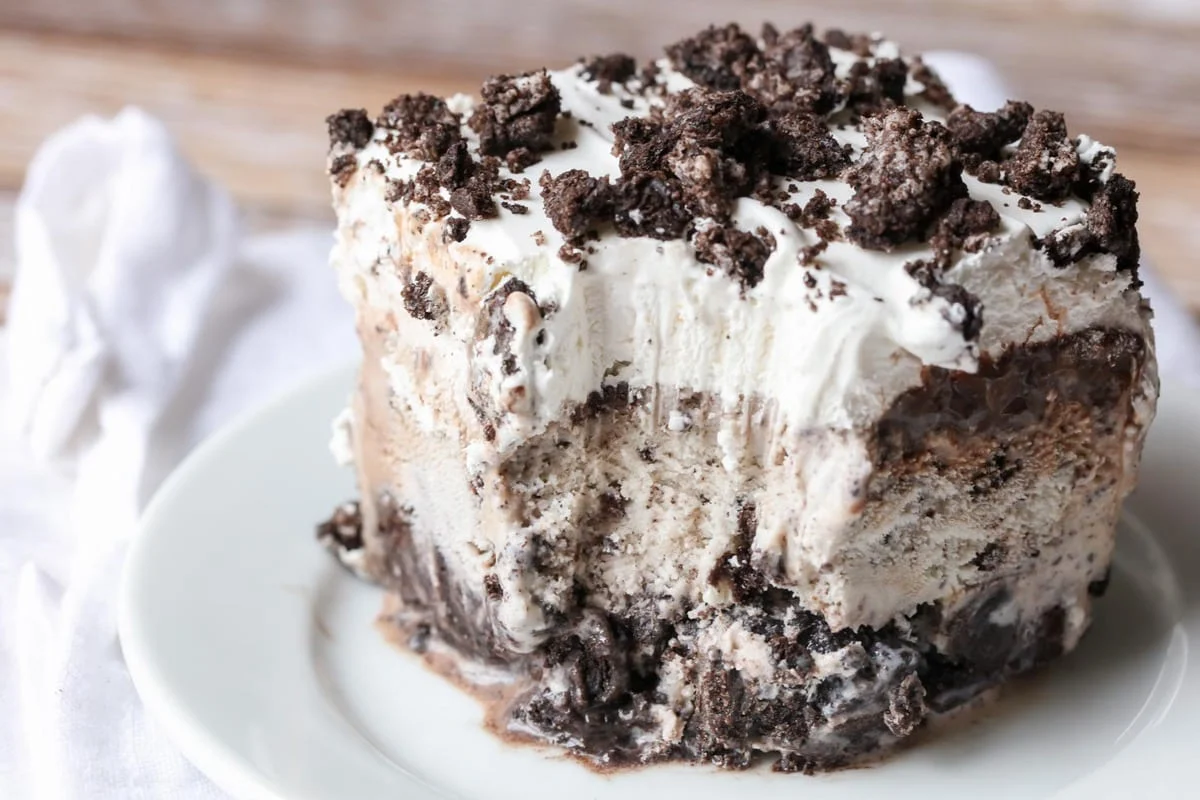 Transporting Desserts
It can be so disappointing to spend time creating a delicious and beautiful dessert, only to have it ruined while transporting it.
If you're transporting a cold dessert to a memorial day picnic or backyard barbecue you'll need a way to keep it cold. There are several factors that you can consider to safely get your dessert to your party destination.
Carriers. Many desserts have specifically designed carriers, like cupcakes and cake carriers. Often you can use pans, boxes, and bins that you already have to protect the dessert. Be careful that the ice is contained so that if it melts it won't leak into the dessert.
Temperature. Keep them at the right temperature. Use a cooler packed with heating pads or ice packs depending on what type of dessert you have.
In the car. Be sure to set them on the floor where they cannot tumble off the seat. If you have a yoga or other non-stick mat, place it on the floor to help keep them from sliding around. You can even place a blanket or towel around the container to keep it snugly in place.
---
Red, White, and Blue Memorial Day Desserts
We love to add a few Memorial Day dessert recipes that are patriotic RED, WHITE, and BLUE. Kids love them, and they are usually simple. Lot involve fruit too which is great to enjoy in the summer!
Fourth Of July Rice Krispie Treats
Delicious, simple, and quick 4th of July Rice Krispie Treats are always a hit. With layers of the colors of the American Flag, they are festive for any patriotic occasion.
Paradise Parfaits
Paradise parfaits are a creamy combination of a delicious fluffy pudding and fresh fruit. They are simply heavenly!
Patriotic Trail Mix
Sweet and crunchy Patriotic Trail Mix is filled with candy coated cereal mixed with mini marshmallows, licorice and M&Ms.
Fruit Pizza Recipe
The BEST Fruit Pizza recipe ever! A super soft cookie dough with a pineapple cream cheese frosting topped with your favorite fruit!
Angel Food Cake
This tender, light as air angel food cake is a must-try! With the perfect amount of sweetness, it's perfect to enjoy all year long.
Fruit Pizza Cookies
Mini Fruit Pizzas are individual sized versions of a classic favorite! With a sugar cookie base, cream cheese frosting, and fresh fruit, they're to die for!
Patriotic Poke Cake
This cool, light and refreshing jello poke cake is filled with red and blue JELLO making it perfectly patriotic. Make for Independence Day, Memorial Day or Labor Day and it's sure to be a hit!
Angel Food Cupcakes
Fluffy and light Angel food cupcakes are the tastiest dessert—especially with a pineapple flavored whipped topping.
Mini Fruit Tarts
Cute cream-filled Mini Fruit Tarts are a delicious and simple summer dessert! These mini treats are perfect for any get together.
Fruit Tart
Prettiest and yummiest fruit tart you will ever make! Sweet, buttery, and perfect for spring and summer parties, holidays or get togethers.
---
MAKE AHEAD DESSERTS
We have so many favorite summer go-to treats!
We have rounded up some of our classics that can also be made ahead of time too. Make the morning of or the night before to make cooking a breeze the day of. 😉
Dirt Cake
Oreo Dirt Cake – layers of creamy, white chocolate pudding, cream cheese, cool whip and more and topped off with Oreos!
Blueberry Delight
Blueberry Crumb Delight is a delicious layered dessert recipe with a cream middle and topped with blueberries and whipped cream!
Cherry Almond Cupcakes
Light and fluffy cherry almond cupcakes are bursting with maraschino cherries. They are topped with luscious homemade buttercream frosting.
Peach Pie
A delicious homemade pie with a fresh peach filling and flaky crust! Serve this peach pie with a scoop of vanilla ice cream for a mouth watering dessert.
Jello Poke Cake
I Love Jello Poke Cake! I Went With Raspberry Here, But You Can Easily Make A Cherry Or A Strawberry Poke Cake.
Dessert Kabobs
Dessert Kabobs are a simple and delicious way to serve several "mini" treats at once. They are perfect for parties, BBQs and every day!
Peach Dump Cake
3 ingredients Peach Dump Cake is quick, simple, and utterly tasty. It is warm, gooey, and perfectly peachy!!
Triple Berry Pie
Fresh and fruity Triple Berry Pie is easy and delicious with only 30 minutes of prep time. It's perfect all year long because you can use frozen or fresh berries!
Best Apple Pie
There's nothing like a slice of warm apple pie served with vanilla ice cream! This recipe for Homemade Apple Pie has proven to be the BEST apple pie recipe around. With a flaky, buttery crust made from scratch, and a gooey, sweet apple filling, this pie will not disappoint!
Blueberry Dump Cake
This easy blueberry dump cake is made with only 3 ingredients! With a layer of juicy blueberry pie filling and a buttery topping, it's perfect with a scoop of vanilla ice cream.
Key Lime Pie
Classic key lime pie is creamy, tangy, and completely irresistible. It's incredibly easy to make, and the perfect pie for summer.
Strawberry Pie
Strawberry Pie is the perfect springtime dessert! Fresh strawberries piled high, coated in strawberry jello, and placed in a buttery crust.
Sugar Cookie Bars
One of everyone's favorite cookies in bar form – these soft Sugar Cookie Bars are simple and are topped with a delicious buttercream frosting that makes this dessert irresistible.
Chocolate Chip Cookie Delight
A delicious and cool layered dessert with a cookie base, cream cheese and pudding layer all topped off with Cool Whip and mini Chocolate Chips.
Lemon Lasagna
This luscious lemon lasagna consists of 4 tasty layers, including a Lemon Oreo crust, cream cheese layer, lemon pudding layer and topped with whipped cream!
Cookie Bars
Chocolate Chip Cookie Bars (aka Pan Chewies) – our family's go-to Sunday Night Dessert! It's your favorite cookie in bar-form served hot and perfect with ice cream.
White Chocolate Lasagna
Layers of Golden Oreos, cream cheese, pudding, whipped cream and white chocolate curls make up this DELICIOUS White Chocolate Lasagna that is a hit at every function.
Cream Puff Cake Recipe
The BEST Cream Puff Cake ever!! A cake version of the popular cream puff, it has a puffy crust, pudding and whipped cream layers and often drizzled in chocolate.
---
other memorial day DESSERTS
These chilled treats are perfect summertime desserts. Whip these up when you are staying near a fridge/freezer as they need to stay cool. But boy are they tasty!!
No Bake Cheesecake with Strawberry Topping
This NO BAKE cheesecake is the perfect recipe for summer. With a delicious graham cracker crust, and a creamy vanilla cream cheese mixture, you can top it with anything – like these sugared strawberries! Everyone goes crazy over this easy no bake cheesecake recipe!
Oreo Pudding Pie
No bake Oreo Pudding Pie is a quick and easy dessert perfect for any time of the year. It comes together in 15 minutes!!
Easy Berry Icebox Cake
Easy Berry Icebox Cake is simple, light and full of fresh summer berries. It'll disappear in seconds at your next get together!
Frozen Butterfinger Pie
With a chocolate Oreo crust, a homemade Butterfinger ice cream filling, fluffy whipped topping, and even more Butterfingers on top, every single bite of this pie is full of peanut butter flavor and unbelievably delicious!
Frozen Strawberry Dessert
This Frozen Strawberry Dessert is made with a buttery graham cracker crust and creamy frozen strawberry filling.
Lemon Icebox Pie
Deliciously creamy & tangy Lemon Icebox Pie is a classic chilled Southern dessert that's perfect for summer!
Boston Cream Poke Cake
Everything you love about Boston cream donuts and pies, in the form of a cool and creamy pudding poke cake!
Oreo Ice Cream Cake
This Oreo Ice Cream Cake makes for the perfect no bake dessert during warm summer months. Best of all, it only takes 5 simple store bought ingredients! No one can resist the layers of crushed Oreos, Cookies and Cream Ice Cream, Hot Fudge, Cool Whip, and MORE Oreos!
Ice Cream Sandwich Cake
Oreo studded Ice Cream Sandwiches made into a Cake is cool, creamy, and refreshingly delicious. It is perfect for hot summer days!!
No Bake Strawberry Shortcake
NO-BAKE Strawberry Shortcake has layers of cream-filled cookies, vanilla pudding, and strawberries. It's the perfect cool dessert!
---
crowd pleasing desserts
We hope you enjoy this collection of Memorial Day desserts. They are the perfect finishing touch to any cook out or get together and are sure to please a crowd!
More Collections: Dessert Bar Recipes, Cupcake Recipes, Cakes With Fruit