A collection of all our favorite Memorial Day Recipes, including meats, sides, salads, desserts, and drinks! Perfect for any holiday cookout!
More collections: Memorial Day Desserts, BBQ Appetizers, Summer Recipes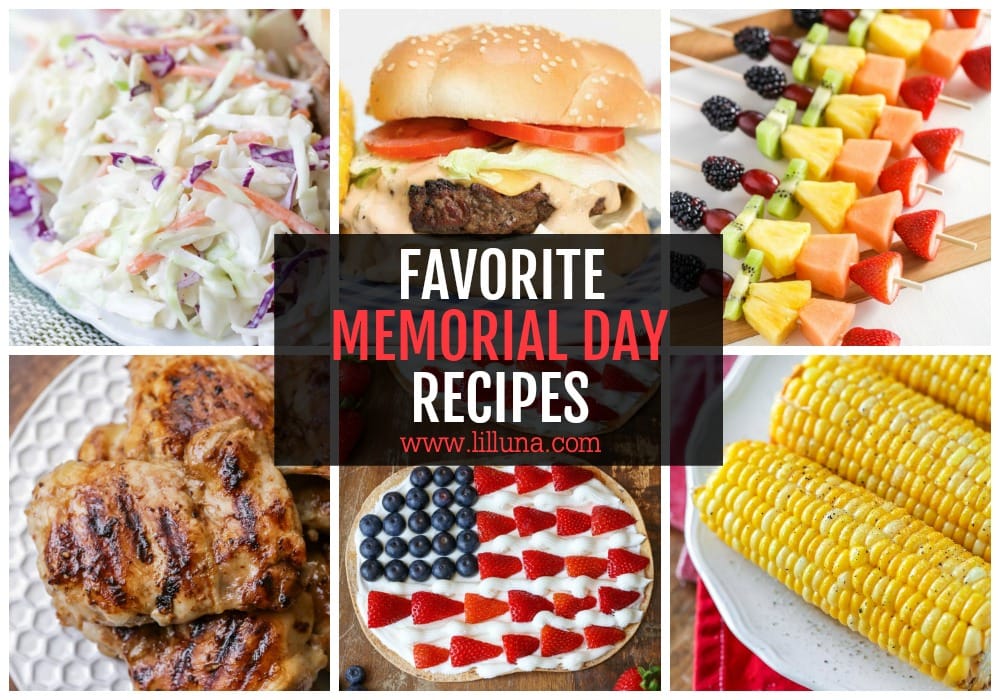 Memorial Day Cookouts and BBQ's
Do you throw a big party or get together for Memorial Day??
In Arizona, Memorial Day marks the unofficial start of summer. We always have a BBQ with family and assign each person to bring a dish to share. Whoever is hosting typically is in charge of the main dish or grilling the meats, and then everyone else brings sides, salads, desserts, drinks, etc.
I put together this collection with our favorite Memorial Day recipes from each category, so hopefully, if you're assigned to bring something specific, you can find the perfect recipe to make for your holiday gathering!
Before we get into the list of recipes, however, I have a few tips to make sure your Memorial Day menu is a real hit!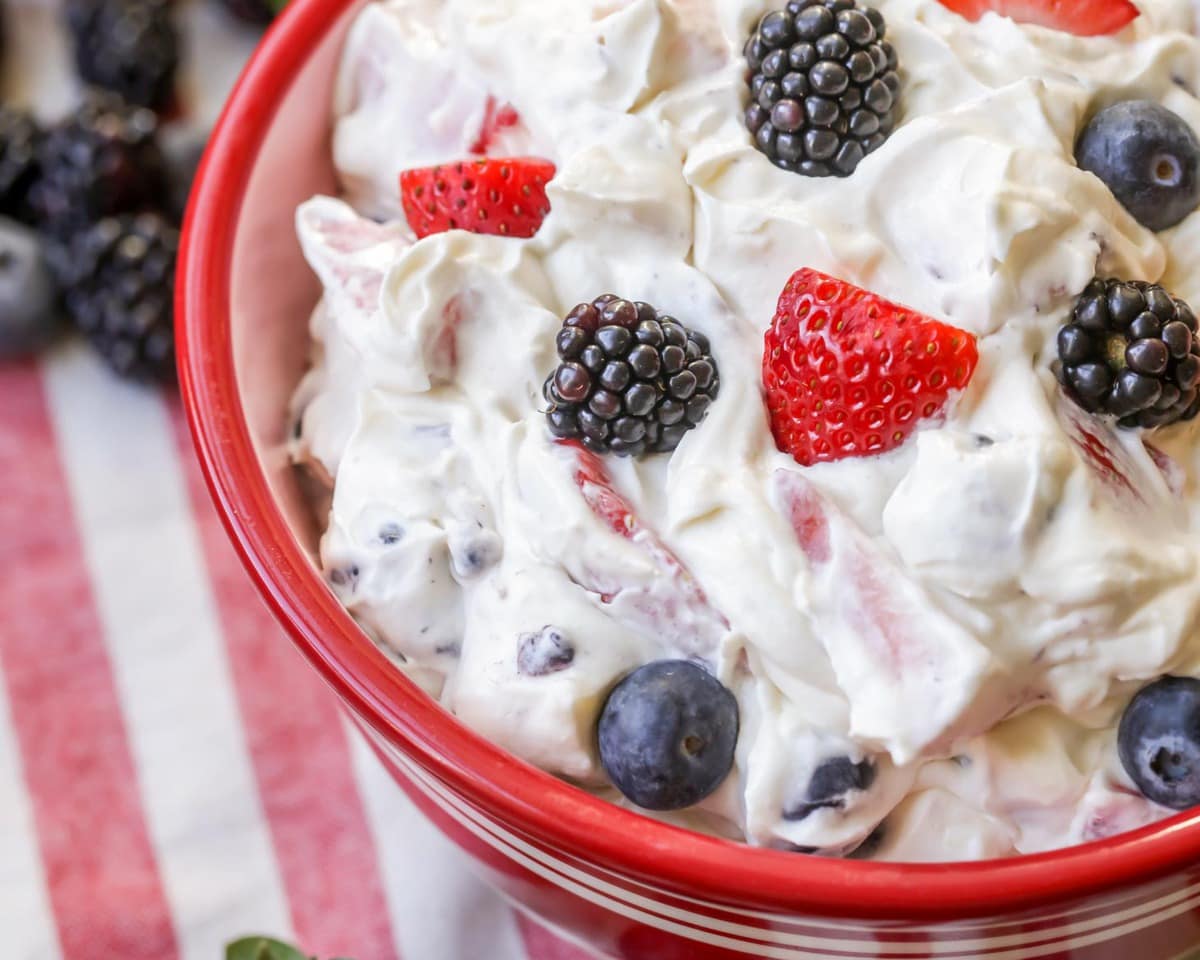 memorial day grilling tips
Keep these things in mind when preparing some Memorial Day Recipes.
Clean grill. Clean the grill a few days before the event.
Cover up. Keep lids or plastic wrap handy to keep food covered and pesky bugs out.
Plan the menu ahead of time. This helps with shopping and if guests offer to bring a dish.
Keep it separate. If keeping food in a cooler be sure to separate meats and poultry from other food items.
Sitting out. Food should not be out for more than 2 hours. Only put out enough food that can be consumed within that window of time. Keep extra portions in a cold cooler or fridge.
Let meat come to room temp. Take meats out of the fridge 20-30 minutes before grilling.
Level of doneness. Cook and serve meat according to done, medium, and rare. Have designated signs labeling which plate is which.
Baking soda. Have a box of baking soda on hand in case of a grill fire.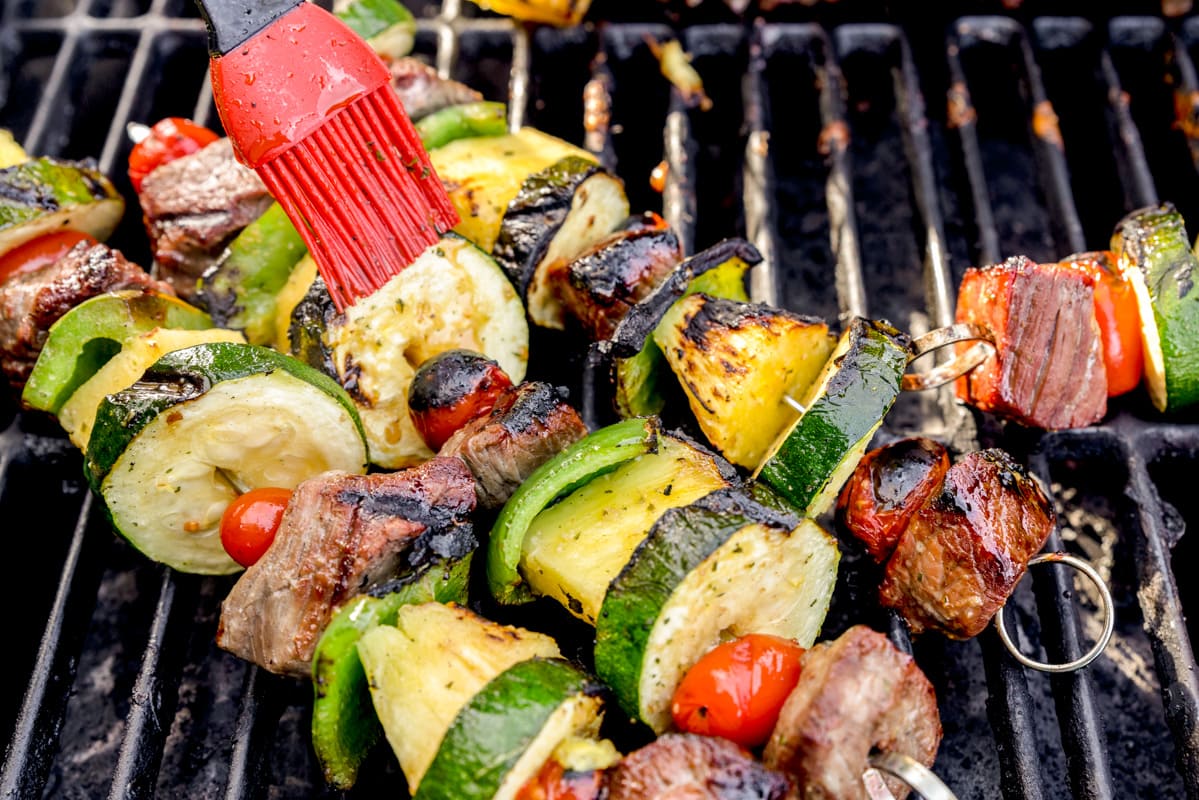 Grilling Multiple Items
If grilling multiple items, whether you wish to grill more than one type of meat or grill veggies along with your protein, these tips will help you achieve the best cook:
Grill size. It's helpful to have a grill large enough that you can adjust the temperature on different sections.
Chart it. Create a chart that lays out what item will be grilled in what section as well as how long each piece of meat will need to cook.
No overlap. Be sure not to overlap the different types of food before or during grilling.
Meat thermometer. Use a meat thermometer to test the doneness of each type of meat. (Clean it off with soapy water in between uses).
Veggies. Grilling vegetables takes a fraction of the time as the meat. Since meat needs to rest once it is done cooking, this is a perfect time to reduce the heat and grill up your veggies.
Oil. Applying a thin layer of oil to vegetables will help keep them from sticking to the grill grates or a grilling basket.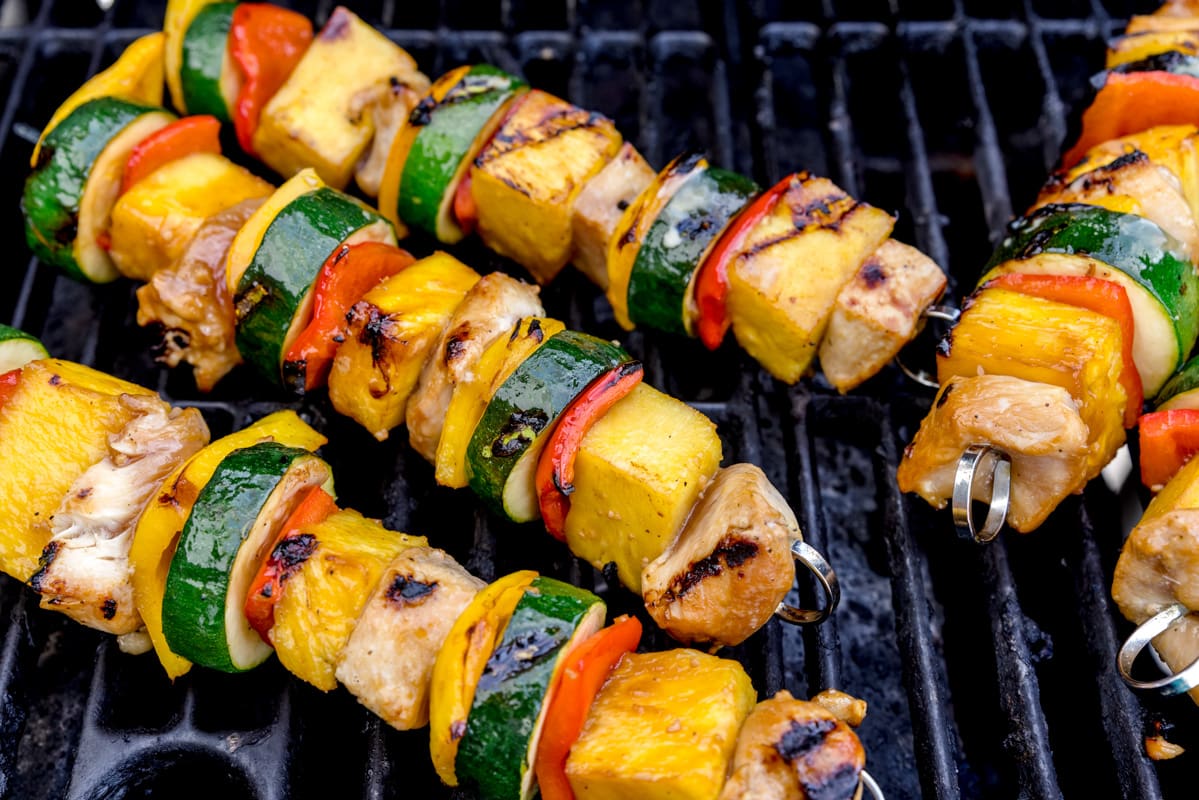 tips for serving your spread
Keeping food at the right temperature. There are several ways to keep food hot or cold before and while they're being served:
Have two coolers, one for hot dishes and one for cold dishes.
Once you're done cooking food, set the grill to a very low heat and use it like an oven to keep food warm.
Keep food warm in a crock pot or chafing dish
Keep food cold by using a tray of ice to place bowls and platters of cold food on.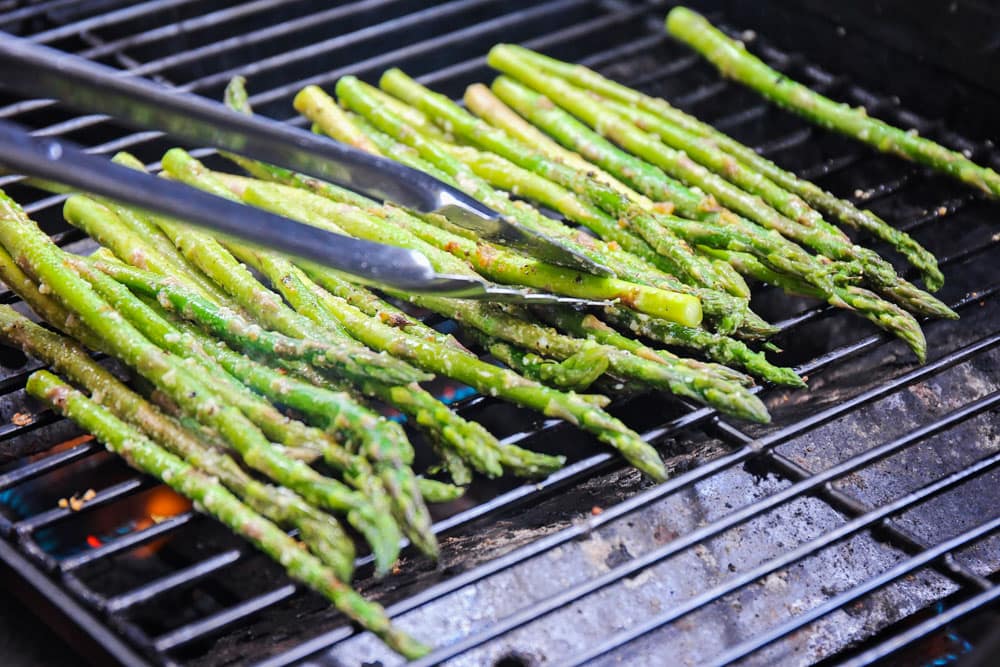 hosting the perfect outdoor party
Just a few things that may help if planning a party outside for Memorial Day.
Pick up the yard beforehand. Be sure there aren't any tools left out that children may get hurt on.
Seating. Have plenty of seating set up around the yard. A

Pic Nic Blanket

is easy and perfect for children.

Tables. Older guests will especially appreciate a table. Also, provide tables if you're serving anything that needs to be cut with a knife. No one wants to try that on their lap.
Avoid long lines. Set food out in such a way that there can be more than one point of access.
Lighting. If the BBQ is going to extend into the evening, be sure to have lighting such as torches or strings of lights. A supervised fire pit is also fun to have at night.
Shade. Use umbrellas or awnings or string up clean bed sheets. Your guests will appreciate the shade.
Trash.

Be sure to provide plenty of trash bins.

Games.

Have lawn games available

.
Music.

Music adds a nice element

.
---
Memorial Day Main Dishes
It's common to grill meats on Memorial Day, since the weather is warming up, and nothing is better than the smell of grilling on a summer holiday!
Plan on serving each adult 6 to 8 ounces of meat. Children will only need 3-4 ounces. Note that people tend to eat more in the evening than during the day.
Hawaiian BBQ Chicken Sandwiches
Loaded with juicy grilled pineapple, red onion, and crisp lettuce, this Hawaiian BBQ Chicken sandwich is perfect for summer entertaining!
Slow Cooker Kalua Pork
This Slow Cooker Kalua Pork is a classic Hawaiian favorite made easily in your slow cooker with just a few ingredients. Eat it on its own, or in tacos or sliders.
Steak Marinade
This is Our All-Time Favorite Steak marinade! It requires only four ingredients, and makes our steak taste SO amazing! Everyone always asks for this Easy Steak Marinade recipe because it's just that good!!
Dr. Pepper Ribs
Pork ribs cooked in Dr. Pepper, grilled to perfection, and smothered in BBQ Sauce. These Dr. Pepper ribs are fall off the bone delicious!
Ranch Burgers
These Ranch Burgers make the BEST homemade hamburgers!! This easy burger recipe is complete with the most delicious secret sauce that compliments the ranch burger perfectly!
Hot Dogs In Crock Pot
The easiest way to make hot dogs for a crowd! Cook hot dogs in the crock pot for all of your summer potluck needs.
Huli Huli Chicken
This Grilled Huli Huli Chicken is the juiciest and most delicious Hawaiian chicken you'll ever try! Great alone or served on rice or noodles!!
Crock Pot Brisket
Juicy and delicious meat, easily made in your slow cooker! This crock pot brisket is so tender it just falls apart.
Boneless Honey BBQ Wings
Delicious homemade boneless chicken wings, double breaded, baked to a crispy perfection, then smothered in sweet and tangy honey bbq sauce. This Boneless Honey BBQ Wings recipe makes for the perfect game day appetizer, or weekend dinner item!
Pulled Pork
This Delicious and Easy Pulled Pork Recipe is one that is made in the slow cooker and takes just minutes to prep. Serve it on a bun to make Pulled Pork sandwiches!
Hamburger Recipe
This is the BEST Hamburger Recipe for grilling up a juicy American classic. You'll have a perfect burger every time!
---
Memorial Day SALADS
We love to serve a variety of sweet and savory salads on Memorial Day.
Depending on how many salad options are available, plan for each guest to be able to have about ½ -1 cup of salad.
Easy Pasta Salad
Easy and delicious Italian Pasta Salad recipe that includes Rotini pasta, olives, cherry tomatoes, & cheese in Italian dressing! It takes minutes to make and is perfect for any get together including BBQs and holidays.
Strawberry Jello Pretzel Salad
Strawberry Jello Pretzel Salad is the ultimate combination of sweet and salty. This classic treat is always a crowd pleaser!!
Easy Tortellini Salad
Super YUMMY and easy Tortellini Salad filled with tortellini, salad, ranch, tomatoes and bacon bits – perfect for summer time!
Asian Ramen Salad
Fresh & lightly dressed Asian Ramen Salad is filled with cabbage and bits of almonds and ramen, giving it bright color and crunchy texture!
Homemade Potato Salad
Our all-time favorite Potato Salad – it's simple, flavorful and filled with chunks of potatoes, eggs and olives and covered with a flavored mayo mix! It's the perfect addition to any BBQ or picnic and is so creamy and tasty, it will wow everyone who tries it.
Cheesecake Fruit Salad
This Cheesecake Fruit Salad is the perfect combination of creamy, light, and fresh! Fresh berries tossed in a cream cheese pudding mixture—it's the perfect side, or crepe filling!
Favorite Broccoli Salad
This Sunny Broccoli Salad is a simple, tasty and hearty broccoli salad served with bacon, cranberries, sunflower seeds, and mixed with a delicious, homemade mayonnaise-vinegar based dressing that is perfect for BBQs and get togethers.
Summer Corn Salad
This Summer Corn Salad is a light, flavorful salad filled with corn, tomatoes, feta, basil and cucumber. It's so simple and quick that it's the perfect summer salad for get togethers and BBQs.
7 Layer Salad
Deliciously customizable 7 Layer Salad is filled with just the right amount of goodness. It's perfect to make ahead!
Easy Coleslaw
This quick and Easy Coleslaw makes the perfect side dish for any picnic or BBQ. It takes just minutes to put this classic coleslaw recipe together, and it can easily be customized with the spices and flavors you love most.
Ambrosia Salad
This ambrosia salad will take your straight back to your childhood. The best creamy fruit salad with mini marshmallows mixed in!
Easy Fruit Salad
A fresh fruit salad that makes the perfect side dish to any meal! Colorful, healthy, delicious, and filled with all your favorite fruits!
---
SIDE DISHES
Memorial Day sides are some of our favorites. If hosting, be sure to get others involved and give them a side to bring. Most are simple and require little prep work.
Most adults will have about 3-4 total servings of sides. Children will have 2-3 servings.
Grilled Corn on the Cob
Using the grill is one of our new favorite ways to cook corn! Grilled corn on the cob will be your go-to side dish this summer.
Bacon Wrapped Asparagus Skewers
This Recipe Is Inspired By One Of Our Favorite Disneyland Foods – Bacon Wrapped Asparagus Skewers From Bengal Barbecue! These Skewers Only Require 4 Ingredients And Take Less Than 10 Minutes On The Grill!
How To Cut A Watermelon
Is there anything better than a ripe juicy watermelon? Learn how to cut a watermelon into cubes efficiently and easily with our tips!
Deviled Eggs
Nothing better than a smooth deviled egg appetizer! You'll be surprised with how easy these are to make. Tons of flavor, super delicious and perfect for parties and holidays.
Baked Beans
This Homemade Baked Beans recipe is a must-have at all of our BBQ's. It's such a simple and easy recipe, requires only FIVE ingredients, and cooks in the crock pot.
Dill Vegetable Dip
The Perfect Go-To Veggie Dip For Parties And Snacking. Use It For Carrots, Green Veggies, Chips, Or Whatever You Feel Like! Even If You Don't Like Dill Pickles, You'll Love This Dill Vegetable Dip.
Crock Pot Mac And Cheese
Everyone loves a good slow cooker recipe, and this Crock Pot Mac and Cheese is so simple, cheesy and delicious. With loads of cheese, butter, and sour cream it's hard not to love this creamy macaroni and cheese recipe.
BBQ Bacon Wrapped Chicken Bites
BBQ Bacon Wrapped Chicken Bites are simple, quick , and delicious. Chicken smothered in barbecue sauce and wrapped in bacon make for a popular appetizer at any gathering!
Fried Zucchini
Whether you serve it as a side or an appetizer, this restaurant style Fried Zucchini is a family favorite. Fried to perfection, this dish is simply addicting, especially dipped in ranch and marinara!
Grilled Asparagus
Grilled asparagus is the best side dish alongside almost any dinner recipe! Sprinkled with salt, pepper, and a little parmesan cheese—this recipe is incredible!
Fruit Kabobs
Colorful fruit kabobs are the best appetizer or side for any occasion! Load up your favorite fruits and get snacking.
---
DESSERTS
It's fun to make patriotic themed desserts for Memorial day, or serve cold desserts like ice cream cakes since the weather is hot.
We have a more elaborate collection of Memorial Day Desserts, but here is a small list of favorites.
Plan for each guest to be able to have two servings of dessert. The more dessert options there are, the less of each dessert you'll have to make.
Paradise Parfaits
Paradise parfaits are a creamy combination of a delicious fluffy pudding and fresh fruit. They are simply heavenly!
Fourth Of July Rice Krispie Treats
Delicious, simple and quick 4th of July Rice Krispie Treats are always a hit, and are festive for any patriotic occasion.
Patriotic Trail Mix
Sweet and crunchy Patriotic Trail Mix is filled with candy coated cereal mixed with mini marshmallows, licorice and M&Ms.
Patriotic Poke Cake
This cool, light and refreshing JELLO poke cake is filled with red and blue JELLO making it perfectly patriotic. Make for Independence Day, Memorial Day or Labor Day and it's sure to be a hit!
Mini Fruit Tarts
Cute cream-filled Mini Fruit Tarts are a delicious and simple summer dessert! These mini treats are perfect for any get together.
Easy Berry IceBox Cake
Easy Berry Icebox Cake is simple, light and full of fresh strawberries and blueberries. It'll disappear in seconds at your next get together!
Jello Poke Cake
Cake with JELLO drizzles poked throughout, and topped with a smooth layer of whipped cream! This light and cool JELLO Poke Cake recipe is always a crowd favorite.
Fruit Pizza Cookies
Mini Fruit Pizzas are individual sized versions of a classic favorite! With a sugar cookie base, cream cheese frosting, and fresh fruit, they're to die for!
Dirt Cake
Oreo Dirt Cake – layers of creamy, white chocolate pudding, cream cheese, cool whip and more and topped off with Oreos!
Dessert Kabobs
Dessert Kabobs are a simple and delicious way to serve several "mini" treats at once. They are perfect for parties, BBQs and every day!
---
DRINKS
You'll want to make sure that you have enough drinks to last through the duration of the party. Plan for guests to drink 4-8 oz in the first hour of the party and 4 oz for every hour after.
We always have water and soda and usually a homemade, kid-friendly drink. Some of our favorites are below:
Frozen Strawberry Lemonade
Frozen Strawberry Lemonade takes minutes to make and is filled with lemonade, strawberries, ice and pineapple juice.
Patriotic Drink
This layered Patriotic drink is pure magic! It's not difficult to make, all it takes is Hawaiian Punch, blue Gatorade, and sprite zero.
Copycat Sonic Cherry Limeade
Delicious recipe for Sonic's Cherry Limeade – tastes just like it! Ingredients include 7-Up, cherries, a lime, and maraschino syrup!
Homemade Lemonade
Refreshing homemade lemonade is made with a simple syrup for the perfect sweet to tart ratio. It is perfect for warm summer days, or any day!
Watermelon Juice
Delicious and Refreshing Watermelon Juice – a favorite drink in the summer time! Made with watermelon & strawberries!
Mint Julep (Non-Alcoholic)
Disneyland's Copycat Mint Julep recipe – a non-alcoholic drink that is refreshing and DELICIOUS!! Made with lemonade concentrate, creme de menthe syrup, lime juice, sugar, and club soda – topped with mint leaves and cherries!
Best Strawberry Lemonade
The BEST Strawberry Lemonade filled with chunks of your favorite fruit including strawberries, pineapple, mangos, cantaloupe and watermelon!
Sonic Ocean Water
Copycat Sonic Ocean Water – so easy to make and so refreshing! It's perfect for parties or a hot, summer day!
Pineapple Pink Lemonade Soda
All-time Favorite Party Drink – this Pink Drink recipe (aka Baby Shower Punch) takes a minute to make and is made with 3 ingredients including – pink lemonade dry mix, sprite, & pineapple juice!
Shirley Temple
Shirley Temple drink is perfect for year round enjoyment! It's sweetness and pretty red color make it a great party drink.
---
Recipes for any summer get together
So many great Memorial Day Recipes perfect for any summer get together. We would love to know which ones are your favorites!
More Collections: Easy Appetizers, Grilled Dinner Ideas, Pasta Salad Recipes