A collection of all our favorite Memorial Day Recipes, including meats, sides, salads, desserts, and drinks! Perfect for any holiday BBQ!
For more collections: Memorial Day Desserts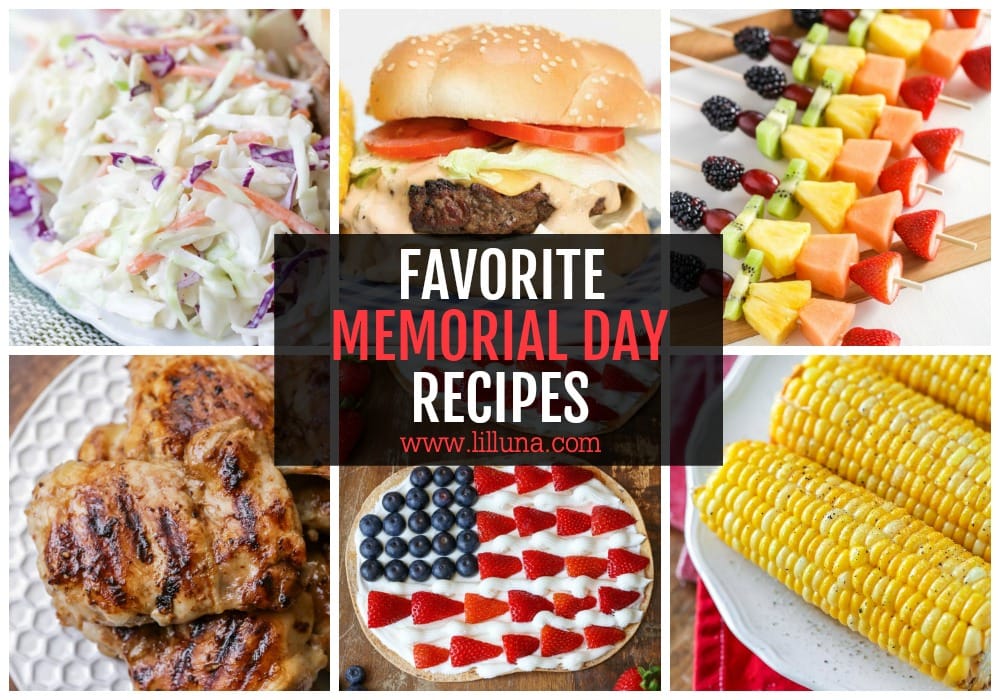 Memorial Day BBQ's
Do you throw a big party or get together for Memorial Day?? We always have a BBQ with family and assign each person to bring a dish to share. Whoever is hosting typically is in charge of the main dish or grilling the meats, and then everyone else brings sides, salads, desserts, drinks, etc.
I put together this collection with our favorite Memorial Day Recipes from each category, so hopefully if you're assigned to bring something specific, you can find the perfect recipe to make for your holiday gathering!
Before we get into the list of recipes, however, I have a few tips to make sure your Memorial Day BBQ is a real hit!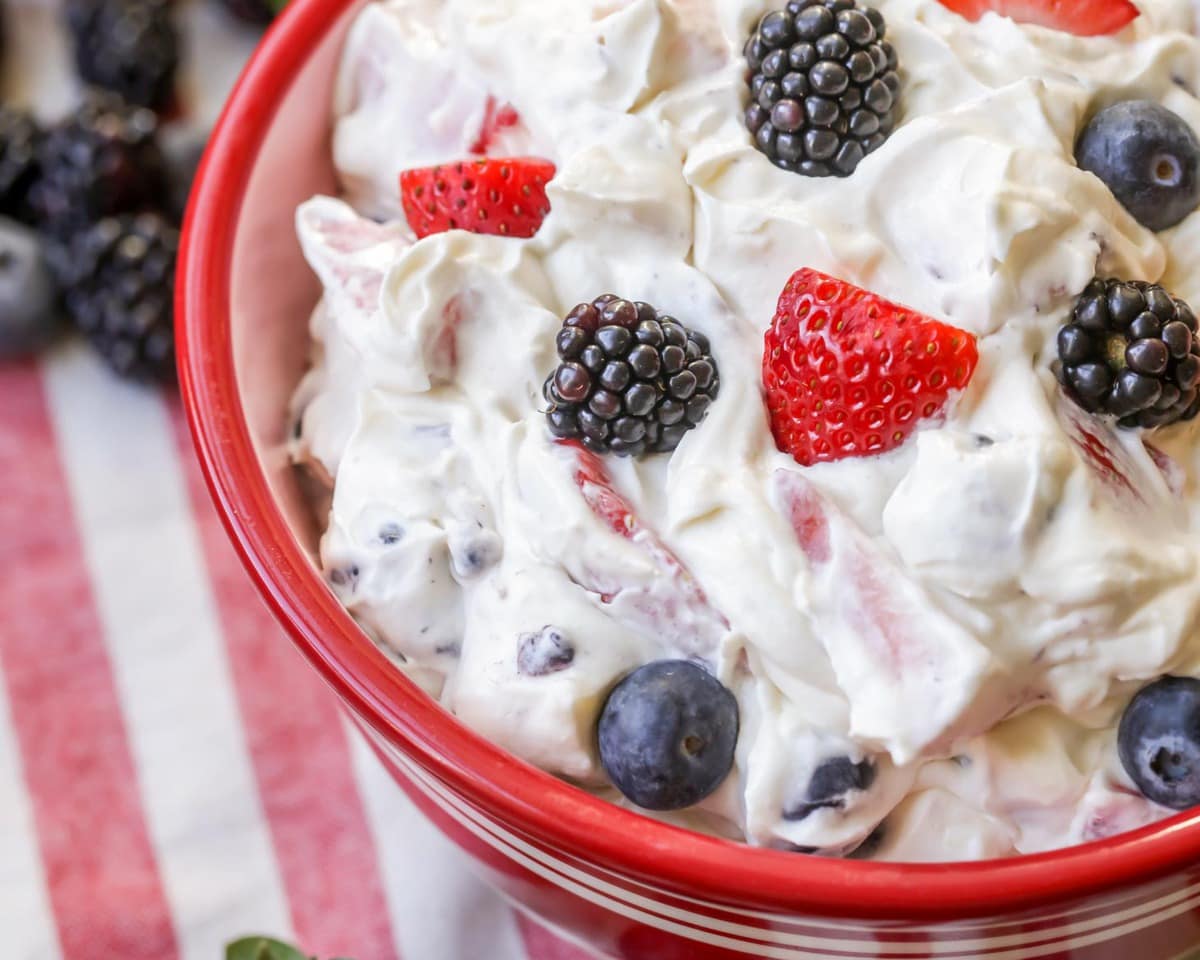 Tips for Memorial Day Gatherings
BBQ FOOD TIPS: Keep these things in mind when preparing food for this holiday.
Clean the grill a few days before the event.

Keep lids or plastic wrap handy to keep food covered and pesky bugs out.

Plan Menu ahead of time. This helps with shopping and if guests offer to bring a dish.

If keeping food in a cooler be sure to separate meats and poultry from other food items. 

Food should not be out for more than 2 hours. Only put out enough food that can be consumed within that window of time. Keep extra portions in a cold cooler or fridge.  

Take meats out of the fridge 20-30 minutes before grilling.

Cook and Serve meat according to done, medium and rare. Have designated signs labeling which plate is which.

Have a box of baking soda on hand in case of a grill fire.
OUTDOOR PARTY TIPS: Just a few things that may help if planning a party outside for Memorial Day.
Pick up the yard beforehand. Be sure there aren't any tools left out that children may get hurt on. 

Seating: Have plenty of seating set up around the yard. A

Pic Nic Blanket

is easy and  perfect for children. 

Tables: Older guests will especially appreciate a table. Also, provide tables if you're serving anything that needs to be cut with a knife. No one one wants to try that on their lap. 

Avoid long lines: Set food out in such a way that there can be more than one point of access. 

Lighting: If your BBQ is going to extend into the evening, be sure to have lighting such as torches or strings of light . A fire pit is also fun to have at night.

Shade: Use umbrellas or awnings. You can even string up bed sheets. Your guests will appreciate the shade. 

Be sure to provide plenty of trash bins. 

Have lawn games available

Music adds nice element
Main Dishes
It's common to grill meats on Memorial Day, since the weather is warming up, and nothing is better than the smell of grilling on a Summer holiday!
Plan on serving each adult 6 to 8 ounces of meat. Children will only need 3-4 ounces. Note that people tend to eat more in the evening than during the day. 
Salads
We love to serve a variety of sweet and savory salads on Memorial Day.
Depending on how many salad options are available, plan for each guest to be able to have about ½ -1 cup of salad. 
Side dishes
Memorial Day sides are some of our favorites. If hosting, be sure to get others involved and give them a side to bring. Most are simple and require little prep work.
Most adults will have about 3-4 total servings of sides. Children will have 2-3 servings. 
Desserts
It's fun to make patriotic themed desserts for Memorial day, or serve cold desserts like ice cream cakes since the weather is hot. We have a more elaborate collection of Memorial Day Desserts, but here is a small list of favorites.
Plan for each guest to be able to have two servings of dessert. The more dessert options there are, the less of each dessert you'll have to make. 
Drinks
You'll want to make sure that you have enough drinks to last through the duration of the party. Plan for guests to drink 4-8 oz in the first hour of the party and 4 oz for every hour after.
We always have water and soda and usually a homemade, kid-friendly drink. Some of our favorites are below: