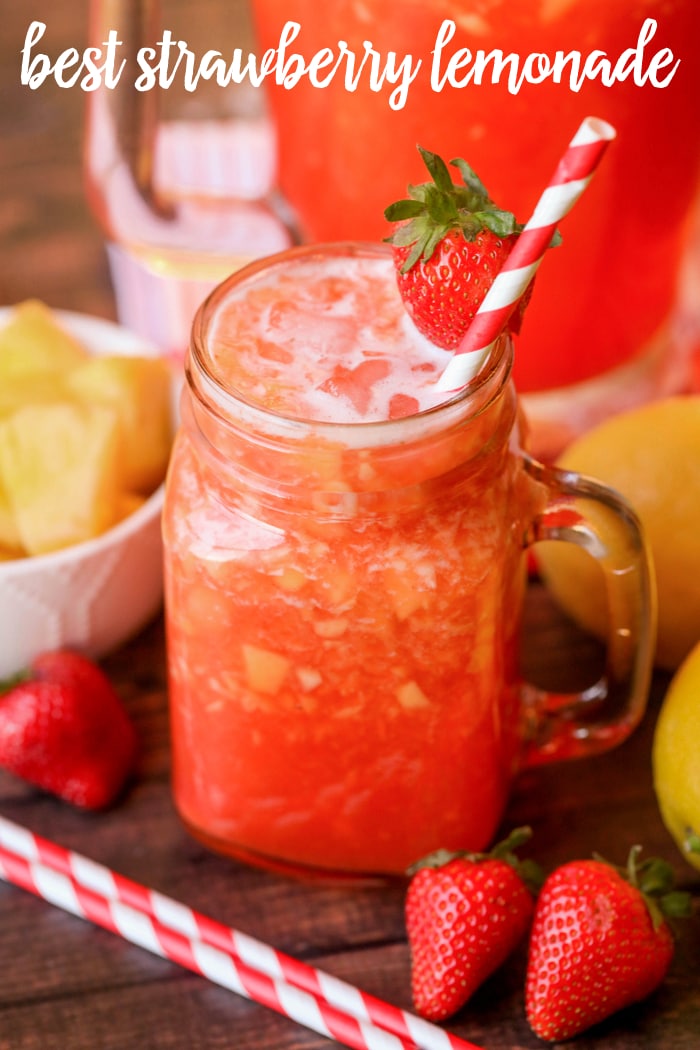 A few months ago, the hubby and I went on a double date with some friends to a place called Irma's here in Houston. We had never even heard of it, but we trusted our friends' judgment and were excited to try it out. When we pulled up, we were surprised to see a small, run down restaurant with Ferraris and other fancy cars parked outside of it. It was a hole in the wall, but it was also obviously very popular. The place was hopping and full of hungry customers. Irma's serves Mexican food, but they are also known for their delicious lemonade. I opted not to get any in an effort to be healthier, but the hubby wanted to try it. Of course, I had to take a few sips and it was truly the Best Strawberry Lemonade I had ever tried (I was regretting not ordering some for myself, but thank heavens for free refills!!) 😉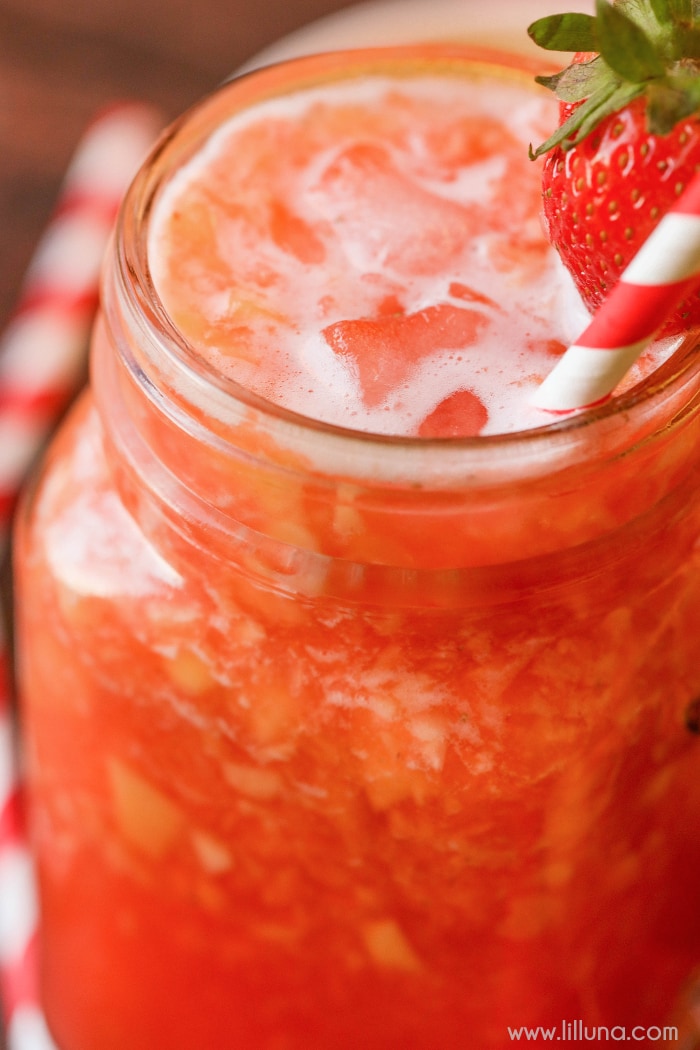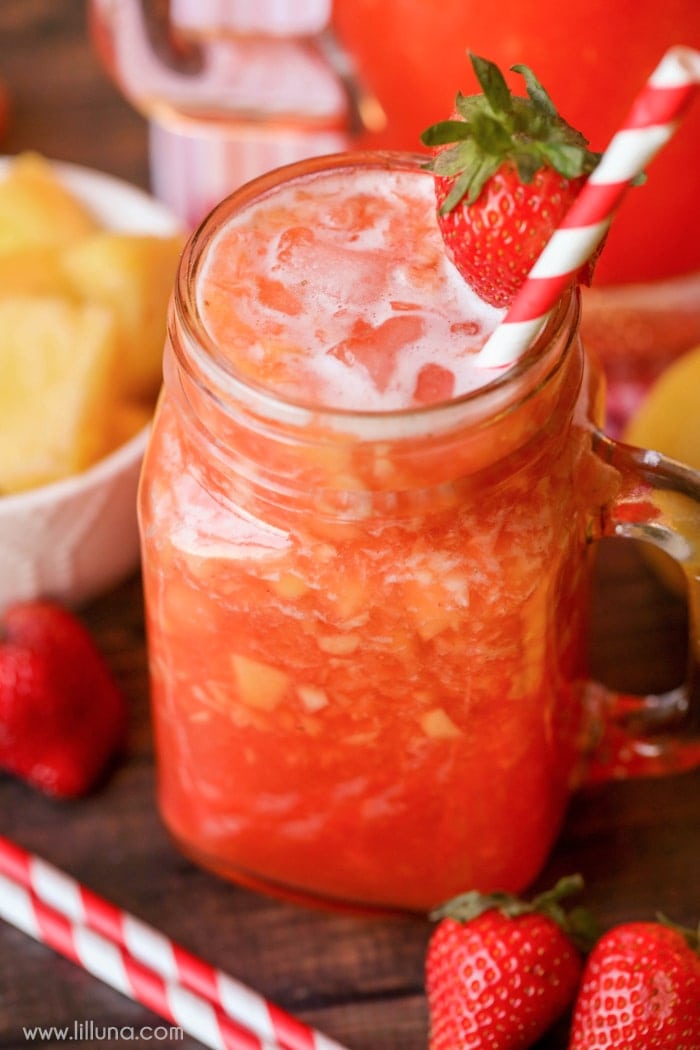 What was the best part about this lemonade? The chunks of different fruits in the mix! This made the lemonade even more flavorful and delicious. My husband asked if I could try to re-create it because he loved it so much as well. Although, it's not an exact replica of Irma's Strawberry Lemonade, I think today's recipe comes pretty close. With the chunks of fruit, it's more difficult to sip through a straw with, but it is seriously so amazing and refreshing!
I will probably triple the recipe next time we are having company over and will serve this because it's too good not to. 😉
Strawberry Lemonade:
Best Strawberry Lemonade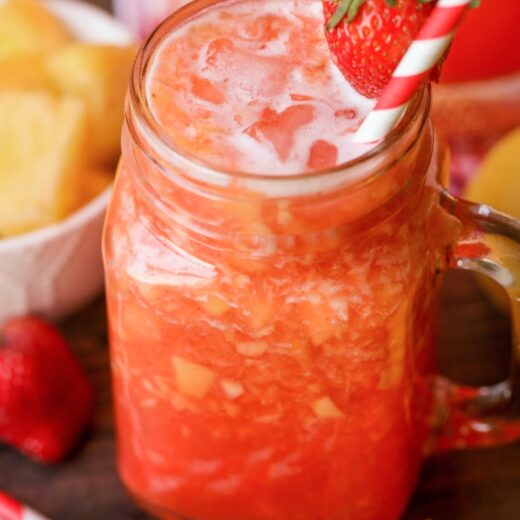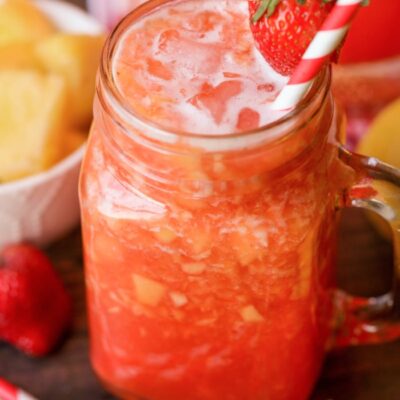 The BEST Strawberry Lemonade filled with chunks of your favorite fruit including strawberries, pineapple, mangos, cantaloupe and watermelon!
Ingredients
1/2

lb

strawberries

hulled and halved

6

lemons

freshly juiced

1 1/4

cups

sugar

3

cups

cold water

fresh fruit, chopped

(mangos, watermelon, strawberries, pineapple, cantaloupe)
Instructions
Place strawberries in blender and blend until smooth.

Pour into a pitcher with lemon juice, sugar and water. Stir until sugar is dissolved.

Add chopped fresh fruit right (we added ¼ cups of each of the following - chopped mangos, watermelons, strawberries, pineapple and cantaloupe) before serving, along with ice. ENJOY!
This is another favorite lemonade recipe: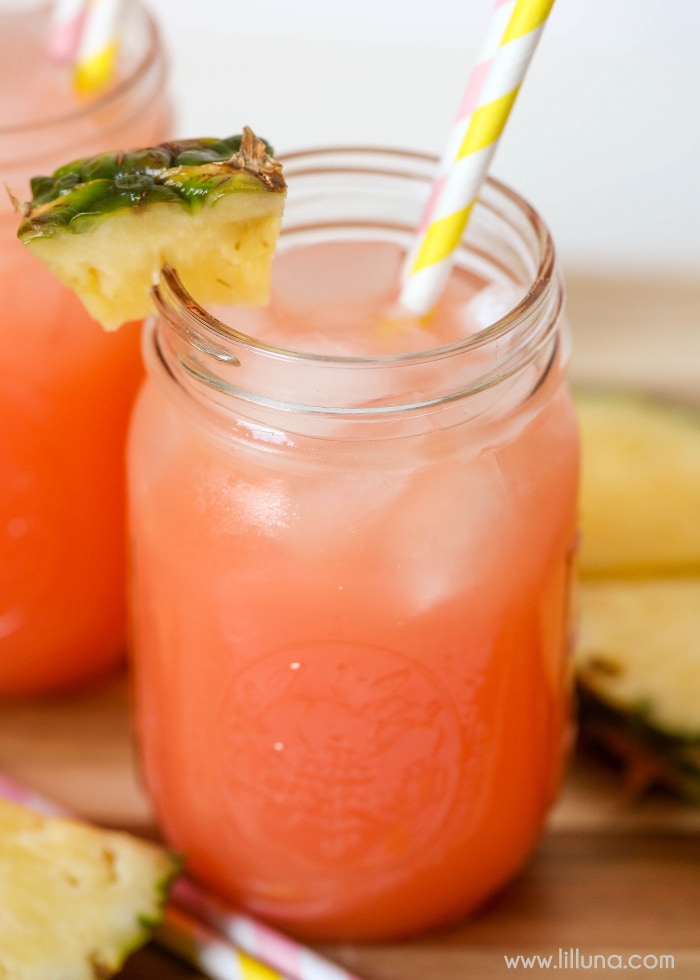 For more drinks, check out:
ENJOY!