A delicious homemade pie with a fresh peach filling and flaky crust! Serve this peach pie with a scoop of vanilla ice cream for a mouth watering dessert.
Fruit pies are absolutely delicious in the summertime when fruit is at it's peak season! This peach pie is no different. If you like peachy desserts, you should also try peach dump cake and peach crumb bars!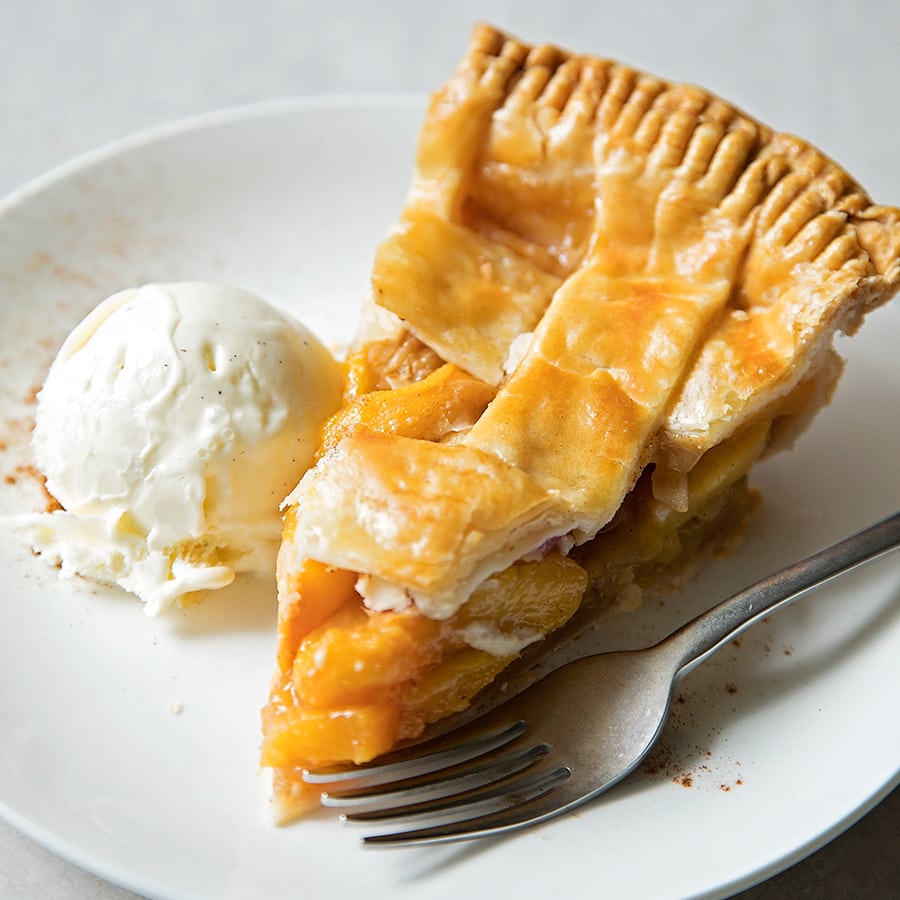 Ripe peaches make the sweetest pie
Looking for an easy, delicious summer pie? This is it! Homemade pie doesn't need to be intimidating. With just a few simple steps you'll be able to make this juicy, fresh peach pie in no time!
How do you know when your peaches are ripe enough to use in pie? You should be able to peel the skin off with your fingers. They should be ripe, yet firm (not mushy). They will be juicy and sweet.
You'll need about 8-10 peaches, depending on their size. I like to go with about 5 cups of sliced peaches, you can use up to 6 cups if you have a deep pie dish.
To prepare the peaches, simply rinse them, cut them into 1/2-inch thick slices, then peel with your fingers or a paring knife.
Making a perfectly set pie: Peaches are juicy! They have lots of moisture in them unbaked and baked. It's best to let them sit for 30 minutes, drain them and then proceed. Cornstarch will also help thicken up any remaining juices and prevent a soggy pie.
Peach pie filling
Once the peaches have been drained, you'll want to toss them with a few ingredients:
Brown sugar
Granulated sugar
Cornstarch
Cinnamon
Nutmeg
Salt
Lemon Juice
Vanilla Extract
Coat the peaches, then pour them into 9-inch pie dish lined with pastry dough.
Store bought or homemade pie dough?You can use either! Store bought will save you lots of time, it's also a lot easier to work with and there's less of a chance that it will shrink during the baking process. Homemade is obviously more flaky and buttery… but it does take a lot more time and planning (plus you need to keep it really cold).
A double-crust, or two rounds/portions of pie dough are needed for this recipe.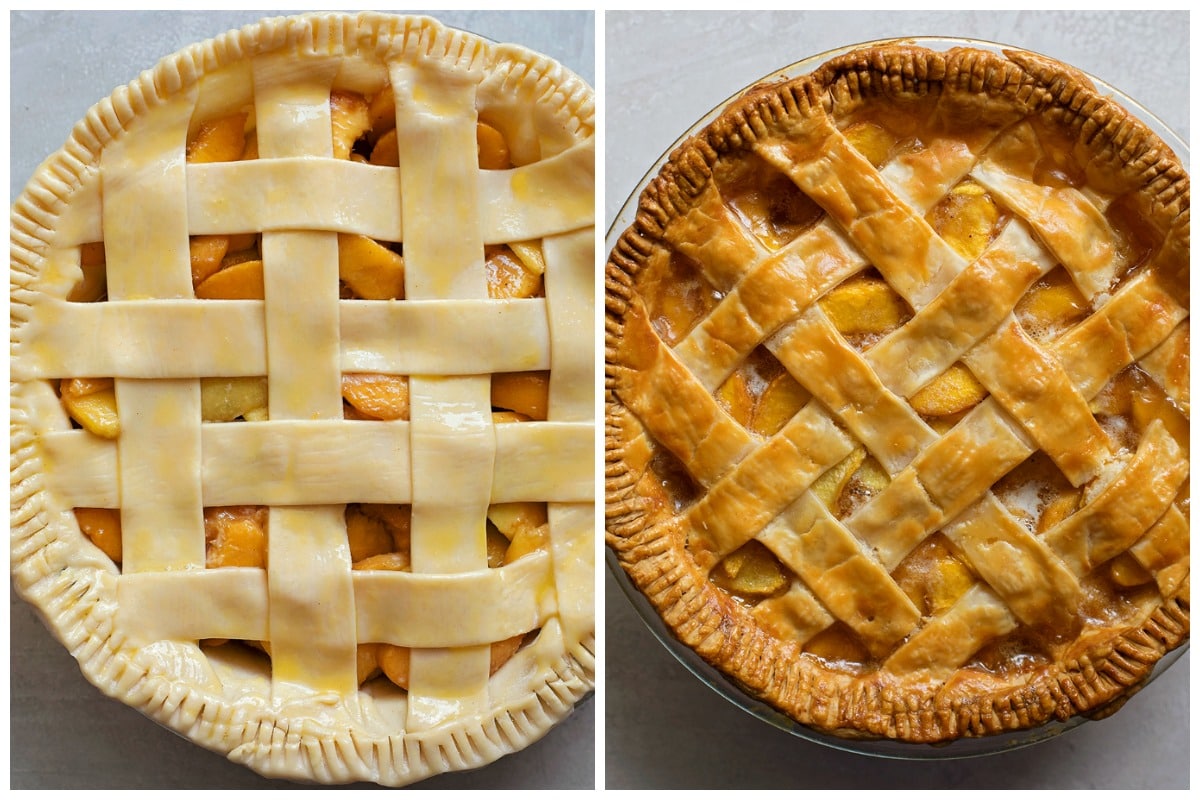 Topping, Baking, and Serving
To make the lattice design, cut the rolled round of pie dough into thick strips. Place them on top of the pie, then weave into a lattice design. It's a lot easier than you think, I promise!
Brush with a lightly beaten egg, then place in the oven to bake for 45-55 minutes at 400 degrees. If the pie starts to become overly brown in the last 10 minutes or so, tent with a piece of aluminum foil.
Tip: Let the pie cool at room temperature for at least an hour before cutting, slicing and serving. This will allow time for the juices to set instead of run out of the pie and onto your plate.
Serve with a big scoop of vanilla ice cream or a dollop of freshly whipped cream.
Storage tips
Can peach pie be frozen? Most fruit pies can be frozen baked or unbaked. If you do freeze a baked pie, it must be cooled completely before freezing. This can take anywhere from 2-3 hours.
Storing leftovers: You can store peach pie at room temperature for a day, but it should be stored in the refrigerator and reheated after 24 hours.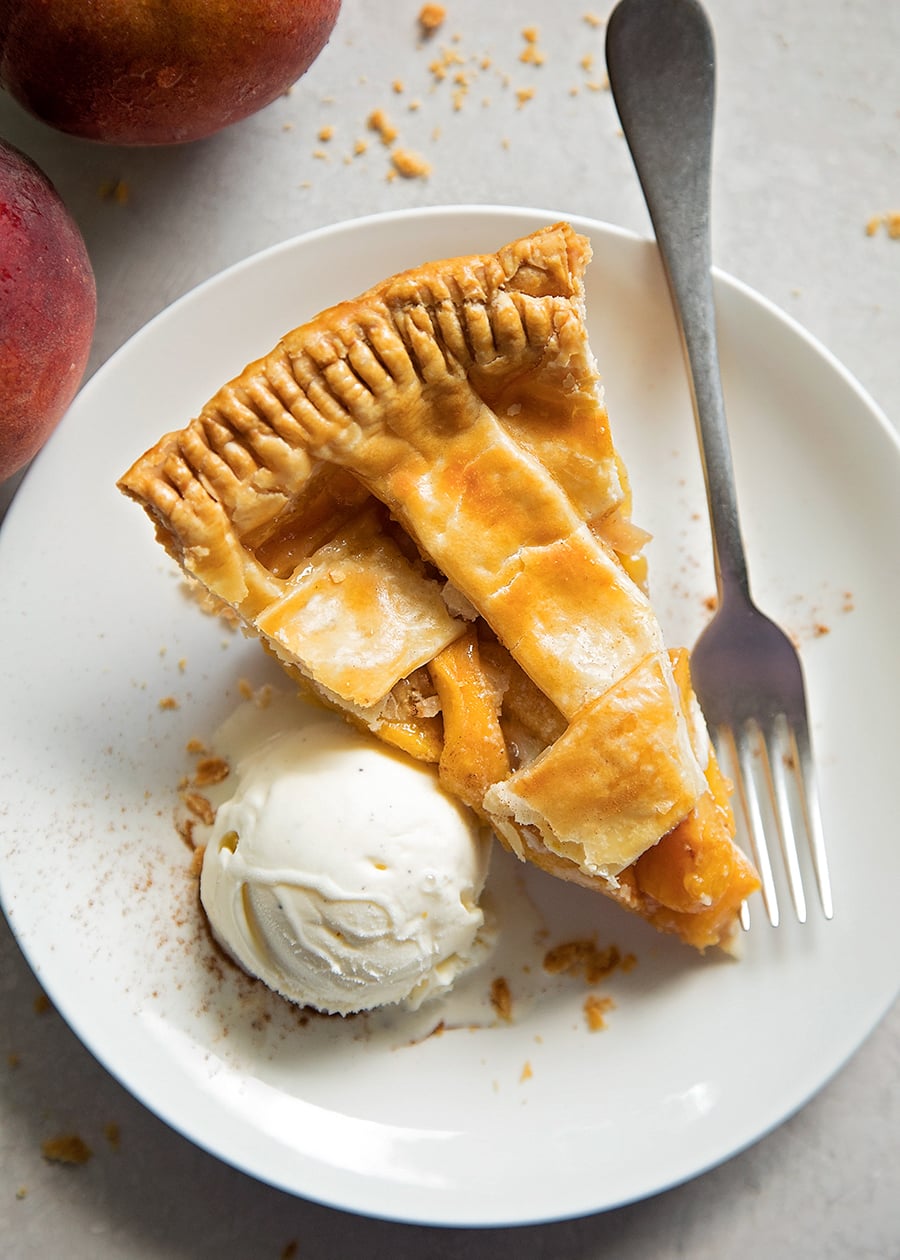 I know you'll love this peach pie recipe, our family sure did! It's perfectly sweet, lightly spiced and the buttery crust is heavenly. Easy, delicious and perfect for summer!
For more pie recipes, try:
Peach Pie Recipe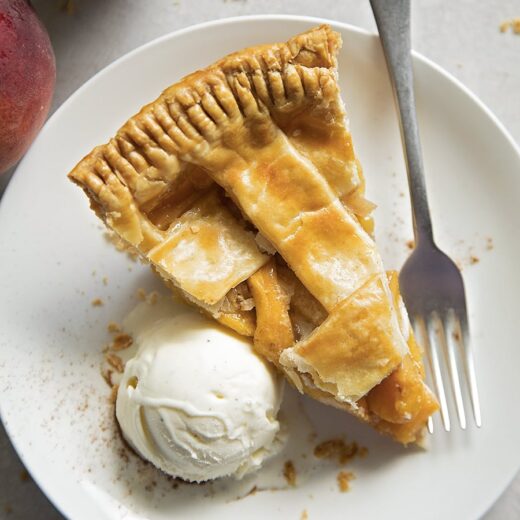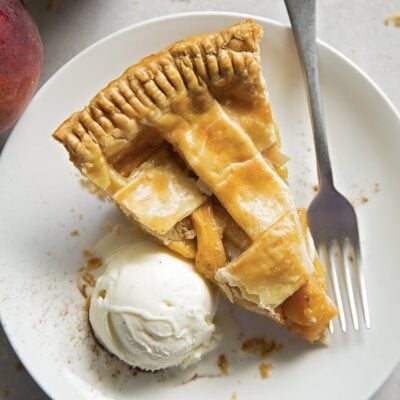 A delicious homemade pie with a fresh peach filling and flaky crust! Serve this peach pie with a scoop of vanilla ice cream for a mouth watering dessert.
Ingredients
5

c.

sliced ripe peaches, peeled and sliced

*the skin should come off easily when using your fingers

1/3

c.

brown sugar

1/3

c.

sugar

3

tbsp.

cornstarch

½

tsp.

cinnamon

1/8

tsp.

ground nutmeg

⅛

tsp.

salt

1

tbsp.

lemon juice

1

tsp.

vanilla extract

1 1/2

tbsp.

butter, cut into small pieces

2

rounds pie crust, homemade or store-bought

1

egg
Instructions
Preheat oven to 400 degrees.

Line a 9-inch pie dish with pie crust, place in refrigerator.

Add sliced peaches to a large mixing bowl. Let peaches stand for 30 minutes. Drain juice.

Add sugars, cornstarch, cinnamon, nutmeg, salt, lemon juice, and vanilla extract, toss to evenly coat. Pour peaches into the prepared crust. Dot the top of the peaches with small pieces of butter.

Cut remaining round of dough into strips into thick strips to make a lattice crust. Place on top of dough and weave. Trim the edges of the crust, seal, then flute or use a fork to crimp.

Whisk the egg, then lightly brush over the lattice crust and edges.

Place in the oven and bake for 45-55 minutes. Tint crust with foil during the last 10 minutes, if necessary.

Remove from the oven and allow to cool for at least 1 hour before serving.