Ooey gooey Rice Krispies Treats that are so scrumptious you won't be able to eat just one! this is our go-to recipe for making this classic treat, especially because they're made in minutes!
We are huge fans of all things Rice Krispies, and even have a version filled with caramel, chocolate caramel peanut butter rice krispie treats and so many different versions for the holidays. We love that they are easy to change up and take minutes to make!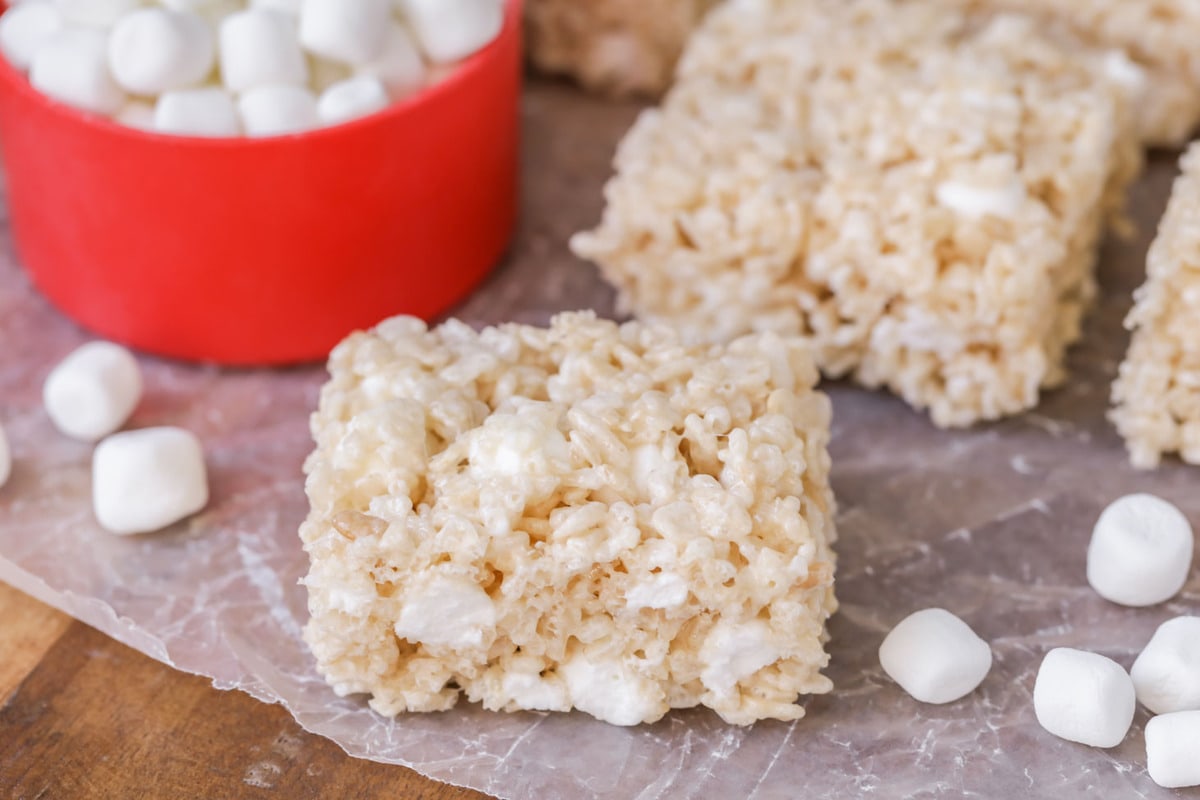 Our go-to Treat!
I know we say this with most of our recipes, but this really is the BEST Rice Krispies treat recipe out there!
It's simple, no fuss, and fail proof. You can literally make these yummy treats in under 10 minutes. That's practically no time at all. I love a good quick dessert recipe. And I love Rice Krispie treats.
I grew up making and eating rice krispie treats all the time. Cut these goodies into squares and have a few right away or store in an airtight container for a few days.
These are perfect for bringing to family dinners, school functions, or dropping off to a friend in need. Plus, we love that they can be changed up by using different flavored marshmallows, different kinds of cereal or even adding toppings. They are classic and will always be out go-to treat.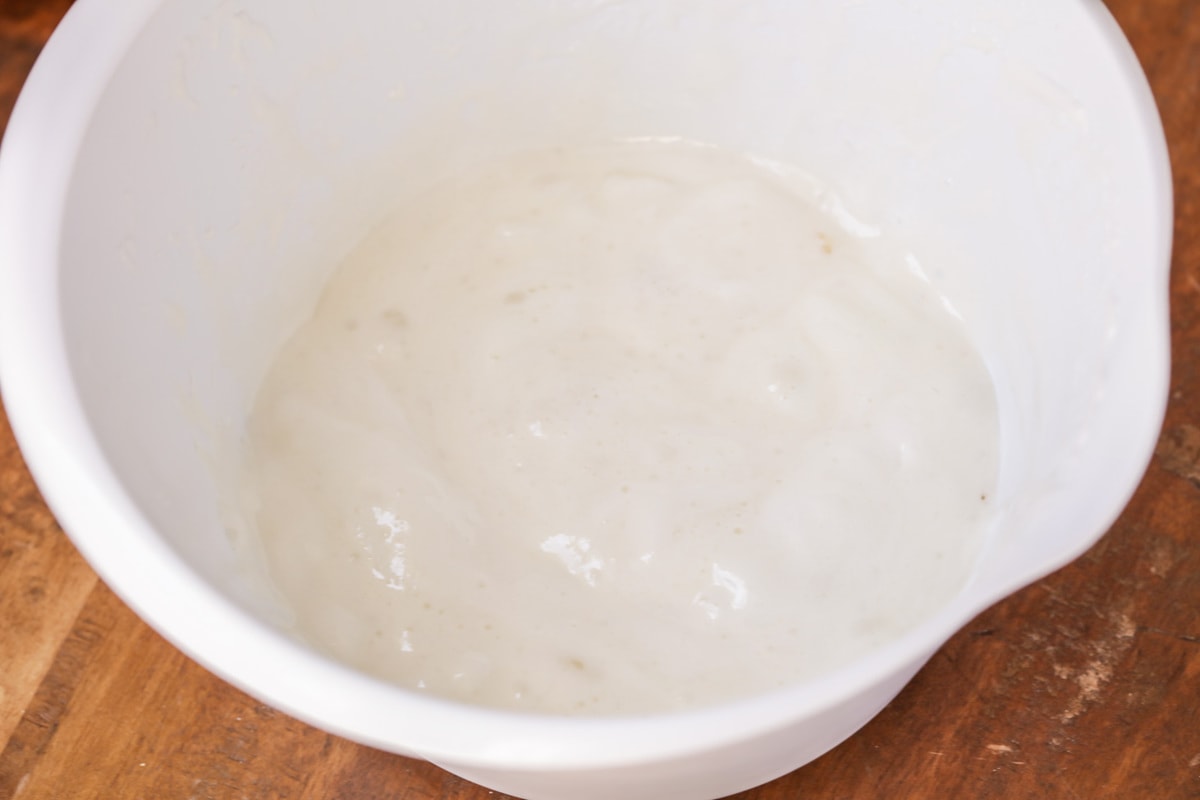 Rice Krispie Treats Ingredients
Can we talk about how you only need THREE ingredients for this recipe? I repeat, THREE ingredients for one of the best snacks/desserts ever. I bet you can guess what those three ingredients are. Yup, you're right:
Butter
marshmallows (we use regular AND mini)
Rice Krispies
Something about the combination of those three ingredients is magical. Make sure to save 1-2 cups of mini marshmallows to mix in at the end. I love the look of the non-melted marshmallows mixed throughout the rice krispie treats. You can never have too many marshmallows.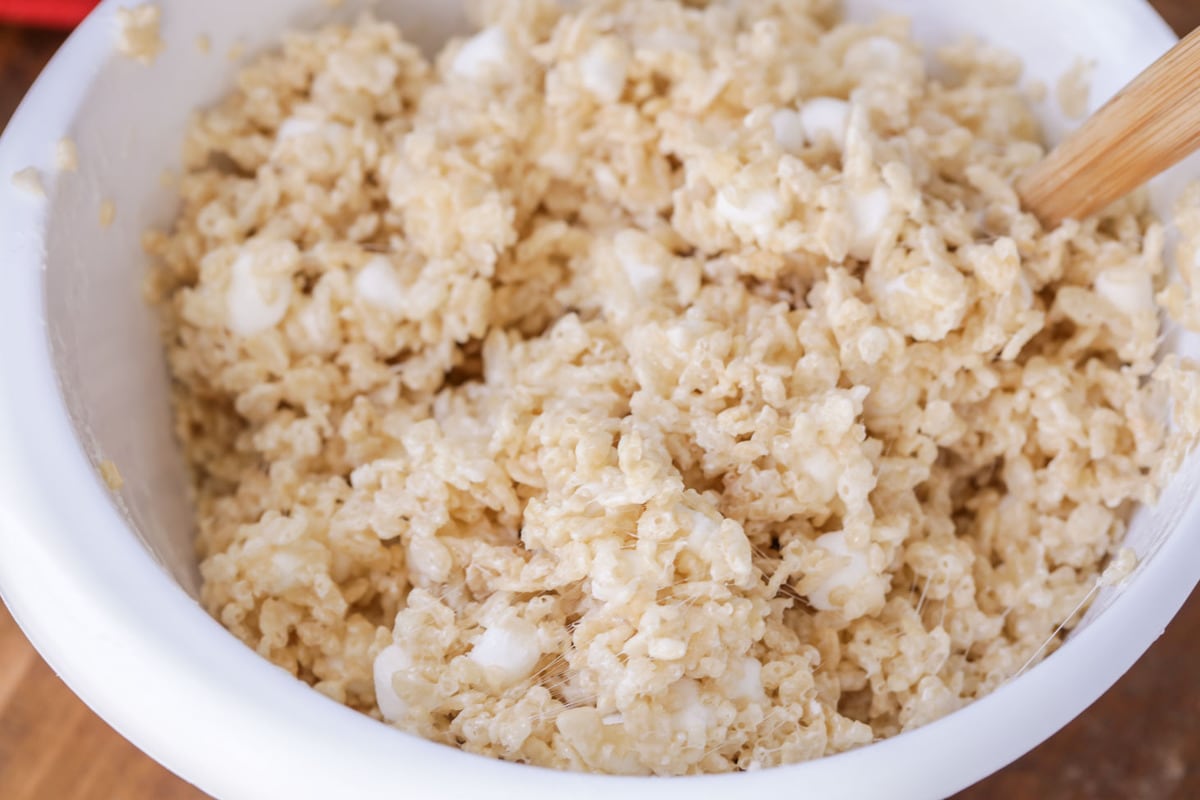 How to Make Rice Krispie Treats
Do you want to know why these rice krispie treats are so easy to make? Because you melt the marshmallows in the microwave! Doesn't get much easier than that. No stove top cooking for this recipe (but you can if you want)
Put the butter into a microwave safe bowl and melt for 30 seconds. Add the large marshmallows to the bowl and microwave again for an additional 3 minutes. Take the bowl out of the microwave and stir in the rice krispies cereal. It will be sticky but keep stirring until it's all combined.
Toss in 1-2 cups of mini marshmallows and mix together. Grease a 9×13 pan and spread the krispie treats into the pan with your hands. I like to spray my hands with a little cooking spray for this part so that the treats don't completely stick to my fingers. Let them set for a minute or two or just dig in right away like I do.
Best way to make even cuts
: 
Line the pan with parchment paper before pressing the treats inside.

Allow them to cool. Warm treats don't cut as crisply.

Once the rice krispies have set remove the entire block by lifting them out with the parchment paper. 

Use a large sharp kitchen knife to make even clean cuts.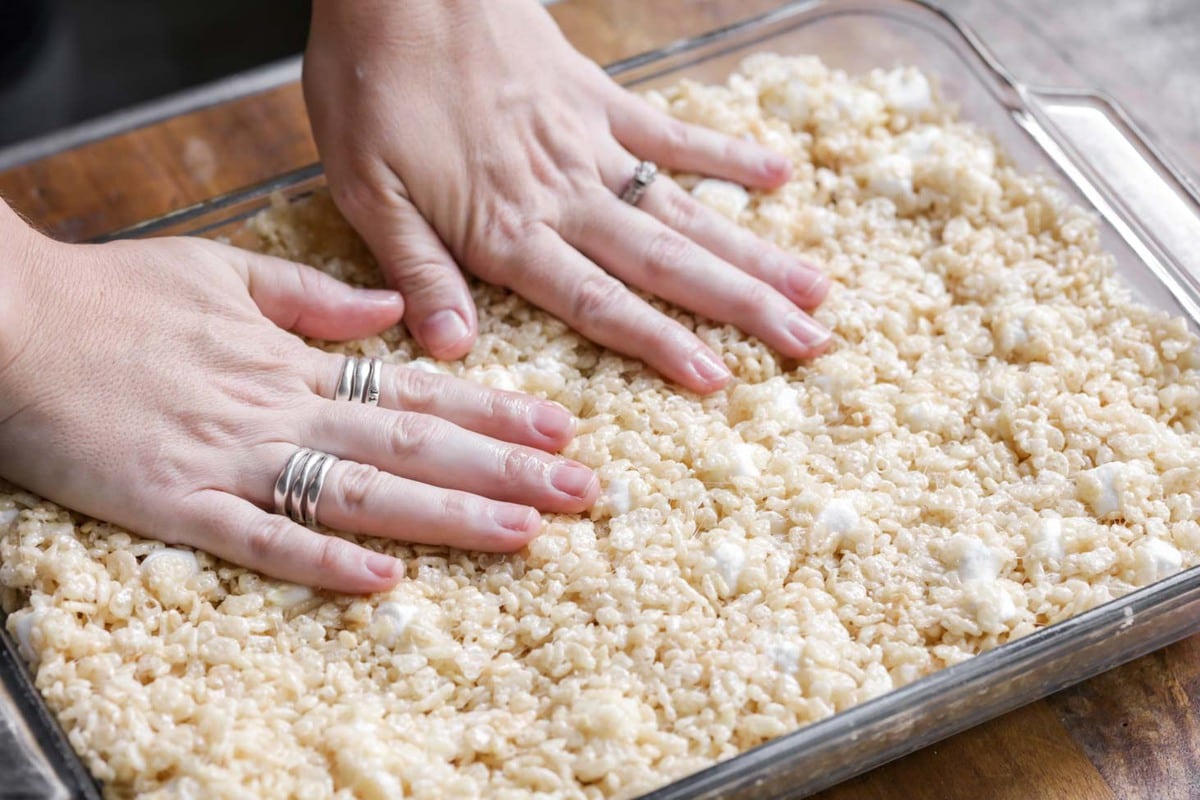 (You can use wax paper to press down the gooey treats or even put butter or cooking spray on your hands to help mold the treats into the pan). 
recipe Tips + Tricks
Keep from hardening: Here are a few tips that will keep your treats soft:
Don't use old marshmallows. So save that bag that's been hiding in the back of the pantry for hot chocolate and use a fresh bag for this recipe.

Don't over heat themarshmaellows

Don't pack the rice krispie layer too tightly. 

Store them in airtight containers.
How to store: These treats will stay fresh for about 3 days if kept in an airtight container. They'll be edible longer, but they will begin to harden. 
Try and keep them in a container that will fit all of them just right, without much excess air. The more open space, the more likely they are to dry out faster. Wrapping them in plastic wrap before storing will help them stay soft as long as possible.

Store them at room temperature and not in the fridge. 

Freezer: Wrap each treat with plastic wrap and place them in a freezer Ziploc. Freeze for up to 3 months. Thaw before eating. Note: freezing extends the shelf life, but they will not be soft and gooey like fresh treats.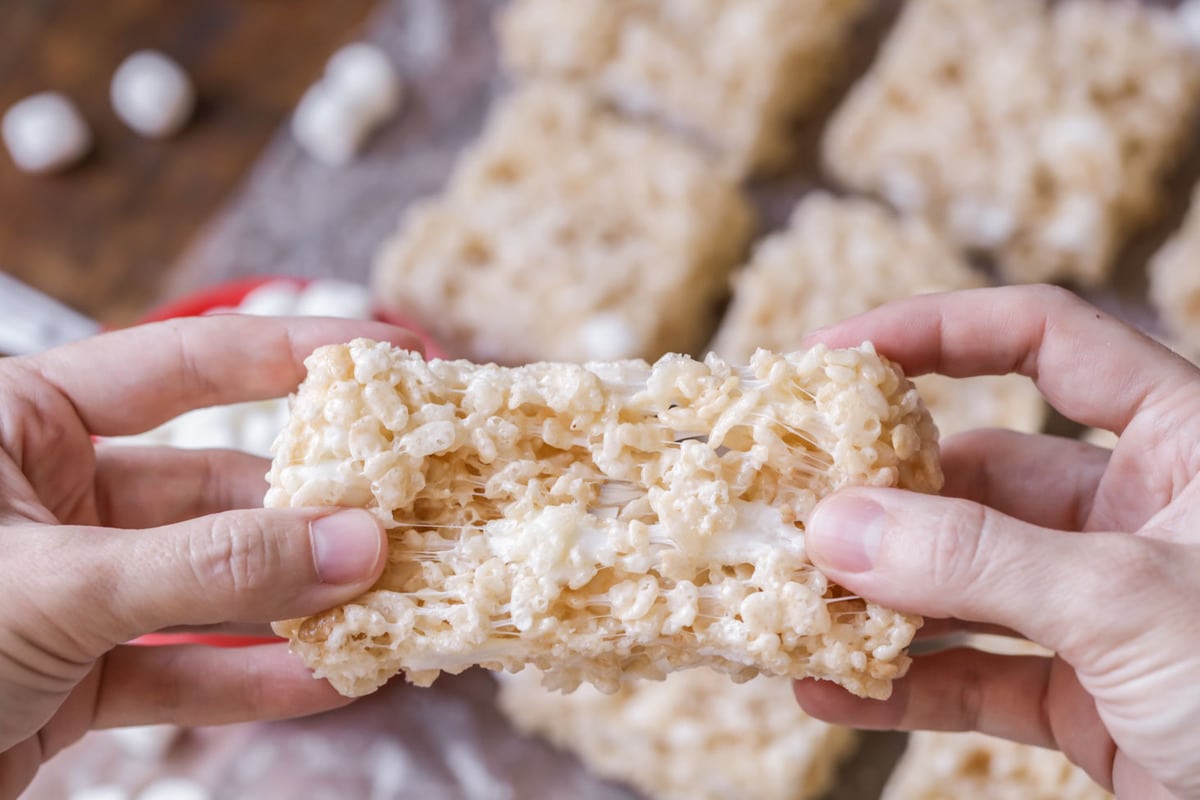 Different Varieties of Rice Krispie Treats
One of the things I like most about rice krispie treats is that there are so many different varieties you can make! And it only takes a couple extra easy steps to change it up. Add in some melted chocolate to turn these into chocolate rice krispie treats. Add in chocolate chips and graham crackers to make them s'more flavored! You could even throw in rainbow sprinkles and call them birthday rice krispie treats.
We have a TON of different variations on our website that you should totally check out. Here are some of our favorites:
Honestly, the possibilities are endless!! Also think about all the different cereal combos you could make… with Trix, Fruity Pebbles and the varieties of Rice Krispies. 😉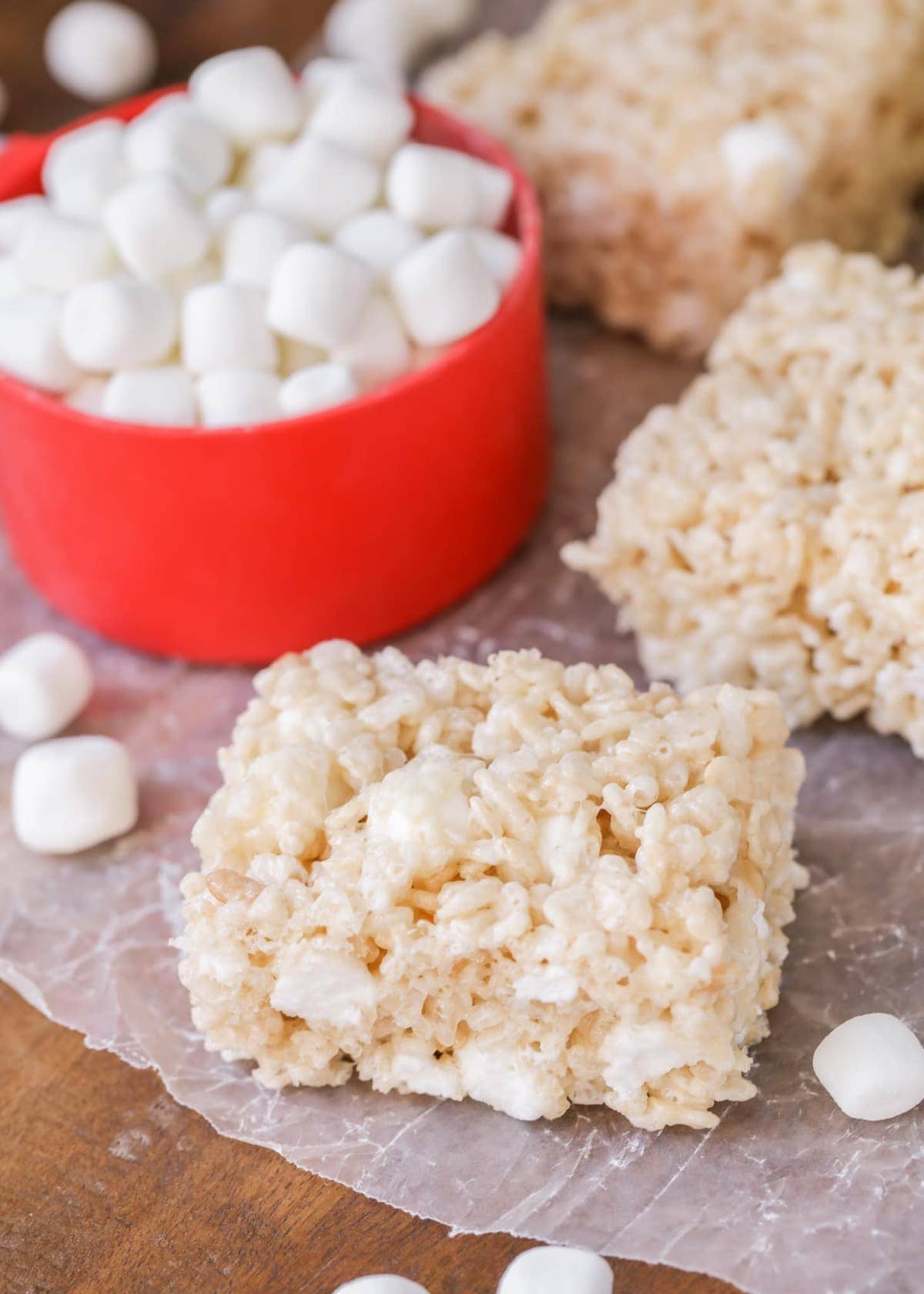 More Treat Bars:
Rice Krispie Treats Recipe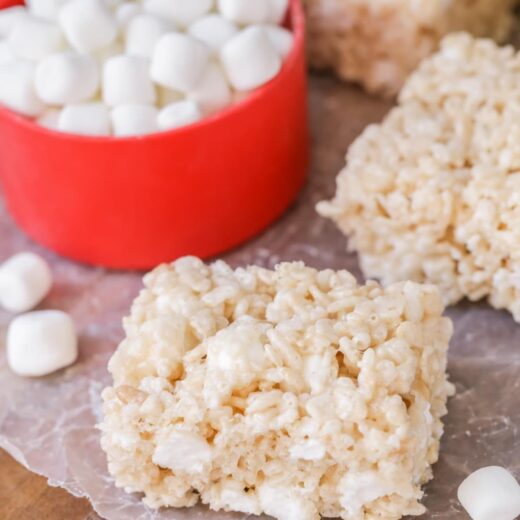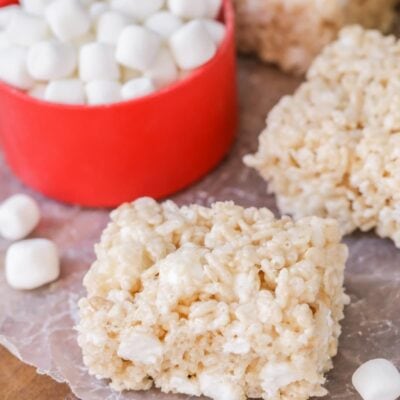 Gooey Rice Krispies Treats are made in minutes. This classic recipe is so scrumptious you can't eat just one!!
Ingredients
3

tablespoons

butter, melted

12

oz bag

large marshmallows

1 1/2

cups

mini marshmallows

8

cups

rice krispies
Instructions
In a large bowl, melt butter in the microwave for 30 seconds.

Add large marshmallows to butter bowl and microwave for 3 minutes.

Stir well and slowly add rice krispies. When all combined, toss in 1-2 cups mini marshmallows and then pour into a greased 9x13 pan. Let set and enjoy!