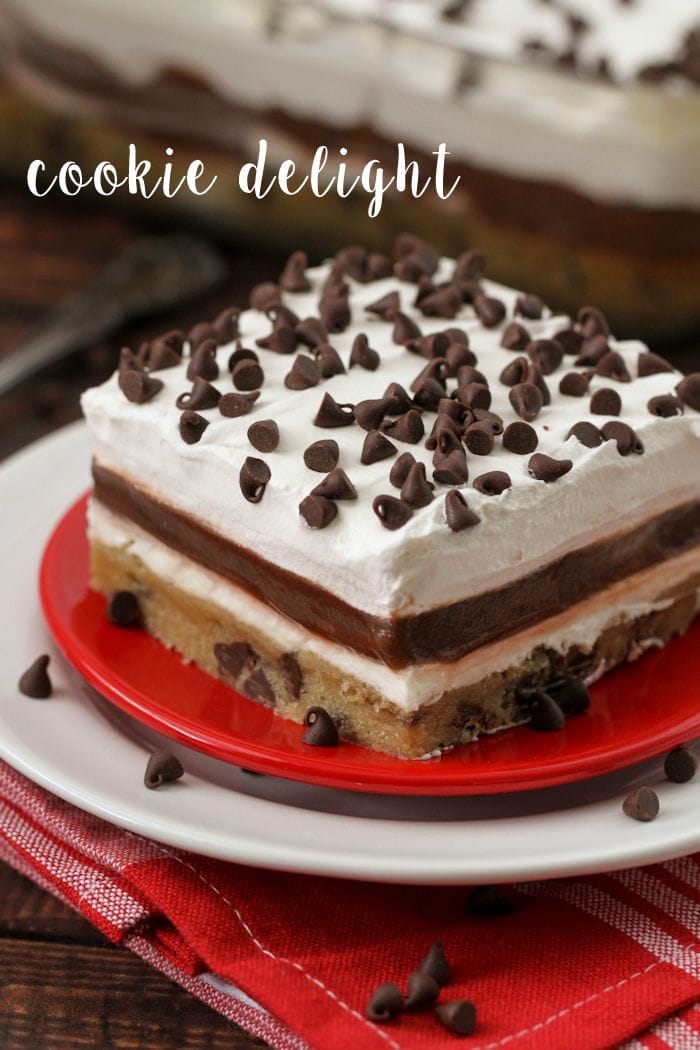 Happy Monday!
It's the kids' first day back to school, and I'm SO sad about it. I'm not going to lie, things get pretty crazy, loud and messy having all 5 kids home during the summer, but I kind of love it. I just feel more content and at peace knowing all the kiddos are home with me. Having said that, I know the kids love school and I also love hearing all about what they've learned and what they've done in the classroom. I'm really hoping both Gav and Lily come home happy. 🙂
Speaking of things that make us happy…
I have another delicious dessert for you today. You guys know I have a thing for layered desserts and today's Cookie Delight happens to be one of them. This time, there is a cookie base, cream cheese layer, pudding layer and then it's all topped off with cool whip and mini chocolate chips. Yes, it's decadent but it's DELICIOUS! The kids all agreed it was (in their words) "AMAZING!!" The hubby and I agreed, so if you like chocolate, and you LOVE cool treats, then you'll love this recipe. 😉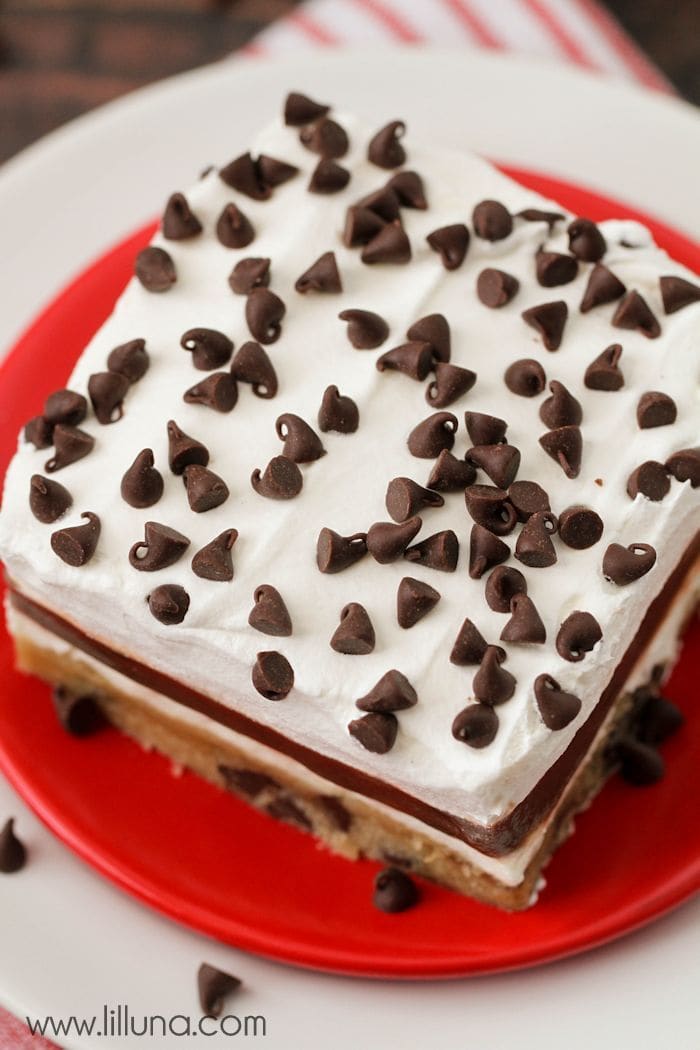 You guys – this dessert is AWESOME! It's one of those desserts that everyone would love and one that would be devoured in .2 seconds at any function. 😉
I'm telling you… I have a thing for layered desserts. 😉
For more layered desserts, check out: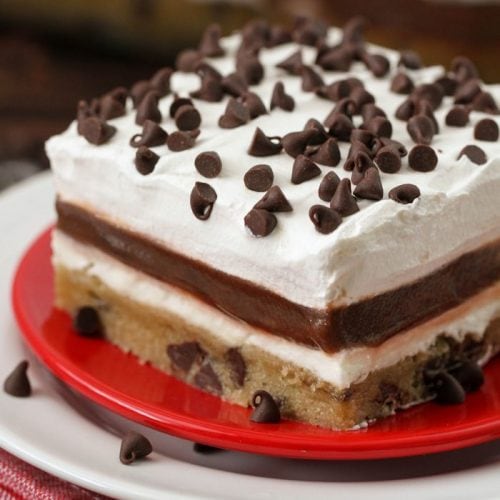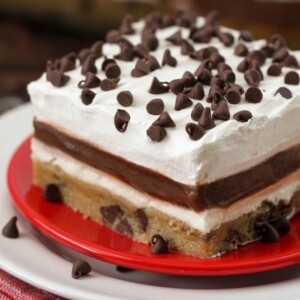 Cookie Delight Recipe
Cookie Delight - A delicious and cool layered dessert with a cookie base, cream cheese and pudding layer all topped off with Cool Whip and mini Chocolate Chips. AMAZING!
Ingredients
16

oz

chocolate chip cookie dough

refrigerated

8

oz

cream cheese

softened

1

cup

powdered sugar

16

oz

cool whip

3

cups

milk

3.4

oz

chocolate pudding

3.4

oz

white chocolate pudding

mini chocolate chips for topping
Instructions
Soften Cookie Dough on counter (dough at room temp will make it easier to spread).

Preheat oven to 350 degrees.

When dough is soft, gently spread into greased 9x13 baking pan. Bake for 14-18 minutes or until golden brown.

In a medium bowl, mix together cream cheese and powdered sugar until smooth. Fold in half of the Cool Whip.

Once your cookie base is completely cooled, spread on cream cheese mixture.

Pudding Layer: In a medium bowl, combine chocolate and white chocolate puddings with cold milk. Whisk together until smooth. Let it set for about 2 minutes. Spread pudding mixture on top of cream cheese layer.

Refrigerate until ready to serve (or for at least 30 minutes).

Right before serving, spread remaining Cool Whip on top and sprinkle with mini chocolate chips. ENJOY!
Recipe adapted from the Country Cook.