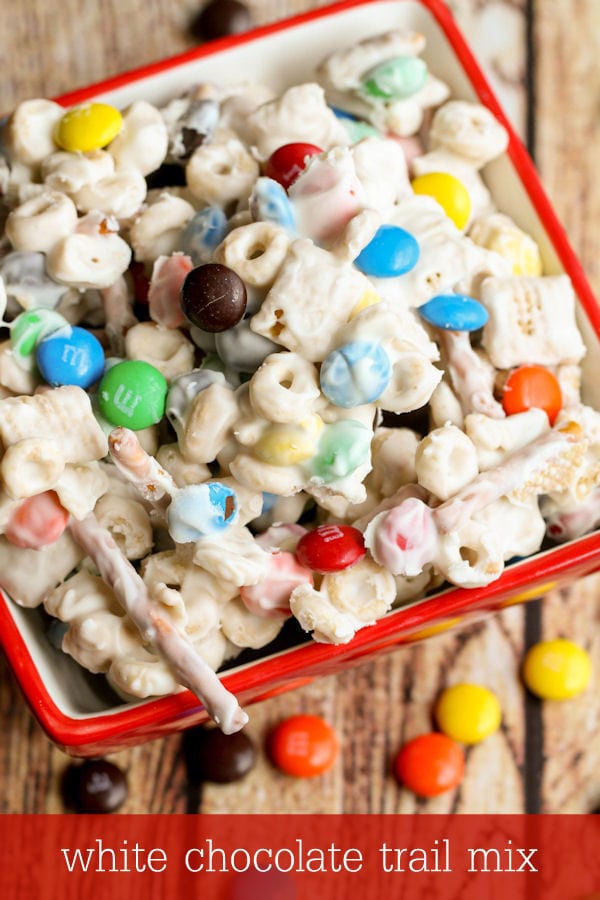 Hello, it's me – Lily! Did you have a great Christmas, and did you have a great New Year? I got to see my family in Arizona for the holidays. I spent the first four nights at my Grandma Merkley's house and the second four nights were at my Grandma Ritchey's house. I had so much fun! I got to Organ Stop Pizza, I went Goofy Golfing, I went to Freddy's Frozen Custard, I spent the night at my cousin's house, and even did a pillow fight! Evie was going crazy throwing her pillow – it was a blast!! I love playing with my cousins. Today, I am sharing a recipe for White Chocolate Trail Mix (AKA White Trash recipe).
This trail mix is amazing! We made this for Santa on Christmas Eve. We knew he might be sick of cookies so we made him this. We made him White Chocolate M&M Popcorn last year, and it was all gone so we knew he'd this mix this year!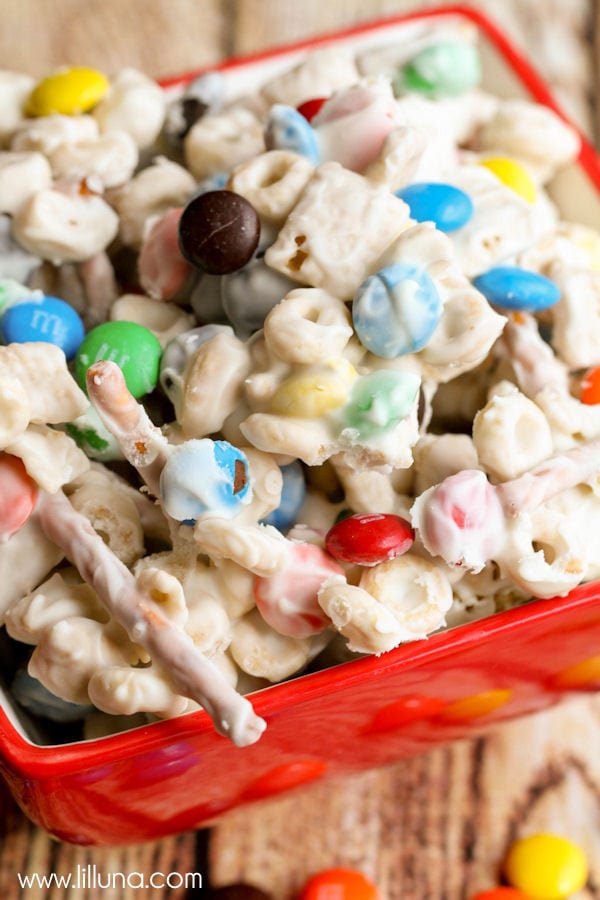 We REALLY love this recipe. It is sweet AND salty. I think this Trail Mix will make Santa's belly feel extra jolly! I think you'll like it too. 🙂
White Trash recipe: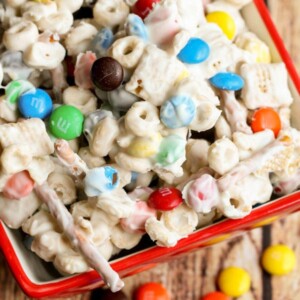 White Chocolate Trail Mix Recipe
White Trash recipe - filled with M&Ms, Chex, Peanuts, Cheerios and Pretzels all covered in white chocolate
Ingredients
2

cups

Rice Chex Cereal

2

cups

pretzels

2

cups

plain Cheerios

1-2

cups

peanuts

2

cups

M&M's

1

package

White Almond Bark
Instructions
Combine all dry ingredients in a bowl and mix well.

In a separate bowl, melt almond bark according to package directions.

Poor bark over ingredients, mix well and spread out on wax paper to set.

I double this recipe all the time and its the perfect amount for parties.
Hope you have a Happy New Year!! Also, I'm sharing some shocking news next week. 🙂 I hope you can come back again soon for more yummy treats from me.
Love, Lily
 BEHIND THE SCENES AT LILLUNA.COM: