These Oven Roasted Potatoes are flavorful and full of cheese and bacon making them the perfect side dish to any dinner recipe.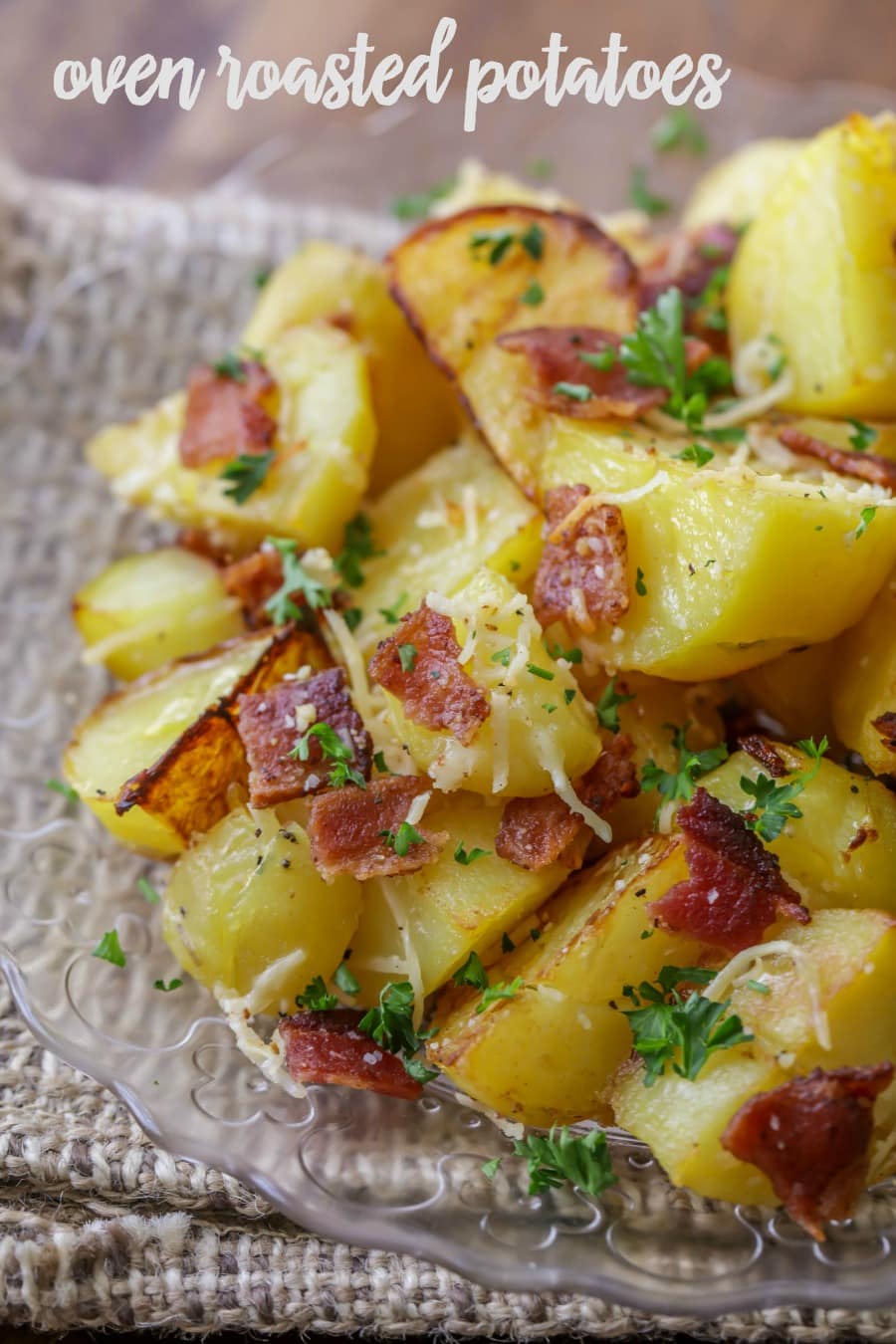 Hi guys! Can you believe May is almost over? The kids just had their last day of school and, to be honest, it's a bit daunting to think about the days ahead and all the food that will be consumed over the next 8 weeks. Summer food can be fun, because it typically means simple, light and last minute.
The Perfect Side Dish
A good, sit down family meal, is far and few in between, because we always seem to be out and about. I still try to plan for one during the week, and one for Sunday. And today's tried and true for Oven Roasted Potatoes are the perfect side dish to said family meal.
These potatoes were delicious! I was surprised at how tasty they were since it calls for just a few simple ingredients. We made a few changes that I think really helped. We tossed the cubed potatoes in the butter and seasonings to make sure they were coated nicely. We skinned them, as the original recipe suggested, but next time we will leave the skins. It took a lot of extra unnecessary time, as I think they will be just as good with the skin! Try them with or without skin and let us know what you think.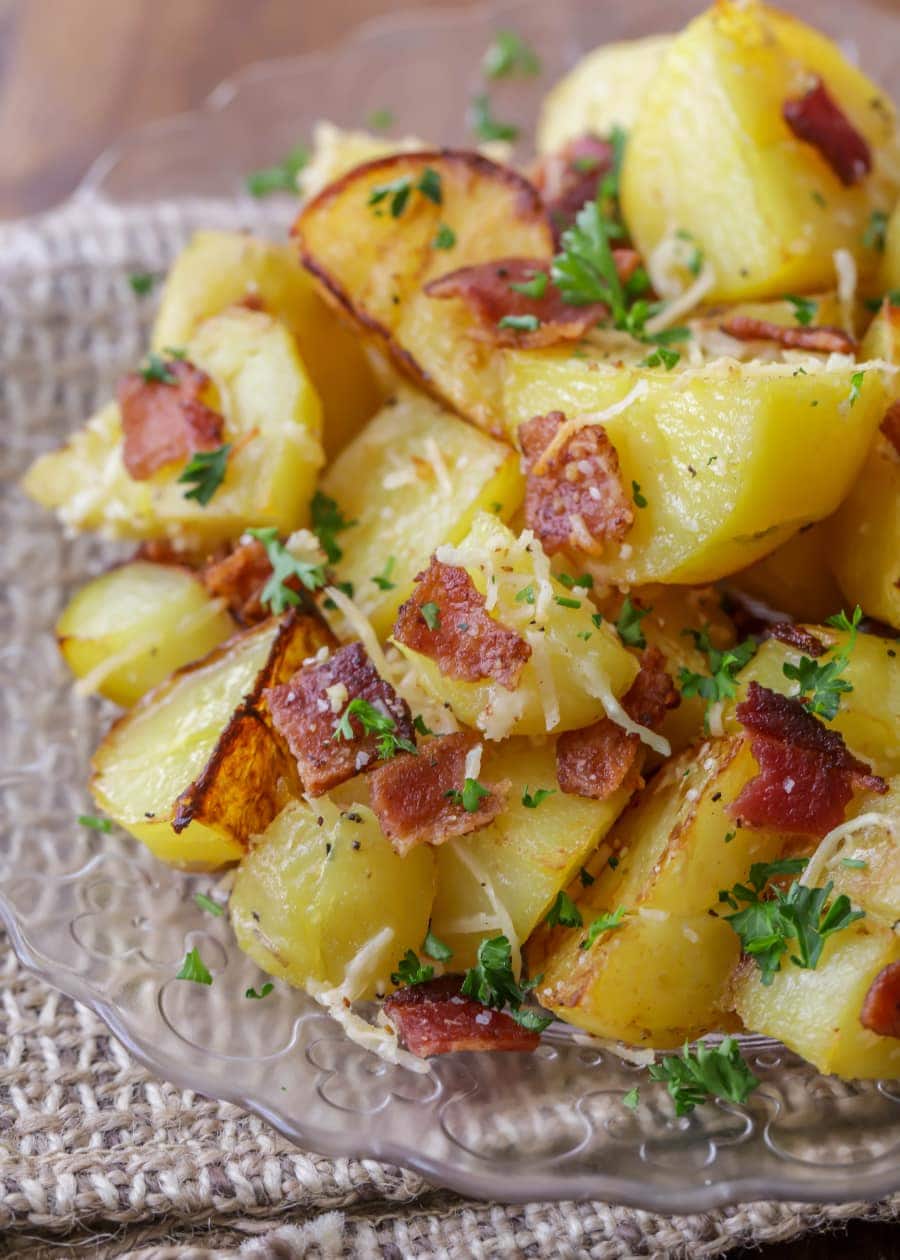 If you love potatoes, we think you'll enjoy this great and tasty side dish!! You really can't go wrong with potatoes and bacon!! ;D
Oven Roasted Potatoes: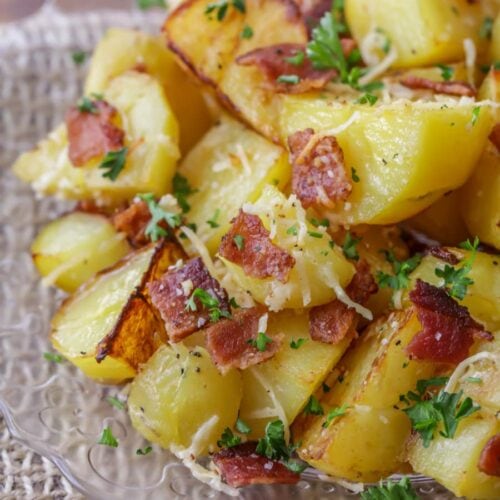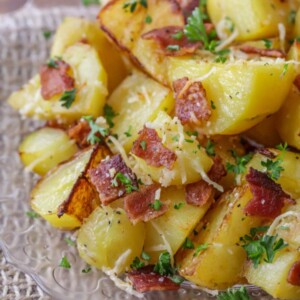 Oven Roasted Potatoes Recipe
These Oven Roasted Potatoes are flavorful and full of cheese and bacon making them the perfect side dish.
Ingredients
1

tbsp

olive oil

1/2

lb

hickory smoked thick sliced bacon

3 1/2

lbs

Yukon Gold Potatoes

2

tsp

minced garlic

2

tbsp

butter

melted

1/4

cup

Parmigiano-Reggiano

freshly grated

salt and pepper to taste

fresh parsley for garnish
Instructions
Peel (or keep skins on if preferred) and quarter or cube your potatoes based on size.

Place olive oil, minced garlic, melted butter, salt and ground pepper, in a ziploc bag and add potatoes. Shake to coat, then pour onto a greased foil lined cookie sheet. Bake at 400 for 30 minutes.

While baking, cook bacon and cut into pieces.

After 30 minutes of baking, add bacon and grated cheese on top of potatoes and bake for an additional 15 minutes. Garnish with fresh parsley.
Adapted from My Adventures in the Country. 
TRIED & TRUE FINDINGS:
DIFFICULTY: simple
HOW MANY DOES IT FEED: 6
ANY CHANGES MADE: we changed the process by tossing potatoes with butter and seasonings. And, as always, we used minced garlic.
ANY SUGGESTIONS FOR NEXT TIME: Next time, we will leave the potato skins on, to save time and will probably serve with a sauce or dip because we love to dip!
Here are some other favorite potato dishes:
ENJOY!