Soft & gooey White Chocolate Blondies are bursting with white chocolate chips and chewy vanilla brownie delicious-ness!
Blondies and brownies are always so delicious and this recipe is perfect for the next time you're entertaining. Serve by itself or with ice cream, either way I'm sure it will be a hit! For more great brownies and bars that are favorites be sure to try Cookie Bars, Buckeye Brownies, and M&M Chocolate Oat Bars.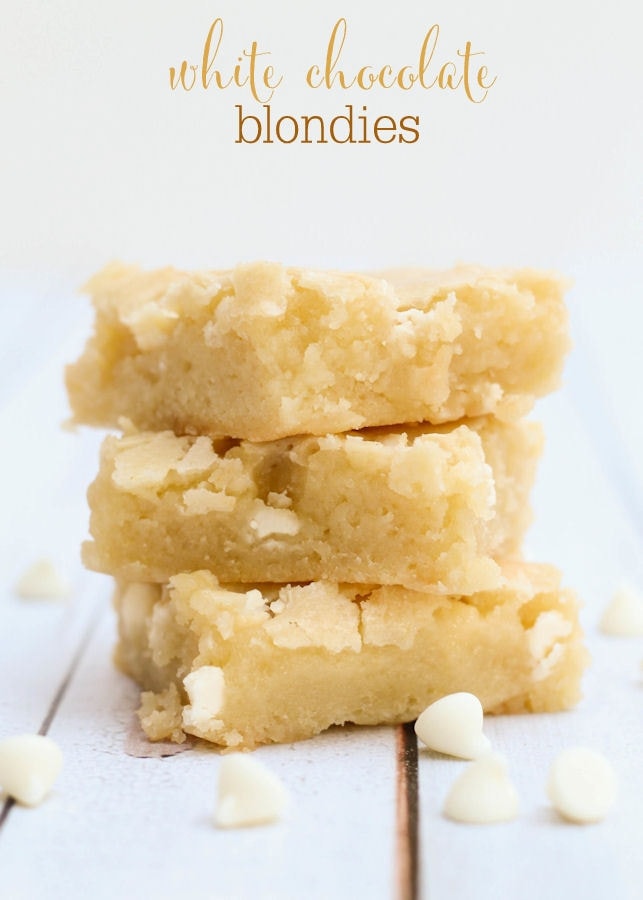 White Chocolate, Yum!!
Okay, okay – I know I post lots of dessert recipes, we just like desserts at our house, so we'll take any excuse to make them. 😉
Today, I'm sharing another great bar recipe!! White Chocolate Blondies are chewy and delish. I've mentioned before my love for white chocolate (yes, I like it more than milk chocolate) so you could guess I prefer blondies over brownies (no worries – I still like brownies too!!)
know there are some of you like me out there so if you are a fan of blondies and would like to try a new recipe for them, then this is the one. It's an easy recipe and other than the white chips, I'm sure you have all the ingredients on hand.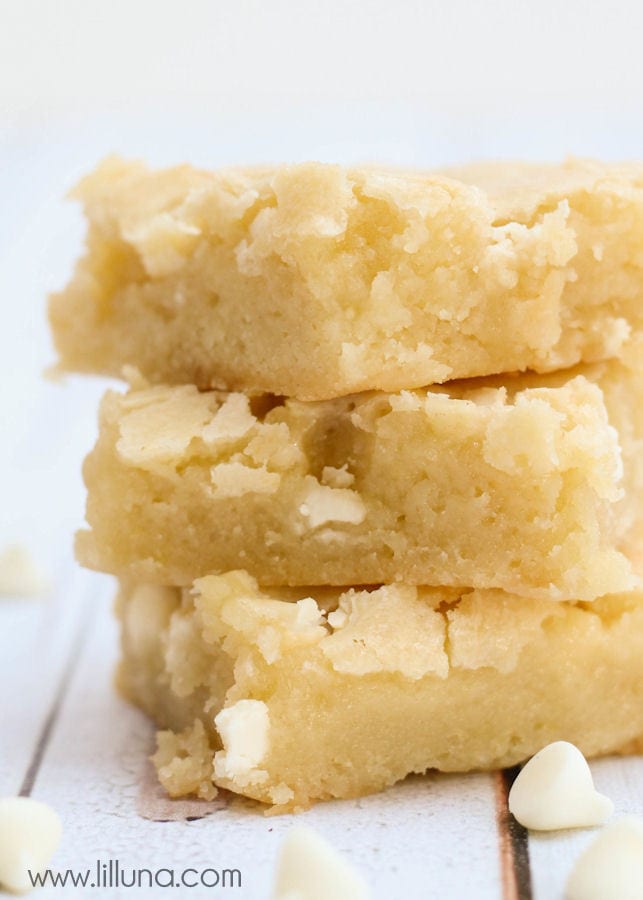 Making White Chocolate Blondies
MELT. Melt butter and ½ cup of the white chocolate chips in a microwave, checking every 15 seconds. Let cool
CREAM. Beat eggs, sugar and vanilla extract in a medium bowl. Mix in the cooled butter and chocolate mixture along with the flour and salt. Stir until combined. Pour the batter into a 9×13 greased baking pan; sprinkle with the remaining 1 cup white chocolate chips.
BAKE. Bake at 350 for 30-35 minutes, until a toothpick comes out clean. Allow to cool in pan for at least 10 minutes before cutting.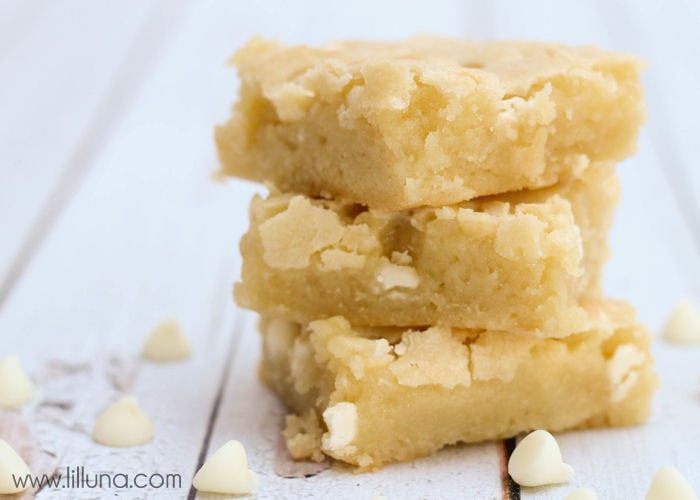 Storing, Tips + Variations
STORE Blondies at room temperature for about 3 days. They'll last even longer when stored in an airtight container in the fridge; about a week.
For even longer storage FREEZE them. Wrap each piece with plastic wrap and place them all in a freezer safe container. Freeze for up to 3 months.
As mentioned you can serve with ice cream, vanilla is particularly delicious paired with this. You can also change it up by topping with slivered almonds, chopped macadamia nuts, or drizzle with caramel.  
Add m&ms

Add sprinkles

Add chopped nuts
To make cutting easier line the pan with parchment paper. Once they've cooled simply lift the entire block out of the pan and cut.
To get clean cuts you will want them to cool completely and use a sharp knife: clean the knife after each cut.
For the fudgiest softest texture don't let them overcook. I always take mine out as soon as the timer buzzes
If you use a glass pan you will need to add a little bit more bake time. 
For best results use unsalted butter. No margarine or oil substitutes for this treat!
Usually the biggest difference between a brownie and a blondie is that blondies use brown sugar instead of a brown chocolate base. However, this recipe just replaces the brown chocolate with white chocolate. A little more white sugar is used to make up for the lack of brown sugar. Feel free to adjust the sugar amount to your liking.
We don't have brown sugar in the recipe, but if you want to make sure that these are chewy you can do ½ white sugar and ½ brown sugar instead. You could also add an extra egg yolk to the batter for added moisture and chewiness.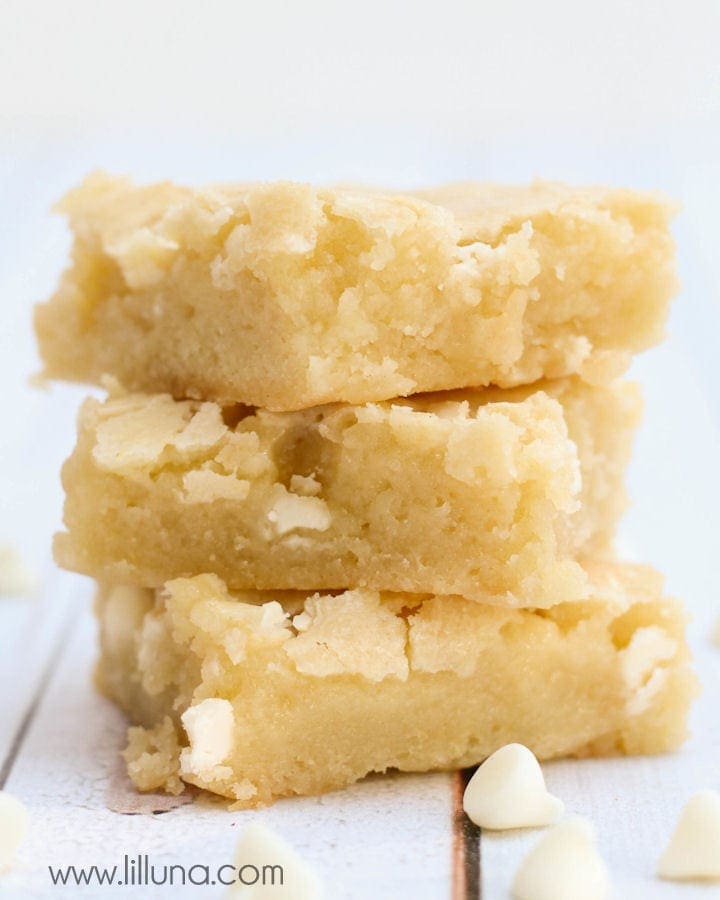 Other blondies/brownies:
Ingredients
1

c

butter

4

eggs

2

c

white sugar

1

tsp

vanilla extract

2

c

all-purpose flour

1

tsp

salt

1 1/2

c

white chocolate chips
Instructions
Preheat the oven to 325°F

Add butter and 1/2 c of the white chocolate chips to a microwave safe bowl. Heat in the microwave in 15-20 seconds increments until melted. Cool.

In a separate bowl add eggs, sugar and vanilla and beat until smooth. Mix in the melted butter/chocolate mixture. Finally, add the flour and salt. Stir until combined

Line a 9x13 baking pan with parchment paper. Pour in the batter and sprinkle remaining white chocolate chips over the top.

Bake for 30-35 minutes, until a toothpick comes out clean. Allow to cool before cutting.