These AMAZING Cheesecake Brownies are a delicious brownie dessert filled with a layer of cheesecake and baked to perfection.
Don't miss a thing – Sign up for the Lil' Luna Newsletter today!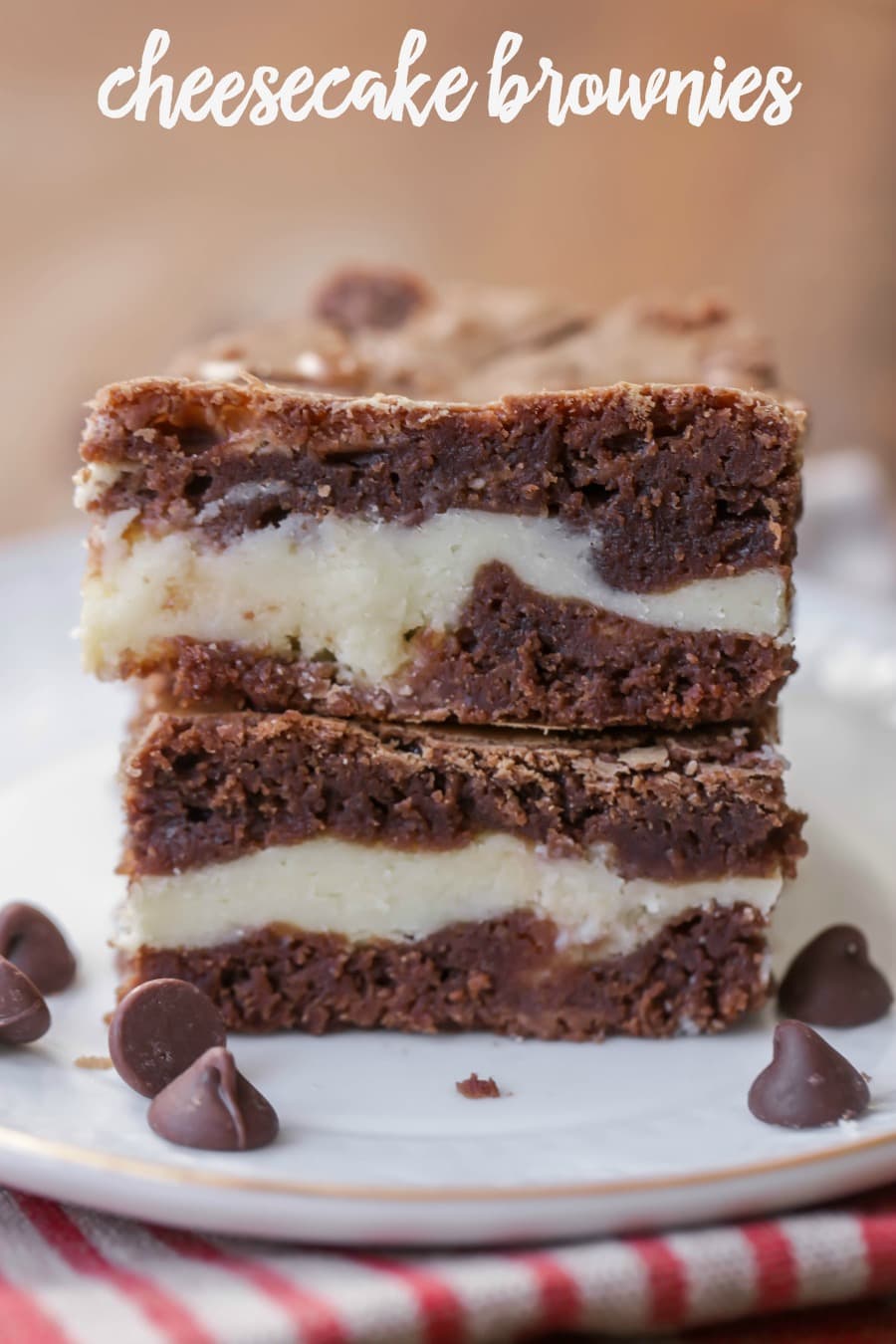 Who loves BROWNIES?! The chocolate-y treats are one of my "go-to" desserts when company comes over, so I like to have several different brownie recipes on hand. When my family saw a recipe for Cheesecake Brownies, they decided to give them a try. Let's just say I'm so glad they did because this recipe was GREAT!! Let me tell you why…
Brownies on they're own are simply delicious!
A cheesecake layer in between means you can't go wrong!
White chocolate chips in the Cheesecake layer make them even better!
SEE! You really can't go wrong with this recipe. There are a few more steps than the brownies in a box, but I promise they won't disappoint. Learn how to make cheesecake brownies here. If you want to change things up next time and want to take your brownies to the next level, I definitely suggest trying this recipe. 😉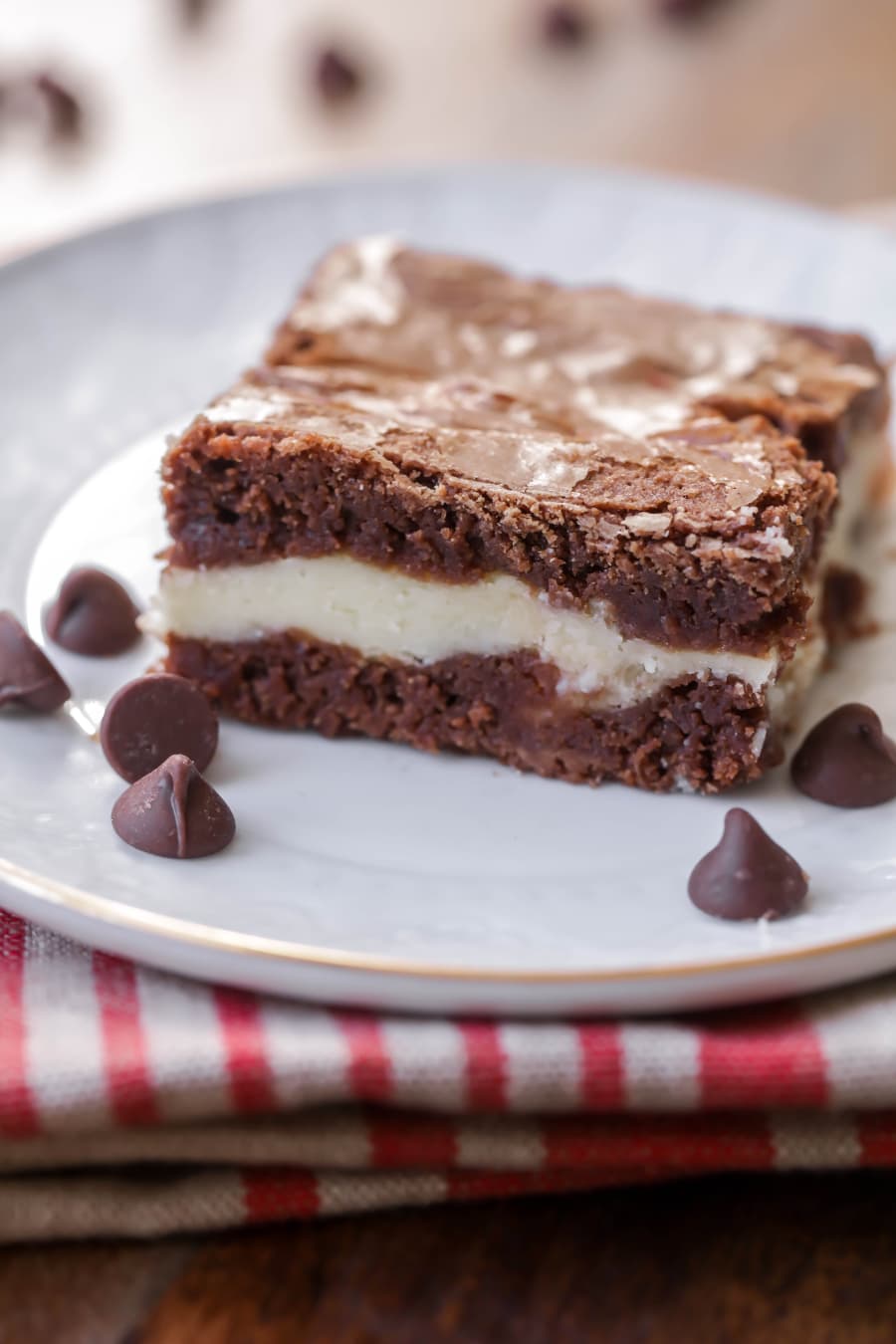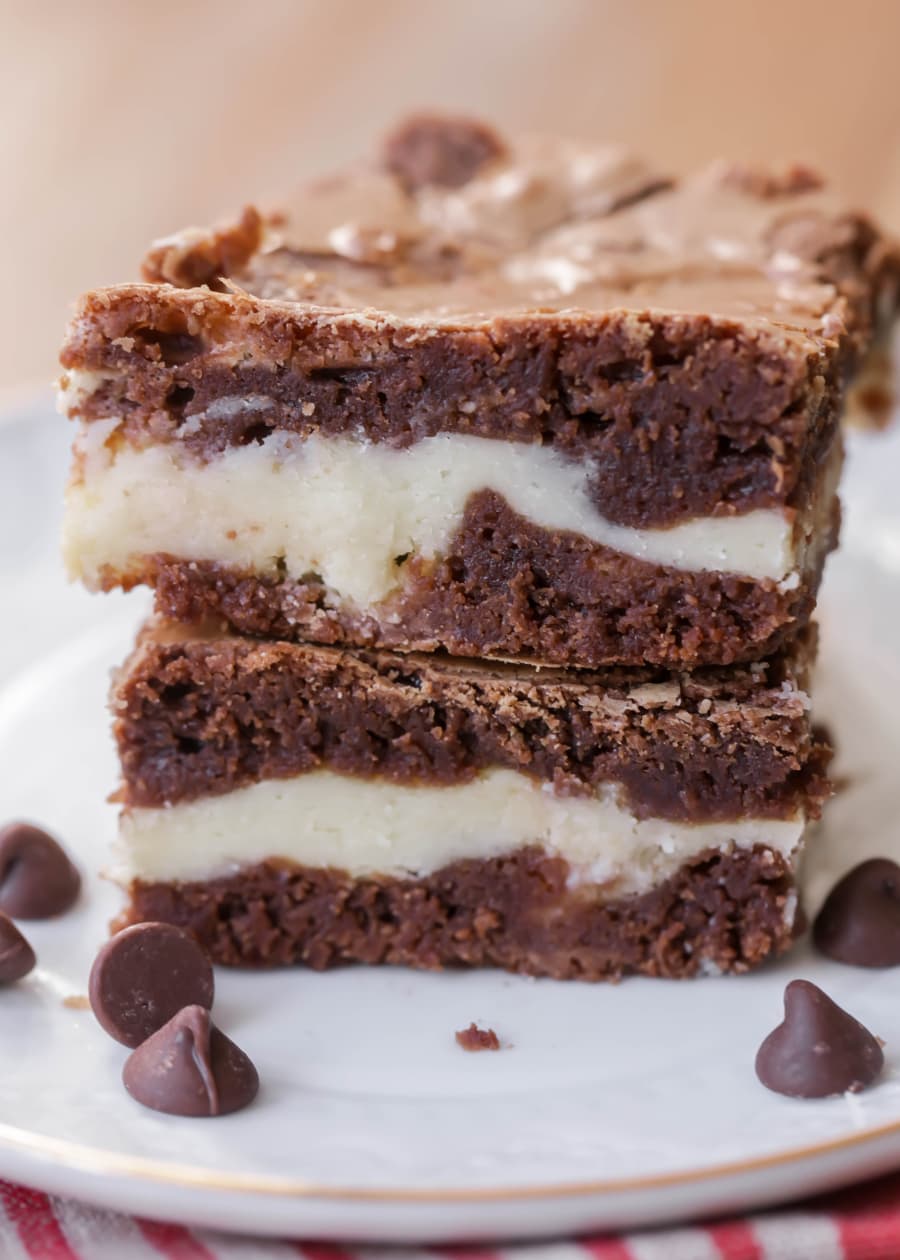 Um – yeah… cheesecake brownies are delicious! I admit that I usually serve ice cream with traditional brownies, but these guys are great on their own!! And can we all admit everything is better with cream cheese?!!
How to make Cheesecake Brownies:
Cheesecake Brownies
These AMAZING Cheesecake Brownies are a delicious brownie dessert filled with a layer of cheesecake and baked to perfection.
Ingredients
Cheesecake Mixture:
1 (8 ounce) package cream cheese, softened
¼ cup white sugar
1 egg
1 cup white chocolate chips
Brownie Mixture:
¼ cup butter
1 cup milk chocolate chips
½ cup white sugar
2 eggs
⅔ cup all-purpose flour
½ teaspoon baking powder
¼ teaspoon salt
Instructions
Preheat oven to 350.
In a mixing bowl, combine cream cheese, ¼ cup sugar and 1 egg and beat until smooth.
Stir in 1 cup white chocolate chips until well combined. Set aside.
On the stove, fill a saucepan with water and bring to a boil. Turn off heat and set a heatproof mixing bowl over the water. In the mixing bowl, combine butter and milk chocolate chips; stir until its just melted and blended together. Mix in the remaining ½ cup sugar and 2 eggs.
In a separate bowl, mix your flour, baking powder, and salt; stir into your chocolate mixture until evenly blended.
Pour half of your batter into a greased 9x9 baking pan. Spread the cream cheese mixture over the chocolate layer. Top with remaining chocolate mixture. Swirl the top chocolate layer into the cream cheese to make a marble pattern.
Bake at 350 degrees for 25 to 30 minutes, or until top is crinkled and center is cooked through. Let cool. ENJOY!
Recipe adapted from AllRecipes.com.
Check Out My Other Recipes
For more great brownie recipes, check out:
YAY for brownies!! For all dessert recipes go HERE. For all recipes go HERE.
And get weekly emails with monthly freebies by signing up for the Lil' Luna newsletter. 🙂
For even more great ideas follow me on Facebook – Pinterest – Instagram – Twitter – Periscope – Snapchat.
ENJOY!
Need more recipes and creative ideas? Sign up and get a FREE copy of my latest ebook!