A breakfast just isn't complete without a delicious side of golden hash browns! Never made them? Read this post for the easy how-to!
Hash browns are one of the best breakfast sides—similar to breakfast potatoes! Once you learn how to make your own, you can serve them with pancakes and eggs, or use them in casseroles and breakfast burritos.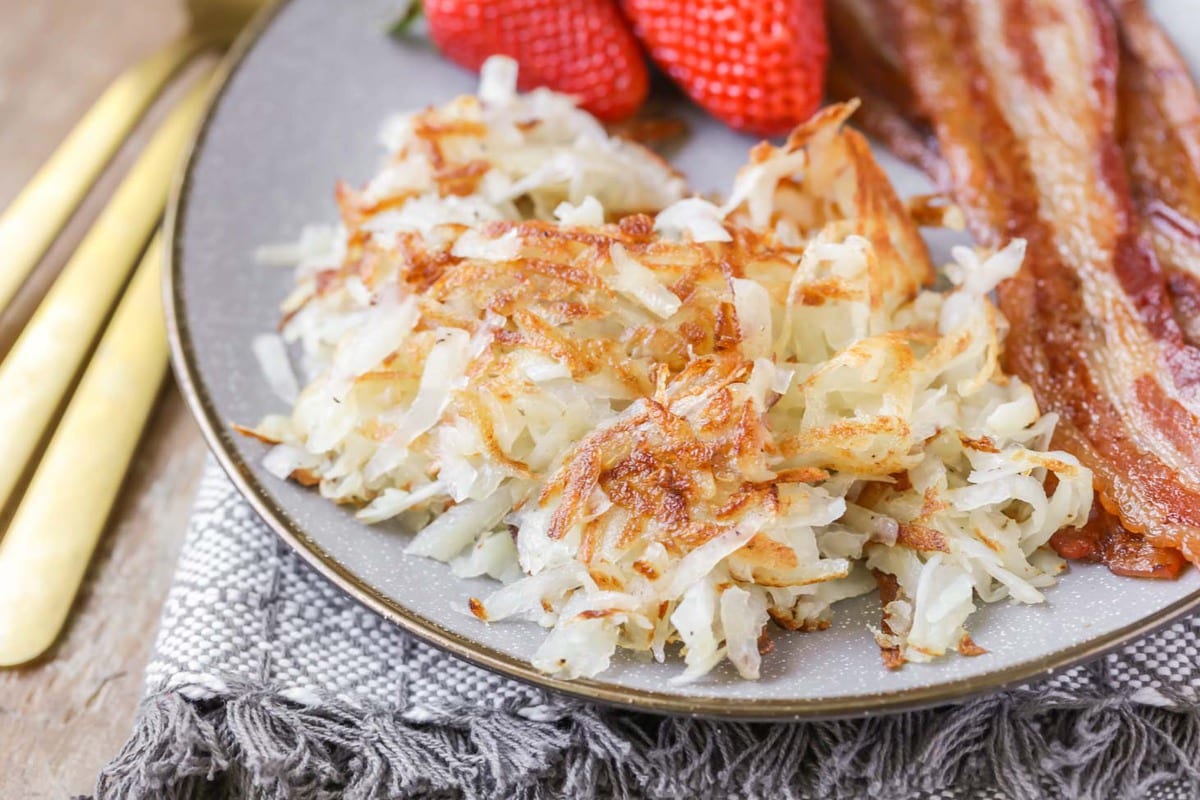 Homemade Hash browns
Hash browns are a breakfast STAPLE at our house. We love them on the side of eggs, bacon, pancakes, waffles, toast, you name it! They are super simple to whip up and only take a few minutes to make.
If you've never tried making your own hash browns, you will be pleasantly surprised with how easy they are. The hardest part is probably peeling the skin off the potatoes, but we let the kids help with that.
These can be made in under 10 minutes. You can make them ahead of time, freeze them, and heat them up in a skillet whenever you're craving a side of hash browns with your breakfast of choice. Say no to store-bought hash browns and go with homemade—SO much tastier, I promise!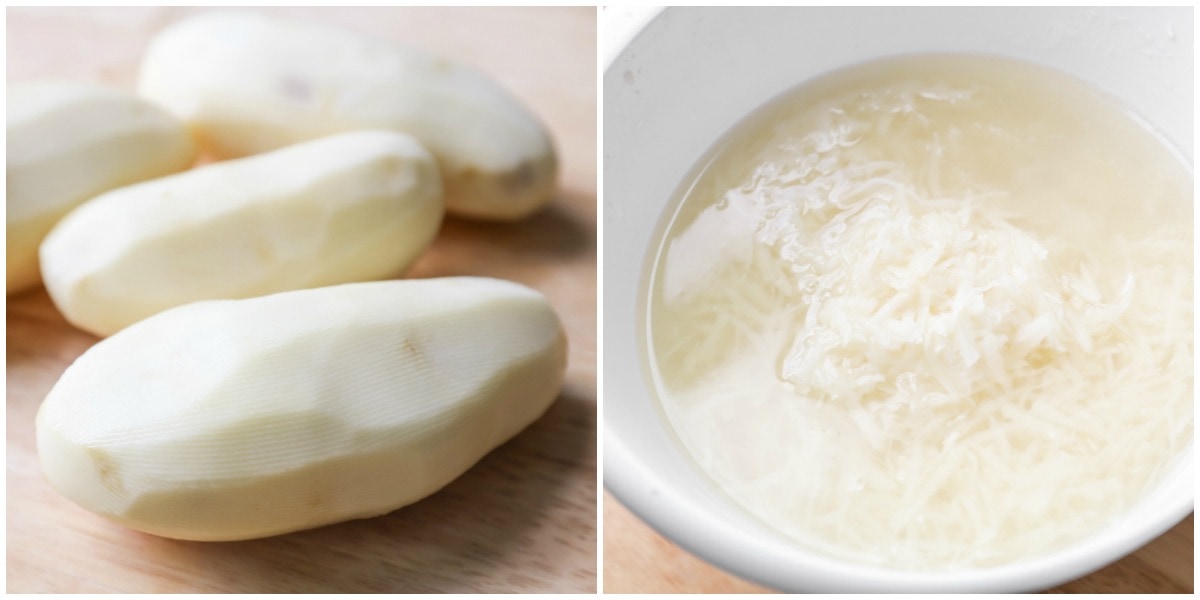 How to Make Hash Browns
PEEL & RINSE. Start by peeling all of your potatoes. Rinse them off and shred them with a cheese grater—watch your fingers!
SOAK. Next, fill a big bowl of cold water. Place the potatoes in the water to help get rid of some of the starch. Drain the potatoes and then pat them dry with a paper towel to get rid of any extra moisture.
COOK. Heat up a skillet over medium heat. Add the butter and melt. Add the potatoes to the skillet in a single layer. Then let them cook until they are browned (about 5 minutes). Flip the potatoes and cook on the other side until browned.
SEASON. Season the hash browns with salt and pepper. If you want to add a little spice you can sprinkle in a bit of cayenne pepper and paprika. YUM right??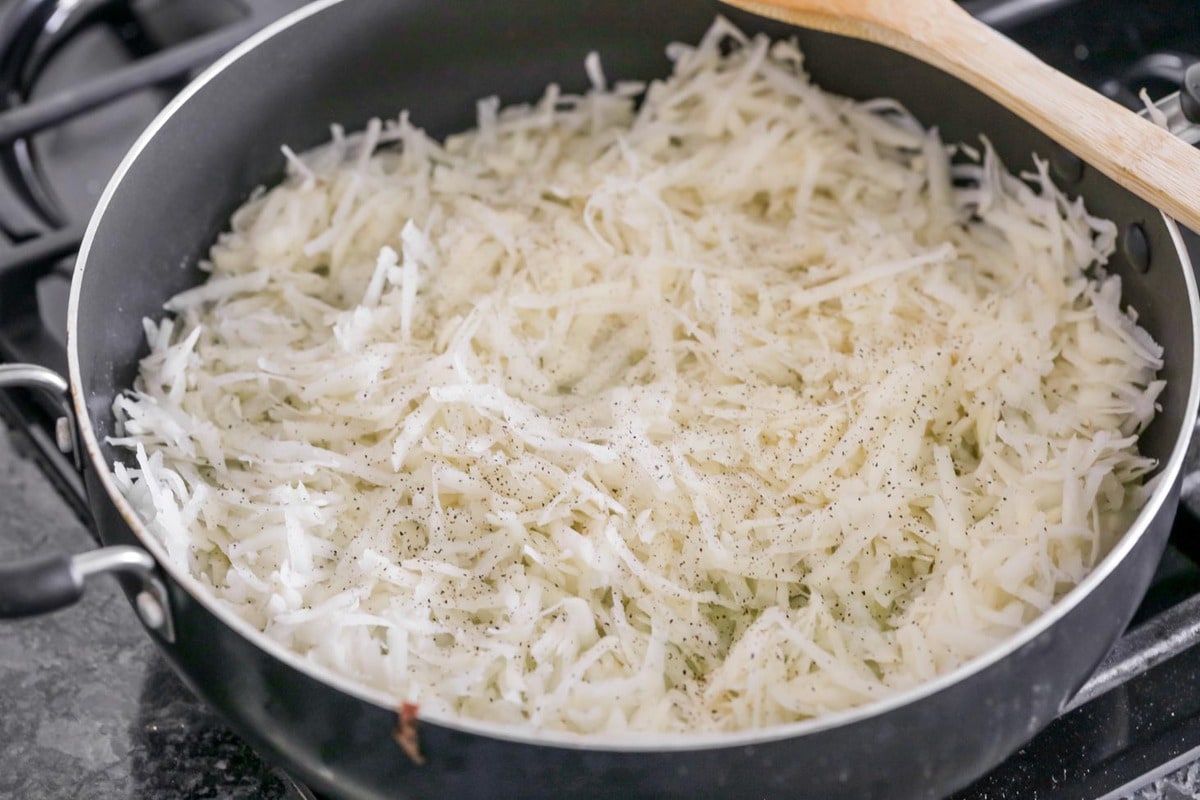 hash brown potatoes Tips + Tricks
Want to get the perfect not-at-all soggy hash browns? Here are some tips and tricks that you should remember!
Really rinse the potatoes in water to get rid of most of the starch. This will help to cook the hash browns evenly throughout.
Squeeze the potatoes with a paper towel after you have shred them. Get any excess water out of there!
Make sure to season with salt and pepper generously!
Freeze for later: You can't freeze raw potatoes (otherwise they get really gross!), but by following these simple instructions you can make really great freezer hash browns to cook later, or use in other recipes.
Follow the recipe like usual, shredding and soaking your potatoes. After you drain your potatoes, blanch them in boiling water for about 3 minutes. Immediately drain and rinse in cold water (that way they don't continue to cook), pat dry and then pack into freezer safe storage containers or bags.
When you're ready to use them, you can cook them straight from the freezer, or use them in recipes like Slow Cooker Hash Brown Casserole, Breakfast Pie, or Cheesy Hashbrown Casserole!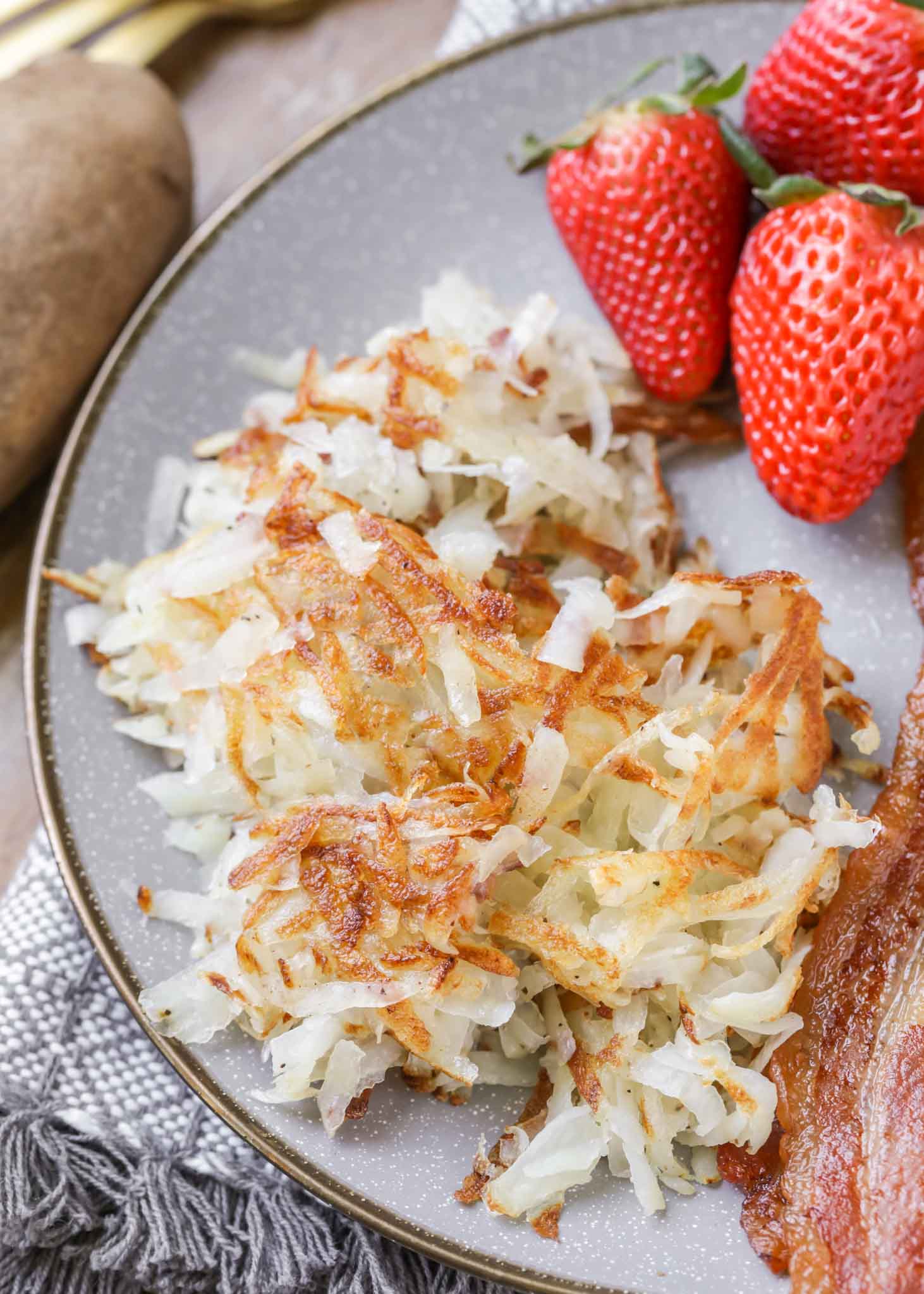 Serve homemade hash browns on the side of:
Hash Brown Recipe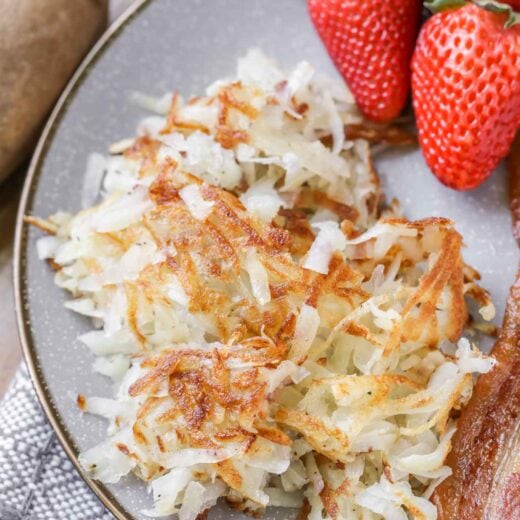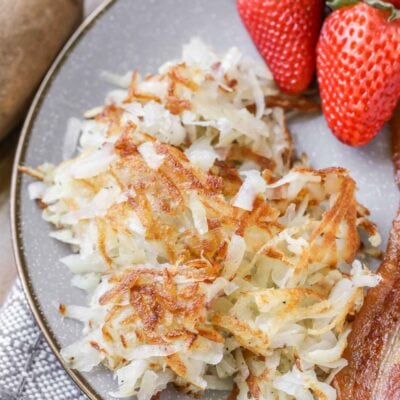 A breakfast just isn't complete without a delicious side of golden hash browns! Never made them? Read this post for the easy how-to!
Ingredients
2

russet potatoes

3

tbsp

butter

salt and pepper to taste
Instructions
Peel potatoes, rinse and shred with a cheese grater. Get rid some of the starch by placing potatoes in a large bowl filled with cold water.

Drain potatoes and pat dry with paper towels, making sure to get out any excess moisture.

Add butter to your skillet and let melt on medium heat. Add potatoes to the dish in a layer and let cook until browned (about 5 minutes) and then flip and cook on the other side.




Season with salt and pepper. To add spice, add a bit of cayenne pepper and paprika.