Ooey Gooey Lucky Charms treats that are just like Rice Krispies but with everyone's favorite marshmallow-filled cereal! These are quick, simple and loved by all!
If you love Rice Krispies Treats and Fruity Pebble Treats, then you'll love this simple treat! It takes minutes to make and is a family favorite for St. Patrick's Day but also all year long!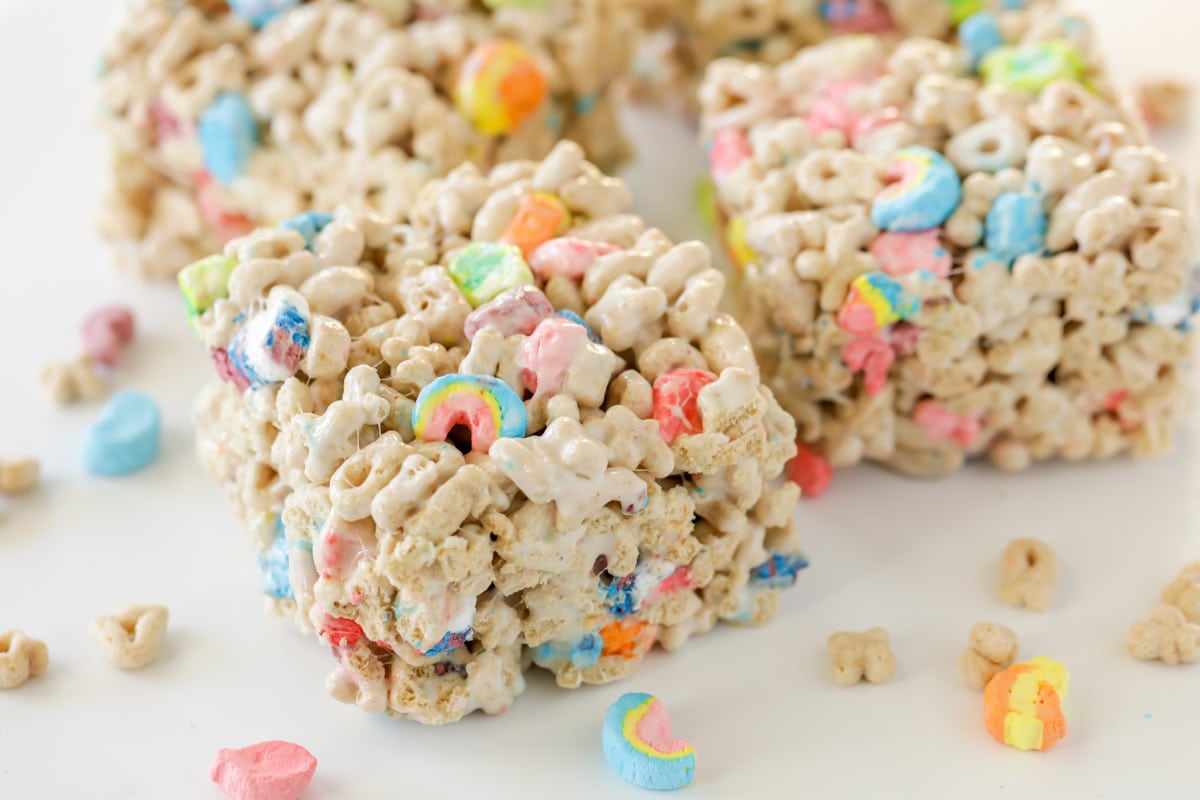 Ooey Gooey Treats
Who here loves LUCKY CHARMS?!
It's a cereal the whole family loves.
We also happen to love Rice Krispies Treats, so we decided to combine these two loves to make ooey gooey Lucky Charms Treats. Yes, they're just Rice Krispies treats with another cereal (similar to our Fruity Pebble Treats). And – they're delicious.
It has actually become tradition for us to have Lucky Charms on the morning of St. Patrick's Day each year, but this March, we wanted to try a treat that we could make for the holiday as well and these treats are perfect!
Fortunately, these don't have to be made just for the 17th, but they're good all year long! Now that my kids saw how simple they are to make, I have a feeling we will be making these ALL the time. 😉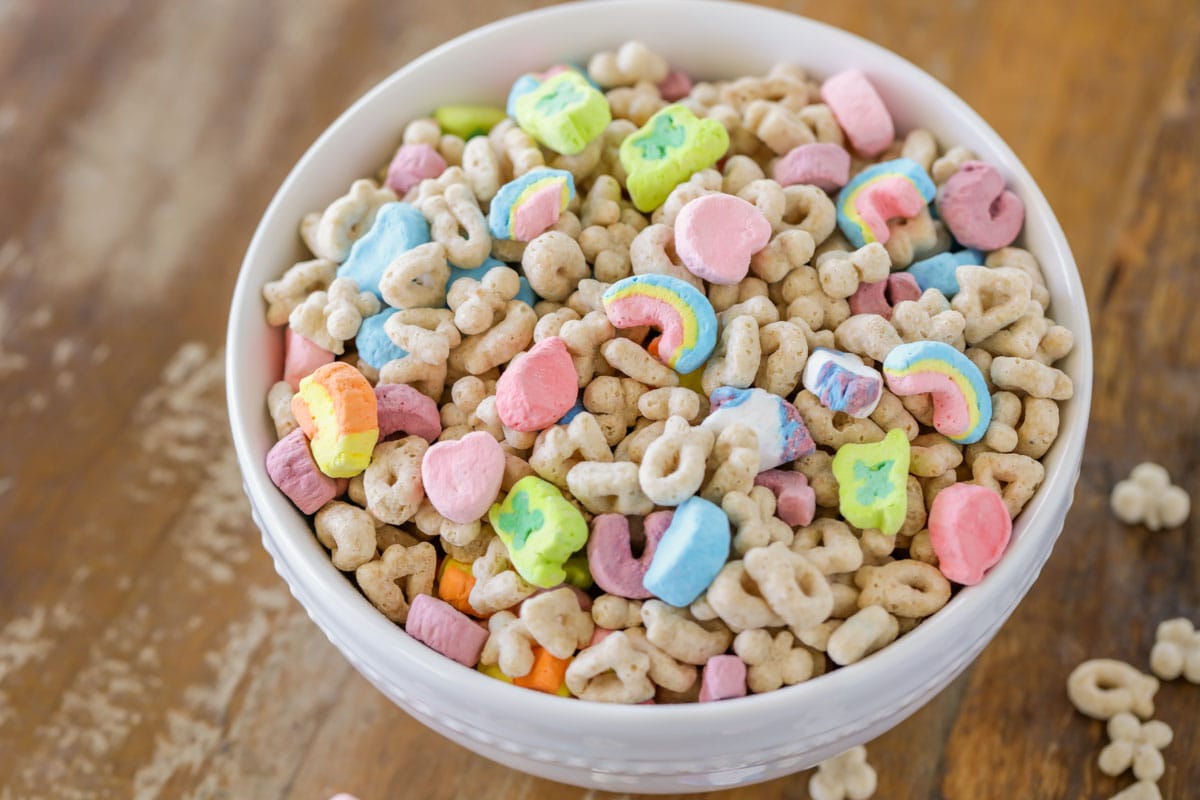 How to Make Lucky Charms Treats
Just like classic Rice Krispies treats, you can make these goodies in the microwave OR on the stove.
Stove Top: If you want to go the more traditional route and use the stove top you definitely can. Melt the butter in a large saucepan over medium heat. Stir in the marshmallows and heat until gooey and smooth. Stir frequently so the mixture does not scorch on the bottom. Remove from heat and add to the cereal and mix.
Microwave: Using the microwave is a great alternative to the stove top. Simply place the butter and marshmallows in a large microwave safe bowl. Heat the mixture in 20-30 second increments, stirring in between, until gooey and smooth. Complete the recipe as written.
Once the cereal and melted mallows are combined, pour them into a greased 9×13 pan. Pat it down with wax paper or spray some cooking spray on your clean hands and press down.
Recipe Notes:
Measure out all the ingredients before starting. The recipe is fairly quick and its easier to have everything ready to be added then to measure as you go.

Line the pan with wax or parchment paper or grease well so it can be easier to remove from the pan after cooling.

Do NOT use old marshmallow or overheat the marshmallows or the end result will be hard and dry.

Gluten-free

: Great news guys! According to the General Mills website their Lucky Charms are gluten free and marshmallows are naturally gluten-free. So This treat is GLUTEN free.

Dairy free?

Technically butter is a dairy product so I cannot claim this treat as dairy free However, many people who cannot tolerate other dairy products can have butter. You can also try a dairy free butter substitute.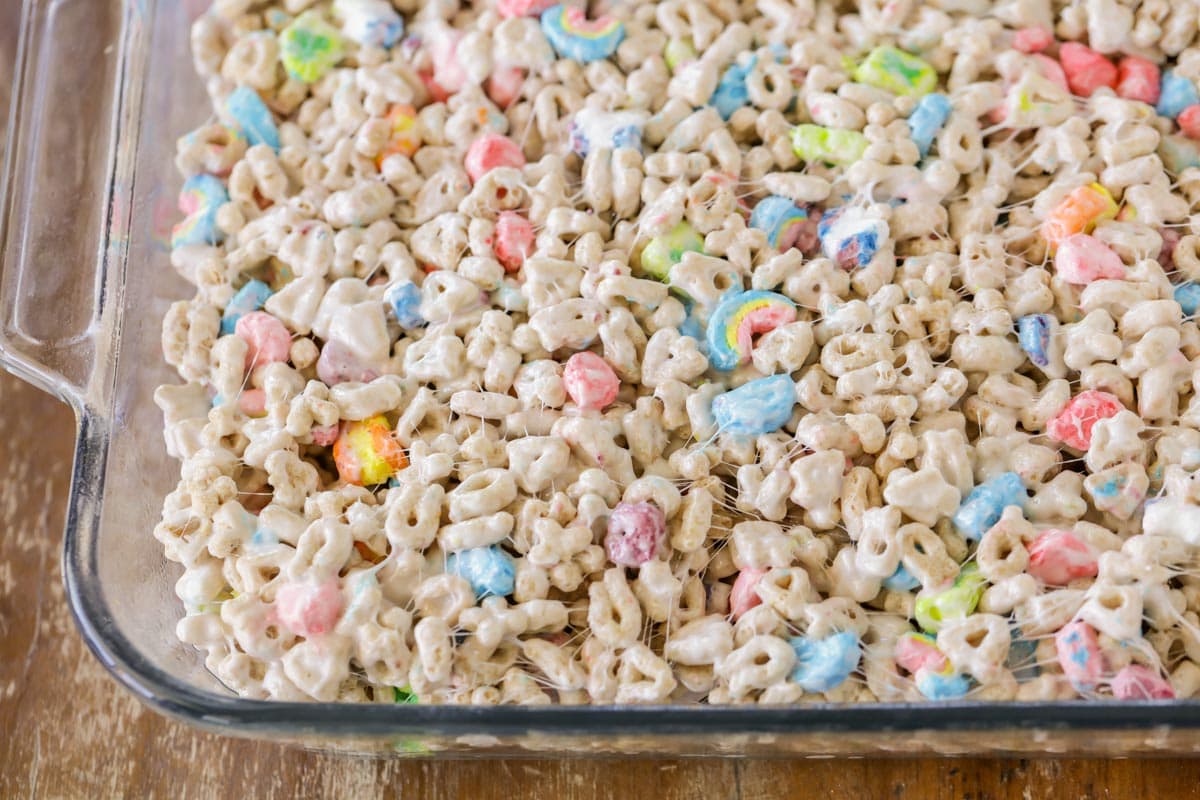 Change it Up!
Adding a candy coating: I think adding a green candy coating can really add a festive element to this treat. First, make the Lucky Charm Treats and allow them to set. Then, mix up the coating. Here's how:
Place 8 oz almond-flavored candy coating in a microwave safe bowl. Follow the melting instructions on the bag.

Add 2 to 3 drops of green food coloring and stir

Either dip the bottom of the treats into the coating or use the coating to drizzle over the tops.

Place the treats on wax, or parchment paper and allow the coating to set.
Some other variations:
Sprinkles: After the mixture has been pressed into the pan, but before it sets, you can top it off with festive sprinkles. Rainbow colors works, as do green or shamrock shapes sprinkles.

Lucky Charms: If you can find it, General Mills will sometimes make an all green St. Patricks day version of their Lucky Charm Cereal. Store Brand Versions of this cereal also work in this recipe.

Shapes: Allow to set before cutting shapes. Shamrock shaped cookie cutters are particularly fun to use with this recipe . Be sure the cookie cutter is sprayed with cooking spray so the treats don't stick and ruin the shape.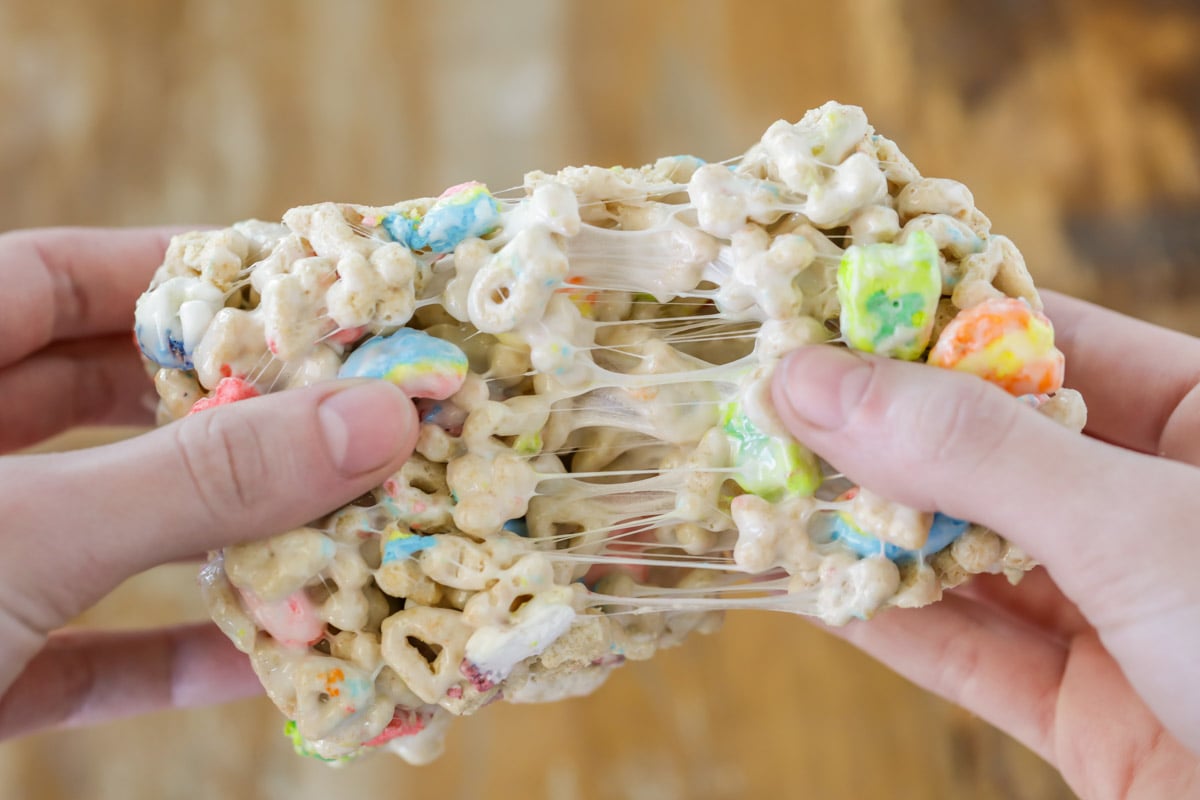 Want to use mini marshmallows? No prob!
Marshmallow guide: Sometimes a recipe calls for mini marshmallows and you have regular ones on hand or vice versa. If that's the case, then these conversions should help…
1 regular marshmallow = 13 mini marshmallows
8 regular marshmallows = 1 cup
50 mini marshmallows = ½ cup mini marshmallows
5 regular marshmallows = ½ cup
Storing
Storage: Store the treats in an airtight container at room temperature. Separate layers with wax, or parchment paper. They should easily stay soft for 2-3 days. After that they will begin to dry out, but are still safe to eat.
Freezer: These treats can also be frozen for later. They are especially fun to toss in your kids' lunch boxes. After cutting I like to put each treat in a fold top sandwich bag, then place them together in a freezer Ziploc. Store in the freezer for up to 3 months.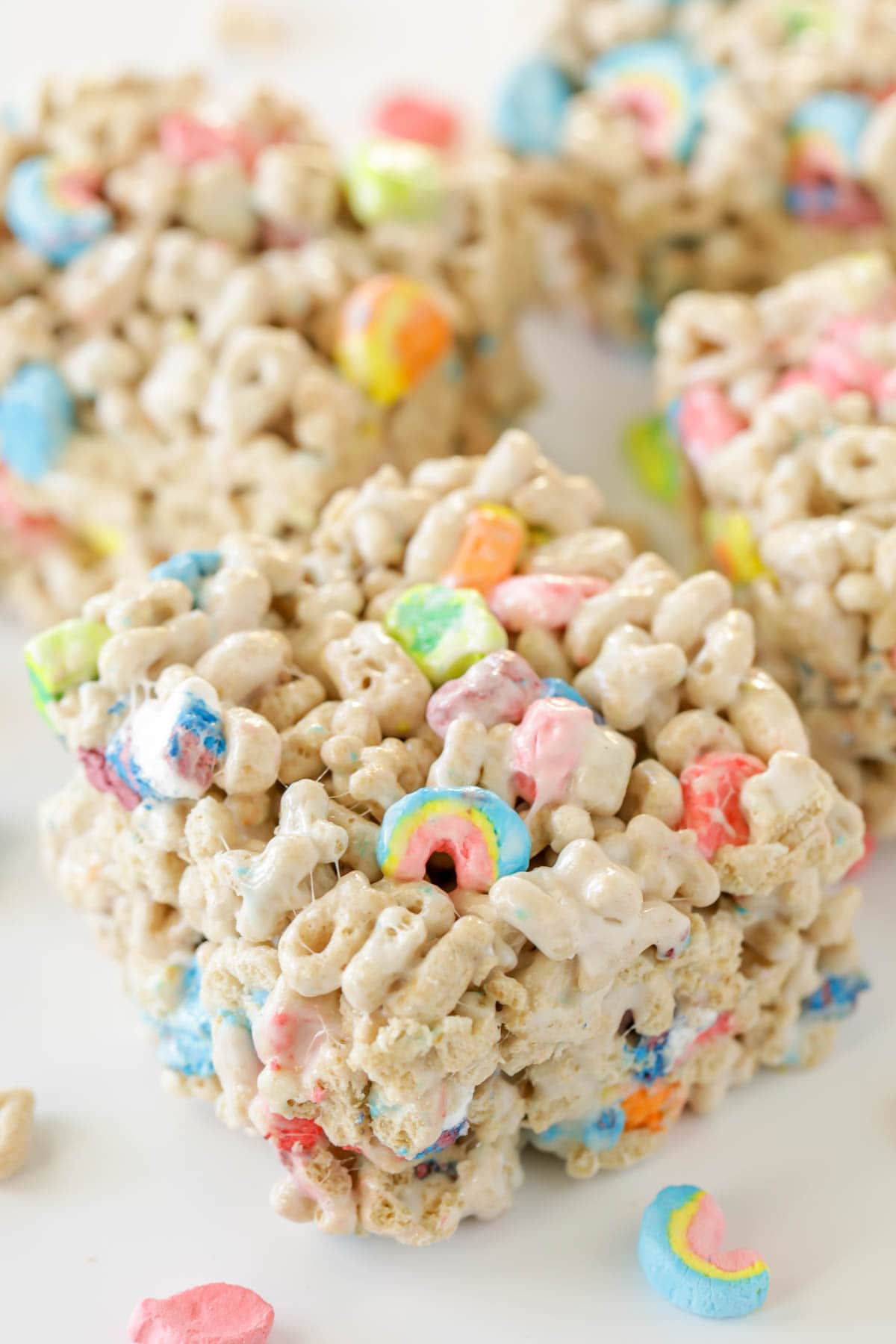 For more St Patricks Day treats:
Lucky Charms Treats Recipe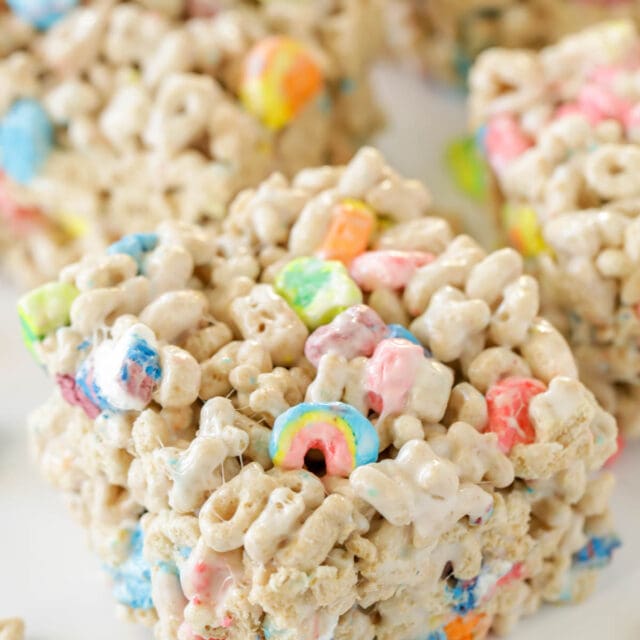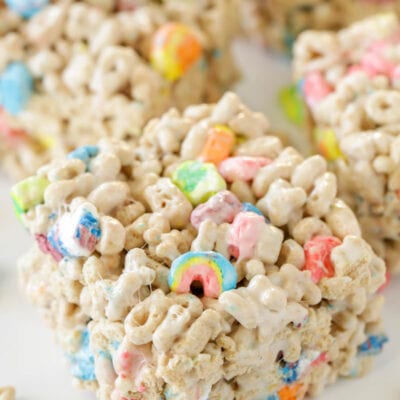 Ooey Gooey Lucky Charms treats that are just like Rice Krispies but with everyone's favorite marshmallow-filled cereal! These are quick, simple and loved by all!
Ingredients
11 – 12

cups

Lucky Charms

16

oz.

large marshmallows

3

tbsp

butter
Instructions
Grease a 9×13 baking dish and set aside.

Begin by pouring your Lucky Charms into a large bowl.

Add large marshmallows to butter bowl and microwave for 2-3 minutes.

Stir until creamy and pour over Lucky Charms. When all combined, pour into a greased 9×13 pan. Let set and enjoy!