A collection of all the best Valentine's Day Desserts to make on the 14th!! From chocolate to berry to red velvet, we've got cakes, cupcakes, cheesecakes and more!!
More Collections: Valentines Dinner Ideas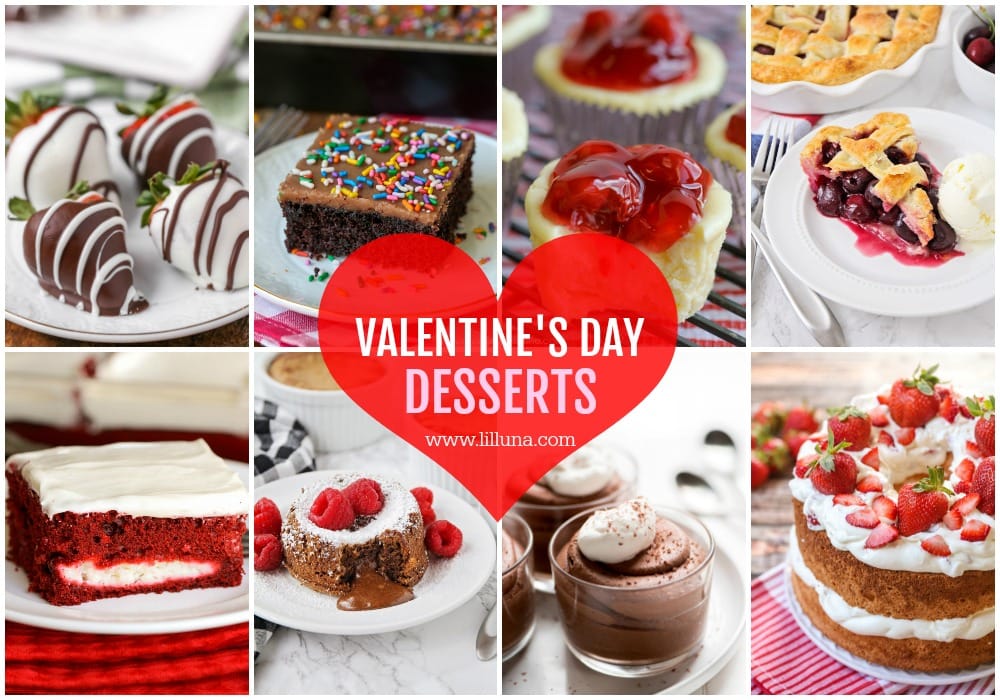 Best Valentines Desserts
We LOVE celebrating February 14th with dessert!!
And I think we can all agree that it's hard NOT to celebrate this sweet day without something sweet. Dessert is a MUST! With that in mind, we wanted to share some of our favorite desserts with you that will be perfect for Valentine's Day.
We've broken it down for you into different sections. From chocolate desserts to berry treats to red velvet – we've got them all covered. We love to share some of the pink and red desserts because they're festive for the day, but check them out and let us know which are your favorites!
You can never go wrong with CHOCOLATE. We have a variety of chocolate treats here on the site that would be great for your Valentines celebration. We our obsessed with our chocolate sheet cake (especially if you are serving lots of people) but think any of these would be perfect for the sweet day.
Second to chocolate, we love to have strawberry, cherry and raspberry desserts for Valentine's Day. I think it has something to do with the RED, and also because both fruits are delicious, but we have so many yummy treats here on the site that are perfect for the 14th because of that color and goodness.
First up… strawberry desserts:
And Cherry and Raspberry desserts….
Don't forget RED VELVET treats. They are not only a yummy addition to the spread, but they are perfect in color too! Top them off with the classic cream cheese frosting and your entire family will be in heaven.
Last, but not least, you have all those other treats that everyone LOVES to make for the special week. These are not only great for dinner but for class parties, functions or get togethers this time of year. Our personal favorites are the cream puffs and white chocolate lasagna. SO good!!
We hope you like this list!! Be sure to come back and let us know which one you chose!!