A collection of all the best Valentine's Day Desserts to make on the 14th!! From chocolate to berry to red velvet, we've got cakes, cupcakes, cheesecakes and more!!
More Collections: Valentines Dinner Ideas, Cakes With Fruit, Dessert Bar Recipes
Best Valentines Desserts
We LOVE celebrating February 14th with dessert!! And I think we can all agree that it's hard NOT to celebrate this sweet day without something sweet.
Dessert is a MUST! With that in mind, we wanted to share some of our favorite desserts with you that will be perfect for Valentine's Day as well as some tips for the special day.
We've broken Valentine's desserts into different sections. From rich chocolate desserts to berry treats to Red Velvet Cake – we've got them all covered.
We are also sharing some pink and red desserts because they're festive for Valentine's Day! Check them out and let us know which are your favorites.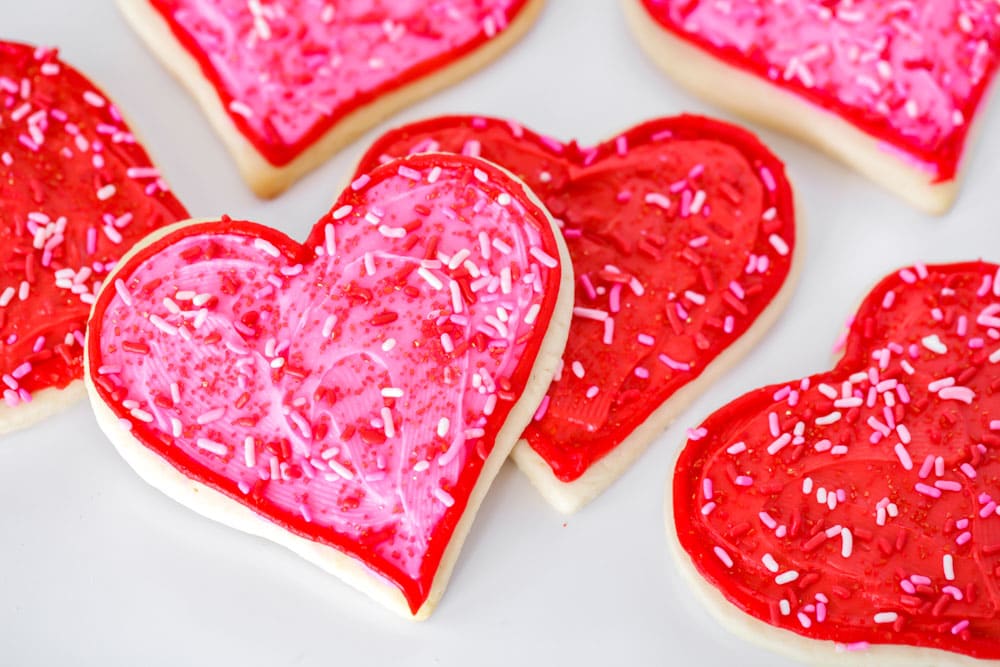 Valentine's Day Dessert Tips
I love to make this a special day for the entire family (or for you and your sweetheart)! Be sure to check out our Valentine's Dinner Ideas post for even more tips, but here are some ideas to help with the decor and dessert:
Use cute decor. Pink, red, and heart plates make the table festive. Even a few balloons or a pretty bouquet centerpiece make it look special.
Don't stress if you don't have time for dessert! We have great ideas on this list, but other store-bought ideas include Chocolate-Covered Strawberries, mini chocolate heart boxes, or favorite candy bars for each kid. An Oreo or chocolate truffle makes a sweet gift!
Fondue is another easy dessert idea!! Use our homemade Caramel Apple Dip, Cream Cheese Fruit Dip, or Nutella Dip, and have fruits, marshmallows, and more to dip in.
Use plastic champagne glasses for sparkling cider or another yummy drink (like our Red Velvet Milkshake) to make it more special.
Candy. Sprinkle the table with conversation hearts or other Valentine's candy. You can even add a small box of chocolates to each plate as a treat for after dinner.
There are so many great ways to make dessert special for the kids, like homemade treats. Below you will find some of our most popular Valentine's desserts!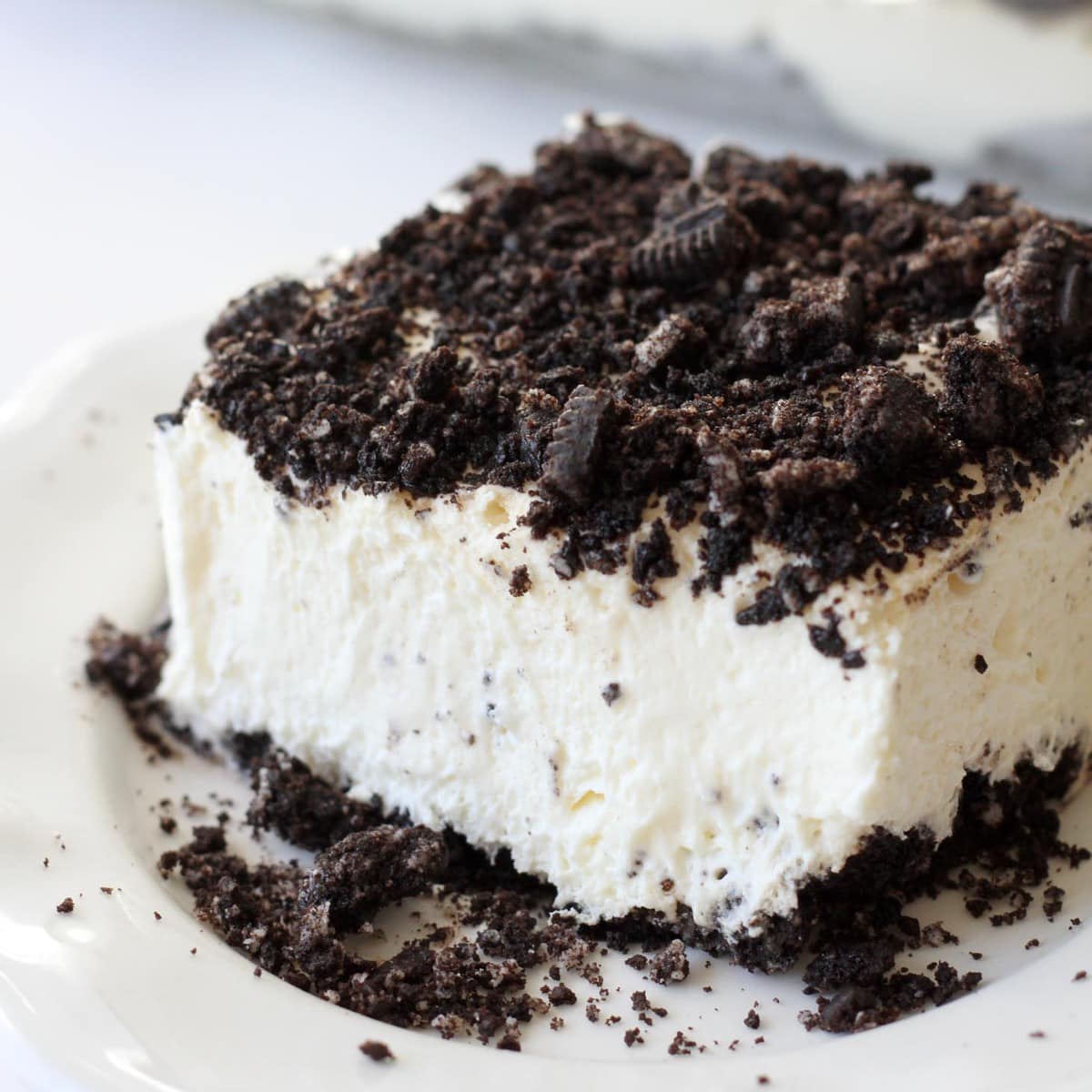 Valentine's cake ideas
Nothing is sweeter than a slice of delicious cake, especially on Valentine's Day.
Our Angel Food Cake and Pound Cake recipes are especially versatile – top them with a scoop of Vanilla Ice Cream, chocolate ganache, raspberry sauce, Caramel Sauce, or even some Strawberry Jam!
Get creative with our cakes and suit them to your taste!
Dirt Cake – Deliciously addicting Oreo Dirt Cake preps in minutes for a cool, creamy, family favorite treat perfect for Oreo lovers.
Tres Leches Cake – This easy Tres Leches Cake recipe is a cool, sweet treat made from a tasty sponge cake, a creamy mixture of three different milks, and homemade whipped topping.
Cream Puff Cake – Smooth + rich Cream Puff Cake is a take on the popular cream puff dessert. Drizzle it in chocolate for a perfect bite!
Strawberry Cake – Sweet strawberry cake is so beautiful and really delicious! If you like strawberries, you will love the strong strawberry flavor in this moist and fluffy cake.
Angel Food Cake – This tender, light as air angel food cake is a must-try! With the perfect amount of sweetness, it's perfect to enjoy all year long.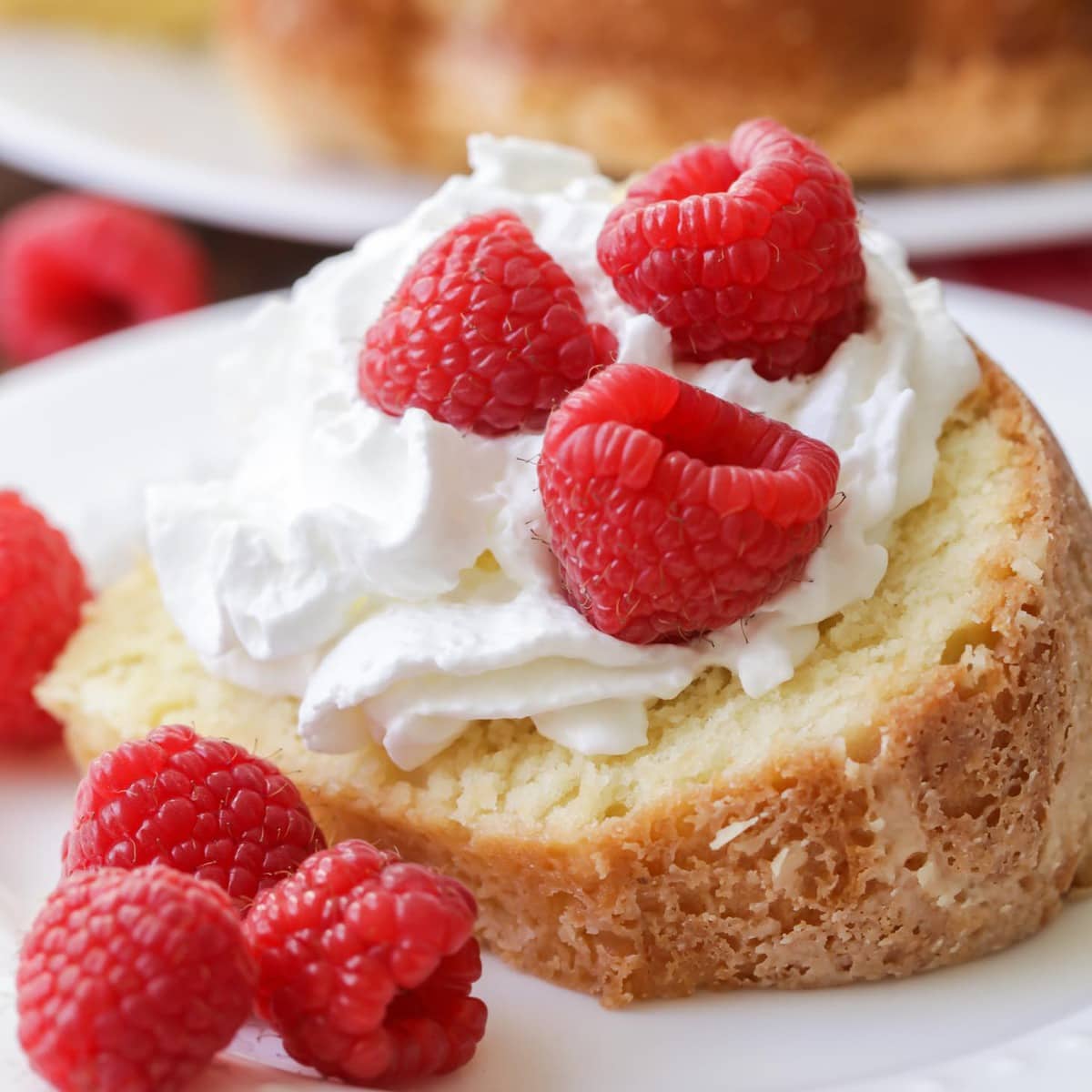 Cream Cheese Pound Cake – Easy Cream Cheese Pound Cake is out of this world delicious! It's soft, flavorful, and perfect topped with fruit and cream.
Cherry Sheet Cake – Moist Cherry Sheet Cake is topped with a homemade almond buttercream frosting. It is easy and SO delicious!!
Strawberries And Cream Angel Food Cake – Strawberries and Cream Angel Food Cake – a sweet and delicious dessert filled with a creamy layer and topped with strawberries. It's so simple and so delicious!
Chiffon Cake – Chiffon cake is moist and airy-like sponge cake with delicate flavor. our version is light and is topped with a citrusy frosting with berries.
Strawberry Pound Cake – Strawberry Pound Cake, with fresh strawberries and a beautiful white glaze, will be your perfect solution for the spring and summer dessert season.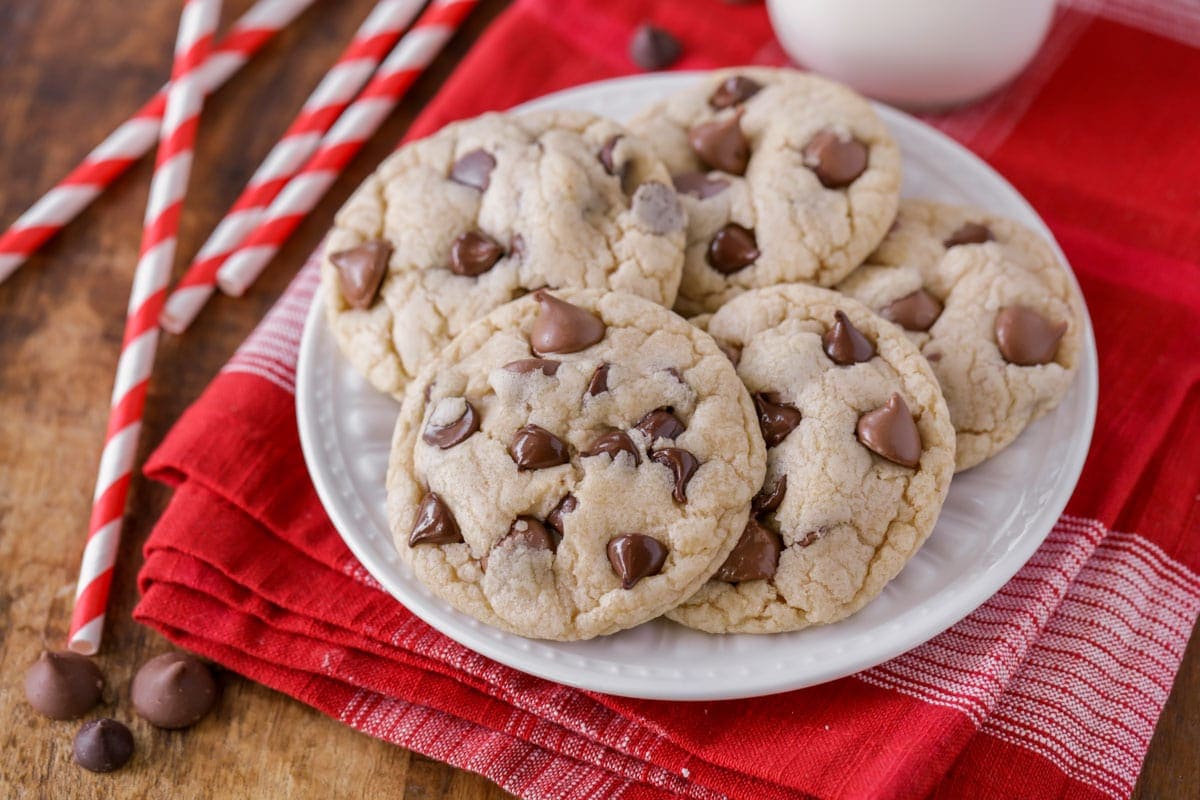 Valentine cookie recipes
It is always so fun to whip up a batch of special Valentine cookies to share with those you love! There are plenty of easy and delicious recipes to choose from here to make your day extra sweet!
Chocolate Chip Cookies – Our all-time FAVORITE Chocolate Chip Cookies recipe! These soft, chewy and delicious chocolate chip cookies are perfect for any occasion and truly knock the socks off of anyone who tries them.
Red Velvet White Chocolate Chip Cookies – Luscious red velvet white chocolate chip cookies are rich yummy. They are loaded with white chocolate chips and under baked to perfection!
Valentine's M&M Cookies – Valentine cookies are soft and chewy with chocolate pops of pink, red, and white M&M's. They are Valentine perfection!
Sugar Cookie Bars – Frosted Sugar Cookie Bars are one of everyone's favorite cookies in bar form! They're quick, and perfect for sharing.
Valentine's Sugar Cookies – Soft and sweet valentine sugar cookies are the perfect way to say I love you! They are super simple and make a great treat for gifting.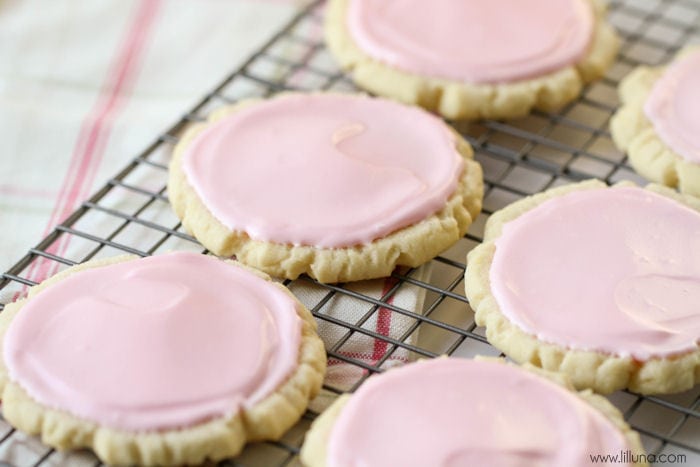 Copycat Swig Cookies – Make Swig's famous sugar cookies from home with this copycat recipe! These Copycat Swig Cookies are THICK and delicious, topped with a creamy frosting.
Nutella Cookies – These Nutella Cookies are the most sinfully delicious chocolate cookies. They will become a new favorite in no time!
No Roll Sugar Cookies – Super easy and delicious NO ROLL Sugar Cookies with a delicious frosting. No rolling pin needed for these – just drop and bake!
Meringue Cookies – These easy 5-ingredient Meringue Cookies are lots of fun to make! Get your kids involved in making these sweet treats.
White Chocolate Dipped Strawberry Cookies – Simply Sweet White Chocolate Dipped Strawberry Cookies are perfectly pink and can be whipped up in only 20 minutes.
Chocolate Dipped Cookies – Simple Chocolate Dipped Cookies are literally melt-in-your-mouth delicious! With only 3 ingredients, they're perfect any time of the year.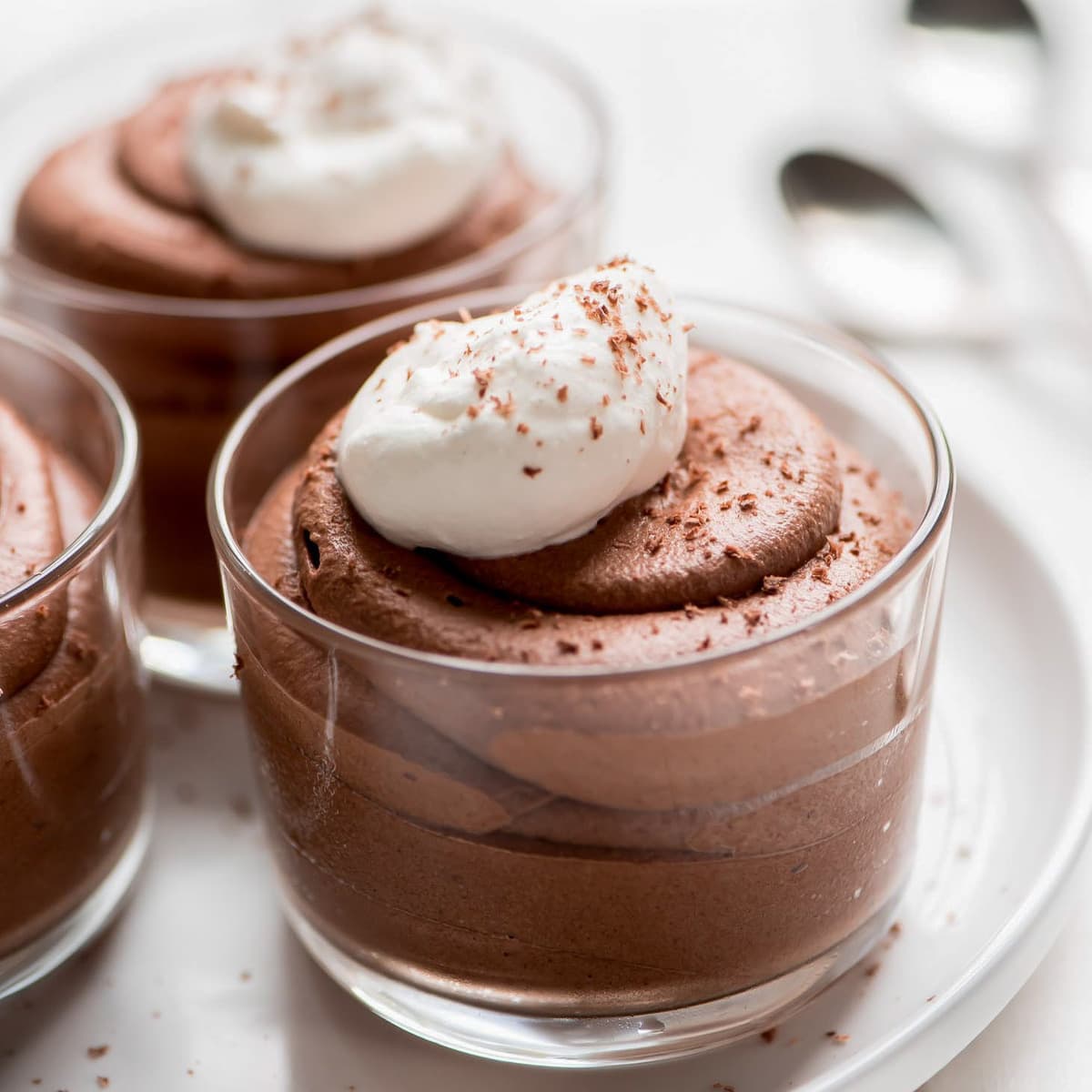 Chocolate Valentine's Desserts
You can never go wrong with CHOCOLATE.
We have a variety of chocolate treats here from cakes to chocolate pudding desserts that would be great for your Valentines celebration.
We are obsessed with our Chocolate Sheet Cake (especially if you are serving lots of people), but we think any of these would be perfect for the sweet day.
Chocolate Mousse – Chocolate Mousse is a sophisticated, smooth, and creamy dessert perfect for dinner parties or any time you are feeling fancy!!
Chocolate Bundt Cake – Indulge in this simple Chocolate Bundt Cake with chocolate glaze. It's perfect for chocolate lovers with the right amount of rich!
German Chocolate Cake – Homemade German Chocolate Cake is always a favorite! With tender cake layers and coconut pecan frosting, it's decadent and delicious.
Oreo Truffles – These easy Oreo Truffles – AKA Oreo Cheesecake Balls – are a delicious, no-bake treat. With only 3 ingredients – they're perfect for any occasion!
Chocolate Lava Cake – Deliciously decadent chocolate lava cakes are perfect for company or a date night in. These chocolatey cakes are made in just 30 minutes!!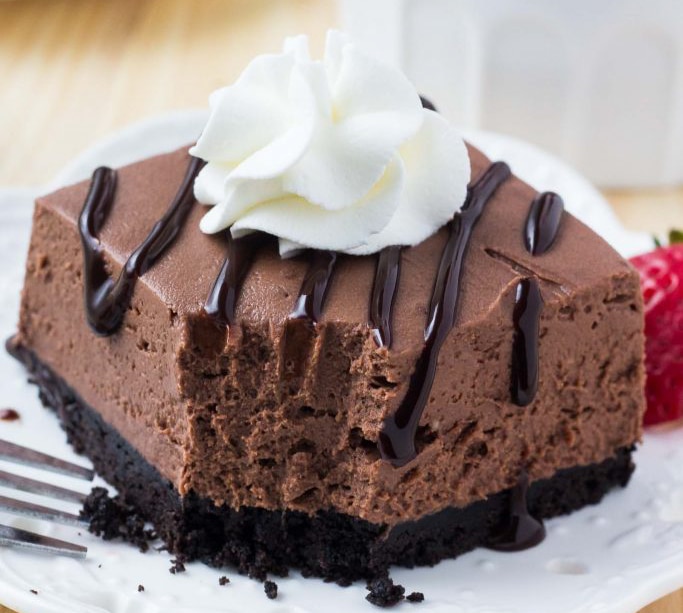 No Bake Chocolate Cheesecake – Easy, No Bake chocolate cheesecake bars are deliciously creamy with a crunchy Oreo cookie crust. They only take 15 minutes to make!!
Chocolate Sheet Cake – Our favorite chocolate sheet cake recipe. It's simple, moist, delicious and serves a lot making it our go-to party dessert – perfect with ice cream.
Brownies And Cream Fruit Trifle – Chocolatey Brownies and Cream Fruit Trifle is utterly decadent. It's a perfectly easy and stunning dessert to share!!
M&M Chocolate Bars – One of the best bar recipes you'll ever try!! These M&M Chocolate Oat bars have layers of oats, a sweetened condensed milk and chocolate center topped with more oats and M&Ms.
Chocolate Chip Cookie Delight – A delicious and cool layered dessert with a cookie base, cream cheese and pudding layer all topped off with Cool Whip and mini Chocolate Chips.
Chocolate Fondue – Easily whip up the perfect Chocolate Fondue in under 30 minutes! You'll be dipping your favorites in no time.
Nutella Dip – Filled with hazelnut goodness and a helping of tangy cream cheese & whipped cream, this Nutella fruit dip is heavenly!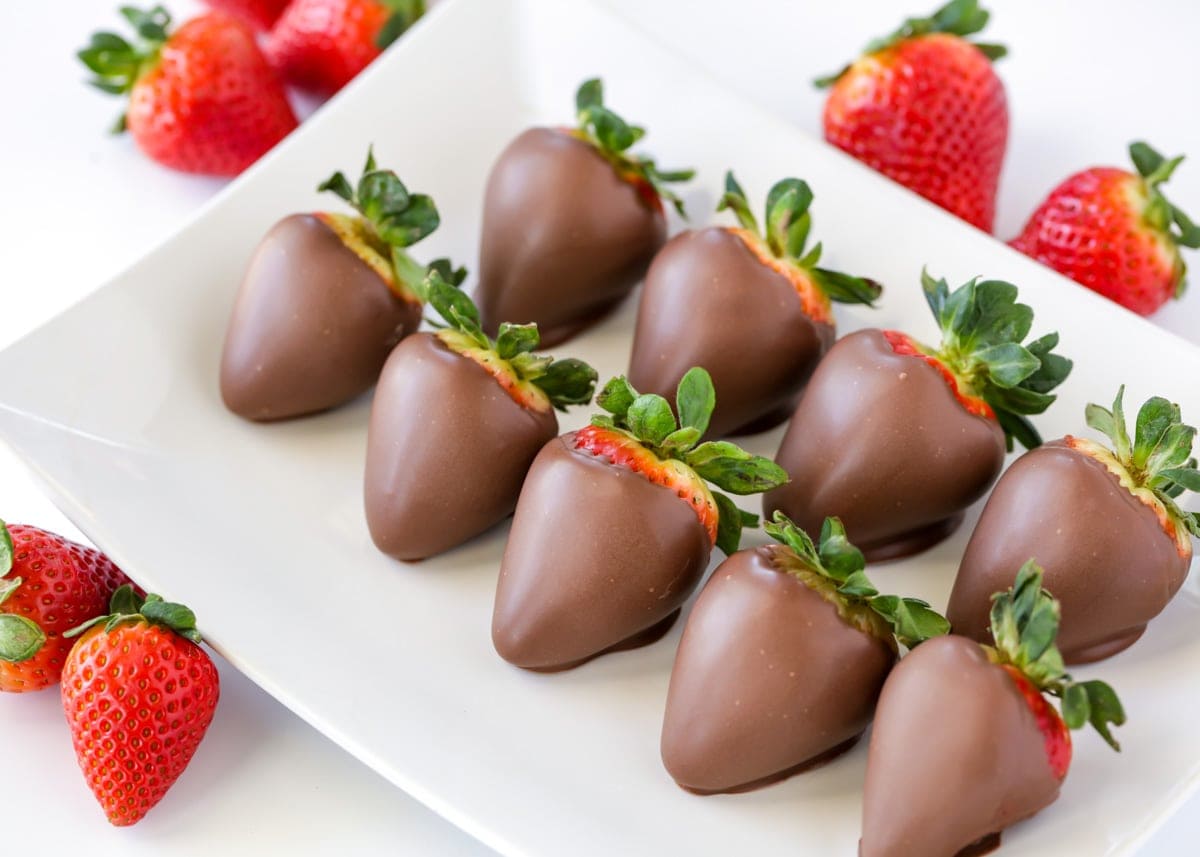 other pink and red favorites
Second to chocolate, we love to have strawberry, cherry, and raspberry desserts for Valentine's Day.
I think it has something to do with the RED, and also because both fruits are delicious. We have so many yummy treats here on the site that are perfect for the 14th because of that color and goodness.
Chocolate Covered Strawberries – How to make Chocolate Covered Strawberries – learn how to make everyone's favorite treat with this simple and quick tutorial.
Jello Poke Cake – Jello Poke Cake is cool, creamy, and perfect for any get-together. Use any flavor of Jello to make this crowd-favorite dessert!
Valentine's Charcuterie Board – This sweet and simple Valentine's Charcuterie Board is a perfectly customizable treat for sharing with those you love!
Strawberry Shortcake Kabobs – Strawberry Shortcake Kabobs are a simple version of a classic. Fluffy cake and fresh strawberries are drizzled in melted vanilla candy coating!
Strawberry Butter Cake – Easy layered Strawberry Gooey Butter Cake whips up with only 5 minutes of prep. It's a family favorite that can be enjoyed all year long!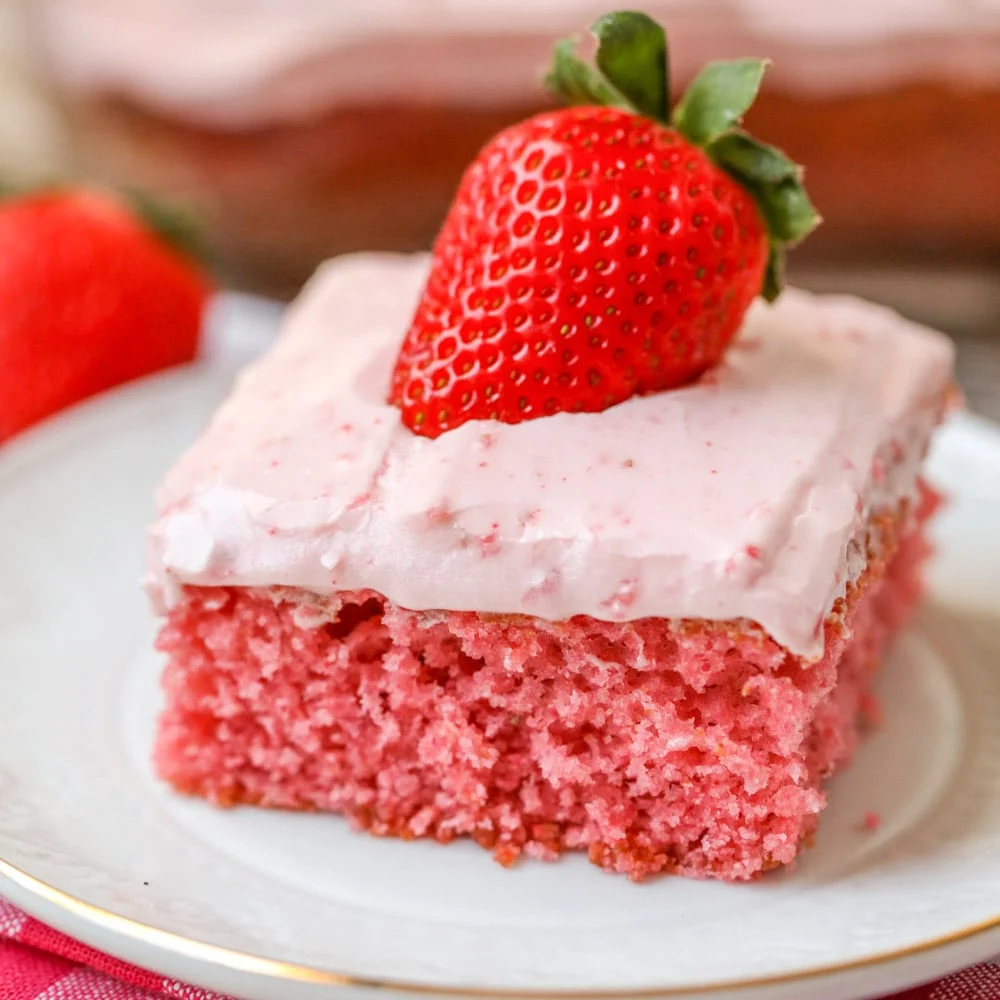 Strawberry Sheet Cake – Perfect for feeding a crowd, this Strawberry Sheet Cake made with fresh pureed strawberries is especially tasty!
Strawberry Cookies – These quick and simple Strawberry Cookies are flavored perfectly with jello mix, and full of sweet white chocolate chips.
Berry Buttercream Frosting – This can be added to any cupcake recipe. Topped with fresh berries, and you can't go wrong!
Cherry Bars – With a hint of almond extract, a heavenly glaze, and cherry pie filling swirled throughout, these delicious Cherry Bars are the sweetest way to easily treat a crowd!
Frozen Strawberry Dessert – This Frozen Strawberry Dessert is made with a buttery graham cracker crust and creamy frozen strawberry filling. Topped with whipped cream and fresh strawberries, it's the perfect summery treat!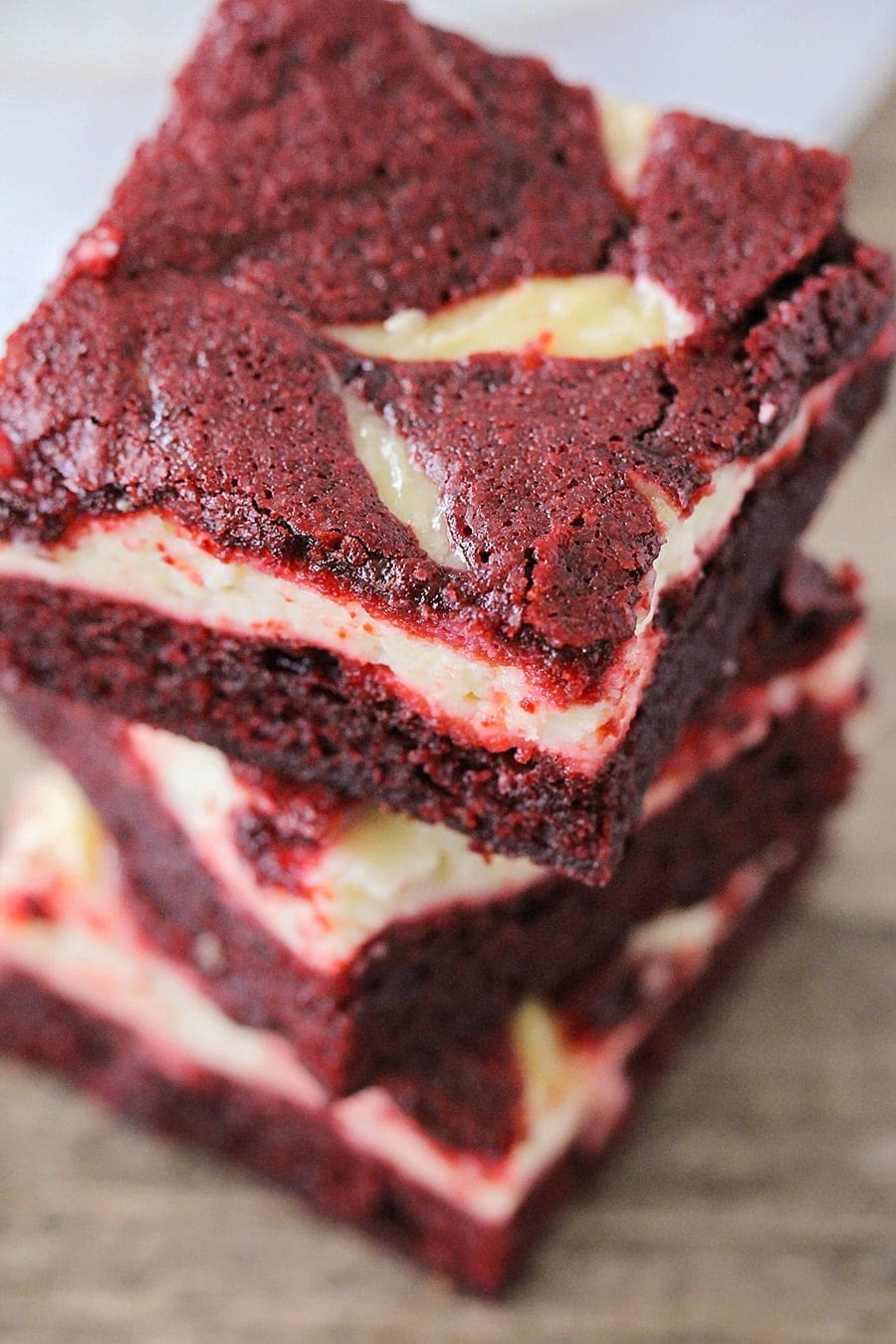 Red Velvet Cheesecake Brownies – Red Velvet Cheesecake Brownies – A rich and cakey red velvet brownie base, topped by an amazing creamy cheesecake layer, then more brownie batter swirled into the cheesecake. These will definitely be your new favorite dessert!
Red Velvet Cheesecake Cake – Red Velvet Cheesecake Cake is filled with a delicious cream cheese layer in the center and topped with a homemade cream cheese frosting making it a delicious dessert to enjoy all year long.
Red Velvet Poke Cake – Delicious Red Velvet Poke Cake with homemade cream cheese frosting is moist and velvety. It's perfectly sweet for any occasion.
Red Velvet Milkshake – This cupid-approved creamy, dreamy red velvet milkshake is a simply sweet treat for your Valentine. It's ready in only 5 minutes!
Chocolate Covered Strawberry Cupcakes – Devilishly rich chocolate covered strawberry cupcakes topped with a ganache smothered strawberry are the perfect way to say "I Love You!"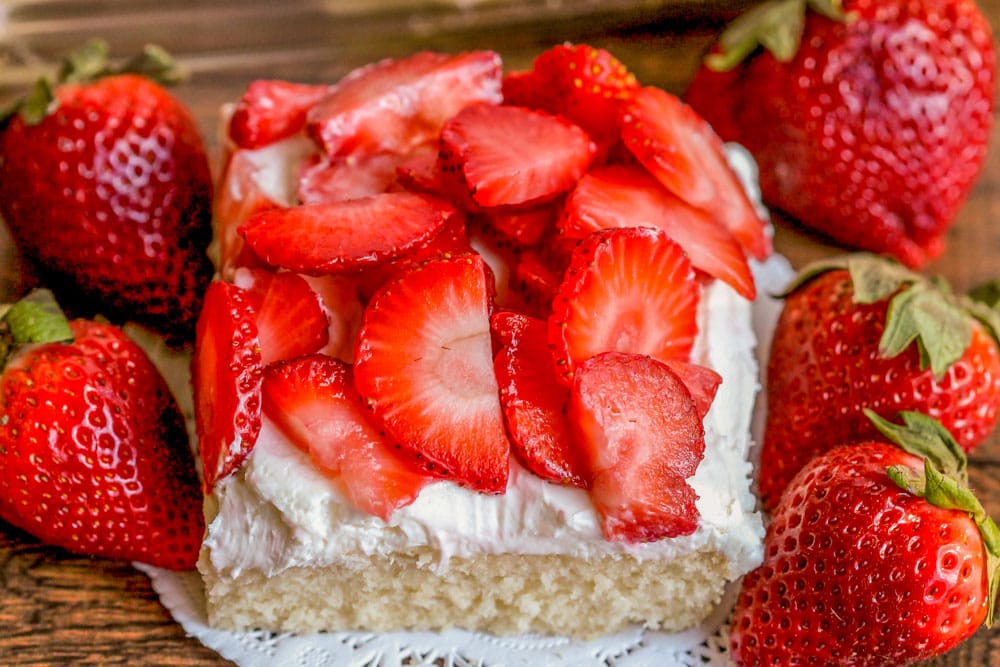 Strawberry Shortcake Bars – Simple, light and refreshing Strawberry Shortcake Bars are a perfect summertime dessert. This is a seasonal favorite, and one tempting treat!
Homemade Suckers – Homemade suckers have been a favorite treat to make with the family for decades. They're especially great for holidays!
Chocolate Covered Cinnamon Bears – Sweet and spicy chocolate covered cinnamon bears are snacking perfection. They are easy to make and will disappear in minutes!
Cherry Cheesecake Cupcakes – Cherry cheesecake cupcakes are bite-sized treats made with a cream cheese base and topped with cherry pie filling. They're sweet, tart, and ultra simple to make!
Cherry Pie – Classic Cherry Pie is simple and elegant, but it tastes amazing. It's perfect for any special occasion or holiday!
Strawberry Cake Mix Cookies – Strawberry Cake Mix Cookies use 5 ingredients to make one chewy, delicious cookie! They are a favorite go-to cookie.
---
Our Go-To Valentine's Day Goodie
Our kids are on a cupcake kick, which means we try to have them whenever possible, but especially for holidays.
These Cherry Valentines Cupcakes are the perfect addition to our holiday menu. They're pink and red and not only beautiful but delicious too.
We like to make these cupcakes and let the kids add the frosting with their own sprinkles. Either way you make them, they're sure to be a hit!
How to Make Valentines Cupcakes
PREP. Preheat oven to 350°F. Line two cupcake pans with 16 liners.
WET INGREDIENTS. Cream the butter and sugar in the bowl of a stand mixer until light and fluffy (about 2-3 minutes). Add the vanilla extract and the almond extract.
DRY INGREDIENTS. In a medium mixing bowl whisk together flour, cake flour, baking powder, baking soda, and salt.
COMBINE. In a glass measuring cup mix together the buttermilk, cherry juice, and chopped cherries. With mixing speed on low, alternate dry and wet ingredients. Mix until the batter is smooth.
EGG WHITES. In a medium-size mixing bowl, use a hand mixer to beat the egg whites until stiff peaks form. Fold into the batter.
BAKE. Scoop the batter into the cupcake liners, filling each ¾ of the way full. Place in the oven and bake for 20-25 minutes or until the cupcakes spring back when touched. Remove from oven and allow to cool in pans for 5 minutes before removing and transferring to a wire rack to cool completely (about 25 minutes).
For the frosting, use the recipe in our recipe card, or you can use our Strawberry Frosting. Top with a cherry or sprinkles, and you have the perfect treat!
Be sure to let us know what you think of these cupcakes and the rest of the Valentine's Day dessert recipes.
---
---
The Complete List
Here are the picture recipe cards for all the recipes in this delicious collection! Plenty to choose from to make Valentine's Day (or any Valentine's party for that matter) especially delicious.
Be sure to check out our Valentine Dinner Ideas, Cookie Bar Recipes, and Pie Recipes
We hope you like this list!! Be sure to come back and let us know which one you chose!!