This collection of recipes makes the perfect Valentine's Day Menu!! From main dishes to sides, to desserts and drinks, we've got you covered for the perfect Valentine's Dinner!
More collections: Valentines Desserts, Winter Dinner Ideas, Italian Dinner Recipes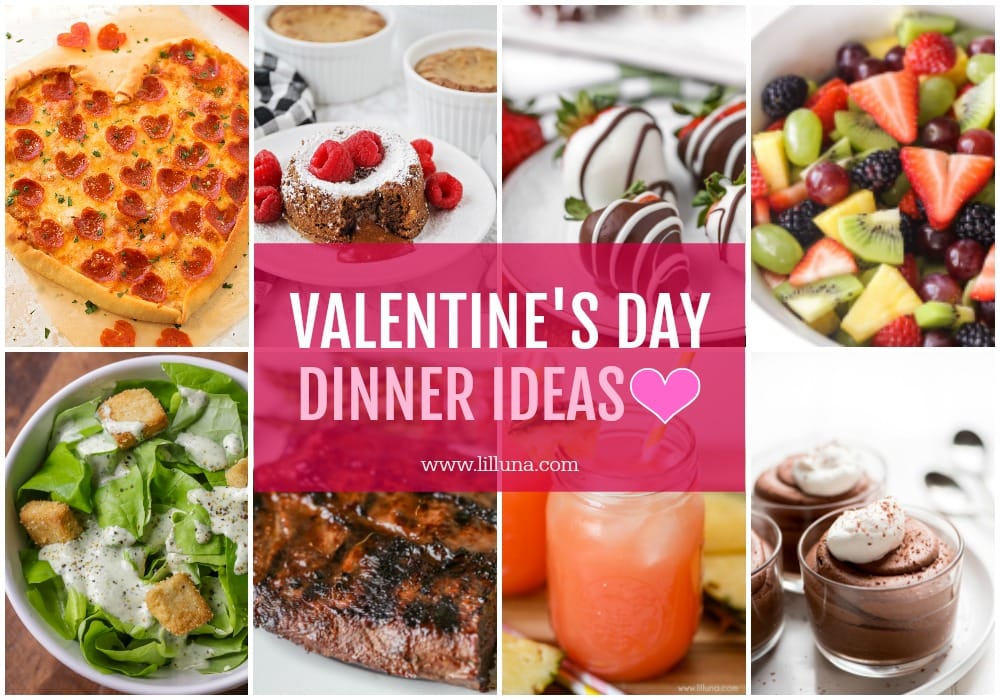 Valentines Day Dinner menu
We know that Valentine's Day is often associated with romantic love, but it can be celebrated with anyone special in your life. We've tried to make it a special night for the family and usually have a fun and festive dinner with the whole family.
Over the years, we have made a variety of meals – from Heart Shaped Pizza to Steak, and today we wanted to share some menu ideas for you to use in your own family.
From breakfast to sides to desserts, there are recipes that can help your loved ones feel special all day long. I searched out easy, yummy recipes as well as ones that use fun colors of red and pink.
Strawberries and Chocolate are also famously tied to Valentine's, as well as "fancy dinner" recipes that I know your family will enjoy.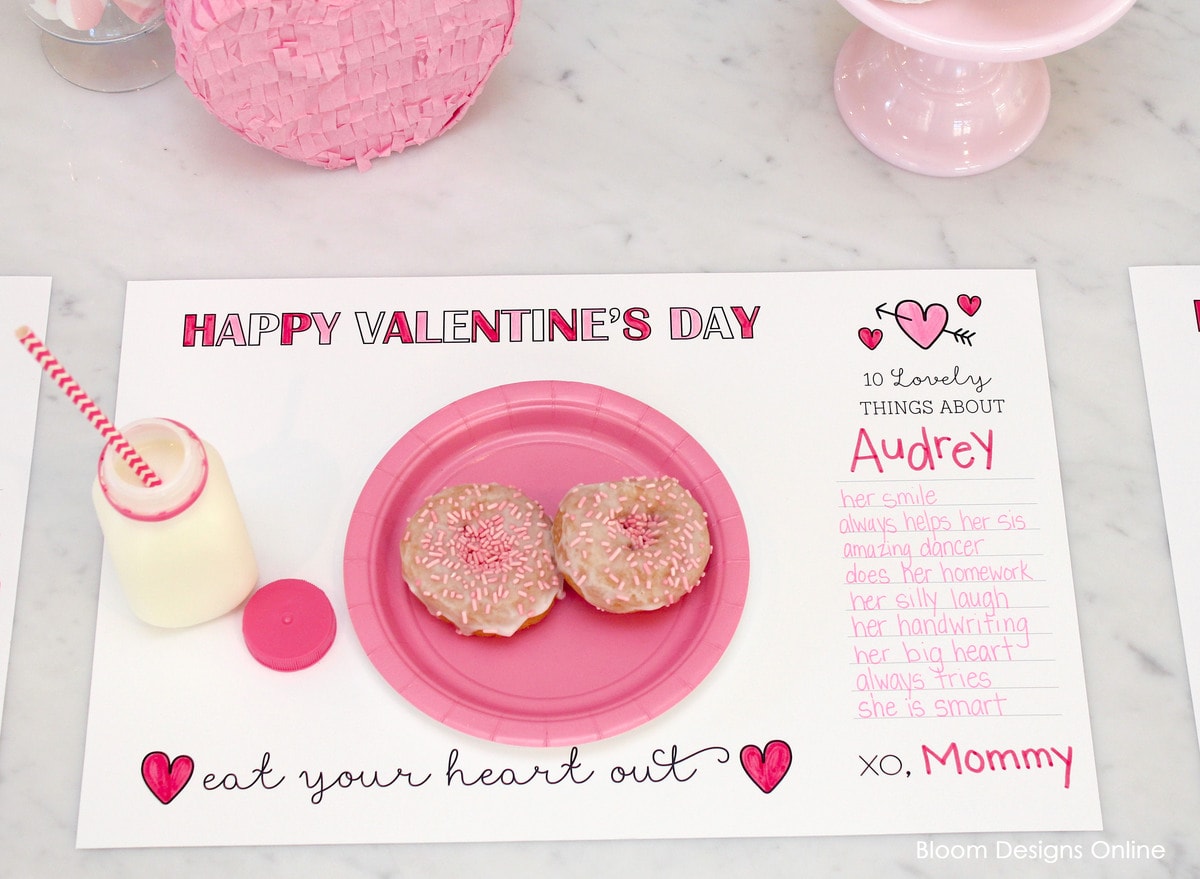 Other Ways to Celebrate with the Family
Before we share some of the recipes, we wanted to give a few more ideas of things you can do with the kids or FOR the kids to make the Valentine's Day dinner (or breakfast) even more special.
Heart attack the kids' door with hearts and notes with compliments or reasons why you love them.

Make homemade valentines with the kids.

Make Valentines boxes with the kids.

Go to your local library and check out valentines books to read together.

Share "10 Things I LOVE About You" with one another.

Play your favorite games together.

Show love to others by serving them. Find a family service project in your area. One of my favorite websites to search on is

JustServe.org

.
Here are a few more Valentine's Day dinner ideas to make your meal a little more special:
Include fondue dinner. Whether it's savory (cheese) or sweet (caramel or chocolate with fruit), the kids will love it!
Use plastic champagne glasses for sparkling cider or another yummy drink to make it more special.
Add some candles to your dinner for a more romantic touch.
Use our printable Valentines placemats and add a box of crayons to the table for the kids to color before or during dinner.
Keep all the food pink or red to make it extra festive!
Use fresh fruit or herbs to garnish any of your dishes – from a lemon on a drink to berries, to herbs on your meat, it makes it look fancier.
Sprinkle the table with conversation hearts or other Valentine candy. Or add a small box of chocolates to each plate as a treat for after dinner.
Make Sugar Cookies for a treat and let the kids frost and decorate them after dinner.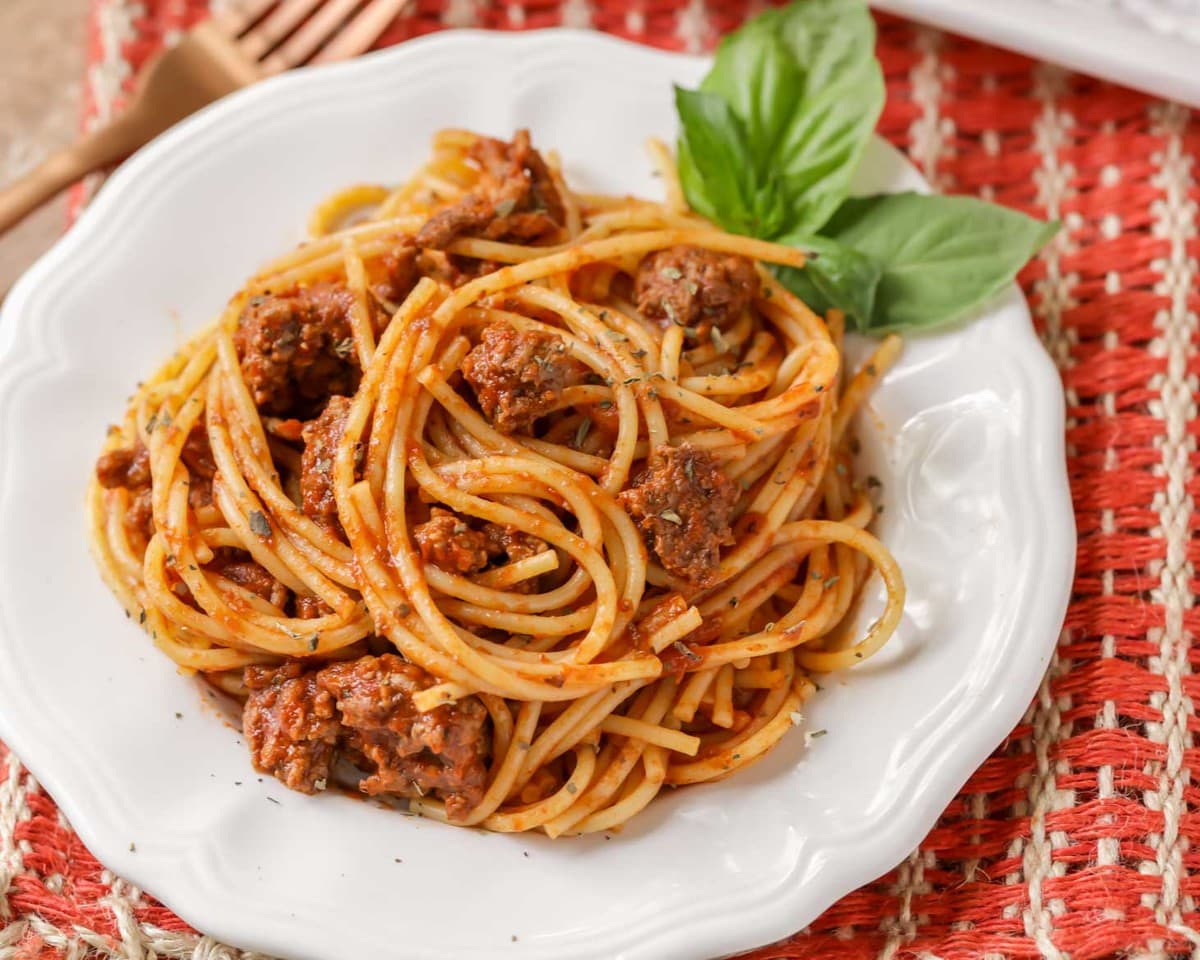 Tips for Picking Your Menu
The best way to figure out the menu you'd like to make for the night is to first figure out what you'd like to make for the main dish.
The main dish will help you plan the sides and the desserts, but who are you making it for?
The whole family?
Just the two of you?
I always suggest buying a few of the sides to keep them easy (like a bagged spinach salad) or even the dessert so you aren't making everything homemade.
But having said that, pick the main dish and from there you can plan everything else to create an amazing Valentine's Menu!
---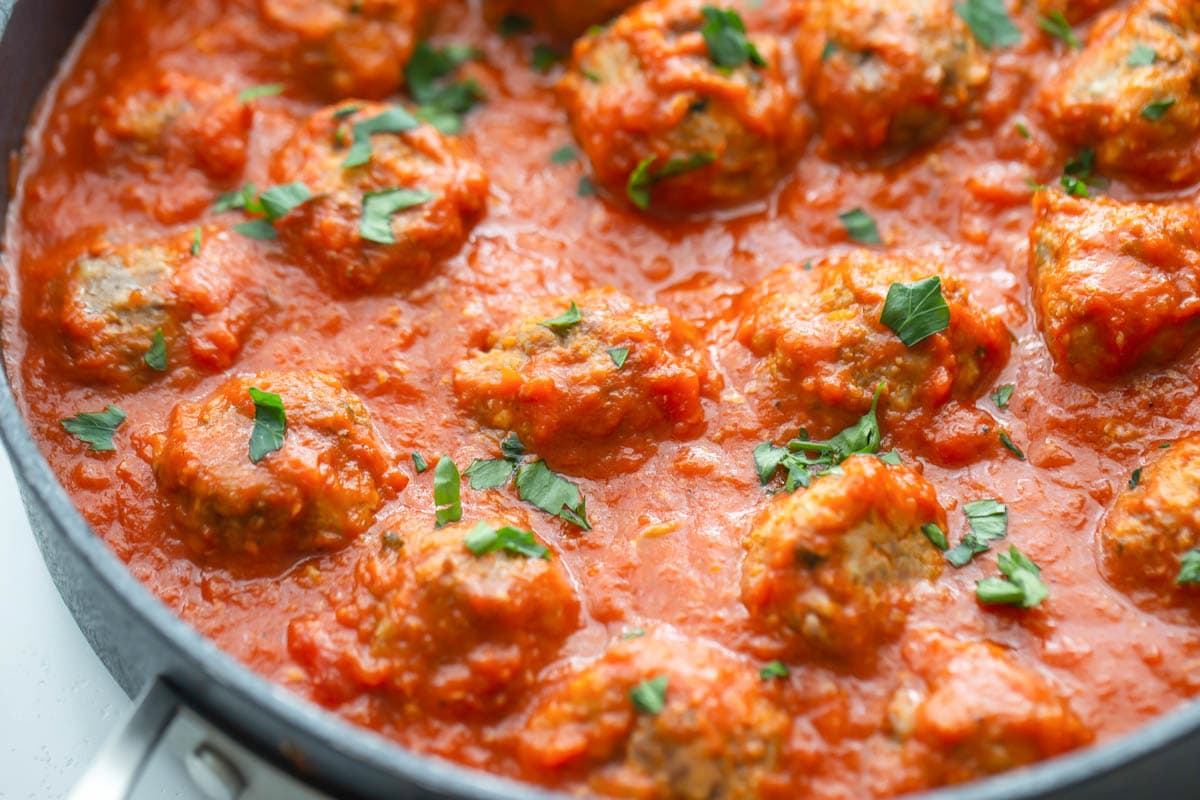 family valentine's dinner
Here are some of our favorite dinner ideas for the whole family (our favorite is found below).
You will see that Italian dishes – especially pasta dishes are not only popular for Valentine's they are also the kids' favorites. 😉
Italian Meatballs – These homemade Italian meatballs are sure to rival your favorite Italian restaurant. They are juicy, soft, and full of flavor!
Italian Sausage Pasta – Easy cheesy Italian Sausage Pasta is creamy, delicious and perfectly spiced. It's a family favorite ready in only 20 minutes!
Easy Lasagna – Our family's favorite lasagna recipe – not only because it's delicious but because it's so EASY! With beef, Italian sausage, three cheeses, and tons of seasonings, you know this recipe is going to be a hit!
Easy Spaghetti – This Easy Spaghetti Recipe is kid-friendly and is made with a delicious homemade spaghetti sauce making it the perfect family dinner recipe!
Chicken Tetrazzini – Easy, creamy and utterly delicious Cheesy Chicken Tetrazzini is a family favorite that takes minutes to prep and is gone in no time!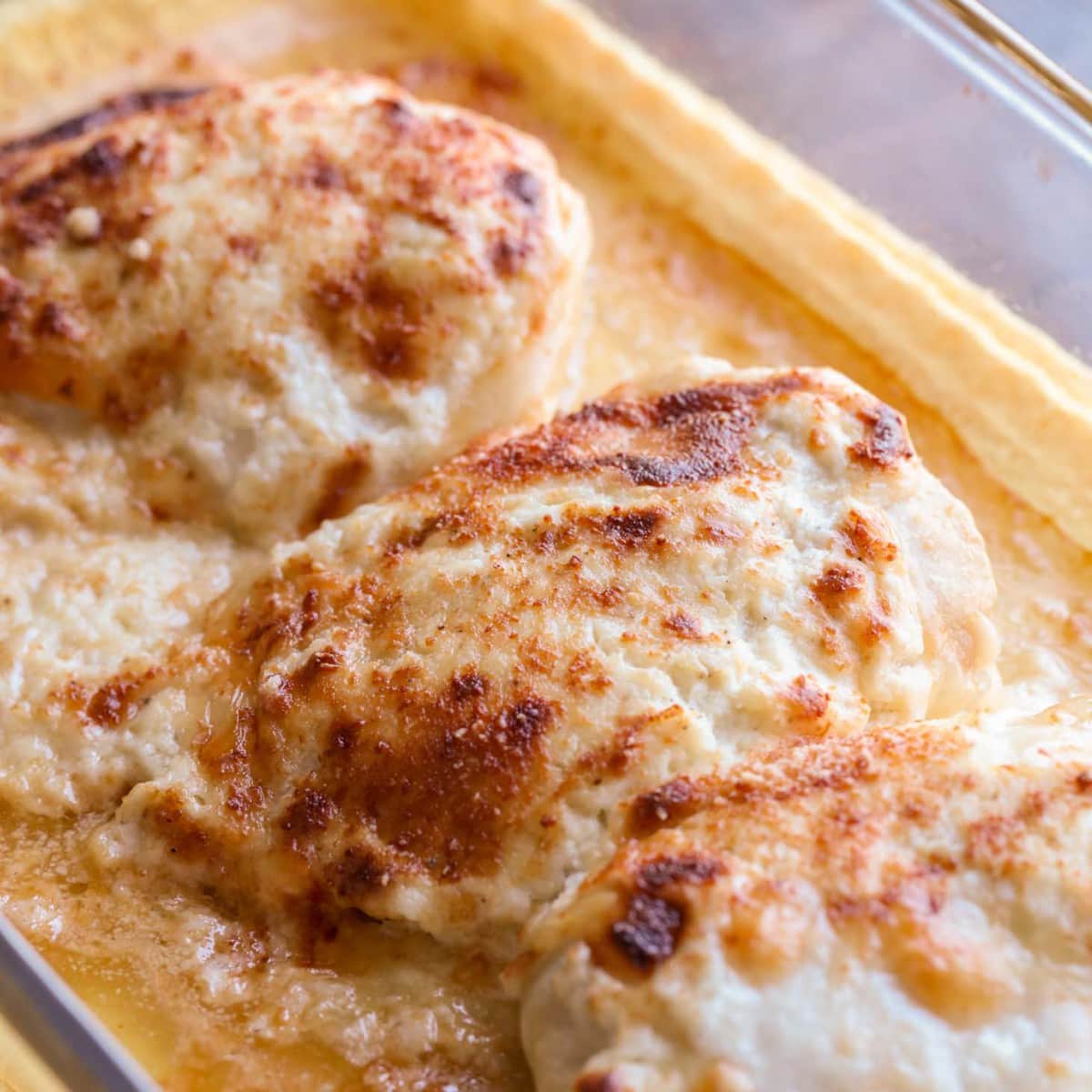 valentine's day dinner for two
Bag the hard-to-get dinner reservations! We love to stay in for Valentine's.
When it comes to just the two of you, we like to make it a little fancier. We don't go all out and do lobster and shrimp or filet mignon, but these simple recipes are fancy enough for the two of us to make it a nice, romantic dinner (or at-home date night).
Here are our go-to's when the kids aren't around:
Creamy Swiss Chicken Bake – Delicious Creamy Swiss Chicken Bake – a simple and delicious dinner recipe that includes Swiss and Parmesan cheese.
Chicken Parmesan – This Baked Chicken Parmesan is one of the yummiest and easiest dinner ideas you'll ever try!! Breaded chicken covered in marinara sauce and topped with melted cheese—great served over pasta!
Steak Marinade – This is our all-time favorite Steak Marinade. It requires only four ingredients, and makes our steak taste SO amazing!
Parmesan Crusted Pork Chops – Fry up the most delicious Parmesan Crusted Pork Chops with less than 10 minutes of prep work!! They are perfectly juicy.
Creamy Garlic Penne Pasta – Super simple and delicious Creamy Garlic Penne Pasta recipe packed with flavor. This dish is perfect by itself or you can add chicken too!
Baked Salmon – Bake a delicious and healthy pan of salmon for the whole family! Flavored with lemon, garlic, and parsley for a tasty dinner everyone will enjoy.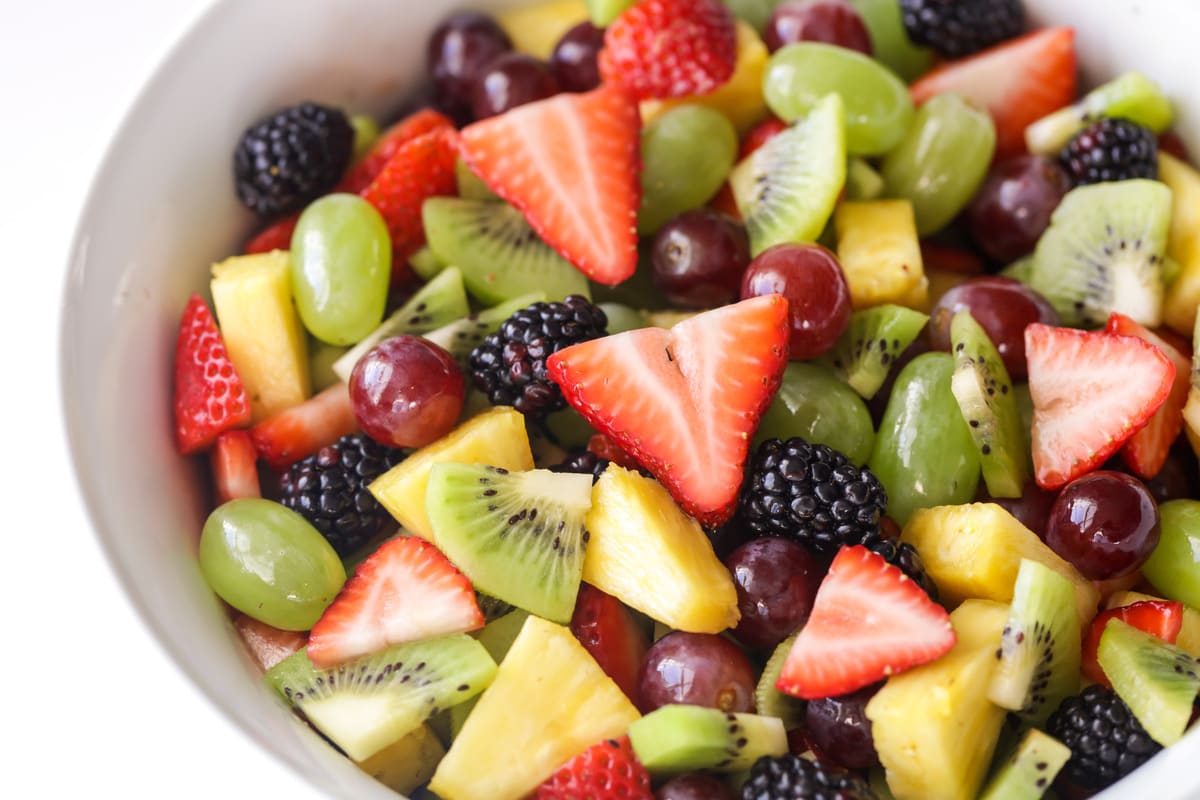 Valentine's Day Side Dishes
Now that you've picked what you want to make for the main dish, you should have a better idea of what you'd like for the sides.
Below we have listed out some of our favorites to pair with the main dishes above.
Easy Fruit Salad – A fresh fruit salad that makes the perfect side dish to any meal! Colorful, healthy, delicious, and filled with all your favorite fruits!
Copycat Olive Garden Breadsticks – Just like the originals, these copycat Olive Garden Breadsticks are light, airy, and flavored with butter and garlic salt.
Baked Sweet Potato Cubes – Baked Parmesan Sweet Potatoes- soft sweet potatoes coated with parmesan cheese and all kinds of spices!! It's a new favorite side dish that is quick and delicious.
Brown Sugar Glazed Carrots – Tender and tasty Brown Sugar Glazed Carrots are a perfect go-to side dish. Best of all, they only require 4 ingredients!!
Puffy Pastry Wrapped Asparagus Rolls – Asparagus wrapped in Puff Pastry, filled with cream cheese and topped with parmesan. So simple and delicious, it's the perfect side for any meal.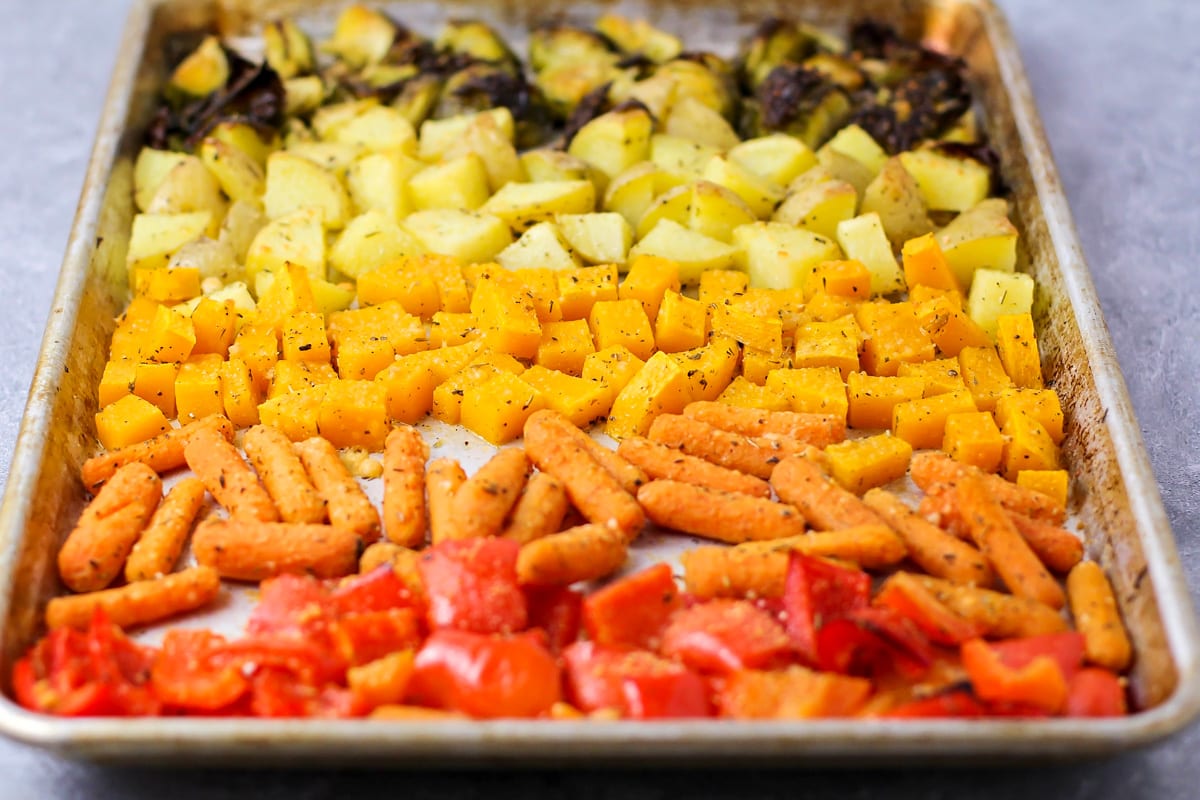 Oven Roasted Vegetables – Simple, flavorful, and healthy Oven Roasted Vegetables take less than 10 minutes of prep work! Nothing beats yummy veggies roasted in the oven!
Creamy Pesto Dressing – This simple creamy pesto dressing is delicious on any salad! Plus, it only requires 5 ingredients and 5 minutes to make.
Garlic Knots – Buttery soft Easy Garlic knots whip up in under 20 minutes and make a perfect side for pizza, pasta, or salads!
Fried Zucchini – Restaurant style Fried Zucchini is a family favorite! It's simply addicting, especially dipped in ranch or marinara.
Tomato Mozzarella Salad – Fresh, light, and healthy tomato mozzarella salad! Perfect for lunches with friends or a side salad to dinner!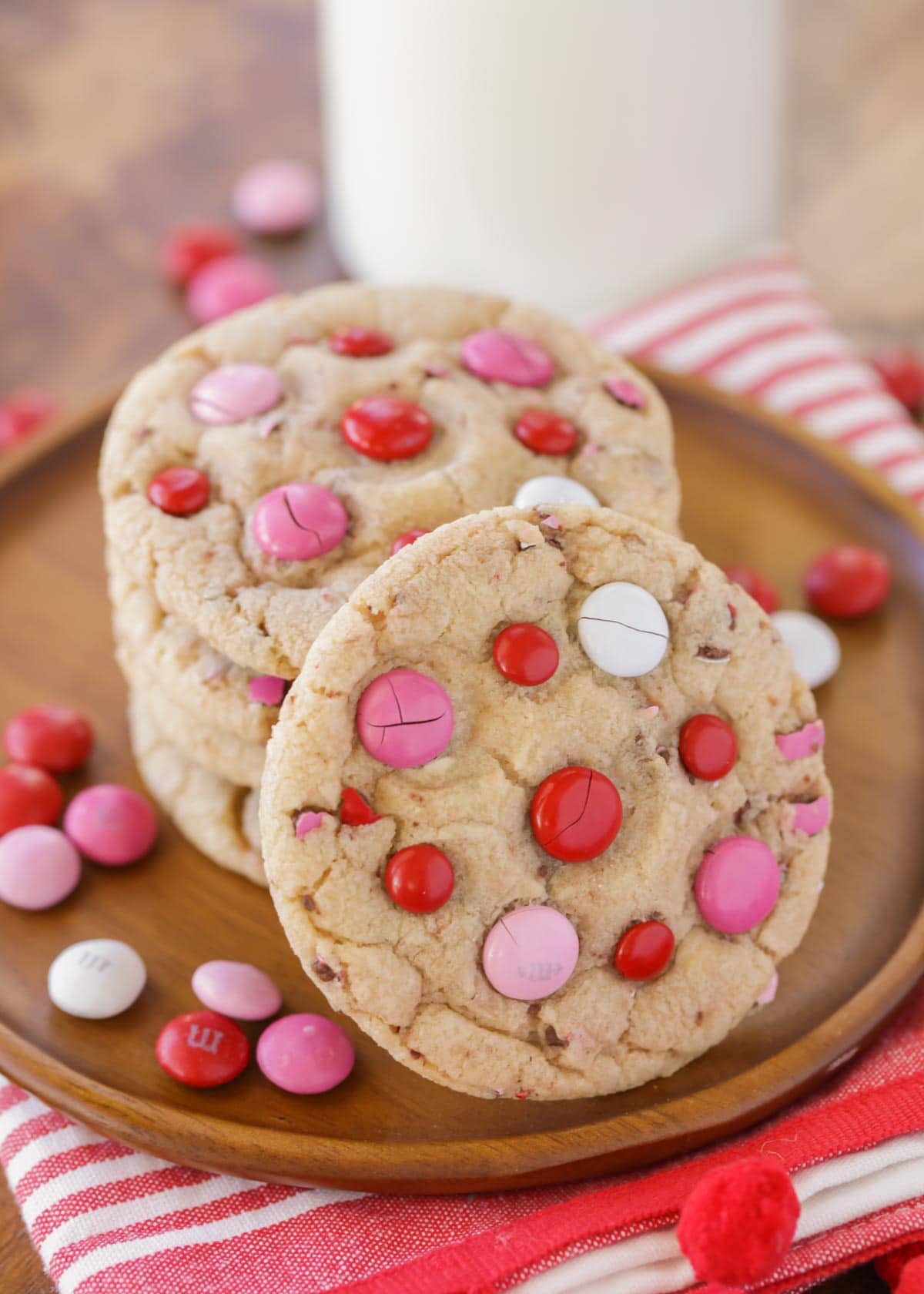 Valentine's Day Dessert Ideas
Now, to the best part – DESSERT!
There are so many treats you may want to make for your Valentines dinner, but we wanted to share some of our favorites.
If you'd like to see even more ideas, be sure to check our post ALL ABOUT Valentine's Desserts with even more options – all from chocolate to pink and red to fruity!
But, here are some of our TOP CHOICES:
Valentines Cookies – Valentine cookies are soft and chewy with chocolate pops of pink, red, and white M&M's. They are Valentine perfection!
Strawberry Sheet Cake – Perfect for feeding a crowd, this Strawberry Sheet Cake made with fresh pureed strawberries is especially tasty!
Cherry Almond Cupcakes – Light and fluffy Cherry Almond Cupcakes are bursting with maraschino cherries and topped with a luscious almond buttercream frosting.
Sugar Cookie Bars – Frosted Sugar Cookie Bars are one of everyone's favorite cookies in bar form! They're quick, and perfect for sharing.
Valentine's Sugar Cookies – Soft and sweet valentine sugar cookies are the perfect way to say I love you! They are super simple and make a great treat for gifting.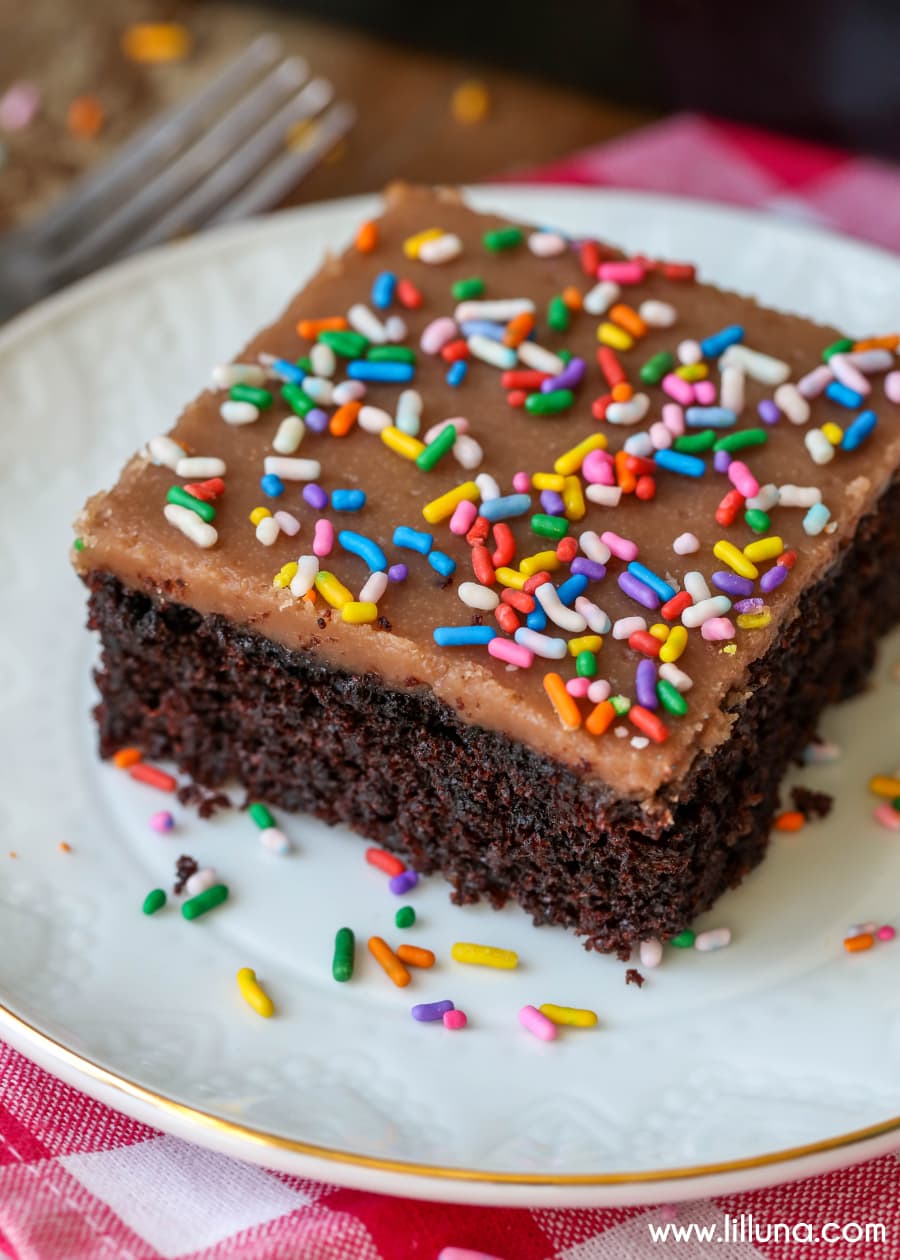 Chocolate Sheet Cake – Our favorite chocolate sheet cake recipe. It's simple, moist, delicious and serves a lot making it our go-to party dessert – perfect with ice cream.
Strawberry Shortcake Bars – A soft vanilla cake-like crust perfectly combines with a light layer of whipped cream cheese frosting. Top it off with fresh strawberries for delicious strawberry shortcake bars!
Dessert Kabobs – Dessert Kabobs are a simple and delicious way to serve several "mini" treats at once. They are perfect for parties, BBQs and every day!
Fruit Pizza – This BEST Fruit Pizza is an all-time favorite! It starts with a sugar cookie crust and is completely customizable with your favorite fruit.
Red Velvet Poke Cake – Delicious Red Velvet Poke Cake with homemade cream cheese frosting is moist and velvety. It's perfectly sweet for any occasion.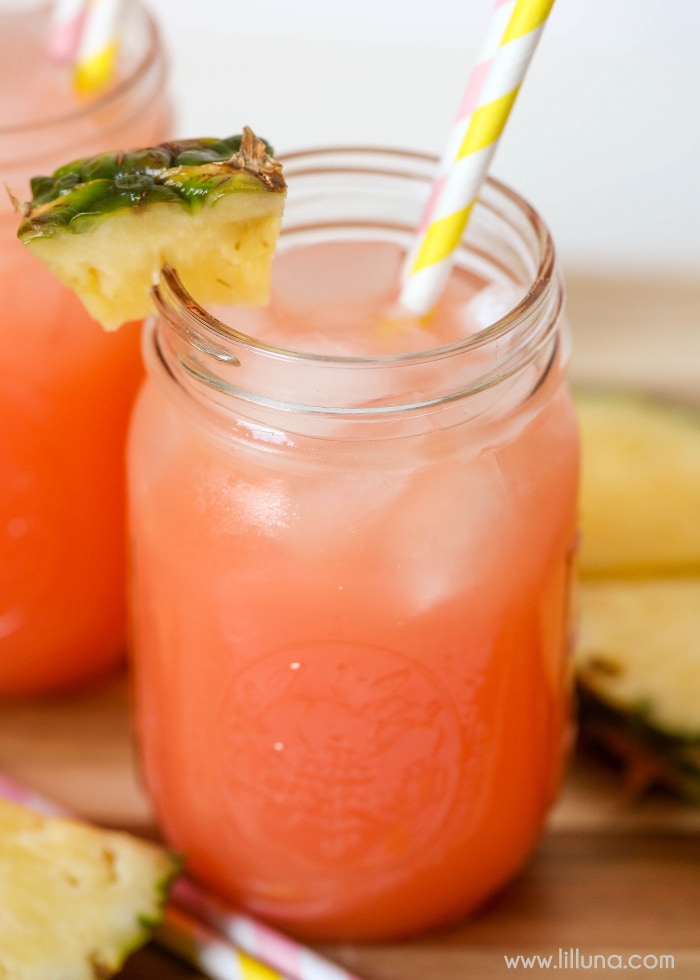 Valentine's Day Drinks
Last, but not least, are the drinks!! It's always fun to have a festive and delicious drink with your Valentine's meal.
But, not to worry – don't feel like making anything?! Sparkling apple cider is always great and kids love how fancy it is. Cherry 7UP is another tasty option – it's pink, kid-friendly, and delicious.
Here are some of our favorite drink recipes that would be great for the 14th:
Pineapple Pink Lemonade Soda – All-time Favorite Party Drink – this Pink Drink recipe (aka Baby Shower Punch) takes a minute to make and is made with 3 ingredients including – pink lemonade dry mix, sprite, & pineapple juice!
Red Velvet Milkshake – This cupid-approved creamy, dreamy red velvet milkshake is a simply sweet treat for your Valentine. It's ready in only 5 minutes!
Frozen Strawberry Lemonade – Frozen Strawberry Lemonade takes minutes to make and is filled with lemonade, strawberries, ice and pineapple juice.
Shirley Temple – Shirley Temple drink is perfect for year round enjoyment! It's sweetness and pretty red color make it a great party drink.
Watermelon Juice – Delicious and Refreshing Watermelon Juice – a favorite drink in the summer time! Made with watermelon & strawberries!
Pudding Milkshake – Thick and creamy Pudding Milkshake is rich, delicious and only takes 5 minutes to whip up. It is one of our favorite treats!
---
Our Go-To Family Valentines Dinner Recipe
For our delicious, go-to Valentine's Dinner Recipe that our kids love, try this Heart Shaped Pizza. It's a family favorite!
---
The Complete List
Here are the picture recipe cards for all of the Valentine's Day dinner recipes in this delicious collection! Whether you're planning a romantic meal at home for just the two of you, or a festive family dinner, you're sure to find the perfect recipes on this list.
Be sure to check out our Valentine Desserts, Winter Dinner Ideas, and Italian Dinner Recipes