This Heart Shaped Pizza is a delicious homemade pizza that is perfect for Valentine's Day or special occasions.
Hey guys! It's me Natalie, back with a super easy and cute idea for Valentine's Day! My husband and kiddos LOVE pizza, so I thought it would be fun to make them a heart shaped pepperoni pizza. They loved it!! This pizza would be perfect for lunch or dinner. It's easy, ready in just 30 minutes and can be customized however you like.
I started off by using a ball of homemade pizza dough. You can use store-bought dough to simplify things even more. I rolled it into the shape of a heart, then turned the edges over to form the crust. I "blind baked" the crust to help make it more sturdy, then topped it with pizza sauce, mozzarella cheese, parmesan cheese and pepperoni. I had one of my kiddos help me cut out the hearts and he had a blast!
What is Blind Baking?
Baking blind (sometimes called pre-baking) is the process of baking a pie crust or other pastry/dough without the filling.Blind baking a pie crust is necessary when it will be filled with an unbaked filling (such as with pudding or cream pies), in which case the crust must be fully baked.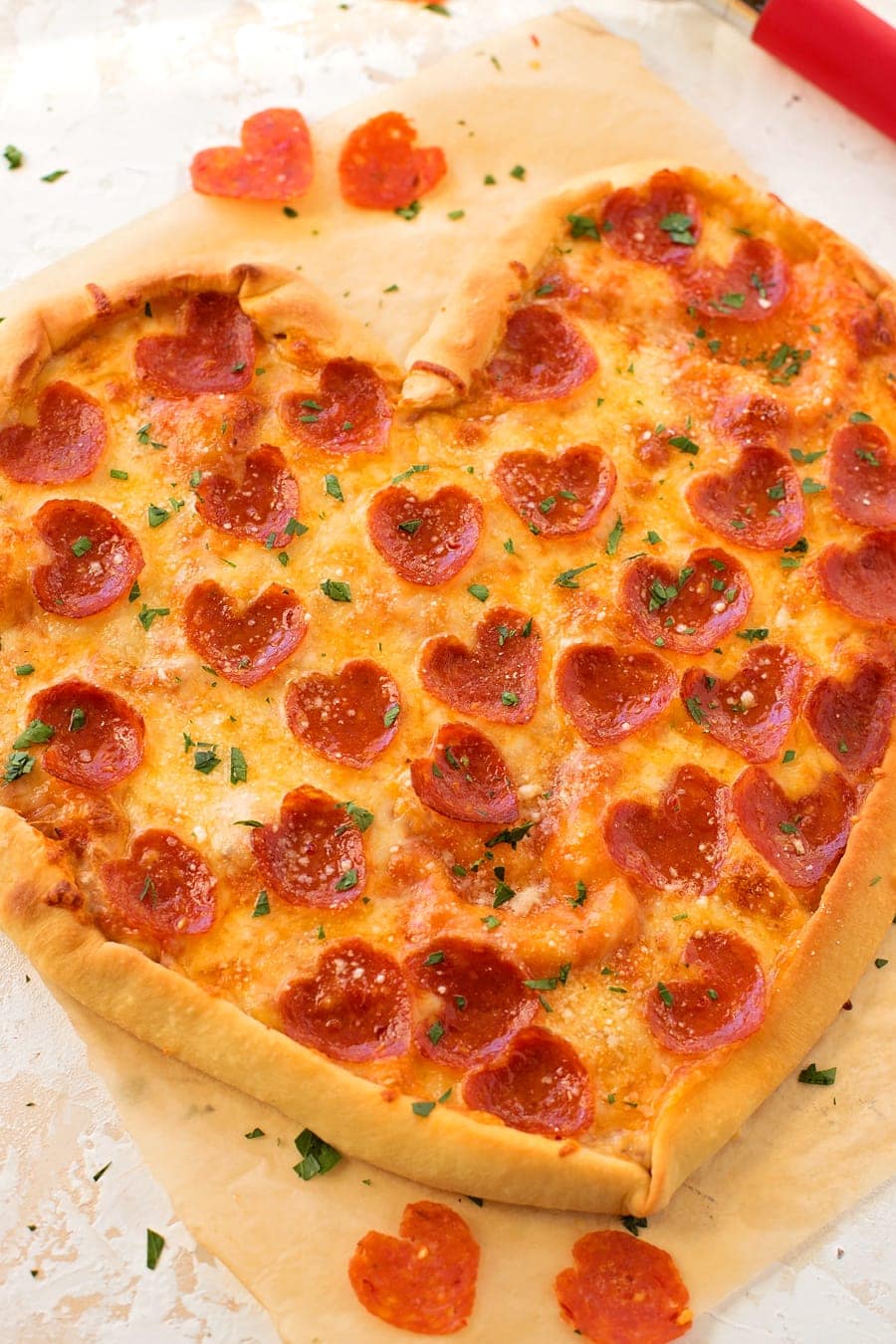 We had such a fun time making this, and even more fun eating it! It's something everyone can help make, it requires minimal ingredients, and it's ready in no time. If you're looking for a cute idea for Valentine's Day, look no further! This heart shaped pepperoni pizza will be a hit with both kids and adults. Enjoy!
This recipe is perfectly paired with these other Lil' Luna recipes:
For more pizza recipes:
How to make Heart Shaped Pizza: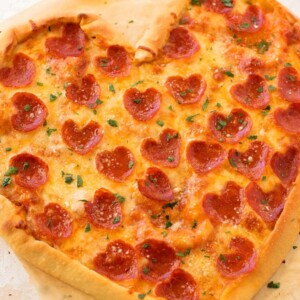 Heart Shaped Pepperoni Pizza
Ingredients
1

ball

pizza dough

homemade or store-bought

2

tbsp.

olive oil, divided

30

pepperoni

1/4

c.

pizza sauce

1 1/2

c.

shredded mozzarella

3

tbsp.

grated parmesan cheese

2

tsp.

chopped parsley or basil

*optional
Instructions
Preheat oven to 450 degrees. Line a pizza pan with parchment paper, set aside.

Fold each pepperoni in half and cut into heart shapes using kitchen shears. Place on a paper towel lined plate and microwave for 15 seconds on high. Dab any excess grease off, set aside.

Lightly flour a surface, roll dough into a heart shape, about 16 inches tall. Fold edges over and press to create the crust.

Transfer pizza dough to prepared baking sheet. Brush with olive oil, then dock the crust with a fork to prevent bubbles from forming.

Place in the oven and bake for 6 minutes. Remove and spread sauce over top, then add cheeses and pepperoni.

Return to the oven and bake for 8-12 minutes or until the crust is golden brown and the pepperoni is crispy. Remove from the oven and top with fresh parsley or basil, if desired. Let stand for 5 minutes before cutting.
For more great recipes from Natalie, head to Life Made Simple Bakes.