Simple & Creamy Lemon Chicken Pasta is bright, cheesy, and comforting. It is a flavorful dish the entire family will love!
Cucumber Tomato Salad and some Fresh Breadsticks pair perfectly with this Creamy Lemon Chicken Pasta! To complete the meal whip up a Dirt Cake Parfait!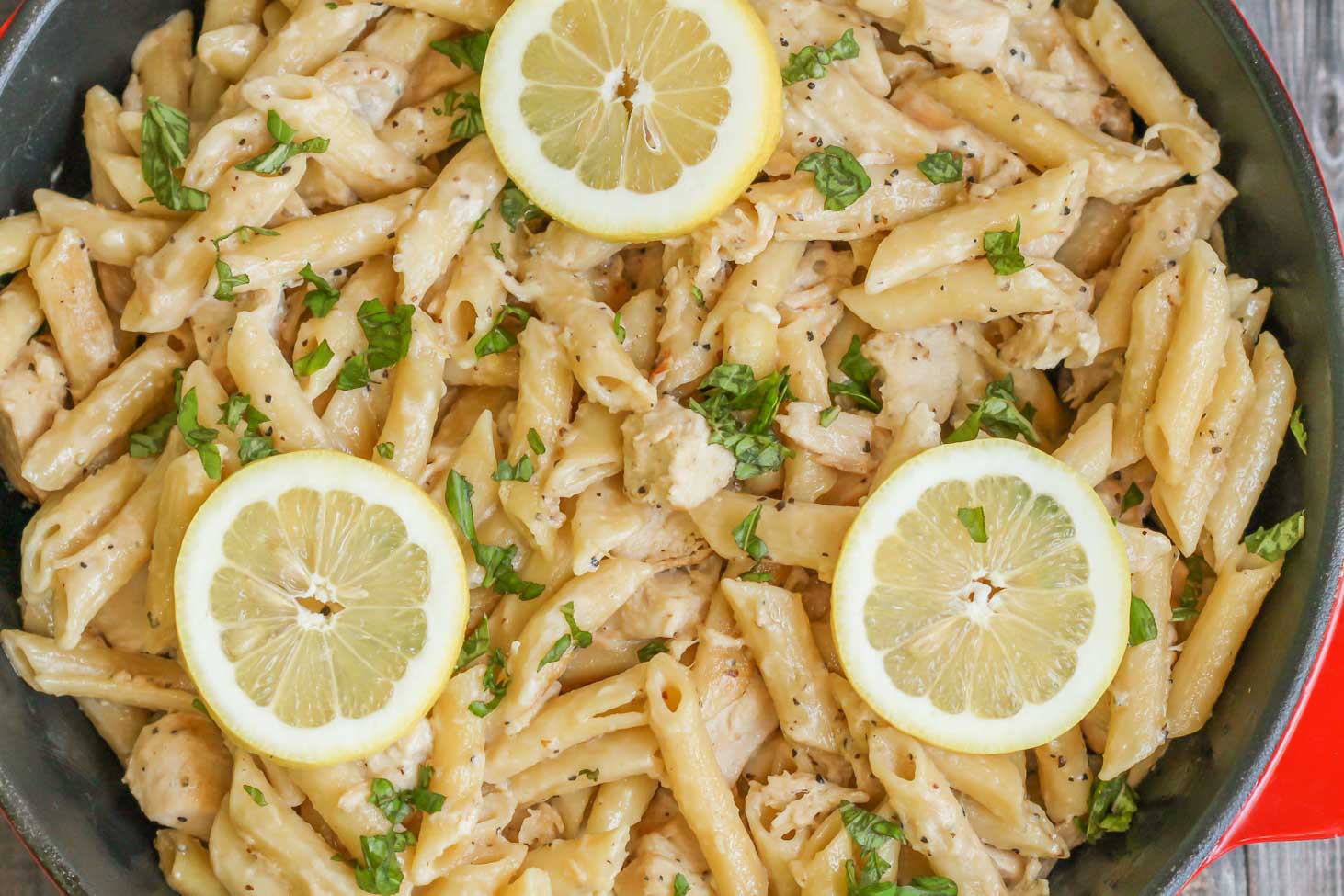 Creamy Lemon Pasta
With as often as my family gets together, pasta dishes are a staple. They are quick, easy, and can feed a lot. We're always on the hunt for new, simple, delicious pasta dishes and today's recipe checks all of the boxes.
Creamy Lemon Chicken Pasta is worthy to share and is a must-try! This pasta dish is made is not made in the typical "prepare the pasta and sauce separately" kind of way. Having said that, it's still simple since it's pretty much made in 1 pot!
We loved how flavorful this dish was even without cheese. If you still would like to add cheese, just add some grated Parmesan or even some shredded Mozzarella cheese at the end to make it even more tasty. Either way, we think you'll enjoy it.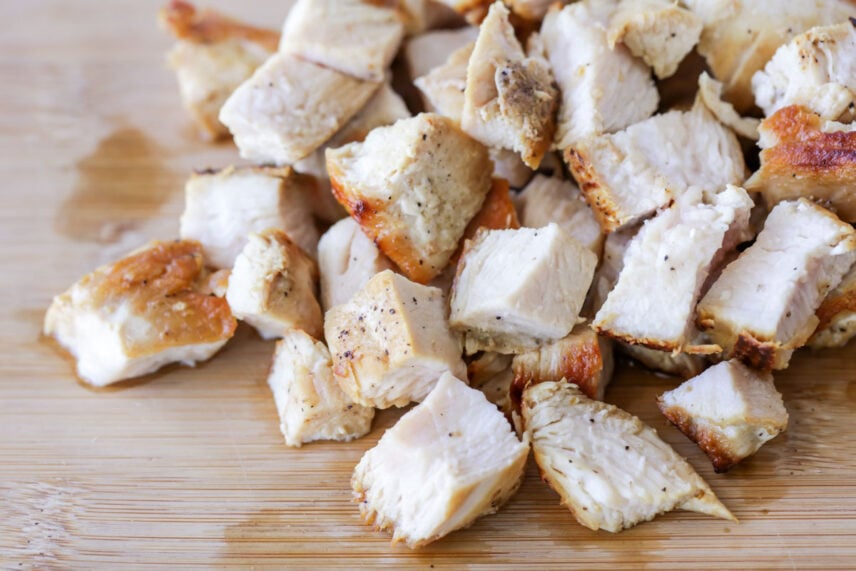 How to make Creamy Lemon Chicken Pasta
CHICKEN. Prepare chicken by squeezing lemon over both sides and seasoning with 1 tsp garlic powder and ¾ tsp pepper. Bake at 350 degrees for about 40 minutes, or until chicken is cooked through.
PASTA. Meanwhile, in a large saucepan, add remaining tsp of garlic powder and pepper to chicken broth. Bring to a boil and add lemon juice and pasta. Cook over medium heat until all liquid is absorbed, stirring occasionally, approximately 25 minutes.
SAUCE. Cut up your chicken into bite-sized pieces and stir in to your pasta, along with the whipping cream and lemon zest. Cook over low heat for 5 minutes, stirring every minute.
SERVE. Remove from heat. Let stand about 5 minutes before stirring and serving. (Sprinkle shredded or grated cheese on top if desired).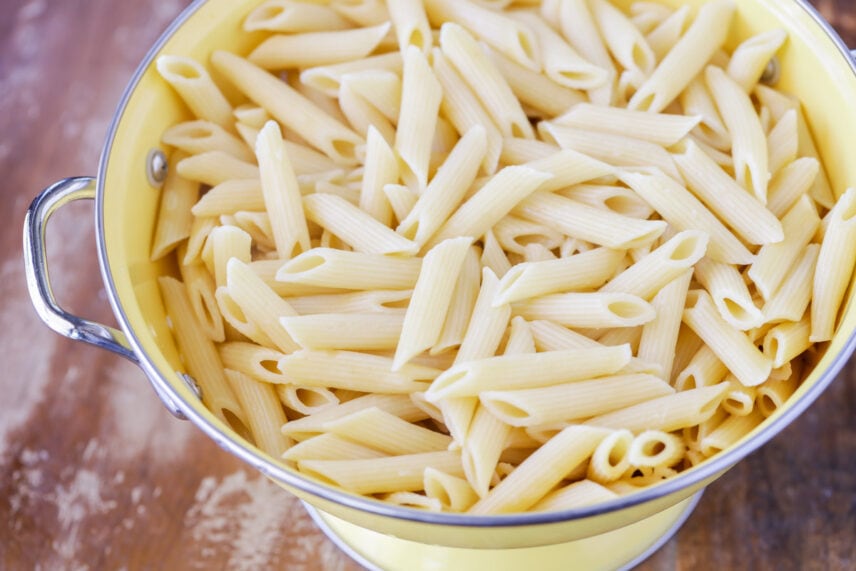 Recipe Tips + Storing Info
Zest is taken from the peel of citrus fruit. Wash and dry the fruit. Using a zesting tool, or the small side of a cheese grater start rubbing the peel. Stop when you get to the white layer. A medium lemon will yield 2-3 tablespoons of zest.
Variations:
Use your favorite shape of pasta such as bowtie, wagon wheel, shell, ziti

Add mushrooms, peas, asparagus, spinach

Add some heat with red chili flakes

For a better lemony flavor add more zest
Make this ahead of time and store it in the fridge or freezer depending on when you plan to serve the meal. Either way be sure to undercook the noodles or they will continue to absorb liquid and turn out large and mushy. You can make it the day before, cover, and store in the fridge. Reheat it on the stove top and serve!
To FREEZE, place it in a freezer safe airtight container and freeze for up to 3 months. Thaw overnight in the fridge then allow the dish to sit on the counter for about an hour before adding it to a skillet. Keep in mind freezing dishes with cream can cause the cream to separate and create a grainy texture after it has thawed. You can help combat this by adding fresh cream and reheating the dish slowly over medium low heat.
STORE leftovers in an airtight container the fridge for 2-3 days. You can either eat the leftovers cold or warm it up in a skillet over medium heat. If your dish is looking a little dry add some extra cream. If you're in a hurry you can heat it up in the microwave.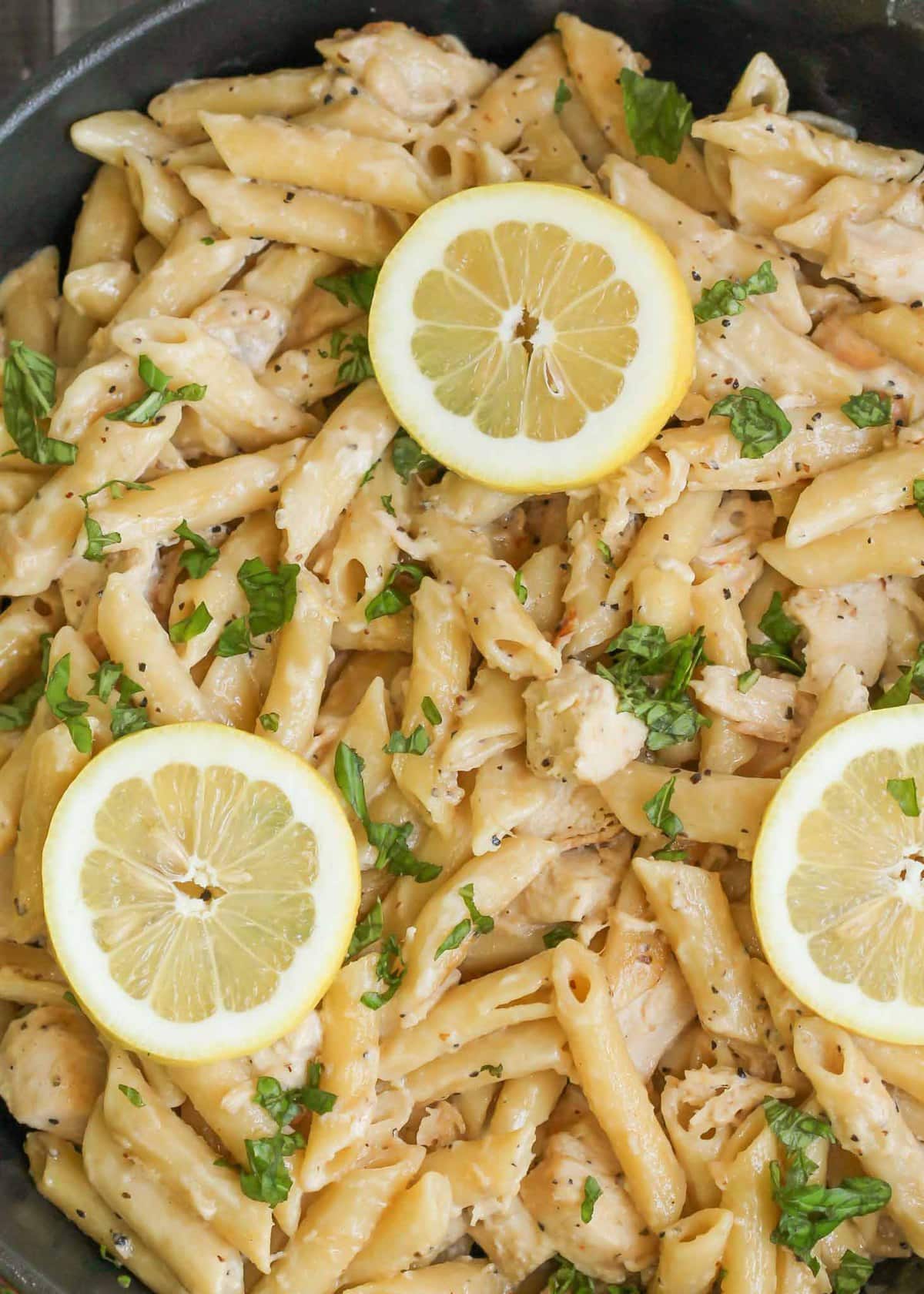 For more Chicken & Pasta dishes, be sure to try:
Creamy Lemon Chicken Pasta Recipe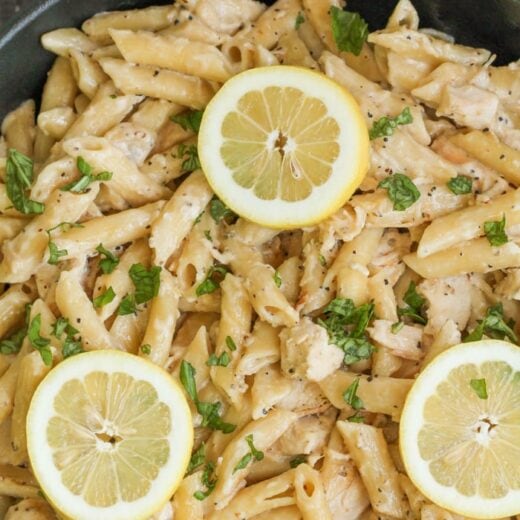 Simple & Creamy Lemon Chicken Pasta is bright, cheesy, and comforting. It is a flavorful dish the entire family will love!
Ingredients
3

boneless skinless chicken breasts

cut in half

1

lemon

quartered

2

tsp

garlic powder

divided

1

tsp

ground black pepper

divided

29

oz

chicken broth

1/4

cup

lemon juice

fresh

16

oz

penne pasta

cooked as directed on box

1 1/2

cups

heavy whipping cream

1

tsp

lemon zest

grated

salt and pepper to taste

shredded cheese

(optional)
Instructions
Prepare chicken by squeezing lemon over both sides and seasoning with 1 teaspoon garlic powder and ¾ teaspoon pepper. Bake at 350 for about 40 minutes, or until chicken is cooked through.

Meanwhile, in a large saucepan, add remaining teaspoon of garlic powder and pepper to chicken broth. Bring to a boil and add lemon juice and pasta. Cook over medium heat until all liquid is absorbed, stirring occasionally, approximately 25 minutes.

Cut up your chicken into bite-sized pieces and stir in to your pasta, along with the whipping cream and lemon zest. Cook over low heat for 5 minutes, stirring every minute. Remove from heat. Let stand about 5 minutes before stirring and serving. (Sprinkle shredded or grated cheese on top if desired)
Adapted from Allrecipes.com