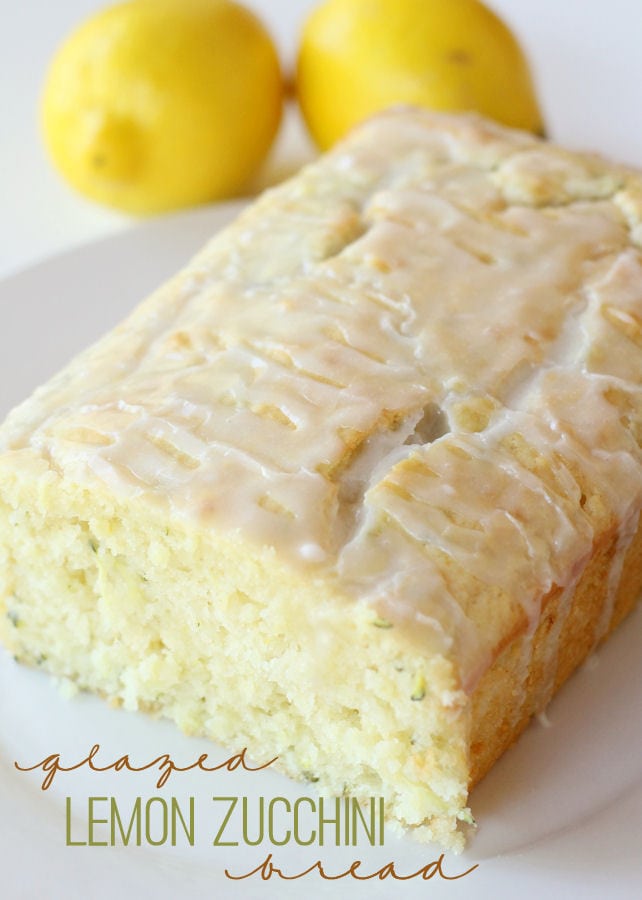 When it's cold I find myself wanting to bake ALL the time. It's almost like I just love having something sweet and warm to eat on a cold day. This isn't always the case in the summer time, especially here in Houston when baking warms the house up by a few degrees and that's the LAST thing you want. 😉
Breads and Cookies are usually the "sweet" of choice on these winter days, and this next recipe was one that my mom and I tried out earlier last year (yes, I've been sitting on this recipe for almost a year!!) It was so delicious and one that we will be making again and adding to our favorite breads rotation. 😀
The recipe is adapted from here and turned out perfect with the tastes of zucchini and lemon in a fluffy bread. The glaze is my favorite part (how could it not be??) and was the perfect addition for this Glazed Lemon Zucchini Bread recipe!
MY OTHER RECIPES
 Hare are some process shots for making this zucchini bread:
The ingredients…
That glaze – seriously so good!
Doesn't it looks fabulous?? It's an easy recipe to make, and I can't wait to try it out again… it's been too long!! And for me, breads that require no yeast are always the easiest!! 😉
Here are video instructions:
Lemon Zucchini Bread recipe:
Glazed Lemon Zucchini Bread
Delicious Glazed Lemon Zucchini Bread Recipe that is soft, moist, filled with grated zucchini and lemon juice and topped with a lemony glaze.
Ingredients
2 cups cake flour
½ tsp. salt
2 tsp. baking powder
2 eggs
½ cup canola oil
1⅓ cups sugar
2 TB lemon juice
½ cup buttermilk
zest of 1 lemon
1 cup grated zucchini
Glaze ingredients:
1 cup powdered sugar
2 TB lemon juice
1 TB milk
Instructions
Mix flour, salt and baking powder in a medium bowl and set aside.
In a large bowl, beat eggs. Then add oil and sugar until well blended. Add lemon juice, buttermilk, lemon zest to this mixture and blend all together.
Fold in zucchini until it is mixed well.
Add dry mixture to the wet mixture and blend all together until well combined.
Pour batter into greased 9x5 loaf pan.
Bake at 350 for 40-45 minutes.
While still warm, make glaze and spoon over the bread. Let the glaze set up before cutting and serving.
Products Featured in this Recipe:
(may include affiliate links)
NOTES FOR GLAZED LEMON ZUCCHINI BREAD:
Use a cheese grater to grate the zucchini.
Be sure to dry the zucchini after it has been grated so it is NOT super water-y.
You can also use all-purpose flour instead of cake flour, but we prefer cake flour.
If using a glass pan, you may need to cook 15-25 minutes longer.
Bottled lemon juice works just as well as juice directly from the lemon.
Can also be made in smaller loaf pans. You can divide batter into 4 and place in greased 6 x 2 1/2″ pans (Bake for 35-40 minutes)
Can also be made as muffins – Bake for 25-30 minutes – makes about 15-16 muffins.
For high altitude bake at 375 for 55 minutes.
Another favorite quick bread recipe is the Blueberry Quick Bread: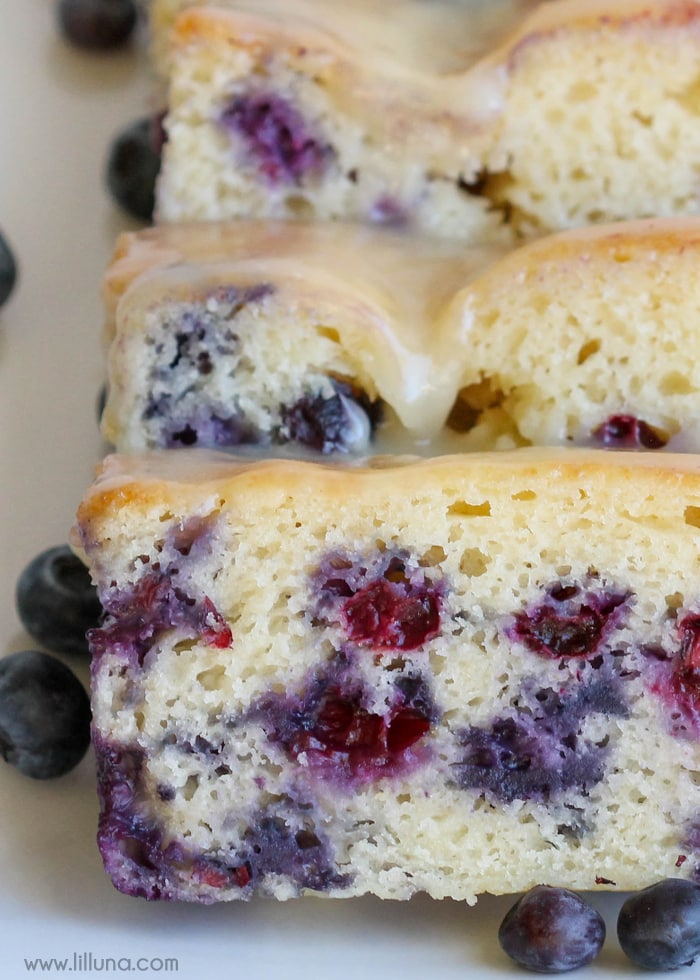 For more great bread recipes be sure to check out these other favorites:
ENJOY!
BEHIND THE SCENES AT LILLUNA.COM:
 Look how long ago this was!!! Lily looks so young!!! She has always loved baking in the kitchen with mom and grandma. 🙂