I don't know about you, but I absolutely adore cinnamon rolls! We make them for special occasions and they're always the first thing to disappear. These are perfect for parties because they make two dozen bite-size rolls. Think gooey finger-food. They only require a few extra minutes of prep work (you'll use a pizza cutter to cut out strips vs. doing one big roll and slicing it), which is totally worth it- trust me! Plus, these mini cinnamon rolls are ready to go in a little under 90 minutes… not too shabby, right? Give these Mini Cinnamon Rolls a try and you'll fall in love with their tender, sweet centers and irresistible cream cheese frosting!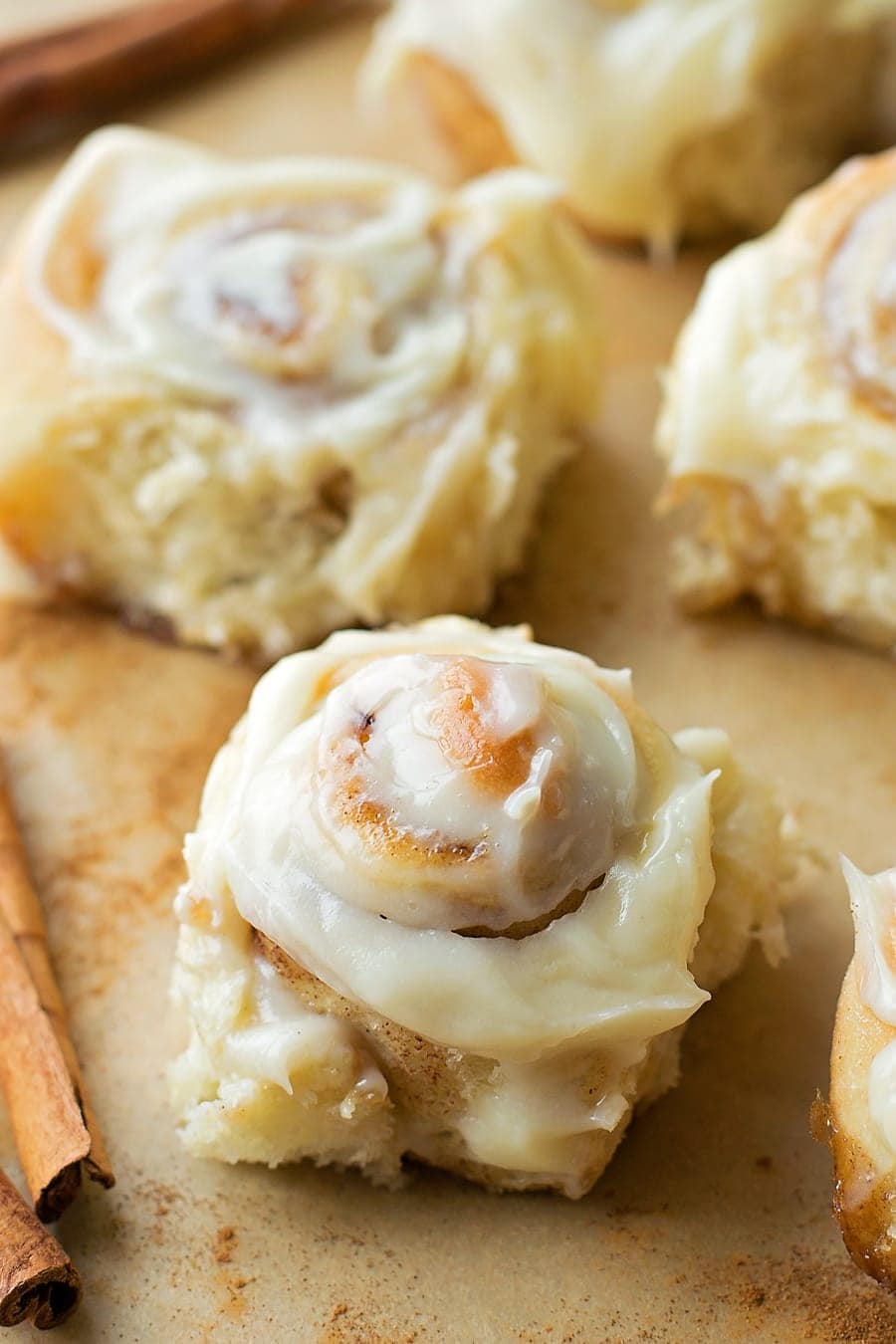 Here is the printable recipe…
Mini Cinnamon Rolls:
The Best Mini Cinnamon Rolls
Best Ever Mini Cinnamon Rolls - perfect for big gatherings, and ready in just under 90 minutes!! Give these a try and you'll fall in love with their tender, sweet centers and irresistible cream cheese frosting!
Ingredients
2¾ c. all-purpose flour
¼ c. granulated sugar
2 tbsp. unsalted butter
1 egg
1 tbsp. instant yeast
½ c. water
¼ c. whole milk
1 tsp. salt
Filling:
¼ c. (½ stick) butter, melted
⅔ c. brown sugar
1 tbsp. + 1 tsp. ground cinnamon
1 tsp. vanilla extract
-
Cream cheese frosting:
4 oz. cream cheese, room temperature
¼ c. (1/2 stick) unsalted butter, room temperature
1 c. powdered sugar
1-2 tbsp. whole milk (to desired thickness)
½ tsp. vanilla extract
Instructions
In a large bowl or the bowl of a stand mixer, combine the flour, yeast and salt.
In a small microwave safe bowl (or glass measuring cup), combine the sugar, butter, water and milk. Heat in the microwave until the mixture is hot and the butter is almost melted (it took about 1 minute on HIGH in my microwave). Let the mixture come down to 120 degrees. Gradually add the milk mixture into the flour mixture. Add the egg and mix until a soft and sticky dough forms.
Preheat the oven to 200 degrees.
If using a stand mixer, switch to the dough hook and set on the lowest mixing setting for 4 minutes or until the dough becomes elastic or knead by hand on a lightly floured surface for 3-4 minutes. Cover the dough with plastic wrap and allow it to rest on the counter for 10 minutes.
Once the dough has rested, roll it out on a lightly floured surface until it measures a 24x16 inch rectangle. Prepare the filling by combining all of the ingredients in a small mixing bowl except for the butter. Spread the butter over the top of the rolled dough, then cover with the filling. Using a pizza roller/cutter, cut out 24 strips of dough (show in pictures below). Roll each up into a tight roll.
Place the rolls into a lightly greased 9x13 baking dish and gently place a piece of aluminum foil over top. Turn OFF your oven and place the covered rolls inside to rise for 45 minutes.
Remove the rolls from the oven and turn ON your oven to 375 degrees. Once heated, remove the foil and bake the rolls for 15-18 minutes or until the centers are lightly golden brown in color.
Remove from the oven and allow to cool for a few minutes before frosting. While rolls are cooling, prepare the frosting by combining all of the ingredients in a small mixing bowl and beating by hand or with a hand mixer until smooth. Spread over the tops of the rolls.
________________________
MY OTHER RECIPES
My family is IN LOVE with all kinds of cinnamon roll recipes! So we'll definitely need to try this one! Anything bite-sized is always a little dangerous because it's way too easy to eat more than one. 😉 Thanks for sharing with us Natalie!! For more amazing recipes by her, go visit her at her (NEW and improved!) site, Life Made Simple!!
Here is another favorite cinnamon treat…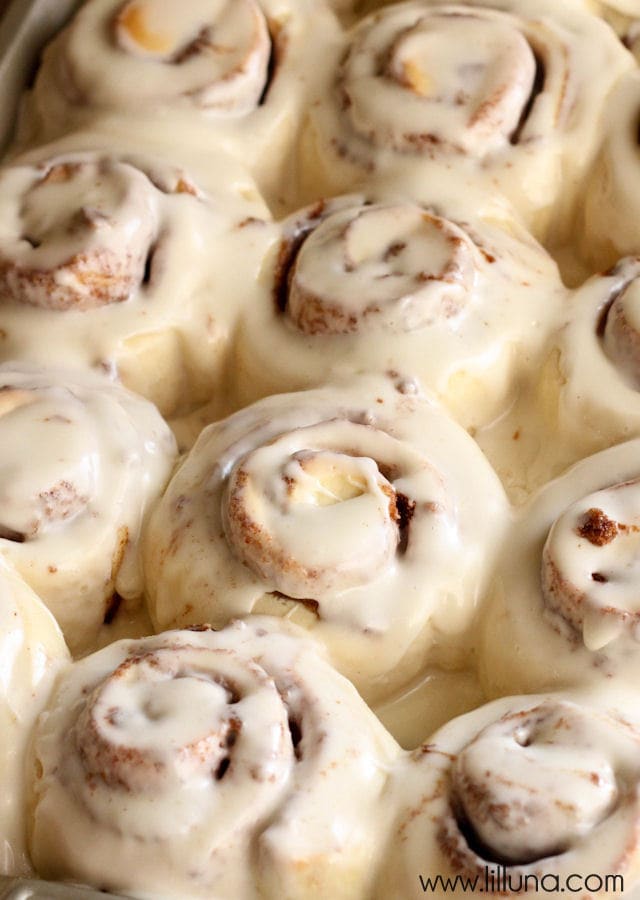 And for more of our favorite cinnamon roll recipes, check out these:
ENJOY!