A quick & simple Pineapple Banana Smoothie is a family favorite!! It's a perfect meal or a refreshing snack.
Smoothies are a refreshingly favorite breakfast or dessert. Whip up some Mustard Chicken and Pineapple Skewers, an Upside Down Cake, and these Pineapple Banana Smoothies for a taste of the islands, or throw an entire tropical luau!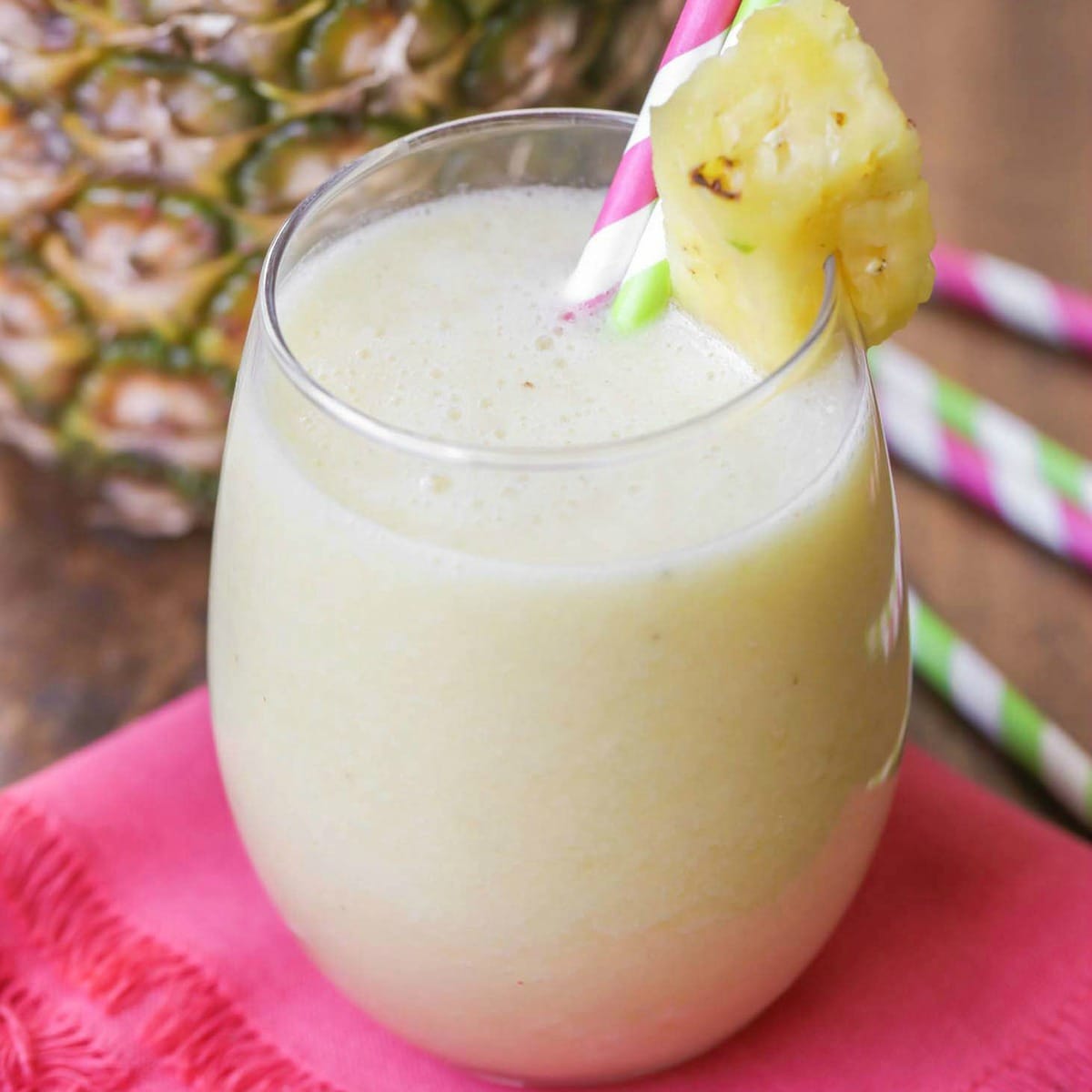 Pineapple Banana Smoothie
I'm not exaggerating when I say that we have a smoothie at least every other day. Whether it's for breakfast, lunch, dinner, or a snack – they are a go-to recipe.
One ingredient we add to almost every drink is a banana, and not just because we always have them on hand, but because they're a great smoothie ingredient.
This Pineapple Banana Smoothie is a favorite (for another favorite drink check out our Strawberry Banana Smoothie). It takes minutes to make and is SO refreshing!
We love banana smoothies at our house but almost always add other ingredients, like pineapple. It added the perfect amount of sweetness to make this Banana Pineapple Smoothie irresistible.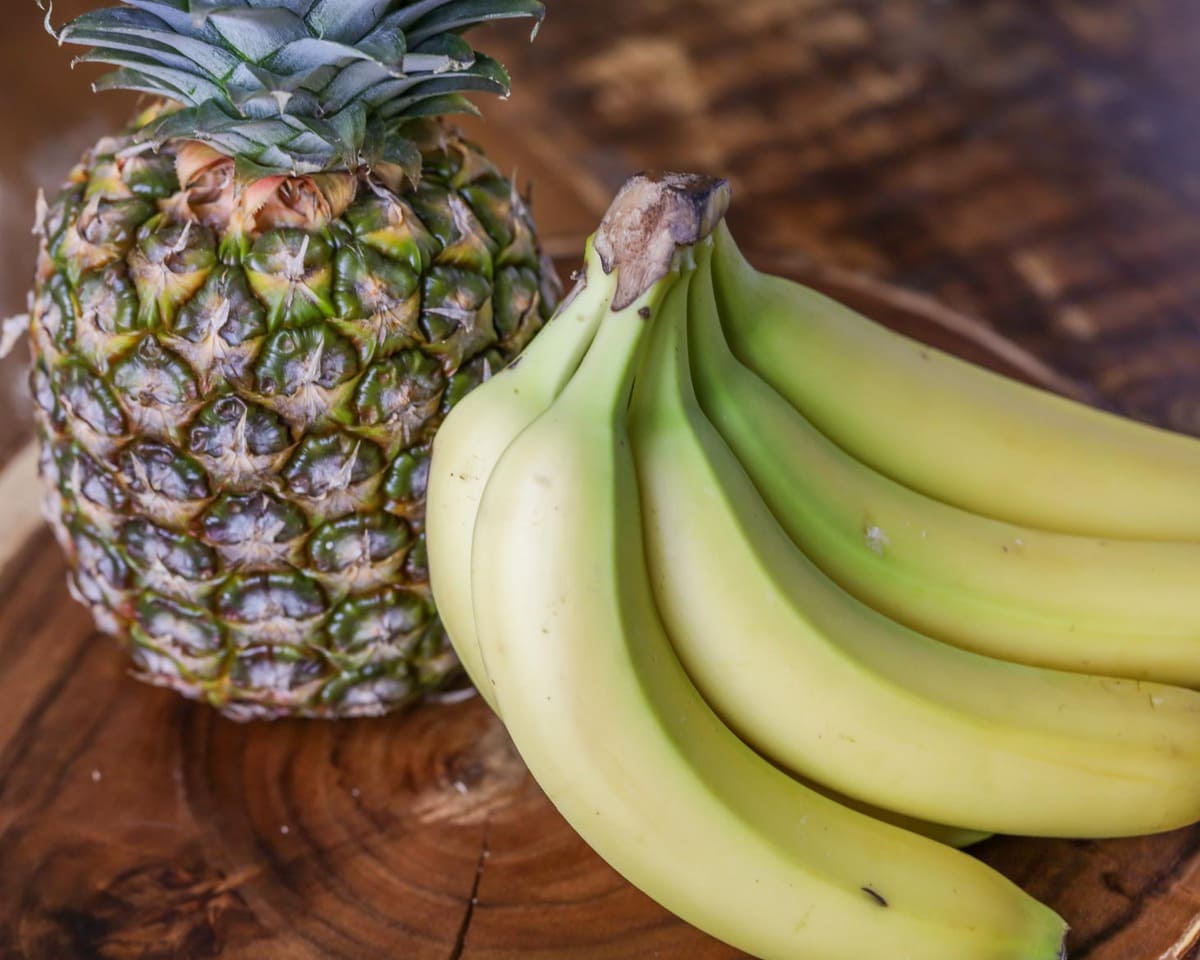 So simple + VARIATION IDEAS
Making smoothies is incredibly easy! There really is only one step (minus prepping the ingredients).
BLEND. Combine all ingredients and blend until smooth!
We love this Pineapple Banana Smoothie recipe as is, but will try adding coconut or strawberries next time for even more flavor. For this particular recipe, you can also add any other fruits or veggies you love.
Liquids. To replace the juice or simply add another element to the smoothie, don't add dairy milk products as the milk-pineapple combo can cause digestion issues. Use nut milk like coconut milk or almond milk. Orange juice would also be a great addition.
Smoothie Bowls. They are simple but require a small adjustment. Since smoothie bowls are thicker, reduce the amount of liquid used. Make sure to use frozen pineapple and frozen bananas. Blend for a thick, creamy texture similar to frozen yogurt.
Healthy additives:
A scoop of vanilla protein powder
Add in collagen, flax seed, chia seeds, hemp seeds, nutritional yeast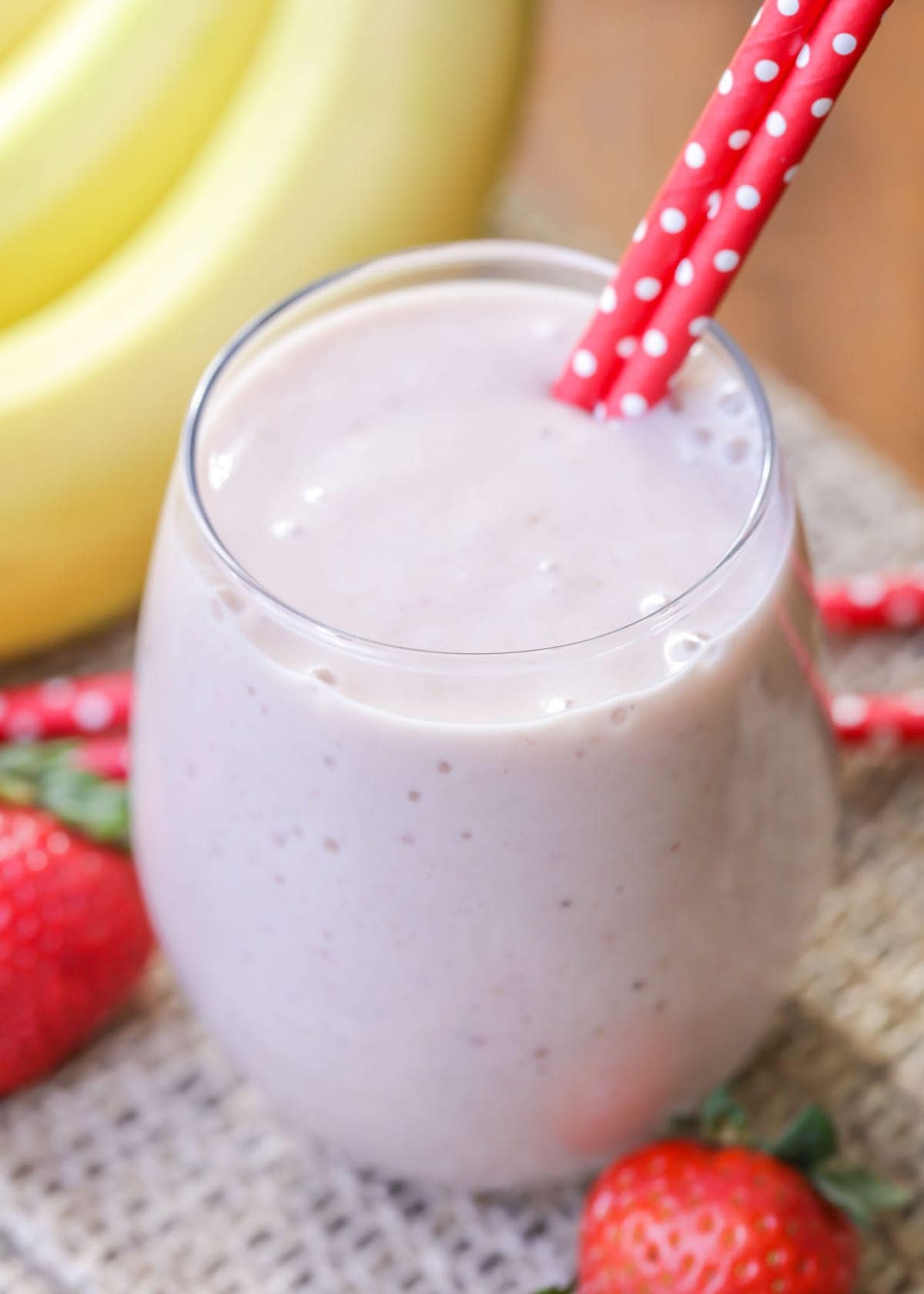 Smoothie Tips
There really isn't much to making a Banana Pineapple Smoothie, other than adding everything to the blender and blending.
But here are a few tips and tricks that might help:
Frozen fruit usually blends better and gives it more of a smoothie consistency.
If using frozen fruit, you should need less ice.
If using fresh fruit, ice will help it become more of a smoothie consistency than a drink.
Freeze the juice part of whatever you're adding to make it a thicker consistency.
To keep this shake healthy, use a natural sweetener like honey or maple syrup. Use stevia instead of sugar.
Sneak in vegetables when you can. Kids often won't notice when kale or spinach has been added to a smoothie. This allows them to get in extra vitamins without a fight!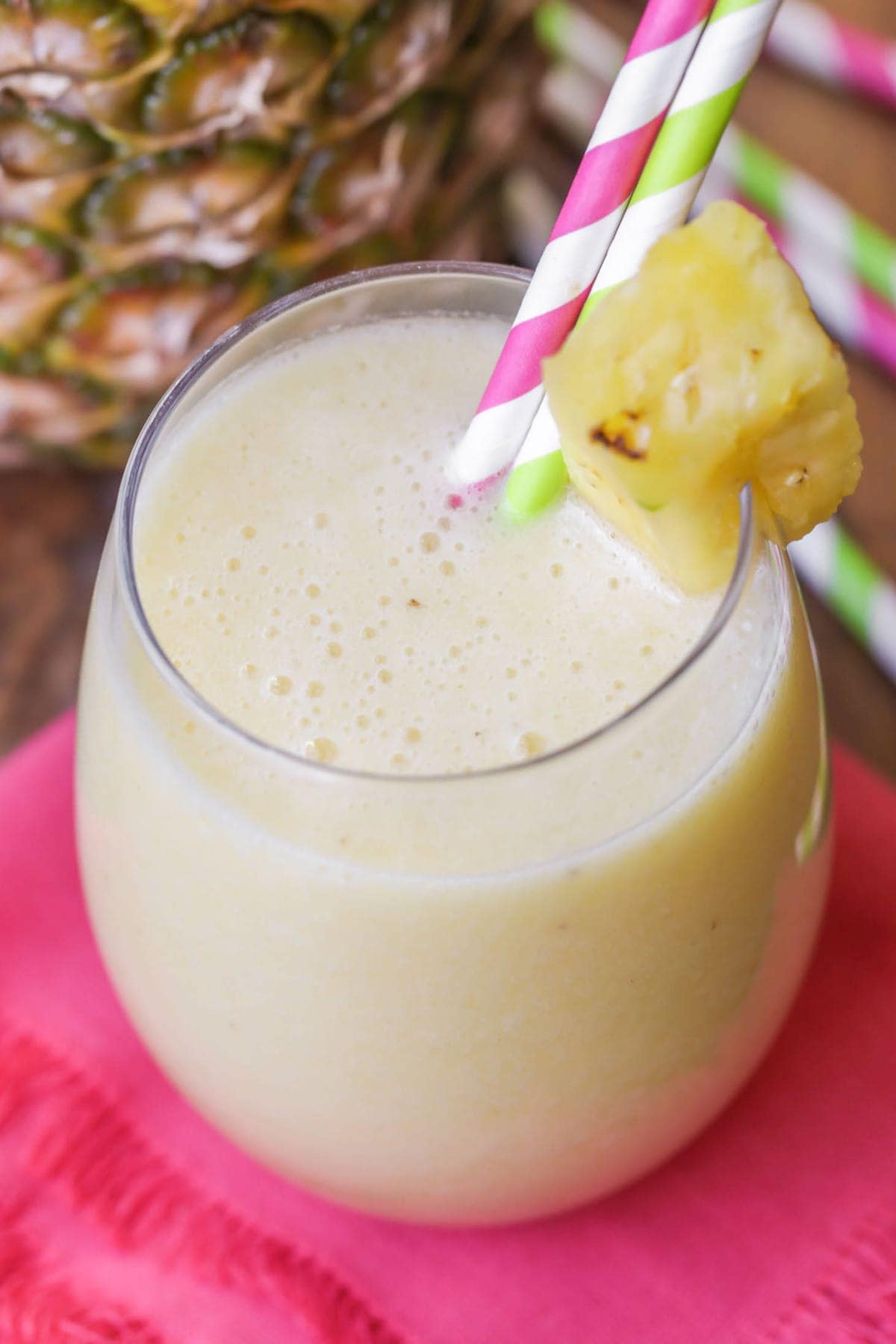 Storing Info
Make ahead of time. Wash, slice, and divide the fruit into individual-sized portions and store it in Ziploc bags in the freezer. The yogurt can be frozen in an ice cube tray. The ice and juice are best added to the Pineapple Banana Smoothie right before mixing.
With the ingredients prepped like this, you can take the ingredients straight from the freezer to the blender!
STORE leftovers. Add a little lemon juice or Sure Fresh so the smoothie doesn't brown. If there's room at the top of the container, cut a piece of plastic wrap and place it directly on top of the smoothie. Refrigerate for 12 hours, or freeze for up to 3 months.
For more fruit smoothie recipes: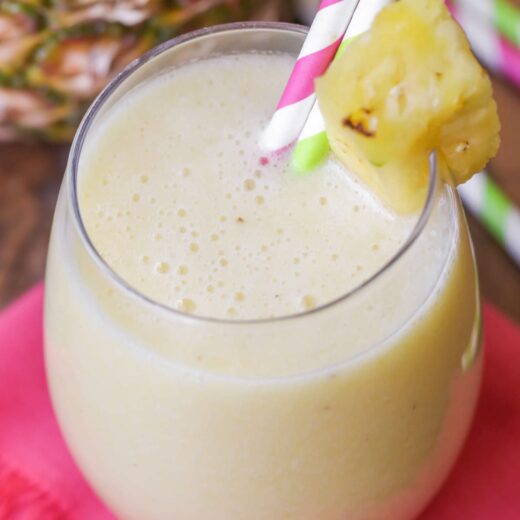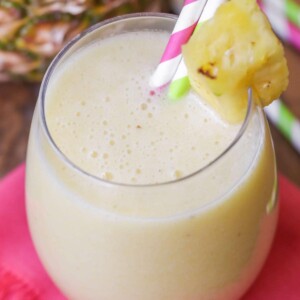 Pineapple Banana Smoothie Recipe
A quick & simple Pineapple Banana Smoothie is a family favorite!! It's a perfect meal or a refreshing snack.
Ingredients
1-1 1/2

cup

ice cubes

1-2

large

bananas

cut into chunks (frozen or fresh)

1/4

pineapple

cubed (frozen or fresh)

1

cup

pineapple juice

or apple juice
Instructions
Blend all ingredients until smooth. Enjoy cold!
Nutrition
Calories:
179
kcal
,
Carbohydrates:
45
g
,
Protein:
1
g
,
Sodium:
4
mg
,
Potassium:
520
mg
,
Fiber:
3
g
,
Sugar:
31
g
,
Vitamin A:
110
IU
,
Vitamin C:
71.8
mg
,
Calcium:
30
mg
,
Iron:
0.9
mg
Nutrition information is automatically calculated, so should only be used as an approximation.
Making this recipe? Tag us!
Share it with us on Instagram using the hashtag #lilluna, so we can see what you're creating in the kitchen!