Who else is excited for spring? It has been such a long and hard winter for me this year, and I am really looking forward to sunshine, fresh fruits and vegetables, and not having to bundle up everywhere I go. These strawberries and cream pancakes are perfect for celebrating spring! They're bursting with strawberry flavor and topped with an amazing homemade strawberry sauce. They'd be wonderful for a Mother's Day brunch, or a fun Saturday breakfast.
The homemade strawberry sauce is really simple (only 4 ingredients) and takes about ten minutes to make. You'll just add your strawberries, sugar, and lemon juice to a saucepan, and cook until thickened.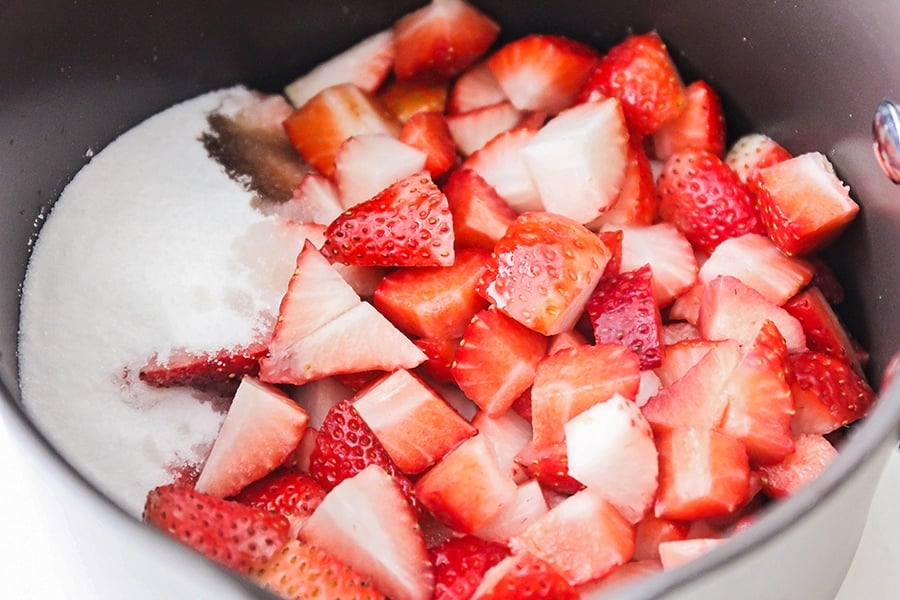 As they cook, the strawberries break down a little into a sweet and flavorful sauce that tastes almost like strawberry jam. It might be a good idea to make a double batch, since you will want to pour this strawberry goodness over everything. We've tried it on waffles, pancakes, ice cream, and in shakes – you name it! It's incredibly delicious and so full of that bright strawberry flavor that I love. Yum!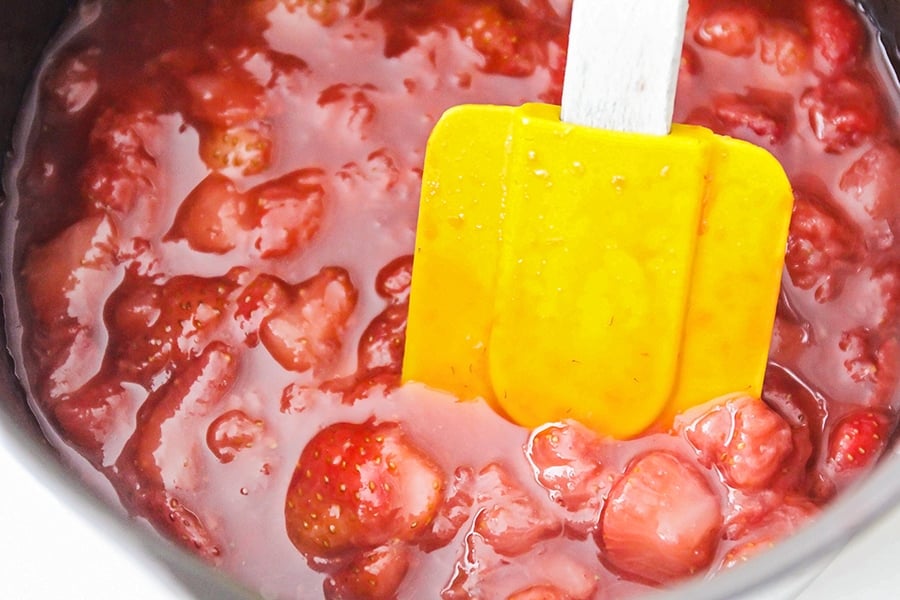 The pancake batter whips up quickly, and gets a nice boost of flavor from the addition of strawberry sauce to the batter. Once the pancakes are cooked, it's time to top them with more strawberry sauce and whipped cream. I added a few extra slices of strawberry on top for garnish, and the pancakes turned out gorgeous!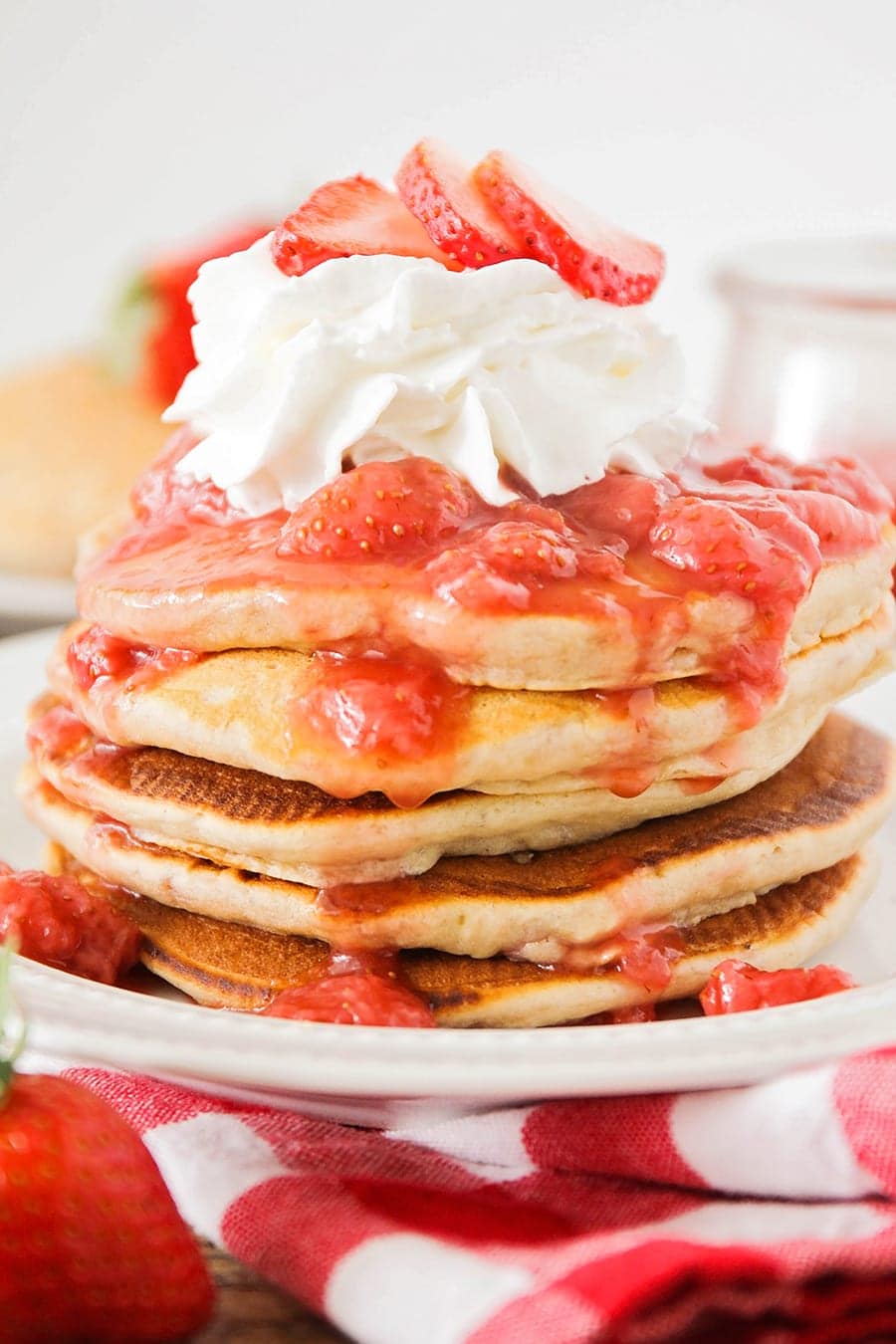 Seriously, though, try not to just faceplant into this deliciousness! 🙂 My whole family loved these pancakes and gobbled them up in record time.
I've already had about a million requests from my kids to make these beautiful pancakes again, so they will definitely be making another appearance at my house soon. They're so quick and easy to make that I don't mind at all!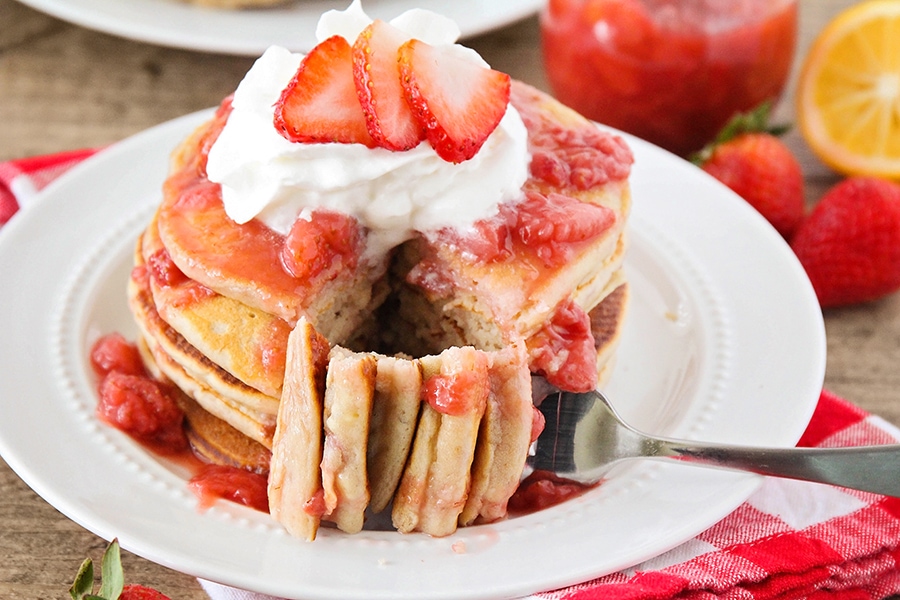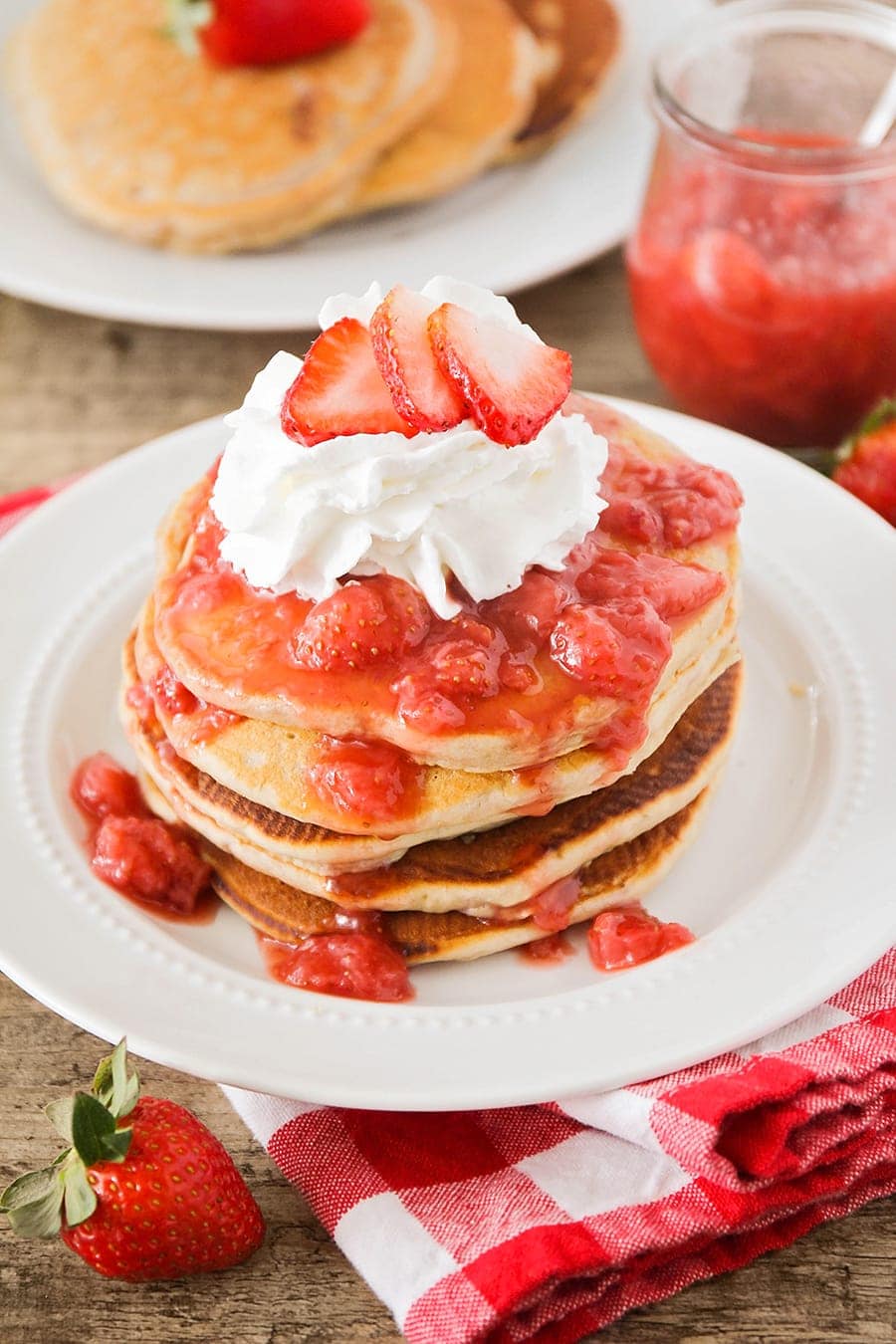 Delicious Strawberry Pancakes:
Strawberries and Cream Pancakes
Ingredients
for the strawberry sauce:
1 pound strawberries, chopped
¼ cup sugar
1 teaspoon fresh lemon juice
½ teaspoon vanilla
for the pancakes:
1 cup flour
2 tablespoons sugar
1 teaspoon baking powder
½ teaspoon baking soda
½ teaspoon salt
1 cup half and half or whole milk
1 teaspoon white vinegar
1 egg
2 tablespoons oil
1 teaspoon vanilla
whipped cream
Instructions
In a medium saucepan, stir together the strawberries, sugar, and lemon juice. Bring to a simmer over medium heat. Cook, stirring occasionally, until thickened, about 5-7 minutes. Remove from heat and let cool slightly.
In a medium bowl, whisk together the flour, sugar baking powder, baking soda, and salt. In a small bowl, whisk together the half and half and white vinegar. Let sit five minutes.
Combine the half and half, egg, oil, and vanilla, and mix until combined. Pour the wet ingredients into the dry ingredients, and mix until just combined (a few small lumps are okay). Pour ¼ cup of the strawberry sauce into the batter and mix gently.
Preheat a griddle or large skillet over medium heat. Pour the batter by ¼ cup scoops onto the preheated skillet. Cook 3-4 minutes, or until there are bubbles throughout the batter and the edges look dry, then flip and cook an additional 1-2 minutes.
Serve warm with strawberry sauce and whipped cream.
Adapted from The Cookie Writer
_________________________
These look SO yummy!! Maybe I need to hint to my husband and kids that this is what I want for Mother's Day Breakfast. 😉 Thanks for sharing with us, Alicia!! Visit her over at The Baker Upstairs for more amazingly delicious recipes!
For another great recipe from Alicia, check out: