Crispy, salty bacon sandwiched in the middle of a fluffy pancake. Serve these bacon pancakes for your next big breakfast and everyone will love the sweet and salty combo!
Everything's better with bacon, and these pancakes are no exception! Top them with some buttermilk syrup, and serve with scrambled eggs on the side for a full on breakfast feast!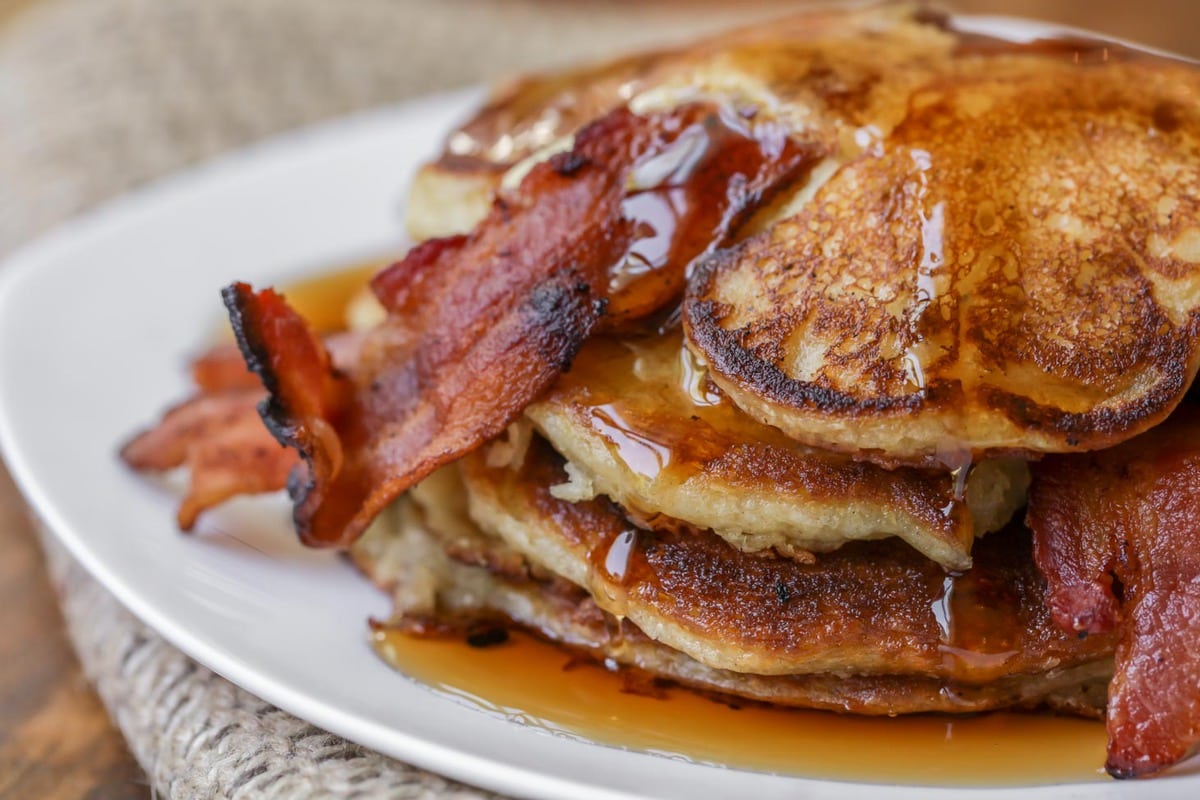 Sweet & Savory Bacon Pancakes
Can you even handle these BACON PANCAKES?! Whoever thought of this idea should get a million dollars. So genius putting the two best breakfast foods together. And soooo delicious.
My family went crazy for these sweet and savory bacon pancakes. Crispy salty bacon slices sandwiched in the middle of a big fluffy pancake. Is your mouth watering yet? Mine is!!
This recipe will easily become a family favorite of yours. It's fun to switch it up sometimes and make these fantastic bacon pancakes for breakfast. These are perfect for feeding a big group of family or friends. It's definitely a crowd pleasing recipe.
How to Make Bacon Pancakes
PANCAKE BATTER. In a big bowl, mix all of the dry ingredients together. Then in another bowl mix all of the wet ingredients together. Then pour the wet ingredients into the dry ingredients and stir together. It's okay if there are a few small to medium lumps in the pancake batter. Set your batter aside while you cook the bacon.
BACON. Cook the bacon (ANY kind/flavor!) over medium heat, to your liking—some like it crispy, some like it chewy. Transfer bacon to paper towels to drain some of the grease. But reserve about 1 teaspoon of fat from the griddle.
Or, you can cook the bacon in the oven.
COMBINE. Add about ½ cup of pancake batter to the same griddle with the bacon fat on it. Cook over medium heat. Top the batter with a slice of bacon. Cook on each side for about 2 minutes.
Note: If you prefer smaller bacon crumbles, you can chop the bacon slices into bits and sprinkle onto the pancake batter once it's on the griddle.
Writing about these pancakes is making me crave them RIGHT NOW!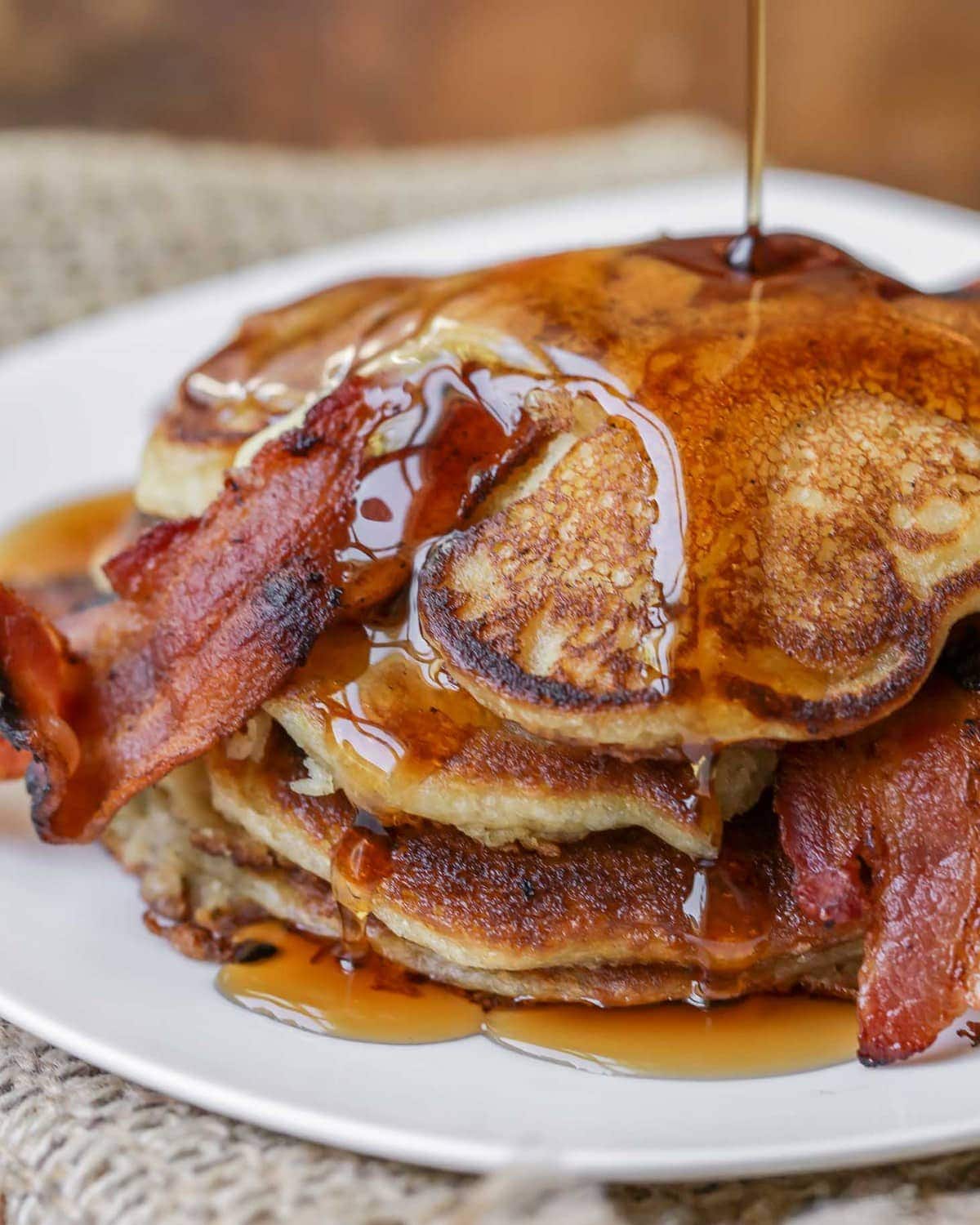 Tips for serving and storing
You can top these pancakes with butter, maple syrup, buttermilk syrup, or any other favorite pancake toppings!
If you're making a large batch of pancakes, and trying to keep everything nice and warm until everyone can dig in at the same time, put your finished pancakes on a baking sheet in a 200° F oven. Do not cover them as the steam will make them soggy. They can be in the oven for about 30 minutes before they begin to dry out.
Store & reheat leftovers: Store bacon pancakes in an airtight container or ziplock bag in the fridge for 3-4 days. Reheat in the microwave in 30 second increments until hot.
Freezing leftovers: Place pancakes in a single layer on a baking pan and freeze for 1-2 hours. Transfer to an airtight freezer safe container. Label and freeze for up to 3 months. Reheat in microwave in 45-60 second increments until hot. 
Are you excited to try this recipe?? You might never want normal pancakes ever again! We love the sweet and savory combo. Bacon for life. ;D
For more breakfast recipes with bacon, check out:
For even more pancake recipes, check out:
Bacon Pancakes Recipe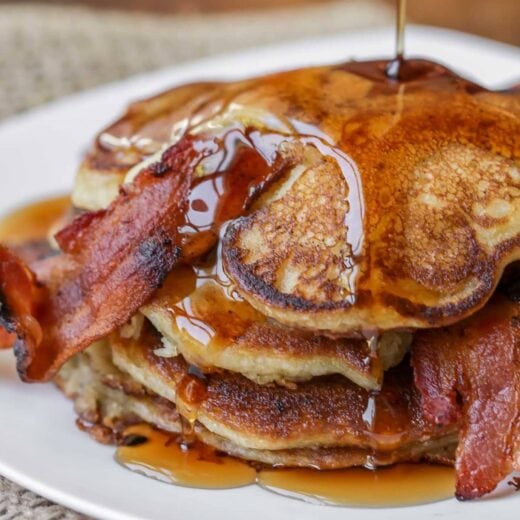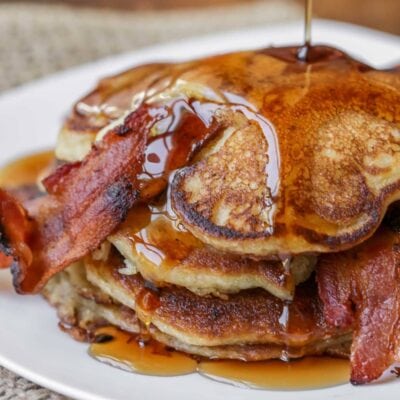 Crispy, salty bacon sandwiched in the middle of a fluffy pancake. Serve these bacon pancakes for your next big breakfast and everyone will love the sweet and salty combo!
Ingredients
1

cup

all-purpose flour

spooned and leveled

2

TB

sugar

1 1/2

tsp

baking powder

1/2

tsp

baking soda

1/2

tsp

coarse salt

1 1/4

cups

buttermilk

2

TB

unsalted butter

melted

1

lg

egg

8

slices

bacon
Instructions
Preheat griddle to 200 degrees.

Whisk all dry ingredients together in a bowl (flour, sugar, baking powder, baking soda, and salt).


In a separate bowl, whisk together wet ingredients (buttermilk, melted butter, and egg).


Whisk dry and wet mixtures together until moistened, with small to medium lumps.

Cook bacon on a griddle over medium-high until both sides are golden and crisp. Drain bacon on paper towels; reserving about 1 teaspoon fat from griddle.

Add batter, ½ cup at a time, to a skillet over medium heat. Top with a slice of bacon. Cook until golden, about 2 minutes on each side. Repeat with remaining batter, adding more bacon fat if needed. Serve bacon side up, topped with maple syrup.
Adapted from Martha Stewart.